Making smoothies isn't always the easiest or neatest task. First, you have to go to the grocery store and pick out all the fresh fruits, veggies, and any other additional ingredients you'd like to add. Once you're home, you have to prep everything by washing and chopping, then measuring everything before tossing it all into a blender.
It's a time-consuming task that typically leaves your kitchen a mess. But luckily, there are two companies making it much easier for you to make and enjoy tasty, healthy smoothies right in your own home!
Those companies are Daily Harvest and Green Blender. Both offer up a variety of smoothies, but they also have a number of other items on their menu too.
To help you decide which one is right for you, we're sharing all the details you need to know before making a decision!
Keep reading to learn more…
Variety of Food & Smoothie Plans
When it comes to smoothie delivery, you want to have options. Luckily, both plans offer a variety of different plans, types of smoothies (bowls), and more.
Daily Harvest
What started out as just a menu of delicious smoothies has since expanded into even more options for Daily Harvest. They currently offer a selection of smoothies, Harvest Bowls, soups, lattes, overnight oats, chia parfaits, and sundaes. As you can tell, there's plenty of variety in the types of things they offer. Based on personal experience, even if you don't like smoothies, you're sure to find something you'll love on their menu.
For example, when you sign-up with them, you'll find tasty treats like: Strawberry + Peach Smoothie, Chocolate + Blueberry Smoothie, Cauliflower Rice + Kimchi Harvest Bowl, Quinoa + Chipotle Harvest Bowl, Tomato + Zucchini Minestrone Soup, Cinnamon Protein + Banana Overnight Oats, Mango + Turmeric Chia Parfait, Cacao Cookie Dough Sundae, and Strawberry Cheesecake Sundae.
Daily Harvest is designed to be a subscription service, which means you can get regular deliveries sent straight to your door. When joining, you'll have the option of a weekly or monthly plan. The monthly plan gets you 24 cups per month. With the weekly plan, you can choose between six, nine, 12, or 24 cups.
Green Blender
Green Blender doesn't have as big of a variety as Daily Harvest when it comes to the type of items they have on their menu. They only offer smoothies and cereals for their customers at this time, but that doesn't mean you should overlook them. Their selection of tasty smoothies is not only impressive but it far surpasses the options Daily Harvest gives you. They have 100+ different smoothie options!
When browsing the weekly menu, you can find smoothies such as: Classic Strawberry Rhubarb Pie, Cucumber Mint Detox, Green Coconut Pineapple, Carrot Berry Boost, Carrot Coconut Zinger, Flowering Apple, Mango Tomato Mixer, Basil Cantaloupe Refresh, Berry Protein Superfood Cereal, Cranberry Crunch Superfood Cereal, and Oatmeal Cooking Superfood Cereal.
Every week, you get to choose your five items from their rotating menu that contains 11 different options. Before you know it, everything will be delivered to your doorstep so you can blend up a delicious drink to enjoy.
Winner: Green Blender
Portion Sizes
Both Daily Harvest and Green Blender provide you with a portion size for one person. At this time, there aren't options to double-up if you need to serve more than one person. However, this is perfect if you're looking to prepare the ideal size smoothie for you.
Winner: It's a tie!
Are Ingredients Pre-Portioned?
Yes, the ingredients are already pre-portioned and ready to go in both Daily Harvest and Green Blender. You simply have to take the ingredients they've sent for your smoothie, add your liquid base, and blend it up. It really is as simple as that to make a delicious smoothie right in your own kitchen. Plus, since everything is pre-portioned, you don't have to worry about washing and chopping a bunch of fruits and veggies.
Winner: It's a tie!
Recipe Cards & Cooking/Blending
Whether you go with Daily Harvest or Green Blender, you can expect to see exact instructions on how to make your smoothie or any other dish you may have ordered. Based on our experience reviewing both, it won't be anything complicated since everything is simple to make and clean up.
Daily Harvest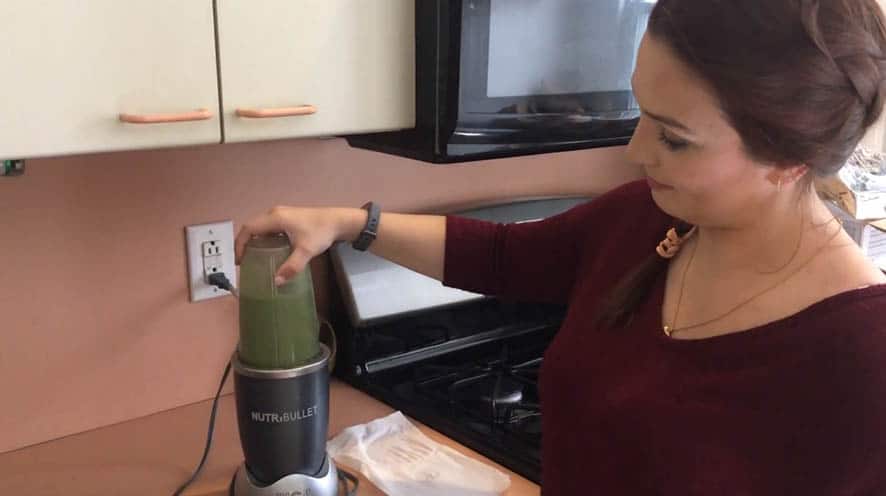 Smoothies from Daily Harvest come frozen and pre-chopped in a little cup with a lid. You just need to pour the lid in your blender, blend, and pour back into the cup. They even give you a straw you can use with the cup for when you're on the go. We found Daily Harvest to be incredibly simple to make. In fact, the only way it would be simpler is if they sent the smoothies already blended.
Even preparing the soups from Daily Harvest are incredibly simple since all you have to do is heat everything in a pot or pop it into the microwave. Before you know it, everything is done and ready for you to enjoy.
Green Blender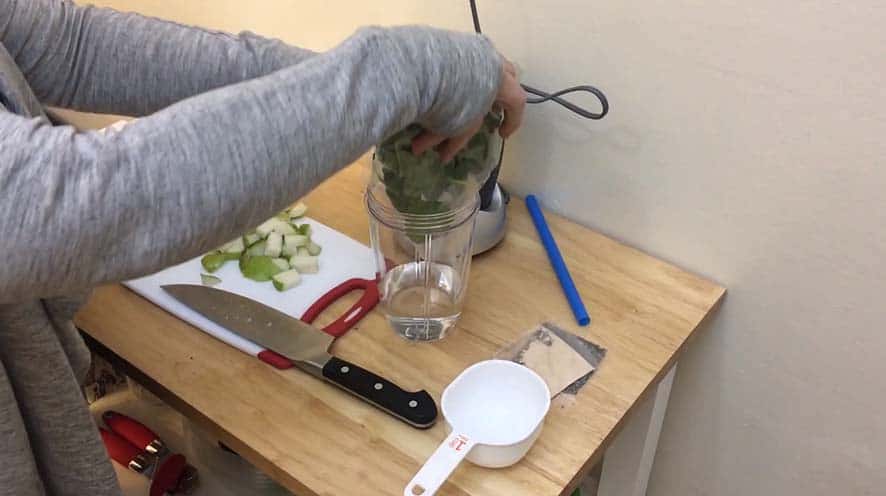 Making smoothies from Green Blender is slightly different. Since they send you fresh fruits and vegetables, you'll have to peel anything before throwing it in your blender. While the smoothies are technically fresher, they do take a bit longer to make (not by much). Green Blender also does not give you a cup to pout your finished smoothie into for on-the-go.
Winner: Daily Harvest
Delivery & Shipping Options
Find out if you can have either of these smoothie delivery services delivered to you.
Daily Harvest
At this time, Daily Harvest delivers orders to 95% of the contiguous United States. If you want to find out if you're in their delivery area, all you have to do is click "Get Started" on their homepage. This will prompt you to enter your zip code and email address. If you aren't in their delivery area, they can notify you as soon as they can deliver to you.
If you're in their delivery area and you place an order, they'll send tracking information via email as soon as your order ships out. Everything is delivered either via FedEx or OnTrac. You're not required to sign for your delivery, so that means you don't have to be home in order to accept the package. Since they've packed their boxes with plenty of dry ice, everything should stay frozen for several hours after the delivery has been made. Once you are home, you'll want to stash everything in the freezer as soon as possible.
Green Blender
Unfortunately, Green Blender doesn't ship everywhere in the United States (like Daily Harvest does). Currently they to most parts of Alabama, Arizona, Arkansas, California, Colorado, Connecticut, Delaware, Florida, Georgia, Idaho, Illinois, Indiana, Iowa, Kansas, Kentucky, Louisiana, Maine, Maryland, Massachusetts, Michigan, Mississippi, Missouri, Nebraska, Nevada, New Hampshire, New Jersey, New Mexico, New York, North Carolina, Ohio, Oklahoma, Oregon, Pennsylvania, Rhode Island, South Carolina, Tennessee, Texas, Utah, Vermont, Virginia, Washington, Washington DC, West Virginia, Wisconsin, and Wyoming.
You don't have to be home in order to accept your delivery either since a signature isn't required for drop-off. That means it'll be safe and sound, waiting for you to arrive home. Just make sure you unpack everything as soon as possible once you've arrived.
Winner: Daily Harvest
Packaging
When it comes to shipping fruit in the mail, you don't want any issues. One little delay could cause spoiled fruit and vegetables. You also want to consider how recyclable the packaging of each service is. Since it will be shipped to you on a regular basis, you don't want the packaging becoming an environmental issue.
Daily Harvest
As mentioned, Daily Harvest has packed their boxes to ensure everything stays frozen during transportation. They use plenty of dry ice in order to keep your order cold. The amount of dry ice will be modified depending on seasonal and regional weather conditions.
One great thing about Daily Harvest is that they use recyclable packaging. The cardboard box, cups, lids, and the plastic liner surrounding the dry ice are all able to be recycled. You can double-check with your local recycling facility to be sure they'll accept everything. There's also a denim liner that holds the dry ice and that liner is biodegradable. You can take it to a fabric recycling facility or throw it out.
Green Blender
Most of Green Blender's materials are recyclable as well. These items can easily be dropped off at your local recycling facility, which they encourage customers to do in order to lower their carbon footprint. You can recycle the following: cardboard boxes, kraft paper, plastic and deli containers, cotton and denim liners (brown insulated liner used during winter is not recyclable), plastic bags, and film. You can also reuse the ice packs or recycle them. If you want to recycle them, you simply have to drain the non-toxic gel into the trash and recycle the plastic film.
Winner: Daily Harvest
Money Back Guarantee
If for some reason you aren't happy with your order, don't hesitate to give either Daily Harvest or Green Blender a call. They are there to assist you and to make things right. From there, they'll let you know what can be done to remedy the situation, whether they give you a discount, store credit, or refund your money. That's left up to their discretion.
Winner: It's a tie!
Customer Service
If something goes awry when your package is being shipped, when you receive it, or when you go to make your smoothie, it's important that you can get help. When making a final decision, take a look at the customer support teams of each service.
Daily Harvest
If you need to get in touch with the team at Daily Harvest for any reason, they provide you with three options to chat with their customer service. You can email them, have a live chat, or schedule a call so you don't have to wait on hold. To reach them via email, their team is available 9:30 AM to 9:00 PM Eastern. Live chat is available from 11:00 AM to 5:00 PM Eastern and you can schedule a call between 10:00 AM and 8 PM Eastern.
Green Blender
To reach out to Green Blender's customer service team, you can send over an email or give them a call. They do prefer you email though! If you'd rather call, you can reach them Monday through Friday between 11:00 AM and 5:00 PM Eastern.
Winner: Daily Harvest
Referral Program
Both companies offer a referral program that allows you to recommend your friends and you'll get something back in return.
Whenever someone signs up for Daily Harvest through your link, they'll receive three free cups in their first box. Once that person is charged for their first full-price box (meaning, their second box), you'll receive a credit for three free cups in your account.
With Green Blender, anyone who joins through your link gets $20 off their first box and you'll receive a $20 credit. It's a great way for both you and your friends to save money.
Winner: It's a tie!
Final Thoughts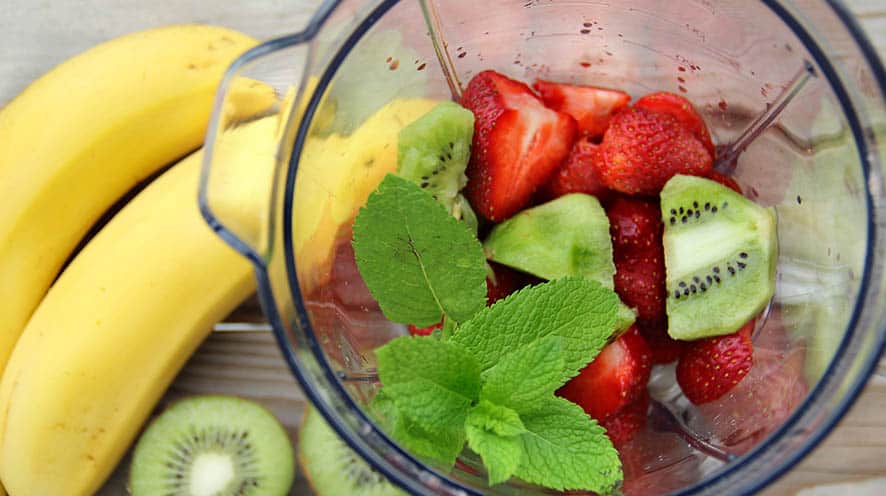 Based on personal experience, I love both but for different reasons.
Daily Harvest is a great option if you're looking for quick and easy smoothies to make when you're on the go. Every smoothie, latte, bowl, etc. that we made from Daily Harvest took less than 60 seconds to make, pour back in the cup it comes with, and go. It's perfect for those who want to eat healthy in the morning but don't have a lot of time.
On the other hand, if you're looking to try a bunch of different smoothies and you want to use fresh fruit instead of frozen, Green Blender is the way to go. They have veggie and fruit combinations that sound weird but taste amazing (like "Blueberry Oat Cobbler" and "Strawberry Rhubarb Pie Smoothie"). The smoothies from Green Blender do take a bit more work to make, but not by much.
Have you tried Daily Harvest, Green Blender, or both? Leave a comment below and let me know your thoughts!