Love to grill? This might be your new favorite "food box".
We put an emphasis on food box because BBQ Box doesn't actually send you food (except for one small BBQ-style treat, like jerky). Instead, it sends you all the necessary items to take your grill-game up a level. With monthly deliveries of sauces, marinades, rubs, and more, it's the best way to bring your next BBQ to life and impress all of your family and friends.
Let's explore this box and find out if it's the right box for you!
How to Join & Place Your Order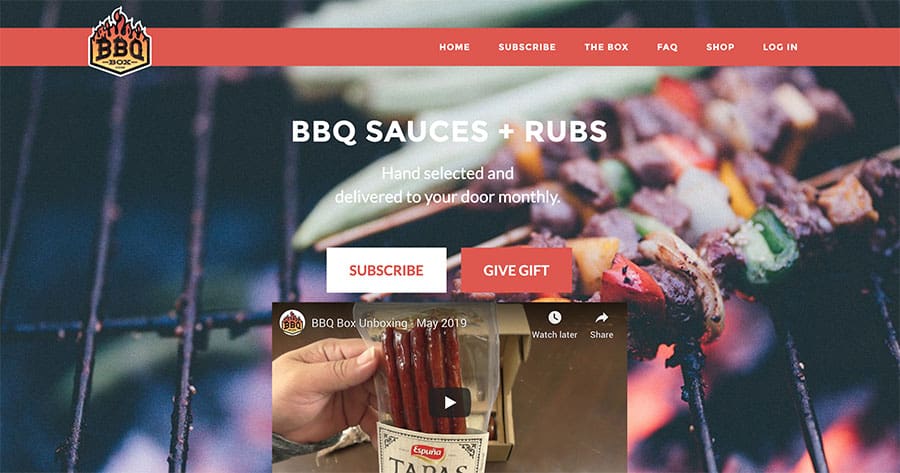 To get started, you'll first need to pick your plan. There are four different plan options to consider when you join BBQ Box. You can opt to do their Month to Month plan, 3-Month Prepay, 6-Month Prepay, or the 12-Month Prepay. If you're wanting to just test the waters, it's probably best to do the Month to Month plan and then upgrade to a long-term plan after you've decided you really like the service and want to continue receiving the boxes (this way you're not locked in).
Once you've made your decision, you'll be taken to the checkout page. Here, you'll create an account to save all of your information and edit future orders. You'll also enter all your shipping and billing information. After you've finished, you'll just have to sit back and wait for your first order to arrive.
Your first order from BBQ Box will actually be their "Welcome Box." Because they receive a large, unknown amount of monthly sign-ups for their service, they provide this Welcome Box to first-time customers. This way, they can have these boxes ready to be shipped out during their short shipping window, which is the 25th through 30th each month.
The following month, you'll receive your second order and that will be the normal monthly BBQ Box. You're not able to skip the Welcome Box, so you'll have to be a little patient as you wait for things to really get started with your subscription.
Inside your official monthly box, you'll receive a selection of barbecue essentials. There will be one sauce or marinade, one rub or spice, an edible treat such as jerky or another type of snack, a sample package of premium wood chips, and a custom recipe that utilizes the items inside your box so you can make the most of them. You won't be choosing the items you receive each month, so it'll always be a surprise.
Types of Food They Offer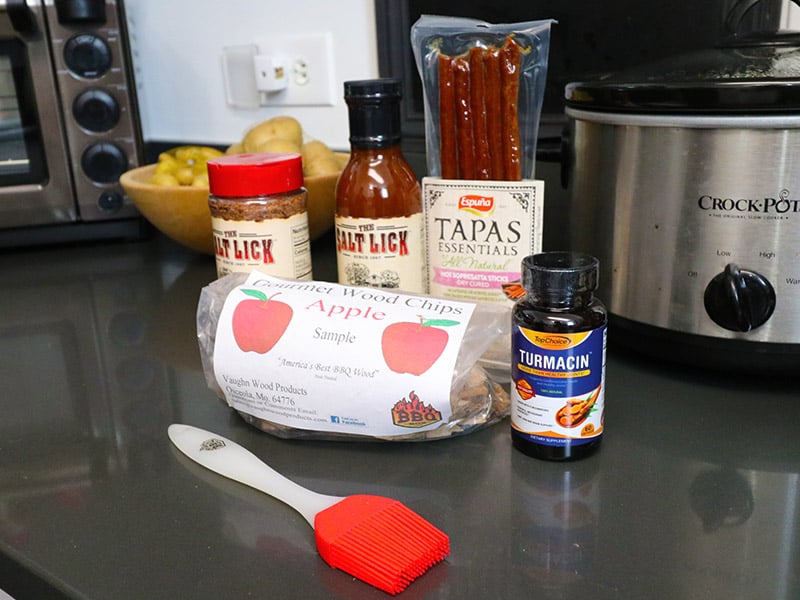 You'll never know what to expect with your monthly BBQ Box because you'll get to experience all different brands and flavors with each order. One month, you might receive The Salt Lick Honey Pecan Barbecue Sauce and their Garlic Dry Rub, alongside some apple wood chips. And another month, you could open your box to find Meat Mitch WHOMP! Naked Barbecue Sauce and their Naked Seas'ning rub, plus some hickory wood chips.
Here's what we received in our box:
Gourmet Wood Chips from Vaughn Wood Products (apple flavor)
Tapas Essentials All Natural Hot Sopresatta Sticks (dry cured)
Turmacin (turmeric supplement for healthy joints)
The Salt Lick Garlic Dry Rub
The Salt Lick Honey Pecan BBQ Sauce
Custom BBQ Box Silicon Basting Brush
Delivery
Orders can be shipped across the United States and even internationally. For those in the States, you can expect your order to be delivered either via USPS Priority or First Class mail.
As long as you've signed up for BBQ Box by 11:59 PM Eastern Time on the 24th, your box will ship out by the 30th of that same month. (No shipping on weekends or holidays though!) You can then expect it to arrive no later than the 5th. Anyone who signs up after that cutoff date will start their subscription the following month.
There's no need to be home to receive the delivery, so don't worry if it arrives while you're at work or out for the day. Your package will be there waiting for you once you arrive back at home.
Packaging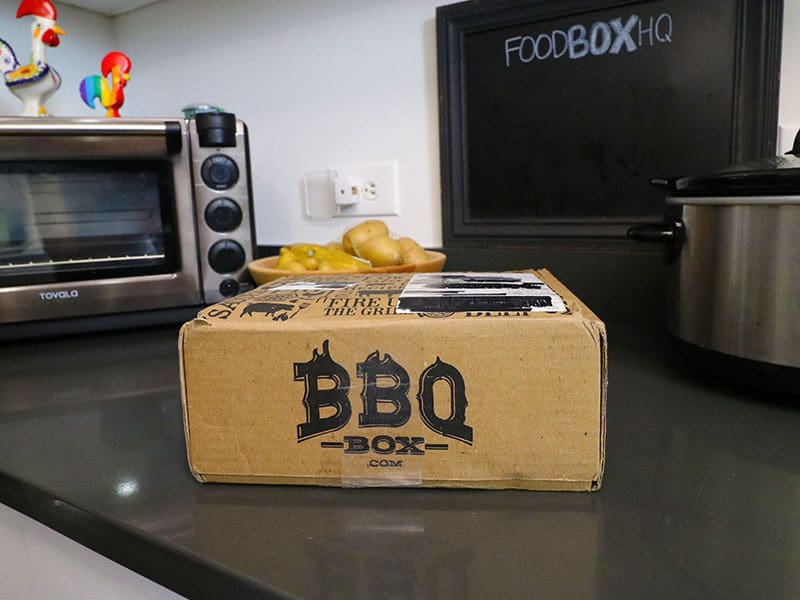 Everything is packed safely and neatly inside a cardboard box, which can be recycled after you've unpacked everything. Because nothing needs to be kept cold, ice packs and dry ice are unnecessary for your BBQ Box order. That means you won't have to worry about disposing of too much extra packaging, which is definitely a plus.
Ease of Cooking
One of the great things about BBQ Box is that they provide you with a custom recipe card that shows you how you can use each of the items in your box. If you're not experienced with barbecue or maybe just want some tips to shake things up from time to time, this could really come in handy for some fresh ideas. But of course, they welcome you to whip up your own creations. How you use the wood chips, sauces, and rubs is totally up to you so have fun making your own masterpiece.
Pricing
BBQ Box allows customers to pay monthly, every three months, every six months, or for the entire year at once. The longer the subscription you pay for, the more you'll receive in monthly savings.
Month to Month Plan — $24.99 per month
3-Month Prepay Plan — $71.97 total
6-Month Prepay Plan — $140.94 total
12-Month Prepay Plan — $275.88 total
The good news is, you can cancel your monthly subscription at any time if needed. And since it auto-renews each month, you'll want to keep this in mind so you don't forget to cancel when you want to discontinue the service. If you choose a long-term subscription, you unfortunately cannot cancel and receive a refund. Your subscription will end once it runs out.
Final Thoughts
BBQ Box is a great box for anyone who loves to spend time grilling up some delicious barbecue. Instead of sticking with the same old recipes, you can get creative by trying a variety of flavors thanks to so many different sauces and rubs. It's perfect for any type of meat that can be BBQ'd — chicken, steak, ribs, and so much more.
Have a question or comment about BBQ Box that we didn't answer? Leave a comment and we'll get back to you as soon as possible!