Do you dream of cooking authentic Italian meals at home? Well, that dream can soon become your reality with Eattiamo.
Eattiamo is a monthly delivery service that sends a basket of authentic Italian food straight to your door. Inside, you'll find seven products that will allow you to create a three course Italian meal in the comfort of your own home.
Because it's a monthly service, it's not exactly like a traditional meal delivery service. You won't be getting enough ingredients to cook up meals for an entire week. Think of it more. You will, however, receive everything you need to whip up a really special meal once a month.
If this box sounds like it's an experience you'd enjoy, let's dive into everything you need to know about Eattiamo…
How to Join & Choose Your Items

Ordering your very own Eattiamo box is pretty simple! The first thing you'll need to do is explore the available boxes and choose the one that's right for you.
As mentioned, they offer a monthly subscription that's perfect for anyone who wants a steady stream of Italian goodies on their doorstep. With this option, you can choose to pay monthly or commit yourself to a three-month, six-month, or 12-month subscription right off the bat. The longer the subscription you sign up for, the more money you save per box. If you'd rather just order one box, you can do that too!
Boxes They Offer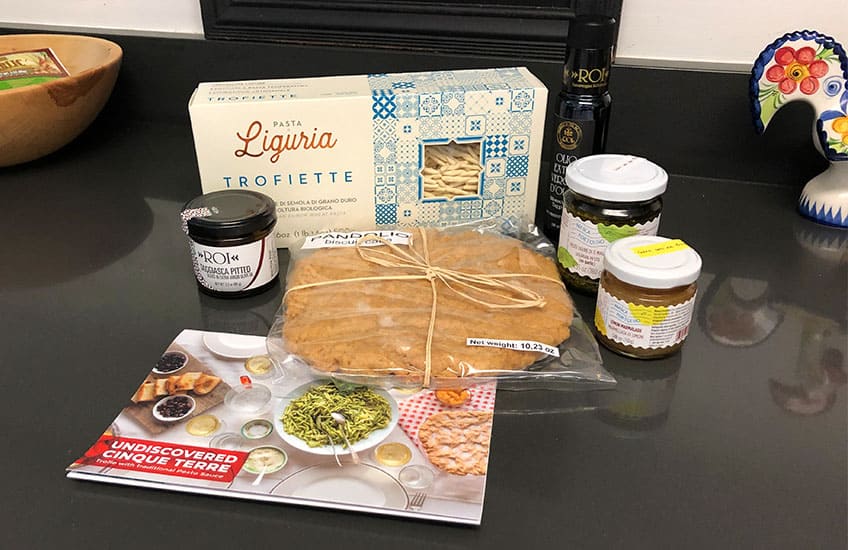 As you can tell, Eattiamo specializes in Italian cuisine. Everything they send is authentic (literally sent from Italy) and hand-selected by their team, which ensures you're getting true Italian flavor with every dish. Plus, with seven products in their monthly subscription box, it gives you plenty to taste! Let's explore their current box offerings…
Flavors of Sicily Food Basket: In this box you'll find semi sun-dried cherry tomatoes, fusilli pasta, Norma sauce, Sicilian chili peppers, Almond's Crisp pastries, Pistachio's sweet cream, and a cotton shopping bag with the Eattiamo logo. All of the ingredients will help you whip up a delicious bowl of pasta with sauce, tomatoes, and a little kick from the chili peppers.
Cinque Terre Food Basket: This was the box you'll see us unbox and cook-up in our initial video review. It includes a "3 course meal" of olives, pasta with pesto sauce, and dessert of stroscia cake and lemon marmalade.
Taste of Tuscany Food Basket: This box includes high-quality extra virgin olive oil, Truffle Gatherer's sauce, Pasta Fresca flour, Pasta "Casarecee" Campagnola Bio Sauce, and Chocolate Canntucci. With these ingredients, you can create another tasty bowl of pasta and have a little chocolate for dessert afterwards.
Tagliatelle From Emilia Italian Food Basket: This box includes tomato sauce with porcini mushrooms, balsamic vinegar of Modena, and Acacia honey to drizzle over cheese.
Romeo & Giulietta Italian Food Basket: This box will help you make Pasta "Linguine" Dolce & Gabbana. Inside you'll receive Di Martino pasta (Dolce & Gabbana special edition),balsamic vinegar of modena, Arrabbiata Sauce with hot pepper in extra virgin olive oil, and ladyfingers with hazelnut and cacao cream. All of these products some inside a limited edition art print tote bag by the Italian artist Nicolò Camaiora.
Italian Detox Food Basket: If you're gluten-free, you can still enjoy Eattiamo with this box containing all gluten-free products. Inside you'll find white corn fusilli, artichoke cream, aubergines and tomato sauce, rosemary extra virgin oil, artisan biscuits butterflies, and honey chestnut to dip in.
Italian Christmas Food Basket: Get the authentic seasonal taste of Italy with the box which includes mezzi rigatoni pasta, cherry tomato sauce, italian panettone, chestnut cream, ginger biscuits, nougat, and italianavera tomatoes & fresh basil sauce.
Italian Risotto: Risotto is an Italian rice from the northern regions where it is often preferred over pasta. This box includes risotto rice, saffron, bio coffee top selection, chocolate and biscuits ingot, little bag for sugarcubes, homemade flatbread crackers with sesame seeds, sun-dried tomatoes patè, and dried porcini mushrooms.
Most of the boxes are vegetarian-friendly since the main dish is pasta.
Delivery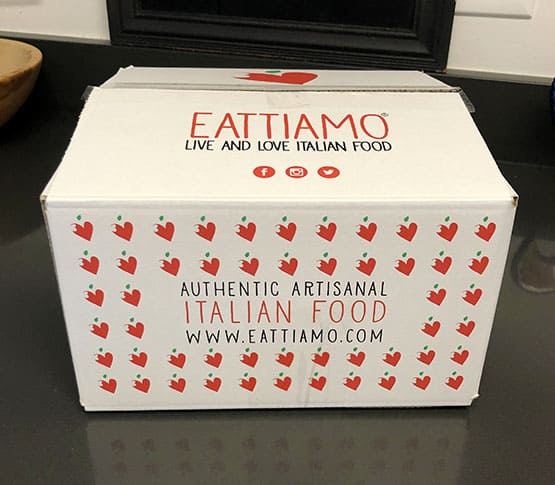 You can expect your Eattiamo box to ship out by the middle of the month. Once it has been shipped, you'll receive an email notifying you that it's left their Italian warehouse. Because the delivery time from Italy to the United States can vary, it'll likely arrive within three days to one week from its departure. These boxes do have to go through US customs, which can add a bit more time (which is what happened to our first box). You can contact their team via email if you'd like to receive a link with your tracking number to keep a better eye on your order.
Now, you may be thinking that shipping from Italy all the way to the United States is going to cost a fortune… But the good news is, shipping is always free! You don't have to worry about paying any additional costs to get that authentic taste of Italy at home, which is a huge plus.
Freshness of Food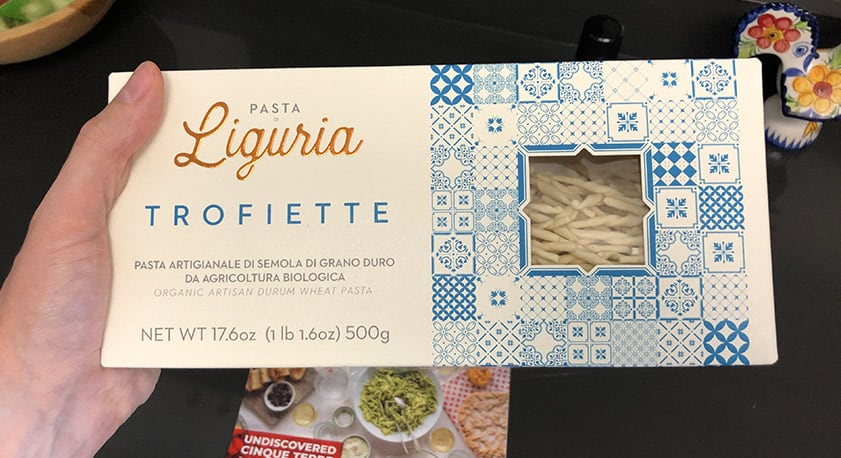 As mentioned, you're going to be receiving a box filled with hand-selected Italian products, all of which can be used to make a delicious meal at home. There are no pre-made meals that need to be heated. Nor will there be things like fresh produce inside your box. You'll typically find bags of pasta, jars of sauce or toppings, and other items of the like.
The products are not necessarily "fresh", but they are very much authentic. Everything will be recently sourced, so you don't have to worry about ingredients expiring before you're able to use them. And since they're shelf-stable, you don't have to make the dish as soon as you get it. It'll stay good for a while.
Ease of Cooking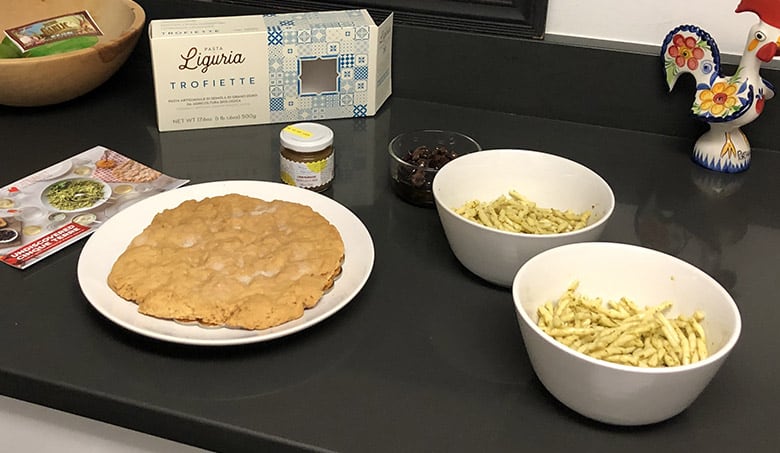 If you're a bit of a beginner in the kitchen, Eattiamo is still a service that could work for you. They've made it so their boxes are suitable for anyone from beginners to experts, giving everyone the opportunity to create an amazing Italian dish at home.
They provide customers with easy-to-follow recipes, which have been developed by Italian chefs. There will even be collaboration with Italian food bloggers to provide you with any tutorials you might need to improve your skills in the kitchen. This way, you can really put your ingredients to good use.
The one issue that Americans might run into is that the boxes are all written in Italian so it may be hard actually understand the nutritional info, etc. However, the tutorial and pamphlets within your Eattiamo box are all in English.
Taste
The quality of ingredients you receive with Eattiamo really makes a huge difference. With so many authentic Italian ingredients, it feels like you're sitting at a restaurant in Italy.
We made the Cinque Terre Food Basket and the pasta and pesto dish came out incredible. We weren't expecting much since it honestly was just cooked pasta mixed with pesto (as you can see in the video) but it was delicious. I basically finished the entire jar of pesto that night!
Pricing
If you're interested in trying the monthly subscription box, you have four options for payment. You can pay monthly or you can jump right into a long-term subscription of 3 months, 6 months, or 12 months. Of course, if you go for a longer subscription, you'll save more money per box.
One individual box is $69. A three-month subscription costs $59 per box and will cost $177. The six-month subscription is $54 per box with a subtotal of $324. And finally, the 12-month subscription costs $49 per box at $588 for the year.
You'll also want to keep in mind that shipping is free, which is certainly a bonus. You can always pause your subscription at any time if you need to.
Final Thoughts
For any Italian food lover, Eattiamo is going to be such a treat to receive each month. You'll be able to try authentic Italian ingredients that you definitely won't be able to get your hands on at the local supermarket. So authentic that all of the information of the boxes are in Italian.
This box would be perfect for someone looking to try out genuine Italian meals (not just snacks like Nonna Box) and really delicious pasta. I could see this being a great date night experience too since it is fun to make and provides enough to feed 2 people.
If you're looking to order as a gift, the 3 and 6 month pre-paid plan options are a great idea.
Overall, this is a unique and tasty specialty food box!