Soup is awesome. On a cold, rainy, dreary day, it's one of those meals that just warms your heart. But let's face it… Sometimes you just can't be bothered to go through the hassle of preparing it yourself. It takes time to make a truly delicious homemade soup. And the last thing you want is to buy some canned soup from the grocery store that's packed with artificial ingredients and tons of sodium.
So, what are you to do when you just want a delicious bowl of healthy soup without having to prepare it yourself? Well, that's where Good Stock Soups comes in! They're a New York City meal delivery service that's 100% focused on delivery freshly-made soups that use only clean, simple ingredients. And this post has everything you need to know about their service.
Let's jump into it!
How to Join & Choose Your Items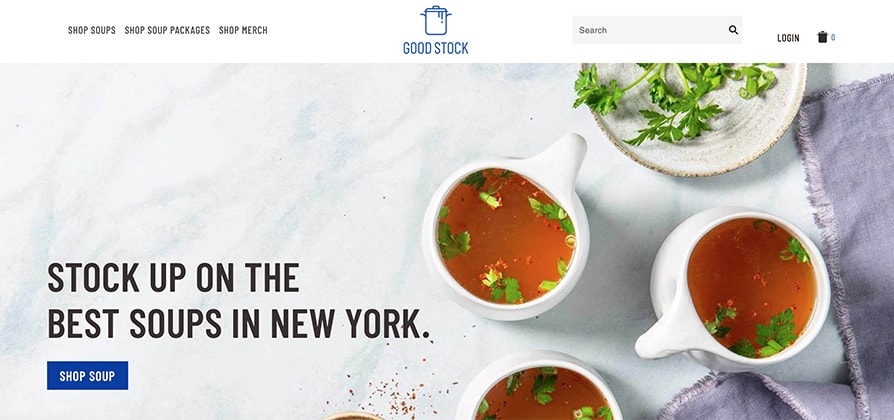 While typical meal delivery services set you up with weekly deliveries of food on a subscription basis, Good Stock isn't exactly like that. Their service works by allowing you to place one-time deliveries to fulfill all of your soup cravings. But if you fall in love and want to make sure your freezer is always stocked, you can sign-up for one, two, or four-week delivery options so you never run out of your favorites.
To get started, all you have to do is start filling your virtual shopping cart with whichever soups leave your mouth watering. You can build your own box, where you'll select at least six soups and up to 14. Each soup comes in one-pint servings, giving you plenty to enjoy. Simply scroll through the menu and add your favorites to the box. Once you're done, you're ready to check out!
You can also shop pre-selected packages of soup, allowing you to have plenty of variety. It's a great way to try new flavors. They offer a package with the classics, one that's focused on vegetables, one with meaty soups, and a few others to choose from.
Types of Soups They Offer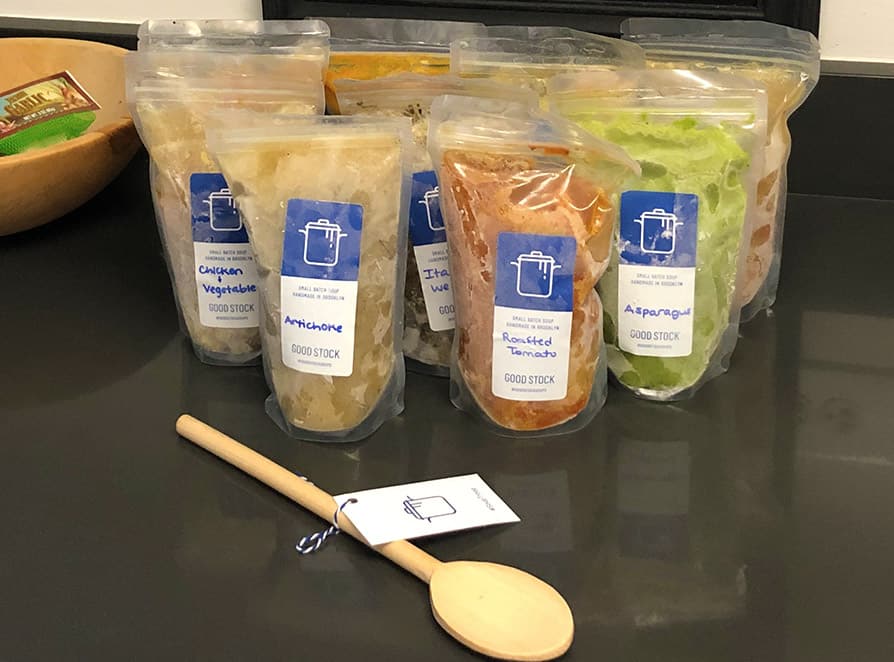 As you can tell by now, Good Stock specializes in soup, so they have plenty of options for you to choose from. Here are the soups we received in our box:
Chicken & Vegetable
Pasta Fagioli
Italian Wedding
Beef Barley
Roasted Tomato
Asparagus
Artichoke
Coconut Chicken
There are more, but you'll have to check out the full menu to see everything!
They'll also send you special garnishes that go with certain soups. We received the following:
Pepitas for the Roasted Tomato and Asparagus soups
Garlic croutons for the Roasted Tomato and Artichoke soups
Pasta for the Chicken & Vegetable and Pasta Fagiole soups
Toasted Coconut for the Coconut Chicken soup
Delivery
The only bad news is that soup lovers can't get their fix unless they live in New York, New York. Right now, Good Stock only ships orders to all five boroughs in New York City. You can choose to have your soup delivered either to your home or office, whichever works best for you.
Their team is working to expand shipping nationally, so you'll have to check back or sign up for their newsletter for future updates. They have a wait list you can join to be notified as soon as more shipping options are made available.
So, soup lovers across the United States shouldn't give up hope just yet!
If you are within the delivery area, you won't have to wait long before your order arrives. If you place your order before 1 PM Monday through Thursday, your soup will arrive the next day. If you order Thursday afternoon through Sunday, your order will ship on Monday and you'll receive it on Tuesday. Of course, you'll be provided with shipping information so you can track the order along the way.
Also, you don't need to be home in order to receive your delivery. It'll be waiting for you on your doorstep once you return! As long as it's still cold when you unpack the box, you can re-freeze it or put it in the fridge (where it's good for up to five days).
Packaging
The packaging that every Good Stock order is shipped in will keep soup semi-frozen for up to four days after it leaves the kitchen. This way, you don't have to worry about anything spoiling before it arrives at your door, plus it's safe to sit outside if you can't be home to accept the delivery.
Freshness of Food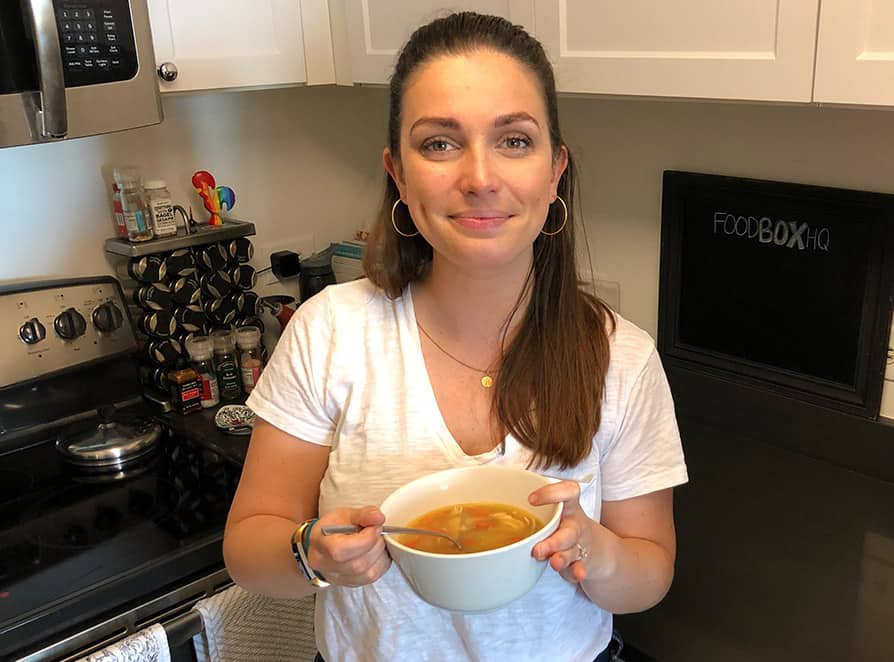 One important thing to note is that your Good Stock soups will come frozen. They choose to freeze their soups immediately after cooking so they don't have to add anything to it to extend its shelf life. That means there are no artificial ingredients, stabilizers, preservatives, or additives.
Since the soup is frozen right after it was prepared, it also helps to lock in freshness and flavor. No bland soups here!
You also don't need eat your soups immediately after receiving them. Each one will last up to six months in your freezer, so you can always save them if needed. This gives you plenty of time to enjoy each one before they could expire.
Ease of Cooking
For those who like to plan ahead, you can move your soup from the freezer to the fridge the night before you plan to eat it or the morning of. The soup will be good for at least another five days in the fridge should something comes up that prevents you from eating it when you planned.
When you're ready to prepare a delicious bowl of soup, all you need to do is remove it from the pouch and pour it into a pot. Then, place it on the stovetop and cook on low heat, stirring occasionally until it's hot. If you want, you can also pour the soup in a bowl and heat it in the microwave in 30-second increments, stirring in between.
If you have frozen soup that you'd like to cook, simply run water water over the container until it has slightly thawed. It should be thawed enough so you can pour the frozen block of soup into a pot. Place it on the stove, covered, and cook over low heat while stirring occasionally. This should take about 10-20 minutes.
Taste
Good Stock Soups is one of the few frozen meal delivery services that I can honestly say tastes better than our own homemade version. These are truly delicious soups.
In our initial review video, we taste tested the Chicken & Vegetable soup. It was the perfect blend of comforting and tasty. It had just the right amount of each ingredient — not too much chicken, not too much vegetables, and just the right amount of pasta. The best part was it wasn't loaded with sodium/salt. Often times, especially with canned and concentrate chicken soup, there's so much salt packed into it. Not with our Good Stock Soup 😃.
Pricing
Currently, when purchasing from Good Stock, there is an order minimum of six pints of soup. Each pint costs either $9, $10, or $11 depending on the soup. So, you're looking at a minimum of $54 for every order.
Shipping costs $5 per order, which you'll want to keep in mind when adding soups to your box. Orders above $95 are shipped for free. This adds a little extra incentive to stock up when placing your order.
Final Thoughts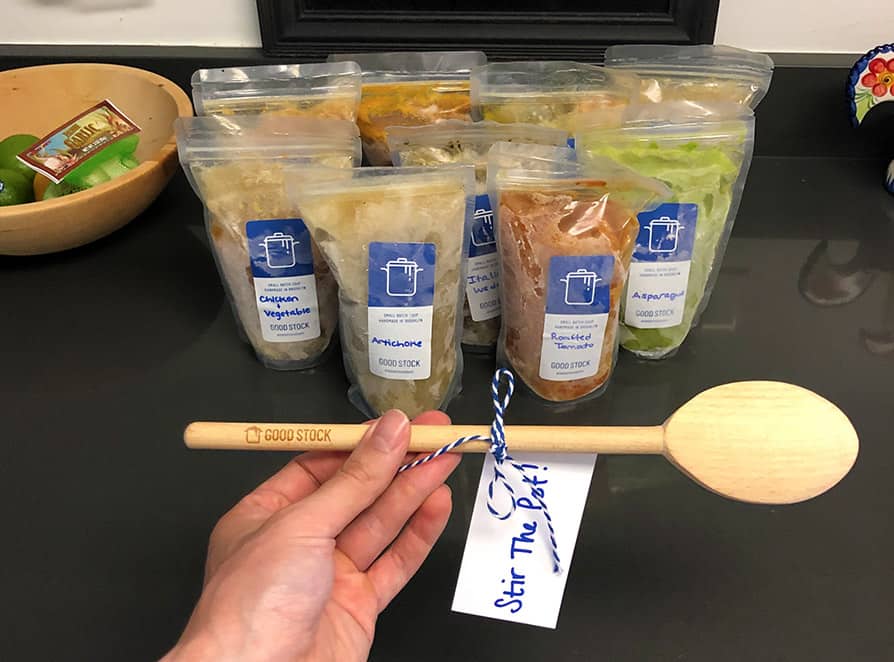 It's safe to say that Good Stock is perfect for anyone who loves fresh, flavorful soups that are made with clean ingredients. These are soups you can feel good about eating because they're not loaded with preservatives, sodium, or mystery ingredients like some canned soups are.
This is also a great option for someone who wants to keep their freezer stocked with healthy meals and also wants to satisfy any soup cravings. And since they stay good for up to 6 months, they make for a perfect (and delicious) backup meal.
If you're in the NYC area, definitely check them out and stock up on Good Stock!