Founded in 2011, Healthy Chef Creations is dedicated to providing prepared meals that are made from quality ingredients. They're providing an easy way to eat healthy and delicious meals that are quick and easy to prepare. After all, eating right should never be a chore!
The meals they create contain organic and all-natural ingredients so you never have to worry about what you're eating. You can simply enjoy the foods you receive and know you're doing something good for your body. With their help, there's no need to stress about meal planning or make time to get to the grocery store every single week.
Instead, you can have the great meals delivered straight to your doorstep. Keep reading to learn how you can place your first order and what kinds of foods you can expect to find with their service!
How to Join & Choose Your Items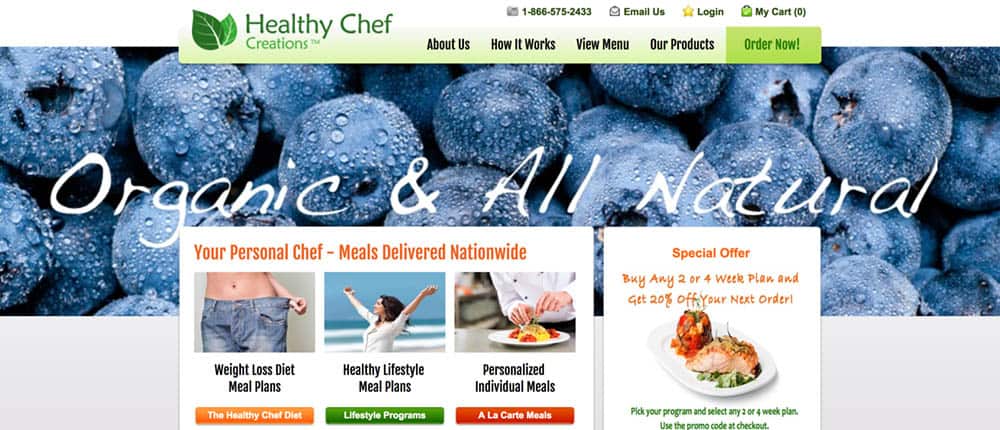 To get started with Healthy Chef Creations, it's pretty simple to place your first order. The hardest part is going to be choosing the program and plan options that are right for you because there are quite a few selections to pick from. Once you have that sorted, everything is going to be a breeze!
Placing an order can be done either online or over the phone by calling their customer service line. The first thing you'll need to decide is which of their Meal Programs best suits your needs. At this time, they have seven different Meal Program to choose from. They have the following available for you: The Healthy Chef Diet, Healthy Mommy, Healthy Senior, Healthy Living – Breakfast, Lunch & Dinner, Healthy Living – Lunch & Dinner, Gluten-Free Meals, and Healthy Living – Breakfast & Dinner.
The Healthy Chef Diet is a Mediterranean style diet that focuses on healthy eating and portion control. It's all designed to help you eat great tasting food while also encouraging weight loss. You'll have plenty of meal options to choose from as their daily menus include breakfast, lunch, dinner, side dishes, dessert, snacks, and their spa-energy detox drink.
The Healthy Mommy program is perfect new and expecting mothers. It's going to give you exactly the nourishment you need during motherhood. With the Healthy Senior program, senior citizens are able to eat healthy without having to worry about the hassle of planning meals, grocery shopping, and cooking. This makes meals so much easier for them.
There are also a few Healthy Living program options available. These programs are perfect for singles, couples, and families. You can choose to receive all three meals, just lunch and dinner, or just breakfast and dinner. This makes the program customizable for your needs.
And finally, for those who are unable to eat gluten, you have options with Healthy Chef Creations. They have a dedicated gluten-free program that includes breakfast, lunch, dinner, and dessert. It's going to make gluten-free eating much easier when you don't have to worry about whether the ingredients are safe.
Once you've chosen your program, you'll then be required to select your plan type and the plan option. The "plan type" is where you'll choose how many weeks worth of meals you'd like and how many meals per week you want. You'll have options such as: one-week plan with five or seven meals per week, a two-week plan with five or seven meals per week, and so on. You can choose one week worth of meals, two weeks, four weeks, or 13 weeks.
From there, you'll need to choose your "plan option." With some programs, you'll notice this lists a calorie count per day. For example, the Healthy Chef Diet has options that include: 900-1100 calories per day, 1100-1300 calories per day (the standard for women), 1300-1500 calories per day, 1500-1700 calories per day (the standard for men), and 1700-2000 calories per day. The price will change based on the calorie intake you select.''
For other programs such as the Healthy Senior or Gluten-Free Meals, you'll only have a choice of regular size or large size meals. The regular size doesn't cost any extra, but the large size will cost $3 extra dollars per day.
Alternatively, you can order from their A La Carte menu, which allows you to select the meals you want, choose your portion size, and pick your side dishes to create a menu all your own. If you decide to stick to one of their available programs, you can indicate any allergens and food preferences and those will be taken into account when your meals are selected.
Types of Food They Offer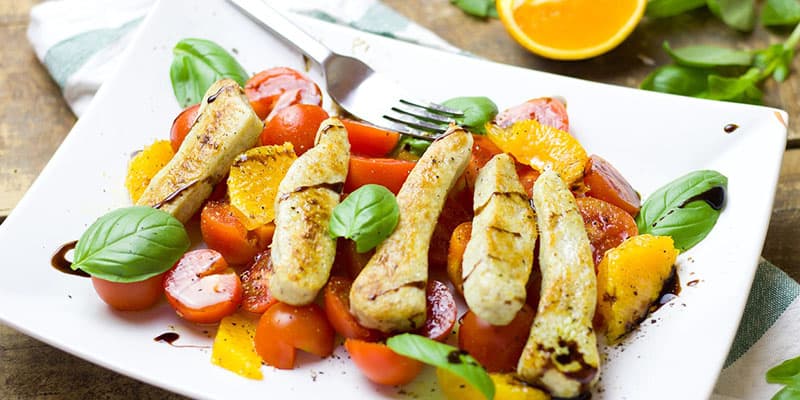 There's no shortage of food when ordering from Healthy Chef Creations either. While some food subscriptions services stick to dinner, they're offering so much more. They provide options for breakfast, lunch, dinner, dessert, and a selection of other items. There are even meals specifically for children!
One the breakfast menu, you'll find things like: Apple Cinnamon Pancakes, a Breakfast Fruit Plate, Mexican Egg Burrito, Roasted Sweet Potato Egg Skillet, and a Wild Berry Parfait. For lunch, you can choose from: an Antipasto Salad Wrap with Grilled Chicken Sausage, Chicken Fajitas, Soup and Caesar Salad, Southwestern Wrap with Black Beans & Rice, and a Tuscan Sandwich.
For dinner, you'll find options such as: Chicken and Lentil Stew, Grilled Turkey Au Jus, Italian Meatballs & Spaghetti, Seafood Stuffed Flounder, and Kung Pow Chicken with Basmati Brown Rice. You can then finish it off with something delicious from their dessert menu, which includes: Coconut Date Roll, Cranberry Orange Oatmeal Cookie, Dried Mango, Strawberry Cheesecake, and Sweet Potato Pie.
Delivery
If you're looking to place an order with Healthy Chef Creations, you're in luck because they do nationwide delivery for all of the United States. They'll send their meals to any residential address in the States and in Puerto Rico. However, it's important to note that deliveries to certain areas, such as Puerto Rico and parts of Alaska and Hawaii, may require additional fees or special delivery arrangements. You can always learn more about this by contacting the Healthy Chef Creations team before placing your order.
For those that would like to have packages delivered to a business address, you can do that as well. They encourage you to call or email with special delivery instructions for business locations to ensure everything is delivered properly.
Deliveries take place once per week, typically on a Friday. Everything is shipped overnight via FedEx, so you won't have to wait long after your order ships to receive it. Shipping fees are also not included in the meal and program prices you see on their site. This charge will vary based on the amount of food you order, your shipping address, and other factors. You'll see the final shopping costs during checkout.
Those that are local or Orlando, Florida can bypass shipping if they choose. Healthy Chef Creations has a kitchen located there and you can actually stop in to pick up your order. This will eliminate costly shipping prices should you choose this option.
Packaging
Because the meals need to stay cold during transportation, special packaging is required to keep your food at the optimal temperature and prevent spoiling before it arrives. Each of the meals are individually packaged and sealed for freshness in BPA-free containers. The containers are placed inside a cardboard shipping box that has insulated cooler linings, as well as ice gel packs to keep everything cold.
This packaging has been thoroughly tested to ensure it keeps everything cold, without causing it to freeze, for up to 36 hours. It's even been tested to handle extreme shipping conditions, so you can rest easy knowing your food will arrive to you in great condition.
The other good news is that the packaging material they use are recyclable. The BPA-free containers the meals are in can be recycled. The insulated cooler linings, other internal packaging, and the cardboard boxes are all recyclable as well. You can reuse the ice gel packs or you can recycle them if your local recycling facility accepts them. You'll have to contact them to find out. If they don't, they'll always come in handy for picnics, trips to the grocery store, etc.
Freshness of Food
The freshness of your food is another thing you don't have to worry about with Healthy Chef Creations. Each meal is made to order from scratch every week. It's then packaged, shipped, and delivered to your doorstep. The meals are always fresh and never frozen. In fact, they're guaranteed to stay fresh for the whole delivery week, which is seven days after your normal delivery date. This is typically a Friday to Friday timeframe.
Each meal stays fresh because of the way they choose to seal their packaging. Once meals are placed in their individual containers, the oxygen is removed to ensure freshness. And because the meals are shipped in insulated cooler boxes with ice gel packs, everything remains at the optimal temperature as it makes its way to you.
Once you've received your meals, you'll want to place them in the refrigerator until you're ready to eat them. As mentioned, they'll stay fresh for the whole delivery week. Even even though Healthy Chef Creations chooses not to freeze their meals, you can do this if you'd like to save them for a later date. If you choose to freeze meals, they recommend slowly thawing the food in the refrigerator before heating.
Ease of Cooking
One of the great things about the meals is that minimal effort is required to prepare them. There's no need to slave over a hot stove in order to put a delicious, healthy meal on the table for dinnertime. They've made it incredibly easy so you can have a great dinner in no time at all.
The meal containers are BPA-free and are also oven and microwave-safe. This means you don't even have to dirty up a bunch of dishes to heat up your meal. You can cook them right in the container they arrived in. All you have to do is choose how you're going to cook them, in the oven or in the microwave.
When cooking in a conventional oven, you'll want to remove the lid and plastic container seal. Then, place the meal container on a cookie sheet and put it into a preheated oven at 300 degrees Fahrenheit. It's recommended to start cooking the meal for six to eight minutes for lighter items such as breakfasts, light dinner entrees, and small sides. For heartier items like bigger dinner entrees and large sides, you can start with eight to 10 minutes. Be sure to check throughout cooking to ensure you don't overheat your meals and get them to the optimal temperature.
For microwave preparation, you'll also want to remove the lid and the plastic container seal. When cooking lighter items like breakfasts, omelets, quiches, breakfast burritos, fish, light dinner entrees, and small sides, start out cooking on high for 45-60 seconds. You'll want to aim for 60-90 seconds for heartier items like larger dinner entrees, steaks, stews, and large sides. You can then add 20-30 seconds as necessary until you've fully cooked your meal.
Taste
When choosing meals to order, it's going to be hard to limit yourself when it comes to what you place in your online shopping cart. With breakfast, lunch, dinner, and dessert options, there's just so much to choose from and it's safe to say everything is going to taste great.
The Apple Cinnamon Pancakes are the perfect treat for any morning, plus these are gluten-free. They're also topped with cinnamon baked apples and pure maple syrup, making them a delectable morning dish. Another great choice is the Tuscan Omelet, which contains spinach, artichokes, diced tomatoes, and Pecorino Romano. You won't want an omelet any other way after you've tried it.
For lunch, the Tuscan Sandwich with free-range turkey, ham, lettuce, tomato, provolone cheese, and sun-dried tomato cream cheese is amazing. It's a satisfying lunch option that's going to leave you feeling ready to tackle the rest of your day. And the Provencal Stuffed Bell Peppers with Cheese is definitely a go-to!
Pricing
How much you wind up spending on your order with Healthy Chef Creations is ultimately going to depend on which program you choose. As mentioned above, they have a few standard meal programs available to order. They are as follows: The Healthy Chef Diet, Healthy Mommy, Healthy Senior, Healthy Living – Breakfast, Lunch & Dinner, Healthy Living – Lunch & Dinner, Gluten-Free Meals, and Healthy Living – Breakfast & Dinner. It's also going to depend on how many weeks of meals you'd like, how many meals per week, and the plan option you choose based on calorie intake.
For example, the Health Chef Diet for two weeks with five meals per week at the standard 1300-1500 calories a day will cost you $559.90. The Healthy Mommy plan for two weeks with five meals per week at 1900-2100 calories a day will cost the same amount. The Healthy Senior Plan for two weeks with five meals per week in the regular size will cost $509.90. And the Gluten-Free Meal Plan for two weeks with five meals per week at the regular size will cost $539.90. As you can see, prices will range depending on what you choose to order. However, the prices for five meals per week for two weeks seem to be pretty close to one another, no matter which plan you choose.
Final Thoughts
Eating fresh, healthy foods doesn't have to be a hassle. You can have great meals delivered to you with Healthy Chef Creations. Committed to providing high-quality ingredients and great tasting meals, dinner has never been easier. You and your family are sure to enjoy the options they have to offer. The best part is that everything is easy to prepare so you can skip the drive-thru and have a great meal right at home.