When it comes to losing weight and staying in shape, so much of it comes down to what you eat. With busy lives, we often resort to eating things that aren't the best for us, which certainly isn't doing our physiques any favors. Instead, you can choose to prepare quick and healthy meals that will do you body good.
Introducing Lean Meals. This healthy meal delivery service was launched in May of 2014 with the premise that anyone can eat health and lose weight. They offer two different meal plans that are designed to suit your needs. One plan aids in weight loss while the other helps you maintain your body's shape and health. Not only are these meals good for you and your body, but they're also fresh and flavorful.
Plus, with a culinary team developing new meals on a regular basis, you'll never have to worry about getting bored with your meals ever again. Breakfast, lunch, and dinner are now made easy thanks to the offerings of Lean Meals and all the options they provide to their customers across the country.
If you're ready to get into the best shape of your life, but need some guidance when it comes to what you should be eating, let Lean Meals give you a helping hand! Keep reading to learn more about their meal plans, the types of foods they offer (it includes pancakes!), and how you can sign up and order your first box.
How to Join & Choose Your Items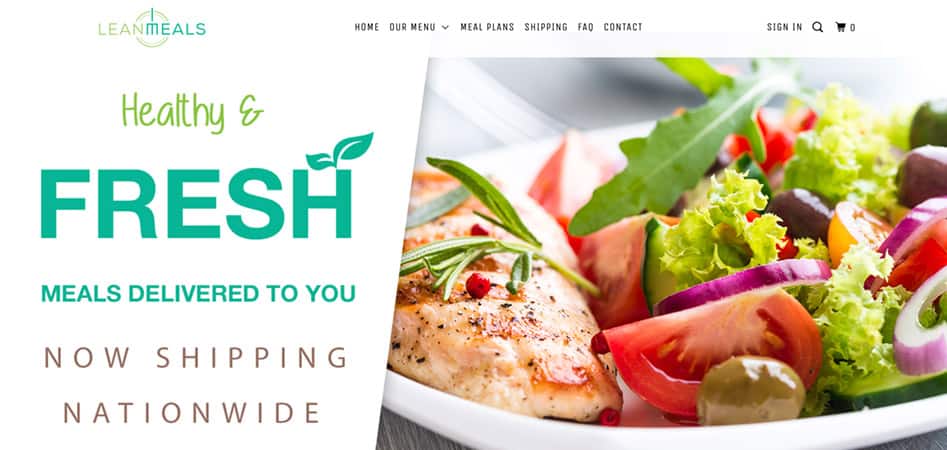 To get started with Lean Meals, you'll need to first select the plan you'd like receive. At this time, they have two plan options for you to choose from: Weight Loss and Fitness. The Weight Loss plan is low carb and lean protein based and it's designed to help encourage weight loss. The Fitness plan provides you with lean protein, veggies, and complex carbohydrates. It's designed for maintenance and muscle building. Both of these plans are ideal when paired with daily activity to ensure you're seeing the best results possible.
From there, you'll need to select your portion size. You'll choose between the men's plan and the women's plan. The men's plan provides you with an average of 1600 calories per day, while the women's plan provides an average of 1200 calories per day.
Your next decision is to choose how many days per week you'd like to receive your meals. You can choose between five days or seven days. If you'd like to have a full week of meals to make it even easier on yourself, go for seven days. For those that prefer to take the weekends off for a little treat, choose the five-day option. From there, you'll need to choose between two meals a day or three meals a day. If you choose just the two meal option, you'll receive lunch and dinner only. Three meals a day gets you a breakfast option as well.
Once you've made all those important decisions, you'l be ready to checkout. After the meals have been added to your shopping cart, you can add or delete anything based on your specific taste. Meals will be pre-selected for you as a guideline, but you're able to make changes to anything you want. This ensures you always get the meals you're most interested in eating. This way, it never has to be a surprise and you don't have to worry about getting something you won't like.
After you've checked out, all you have to do now is begin counting down the days until a box of delicious food arrives on your doorstep!
Types of Food They Offer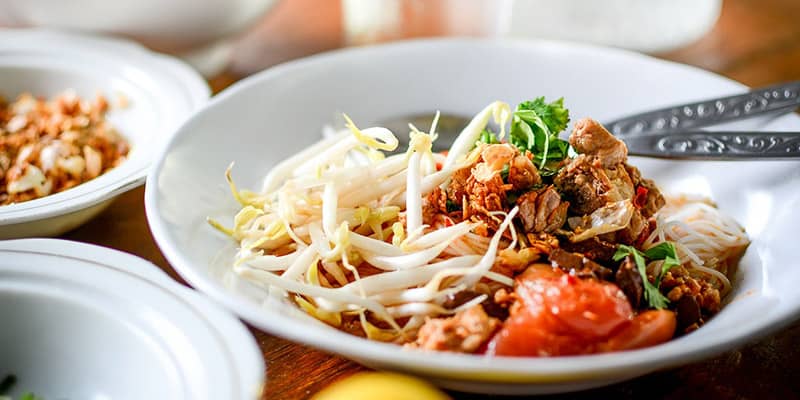 Lean Meals makes it easy to see exactly what they have to offer. And it's safe to say their options are much more impressive than the already prepared meals you'll find at the grocery store, so don't let those plastic trays fool you!
When viewing their menu, you'll be able to sort meals based on the following options: Breakfast Menu, Custom Meals, Gluten Free, Low Carb Meals, and Signature Meals. With pages of meal options to choose from, it's going to be hard to decide what you choose to add to your shopping cart week after week.
For breakfast, you'll find options such as: Chocolate Chip Pancakes, Cinnamon Honey Oatmeal Breakfast Plate, and even a Mexican Breakfast Burrito. While you may have thought it wasn't good to eat pancakes before, now you're able to have pancakes that are both healthy and delicious. There's no need to feel guilty eating these in the morning!
Great signature meal options include: Arroz Con Pollo, Baja Tilapia, BBQ Chicken, Beefy Mac & Cheese, Chipotle Lime Salmon, and a Teriyaki Turkey Burger. If you prefer to stick to low carb options, you'll find meals like the Buffalo Chicken Dippers, Chicken Caesar Salad, and Turkey Bolognese. For those who are gluten-free, you'll enjoy the Angus Beef Sliders, Caveman Steak Plate, Classic Turkey Chili, and even the Firecracker Shrimp.
Delivery
Lean Meals currently delivers their food to all of the continental United States. Unfortunately, this means they're unable to deliver to Alaska, Hawaii, or any of the United States territories at this time. If you live in one of those areas, you can always check back in the future to see if they've expanded their delivery area.
To make sure your meals get to you on time, everything is shipped via FedEx. If your order is placed between Monday and Thursday, your delivery will leave their kitchen on Monday. This means you should receive your delivery either Tuesday or Wednesday. If you placed your order between Friday and Sunday, your order will be shipped on Wednesday and should arrive either Thursday or Friday.
You will receive tracking information after your order has shipped so you'll be able to keep an eye on it and know when it'll arrive. You don't have to be home in order to receive the delivery either because a signature is not required. It's important that you do refrigerate your meals as soon as possible after your meals have arrived.
If at any time you need to pause your weekly deliveries, you can do that easily by logging into your account. You can choose which dates you'd like to start and stop any deliveries, which is helpful if you're ever going out of town or need to just take a break for a little while.
Packaging
The meals arrive individually in 100% BPA-free containers that are also microwave safe. These containers are recyclable, so Lean Meals encourages you to leave them for your local recycling center once you're done with them.
To keep everything cold during transportation, an insulated box with ice packs is used to keep your meals at an optimal temperature. As soon as you're able to get to your delivery, bring the box inside and place all the meals inside your refrigerator.
Freshness of Food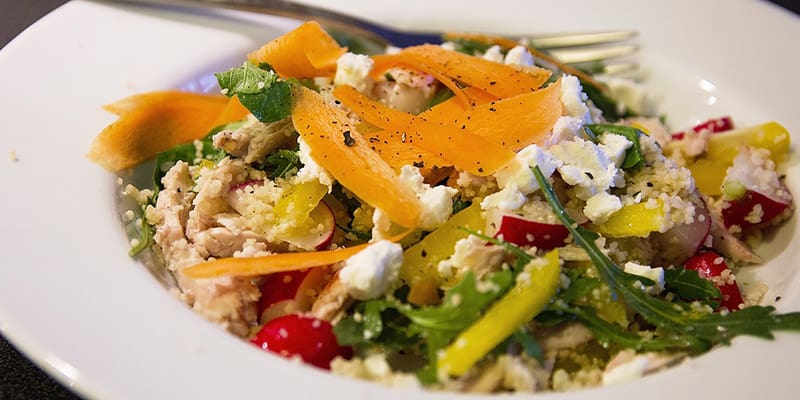 Because everything is kept cold as its on the way to your home, you don't have to worry about food spoiling or anything like that. The meals are kept cold thanks to the insulated cooler and the ice packs inside the box. Plus, the meals are all individually sealed in a way that promotes freshness.
Unlikes some food subscription services, the meals aren't frozen either. Instead, they're prepared in the kitchen and sealed before being packaged for delivery. Since you're not getting frozen meals, you're getting ready-to-cook fresh food that is going to be delicious and flavorful.
Ease of Cooking
One of the great things about Lean Meals is that you only have to put in minimal effort when it comes to preparation. Because these meals are already prepared, all you have to do is heat them up. That eliminates any need for meal planning, grocery shopping, washing and chopping veggies, and actually preparing an entire meal on your own.
Instead, you can pop them in the microwave whenever you're ready to eat. The fact that every meal is in a microwave-safe container just makes it even easier and cuts down on the amount of dishes you have at the end of the day. Once meal time rolls around, just place your meal in the microwave for about 60-90 seconds. You'll want to check on it throughout cooking to ensure you get it to the right temperature.
Taste
Having plenty of options to choose from when customizing your plan makes Lean Meals even more appealing. It's always nice being able to select the dishes you're most interested in eating, plus it gives you the chance to experiment and try new things you wouldn't have otherwise tasted. Plus, their culinary teams prepares 30 unique menu items every week, so you don't have to worry about getting bored with meal options or getting stuck in a rut. You can easily spice things up!
With that said, they have a few breakfast options that are going to satisfy all of those morning cravings. If you're a pancake fan, you're going to love the Chocolate Chip Pancakes and the Strawberry Protein Pancakes. Both of these are gluten-free and made with good-for-you ingredients so you don't have to feel guilty about enjoying them. Another great option is the Steak and Potato Breakfast Bowl. It's hearty and filling to get your day started off on the right foot.
For lunch or dinner, the Chipotle Chicken Wrap is a delicious choice. It's a whole wheat tortilla filled with grilled chicken breast, peppers, onions, and their low-fat chipotle sauce. It's the perfect option when you need something quick and easy. And that chipotle sauce? You're going to love it! It's great for dipping or even pouring it directly onto the wrap.
Another nice choice for lunch or dinner is the Turkey Taco Salad. It's made with seasoned ground turkey that's both tender and flavorful. The kale lettuce blend gives you a dose of greens for the day and it's topped wit ha tomato vinaigrette dressing. It's a great combination any day of the week and leaves you satisfied without being too filling.
Pricing
As with most food subscription services, the price you ultimately pay is going to depend on the options you select. With Lean Meals, you have two different plans to choose from and then some other choices you'll have to make before placing your final order. To give you an idea of what you can expect to pay, here are the prices for the minimum option for each of the plans available:
If you choose the Weight Loss plan for a male with two meals a day for five days, you're going to pay $89.50. The Fitness plan for a male with two meals a day for five days will wind up costing you $101.50.
The Weight Loss plan for a female with two meals a day for five days will also cost $89.50. The Fitness plan for women with two meals a day for five days will also cost $89.50. This is where you'll notice the male plan has increased in price, but the female plan option has not.
If you're wondering what individual meals cost, you can also check out those prices by viewing their online menu. Most of the Signature Meals, Gluten-Free Meals, and Low Carb Meals cost $8.95 for a single serving. For seafood dishes, they're just a little more expensive at $9.95 for a single serving. Breakfast choices are a little cheaper at just $7.95 for an array of options that includes pancakes, oatmeal, and eggs.
Final Thoughts
If you're looking for a simple way to eat lean and clean, Lean Meals is a great option to consider. Since we all lead busy lives, it's easy to fall into that trap of thinking healthy eating requires too much effort. But instead of resorting to frozen dinners found at the grocery store or heading to the drive-thru, you can enjoy freshly made meals in the comfort of your own home.
Not to mention, all of these meals are designed to help you look and feel your best. You can choose the plan that promotes weight loss to help you shed those last few pounds or you can opt for the Fitness plan that's meant to help you maintain the body you've worked so hard to whip into shape. Healthy and nutritious eating has never been easier.