For anyone who is interested in losing weight and eating better, there's a good chance Nutrisystem may have crossed your mind as you wondered whether or not it was worth signing up for. Not only have they been around for over 40 years, they're weight-loss brand is easily one of the most well-known.
The entire premise of their service is that they aim to deliver the perfect portion size, keep your meals balanced with the right amount of of nutrients, and have you eat more frequently with six meals per day.
Together, the strategies behind their meal plans are designed to help you get portion sizes under control, keep you feeling satisfied longer after eating, and also help fight off those pesky hunger cravings. You'll get plenty of vitamins, lean protein, high-fiber meals, and low-glycemic carbs. What's more is they have many preservative-free foods and they even forgo artificial sweeteners, colors, and flavors.
One of the great things about their service (that many others like theirs don't offer) is that there's no need to count calories, carbs, or points. They take care of everything for you by delivering exactly the meals you you need to see results with your weight loss. It takes the guesswork out of dieting, so you don't have to stress over it yourself. And when you don't have to do it all alone, there's a much higher rate of success.
If you're thinking about getting started with Nutrisystem, we're sharing everything you need to know in this comprehensive review. You'll learn how to get started with placing your first order, what kind of meals you can expect, and much more. This will help you decide if their meal delivery service is right for you. And if it is, you can get started on your weight loss journey today…
How to Join & Choose Your Items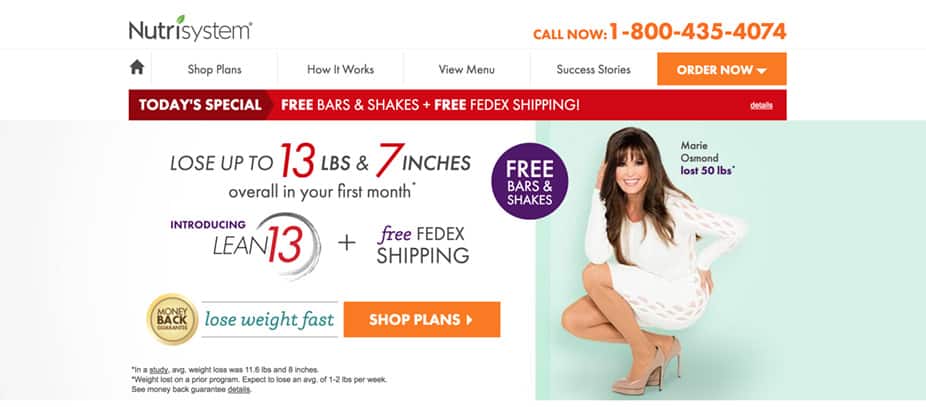 To place your first order, you'll need to begin by choosing your plan. There are three main plans to choose from, which include the following: Basic, Core, and Uniquely Yours. The Basic plan gets you a kit with pre-selected, ready-to-go foods for you to enjoy. The Core plan allows you to choose from a variety of foods or you can try out the Nutrisystem Favorites Pack. And finally, the Uniquely Yours plan gets you access to even more variety with the ability to order some of their top frozen meals.
If you have special dietary needs, there are also a few other options. You can opt for one of their plans for men, which gives you access to the same three options mentioned above (Basic, Core, and Uniquely Yours). For those with diabetes, you'll want to take a look at their Diabetes Basic, Diabetes Core, and Diabetes Uniquely Yours plans. This choice will help you lose weight while also keeping your diabetes under control.
And finally, there's an option for vegetarians. You can choose from 90+ vegetarian-friendly foods. If you go for this plan, you can customize it by choosing your gender and whether you'd prefer to receive their Favorites Pack or build a custom menu.
If you decide to go for their Favorites Pack, Nutrisystem will send you a preselected assortment of some of the most popular items on their menu. They recommend this for those who are placing their first order because it's a great introductory to their program and allows you to try a variety of meals. You can, however, go for the custom menu and handpick the items that get included with your order. This gives you complete control and allows you to choose the meals that best suit your tastes and dietary needs.
When you choose one of their four-week plans, you'll be eating four to five times per day. Your meals will be loaded with fresh fruits and vegetables for you to enjoy. You'll also have the ability to create your own healthy meals at home with their flex meals option. It's safe to say they've made it both easy and flexible to lose weight and get on a healthy eating plan.
Alternatively, you don't have to be locked into a weekly subscription if you don't want to. You can choose to order from their a la carte menu. You can choose as much or as little as you'd like and you pick from a variety of options. Their a la carte menu gets you access to breakfast, burgers and sandwiches, pizza, sweet desserts, and more. This is also a great option for anyone who wants to try Nutrisystem without committing to a four-week plan just yet.
Types of Food They Offer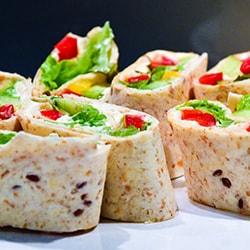 One of the great things about Nutrisystem is that they have you covered with options for breakfast, lunch, dinner, and snacks. You'll never have to feel hungry and you'll always have plenty of meals to choose from. Plus, it will cut down on the amount of meal planning and preparation that you have to do. All you have to do is place your order and let Nutrisystem take care of all of the hard work of strategizing your diet.
For breakfast, you'll find some great options, such as: a classic Cinnamon Roll, Buttermilk Waffles, Homestyle Pancakes, Cinnamon Streusel Muffin, Granola Cereal, Maple Brown Sugar Oatmeal, a Turkey Sausage & Egg Muffin, Thick Sliced French Toast, Apple Strudel Bar, and a Turkey Ham & Cheese Omelet.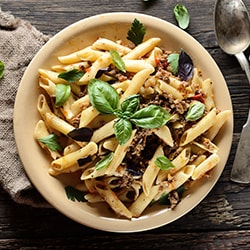 On the lunch menu, you'll find some great options like: Spinach and Cheese Pretzel Melt, Grilled Chicken Sandwich, Pepperoni Pizza Melt, Southwest Fiesta Melt, Red Beans & Rice, White Bean Chicken Chili, Chicken Noodle Soup, Sweet BBQ Sauce with Pulled-Style Pork, White Cheddar Mac and Cheese, and Cheese Tortellini.
When it comes to dinner options, their menu has a variety of meals including: Italian Sausage and Turkey Pepperoni Pizza, Mushroom Stuffed Chicken Breast, Roasted Turkey Medallions, Meatloaf Sandwich, Broccoli & Cheese Stuffed Chicken Breast, Ravioli Formaggio, Stuffed Shells, Chicken Parmesan, Salisbury Steak with Mac & Cheese, Hearty Beef Stew, and Tuna Casserole.
If you're a big snacker, you're in luck! The items on their snack menu include: Dark Chocolate and Sea Salt Nut Bar, Walnut Chocolate Chip Cookies, White Cheddar Popcorn, Whole Grain Soft Pretzel, Fudge Brownie, Smoky BBQ Snack-A-Rounds, Sweet and Salty Snack Mix, Vanilla Shortbread Cookies, and Stuffed Apple Pie.
Turbo Takeoff
https://www.youtube.com/watch?v=VBi_ro1ESjA
If you're new to Nutrisystem and wary of having to follow a new diet, you're in luck. Nutrisystem includes their special Turbo Takeoff system as the first meal plan of the week. During this week, you'll be eating foods specially selected by Nutrisystem just for you, along with at least four servings of non-starchy vegetables.
Nutrisystem knows it can be tough to stay motivated during the first week of dieting. Everyone wants to see noticeable changes as quickly as possible. Turbo Takeoff is designed specially to help people lose weight fast that first week.
Check out this infographic to get a better idea of what to expect from your Turbo Takeoff meals.
Delivery
When you sign-up for a four week plan with Nutrisystem, you'll be automatically placed on their auto-delivery. This means that you'll receive new meals delivered to your door every four weeks. It's designed to be an easy way to keep you on your healthy eating plan to ensure you're making progress toward your weight loss goals.
When an order ships out, you will receive a notification from Nutrisystem with tracking details. You'll be able to see where your package is as it makes its way to you. Plus, you'll always know exactly when it's going to arrive.
The goods news is, you don't have to worry about being home to accept your delivery. Because a signature isn't required, you don't have to be there to get it from your parcel carrier. If you're not home, the package will be left at your door and will be safe until you arrive home to get it.
If you ever need to delay your auto-delivery order, you can do so by giving Nutrisystem a call or logging into your online account. Any changes that need to be made to your order should be done before 6 PM Eastern on the day before your next auto-delivery ship date. If you need to cancel your subscription, you'll have to call them to do so.
Packaging
Because many of the meals you receive from Nutrisystem are frozen, you might be wondering how they stay fresh during transportation. They choose to ship frozen meals separately from the ready-to-go items. All frozen meals are delivered by a truck that has been designed for frozen food storage. That way you'll never have to worry about whether your food will be cold during transit.
If you're not home during the time of attempted deliver for your frozen meals, don't worry because they'll be packed with dry ice. This will keep them safe and chilled for about six to eight hours. Everything will be perfectly fine when you arrive home to retrieve your items. If you find that your meals have accidentally spoiled while being transported, contact Nutrisystem customer support immediately to have them fix it.
Nutrisystem has also made efforts to use recyclable packaging for their orders. The frozen items are stored in expanded polystyrene, which is made with up to 75% recycled content. Their coolers are also 100% recyclable. To reduce the environmental impact, they encourage customers to recycle the packaging when they're done with it. You can take the items to your local recycling facility for drop-off. If you aren't sure where to go, there are plenty of resources online to point you in the direction of the recycling facilities nearest to you.
Freshness of Food
Nutrisystem strives to provide their customers with high-quality ingredients with each and every meal. Sometimes there will be genetically-modified ingredients within the meals you receive. Their website makes it clear that any meals with genetically-modified ingredients are still required to meet strict guidelines that are in place within the United States. They want to ensure all of their food is safe for customers to eat.
Because the meals are made fresh and then immediately frozen to be delivered to you, you can still count on them being flavorful.
Once you've received your meals, you'll want to place all frozen items in the freezer as soon as possible. There are some ready-to-go meals that don't require refrigeration though, so you'll want to read the packaging to be sure.
Ease of Cooking
When it comes to preparing your meals, cooking could not be easier. Because you're receiving pre-made, frozen meals, all you need to do is heat them up. With just a few minutes in the microwave, you'll be ready to enjoy your meals in no time at all.
The great thing about this is, you don't have to stress about dinner preparation. There's no meal planning or grocery shopping. There are no ingredients to prepare. And you certainly don't need to spend an hour slaving over a hot stove to bring a delicious breakfast, lunch, or dinner together.
Instead, you can let Nutrisystem handle the hard work for you. They select the meals for you or give you suitable choices for your needs. Then, everything is sent straight to your door. So far, all the work you've done is making a few clicks online to select the meals you'd like to receive. Once the meals arrive at your door, you just need to heat them up when you're ready to eat.
It's an effective way to make progress with your weight loss goals because it eliminates that age old question of, "What's for dinner?"
When your meals are already planned out for you, there's no reason to give into the lingering temptation of junk food or hitting the drive-thru. And because preparing your meals is so simple and takes almost zero time at all to prep, there's no stress involved with Nutrisystem's plans.
Saving time while you diet is a huge plus.
Taste

One of the bonuses of signing up for Nutrisystem's plan is that you don't just get dinner options. While many meal delivery services are specifically focused on dinner items, Nutrisystem gives you the ability to receive meals for breakfast, lunch, and even snacks as well. This means you never have to worry about what you'll eat and when.
For breakfast, you'll there are classic favorites like Buttermilk Waffles and Homestyle Pancakes. Although they're both frozen dishes, they still taste fresh once they've been cooked and drizzled with maple syrup. They always make for a great, comforting dish in the morning. If you're looking for something a little more indulgent, you cannot go wrong with their tasty Cinnamon Bun.
Any weight loss program that allows you to eat sweet treats like Cinnamon Buns is a great one in our book!
If a breakfast sandwich is more your thing, you'll love the Canadian Style Turkey Bacon, Egg, and Cheese Muffin. It's a healthier version of your drive-thru favorite when you're in a hurry. And for something that's more "grab-and-go", the Banana Nut Muffin and Blueberry Lemon Baked Bar are perfect options while still being filling.
A great lunch option pizza lovers like me is the Pepperoni Pizza Melt. After all, you don't have to give up your favorite dishes just because you're trying to lose weight. It's a better way to indulge in something you truly love to eat.
For those of you who love pasta, you'll want to snag the Rotini & Meatballs for something that's flavorful and satisfying. It really does hit the spot! And if you never miss your weekly taco night, you'll want to make sure you order the Black Bean Polenta Enchilada with White Meat Chicken.
And of course, we can't forget about all the snack options Nutrisystem has to offer! They have a plethora of sweet treats that you'll fully enjoy. You'll actually forget you're on a diet when you're eating these. They've put their own spin on an Ice Cream Sandwich, which actually tastes just like the real deal.
Pricing
The price you pay for your Nutrisystem order all depends on the plan you choose to sign-up for. As mentioned previously, there are a few different options to consider, which all depend on your unique needs. You can easily make smart choices based on exactly what you'd like to get out of your Nutrisystem plan.
You can opt for their Basic plan, which starts at just $9.96 per day. If you go for this option, you'll be looking at a four-week price of $278.99 with auto-delivery. Their Core plan starts at $10.68 per day, which comes to $298.99 at the four-week price. And if you choose the Uniquely Yours plan, you're going to pay $12.29 per day. That cost will be $343.99 for the four-week price.
For those who need help controlling diabetes, their special Nutrisystem D plan is going to be your best option. The pricing for the Diabetes Basic, Diabetes Core, and Diabetes Uniquely Yours plans all come in at the same price for the standard plans listed above.
The Men's plan comes in at a slightly higher rate. With this plan choice, you'll be eating five times per day and enjoying meals that are satisfying. The Basic plan starts at $11.39 per day, while the Core plan is $12.11 per day, and the Uniquely Yours plan is $13.71 per day.
If you follow a vegetarian diet, there's a Vegetarian plan designed for you. There's only one option with this plan, unlike the others that present you with three choices. This plan comes to a total of $12.29 per day, which means it's a four-week price of $343.99.
Shipping is free on all of their orders, which is an added bonus since it'll keep some cash in your wallet. Plus, it's always nice to get free shipping on your orders.
A great feature of Nutrisystem's plan is that you do receive a money back guarantee when signing up. If you've never used their meal delivery service before, this is reassuring since you don't have to worry about what you'll do if it winds up being a flop for you. Nutrisystem states that if you're not happy with your first order, you can call them within the first 14 days to initiate a refund. One thing to note is that you'll be required to send the remaining food back.
You'll want to keep in mind that if you cancel after Nutrisystem's 14-day money back guarantee period before paying for your second consecutive four-week order, there will be an additional fee. Your preferred payment method will credit Nutrisystem with $125 for the auto-delivery discount you received on your first shipment.
Nutrisystem Plan Comparison
[table id=6 /]
*Scroll horizontally to view full table.
**Men receive an extra meal in their plans due to the differences in calorie expenditure rates between men and women.
Final Thoughts
If you're tired of struggling to lose weight, you might want to give Nutrisystem a try. Based on clinical research, they've had success helping people lose weight by sticking to their plan and eating the pre-made meals that they've created.
One of the main reasons their plans are likely so successful is because it takes the guesswork out of dieting. You don't have to meal plan or do the grocery shopping. There's no need to spend hours in the kitchen prepping ingredients and cooking. Nutrisystem does all the hard work by giving you meals to choose from and delivering them straight to you.
Within minutes, you're able to put a delicious meal on the table for you to enjoy. There's no need to resort to the drive-thru or skipping meals because they've planned everything out.
Another major bonus is that you don't have to deprive yourself. You can get Nutrisystem's versions of all your favorite dishes like pizza, pasta, and even cupcakes. Dieting is made so much easier when you can still enjoy the dishes you love while getting the results you want.
Have a question about Nutrisystem? Leave a comment below and we'll answer it ASAP!