Juice cleanses (also called "juice fasts") are all the rage. That's because everyone is looking for that quick fix to help kickstart their weight loss goals.
Are you thinking about trying a juice cleanse to hit the reset button on your body? If so, you might be a little overwhelmed with all the choices that are available online today. There are a ton of options out there. How do you know which one is right for you? Which are cold-pressed vs regular juices? Which have the right nutrients? There's a lot to consider...
Lucky for you, help is here! To make the decision easier for you, we're breaking down 12 of the best juices cleanses currently on the market. This way, you can see what each one is all about, what kind of cleanses they provide, the juice flavors that are available, and so much more. After all, when you do your research and pick the right one, you're much more likely to have a successful (not stressful) cleanse.
Let's get started!
Splendid Spoon
If you're going to do a juice cleanse, you want to make sure you're choosing juices that are packed with healthy ingredients. You don't want a secret sugar bomb that's disguising itself as something nutritious. So, you'll want to pay close attention to what's inside your juices. And with Splendid Spoon, you don't have to worry about any of that.
They offer smoothies and soups that are ready for you to enjoy and are packed full of the nutrients your body needs to function at its best. Everything is plant-based and gluten-free as well.
The breakfast smoothie flavors include juices like: Blackberry Basil, Chocolate Cherry, Carrot Ginger Chia, the Plant-Based Probiotic, and the Ab&J. You'll also find Fennel Consommé, Parsnip Apple, Celery Plant, and Pumpkin Pear Hempseed on their "Reset" menu.
All you need to do is pick your smoothies and soups or choose to stick with their weekly menu. Then, just place your order and they'll be on their way to your doorstep before you know it.
Interested in learning more about Splendid Spoon? Read our full review here.
Juice From the Raw
For those who are on the hunt for fresh, cold-pressed juices, you'll want to check out Juice From the Raw. Instead of juicing the fruits and veggies found in their drinks, they press them. The reason for this is because it helps to keep the nutrient-rich enzymes in tact to give you the healthiest juice experience possible.
Their juices are all non-GMO, vegan, gluten-free, organic, soy-free, kosher, USDA inspected, and made in the USA. And the best part is that they have a number of juice cleanse plan options to get you started on your juice cleanse. The available cleanses are displayed based on how familiar you are with doing a cleanse such as this. They have options for the juice cleanse beginner, those who are intermediate, and those who are more advanced juice cleansers.
If you're trying a juice cleanse for the first time, you'll probably want to go for a beginner option like the 3-Day Whenever Juice Cleanse with Coconut Fusion or their 5-Day Juice Cleanse n' Lunch. The available flavors include Cashew Coffee, Sweet Greens, Pineapple Apple Mint, Detox Greens, Spicy Lemonade, Blood Orange Probiotics, Passion Fruit Probiotics, UpBeet!, and Coconut Fusion.
Interested in learning more about Juice From The Raw? Read our full review here.
Britt's Superfoods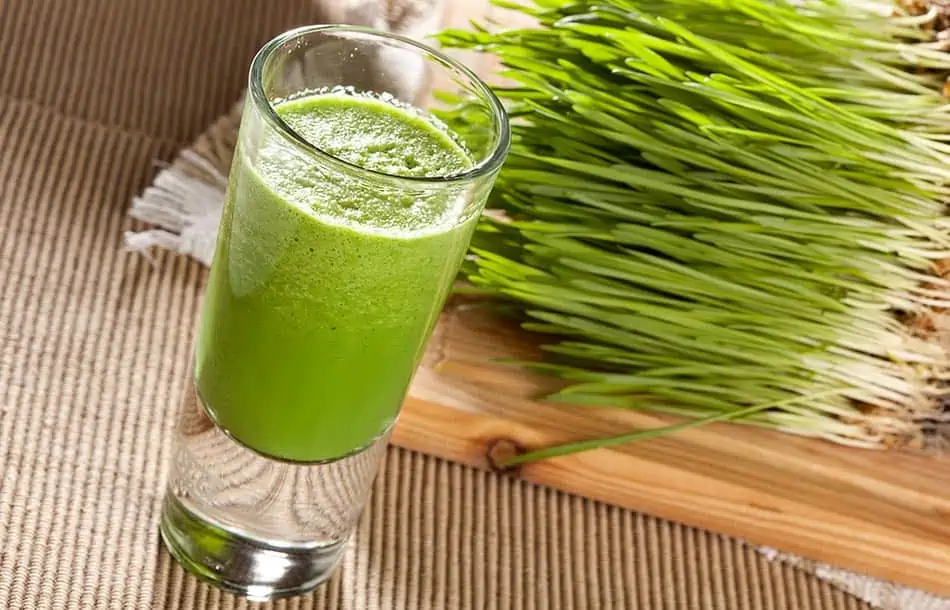 The team at Britt's Superfoods considers themselves to be the number one expert in wheatgrass juice. Their wheatgrass is organically grown outdoors, freshly pressed, and frozen immediately to preserve the nutrients and enzymes it contains naturally. Their wheatgrass is never in powdered form or grown in a tray, so you know you're getting the real stuff.
But don't worry if you're not that into wheatgrass! While their Wheatgrass Juice Shots are worth trying out, and one of their more popular options, they have plenty of other superfood juice shots you can buy. There's Beet & Maqui, Ginger & Turmeric, and a number of others. If you're more interested in the detox juices, you'll be able to choose from Aid & Cleanse, Performance, Weight Loss, Anti-Age, and Energy, depending on the results you're looking for.
And if you really love it, you can sign-up for their monthly subscription so you'll never have to worry about running out.
Earthbar (Previously Project Juice)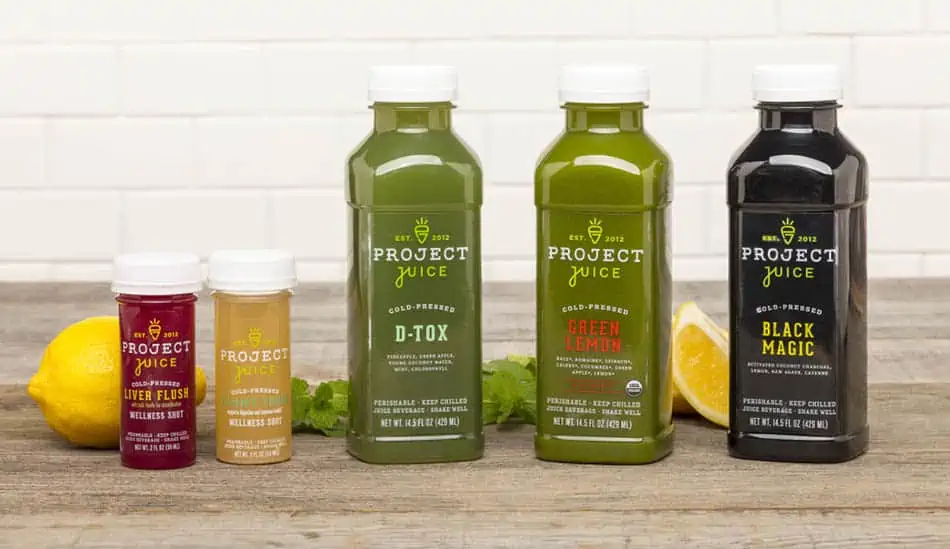 How would you love to receive superfood smoothies and bowls, cold-pressed juices and cleanses… All delivered to your door? If that sounds like an absolute dream, you'll want to check out what Earthbar has to offer. They have everything you need to kickstart your juice cleanse, plus so much more to keep you healthy throughout the year.
If you're ready to dive into a juice cleanse with drinks that contain organic ingredients, they have four options for you to consider. Earthbar offers the Rejuvenation Cleanse to facilitate a detox and leave you feeling refreshed. This one contains juices, shots, and food. But if you're just looking for the juice, you can try the Classic Reset Juice Cleanse or the Advanced Reset Juice Cleanse.
Included with the Classic Reset, you'll receive a variety of flavors, including Green Lemon, D-Tox, Green Ginger, Black Magic, Sweet Greens, and Cashew Mylk. The Advanced Reset has Deep Green, Dr. Green, #GETYOURGREENS, Black Magic, Dr. Green, and Cashew Mylk. But don't worry because you can also build your own cleanse and pick just the flavors you love!
Raw Generation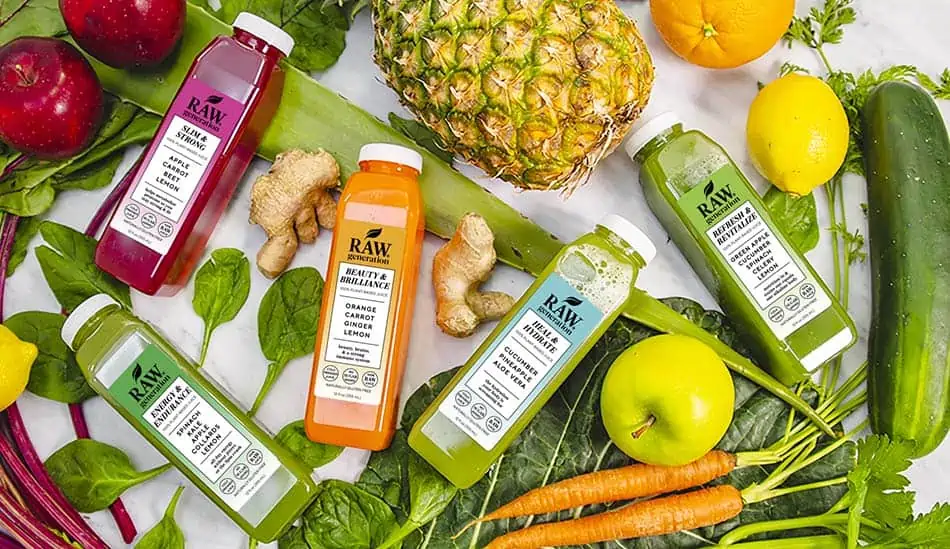 With Raw Generation, they offer two different cleanses geared towards different results. You can try their juice cleanse to lose weight or their protein cleanse to give your body an added boost. Being able to customize your cleanse to your needs is a great way to see the results you desire and it'll make the cleanse totally worth it in the end.
The Skinny Cleanse can be done for three, five, or seven days and there are a few different flavors you'll get to try out. There's the Energy & Endurance juice (spinach, kale, apple, collards, and lemon), Beauty & Brilliance (orange, carrot, ginger, and lemon), Refresh & Revitalize (green apple, cucumber, spinach, celery, and lemon), Slim & Strong (apple, carrot, beet, lemon), and Health & Hydrate (cucumber, pineapple, and aloe vera.
Their Protein Cleanse also contains Beauty & Brilliance, Slim & Strong, and Energy & Endurance. However, it also adds Satisfy & Sustain (cashews, dates, vanilla, and cinnamon), Vitality & Brilliance (hemp, coconut, dates, and vanilla), and Tone & Trim (peanuts, coconut, flax seeds, chia seeds, and dates).
Jùs By Julie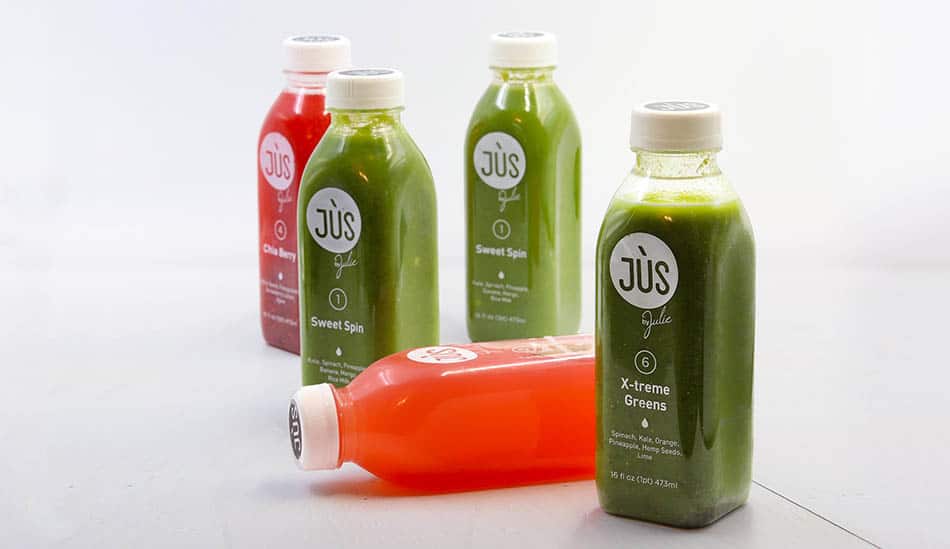 While some companies believe cold-pressed is the only way to go, that's not the case with Jùs By Julie. Instead, they feel blended is the best option when it comes to drinking up your fruits and veggies. Here's an article explaining the difference between both juice options.
When blending up the ingredients for their drinks, they incorporate the whole fruit and vegetable, including the skin, which ensures you're getting plenty of fiber and other nutrients that your body craves.
But don't worry! You're still getting the "detox" effect with their drinks, as they help to remove waste and toxins through your digestive tract. Plus, with all that fiber, you're going to feed all of the good bacteria your digestive system needs to function at its best.
Jùs By Julie offers a few different options when it comes to cleanses. You can do them anywhere from one to five days, depending on what works best for you. And the best part? They have a ton of flavors to choose from! There's Green Fuel, Pineapple Bliss, All Green Everything, Berry Blend, Spicy Pomegranate, Watermelon Wizard, Strawberry Dream, Choco-nana, and so many others.
Chef V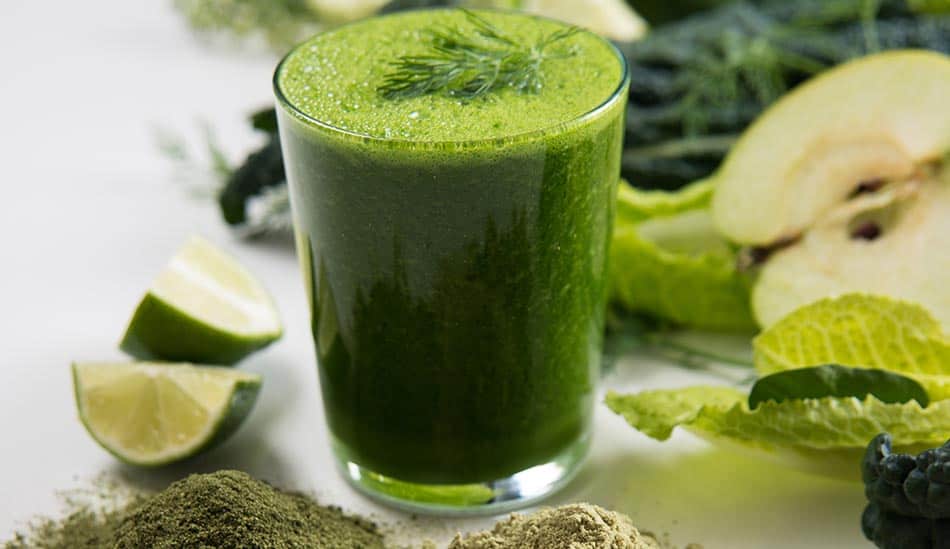 When you purchase one of the cleanses from Chef V, you can expect to receive juices, protein shakes, and a detox soup. Together, they're designed to help you boost your metabolism, relieve stress, improve your skin and hair, increase natural energy, and eliminate harmful toxins from your body. Plus, there are three-day, five-day, and seven-day options depending on how experienced you are with cleanses.
All of their juices are packed with organic ingredients, as well as plenty of green veggies. The drinks contain green kale, black kale, collard greens, dandelion greens, green chard, curly parsley, and green leaf lettuce. It's such an easy way to incorporate more veggies into your daily diet!
Juice Press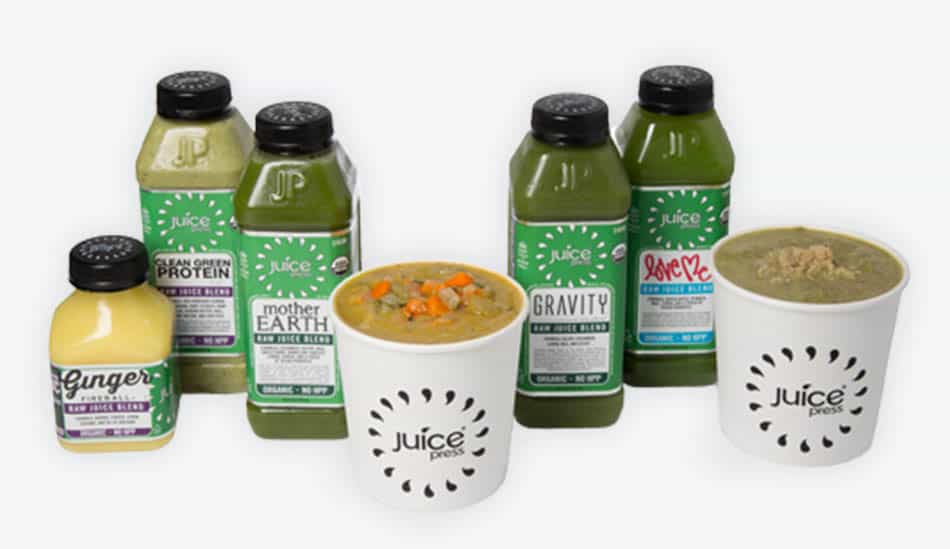 For all the juice fanatics out there, you're probably familiar with the Juice Press brand. They have retail locations in a few states across the US, but you aren't missing out if you don't have a store near you. You can actually order online and have their juices delivered right to your doorstep. It doesn't get more convenient than that!
Their Pick 6 cleanse will have you consuming six juices per day. There will be three green juices, one citrus juice, and two blended smoothies. This helps to give you some variety, while still resetting your body thanks to their raw, cold-pressed juices. Their green juice flavors include Mother Earth, Greens + Earth, Soul Garden, Simple Green, I Am Turmeric, Green Day, Anti-Aging, Dr. Green Juice, Love at First Sight, and Love Me. Citrus juice options include GLO, Ginger Fireball, and Lucky Seven. And for the blended smoothie options, you'll be able to choose from Clean Green Protein, Fountain of Youth, Advance Berry Blend, F'ing Genius, MILF, and Pink Punk.
Urban Remedy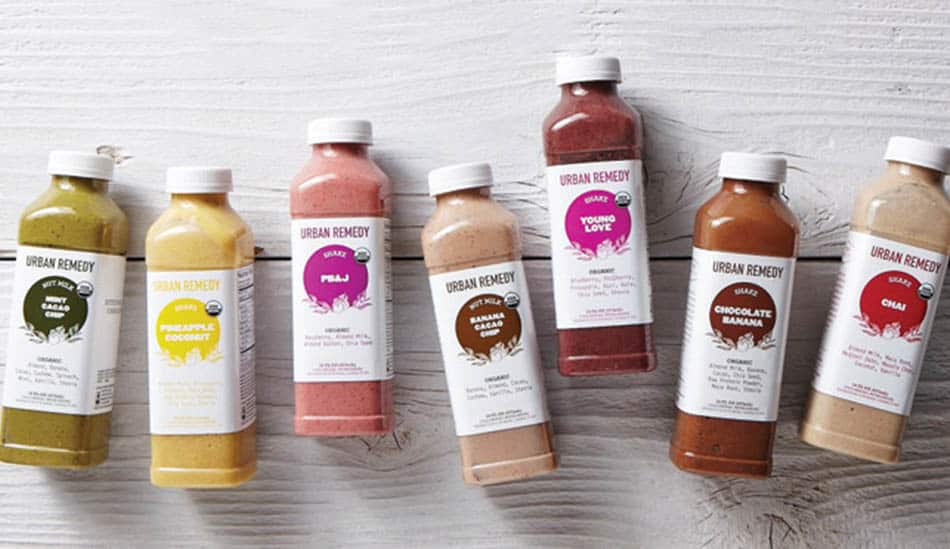 The certified organic cleanses from Urban Remedy will help you rid your body of toxins and provide you with a much-needed boost. What's great about a juice cleanse is that it allows your digestive system to have a bit of a break from the heavy meals and processed foods you're used to eating. Plus, you're consuming tons of great nutrients to feel your best.
With Urban Remedy, you have a few different cleanse to choose from. There's the Low-Glycemic Cleanse, which is low-glycemic and hydrates your body with enzymes and electrolytes. The Purify Cleanse is rich in antioxidants to deliver a blast of vitamins and minerals to your body. Then, there's the Refresh Cleanse that's loaded with superfoods and no Stevia sweetener. And the Super Green Cleanse will give your body the restoration it needs.
Suja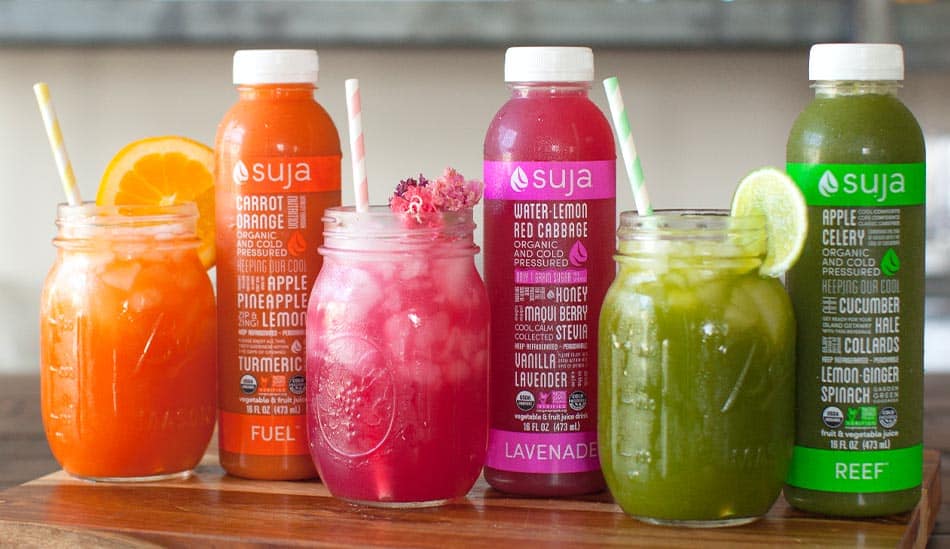 Suja is a brand you may have seen at your local supermarket, but they also make their cold-pressed juices available online for the ultimate in convenience. They've also designed a three-day cleanse, which includes seven juices to reset your body. Suja's cleanse was created in partnership with a licensed naturopathic doctor, so you can feel good about getting started.
Their 3-Day Cleanse contains a Probiotic Apple Cider Vinegar Juice in Lemon Cayenne, Mighty Dozen, Trim Greens, Fuel, Uber greens, Berry Protein, and Brilliant Beets. Everything is USDA certified organic, Non-GMO Project verified, kosher certified, as well as dairy-free, soy-free, and gluten-free.
As part of this cleanse, there are things Suja believes you should begin eliminating from your diet before you get started. They want you to cut out caffeine, dairy, alcohol, red meat, and sweets. And instead, you should incorporate more fruits, veggies, and whole grains into your diet to make the transition easier and have a more successful cleanse.