At the end of a long day, all most of us want is to plop down at the kitchen table and enjoy a hot meal. Unfortunately, that's sometimes easier said than done. By the time you decide what you want to eat, grab the ingredients from the fridge, and do all the prep work, you may be too tired to even eat.
That's where meal kits come in.
Meal kits are services that send you the recipes and ingredients needed to take the guesswork out of cooking. They allow you to enjoy a fresh, homemade meal (often in under 30 minutes).
While some people love meal kits and others despise them, there's one thing that's hard to deny—they're a convenient, and often fun, way to learn to cook new delicious recipes.
When meal kits first started, there were only a few services to choose from. Today, there are more options than ever. There are meal kits for nearly every diet, lifestyle, budget, cooking level, and food preference.
With more choice comes hard decisions! That's why we created Food Box HQ and our accompanying YouTube channel. We've spent years purchasing, cooking, and taste testing every meal kit out there to help people like you find the best meal kit service to fit their needs.
If you have no idea where to start, we've got you covered. Today we're breaking down our top meal kit choices and who we believe they're best for.
Best Overall
What It Is: Sunbasket offers a variety of unique and delicious meals made with farm-fresh ingredients sent right to your door. With meal kit meals, premade meals, and even a fully stocked marketplace to add extra foods to your box each week, Sunbasket has options for most people and takes the #1 spot for our favorite meal kit option.
The Details: Whether you want to do a little cooking or reheat and eat a freshly prepared meal, Sunbasket has your back. This meal delivery service takes the guesswork out of healthy cooking by offering both quick-and-easy meal kits and fresh and ready meals. Everything is made with all-natural, USDA-certified organic ingredients.
What makes Sunbasket really stand out among all of the meal kits out there is their commitment to quality and quantity. They're one of the first meal kits to structure their service as more of a marketplace, rather than just simply sending you meal kit meals. From my experience, this has allowed me to cut back on grocery store trips for food almost entirely. They offer meals for every time of day (breakfast, lunch, and dinner), snacks such as nuts, chips, and cheeses, as well as a huge variety of meats and sides.
The most subtle, yet useful, feature I've experiences using Sunbasket over the years is how streamlined their entire meal/food selection process is on their site. I know from personal experience using other meal kit sites that when there is an abundance of selection, it can feel a little overwhelming trying to find meals you prefer. Sunbasket allows you to filter your dietary preference, cooking speed, and even spice level.
Diets Sunbasket Covers: Low carb, gluten free, dairy free, paleo, vegetarian, vegan, soy free, and low calorie.
Meals Sunbasket Offers: Breakfast, lunch, dinner, snacks, extra meats, sides, juices, smoothies, and more.
Starting Price: $8.99 per serving.
Our Favorite Sunbasket Meals:
Blazin' Balinese Chicken With Cucumber-Cabbage Salad: This meal has the perfect balance of hot (from the sambal oelek) and cool (from the cucumber-cabbage salad). The turmeric spice blend added to the chicken almost acts as a breading when cooked and gives the chicken breast a nice light crunch texture.
Filet Mignons With Balsamic-Glazed Radishes And Brussels Sprouts: It's hard to go wrong with filet mignon (as long as it's cooked correctly) and this meal delivers in all the right ways. The best part about this meal is, while it looks like something you'd get in a restaurant, we were able to make it in less than 30 minutes.
Salmon Farro Bowls With Spinach And Green Goddess Dressing: When I'm looking to cook something clean and quick, it's hard to beat this salmon bowl. What brings it all together is Sunbasket's green goddess dressing, made from mayo, parsley, apple cider vinegar, scallions, anchovy paste, garlic, and salt. It adds the perfect smooth zest to the salmon for that extra "kick" of flavor.
Why It Made This List:
Sunbasket offers the biggest variety of meals to choose from (both meal kit and premade). In addition, they have a full marketplace that makes it easy to supplement your grocery store trips.
They have a strong commitment to quality using USDA organic ingredients and sourcing from local farms.
Since they have a huge variety to choose from, I've found that they have cuisines to meet a lot of different taste buds—from traditional meals to more adventurous.
If you have kids, Sunbasket recipes all have a section that allows them to be included in the safer portion of the cooking process (for example, juicing lemons or stripping mint leaves).
Best to Learn How to Cook
What It Is: HelloFresh is a meal kit that focuses on sending their customers recipes that are both easy to make and delicious. Out of all the meal kits we've tried, I believe that HelloFresh has done the best job of taking more complex meals and pairing down the recipes to make them easy to follow.
The Details: HelloFresh is one of the oldest and most popular meal kits around. In fact, it's likely your first foray into the world of meal kits came from seeing or hearing about HelloFresh.
They offer dozens of recipes to choose from each week and, like Sunbasket, they also offer add on foods such as snacks and some semi-prepared items. However, it's definitely not on the level of Sunbasket's marketplace.
Where I believe HelloFresh truly shines is in their recipes. Since first trying them back in 2017, over the years I've seen how they've evolved their recipe formation to take seemingly complicated meals and reduce them to 6 simple steps.
Take for example one of my personal favorite HelloFresh meals, their Pub-Style Shepherd's Pie. Not in a million years would I have ever thought of venturing out on my own and trying to create shepherd's pie. However, HelloFresh took what I thought was going to be a complex disaster cooking experience and made it much more manageable. That's not to say it wasn't tedious but it still came out absolutely delicious.
Most meals are ready to eat in 30 minutes or less, though you can also choose the Lightning Prep option to find meals with the shortest prep time.
Diets HelloFresh Covers: Low calorie (meals around or under 650 calories), pescatarian, and vegetarian.
Meals HelloFresh Offers: Breakfast, lunch, dinner, and some snacks.
Starting Price: $7.49 per serving.
Our Favorite HelloFresh Meals:
Firecracker Meatballs: This meal is off the charts delicious. They've managed to combine so many different tastes and texture to form an Asian-fusion meal that is beyond tasty. The spiciness of the sriracha and chili flakes is offset by the creaminess of the sour cream and mayo to give this dish the perfect balance. Any time they add this recipe back to their menu, I add it to our box.
Pub-Style Shepherd's Pie: As mentioned above, this is another recipe that is mouthwatering. While it can be tedious to make (usually taking us around 60 minutes) I find it's well worth the experience. The cheesy outer crust, thick and juicy meat, and rich tomato sauce all combine to form a meal that feels truly homestyle.
Coconut Curry Chicken: As a fan of Indian food and quick meals, this is another favorite meal of mine. It's very simple to make (usually around 20 minutes) and comes out as if you spent an hour cooking.
Why It Made This List:
I've found that HelloFresh is one of the best meal kits for taking rather complex meals and paring down the recipe in a way to make it simple prepare.
They offer some of the most delicious meals out of all the meal kits on this list. In my experience, the more delicious their recipes are, the higher the calorie count is.
They offer a marketplace that allows you to add on a handful of extra foods such as semi-prepared lunches and snacks.
Best Budget Option
What It Is: The biggest complaint we hear about meal kits is that they're too expensive. Dinnerly changes all of that. At under $5 per meal, they're one of the least expensive meal kits out there and one of our favorites for homemade meals on a budget.
The Details: Dinnerly is the ultimate affordable meal kit option. They're able to offer such inexpensive meals not by reducing quality of ingredients but rather the quantity. This means all of the meals they offer are very "simple" and only involve a handful of ingredients, compared to other meal kits on this list. While they are not super gourmet or restaurant quality, most of the meals we've made have been flavorful and well balanced (think meat with a side of vegetables and/or carbohydrate like rice).
Another benefit of less expensive meals that require less ingredients is they're fairly simple to cook. There are only 5 steps involved in every recipe. While there are less steps involved when compared to many other meal kits, I do find many Dinnerly recipes take over 30 minutes to prepare.
All of their recipes are sent to you via email when you receive your box (another way they save money and pass those savings along to you). I found this can make your phone or tablet a little messy when cooking and trying to look at the recipe. But it's a small inconvenience for a meal kit that costs nearly half what many others cost.
Each week you'll be able to choose from 16 simple recipes, personalizing your plan for two or four people. You can then choose from 3, 4, 5, or 6 meals per week.
Diets Dinnerly Covers: Low carb, low calorie, vegetarian, and dairy free.
Meals Dinnerly Offers: Lunch, dinner, and extra proteins.
Starting Price: $4.69 per meal.
Our Favorite Dinnerly Meals:
Crispy Cheddar Chicken: Fried chicken is high on my list of favorite comfort foods and this panko-cheddar mix kicks it up a notch. It's the perfect succulent, crispy, crunchy meal that hits all the right flavor notes. The red pepper flakes give the chicken just enough kick to add to the flavor without it being overbearing and the broccoli-potato mash makes eating those vegetables a little more delicious.
Philly Cheesesteak Burger: This is another meal that I love to add to our box any time I see it on their menu. It's hard to go wrong with meat and cheese but the pepper and scallions add a delicious added flavor. It stays surprisingly true to a traditional cheesesteak (maybe not one directly from Philly though). The added oven fries are just sliced russet potatoes but, if cooked right, they come out perfectly golden and crispy.
Pan-Roasted Chicken & Gravy: If you've read any of our other meal kit reviews, you know I like to keep things classic with chicken dishes (yes, I'm boring). This chicken and gravy meal does not disappoint. The gravy keeps the chicken super moist and tender while adding a richness to the taste.
Why It Made This List:
Dinnerly is very affordably priced. At just $4.69 per meal, I've found the cost to be as comparable as picking up the ingredients at my local grocery store and cooking them myself.
Between the 16 recipes they offer each week, there's a good mix of comfort foods and good-for-you style options (for example, they offer meals that are more vegetable packed than the favorites I listed above).
They're one of the few meal kits that offers extra meats as an add on (grass-fed beef, chicken breasts, and tilapia).
Food Box HQ Note: Dinnerly and EveryPlate are very similar services in that they both offer inexpensive meal kit meals are $5 per meal. We often go back and forth between both when it comes to recommending one as the best "budget" meal kit. I would consider both to be good options but Dinnerly ever so slightly ekes into first place because they are less expensive than EveryPlate.
Best for Gourmet-Style Meals
What It Is: If you're looking for the tastiest gourmet-style meals, look no further than Martha Stewart's Marley Spoon. This meal kit sends you pre-portioned ingredients along with Martha Stewart's top recipes, ready to prep and enjoy.
The Details: Whereas many meal kits focus purely on convenience, Marley Spoon flips the switch and leans into meals that, while they may take a bit longer to cook than others on this list, taste scrumptious.
This service gives you 29 of Martha Stewart's best recipes to choose from each and every week. I've found their menu wonderful for exploring new cuisines and unique recipes. But they also cater to traditionalists with classics like spaghetti and meatballs.
One of the best things about Marley Spoon, in my opinion, is that it gets Martha Stewart's seal of approval. Is this more of a marketing move? That's what I originally thought, but changed my mind after our first box, having found a few favorite new meal kit meals.
All in all, I found Marley Spoon's meal kit to be very similar to HelloFresh. They offer a near identical meal selection process, recipe card structure, and cuisine. However, I find that HelloFresh leans more into efficiency of cooking whereas Marley Spoon leans more into gourmet-style meals (leveling up classic recipes).
Diets Marley Spoon Covers: Low carb, vegetarian, dairy free, no added gluten (not to be confused with "gluten free"), and low calorie.
Types Of Meals Marley Spoon Offers: Lunch and dinner.
Starting Price: $6.99 per meal.
Our Favorite Marley Spoon Meals:
Roasted Veggie Salade Nicoise: I usually skip on most meal kit salads (unless they're from Sprinly) because I tend to still feel hungry after. That wasn't the case with this one. This meal was packed with delicious fresh veggies (green beans, asperagus, and carrots), as well as lightly salty and crispy fingerling potatoes. With the addition of chopped eggs, I found myself more than full.
French Dip Burger & Oven Fries: Remember when I said Marley Spoon leans into those gourmet-style meals? This burger is no exception. They took a classic—burger and fries—and made it truly decadent. The potato bun soaks up all the juicy French dip sauce and the rich cheese and sweet shallots within the burger combine to make this one of the best I've ever had.
Chicken Tikka Masala: For a meal that packs a lot of flavor, there isn't too much fuss involved in the cooking process. The chicken always comes out perfectly juicy with a slight spice from the curry powder. With the added rice soaking up any leftover sauce, this is a quick meal that's hard to beat.
Why It Made This List:
One of the best parts of Marley Spoon that's rarely mentioned is their portion sizes are fairly large when compared to others on this list. If you take a look at any of our video reviews, you'll see most meals really fill up the plate.
They make gourmet-style cooking easier with pre-portioned ingredients and easy-to-follow recipe cards.
The meals are backed by the legend that is Martha Stewart.
Best for Oven-Ready Meals
What It Is: Home Chef is a meal kit that makes classic home cooking as simple as possible. If you want to enjoy the flavor of delicious homemade meals without the hassle, this is the meal kit for you. No prep, no mess, just yum.
The Details: Out of all the meal kits on this list, Home Chef does the best job of organizing their meal kit by cooking-level preference. For example, you can choose from their regular meal kit meals, 15-minute meal kits, easy prep meal kits, oven ready meal kits, and even grill-ready meal kits. Or, if you prefer not to cook at all, Home Chef has a "Fresh & Easy" meal plan that is only premade meals.
While they offer a lot of cooking-level variety, what I believe they're best at is their oven-ready meals. These meals are very simple to cook since there is almost zero preparation involved. They come pre-portioned within a little cooking tin that's then placed in your oven to cook. It's as simple as that. They were one of the first meal kits to lean into oven ready meals. Having tried many others, I believe they are still the best at it too.
When it comes to enjoying healthy, homemade meals you might think you have to spend a lot of time prepping ingredients and cooking. If you want to avoid that whole process, Home Chef has the solution in their oven-ready meals. You'll enjoy pre-portioned ingredients delivered in an oven-safe tray, ready to cook – no hassle at all. Just enjoy your delicious meal with virtually no clean up.
Another very unique aspect of Home Chef's meal selection process is that they're one of the only meal kits that allows you to double up and even swap out certain ingredients within your meal. For example, if you're looking to make their Garlic Butter Crispy Chicken, and you've got a big appetite like me, you can double up on chicken. Or, if you don't like chicken and you'd rather make it with pork, they allow you to swap that in instead.
Diets Home Chef Covers: Calorie-conscious, carb-conscious, and vegetarian.
Meals Home Chef Offers: Lunch, dinner, and extra proteins.
Starting Price: $6.99 per meal.
Our Favorite Home Chef Meals:
Turkey and Guacamole Tostadas: These are a super delicious, light meal. The recipe card actually gives you the option to make them as tacos, rather than crisping them up to tostadas, to make things a little less messy when eating. What I like most about this dish in particular is that it introduced us to some newer flavors, such as chayote, which I've never had previously.
Chicken Marsala en Croûte: This meal truly surprised me with how good it came out. The picture on the front of the recipe doesn't do it justice. The chicken came out incredibly juicy and moist. The sauce has a slight kick that was balanced well with the cream cheese. The pastry on top was such a unique twist and added the perfect light and crispy texture to the meal, it was delightful.
Chipotle-Tomato Shrimp Tacos: These smooth and rich tacos pack the perfect amount of flavor. The rich and creamy guacamole soaks lightly into the taco and the grated cotija cheese (something I've never had before) has the perfect creamy and salty flavor that brings out the rich and salty flavor of the overall meal. My only wish is that this meal was a bit bigger!
Why It Made This List:
Home Chef has a great variety when it comes to cooking preferences. I have yet to find any other meal kit that offers meals with more ways to cook (e.g. grill-ready meals, oven-ready meals, 15-minute meals).
With the addition of Home Chef's new "Fresh & Easy" meal plan, you can now select from fully premade meals that will be sent right to your door (never frozen).
Home Chef is one of the only meal kits you can purchase in select store. This makes it perfect for new customers who just want to try them out before subscribing.
Best Organic Option
What It Is: Green Chef is the first and only USDA certified organic meal kit company. The focus on sending meals that are high quality healthy meals that fit into many popular diets, such as paleo, keto, vegan, and vegetarian.
The Details: When it comes to quality, Green Chef goes above and beyond. While there are other meal kits out there that use organic ingredients, Green Chef is the only one that is a certified organic company. The process of actually becoming certified is overseen by the USDA and requires an annual review and inspection. In addition to all of this, Green Chef is very transparent about their ingredient sourcing process as well.
Green Chef is also one of the few meal kits out there that has meal plans that fit into specific popular diets like keto, paleo, and vegetarian. Many other meal kits only offer broad meal plans that offer some specific meals that fit into certain diets. So for example, you may find a handful of keto meals in a Sunbasket menu but on the Green Chef keto plan, you'll find only keto meals.
What's more is Green Chef is one of the most environmentally friendly meal kits we've reviewed. Not only is their packaging made from recyclable materials and fully recyclable, they offset 100% of their direct carbon emissions.
Diets Green Chef Covers: Keto, paleo, vegan, vegetarian, pescatarian, and certified gluten free.
Meals Green Chef Offers: Lunch and dinner.
Starting Price: $9.99 per serving.
Our Favorite Green Chef Meals:
Crispy Southern Chicken: Coated in crunchy breadcrumbs and a creole dijonnaise, this southern-style dish packs a lot of flavor. Not only that but I found its portion size to be rather larger than the usual Green Chef meal, which is a nice plus.
Truffle Cheeseburgers: For a meal kit that brands itself as healthy, they definitely still have some delicious comfort foods. The tasty brioche buns soak up all the rich and decadent truffle butter for a melt in your mouth cheeseburger experience.
Sesame-Ginger Steaks: This is one of those meals that seems super odd when you look at it and then you bite in and it's delicious. Who would think cashews and steak go together? In fact, it's delicious. With the steaks being marinated in a sesame-ginger sauce, it gives the whole dish a nice extra zesty kick.
Why It Made This List:
If you value organic ingredients, Green Chef is the best option out there.
Green Chef is one of the few meal kits that has a keto and paleo specific plan.
They're one of the most sustainable meal kits we've come across.
Best Vegan Option
What It Is: Purple Carrot proves plant-based eating doesn't have to be boring. Their fully vegan meal plan provides you with tasty, veggie-packed meals that have always left me full and satisfied.
The Details: When people think of a vegan diet, they often assume it means huge restrictions in the meals you can make. That's not necessarily the case. Purple Carrot takes classics like mac and cheese and put a delicious vegan spin on them.
Being the only vegan meal kit option out there, Purple Carrot basically automatically takes the "best vegan option" category in this list. However, that's not to say their meals aren't delicious. The one thing I will say though is that they can be very involved. For example, their Southwest Cheesy Mac sounds like a simple dish to make but it actually involves a lot of kitchen tools (including a blender) and prep. That being said, it came out very delicious for a plant-based cheese meal.
In addition to meal kit meals, Purple Carrot also has some semi-premade breakfast options and prepackaged vegan snacks as well.
Diets Purple Carrot Covers: Vegan, low calorie, nut free, high protein, gluten free, and soy free.
Meals Purple Carrot Offers: Breakfast, lunch, dinner, and snacks.
Starting Price: $9.99 per meal.
Our Favorite Purple Carrot Meals:
Mapo Tofu Dumplings: This is the meal you can see us make in one of our original Purple Carrot review videos and it came out surprisingly well (especially considering we've never made dumplings before). I've had bad experiences with tofu in the past, which has always made me hesitant eating it but the tofu in the dumplings came out perfectly firm (not soggy or mushy at all).
Southwest Cheesy Mac: As mentioned above, this dish is pretty involved for what seems like a simple meal, but well worth the time investment. What surprised me the most was how close the plant-based "cheese" came to the real thing in terms of taste and
Panko-Crusted Tempeh: Having never had tempeh before, I wasn't sure what to make of this meal when I added it to our box but figured I'd try something new. I got very lucky because this meal turned out absolutely delicious. It has so many ingredients I thought would never work in one dish but they all come together really well.
Why It Made This List:
Purple Carrot is one of the only vegan meal kits out there. Many other meal kits offer vegan meals but they're a small part of their overall menu, making it tough for someone who is fully plant-based.
They offer a decent balance between super involved recipes and a little less involved recipes (though I can't say they're the easiest recipes to make).
With a full selection of breakfast, lunch, dinner, and even snacks, Purple Carrot is the best meal kit choice for those who strictly follow a vegan diet.
Best for Cooking with Kids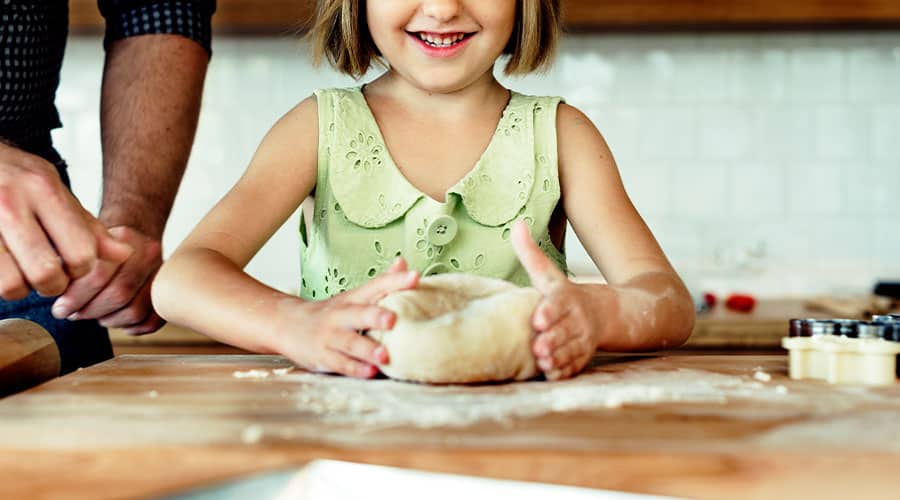 What It Is: Cooking for the family is made much easier with One Potato. This is the only meal kit out there that is specifically designed to involve parents and kids in the cooking process with delicious family-friendly recipes.
The Details: While most of the other meal kits on this list offer tasty, fun, and unique recipes to cook, it can be very hard to safely involve kids in the process. There's sometimes a lot of intricate steps that require attention to detail and there's usually going to be portions of the recipe that involve using a knife.
If you like to involve your kids in cooking or would like to use mealtime as a way to teach them a new skill, One Potato is the perfect meal kit for your family. Not only does One Potato offer family-friendly meals, but they offer special child pricing as well as pre-prepped and pre-measured ingredients to make the preparation process easy and safe.
Beyond making their entire meal kit family-friendly, One Potato focuses on nutritionally balanced meals made with organic, non-GMO, and farm-fresh ingredients.
Keep in mind that because these meals are made more for kids, they may not have the most robust flavor profiles since they're trying to accommodate kids limited taste pallets.
Diets One Potato Covers: Gluten-free, vegetarian, and nut-free.
Meals One Potato Offers: Breakfast (smoothies), lunch, dinner, and desserts (cookie dough).
Starting Price: $7.32 per meal.
Our Favorite One Potato Meals:
French Onion Soup with Grilled Cheese: Prior to this meal, I hadn't had French onion soup since I was a kid. This meal turned out delicious (and there was surprisingly a lot of leftovers). What kid can resist a grilled cheese?
Turkey Peperoni Pizza: While this one tasted delicious, I have to say that the experience of making pizza was the best part. They send you the actual dough to make the full pizza, rather than a premade crust. Right out of the oven, this tasted perfect. They even throw in a few leaves of fresh basil to complete the experience.
Gado Gado Bowl: This one was definitely one of the more adventurous meals that I saw One Potato offer but it did not disappoint. The tofu was perfectly firm, it was packed with fresh veggies, and the carrot curry sauce was the perfect sweet and spicy mix. What was most fun about this dish is that each person gets to customize what goes in their bowl. You can add as much or as little of any ingredient that you'd like.
Why It Made This List:
One Potato is one of the only truly family friend meal kits available. Their safe and fun recipes rely on pre-chopped and measure ingredients, making it easy to get kids involved. They're one of our favorite meal delivery services for kids.
While not "gourmet", these meals are still packed with flavor and are still interesting enough for adults.
Many of the meals offered have surprisingly large portion sizes when compared to many other meal kits on this list.
Best for Quick & Tasty Recipes
What It Is: If you're looking for the most efficient meal kit, Gobble is where it's at. They allow you to make meals in as little as 15 minutes (or less). How? They do all the prep work for you so you just need to cook and you're done.
The Details: I've found Gobble to be the best meal kit for people who enjoy cooking but not the preparation process. If you can't decide on a meal kit or premade meal delivery service, Gobble is a good inbetweener. You're getting the quickness of a premade meal delivery service but are still able to learn a recipe from a meal kit. They do all the prep work for you, including peeling, chopping, and marinating.
While quick to make, most of the meals we've tried have been on par with many meal kits on this list. The only downside is, because they do all of the prep work for you, it is one of the most expensive meal kits on this list.
Diets Gobble Covers: Vegetarian and low calorie (600 calories or less).
Meals Gobble Offers: Breakfast, lunch, dinner, and desserts.
Starting Price: $11.99 per meal.
Our Favorite Gobble Meals:
Yankee Pot Roast: This is easily one of the best cold winter day meals I've had in a long time. The meat came out perfectly tender and juicy, the potatoes were moist and delicious, and the sauce was exceptional.
Osso Bucco with Polenta & Braised Vegetables: Who would have ever thought you could make osso bucco in under 15 minutes? Well, with Gobble it's possible. The pre-marinated veal shanks were to die for and the creamy bed of polenta made the meal a huge portion.
Why It Made This List:
What enjoy most about Gobble is their "Personalize It" feature that allows you to swap, upgrade, or add meats to certain dishes. This is something very similar to what Home Chef offers.
There is nearly zero actual prep work involved (no chopping, peeling, cutting, etc.) so these meals can easily be made in 15 minutes or less.
While these meals take very little time to make, I've found that they're still packed with flavor.
Meal Delivery Services: Meal Kits vs. Premade Meal Delivery Services
The world of meal delivery services can be split into meal kits and premade meal delivery services.
Meal kits like HelloFresh and Dinnerly make it easy to prepare homemade meals without all the hassle of meal planning and grocery shopping. Services like these give you a collection of recipes to choose from each week then they send you the ingredients and simple recipes you need to prepare the meals yourself. Meal kits help you save time and they cut down on food waste by sending only what you need to prepare the meals. No more food gone to waste.
On the flip side, premade meal delivery services are different in that you don't have to do any prep work at all—except maybe popping the dish in the oven or microwave to heat it up. You still get to choose from an assortment of recipes each week and some services let you shop by special diet like Keto, Atkins, or low-calorie. Each week you'll receive a delivery of fully prepared meals (ranging in breakfast, lunch, and dinner), either fresh or frozen, that you can reheat and eat in under 10 minutes. Do keep in mind that these services often cost a little more than meal kits, but you can't beat the convenience when compared to cooking yourself.
Benefits of Using a Meal Kit
If you want to enjoy a homemade meal at the end of the day but you're not interested in meal planning or grocery shopping, a meal kit may be the perfect option. Meal kits come in all shapes and sizes as well as fitting into a variety of diets.
Having used meal kits for over half a decade, here are some of the benefits I enjoy most:
No meal planning. No one likes to eat the same thing for dinner day in and day out, but it takes a lot of time and energy to plan a full week's worth of meals ahead of time—not to mention grocery shopping. With meal kits, you get something new every night and you don't have to plan it! And, if you find a meal you enjoy, you don't have to worry about missing it. Many meal kits rotate in previous customer favorites and you can always hold on to the recipe card to make it yourself in the future like we do.
Less food and environmental waste. In addition to enjoying a variety of meals from week to week, using a meal kit helps you cut down on food waste. You'll only receive the ingredients you need to prepare the meals in your kit – no more leftover ingredients rotting in the fridge. What's more is meal kits tend to have less of a carbon footprint when compared to grocery shopping. This is due to the fact that the logistics of getting the food to your kitchen is less carbon-intensive than the logistics of getting the food to the grocery store and then your kitchen.
Perfectly sized portions. Whether you're trying to lose weight or avoid leftovers, meal kits make portioning easy. Upon switching to meal kit meals, I realized just how much I was really eating when we cooked without them and I was constantly going back for second or third portions simply because we had so much left over.
Quick and easy. Planning and preparing a meal can be time-consuming but meal kits make it quick and easy. Most meals are ready to eat in 30 minutes or less, though some meal kit services like Gobble offer options that are ready in 15 minutes or less.
Fresh ingredients. Shopping for your own ingredients can be a hassle, especially if you're looking for things out of season or you're looking for more unique ingredients. With meal kits, you get the ingredients you need and they're fresh as can be because of their ability to source directly from the farms the work with. Plus, you may have access to ingredients you might not be able to find on your own. We've made some meal kit meals in the past where I've never even heard of the ingredients (such as chayote).
It can be healthier than takeout. There was a time before I started using meal kits where I was ordering takeout more than I would like to admit. It was having an impact on my waistline and my wallet. Meal kits offer the convenience of takeout in that you can get food delivered but I also find that you can order more nutritious meals.
Affordably priced. These days there are meal kits that come in at nearly every price point—from gourmet-level expensive to super budget-friendly.
To put it plainly, meal kits offer you the ability to cook nutritious, homemade meals without the hassle. You get to choose your meals every week, or if you prefer to keep it a surprise, most meal kit services will make the selection for you based on the parameters you've selected when setting up your meal plan.
Disadvantages of Using a Meal Kit
Though meal kits certainly have their advantages, there are some downsides to consider as well before you hop on board. For one thing, while ordering weekly meal kits may be less expensive than ordering takeout each and every day, they can still be a bit pricey. Gobble is nearly $12 per meal, which is more than most premade meal delivery services.
At the end of the day you're paying for the convenience of having your meals selected for you and the ingredients portioned out for each meal. You won't have to worry about food waste, but you may pay more for their ingredients than you might shopping on your own.
There is also a shipping cost involved in every meal kit. And whether they say shipping is free or not, they are working in that price into the overall cost somehow.
Another potential downside to using a meal kit is that you may not find an option that fits your diet. If you're simply looking for healthy meal options, you have plenty of choices. For those who follow very strict diets, however, your options may be more limited.
The last biggest downside really comes down to delivery. With any of these services your experience also relys on how good your delivery driver is. I haven't had many bad experiences with poor meal kit delivery but one sticks out in particular when our Home Chef box was delivered to the wrong address and spoiled when it was rerouted to ours. Fortunately, most meal kits are really good about refunding you but it's still a huge hassle when you're expecting to get food for the week and it doesn't show up.
How We Selected The Meal Kits On This List
If you take a look at our reviews or YouTube channel, you'll see that we've been reviewing meal kits since 2017. Since then, we've tried literally hundreds of different boxes and likely thousands of different meals from those boxes.
Needless to say, while we like to have fun and try new foods, we take reviewing meal kits very seriously.
This compilation article is unique in that we didn't have a specific category to stick to (for example "organic meals" or "frozen meals") but rather had to look back on literally every meal kit we've reviewed to narrow down our favorites.
What initially we looked for when researching and compiling this list were meal kit kits that went above and beyond in certain sections of their business. For example, Sunbasket goes above and beyond with their marketplace and Home Chef goes above and beyond with their oven-ready meals.
Once we had a list of those meal kits, we narrowed down further by pulling out any meal kits where we had negative experiences. For example, while they're now out of business, our last Plated meal kit box delivered us some expired ingredients.
After determining the list of meal kits we wanted to feature as the best, we went back over each previous review, every YouTube video we created for those meal kits, and all of the recipe cards we've kept to get a better idea of what we should specifically feature about the meal kits.
Wrapping Up
If you've made it this far, thank you for reading! I hope you found this roundup of the best meal kits to be helpful and informative in making your final decision. If you have any questions about any of the meal kits we featured in this article, please leave a comment below and we'll get back to you as soon as possible!