If you're new to the paleo diet or simply want to to take the headache out of having to find meals that are paleo-specific, a meal delivery service could be the right choice. No more searching for paleo recipes, finding the right ingredients, or counting macros.
These days, there are literally thousands of food boxes to choose from—premade meals, meal kits, snack boxes, etc. It's important to choose the best paleo meal delivery service for your unique needs and budget.
We've spent years researching, reviewing, and (most importantly) taste testing hundreds of different food boxes. Today we're going to share with you our favorite paleo meal delivery services.
Best Overall
What It Is: Fresh n Lean is one of the most popular premade meal delivery services out there, and for good reason. Not only do they have a huge selection of meals and diets to choose from, they prioritize quality. All of the meals on their paleo meal plan use organic ingredients, have zero artificial additives, have zero antibiotics, and use grass-fed beef.
Types Of Paleo Meals Offered: Breakfast, lunch, dinner, and snacks.
Lowest Price Per Meal: $9.97
Our Favorite Fresh n Lean Paleo Meals:
Grass Fed Steak With Spiced Cauliflower
Kung Pao Chicken With Sweet Potatoes
Bell Pepper And Squash Frittata
Egg Whites with Maple Turkey Sausage
Why It Made The List:
Impressive selection of high quality meals.
One of the few paleo meal delivery services that offers meals for every time of day, as well as snacks.
Every meal is organic, gluten-free, grain-free, dairy-free and sugar-free.
All Fresh n Lean meals are vacuum-sealed to ensure freshness.
Best For Bodybuilders
What It Is: Trifecta Nutrition is best known in the bodybuilding and fitness world for their high protein premade meals, made with clean ingredients. All of their paleo meals follow the same high-standards. They use whole/organic foods, humanely raised meats, sustainably-caught seafood, and zero dairy, soy, grains, legumes, or gluten. What makes Trifecta Nutrition stand out among the rest on this list is they give you the ability to remove very specific foods from your meals. You can choose to exclude shellfish, salmon, white fish, nuts, chicken, red meat, mushrooms, and turkey. This allows the pickiest eaters to customize their meals to best suit their tastes.
Types Of Paleo Meals Offered: Breakfast, lunch, dinner, and additional meals as needed.
Lowest Price Per Meal: $13.79
Our Favorite Trifecta Nutrition Paleo Meals:
Roasted Chicken Breast with Asparagus
Chicken Sausage With Peppers And Broccoli
BBQ Pulled Chicken With Potato Salad And Turkey Bacon
Spinach Pesto With Beef
Egg Whites With Maple Turkey Sausage
Why It Made The List:
They are one of the few meal delivery services on this list that allow you to order more than three meals per day. Trifecta gives you the option to add on a 3rd entrée, making it a great option for bodybuilders, big eaters, or those simply looking to put on weight.
They have one of the best mobile apps for tracking health goals out of any meal delivery service that we've reviewed. It allows you to not only track your macros, calories, and workouts, but also more specific goals such as how much water you've drank.
They do a great job of sourcing their ingredients from local farms and suppliers to ensure the highest freshness.
Best Paleo Meal Kit
What It Is: Sunbasket rose to popularity years ago as one of the first meal kit services to offer meal plans to fit various specific diets such as keto, vegan, and paleo. Since then, they have completely revamped their brand and evolved their meal delivery service to feature more than just meal kits that you prep and cook. You can now also order premade meals as well as select individual food items off of their menu, similar to a marketplace. Sunbasket's paleo meal plan features meals made with humanely raised meats, organic eggs and produce, as well as sustainably caught fish. They never use antibiotics, hormones, grains, soy, or dairy.
Types Of Paleo Meals Offered: Breakfast, lunch, dinner, additional meals, snacks, and drinks.
Lowest Price Per Meal: $10.99
Our Favorite Sunbasket Paleo Meals:
Sheet pan sausages, apple, and vegetables with dill vinaigrette (meal kit)
Classic beef and vegetable stew (meal kit)
Smoked linguiça sausage with sweet potatoes and cauliflower (premade meal)
Classic beef and vegetable stew (premade meal)
Marcona almonds (snacks)
Hard boiled eggs (breakfast)
Why It Made The List:
They have a great money back guarantee. Don't love it? They'll refund you.
The majority of Sunbasket's meals we've had over the years of using their meal delivery service have been delicious. They're one of the few food boxes that consistently delivers quality.
Having meal kits, premade meals, snacks, and a full marketplace allows Sunbasket to basically replace grocery shopping. This makes them one of the most overall convenient options.
They are highly customizable. Not only do you have the ability to select which meals you want to each week, you can also narrow down your meals even further by ingredient or dietary preference. For example, low-carb, high protein, no lamb, no pork, no fish, and much more.
Best For The Freshest Premade Paleo Meals
What It Is: Territory Foods is one of the most unique premade meal delivery services out there in that they don't cook all of their meals at a central location. Rather, they've built out a network of chefs throughout the United States that work in their own certified, local commercial kitchens. This allows Territory Foods to not only deliver their premade meals quickly but also ensure the meals are as fresh as possible for customers. All of Territory's meals focus on specific diets, including paleo. On their paleo plan you'll find upwards of 18 different meals to choose from.
Types Of Paleo Meals Offered: Breakfast, lunch, dinner, and some additional add ons such as coffee, extra meats, and some snacks.
Lowest Price Per Meal: $10.95
Our Favorite Territory Paleo Meals:
Rosemary Roasted Chicken with Sumac Pesto and Fingerling Potatoes
Chimichurri Steak with Roasted Garlic Yuca and Sauteed Mushrooms
Zesty Chicken Burger with Chipotle Sweet Potato Wedges and Sauteed Kale
Lemon Blueberry Griddle w/ Sausage Egg Scramble
Why It Made The List:
They are one of the few meal delivery services that allows you to receive your meals either weekly or twice per week. Ordering to have your meals delivered twice per week will split up your meals so that you can receive them at their freshest.
They are one of the only meal delivery services that works with local chefs rather than using a central cooking location.
Territory works with Feeding America® to give back to people who are facing hunger.
Food Box HQ Note: Unlike other meal delivery services where you pay a flat fee each week and receive a set amount of meals, Territory charges you per meal. This allows you to customize your box to fit your best budget.
Best Tasting Premade Paleo Meals
What It Is: Snap Kitchen is a premade paleo meal delivery service that focuses heavily on quality. That means all of their meals contain no preservatives, gluten, antibiotics, artificial sweeteners, or hormones. What makes them stand out among the others on this list is just how tasty all of their meals are—especially their paleo meals.
Types Of Paleo Meals Offered: Breakfast, lunch, and dinner.
Lowest Price Per Meal: $10.50
Our Favorite Snap Kitchen Paleo Meals:
Mongolian Beef with Sesame Broccoli
Almond-Crusted Salmon with Roasted Carrots & Zucchini
Romesco Chicken with Grilled Kale & Mushrooms
Pumpkin Pancakes & Sausage with Maple-Cinnamon Butter (paleo pancakes)
Why It Made The List:
The main reason Snap Kitchen made this list is because their meals are truly delicious. We originally noted back in 2020, when we first tried their meal delivery service, that their premade meals were some of the best that we've ever had.
They are one of the few on this list that have some great paleo alternatives to breads, such as their paleo pancakes.
They donate their unsold meals to food banks.
Best For Testing Out Paleo Recipes
What It Is: Green Chef is a meal kit that focuses on healthy eating. They're one of the few available that is fully USDA certified organic. While Green Chef does have a "Keto + Paleo" meal plan, the meals on this plan are split between keto and paleo. This means that you're not going to get a full weeks worth of paleo meals. However, Green Chef is a great way to dip your toe into the world of paleo without fully committing by learning what meals you prefer and how to make them.
Types Of Paleo Meals Offered: Lunch and dinner.
Lowest Price Per Meal: $12.99
Our Favorite Green Chef Paleo Meals:
Chicken & Butternut Squash Hash with Chard, Sun-Dried Tomatoes, Hazelnuts, and Lemon Aïoli
Spicy Sesame Shrimp with Broccoli Stir-fry, Cashews, and Spicy Ginger-Lime Aïoli
Chimichurri Chicken Bowls with Cauliflower "Rice," Roasted Squash, Bell Pepper, and Pepitas
Why It Made The List:
They are one of the best options for people who are new to the paleo diet and want to try it out before going all in. They only offer up to 4 meals per week.
They use only organic ingredients that are non-GMO and have zero pesticides or antibiotics.
They focus on simply recipes that can be made within 30 minutes.
Best For Paleo Meal Bundles
What It Is: If you'd rather not subscribe to a paleo meal delivery service, like the options outlined above, Paleo On The Go is a great frozen premade paleo meal delivery service to consider. While they do have a subscription service, they are well known for their paleo meal bundles. These allow you to order about a weeks worth of meals without having a recurring order to worry about. Another nice perk of ordering from Paleo On The Go is that they are one of the only paleo food boxes on this list that offer sweet treats and baked goods.
Types Of Paleo Meals Offered: Breakfast, lunch, dinner, snacks, and desserts.
Lowest Price Per Meal: $9.75
Our Favorite Paleo On The Go Meals:
Mojo Chicken Empanada
Butternut Squash Bisque
Pizza Pocket
Why It Made The List:
They are the only paleo food box on this list that offers frozen meals. This could make it the best option for people who prefer to stock up on food or have a bulk amount stored for emergencies.
They are the only paleo meal delivery service that allows you to order bundles and a la carte (build your own box). This makes them a great option for those who want to test out eating paleo or are not interested in subscribing.
They have delicious snacks and desserts. My personal favorite are their snickerdoodles and slim mint cookies.
Best For Gourmet Style Paleo Meals
What It Is: If you're looking for the most gourmet paleo meal delivery experience, Pete's Paleo is the best option. Their meals use seasonal and organic ingredients, as well as being free of gluten, soy, and dairy. However, where Pete's Paleo really stands out among the rest is that their meals truly look and taste like they're from a high-end restaurant.
Types Of Paleo Meals Offered: Breakfast, lunch, and dinner.
Lowest Price Per Meal: $17.60
Our Favorite Pete's Paleo Meals:
Roasted Garlic Grilled Chicken with Crispy Garlic Broccoli
Balsamic Braised Beef with Celery Root Puree and Spinach
Thyme Roasted Turkey with Artichoke and Fennel Barigoule and Roasted Rutabaga
Creamy Tuscan Chicken with Tomatoes and Spinach
Why It Made The List:
They allow you to order multiple different ways—by subscribing, ordering one of their meal bundles, or ordering a la carte.
They offer a huge variety of paleo meals and plans to choose from. This includes breakfast bundles, bone broth, bulk orders, and more.
Their meals are some of the best tasting paleo meals out there.
Best For Paleo Snacks
Thrive Market
What It Is: Thrive Market is known as one of the internet's largest healthy online marketplaces. They have everything from organic coffee to paleo cookies. What makes Thrive Market perfect for those following the paleo diet is the fact that they have so much variety to choose from, including many options that you'll likely never see at your local grocery store.
Types Of Paleo Foods Offered: Breakfast, lunch, dinner, snacks, desserts, meats, and more.
Thrive Market Subscription Price: $5 per month
Our Favorite Thrive Market Paleo Foods:
Wild Planet Sardines
Kettle & Fire Bone Broth
Hu Dark Chocolate Bars
Chomps Beef Jerky
Why It Made The List:
They have the largest selection of paleo pantry foods (snacks and desserts) available on the internet.
They are one the of the few places that allows you to replace the majority of your grocery shopping with paleo-friendly foods as well as home necessities such as soap, paper towels, and more.
They make shopping by diet and allergen very simple, allowing you to filter by diet, ingredients, certification (e.g. organic), and more.
The Basics Of How Paleo Works
The paleo diet is a diet modeled after the eating habits of prehistoric humans. Specifically, it's based on how humans likely ate during the Paleolithic era (hence the name "paleo").
Often times the paleo diet is also called the "caveman diet" or "stone-age diet".
The basic dietary guidelines of the paleo diet include eating the following: lean meats, fish, eggs, fruits, vegetables, nuts, seeds, herbs, spices, and healthy fats/oils.
The paleo diet requires avoiding the following: sugar, processed foods, grains, dairy, legumes, trans fat, margarine, vegetable oil, and artificial sweeteners.
As you can tell, you're truly trying to mimic what people may have ate long ago when they were hunting or foraging for foods. Since, back then, there were no ways to process flour into to bread or pasteurize milk, they're avoided in the paleo diet.
Pros & Cons Of The Paleo Diet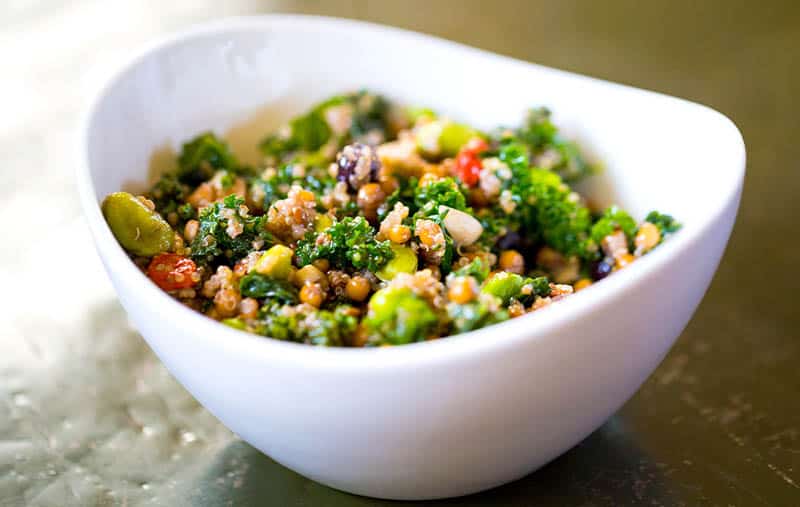 Before you jump headfirst into paleo, it's important to be aware of the good as well as the not-so-good of this diet.
Paleo Diet Pros
It is not as restrictive as other diets out there. You don't have to count every calorie or carbohydrate. The basis is to ensure you're eating the right foods (unprocessed, no added sugar).
It still allows you to eat delicious meals. Some of the best meals we've had from the meal delivery services we've tried over the years have been paleo (Factor Meals, Territory, Snap Kitchen).
The paleo diet relies on whole foods that are naturally rich in necessary nutrients (vegetables, fruits, meats).
Research suggests that the paleo diet can produce greater short-term benefits than diets based on national nutrition guidelines, including: greater weight loss, reduced waist circumference, decreased blood pressure, increased insulin sensitivity, and improved cholesterol. However, these studies were rather short at around only 6 months long.
Paleo Diet Cons
Adhering to the paleo diet means cutting out a significant portion of popular foods, including dairy products and whole grains.
There are still unanswered questions about the diet. For example, research has shown that early human diets could have included wild grains as little as as 30,000 years ago. Also, white potatoes were available during the Paleolithic era, but they are generally avoided on the paleo diet because of their high glycemic index. These examples illustrate some conflicts with the basis of the diet and the known facts of how humans actually could have eaten back then.
As you can see from the prices listed above, the paleo diet can be more expensive than eating regular meals or even other diets.
How We Selected The Paleo Meal Delivery Services On This List
When researching and writing this article, we used specific guidelines to evaluate the paleo meal delivery services out there and create this list of the top available options:
The meal delivery service or food box had to offer a variety of paleo meals to choose from.
The paleo meals that were offered had to strictly adhere to the paleo diet.
The ingredients used in all of the meals have to be high-quality (organic when possible, seasonal produce, grass-fed beef, no antibiotics used, and no hormones used).
The meal delivery service or food box must be able to ship to every state and town within the United States.
Have a question about any of the paleo meal delivery services on this list? Have you tried one of these meal delivery services? Let us know in the comments!