Whether you're trying to lose weight or improve your health, diet is a major factor. The food you put in your body provides fuel for your metabolism, so if you're feeding your body the wrong foods, it simply won't work as well as it should.
The Whole30 program is a reset-style diet that involves eliminating problematic foods like junk food and refined sugar for 30 days before reintroducing certain food categories one by one to see which you may react to. This makes it less of a traditional calorie or carbohydrate restrictive diet and more of an overall lifestyle switch.
Instead of counting calories or carbohydrates, you'll be focusing on eating real, whole foods (hence the name "Whole30") that provide your body with the essential nutrients required for optimal health while cutting out the processed foods shown to cause sluggishness, weight gain, and more. Over the course of 30 days, the goal of Whole30 is to see improvements in your sleep, energy, mood, digestion, weight, and more.
While the Whole30 program has caught a lot of attention over the years for its results, it may be hard for some to follow. Because of its restrictive nature (remember, no processed foods or refined sugars) it cuts out a lot of traditional foods a lot of us eat on a regular basis. While you don't necessarily need to count calories or control your portions, you do need to be mindful of what you're eating—that's where a meal delivery service comes in.
Today we're going over the top Whole30 meal delivery services to help you stick to your Whole30 journey as easily as possible.
Food Box HQ Note: All of the meal delivery services on this list are certified approved by the Whole30 program.
Best Overall
What It Is: Fresh n Lean is a pre-made meal delivery service that offers 7 different meal plans to choose from. One of their newer plans is Whole30 approved in collaboration with Justin Turner (Dodger third baseman).
The Details: With Fresh n Lean's Whole30 plan, you have the ability to choose as little as 5 meals per week, up to 10 meals per week. This includes breakfast, lunch, and dinner.
What's more, Fresh n Lean is one of the few Whole30 meal delivery services on this list that lets you customize your meals by excluding specific ingredients. They allow you to exclude bell pepper, beyond meat, chia, cilantro, curry, eggplant, garbanzo beans, mushrooms, nuts, quinoa, rice, sesame, soy, squash, vegan chicken, olives, and more.
Fresh n Lean is also very allergen friendly. If you have an egg, sesame, dairy, shellfish, tree nut, or soy allergy, you can have meals with those foods excluded from your personalized menu.
Having used Fresh n Lean year over year, I can saw from personal experience that they are not only one of the most substantial pre-made meal delivery services but also one of the most high quality. They're one of the few available that is USDA certified organic, gluten free, and non-GMO. They also go above and beyond most other meal delivery services when it comes to their meal tray packaging by vacuum sealing the meals to ensure they stay fresher for longer.
Fresh n Lean does Whole30 right. These meals are packed with flavor and they don't skimp on the serving sizes. I never felt like I was hungry for more after eating any of their Whole30 meals.
The presentation in the meal tray isn't the best but most pre-made meal delivery services meals aren't necessarily "pretty". After heating the meal, I usually plate it and make it look a little more presentable.
Why It Made The List:
Fresh n Lean offers single serving meals, making them a good options for one person households.
They have Whole30 meal options for breakfast, lunch, and dinner. Plus, they even offer snacks.
They're one of the few USDA certified meal delivery services out there.
Most Customizable
What It Is: Snap Kitchen is a meal delivery service that sends you made-to-order meals that fit with your diet plan. Regardless of which plan you choose, their main focus is on high-quality ingredients and meals that are meant to fuel your body.
The Details: With Snap Kitchen, you can choose from 6 or 12 meals a week and receive fully prepared, made-to-order meals sent right to your door. You'll have the ability to personalize your meal plan to suit your dietary preferences, choosing from low-carb, high-protein, and keto-friendly options or create a custom plan by choosing from the fully menu. If you're lucky enough to live near a Snap Kitchen location, you can even shop for Whole30 approved meals to go.
The options are endless with Snap Kitchen – you can create a custom meal plan that perfectly suits your needs. Enjoy tasty meals like Almond Crusted Salmon or Naked beef and shop from a large library of recipes earmarked for the Whole30 plan. For 6 meals per week, you'll pay $11.67 per meal or, for 12 meals a week, you'll pay $9.58 per meal.
We've been consistently impressed with Snap Kitchen over the years we've reviewed them. While the portions are not big by any means, all of the meals we've tried have been full of flavor and we've had zero issues with packaging or spoiled foods in previous orders.
One thing to note is that they do not have a dedicated Whole30 plan so you will have to use their custom plan option to select Whole30 approved meal options. I've found the best way to do this is simply searching their site by "Whole30".
Why It Made This List:
Delicious pre-made meal options that range from breakfast, lunch, and dinner.
Also have physical locations nationwide where you can pick up your meals.
A wide variety of Whole30 options (currently 16 options to choose from).
Best Meal Bundle Option
What It Is: The paleo diet overlaps with Whole30 in many areas. If you've done or are doing the paleo diet in conjunction with Whole30, Paleo On The Go is a great meal delivery service option to consider. This service sends you fully prepared meals right to your door – you simply choose the recipes then heat and eat!
The Details: With Paleo on the Go, everything is 100% paleo and AIP-friendly (autoimmune protocol diet), plus there are plenty of Whole30 approved options as well. If you're unaware, the paleo and AIP diet are very similar in their structure to the Whole30 diet so even though their brand name is "Paleo on the Go", it still covers Whole30.
One of the main reasons we included Paleo on the Go on this list is because they allow you to purchase meal bundles. As of writing this, they have 2 bundle options—Whole30 approved soup bundle and a Whole30 approved meal bundle. I've found that these types of bundles make following any diet much easier since the meal decision process is taken care of for you.
Should you want to order a la carte, they offer a wide variety of recipe choices including breakfast, lunch, and dinner. Enjoy a hearty Savory Hash Breakfast Bowl for breakfast and sip on some Loaded Baked Sweet Potato soup at lunch. For dinner you'll have options such as Spinach and Mushroom Beef Lasagna, Grass-fed Beef Bolognese with Butternut Squash Noodles, and German Brats with Sauerkraut and Home Fried Potatoes.
Why It Made This List:
Wide variety of paleo, AIP-friendly, and Whole30 approved meals.
One of the few options that allow you to order Whole30 approved meal bundles.
I've found their meals to have some of the biggest portions compared to others on this list.
Most Flexible Purchase Options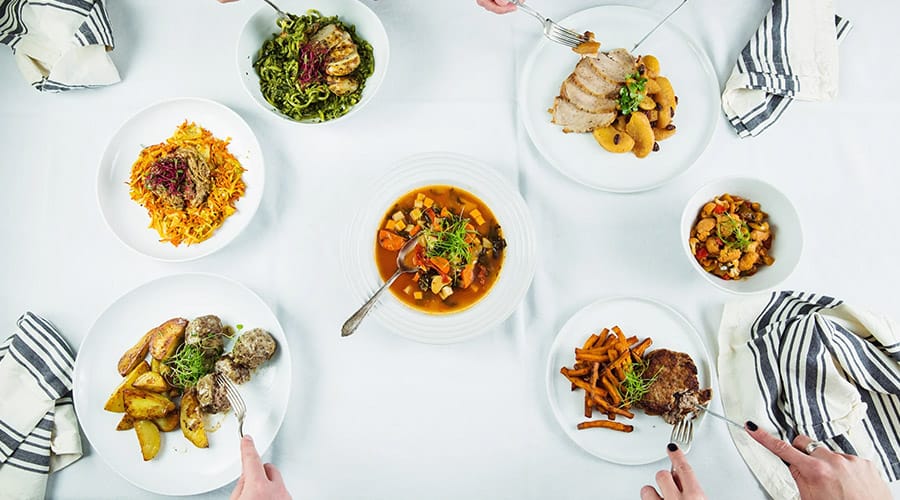 What It Is: This meal delivery services offers farm to table meals in 3 minutes or less. Choose from gluten-free, clean eating, paleo, ketogenic recipes and more – they'll be shipped right to your door on a weekly basis. You simply heat up the meals and enjoy.
The Details: While The Good Kitchen is also a pre-made meal delivery service like the others above, their main focus is using the highest quality ingredients in their recipes and this shows in their meal quality and taste. Their beef is grass-fed and grass-finished, they use pastured pork, their poultry is antibiotic- and hormone-free, and their produce is organic as well as GMO-free.
They're one of the few meal delivery services that offers a truly farm-to-table experience that doesn't involve any prep work whatsoever. This is because they source their ingredients from farms close to their business, such as Hickory Nut Gap in Fairview, North Carolina.
They have a wide variety of Whole30 approved, paleo, ketogenic, and gluten-free options. With your plan you'll be able to choose when you'd like to receive your meals: weekly, bi-weekly, or monthly deliveries.
Enjoy tasty options like BBQ Rubbed Salmon with Sweet Potato Hash or Beef Bolognese with Spaghetti Squash. Try a one-time-order sample pack of 20 meals for $249.00 or start a subscription for 5 meals per week for just $70/week.
Why It Made This List:
They offer one of the most competitive guarantees among all of the services listed here— 100% satisfaction guarantee or your money back.
All of their meals can be purchased on their website, Amazon, and even in-stores at Walmart.
You have the option to subscribe to their service or make a one-time purchase of a sample pack.
Best For Access To Nutritionist
What It Is: With Territory Foods, dietitians, nutritionists, and chefs have come together to create a wide variety of healthy and delicious meals that are fully prepared and sent right to your door.
The Details: The structure of Territory Foods is a bit different from many other meal delivery services out there. Instead of having all of their meals cooked at a central location, they actually work with a network of local chefs throughout the country to have their meals made. While this means they aren't available everywhere in the United States yet, it does mean that their meals are incredibly fresh and well made. You also have the ability to have your meals dropped off at specific locations (such as your local gym) free of charge. Unlike other meal delivery service out there, you can choose as to whether you'd prefer to receive your meals once or twice per week. Going with twice per week allows you to receive meals and eat them as close to the time they were cooked, for the freshest taste possible.
You'll have the ability to enjoy Whole30 approved recipes like Chicken Piccata with Sweet Potatoes and Kale or Garlic & Herb-Roasted Tri-Tip with Sweet Potatoes and Green Beans.
Why It Made This List:
They're one of the only meal delivery services on this list that allows you to speak directly with their nutritionist about your diet/food goals.
Receiving meals twice per week allows you to eat meals at their freshest.
They work with local chefs so your meals are being made as close to you as possible (rather than at a central cooking location like other meal delivery services).
You can save on shipping fees by having your meals dropped off at one of their affiliated locations.
Most Variety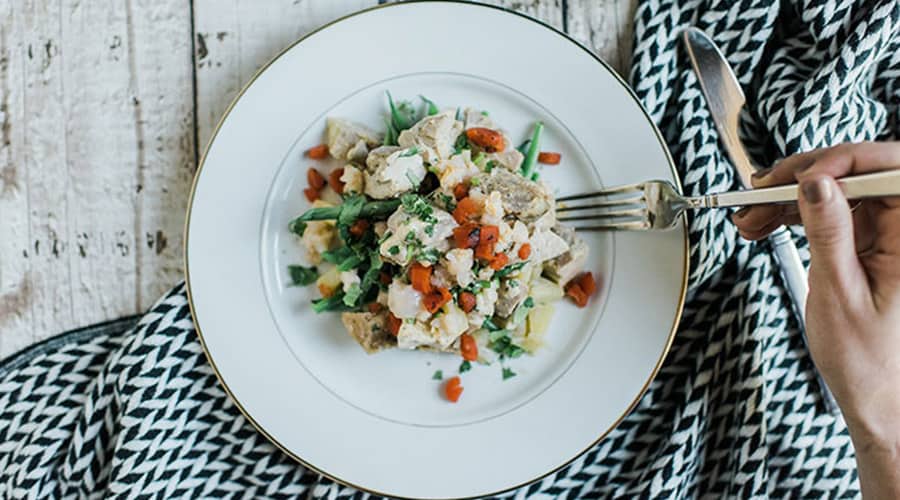 What It Is: With Eat the 80 you'll enjoy fresh-prepared nutritious meals delivered directly to your doorstep each and every week. Simply choose your plan including the number of meals and how often you'd like to receive them and they'll be prepped and sent to you.
The Details: Eat the 80 believes in high-quality, natural nutrition. All of their meals are made from scratch using the freshest protein and produce available with absolutely no preservatives. Their kitchen is 100% gluten-free and their produce is sourced from local farmers as much as possible. Just choose from 5, 7, 10, or 14 meals per week and opt for weekly or bi-weekly plans to fit your schedule.
With Eat the 80, you can enjoy Whole30 approved meals like Halibut-n-Hash, Sticky Beef with Cauli Fried Rice, or Apricot Glazed Turkey Meatballs. Prices vary depending how many meals you choose each week but we've found that they offer one of the lowest per-meal prices with their 10-meal plan at $9.67 per meal. You can choose from weekly or bi-weekly deliveries and filter your meals by category or by the ingredients you do not want included.
Why It Made This List:
Their menu offers over 20 Whole30 approved meals to choose each week.
They allow you to choose from weekly or bi-weekly deliveries for the freshest meals.
Meals are made from scratch with the freshest protein and produce.
Best Market/Grocery Option
What It Is: Whether you're looking for snacks, meals, or side dishes Thrive Market has it. This online grocery store offers individual ingredients as well as meals, including many Whole30 approved options.
The Details: If you like to do the meal planning and cooking yourself, Thrive Market could be the perfect pick. This online grocery makes it easy to find healthy, high-quality products including snacks, condiments, and seasonings as well as soups, meals, and side dishes. Shop by ingredient, by diet, or just browse the vast selection to see what's available. You can even choose the Primal Kitchen Build Your Own Bowl & Skillet bundle to receive 8 primal, Whole30 approved meals.
To become a Thrive Market member, you'll pay a $5 monthly membership fee (kind of like Costco). This guarantees access to the large assortment of healthy foods that are ethically and sustainably sourced, as well as carbon-neutral shipping, a zero-waste warehouse, and recyclable/compostable packing. No matter what diet you follow, you have access to premium-quality ingredients and even full meals.
Why It Made This List:
You can shop for Whole30 approved snacks, sides, condiments, meals, and more.
With Primal Kitchen Build Your Own Bowl & Skillet you can also have Whole30 approved meals.
They have the biggest selection of Whole30 prepackaged foods online.
Best Snack Bundles
The Basics Of How Whole30 Works
You can think of the Whole30 plan as the ultimate dietary reset. If you've been in a funk lately and have been overindulging in fast food, takeout, and junk food, Whole30 could be what you need to get back on track. It's a 30-day clean-eating plan designed to eliminate certain foods, so your body starts getting the essential nutrients its needs for you to feel your best. Then, at the end of the 30 days, you can reintroduce food groups one by one to help you pinpoint which effect you most.
Following the Whole30 plan involves giving up all the foods we all know are bad for you: sugar, alcohol, junk food, fast food—basically all processed foods. Instead of chowing down on unhealthy foods, you'll be loading up on clean proteins, fresh fruits, and veggies.
Here's a quick introduction to the foods included in the Whole30 plan:
Meat, poultry, seafood, and eggs
Fresh fruits and vegetables
Natural fats
Herbs, spices, and seasonings
The idea is to eat foods that are as whole and unprocessed as possible. Ideally, that means foods without an actual ingredients list. Think purely whole foods like turkey, fish, broccoli, and sweet potatoes. You'll be giving up added sugar, alcohol, grains, legumes, dairy, junk food, and any foods with artificial additives.
Another important detail to understand about Whole30 is that it differs from many traditional diets since there is zero calorie or carbohydrate counting involved. You should always do your best to consume sensible portions, but you're not going to be tracking macros or measuring portions. You won't even be stepping on the scale for the next 30 days. This is one of the major reasons why Whole30 has become a phenomenon—the focus is not on short-term weight loss but rather long-term lifestyle changes.
Pros & Cons of Whole30
Committing to the Whole30 program can be tough, especially given the long list of "No" foods you'll have to stick to. It can take a significant amount of effort to do this program right, but the results may be well worth it. From personal experience, I've found sticking to the Whole30 program much easier than sticking to traditional diets. Why? While you have to restrict ingredients, you never restrict portion sizes. This means you're never left hungry and can (within reason) eat as much as you'd like.
Here are some of the potential benefits many enjoy from following Whole30:
Improved quality and amount of sleep
Boosted energy levels
Clearer skin, fewer issues with breakouts
Improved and regulated digestion
Resolved health problems (like high blood pressure)
Reduced cravings for sugar and carbs
Healthy and sustainable weight loss
On top of all these benefits, following the Whole30 plan may help you identify foods to which you are sensitive or allergic. It functions like an elimination diet – you may just find that by eliminating certain foods from your diet, you start to feel better. After you complete the 30 days, you can choose to not start eating those foods again.
Of course, we can't only talk about the benefits without also mentioning some of the downsides. While it is a "diet" it is not specifically made for weight loss. And while many following the diet have lost weight, that doesn't necessarily mean that everyone will within 30 days.
Also, this is a very strict program. That means if you slip up (even once) within the 30 days, you'll have to restart the program.
Lastly, our bodies can actually become acclimated to eating processed foods and sugars. So much so that if you remove these ingredients from your normal diet, you can actually have an adverse reaction and feel "off". Think of it the same way as if you were a hardcore coffee drinker and then just stopped cold turkey. I know from past experiences that the first few days of Whole30 can be the toughest.
Food Box HQ Note: Before starting any diet, including Whole30, talk to a medical professional.
What to Look for in a Whole30 Meal Delivery Service
The Whole30 plan comes with a long list of benefits, but that isn't to say it's easy to follow. Not only do you have a long list of rules to memorize, but your body may have some trouble adjusting to the new diet.
One way to make your job easier while following the Whole30 plan is to start using a meal delivery service. A meal delivery service takes the guesswork out of meal planning, especially if you choose one that is compatible with Whole30. Depending which plan you choose, you could have all your meals taken care of and there are even services out there such as Thrive Market that handle all the snacks and pantry items you might need.
Here are some things to consider when shopping for a meal delivery service:
Make sure it's Whole30 compatible. Many meal services utilize whole foods, but not all of them are Whole30 compatible – make sure to choose one that is. When making your final decision, it's best to ensure the service is approved by Whole30 here.
Think about how many meals you want. Meal delivery services range from dinner-only to three square meals a day – some even include snacks. Think about how much effort you want to put in yourself and how much you want the meal delivery service to do for you.
Consider how much you're willing to spend. Every meal delivery service is different, but most price their plans by the serving or by the meal.
Think about how much prep work you're willing to do. Some meal delivery services send you pre-portioned ingredients and recipes so you can prep the meals yourself. Others send you fully prepared meals that are ready to heat and eat.
Peruse the recipes to see if it's a good fit. Most meal delivery services try to incorporate variety into their plans, but if you're following a specific diet like Whole30 your options may be more limited. Browse the recipes before you buy to make sure you're getting the variety you crave.
Before settling on a Whole30 meal delivery services, there's one more option to consider – you could always find a meal planner app online and do the work yourself. Meal planners exist for just about every diet out there and they can help you choose your meals for the week. Some even create a shopping list for you so all you have to do is follow the list and prepare your daily meals as instructed.
Whether you choose to do the meal planning yourself or go with a meal delivery service, one thing is for certain – the Whole30 plan will change the way you eat, and it may even transform the way you think of food. If you're looking to reset your dietary habits and get back on a healthier track, Whole30 could be the perfect fit and a Whole30 meal delivery service can help you along the way.
How We Selected The Services On This List
Here at Food Box HQ, we have reviewed hundreds of different food boxes over the years. Our review process is very strict and involves not only ordering from the service and eating the food but researching and comparing the service among its peers to ensure it is the best option to include in these roundup-style articles.
In creating this article and finalizing the meal delivery services to be included, here are the additional key points we looked for:
The meal delivery service must be fully approved by Whole30 or sell fully Whole30 approved products.
They must use the cleanest ingredients possible and provide a "farm to table" style experience.
Since we are aiming to help people stick with the Whole30 program, we only included pre-made meal delivery services to ensure that the diet is as "set it and forget it" as possible.
We looked for meal delivery services that included a variety of different types of cuisines so that no one gets bored with what they're ordering.
After narrowing down our initial list of meal delivery services by all of the above, we then researched and removed services that had a large amount of negative reviews or complaints.
Have a question about any of the meal delivery services above? Have you tried one and want to share your review? Leave your comment below!