Premade meal delivery services are a dime a dozen these days. I can remember way back in 2017, when we started Food Box HQ, there were only a handful of options that could even ship nationwide.
Today, all that has changed. In fact, there are more premade meal delivery services these days than there are meal kit companies. Why? It all comes down to people craving convenience.
If you're one of those people, Territory Foods could be on your radar of prepared meal delivery services to try.
They claim to allow you to eat healthy meals without the hassle of finding recipes, buying ingredients, prepping everything, and spending time cooking.
Though, what's most interesting is that Territory Foods service works much differently than most of the other meal delivery services out there.
Keep reading to find out why...
What It Is & How It Works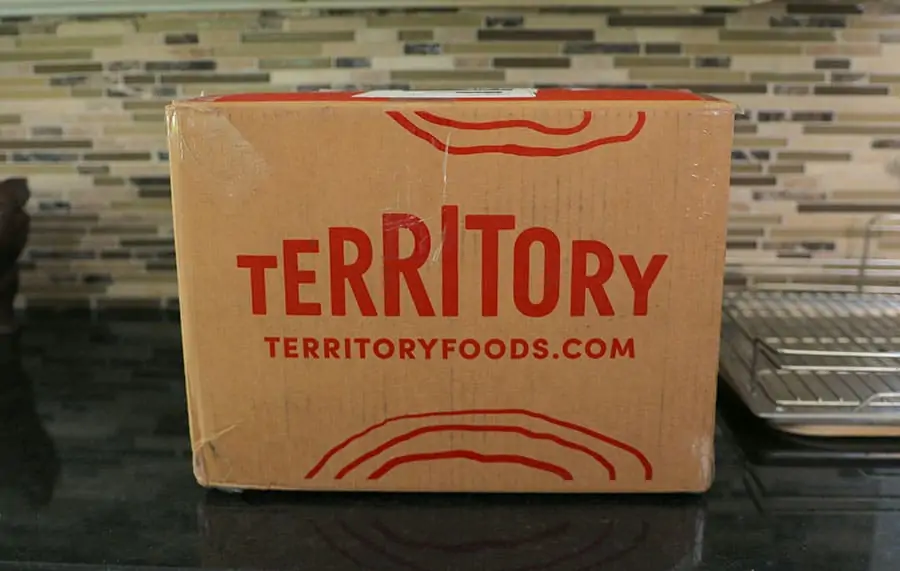 Territory Foods is not like many of the popular premade meal delivery options out there that simply cook up meals, pack them in your box, and deliver them to your doorstep. Rather, Territory Foods is a collaborative effort made up of local chefs around the United States.
The way it works is rather ingenious... Territory Foods has curated a team of classically trained chefs across the nation. Those chefs then come up with recipes based on Territory Foods nutritional guidance and craft them in small batches. Those meals are then sent to the customers who are closest to the chefs that cooked them.
Because of this, the meals tend to be fresher, since they spend less time in a box on their way to your kitchen. But are they higher quality? We dive into that a little later on with our taste test and quality check.
How you get started with Territory Foods is very simple. Once you input your name, email, and zip code, you'll be able to see the menu of meals available in your area and start building your box. The meals you see are only available in your area.
What I really appreciate about their online menu is the fact that they outline the basic macros (calories, fat, carbs, protein) right from the main menu page. This gives you a birds eye view of the nutritional info as you're browsing the meals, rather than having to click through and try to find the nutritional facts within each meal page. Little design touches like this may not seem like much on the surface but really make the meal selection process easier.
Territory Foods Meal Plan
Unlike most other meal delivery services that make you select a plan for how many meals you'll receive weekly, Territory Foods is entirely customizable.
What this means is that you can order as much or as little as you'd prefer in every box you receive.
What's more, you can decide whether you want to receive meals once or twice weekly.
This level of customization is nearly unheard of in the world of meal delivery services and it's nice to see Territory Foods pushing the bounds of what's possible.
The key reason why I love being able to customize both the amount of meals and when I receive them is because often times my weekly plans change.
With meal delivery services that send a set amount of meals each week, I may get stuck with meals I know I won't eat (for example, if I know I'm going out to eat one day or I won't be home). Whereas with Territory Foods, I can look at my schedule and only order the meals I know I need for the week.
Selecting Your Meals & Meal Variety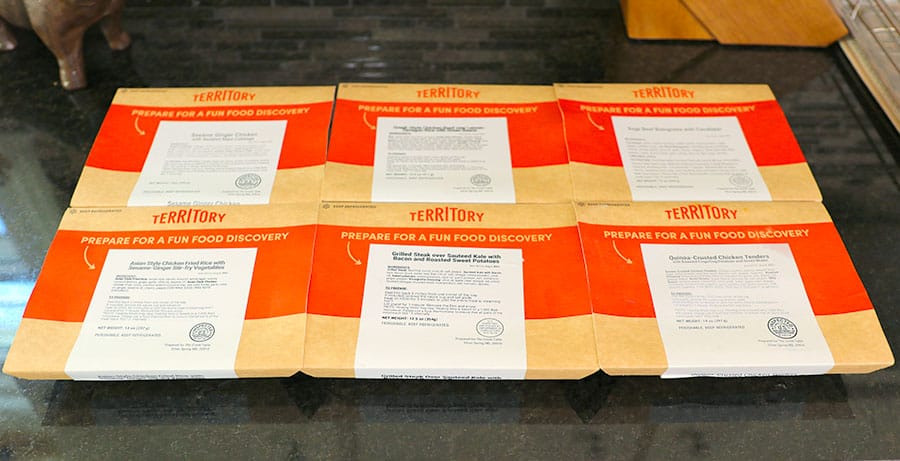 Territory Foods focuses on meals that are nutritionally balanced. They are designed by dieticians in conjunction with their team of chefs to be gluten-free, dairy-free, and free of refined sugars.
Food Box HQ Note: Although the meals are gluten-free and dairy-free, Territory Foods does mention that the meals are cooked in kitchens where gluten, dairy and other allergens are present. They are not certified gluten-free or dairy-free.
When selecting my initial meals, I was impressed not only with the selection available but the ability to filter down and find just the right ones.
On their menu, you can filter by meal preferences, nutrition info, meal style, chef, and ingredients. Here's a deeper look at each:
Meal Preferences: This allows you to filter by specific diet, including paleo, mixitarian, plant-based, vegetarian, and vegan.
Nutrition Info: Territory not only allows you to select meals by certain macros but use a slider to find meals that are within certain macro ranges. For example, meals that have a protein count within 20 to 30 grams.
Meal Style: This allows you to filter by breakfast, lunch/dinner, and a la carte meal options.
Chef: If you enjoy ordering from a specific chef, you can filter to find all of the meals that they offer.
Ingredients: Should you have a food allergy or simply not like certain ingredients, you can filter them out here.
From my experience having used dozens of meal delivery services, I can say with certainty that this is next-level meal selection. I've never seen a meal delivery company allow you to go this in-depth with your meal selection.
In addition to being able to customize nearly every aspect of your meal selection, the actual cuisines Territory Foods offers is quite extensive as well.
Their cuisines range from traditional American all the way to more niche options like Ethiopian food. Here is a rundown of options I've seen on my menu in the past:
Korean
Chinese
Indian
Mexican
American
Ethiopian
Italian
German
Mongolian
They offer 18 unique meals each week to choose from and rotate meals in and out on a regular basis.
Diets Territory Foods Accommodates
As mentioned above, Territory Foods allows you to narrow your meals by paleo, mixitarian, plant-based, vegetarian, and vegan. However, the list of actual diets they cover is much more.
Because their meals emphasize nutritional balance and they give you the ability to filter by macros, you could use Territory Foods for other diets such as low-carb, low-calorie, and low-sodium.
Food Box HQ Note: Although they offer meals that fit within these specific diets, do be aware that you cannot strictly follow any of these diets with Territory because they don't offer a weeks worth of meals for each. For example, from my experience, they only offer a handful of vegan meals each week.
Delivery & Packaging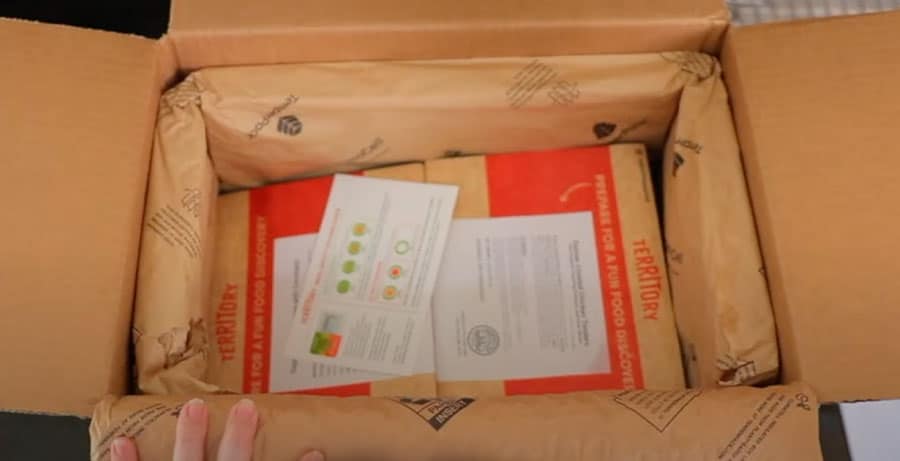 Deliveries can be made either weekly or twice per week. Why opt to receive two boxes per week over one? Going with two boxes means that your meals are cooked and shipped within a shorter time frame before you eat them, meaning they'll be fresher.
When it comes to packaging, Territory Foods fairly eco-friendly materials.
The meal containers are made of a compostable material. They can be commercially composted at a location closest to you. Or, they can be thrown away in your regular waste bin. Do be aware that if you throw away the compostable container, it will not breakdown in a landfill the same way as if it were composted.
The gel ice packs inside the box are used to keep the meals cold while in transit to your doorstep. They can be opened and the gel can be thrown away. The plastic can then be washed and put in your recycling bin.
The insulation wrapping the meals is from Temperpack Climacell and is one I've seen multiple other meal delivery services use. It's made from 90% paper and corn starch. It's also curbside recyclable.
As you can see from the image above, our meals came packed very tight so there was no room for them to bump around in transit.
We've also never had any issues with our Territory Foods packaging being damaged while being shipped.
Prepping & Cooking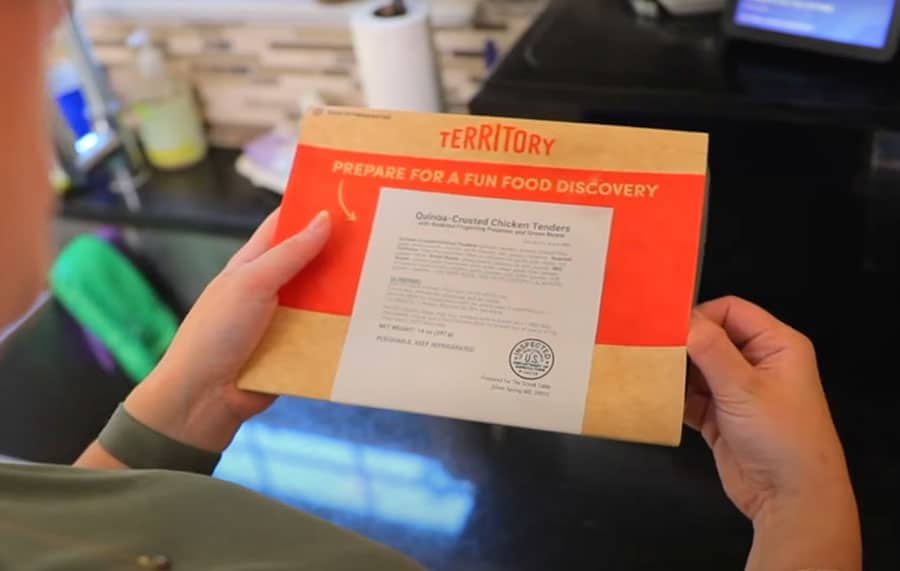 Being a premade meal delivery service, the process of actually "cooking" your Territory meals is basically already taken care of. You simply need to heat them up.
The instructions for doing so are right on the meal tray sleeve and will vary depending on the meal. Be sure to read the instructions because I accidentally heated up one meal a bit too much after assuming they all use the same time in the microwave.
Prepping the meal to be heated generally follows the same format every time—peel back the plastic film on the meal tray 2 inches from one corner, remove any sauce cups or packets, and heat on high for the specified time limit. You'll want to be sure that the meal reaches an internal temperature of 165 degrees fahrenheit to prevent any food borne illnesses (more info on why here).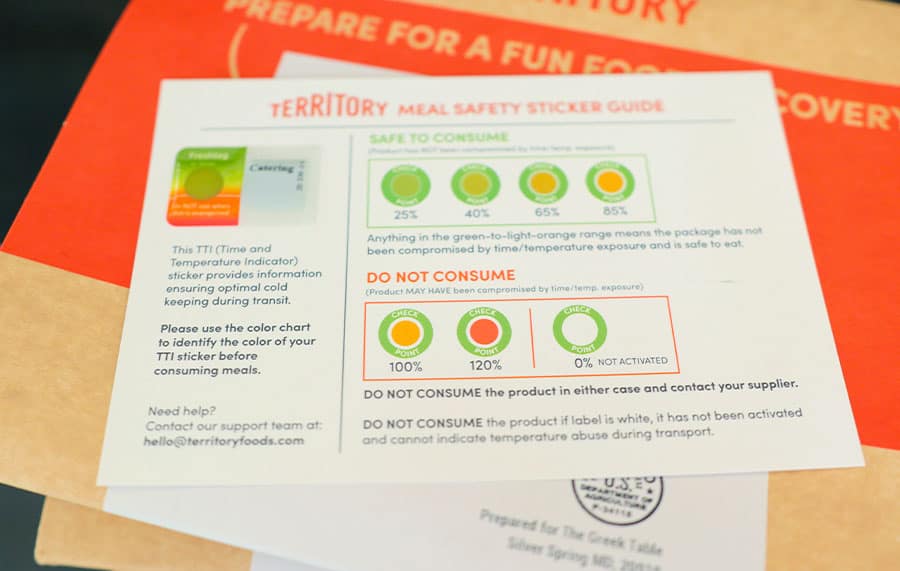 What really blew me away when I was getting ready to cook our first Territory Foods meal was the inclusion of a meal safety sticker. I have never seen this before. The sticker acts as a time and temperature indicator. This tells you whether the package has been compromised by time and/or temperature, which could cause the meals to be unsafe to eat.
Any color green to light orange means that the meals are okay to eat. Any color orange to red means that the foods should not be consumed and to contact Territory.
Our sticker was bright green, meaning our food was safe to eat.
Taste Test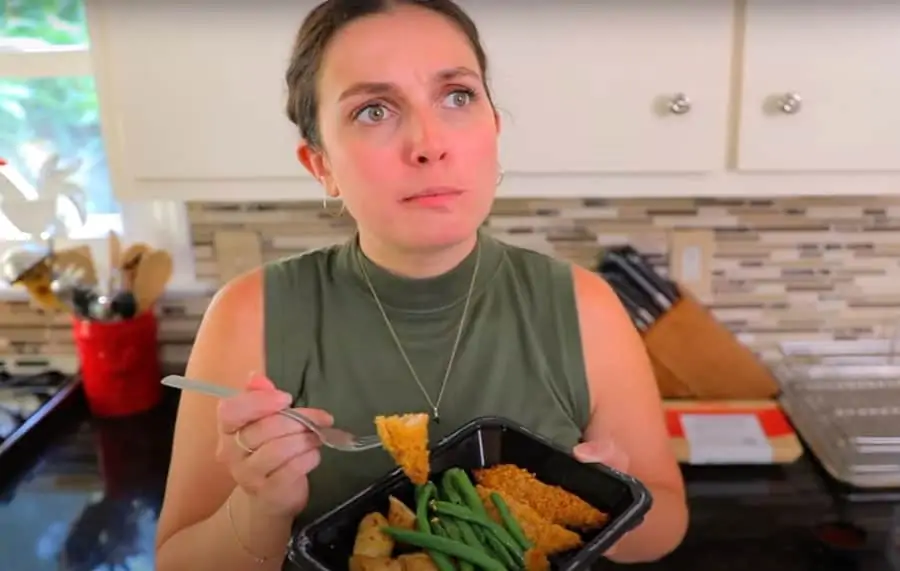 Now for the fun part... How did our meals actually taste? Here's a rundown of what we ordered, along with how each meal tasted.
Quinoa Crusted Chicken Tenders With Roasted Fingerling Potatoes And Green Beans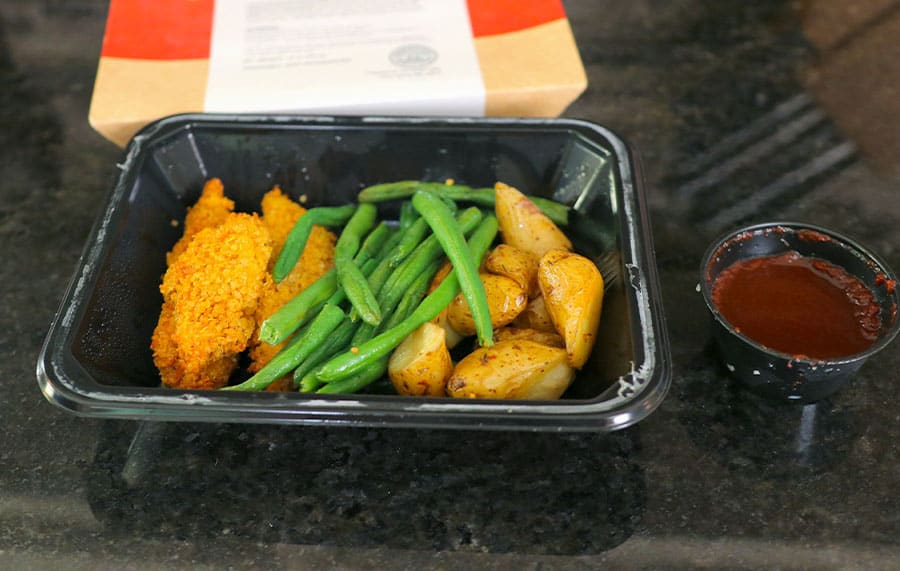 Let me start by saying that I didn't even know you could use quinoa to "crust" chicken tenders. What surprised me the most is that it basically mimicked the texture of of traditional fried chicken. The flavor wasn't exact because it still tasted like a grain, but close for what it's worth. The chicken was cooked perfectly; still juicy and tender. As for the potatoes, they had a light crunch and mild saltiness. We could have warmed them a bit more because they were just barely warm in the center but reheating potatoes is tough. As for the green beans, they were crunchy and delicious. What really made the meal though was the BBQ sauce. It was the perfect mix of smokey and sweet.
Sage Beef Bolognese With Cavatappi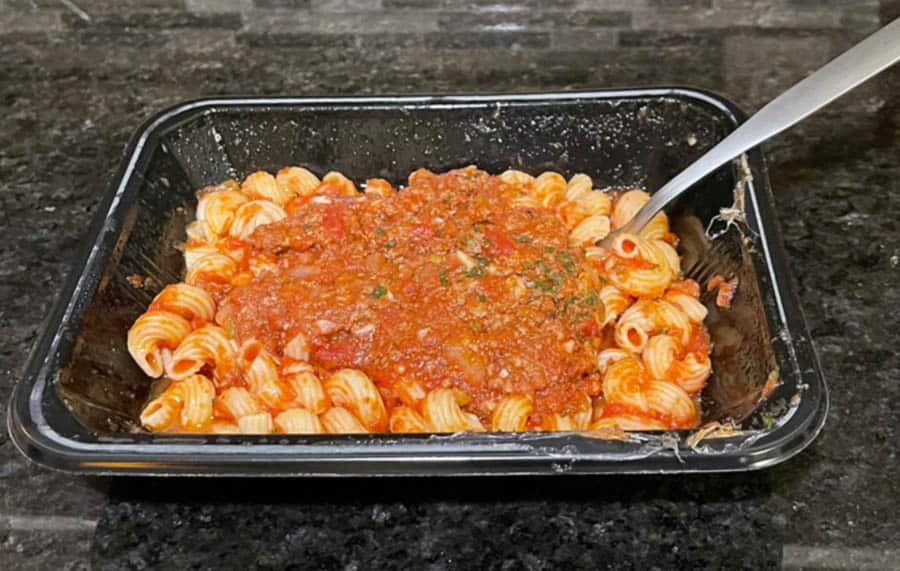 This dish was simply "good". That's not to say it was bad by any means but the others I tasted were on another level. The real issue I had was with the cavatappi pasta being made with brown rice. Any pasta made with brown rice is not going to have the same taste and texture as pasta made with flour. It was a bit more dense and sticky than normal pasta. The sage beef bolognese, on the other hand, did come out delicious. It had a lightly sweet yet herbal flavor. I could have eaten a bowl of just the beef bolognese sauce!
Greek Style Chicken Bowl Over Lemon-Tarragon Rice With Green Beans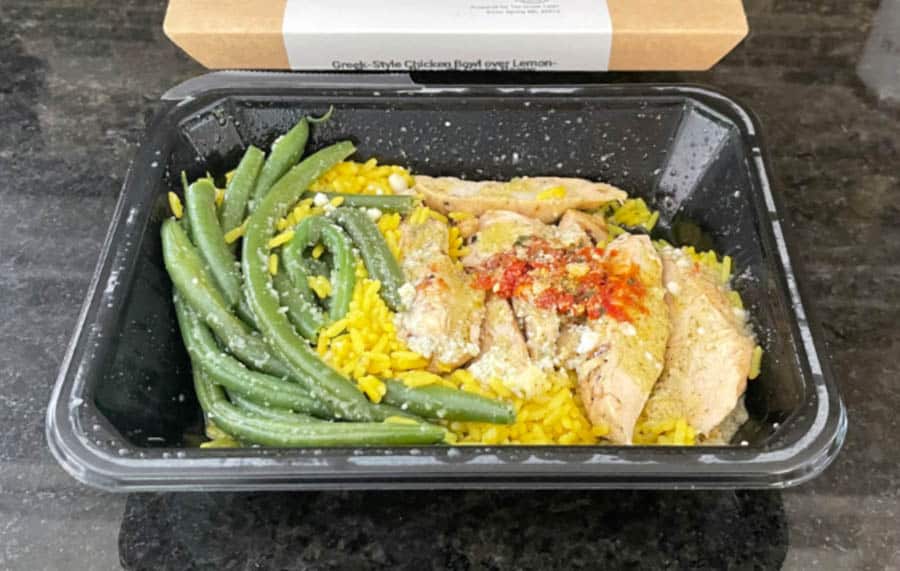 This dish was absolutely delicious. As a fan of Greek food, they did it justice. Between the red wine vinegar, turmeric, oregano, and lemon zest, it had the perfect blend of spices to lift the flavor of the dish. I loved the addition of the sun-dried tomatoes to the chicken breast. And the addition of coconut gave the meal a subtle sweet and nutty flavor.
Asian Style Chicken Fried Rice With Sesame-Ginger Stir-Fry Vegetables
This dish came out beautifully. It was the one I mentioned above that I accidentally heated up a bit too much. It was made with brown rice, carrots, broccoli, eggs, onions, coconut, and ginger. Stir-fry can sometimes come out a little wonky in premade meals but this dish had it cooked very well—not soggy or over-seasoned.
Grilled Steak Over Sauteed Kale With Bacon And Roasted Sweet Potatoes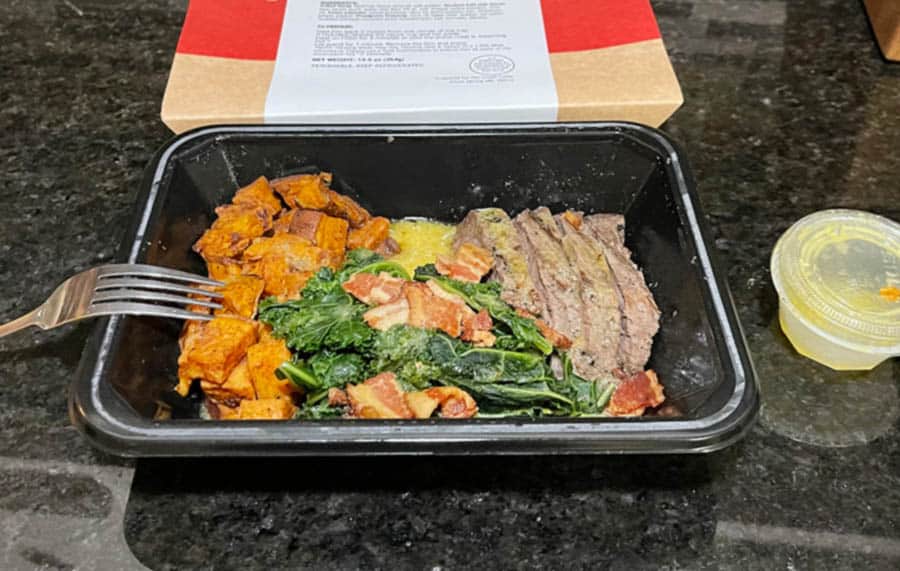 This was another winner in my book. All of these foods are my favorite—steak, bacon, sauteed kale, and sweet potatoes. The steak wasn't cooked medium-rare, the way I'd order at a restaurant. It was cooked medium to well done, which I actually appreciate since I'd rather be safe from any undercooked meat than sorry. I've had food poisoning before, it's not fun! The kale was cooked at the right level—not too crunchy and not too soggy. As for the bacon, it gave the whole dish a rich salty flavor that was perfect.
Sesame Ginger Chicken With Sauteed Napa Cabbage
Rounding out my meals was this delectable, Asian inspired chicken and veggie dish. The chicken came out very tender and juicy, just like the previous dishes. It had a slight sweet bite to it from the ginger, which was a nice touch. The broccoli was lightly seared, which gave it a delicious (yet mild) crunch.
This was one of the few premade meal delivery services I've tried where nearly every meal was delicious. They felt less like homestyle meals and more like leftovers from a top restaurant. And I mean that in the best way possible!
Overall Food Quality & Freshness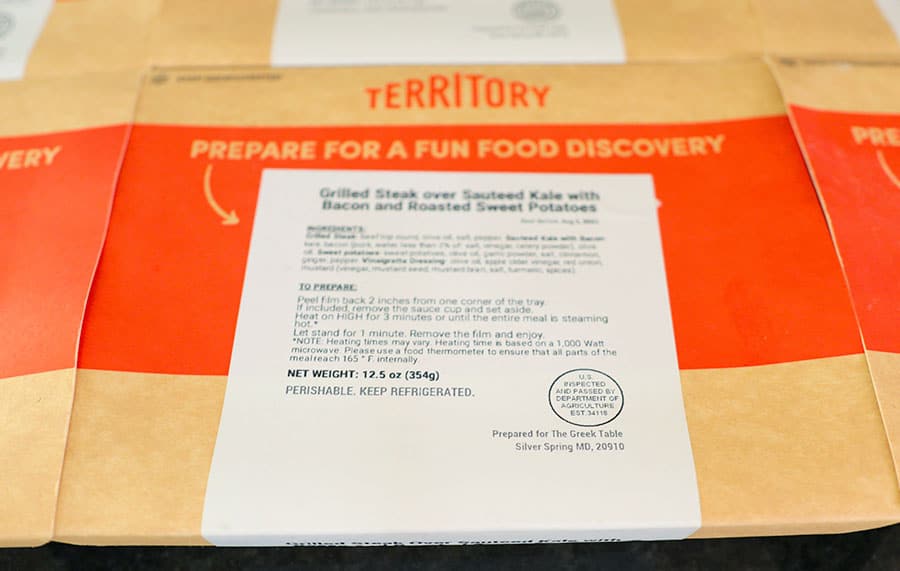 The meals we had from Territory Foods tasted very fresh. And I can tell that this is something that Territory takes seriously. Not only do they include the meal safety stickers in every box, but they also include a "best before" date on every meal tray. This is something that I wish every meal delivery service would do. There have been so many times in the past where I've thrown away meals because they were the last ones left in my fridge and I wasn't 100% sure if they had gone bad or not.
When it comes to sourcing, Territory is very open about their process and where the ingredients in their meals come from.
All of the ingredients they use are, as mentioned above, gluten and dairy free. However, they also make a point to use ingredients that are not inflammatory. That includes refined sugar, nitrates, chemical preservatives, artificial sweeteners, artificial colors, and canola oil.
They take the same health-oriented approach with the meat that they use, all of which are free of antibiotics and added hormones. The fish and seafood are either wild caught or sustainably raised.
When it comes to the chicken that they use, they partner with Animal Equality and Global Animal Partnership to abide by the standards set forth by the Better Chicken Commitment organization. This is a policy that suppliers adhere to in order to maintain higher welfare standards for chickens.
As for the produce used, it is not exclusively organic but they try to source organic fruits and vegetables when possible.
Territory Foods vs. At-Home Meal Prep
Using Territory Foods rather than meal prepping everything yourself is definitely going to save you time.
Sometimes people forget just how much goes into meal prepping: finding recipes you might like, grocery shopping, prepping all of the ingredients, and cooking. Even if I spend a day meal prepping for the week, it can still take half a day to do everything (including packing everything up in tupperware).
The biggest issue when you compare Territory versus meal prepping at home is meal choice. Obviously, if you're making your own meals, you have the ability to cook what you know you're most likely to enjoy. With Territory Foods, or really any premade meal delivery service, you don't have endless options. This means you could end up looking at the menu some weeks and not really liking what you have to choose from.
I would recommend going with Territory Foods only if you're okay with a little mystery of not knowing what might be on your future menus. If that scares you or you're more of a picky eater, I'd recommend meal prepping yourself.
Territory Foods vs. The Competition
There are a lot of other premade meal delivery services out there. What's more, most of them focus on nutrition, health, and diets the same way that Territory does.
Below are the closest competitors to Territory Foods based and how they stack up:
Frequently Asked Questions
As I researched this article to understand what people really want to know about Territory Foods, I came across some of the same questions over and over again. To help anyone else who might have similar questions, I decided to answer some of the most popular questions here...
Is it easy to cancel?
Yes, it very simple. When you log into your account, you can head over to the "manage plan" section and you'll be able to cancel or pause your subscription.
How is their customer service?
They offer customer support via phone, email, and chat. We never had any issues with our Territory Foods meals so we had no reason to contact support. However, from what I can see, they offer pretty in-depth support and help section within your account page.
Money back or satisfaction guarantee?
They offer a very impressive satisfaction guarantee whereby they will refund you if you're not satisfied for any reason.
What is TerritoryServes?
This is the charitable arm of Territory Foods where they donate to frontline workers helping prevent environmental change and injustice around the nation. They also work with Feeding America to help end hunger in the United States.
Is this a good option for one-person households?
Based on my experience, Territory Foods is a great premade meal option for single-person households. The biggest issue with most meal delivery services is that the smallest quantity you can order in is two servings per meal. Obviously, this creates an issue for those who live alone and only need one serving. With Territory Foods you can order single-serving meals as well as customize the amount of meals you receive each week. That means if you're not going to be home or you'll be eating out a few days one week, you can simply order less meals that week.
Territory Foods Pricing
Territory Foods doesn't have a traditional subscription pricing model whereby you pay a flat fee and you're sent the same quantity of meals per week. Rather, each meal is priced individually and you can add as many meals to your box as you'd like each week. The meals range from $10.95 to $13.95.
Coupons & Promo Codes
Ready to order your first Territory Foods box? I'm here to help save you some money! Use any of the coupons or promotional codes below:
Coupon "75FREESHIP21" will get you $75 off your first box as well as free shipping.
Coupon "75WELCOME" will get you $75 off your first box.
Coupon "50OFFTF2021" will get you $50 off your first box.
I like to include multiple different coupon codes just in case one doesn't work. If you find any that don't work for you or you know of better options, please let me know in the comments below!
Pros & Cons Of Territory Foods
Now that we've covered all the details on how Territory Foods words and our personal experience using them, let's talk about what's good and what's not good about their meal delivery service.
Territory Foods Pros
They're one of the most customizable meal delivery services out there. From allowing you to filter your meals by specific macros and diets to giving you the ability to add different quantities of meals each week, Territory allows you to tailor their service to best fit your lifestyle.
The meals are very high quality. I was impressed with how fresh and flavorful they were for a premade meal delivery service. The fact that they use meal safety stickers confirms this.
They offer an impressive 18 different meals each week to choose from. The cuisine variety allows you to try new meals along with classics too.
Due to not being locked into two-serving meal plans, like in most meal delivery services, it's a great option for single-person households.
They offer an exceptional satisfaction guarantee.
Territory Foods Cons
Their meals are not cheap. Compared to Freshly (where meals are priced from $8.99 to $11.79) Territory's meals are a few dollars more expensive.
Since they work by partnering with local chefs, their service is not available in every location yet.
It's not a good diet meal delivery service. If you're looking to strictly follow any of the specific diets they offer (for example vegetarian) there are not a full weeks worth of meals.
If you are gluten-free, do be aware that they are not a certified gluten-free company and they do prepare their meals in kitchens where gluten is present. This could open up the risk of cross-contamination.
Final Thoughts: Who Is Territory Foods Right For?
It's been a while since I've been as impressed testing and reviewing a new meal kit as I was with Territory Foods. They seem to get nearly every aspect of meal delivery right—flavor, quality, cuisine, etc. Even the small details like their packaging being compostable and coming with a meal safety sticker.
If you are looking for one of the most convenient premade meal delivery services that offers near full customization of your plan along with a wide variety of cuisine options, Territory Foods is a great option to consider.
If you follow any specific diet (such as paleo or vegan) you may want to look elsewhere. While they have meals that cover these diets, I found that they don't offer enough to cover a weeks worth of eating.
Overall though, I was highly impressed with Territory Foods. I'm excited to see them expand to serve more areas and what's in store for them next.
Have a question about Territory Foods I didn't answer? Have you tried their meal delivery service before? Let me know in the comments below!