HelloFresh—the name that's become synonymous with meal kits.
You've probably heard their ads on your favorite podcast or seen your neighbor recycling their big, bright green packaging.
If you're wondering what it's actually like using HelloFresh, you're in luck.
I've been ordering from HelloFresh since around the time they first started to become popular here in the U.S. and today I want to share my experience with you (both the good and the bad).
In this review I'll cover everything you should know about HelloFresh based on my personal experience using their meal kit throughout the years. From convenience to taste, I'll cover all the important aspects you need to know about their meal kit service. I'll also compare their service to their competitors and assess whether they truly provide good value.
Food Box HQ Disclaimer: Before we delve into my review of HelloFresh, it is important to note that the information provided in this article is for educational purposes only and should not be construed as medical advice. Any changes to your diet or nutrition should be made in consultation with a qualified healthcare professional, particularly if you have a medical condition or are taking any medication. Additionally, it is important to review the ingredients of any HelloFresh meal before eating, particularly if you have food allergies or sensitivities.
Why Should You Trust This Review?
Here at Food Box HQ, we've spent well over half a decade testing and reviewing dozens of meal delivery services, including HelloFresh, which we've ordered ourselves, researched, and tested extensively.
As with all of the meal kits we review, we subjected HelloFresh to our rigorous evaluation process (which you can read about here).
For your reference, we purchased all of our HelloFresh boxes ourselves and were not gifted any free items.
Additionally, we strictly prohibit any sponsored content or brand influence in the content we create. This is to guarantee that our reviews remain as objective and impartial as possible.
How We Tested & Evaluated HelloFresh For This Review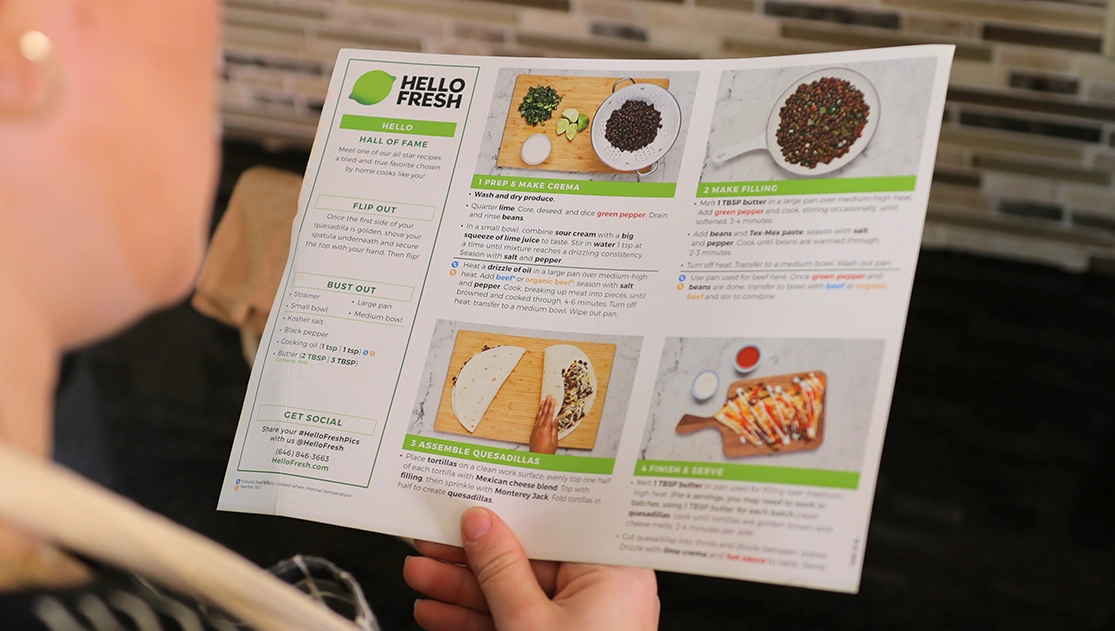 When reviewing any meal kit, I like to make sure that I'm being as thorough and objective as possible. Below you'll find the key elements I based this review around…
Taste: If I'm spending money on meals, I want them to taste good. As such, taste is one of the most important factors I considered when reviewing HelloFresh.
Variety: A unique and interesting menu to choose from is crucial to prevent things from getting boring. I looked at the types of meals and different cuisines HelloFresh offers and how they diversify their menu on a week-to-week basis.
Flexibility & Customizability: A meal kit should work around your needs—be that taste preferences, dietary preferences, and variety. I looked at how flexible HelloFresh is to use and how easy they make it to customize to your exact preferences.
Quality: I looked at the types of ingredients HelloFresh uses, their freshness, as well as whether they're non-GMO and organic. I also looked into their sourcing practices.
Delivery & Packaging: The convenience of any meal delivery service hinges on timely and trustworthy deliveries as well as packaging that keeps everything safe and organized. I analyzed the availability of HelloFresh's delivery options, such as scheduled deliveries, vacation holds, and how reliable their delivery service is. I also looked into the type of packaging HelloFresh offers, what it's made of, whether it's recyclable, and how good of a job it does at protecting and organizing the meals.
Ease of Use: The whole point of buying a meal kit is to make your life easier when it comes to mealtime. I evaluated how easy it is to use HelloFresh—from signing up and picking meals to actually cooking them.
Value: The cost of a meal delivery service is a significant factor in most people's decision-making process. As part of my review, I compared the cost of HelloFresh with that of similar meal kits. This allowed me to determine whether HelloFresh offers good value for the money.
While I've spent a lot of time researching, testing, and reviewing HelloFresh, I highly suggest looking at more than just my review before you make your final decision. Reading multiple reviews and experiences from various sources can provide you with a more well-rounded view of what it's like to use HelloFresh.
While popular review aggregators like Trustpilot and Sitejabber can be helpful, it's important to keep in mind that the majority of people typically leave reviews when they are either very pleased or very dissatisfied with their purchase. Consequently, the reviews on these sites tend to skew towards the extremes of both sides.
In my experience, some of the most reliable sources of genuine testimonials from average, everyday HelloFresh customers are the /r/HelloFresh and /r/mealkits subreddits. You might even find me (my username is FoodBoxHQ) in the comments answering questions!
About HelloFresh: How They Became One Of The Biggest Meal Kits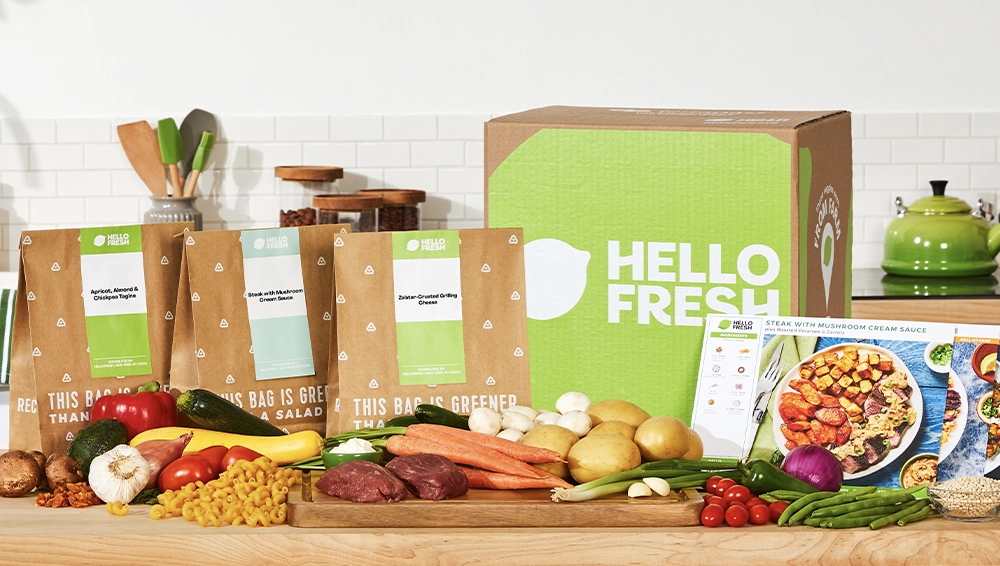 You might be surprised to learn that HelloFresh was not born out of their founders passion for food. Rather, it was a very calculated business move.
It all began in 2011, when a German billionaire named Oliver Samwer saw an intriguing entrepreneurial venture after stumbling upon a Swedish company called Linas Matkasse (one of the first meal kits ever launched).
Samwer and his brothers own a company called Rocket Internet, which is a Berlin-based incubator that focuses on growing startup companies as quickly as possible.
This is where things start to get interesting…
Rocket Internet operates on a business model that involves identifying thriving industries or businesses and replicating them. If this sounds a bit dubious, you're not alone in thinking so. The company has faced criticism for essentially copying successful businesses and providing them with the financial resources they need to flourish (and stomp out the competition).
Recognizing the burgeoning growth potential of the meal kit industry, Samwer targeted his efforts towards finding and financing the best meal kit delivery service.
Eventually, Samwer found three co-founders—Dominik Richter, Thomas Griesel, and Jessica Nilsson—who created HelloFresh in Berlin, Germany in November 2011 at the behest of Samwer's Rocket Internet.
In the early days, HelloFresh focused on building relationships with local farmers and suppliers to ensure that they could provide high-quality, fresh ingredients to their customers. This allowed them to offer a wide variety of meals to suit different tastes and dietary preferences.
HelloFresh eventually entered the US market, which ended up becoming one of the biggest challenges for them. The US market was highly competitive at the time, with other new meal kits like Blue Apron and Plated already operating.
HelloFresh also faced a number of early issues, including delivery problems and customer complaints. As they persisted and evolved their meal kit, they continued to grow and take market share away from other competitors.
In 2018, HelloFresh purchased Green Chef, one of its main competitors in the US market. This move helped the company to expand its menu offerings and improve its overall service.
Since then, HelloFresh has continued to grow and expand, acquiring and launching other meal delivery companies, including Chefs Plate in Canada and youfoodz in Australia, as well as EveryPlate (started in-house by HelloFresh) and Factor75 (now Factor_ Meals) in the US.
Today, HelloFresh is one of the most popular meal kits in the world, with operations in over 14 countries and more than 4 million active customers.
Food Box HQ Note: If you want to learn more about the history of HelloFresh, we wrote a very in-depth article covering their rise to popularity here. I also suggest reading this Inc article, which really shows what HelloFresh had to do to succeed.
How HelloFresh Works (Joining & Choosing Your Meals)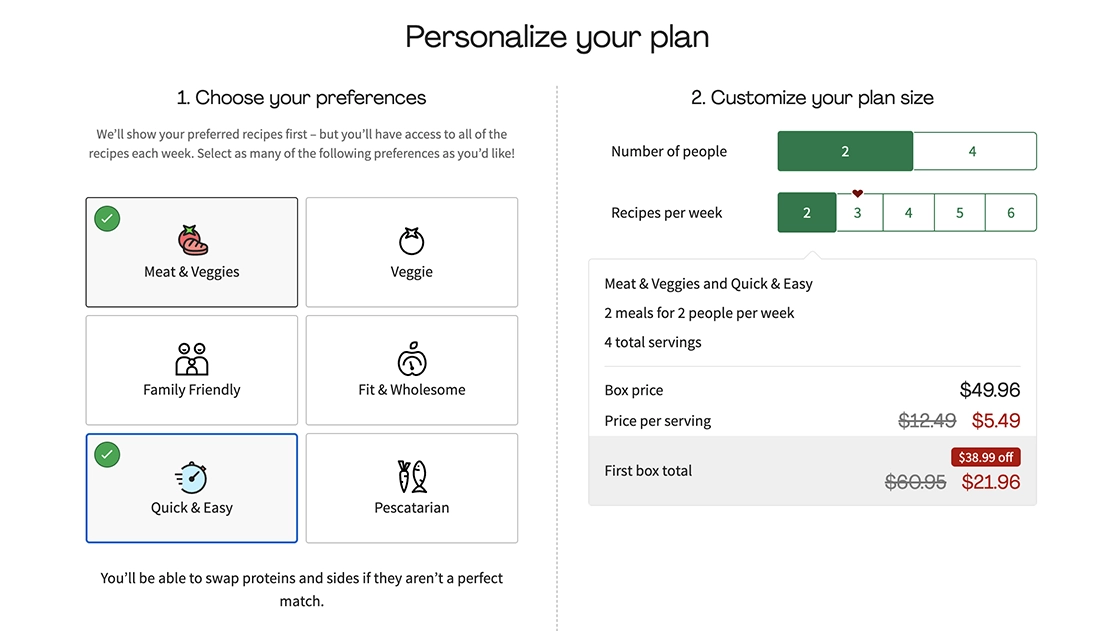 HelloFresh's meal kit functions in a way that it is very similar to most other meal kits I've tried. Nonetheless, given their prolonged history in the meal kit industry, it's highly likely that they've established the industry standard.
The signup process is fairly simple and bears a striking resemblance to the sign-up procedures for Factor_ Meals, EveryPlate, and Green Chef (likely due to the fact that they are all under the ownership of HelloFresh).
To begin with, HelloFresh will ask you to indicate your meal kit preferences, which are classified under different categories such as Meat & Veggies, Veggie, Family Friendly, Fit & Wholesome, Quick & Easy, and Pescatarian. These plans are essentially just indicators for HelloFresh to suggest meals that align with your preferences. For example, if you choose "Meat & Veggies," you'll still see "Quick & Easy" meals on the menu, HelloFresh will just prioritize recommending "Meat & Veggies" meals for you. Later on in this review I'll provide a more detailed breakdown of each plan and offer my personal insights on them.
Next, you'll need to decide on the number of meals you'd like each week. HelloFresh gives you the option to choose 2, 3, 4, 5, or 6 meals each week. You can also pick the number of people in your household—2 or 4. This means, if you choose a 2-person plan with 3 meals, each of those meals will serve 2 people.
It's a bit of a shame that HelloFresh only allows you to choose between 2 and 4 person plans. This means that 3-person households and households larger than 4 people are unable to pick a HelloFresh plan that best suits their family size.
Once you've settled on your preferred meal plan and size, the next step involves entering your address and payment details before choosing your meals for the upcoming week.
To prevent any unwelcome surprises, I highly suggest reviewing HelloFresh's menu before signing up. You can find the menu for the upcoming week on their homepage or on their weekly menu page here. By doing so, you can confirm that they offer meals that align with your dietary and taste preferences.
I can tell you from personal experience, there's nothing more disappointing than completing the entire signup process, only to realize that none of the available meals actually appeal to you.
My Honest Thoughts Of HelloFresh's Meal Plans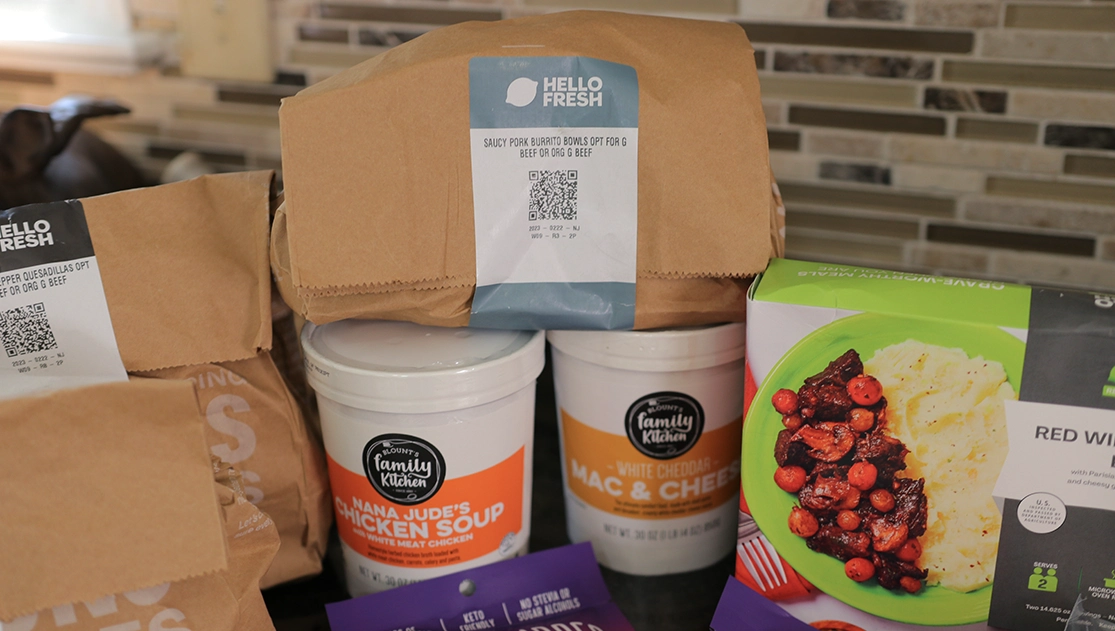 HelloFresh offers 6 different meal plans (some better than others). The variety of plans they offer isn't as extensive as some other meal kits I've tried, such as Sunbasket, but they do a good job of catering to the majority of people's taste and dietary preferences.
I found it particularly interesting that HelloFresh's meal plans don't limit you to selecting only one preference option. You have the option to choose as many preferences as you desire, which doesn't restrict your access to meals from other plans.
Essentially, choosing a plan just signals to HelloFresh which meals to suggest first. This means that you can still access meals from other plans. For example, if you opt for both "Family Friendly" and "Quick & Easy," you'll be recommended meals from both plans but you'll still see all of the other meals below them.
Here are my thoughts on each plan that HelloFresh offers as well as my personal experience with them…
Meat & Veggies Plan
The Meat & Veggies plan offered by HelloFresh is pretty self-explanatory, with a menu comprising meals featuring both meats and vegetables.
In my experience, it's one of the most extensive plans HelloFresh provides, with options ranging from traditional comfort foods, like chicken pot pie, to more creative fare, such as chicken and waffles.
When it comes to the meats, they do an excellent job of mixing it up, though I tend to see a lot of chicken, turkey, and pork on this menu. The beef and fish options tend to fall under the "Premium Picks" category, which require an additional fee. It's worth noting that more exotic meats, like venison or bison, are not typically included.
Vegetables on this plan mainly comprise green beans, carrots, and Brussels sprouts. Occasionally, there will be a meal featuring asparagus or bok choy but I rarely see options like those.
It's important to note that the meals on this plan may not be the healthiest options, as I found most of them to be quite carb-heavy and high in calories. Although HelloFresh does offer some healthy choices, the majority of the meals on this plan prioritize flavor over nutrition.
For newcomers to HelloFresh seeking the tastiest meals, I would recommend this plan. Interestingly, I've noticed that most of HelloFresh's "Hall of Fame" meals (i.e. their customer favorites) fall under this plan.
Here are some of my personal favorite meals on this plan…
Veggie Plan
The Veggie Plan from HelloFresh centers around vegetarian meals, with the occasional fully plant-based (vegan) meal.
Out of all the meal plans offered by HelloFresh, I find this one to be the most diverse in terms of cuisine. The menu includes unique and exciting vegetarian options, so you won't see many basic salads here.
That said, the meals on this plan tend to be more carb-heavy, with a greater emphasis on pasta-based dishes. As a result, I found that most of the meals were quite filling and indulgent. However, HelloFresh does provide some healthier and lower-carb options within this plan, such as zucchini fritters or cauliflower rice bowls, but not as much as I'd prefer.
Here are some of my favorite meals on this plan…
Family Friendly Plan
The Family Friendly Plan offered by HelloFresh is specifically designed to cater to families, making it an excellent choice for picky eaters. The meals on this plan are typically more crowd-pleasing than those on other plans, with fewer spicy options or meals featuring exotic ingredients.
One thing to note is that the name of this plan can be a bit misleading. While the meals are indeed family-friendly, they don't necessarily come in larger portion sizes. This means that if you have a larger family, you may need to up the portion size (using HelloCustom) or supplement with additional side dishes to ensure that everyone is adequately fed.
In my eyes, what makes the Family Friendly Plan stand out is its versatility. The meals are designed to be simple and easy to prepare, making them ideal for busy families who may not have a lot of time to spend in the kitchen. Additionally, the plan includes a variety of options, including classic favorites like burgers and pasta dishes.
Here are some of my favorite meals on this plan…
Fit & Wholesome Plan
The Fit & Wholesome Plan offered by HelloFresh caters to those who are looking for meals with a greater health focus. Compared to other plans, I found the meals on this plan tend to be lower in calories (around 400 to 600 calories per serving) and sodium (less than 650 mg per serving), with leaner meat options like chicken breasts and turkey.
This plan is a good option for those who want to prioritize nutrition and balance in their meals. While some meals are still carb-heavy like many other HelloFresh options, they tend to be more vegetable-focused, providing a great way to incorporate more nutrient-dense foods into your diet.
Here are some of my favorite meals on this plan…
Quick & Easy Plan
The Quick & Easy Plan from HelloFresh lives up to its name, featuring recipes that are designed to be quick and simple to prepare (some more so than others). This plan is ideal for individuals who have busy schedules or simply don't have a lot of time to spend in the kitchen.
One of the things that I think sets HelloFresh apart from other meal kits is their ability to provide a wide variety of different types of recipes, catering to different lifestyles and preferences. This means that on the Quick & Easy Plan, you'll find recipes that vary in length and difficulty, allowing you to choose options that best suit your needs.
I've found that many of the meals on this plan are one-pot or one-pan recipes, which makes for easy cleanup and less time spent washing dishes. Additionally, this plan features oven-friendly options and delicious soups (depending on the season) that I love having on chilly nights.
I do want to note that while some of the recipes on this plan may be less complex than those found on other plans, they are by no means boring.
Here are some of my favorite meals on the Quick & Easy plan…
Pescetarian Plan
The Pescetarian Plan offered by HelloFresh is specifically designed for individuals who follow a pescatarian diet and prefer seafood-based meals. However, it's worth noting that if you strictly follow a pescatarian diet, HelloFresh is definitely not the best option for you.
This is because HelloFresh does not offer a wide variety of seafood meals. As of writing this review, my menu only features two seafood-based meals, both of which are considered "Premium Picks" and require an additional fee.
However, if you're looking to incorporate more seafood into your diet without necessarily following a strict pescatarian diet, the Pescatarian Plan could be a good option. I've found their seafood meals to be well-balanced, flavorful, and feature a range of different options like salmon, shrimp, and tilapia.
Here are some of the options you're likely to see on the Pescetarian plan…
Food Box HQ Note: If you're looking for a better pescatarian option, I would recommend checking out Sunbasket. I found that they usually offer 7+ different seafood options each week.
HelloFresh For Teams
In addition to their standard meal plans, HelloFresh also offers a unique plan called HelloFresh For Teams. This plan is specifically designed for businesses who want to order HelloFresh meals in bulk for their employees.
This can be a great option for companies with remote employees or those who want to offer a wellness incentive or team-building event. While it's not clear if this plan offers any discounts, HelloFresh does provide HelloFresh Teams customers a personal account manager and a dedicated corporate customer care team.
This is a unique offering that I haven't seen from any other meal kit companies, making it a great option for companies who are looking to prioritize employee wellness and satisfaction.
Meal & Food Variety (What's Good & What's Not)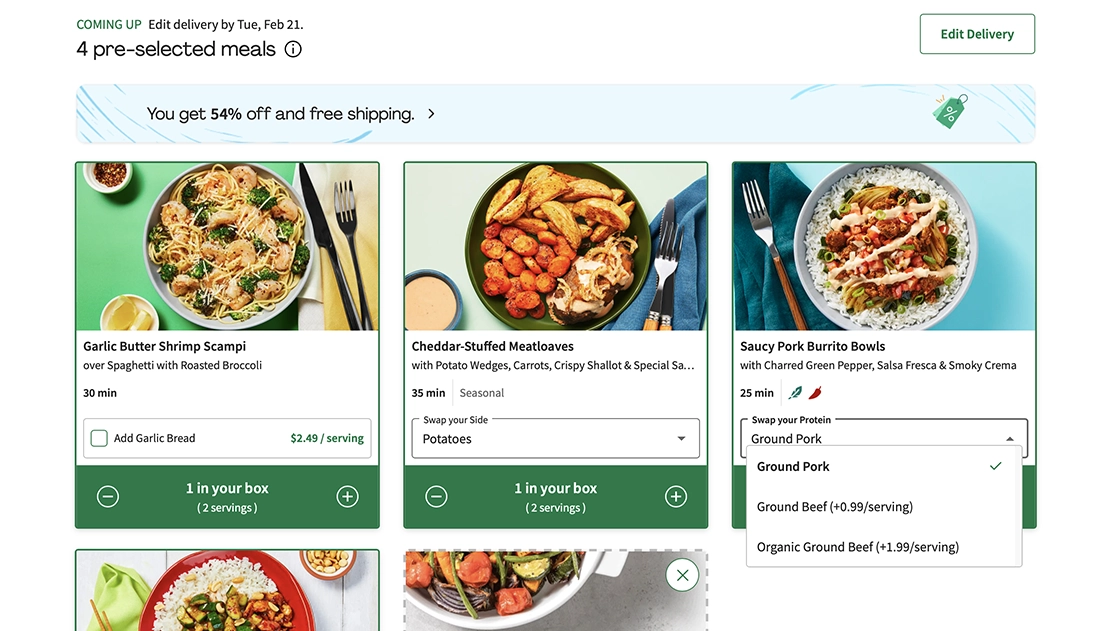 As mentioned above, variety is one of HelloFresh's biggest strengths. They offer a wide array of cuisines, flavors, and recipes with varying levels of difficulty. This keeps things fresh when it comes to cooking and eating their meals.
It wasn't always like this, though. I remember back in 2017 when I was using HelloFresh, their menu variety was a bit lackluster. While the meals were tasty, they felt quite similar to what other meal kit companies were offering at the time. As a result, I didn't recommend HelloFresh to many people during that time.
However, I must say that HelloFresh has made some big improvements in recent years.
The first big improvement HelloFresh made is expanding their menu, not only in terms of cuisines but also in the amount of meals that they offer. In total, HelloFresh offers upwards of 40 meals per week. The exact amount of meals offered on their menu tends to fluctuate week-to-week but it's nearly doubled since I first tried them.
Compared to other meal kits, like Home Chef, which only offers around 30 meals on their menu each week, HelloFresh has one of the largest and most diverse menus I've seen.
When it comes to cuisine variety, HelloFresh does a decent job of including dishes from different parts of the world. You'll find recipes inspired by Italian, Mexican, Asian, and Indian flavors, among others. This has made it easy for me to try new foods and explore different tastes without getting bored.
Though, I will say that a large portion of the menu is their own twists on American classics. For example, rather than offering a classic cheeseburger, HelloFresh will give it their own twist, like with this Caramelized Onion Swissburger with Roasted Garlic Horseradish Aioli & Potato Wedges.
The menu also strikes a good balance between simple comfort foods and more adventurous dishes. This amount of variety can cater to both picky eaters and those looking to expand their culinary horizons.
What's more, their menu shifts with the seasons. I've found this to be particularly nice in the colder months, when they start to shift to featuring more hearty soups and chilis on the menu.
Although, what I like most about their menu is the flexibility that they give me to customize my meals, which they call "HelloCustom."
This level of customization is a game-changer for those with specific taste preferences or dietary restrictions. I usually use it to swap out pork for chicken in certain meals. However, I could see this feature to be particularly helpful for individuals who may have mild food sensitivities or aversions, as it allows them to enjoy a wider variety of dishes without the worry of unpleasant reactions or flavors. What's more, it enables anyone to tailor their meals to better align with their personal nutritional goals or preferences.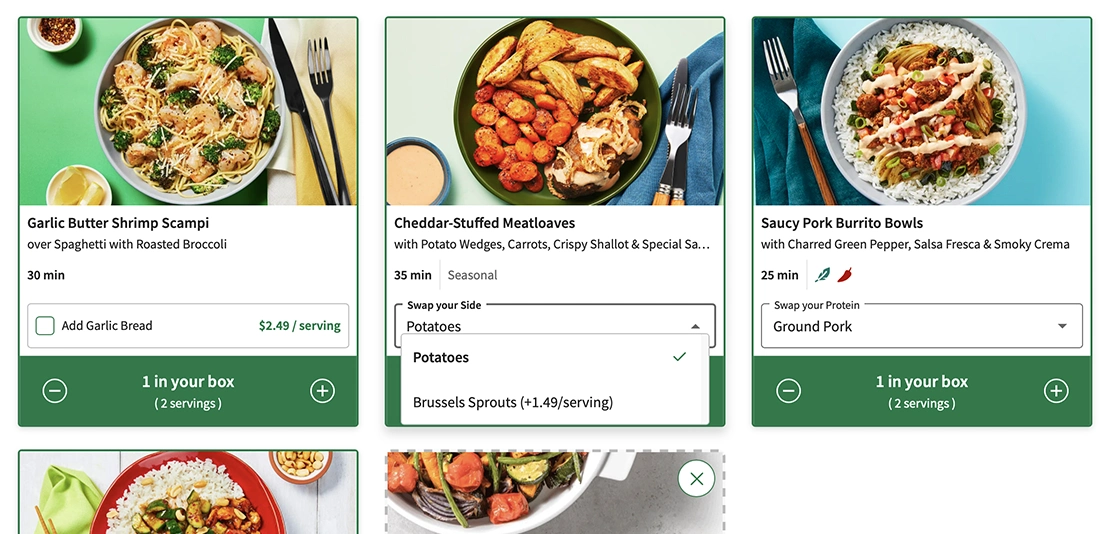 One aspect where I think HelloFresh could definitely improve their variety is in their seafood and plant-based meal options. I've noticed that it's often difficult to find many seafood dishes on HelloFresh's menu that aren't labeled as "Premium Picks" (which require an additional cost to include in my box). On the rare occasion I do find a seafood meal, it's usually either shrimp or salmon. While I'm a fan of both, I'd like to see more diversity.
As for plant-based options, HelloFresh does offer some vegetarian dishes on the "Veggie" plan, but the selection of fully plant-based or vegan meals is quite limited. This can be disappointing for those who follow a vegan lifestyle or are trying to incorporate more plant-based meals into their diet. In my opinion, expanding their vegan menu would not only cater to a broader audience, but also promote more sustainable and eco-friendly eating habits.
What's more, many of HelloFresh's plant-based options tend to rely heavily on dairy products and pasta, which may not appeal to those looking for more nutrient and vegetable dense options.
HelloFresh's Marketplace (Big Improvements)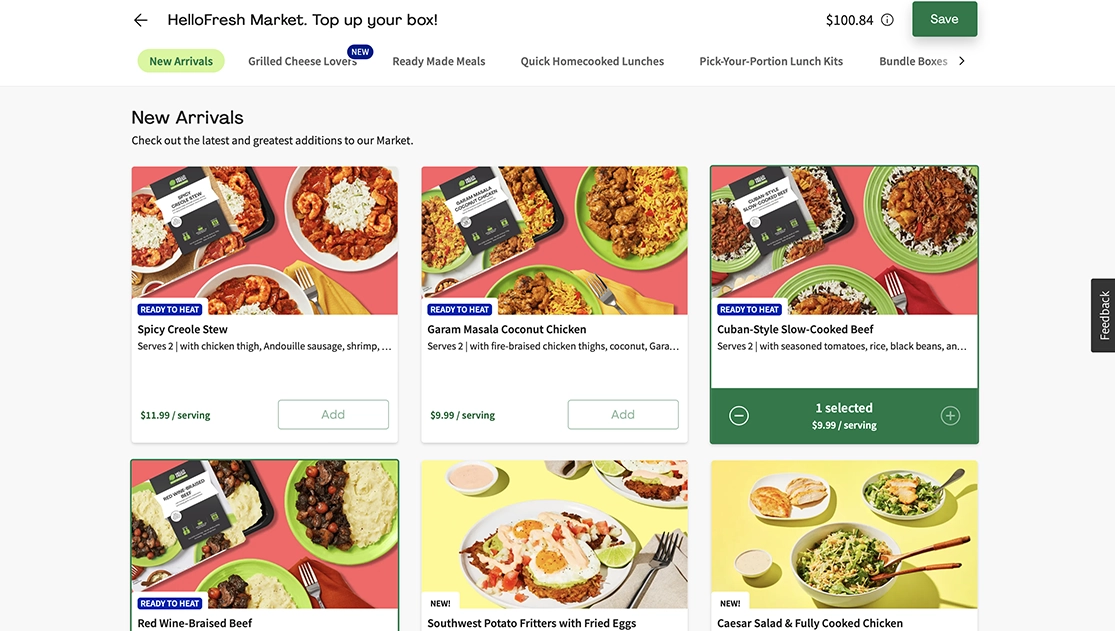 In addition to their main meal kit recipes, HelloFresh offers a marketplace where customers can purchase add-on foods (such as meals, sides, snacks, and more).
I recall when the marketplace was first introduced and, to be honest, it left much to be desired. The selection was quite limited, with only a few snacks and produce options available for purchase. You can see in one of my last video reviews of HelloFresh that we were only able to get a handful of items from HelloFresh's marketplace (mainly some produce and snacks).
However, HelloFresh has made substantial updates to their marketplace in the past year, greatly expanding the variety and quantity of items offered. The marketplace is now nearly triple the size of their main meal kit menu.
Today, the HelloFresh marketplace offers a diverse selection of items, including pre-made meals, meats, snacks, desserts, and more. I love that not only is it bigger than it was in previous years but they've redesigned how you navigate it to organize everything into different categories.
Here's an overview of the types of foods I usually see on the HelloFresh marketplace…
Snacks such as granola bars, yogurt, and chocolates
Hors d'oeuvres such as buffalo chicken dip, onion dip, artichoke dip, and charcuterie board bundles
Pastas like ravioli
Pre-made meals such as braised beef with tri-color peppers, tomatoes, and cheesy spinach mashed potatoes
Additional meal kit recipes
Pre-made sides such as creamy tomato soup
Pre-made salads such as sweet kale salad with chicken
Breakfasts such as egg bites
Baked goods such as waffles, pound cakes, muffins, and crumb cake
Desserts such as cheesecake and chocolate lava cake
Additional pre-cooked meats such as chicken breasts, shrimp, and steak
Soups such as French onion, chicken soup, and gumbo
Breads such as focaccia
Bundle boxes such as light breakfast bundles, smoothie bundles, and dessert bundles
The great thing about the HelloFresh marketplace is that it rotates its offerings with the changing seasons. For example, during the holidays, they often feature more festive and seasonal foods, which is a nice touch. I'll usually throw in some of their appetizers into my box if we're ever entertaining.
As someone who uses HelloFresh to make weekday meals more convenient, the marketplace is a helpful addition that fills in any gaps left by the main menu. Before the marketplace, I still found myself regularly visiting the grocery store every week. However, now I can stock up on breakfasts, lunches, desserts, and snacks through the marketplace, allowing HelloFresh to take care of the majority of my meals.
While the marketplace is certainly useful, it does have its limitations. It doesn't offer the same variety of products as I'd find in a typical grocery store, such as pantry essentials like salt, pepper, and oil, as well as produce. This means that I still have to visit the grocery store occasionally, but it's much less frequent and my trips are much quicker and easier since the bulk of my meals are already taken care of by HelloFresh.
In my eyes, the marketplace is a welcome addition to HelloFresh since it provides me with more convenience and variety (the two main things I look for in a meal kit). While it may not completely replace a trip to the grocery store, it certainly helps to make meal planning and preparation easier and more efficient.
Diets That HelloFresh's Menu Covers
Let me start by saying that HelloFresh is not necessarily a "diet" meal delivery service. I've found that their meals definitely tend to be more focused on taste over nutrition. I'll touch on some of my gripes about that a little later on (especially when it comes to the sodium levels of some meals).
Below are the diets that HelloFresh could possible work with…
Low Calorie: HelloFresh has an entire line of meals on their menu categorized as both "Calorie Smart" and "Dietician Win." These meals tend to be under 650 calories per serving and feature a higher amount of vegetables and lean meats.
Low Carbohydrate: HelloFresh has another line called "Carb Smart," which features meals that are under 40 grams of carbs per serving.
High Protein: You can find these meals under HelloFresh's "Protein Smart" meal category. They feature meals that are above 40 grams of protein per serving.
While there are meals on HelloFresh's menu that are marketed as low calorie, low carb, and high protein, I do not think that HelloFresh is a good choice for someone who wants to exclusively eat those types of meals.
I say this because I've found it hard to estimate how many of any of those meals will actually make it on to the menu each week. For example, some weeks I only see 4 "Protein Smart" meals on the menu and other weeks I see more.
However, while I personally don't think HelloFresh is a good option for following a specific diet, there are others out there that have used it with massive success. For example, this reddit post shows a customer that was able to use HelloFresh to lose weight.
My Experience Cooking HelloFresh's Recipes (From The Recipe Cards To Ingredients)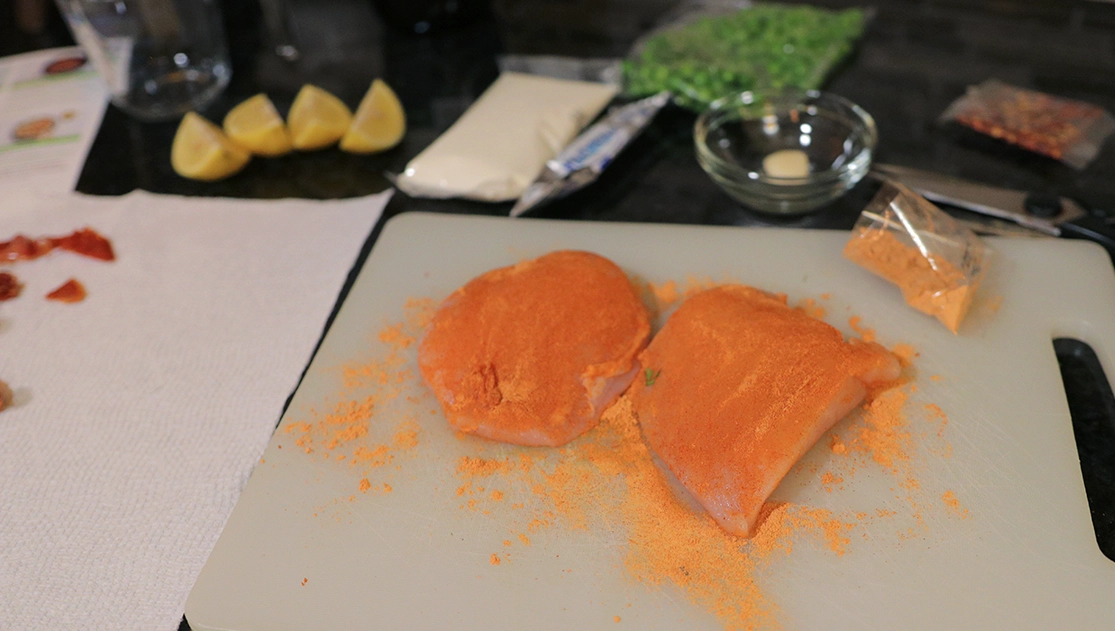 HelloFresh aims to simplify mealtime, but it's not without its issues. While there are some aspects of cooking their meals that I appreciate, there are also areas that could be improved.
Let's start with the positives.
HelloFresh has done an excellent job designing their recipe cards. They are well-organized and easy to follow, with each step of the recipe clearly outlined. I appreciate that the instructions are not overly complicated, making it easy for even novice cooks to follow along.
One of the features I find particularly helpful is the inclusion of pictures at each step of the recipe. As someone who can be a bit unorganized at times, this visual guide ensures that I'm on the right track and helps me to understand what the dish is supposed to look like at each stage of the cooking process.
When I come across recipes that I really enjoy, I often keep the recipe card and add it to my collection. I use a 3-hole puncher to keep the cards organized and store them in a binder for future reference.
Here's a rundown of what's included in every recipe card they send…
The recipe name and a picture of what it should look like
On overview of the ingredients included
Prep time and cook time
Calorie count
A colored border along the bottom (which corresponds to the bag of ingredients with the same color)
An overview of the kitchen utensils and any additional ingredients you'll need to cook the meal
A step-by-step overview of the recipe (usually 4-6 steps)
While the simplicity of HelloFresh's recipe card makes it easy to follow, there are a few negatives you should be aware of.
The first and most frustrating issue is the lack of consistency when it comes to the estimated prep time. Only occasionally will it be correct. This is particularly annoying when I pick a "Quick Prep" recipe for a day when I know I'm going to be working late, only for the recipe to take much longer than I expected.
I've noticed that a significant portion of the prep time is spent on chopping ingredients. To address this issue, I recently decided to invest in a vegetable chopper (here is the one I use). This little tool has been a game-changer when it comes to prepping. It easily saves me 5 to 10 minutes of prep time per recipe. This may not seem like a lot, but when you're trying to get dinner on the table quickly, every minute counts.
My next gripe is not a personal one but may affect new cooks who are using HelloFresh as a way to learn and hone their skills.
HelloFresh provides some cooking tips in their recipes, which can be useful. However, for new cooks who want to learn the basics of cooking, such as how to chop garlic, these tips may not be sufficient.
Fortunately, HelloFresh has an extensive YouTube channel that offers tutorials on beginner, intermediate, and advanced cooking techniques. The downside is that accessing these resources requires some effort on your part, as HelloFresh doesn't directly connect you to them through their recipes.
It's also worth pointing out that the recipe cards do not provide a complete nutrition breakdown for their recipes. While they do include the calorie count, they don't offer much else. If you want more detailed nutritional information, you'll have to visit their website and search for the recipe in question.

Even on the recipe page itself, HelloFresh only provides information on the amounts of each macro, without specifying their daily value. This lack of transparency when it comes to nutrition information can be frustrating and even concerning, especially for those who are trying to watch what they eat or are on a specific diet plan.
When it comes to the ingredients provided in HelloFresh meal kits, there are a couple of issues I have experienced. Though, I should start by saying that I have never personally encountered any rotten ingredients, but I have heard that some customers have had this issue.
My main concern with HelloFresh's ingredients is the inconsistency in their sizes. While I have received some large and great quality produce, such as a large carrot or bell pepper, I have also received small or insufficient amounts of certain ingredients. This can be frustrating, especially when it affects the taste or portion size of the dish.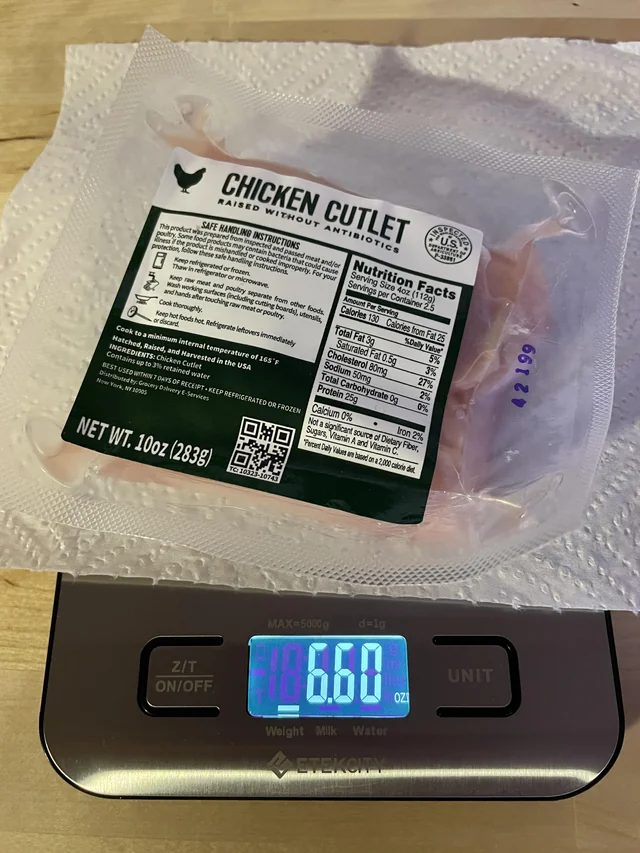 I understand that ingredient sizes can vary depending on the season and availability, but it would be helpful if HelloFresh could provide more consistency in the sizes of the ingredients they offer.
Another minor issue I have noticed is that the sour cream packets provided with some meals can be challenging to open.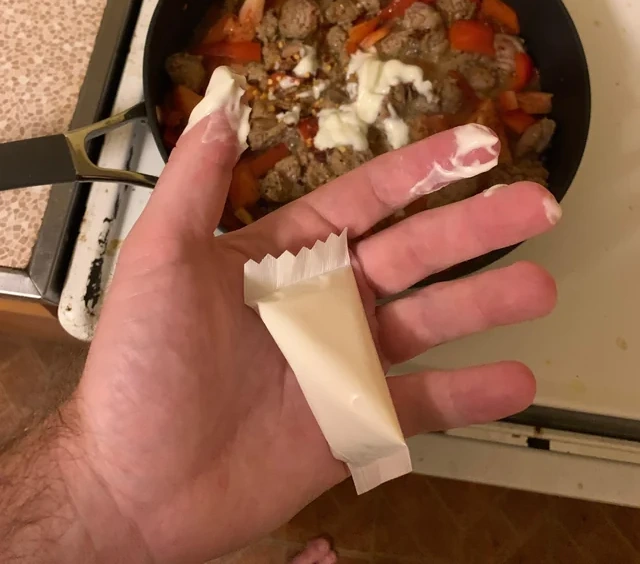 More often than not, I end up with a messy explosion when I try to open them by hand. It may seem like a small issue, but it can be inconvenient and time-consuming. I have found that using scissors to open these packets is the best solution.
Taste Test Of Our Most Recent Meals (2023 Update)
Now let's get to the most important part of this review—how the meals taste!
Below is an overview of how my most recent HelloFresh meals and marketplace foods tasted.
Mushroom & Chive Risotto With Garlic Herb Butter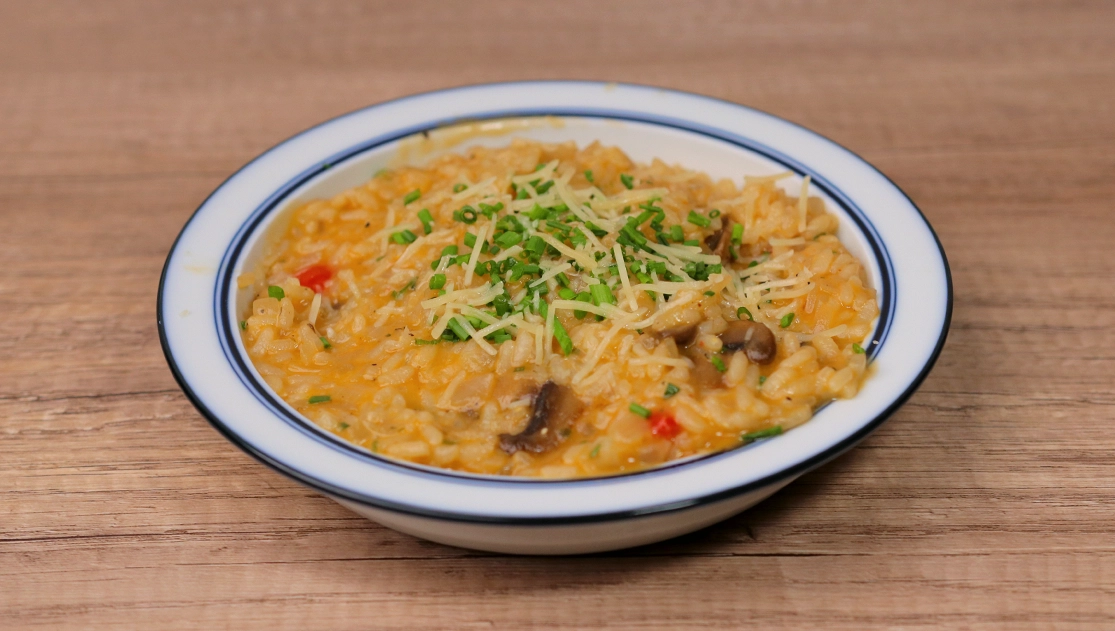 Toasting the rice in garlicky butter was a game-changer for this dish. It gave the risotto an added depth of rich flavor that made it stand out from most other risotto dishes I've tried. The garlic butter created a savory base that paired perfectly with the creamy texture of the rice.
As I simmered the rice with the stock, I noticed that the rice was cooking evenly and absorbing the flavors of the stock. This resulted in a perfectly cooked risotto that was al dente and creamy, just as it should be. The texture of the rice was spot on, and it had just the right amount of creaminess without being too heavy.
The mushrooms were a great addition to the dish, providing a crispy texture and a subtle earthy flavor that complemented the other ingredients perfectly. The tomatoes, on the other hand, added a bright and tangy sweetness that balanced out the richness of the dish.
But, in the end, the star of the show was the garlic herb butter. It added a richness and complexity that took the meal to the next level. The butter was perfectly seasoned with herbs, adding a layer of flavor that was both savory and satisfying. The chives and Parmesan were the perfect finishing touches, adding a touch of freshness and saltiness that balanced out the richness of the dish.
One-Pan Black Bean & Pepper Quesadillas With Lime Crema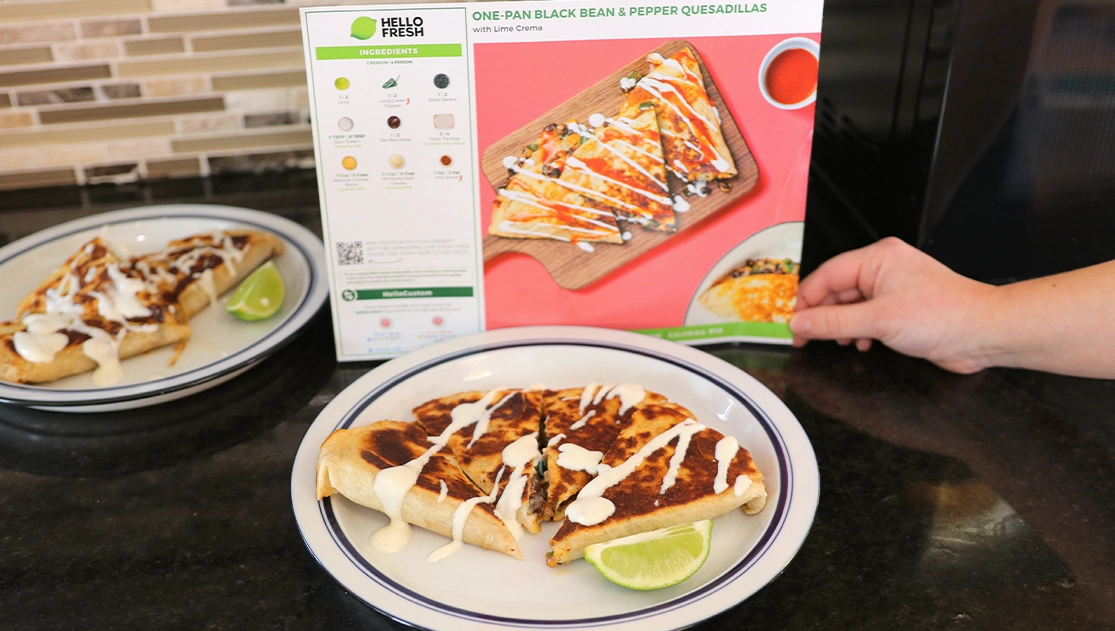 This is the meal you can see us make in the YouTube video review of HelloFresh at the beginning of this article. As an FYI, I decided to add ground beef to this recipe.
While quesadillas are seemingly simple, this dish came out absolutely delicious.
The sautéed poblanos added a tasty, smoky flavor and the cheese gave each bite a rich, savory flavor.
What really made this dish stand out was the lime crema. It was the perfect blend of tangy and creamy and elevated the quesadillas to a whole new level. It added a zesty freshness that was the perfect complement to the smoky flavor of the poblanos. It gave a burst of brightness to every bite.
The dish wasn't as quick as the prep time let on but it wasn't difficult by any means. HelloFresh said that prep time would be 5 minutes and cook time would be 10, so 15 minutes total. It ended up taking about 20 to 25 minutes total once we finished everything up.
Saucy Pork Burrito Bowls With Charred Green Pepper, Salsa Fresca & Smoky Crema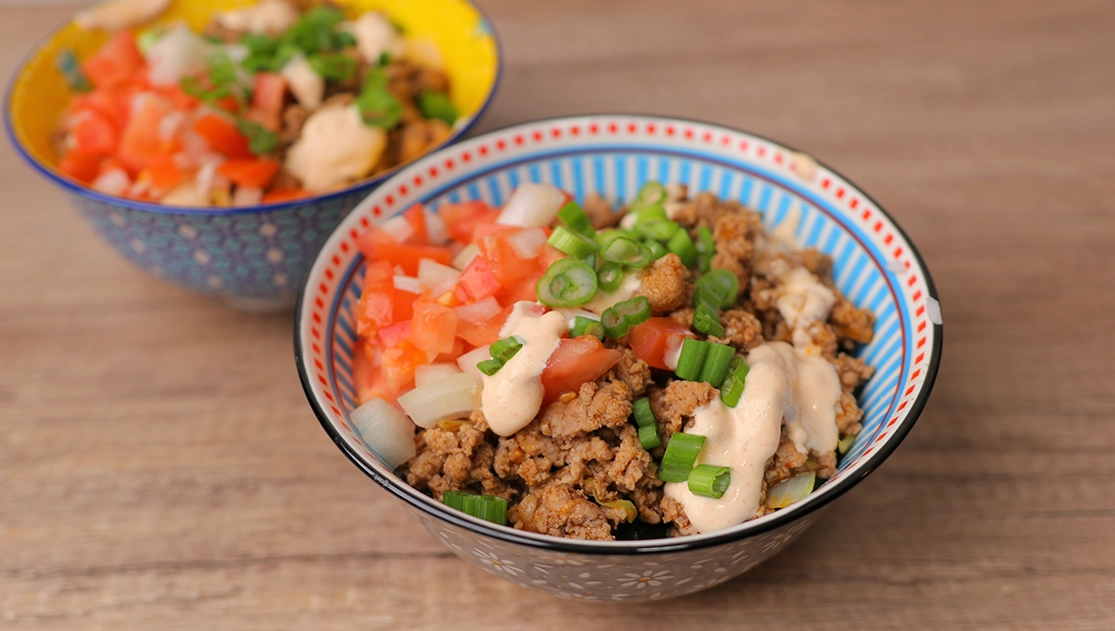 The pork was saucy and flavorful, with just the right amount of spice. It was perfectly cooked and tender, and it paired beautifully with the charred green pepper. The pepper had a nice smoky flavor that added a depth of flavor to the dish. The fresh salsa was the perfect complement to the pork and pepper, adding a burst of freshness and brightness to the dish.
But what really made this dish stand out was the smoky crema. It was just the right blend of creaminess and smoky flavor, and it added a rich, savory element to the dish. The crema brought all the flavors together and took the dish to a whole new level. Every bite was full of bold and fresh flavors.
Palermo Prosciutto & Chicken Penne With Peas & Parm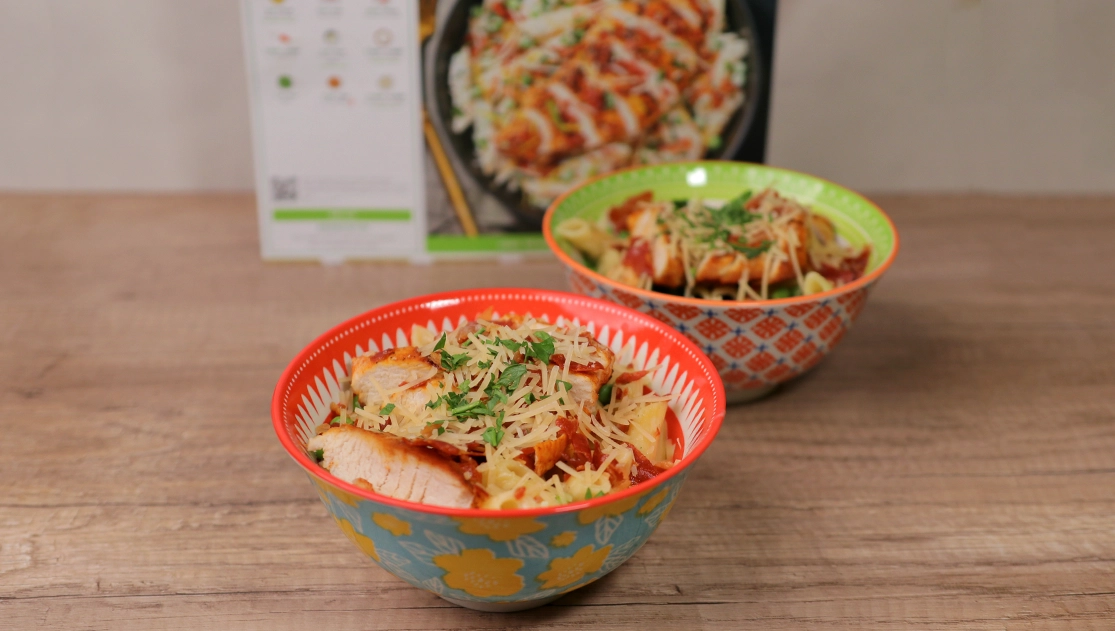 This meal was another winner.
The prosciutto added a wonderfully salty and savory component to the dish that was perfectly balanced by the tender chicken. The penne pasta mixed with the peas to add a sweet freshness to the dish. The Parmesan cheese added a lightly nutty and salty flavor that tied everything together beautifully.
It was the perfect, filling weeknight dinner that was both satisfying and delicious.
Banana Nut Muffins
I threw these in my box for the week because they looked really good on HelloFresh's marketplace menu but I didn't think much of it until I tried the first one. Wow, these are addictive!
They were extremely moist, like they were baked the same day I ate them. The rich sweetness of the bananas was perfectly balanced by the nuttiness of the walnuts, creating a delicious harmony of textures and flavors that seriously made it hard to only eat one.
Though, what impressed me the most about these muffins was how perfectly they paired with my morning cup of coffee. The sweetness of the muffins was the perfect complement to the bitterness of the coffee, which I take black, creating a wonderful balance of flavors. A perfect relaxing Sunday morning breakfast.
Dark Chocolate Peanut Butter Skinny Dipped Cups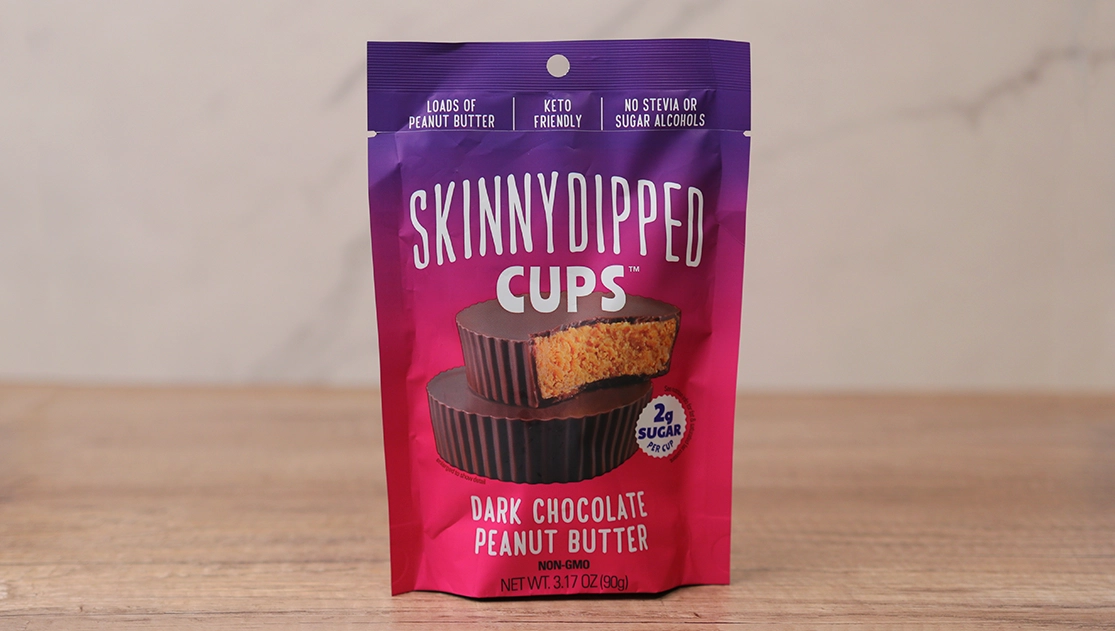 HelloFresh's marketplace usually features a bunch of non-HelloFresh branded items, these Skinny Dipped Cups being one of them.
Being that nearly everyone can go into their local supermarket and find these, I won't go into too much detail about taste other than that these are almost a spot on replica of dark chocolate covered Reese's Peanut Butter cups (minus the carbs).
Nana Jude's Chicken Noodle Soup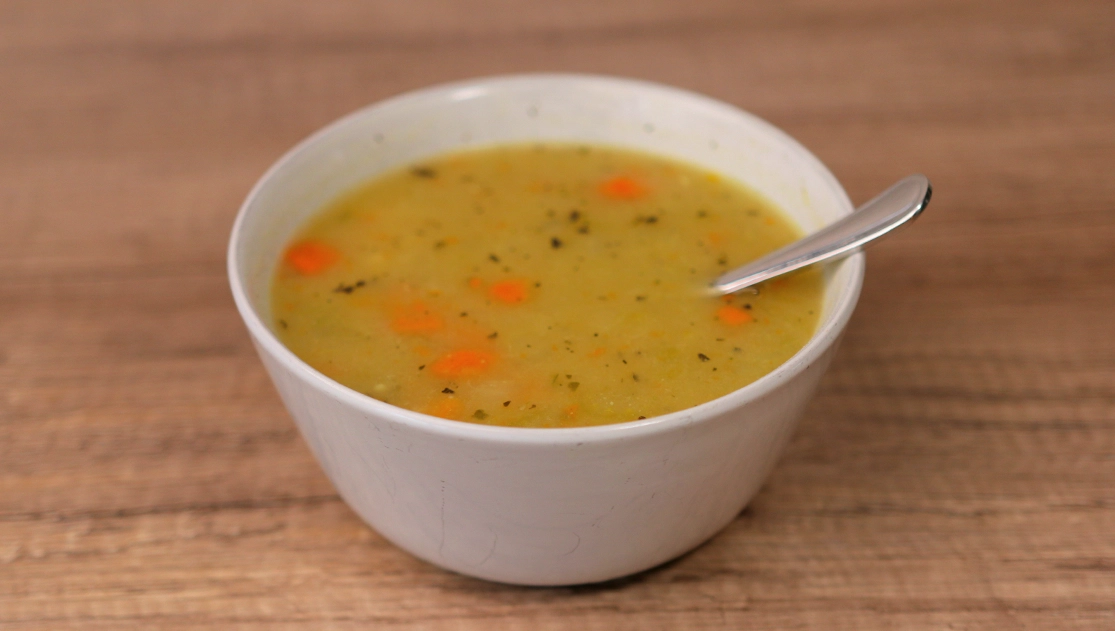 It's March as I write this and it's still pretty cold here on the east coast. So, when I saw chicken soup on HelloFresh's marketplace menu, I knew I had to try it.
This soup was the perfect comfort food on a chilly day, and every spoonful was packed with flavor.
The chicken was tender and juicy—cooked perfectly. The pasta was ribbon-shaped and had a lovely texture that held up well in the soup (it wasn't overcooked by any means). The broth was rich and flavorful, with just the right amount of saltiness to balance out the flavors of the chicken and pasta.
What I loved most about this soup was how easy it was to prepare. All I had to do was heat it up and grab a spoon!
White Cheddar Mac & Cheese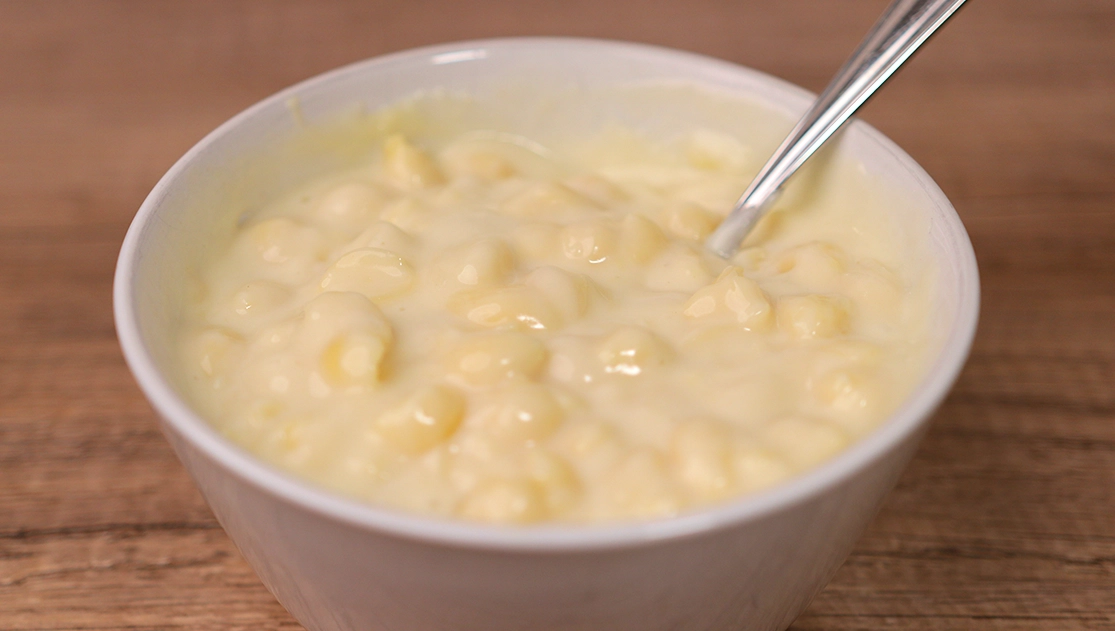 I added this mac and cheese to my box thinking it would be my favorite out of all the marketplace items. Surprisingly, it was a bit of a disappointment. In fact, I couldn't even finish it.
First, it was a bit of a pain to actually get out of the container. Although it appears to be packaged in a cylindrical container, the mac and cheese is actually enclosed in a vacuum-sealed plastic bag within the container. Due to the cold temperature, the mac and cheese had congealed and clumped together, making it a bit of a struggle to remove the contents from the bag and transfer it into a bowl.
After getting it into a bowl and heating it up, the taste and texture made it feel like old school Velveeta mac and cheese. It was super thick and creamy. Some people may be into that type of mac and cheese but not me. I prefer the real stuff and this wasn't it.
Spinach & Feta Egg Bites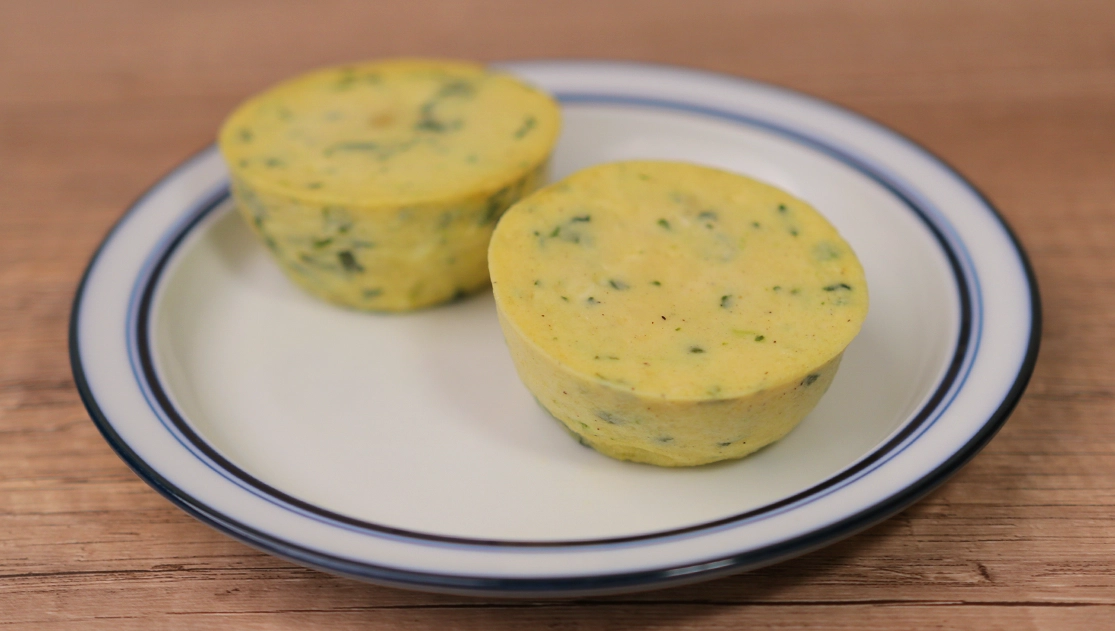 When I saw Spinach & Feta Egg Bites on HelloFresh's menu, I was intrigued. I'm a big fan of eggs (much to the detriment of my cholesterol levels), and the combination of spinach and feta sounded delicious. After trying these egg bites, I have to say that they exceeded my expectations.
One of the things I loved about these egg bites was how easy they were to prepare. All I had to do was pop them in the microwave for about 30 seconds, and they were ready to eat. This made them the perfect breakfast option for busy mornings, especially after returning from the gym or a morning run when I don't have much time to prepare a meal from scratch.
The egg bites themselves were incredibly flavorful and had a lovely texture. The spinach and feta added a wonderful depth of flavor to the eggs, making them taste rich and indulgent. I loved how the feta cheese melted into the eggs, creating a creamy and tangy flavor that was truly delightful.
Red Wine Braised Beef With Parisian Carrots, Mushrooms, and Cheesy Garlic Mashed Potatoes (Pre-Made Marketplace Meal)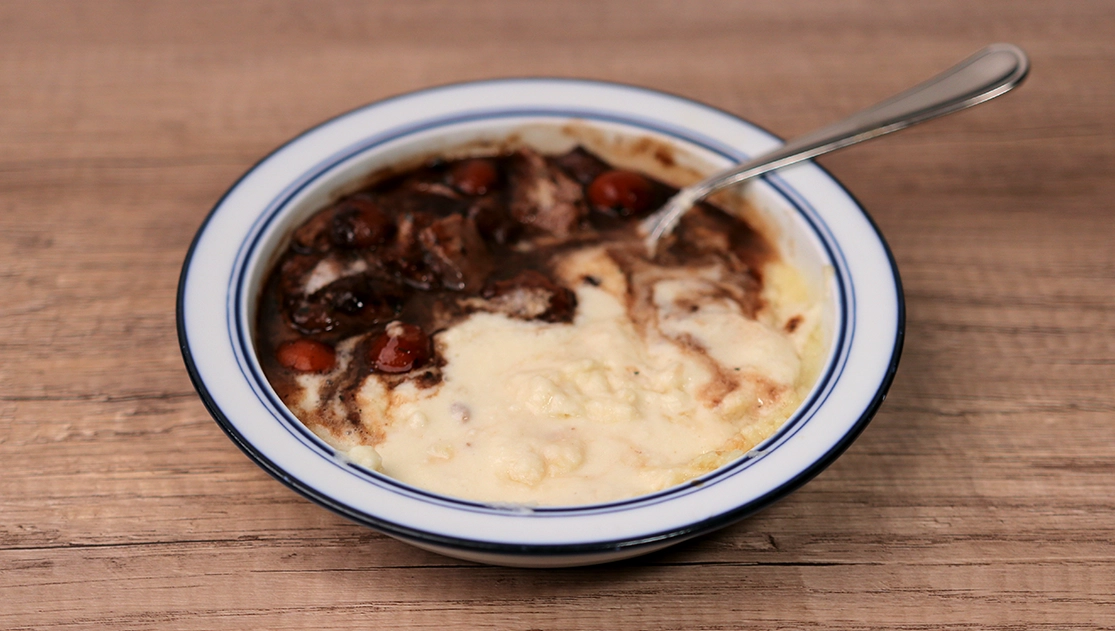 This was my first time trying out one of HelloFresh's pre-made meals and, as you can see from my picture of the meal, I didn't have high hopes. However, the flavor surprised me.
The beef was perfectly tender and succulent, with a rich and savory taste that had been infused with the bold tang of red wine. The carrots and mushrooms added a depth of flavor to the dish, with their mildly earthy and slightly sweet notes.
My main gripe with this meal was that the texture of the mashed potatoes were a bit too watery and lacked any consistency, making them almost impossible to eat.
What really made this dish stand out, though, was the sauce. The rich and complex flavors of the red wine braising had been transformed into a luxurious sauce was infused in every bite of beef and potato. The sauce had a beautiful depth of flavor that was both bold and refined, with hints of herbs and spices that added a layer of complexity to the dish.
If it wasn't for the poorly done mashed potatoes, this dish would have been another winner.
Cuban-Style Slow-Cooked Beef With Seasoned Tomatoes, Rice, Black Beans, And Caramelized Plantains (Pre-Made Marketplace Meal)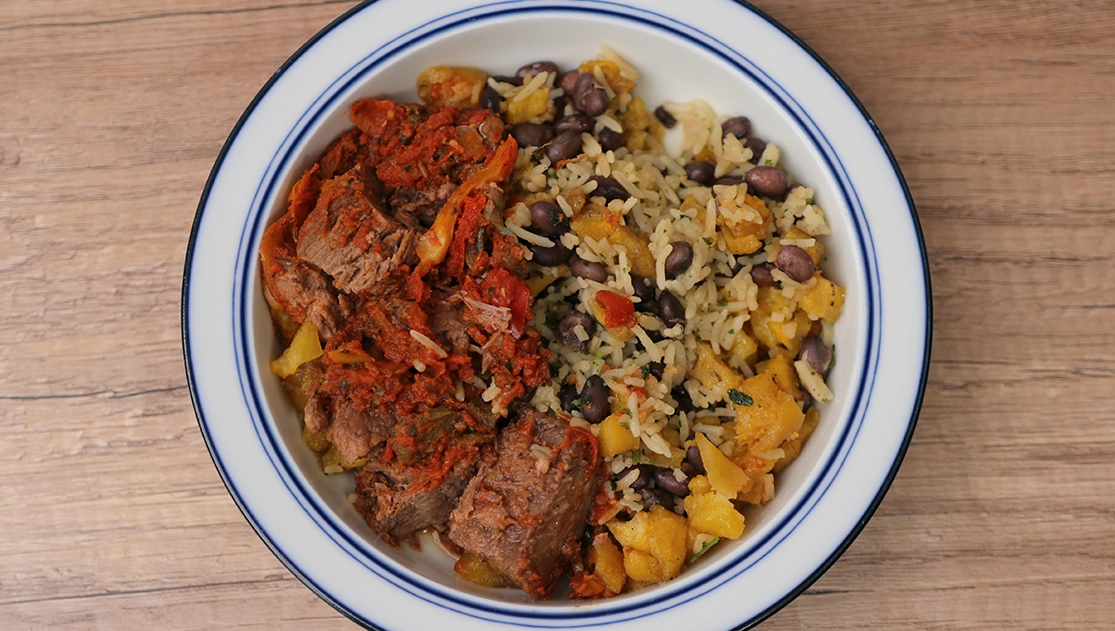 This was another pre-made meal from HelloFresh that surprised me with both its flavor and texture.
The beef was melt-in-your-mouth tender and bursting with flavor, thanks to the slow cooking process that had allowed the spices and herbs to infuse every bite. The beef was complemented by the seasoned tomatoes, which had been cooked down to a rich and tangy sauce that added a bright burst of flavor to the dish.
The rice and black beans provided a hearty and filling base to the meal, with their comforting and familiar flavors. They had been seasoned with just the right amount of spices to give them a little kick of heat, without overpowering the other flavors in the dish.
But what really made this meal stand out were the caramelized plantains. The sweet and sticky plantains had been cooked to perfection, with a crispy exterior and a soft and luscious interior. They provided a perfect balance to the savory flavors of the beef and the tangy tomato sauce, and added a touch of sweetness to every bite.
Next time, though, I will heat up the meals in the oven or in my Tovala rather than my microwave. While delicious, I found that the microwave made the meals come out a bit soggy.
HelloFresh's Secret Ingredient Is Their Spice Blends
HelloFresh has a knack for crafting delectable recipes. Ever since I first started using their meal kit, I've been captivated by the wide range of flavors and ingredients they incorporate into their dishes.
But in recent years, they've really stepped up their game. Whether it's cozy comfort foods or bold, exotic flavors, HelloFresh never fails to keep mealtime intriguing and, more importantly, packed with mouthwatering taste.
Over the years, I've come to realize that the secret behind HelloFresh's ability to transform the flavor of their meals from ordinary to extraordinary lies in their spice blends.
They don't just rely on the typical salt and pepper to season their meals. Instead, they incorporate lesser-known spices and blends from around the world. For example, their Za'atar spice blend, commonly used in Middle Eastern cuisine, adds a distinct flavor to their roasted chicken and vegetables dish (here's an example meal).
Additionally, HelloFresh makes it easy for home cooks to experiment with new spices and flavors by including pre-measured spice packets in their meal kits. I love that this takes the guesswork out of seasoning and ensures that each dish is perfectly seasoned with just the right amount of each spice.
If you spend any time talking to other HelloFresh customers or exploring the HelloFresh subreddit, you'll see their adoration for the spice blends. There are multiple threads dedicated to recreating them.
If you end up trying HelloFresh, falling in love with their spice blends like I have, and want to recreate them yourself, you're in luck! Here is a Google Sheets document that reddit user sungm2n created that not only lists out every spice blend HelloFresh uses but gives the exact measurements to make it yourself.
HelloFresh Meal Portion Sizes
To start, I must say that I've never once finished a HelloFresh meal and felt unsatisfied or hungry. Quite the opposite, actually—there have been times where I've found myself full but wanting more simply because the meal was so tasty (but that's just me being indulgent).
From what you can see in the pictures of my HelloFresh meals, the portion sizes are generally quite generous for most servings. That being said, as with the ingredients, there can be some slight inconsistency with the portion sizes from time to time.
For example, with the One-Pan Black Bean & Pepper Quesadillas meal, I ended up having close to half of an extra portion of ground beef left over. Keep in mind, though, that I customized that meal by adding ground beef, so that may be why.
On the flip side, there have been some times where I've felt like the main protein was a little less than what I was expecting (especially when comparing it to the size of the meal on the recipe card).
HelloFresh Meal Quality & Ingredients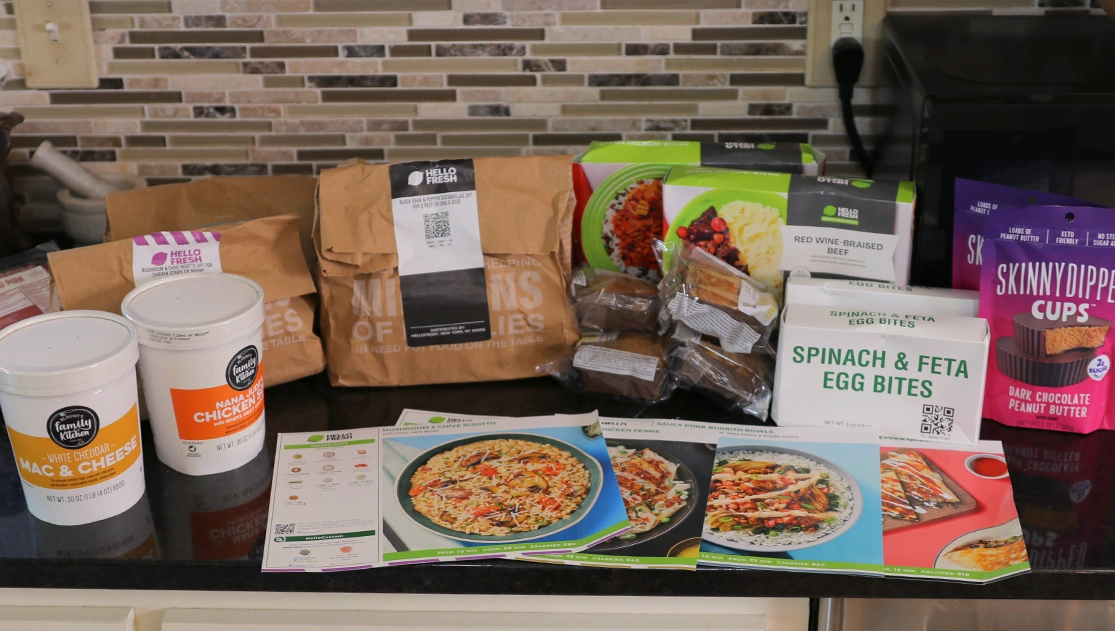 Thankfully, HelloFresh is mindful of the importance of nutrition and does a fairly okay job of keeping their meals well balanced. Although, like most meal kits, they do have some areas where I believe they could improve.
According to HelloFresh, they use organic ingredients in only some of their meals. They justify this by saying that their meal kit is more about helping people "make those first steps towards cooking well-balanced meals at home."
Not only do I wish that they used more organic ingredients, I also wish that they would label the ingredients that are organic more prominently in their meals. I try to eat as organic as possible and knowing which meals featured more organic ingredients would be helpful.
With that said, if you're looking to eat organic, I don't recommend HelloFresh. Instead you may want to check out their sister company, Green Chef, which is CCOF certified organic.
When it comes to their meat, HelloFresh says that their suppliers "adhere to USDA Inspection Guidelines and are supplemented by globally recognized third-party food safety audit programs." Additionally, their meats are primarily sourced domestically (from the United States) and they perform on-site visits to ensure the quality.
While HelloFresh says that their chicken and pork is hormone free, they do not say anything about them being antibiotic free. What's more, I noticed that there is no mention of beef being hormone and antibiotic free either, which I find concerning.
As for the fish HelloFresh uses, they say that they buy both wild-caught and farm-raised fish, but they choose the best option for each species on a case-by-case basis.
They require traceability for each fish, including the country of origin, catching area, fishery, catch season, and catching method. These standards are subject to change depending on the type of fish, time of year, and the health of the fish population.
HelloFresh has partnered with Monterey Bay Aquarium Seafood Watch and sources ocean-friendly seafood rated Best Choice, Good Alternative, or Eco-certified by trusted, independent programs. Additionally, some of the fish species HelloFresh buys have additional sustainability certifications, such as the Marine Stewardship Council (MSC) for wild-caught and Best Aquaculture Practices (BAP) for farm-raised.
I've found HelloFresh to be a bit more forthcoming with the suppliers they use for their recipes than other meal kits I've used. They have a whole page on their site dedicated to featuring the suppliers they use from everything from fish to produce.
HelloFresh's Animal Welfare Policy
HelloFresh is one of the only meal kits I've tried that has an animal welfare policy, specifically for the chicken that they use.
Their policy for broiler chickens is designed to promote responsible animal welfare practices. They have set specific standards for their suppliers to meet, which includes ensuring that chickens have access to clean water and a balanced diet.
Additionally, their suppliers must provide chickens with enough space to move around and perform natural behaviors, and they must implement humane euthanasia practices. HelloFresh also requires that their suppliers have third-party audits to ensure compliance with their animal welfare standards.
This level of commitment to the welfare of the animals that are used in their meals shows me that HelloFresh is willing to go beyond advertising, marketing, and PR stunts to actually use their meal kit to make a difference. While they certainly are not perfect, I do respect that they've taken steps to make the lives better for the animals their suppliers raise.
HelloFresh Meal Sodium Levels: Should You Be Worried?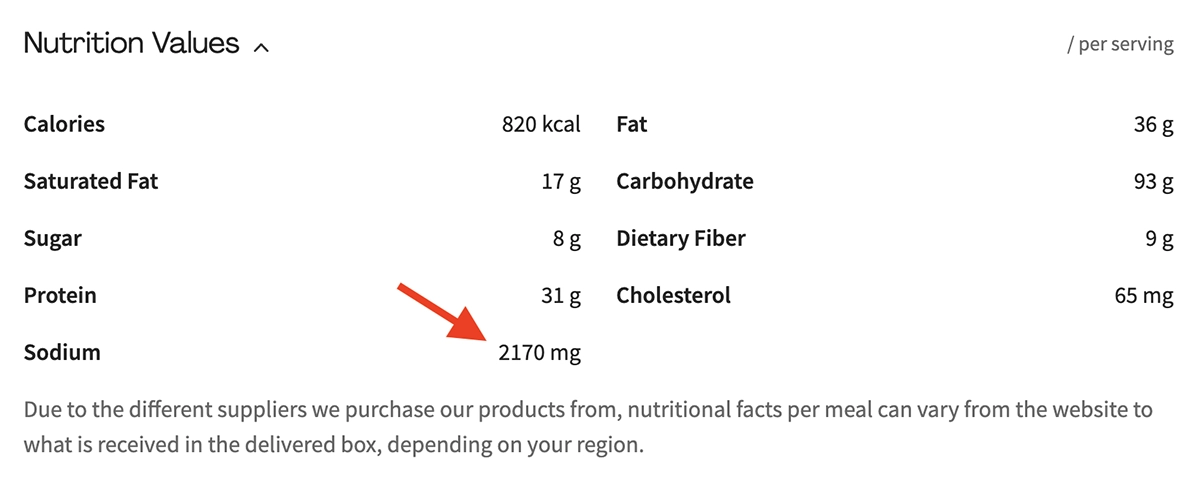 One of the major concerns I have with HelloFresh is the high sodium content in their meal kit meals.
Upon reviewing the nutritional information of most of the meals I have had from them, I found that they typically range from around 900 to 1000 mg of sodium, with some even exceeding this range.
To put this in perspective, the American Heart Association recommends that adults should limit their sodium intake to less than 2,300mg per day and is moving toward an ideal limit of no more than 1,500 mg per day for most adults.
While I try to be mindful of my sodium intake, I have made the mistake of adding recipes to my HelloFresh box without fully checking their nutritional information beforehand. This has led to me making meals that are very high in sodium. For example, one dish I made—the One-Pan Cheesy Black Bean Tacos—contained a staggering 2170 mg of sodium, which is nearly an entire day's worth of sodium intake in a single serving!
Considering the high sodium content of most of their meals and the risk of accidentally selecting high-sodium recipes, I cannot recommend HelloFresh for those who are watching their sodium levels. Instead, I suggest looking into other low-sodium meal delivery services that offer more balanced meal options with lower sodium content.
Allergens In HelloFresh Meals
HelloFresh has a good labeling system that clearly indicates which allergens are present in each of their meal kit recipes. However, despite these measures, I do not consider them to be a truly allergen-friendly meal kit service. This is because all of their ingredients and pre-made meals from their marketplace are produced in a facility that processes a wide range of allergens, including eggs, milk, fish, peanuts, sesame, shellfish, soy, tree nuts, and wheat.
For people with severe food allergies, this poses a significant risk of cross-contact, even if the meals themselves do not contain the allergen in question.
While the HelloFresh has made efforts to provide allergy-friendly options, such as gluten-free meals, it is important to note that these meals are still prepared in the same facility as their other meals. Therefore, cross-contact with allergens cannot be entirely ruled out.
For those with severe food allergies, it may be best to seek out a meal kit that operates in a dedicated allergen-free facility or one that takes greater precautions to minimize the risk of cross-contact.
Delivery Methods
When I signed up for HelloFresh, I was pleased to see that I could select a delivery day that worked best for my schedule. What's more, they don't limit you by any days. This means I could select Monday, Tuesday, Wednesday, Thursday, Friday, Saturday, or Sunday as my preferred delivery day. Being that I like to have some time to put all my ingredients away during the day and plan out which meals I want to cook when, I opted for a Saturday delivery day.
I had concerns about the delivery process after hearing that other HelloFresh customers had experienced issues with their delivery drivers mishandling their meal kits, resulting in damaged boxes.
When I used HelloFresh in the past, through the years I received my boxes from a variety of different carriers—UPS, Fedex, and CDL. However, after placing my order this time, I soon found out that HelloFresh now partners with a local delivery company called AxelHire.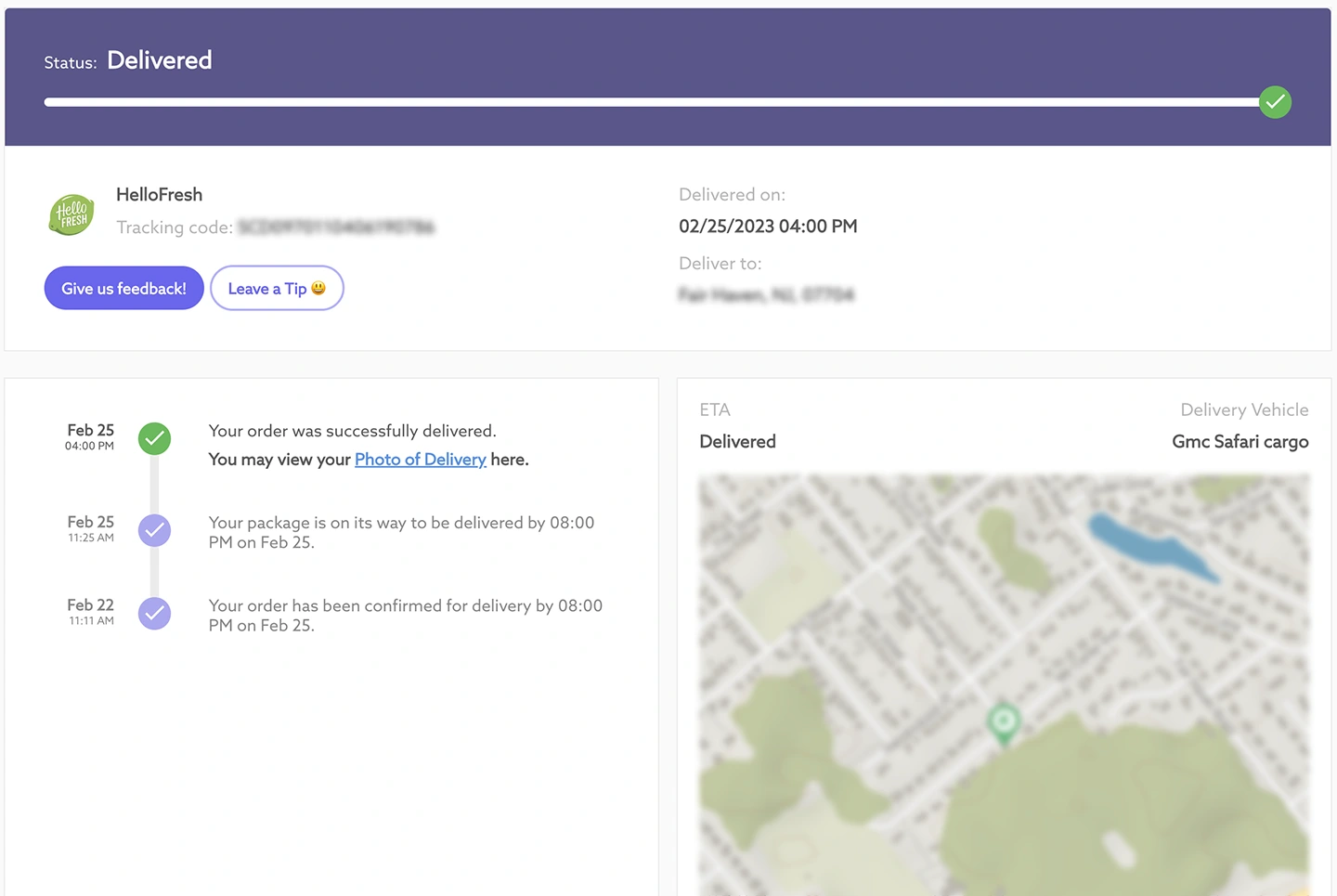 Upon shipment, I received a notification email containing a tracking map that allowed me to keep an eye on my meal kit's progress as it made its way to my doorstep. The email also provided an estimated delivery time and even informed me of the type of vehicle delivering my meals.
This detailed delivery information has been especially useful to me since I work from home. With a clear delivery window and the ability to track the arrival of my meals, I can ensure that my box is not left out in the hot or cold weather for an extended period.
HelloFresh Packaging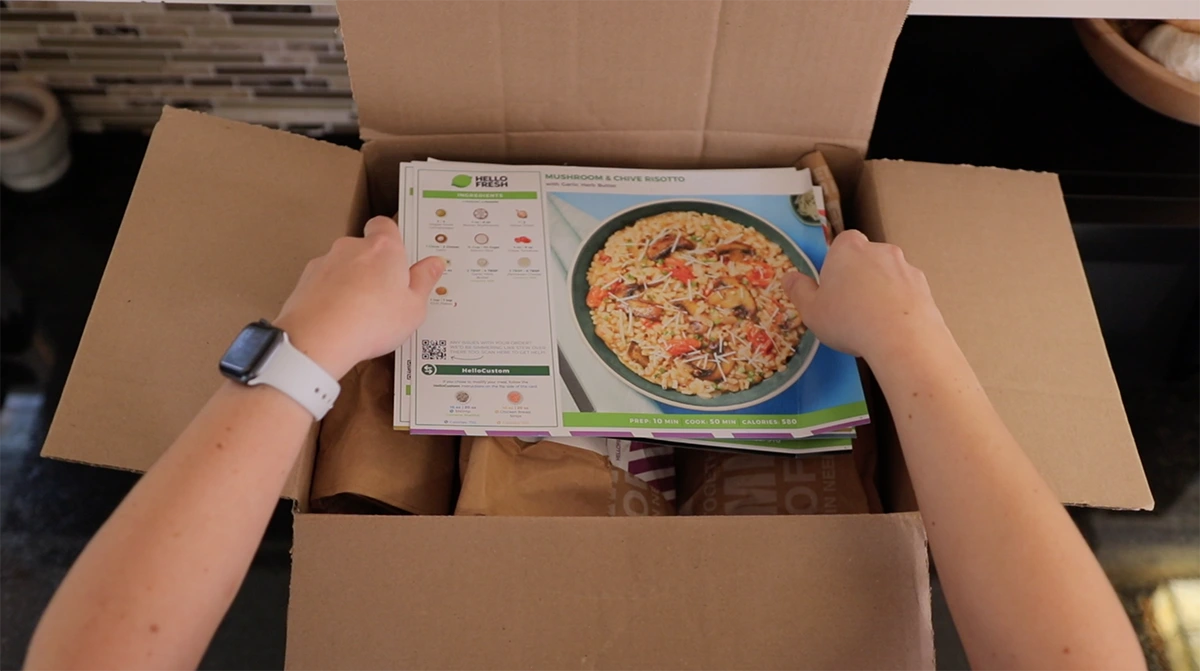 As a long-time user of HelloFresh, I've noticed some changes in their packaging over the years, both positive and negative.
The cardboard box that the meals come in is pretty standard and similar to what most other meal delivery services use. However, inside the box, HelloFresh sometimes includes an insulating liner to help keep the ingredients fresh during transit.
But here's the catch: HelloFresh doesn't always include any liner during colder months. This can be a concern as it increases the chances of the ingredients getting jostled around and damaged while in transit. I've had instances where the produce arrived damaged or even broken, which can be disappointing.
While I appreciate HelloFresh's efforts to reduce waste by not using liners during colder months, it comes at a cost of potentially damaging the ingredients. That being said, during warmer months, they do use a thicker insulation that provides more protection to the ingredients during transit. In fact, I have received a box in June last year that had a thicker insulation liner that kept the ingredients fresh and well-protected.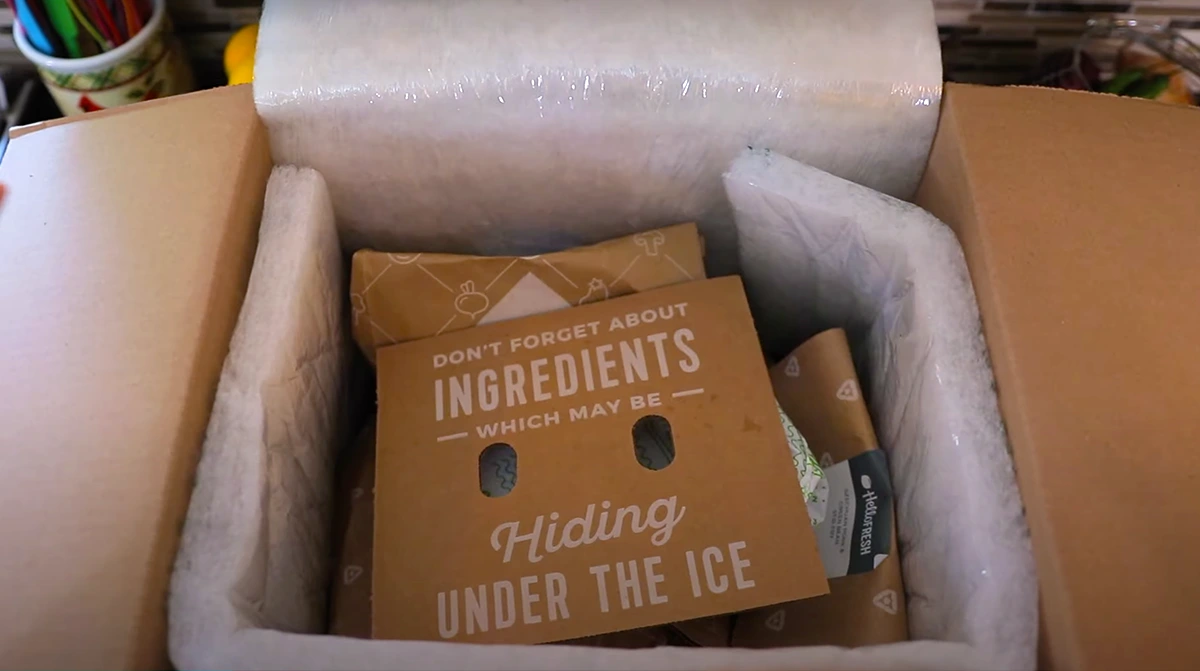 The HelloFresh box contains the recipe cards along with the ingredients packed in brown paper bags. Each bag has a label with the name of the meal and a QR code. The QR code is a useful addition as it leads you directly to the meals page on their website where you can access a digital step-by-step recipe. This feature comes in handy, especially if you tend to misplace physical recipe cards like I do.
The brown paper bags within the HelloFresh box contain most of the ingredients, including items such as produce, spice blend packets, and sour cream, among others. Unfortunately, each item is wrapped in plastic, which is not the most sustainable option. While it helps keep things safe and organized, I wish HelloFresh would consider more eco-friendly alternatives.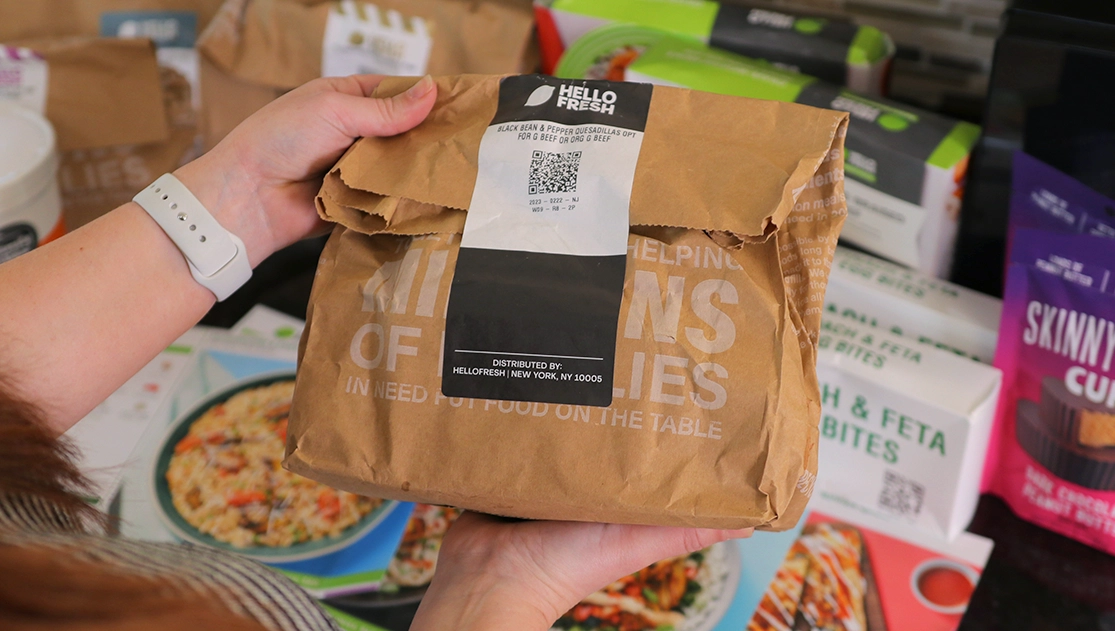 The meats and any marketplace items that require cold storage are placed at the bottom of the box and wrapped in a larger brown paper bag. A large, frozen ice pack is placed at the bottom of the bag to maintain a low temperature.
What I appreciate about HelloFresh is that they use brown paper bags to keep everything organized, unlike other meal kits such as Home Chef that rely on plastic bags. However, there is still a significant amount of single-use plastic wrapping the individual ingredients, which seems wasteful at times. For instance, some small amounts of peppers or cilantro are packed in plastic bags that are 20 times the size of the ingredient.
How Eco-Friendly Is HelloFresh?
The packaging of HelloFresh is just one aspect of their overall commitment to being eco-friendly.
While the majority of their packaging is recyclable, there are some items that are more difficult to recycle than others. For example, take their ice packs. Despite being labeled as recyclable, the recycling instructions clearly state, "Do not include me with your curbside items." Instead, they encourage customers to find a nearby drop-off location for number 4 plastics.
Here's more information on recycling their packaging and where to recycle certain materials.
While HelloFresh's packaging isn't perfect, they have made strides in other areas to make their meal kit a bit more sustainable. The most impressive way that they're doing this is through a significant push to reduce their carbon emissions. Here are some of the ways they've done this:
They source 100% of their electricity consumption from zero-emission renewable wind energy and use renewable energy certificates (RECs) when direct purchasing is not possible.
They prioritize domestic suppliers and buy directly from the source to reduce emissions by shortening their supply chain.
They have balanced all emissions from their internal operations, business travel, and box deliveries through carbon offsets since 2020.
In 2021 alone, HelloFresh offset 62 thousand tons of carbon emissions.
A lot of the above may seem, on the surface, like greenwashing but I can tell you from experience that HelloFresh is doing more to help reduce their carbon footprint than any other meal kit I've tried.
What's more, meal kits in general (not just HelloFresh) have been shown in a research study to have a smaller carbon footprint than equivalent meals bought from a grocery store and prepared at home.
The study compared the environmental impact of meals prepared from both meal kits and grocery store purchases by looking at the emissions produced during production, transportation, and preparation. It concluded that meal kits generate 33% lower greenhouse gas emissions than store-bought meals. This is due to the meal kit industry's focus on reducing food waste, more efficient supply chains, and smaller portion sizes that limit overconsumption.
Furthermore, HelloFresh's commitment to sustainability extends beyond reducing their carbon footprint. HelloFresh has also partnered with several organizations to donate meals to those in need and reduce food waste.
HelloFresh's Customer Service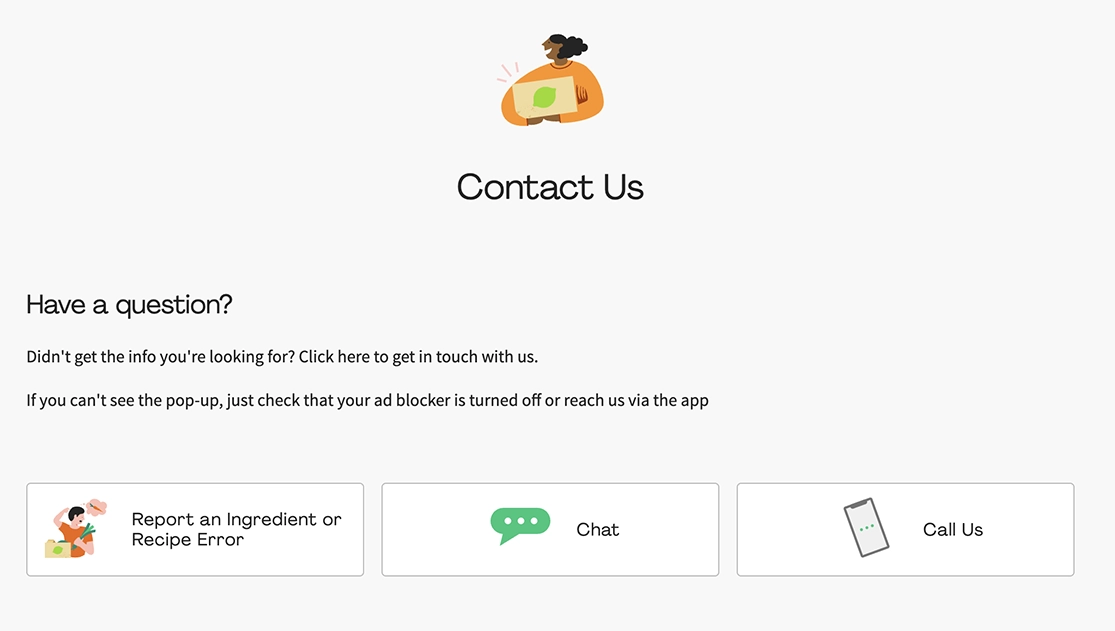 It is crucial to have a way to contact customer support in case you encounter any issues or need assistance with your meal kit, and HelloFresh offers several options for customers to get in touch.
HelloFresh provides two main methods for customers to contact support through their website: live chat with a representative and calling their support line. However, I found that there is another way to contact HelloFresh support directly that they don't make public, which is to email their main support email address at hello@hellofresh.com.
I have only needed to contact HelloFresh's support team a few times. The most recent time was when a bell pepper was smashed during transit, and I was pleased to find that their live chat support was responsive and helpful. The representative I spoke with was friendly and provided me with a credit to use towards my next box.
I have come across mixed reviews about HelloFresh's customer service team. While some customers have reported a positive experience with quick refunds, others have had a negative experience with difficulty obtaining refunds. However, it appears that the quality of customer support depends on the representative that you get paired with.
Nevertheless, it is reassuring that HelloFresh provides customers with multiple options to contact support and that their responses are usually timely.
Other Brands HelloFresh Owns
HelloFresh is part of the HelloFresh Group, which owns multiple meal delivery services throughout the world. Here are all of the brands that the HelloFresh Group owns…
HelloFresh
Green Chef
EveryPlate
Chefs Plate (Canada only)
Factor_ Meals
Youfoodz
The reason why I'm mentioning that the HelloFresh Group owns other brands is because their websites operate and look similar to HelloFresh, including the food options available. For instance, I observed that the egg bites I purchased as an add-on from HelloFresh are identical to the ones I have previously received from EveryPlate, which is another brand owned by the HelloFresh Group.
HelloFresh vs. The Competition
While popular, HelloFresh is not the only meal kit out there. Nor is it the only one that you should consider.
While there are dozens of meal kits on the market, below are the ones I've tried that I believe are direct competitors to HelloFresh and possible alternatives to consider.
Blue Apron vs. HelloFresh
Blue Apron and HelloFresh are two major players in the meal kit delivery industry and while similar in some regards, there are some key differences between both.
Having tried both meal kits, I found that Blue Apron focuses more on the cooking aspect, offering more nutritionally balanced meals and even whole plans dedicated to the Weight Watchers diet. On the other hand, HelloFresh places more emphasis on taste and offers a greater variety of meals and add-ons, as well as more flexible and customizable plans.
Overall, while both meal kits have their strengths, my personal preference is HelloFresh due to its greater variety and flexibility/customizability.
There's a lot to consider when comparing both of these meal kits. That's why I wrote an entire article comparing Blue Apron and HelloFresh, which you can read here.
Home Chef vs. HelloFresh
Both Home Chef and HelloFresh offer a variety of customization options on their diverse menus, including the ability to choose protein sources and make ingredient substitutions or add-ons. However, in my experience, HelloFresh provides more unique and exciting meal options compared to Home Chef, which may better suit picky eaters.
One downside of Home Chef is the amount of single-use plastic used in their packaging, with every component wrapped in plastic and then placed inside a plastic bag for organization. In contrast, HelloFresh has prioritized using more sustainable and recyclable materials in their packaging, such as brown paper bags.
While both services offer customizable meal options, HelloFresh's emphasis on exciting and unique meal choices, coupled with their more eco-friendly packaging, may make it a more appealing choice for some.
I wrote an in-depth article comparing Home Chef and HelloFresh here, should you want to learn more.
Marley Spoon vs. HelloFresh
From my experience trying both meal kits, Marley Spoon and HelloFresh both deliver high-quality ingredients and easy-to-follow recipes. However, there are some notable differences between the two services.
Marley Spoon, which is Martha Stewart's meal kit, offers a menu that leans more towards upscale versions of homestyle cooking. While the meals are delicious, I have found that many of Marley Spoon's recipes require more preparation and cooking time compared to HelloFresh. On the other hand, HelloFresh emphasizes more interesting, crowd-pleasing, and straightforward recipes that are easy to follow and better for busy weeknights.
There's a lot to consider when comparing both of these meal kits. If you want to learn more, I wrote an in-depth comparison of Marley Spoon and HelloFresh that you can read here.
Sunbasket vs. HelloFresh
Sunbasket and HelloFresh are probably the least similar out of all of the meal kits I compared HelloFresh to above. While they both offer meal kit meals and a pretty extensive marketplace, that's where the similarities end.
The meals I've had from Sunbasket have been much more eclectic and adventurous than the meals that I've had from HelloFresh. For example, using Sunbasket, I've had Hawaiian poke bowls, Middle Eastern eggplant pitas with hummus, and blackened sole with pickled carrots. Although I've used HelloFresh for years, I've never seen anything as adventurous as those meals on their menu.
In addition to their diverse menu options, Sunbasket also boasts a larger marketplace compared to HelloFresh. With dozens of pre-made meals, breakfast options, pre-made meats and deli meats, breads, pastas, desserts, and more, I found that I could almost entirely cut out trips to the grocery store when using Sunbasket. This convenience factor, coupled with their adventurous menu offerings, makes Sunbasket a great choice for those looking to simplify mealtime and try new dishes.
If you'd like to learn more about the differences between Sunbasket and HelloFresh, I've compared them both in this in-depth article.
How Much Does HelloFresh Cost?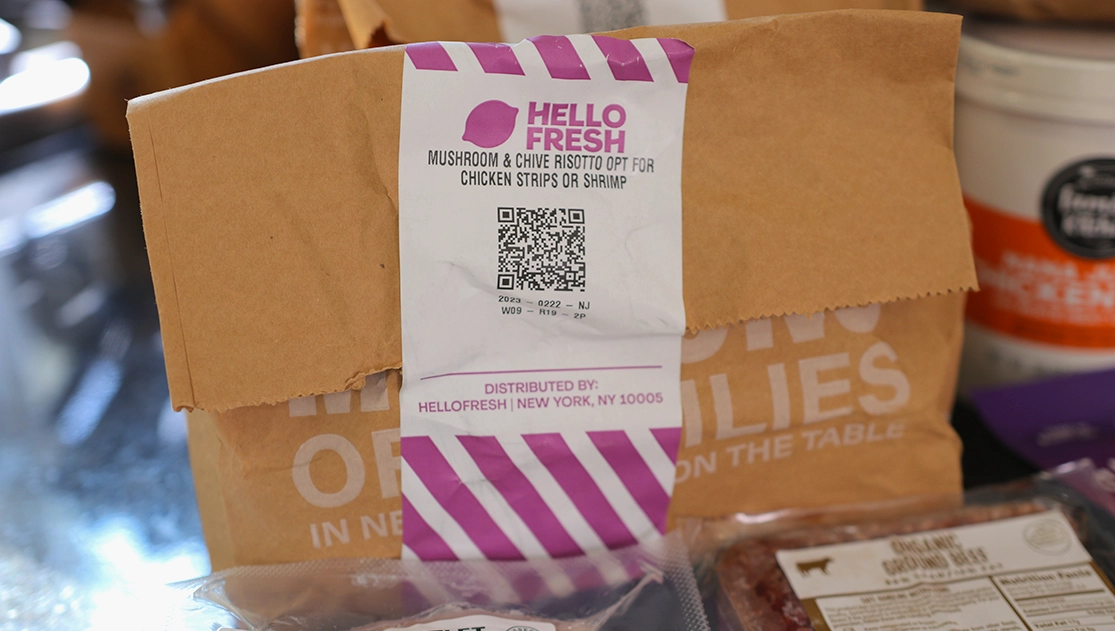 HelloFresh's individual meal cost (the cost per serving) will vary depending on the size of the plan you go with. The more you order, the less each individual meal will cost. I've found this to be pretty consistent with how other meal kits price out their plans.
It should be noted that there is no difference in price between the plans, only the size of the plans. For example, 3 meals per week for 2 people on the Meat & Veggies plan is the same as the Family Friendly plan.
Below is an overview of what you can expect to pay on each plan size.
Here's what you can expect to pay per serving on the 2 person plan…
2 meals for 2 people per week (4 total servings) comes out to $12.49 per serving
3 meals for 2 people per week (6 total servings) comes out to $9.99 per serving
4 meals for 2 people per week (8 total servings) comes out to $9.79 per serving
5 meals for 2 people per week (10 total servings) comes out to $9.79 per serving
6 meals for 2 people per week (12 total servings) comes out to $9.79 per serving
Here's what you can expect to pay per serving on the 4 person plan…
2 meals for 4 people per week (8 total servings) comes out to $9.79 per serving
3 meals for 4 people per week (12 total servings) comes out to $9.49 per serving
4 meals for 4 people per week (16 total servings) comes out to $9.29 per serving
5 meals for 4 people per week (20 total servings) comes out to $9.29 per serving
6 meals for 4 people per week (24 total servings) comes out to $8.99 per serving
Pricing isn't as straightforward when it comes to HelloFresh's marketplace add-ons. They will range depending on what you order. The good thing, though, is that they offer discounts on certain items (I usually see anywhere from 10% to 15% off on the menu week-to-week).
Here are some example prices of add-ons I've purchased previously…
Grilled cheese with Truffle Butter (4 servings) is $8.99
Sausage, Egg & Cheese Burritos (2 servings) is $5.00
Charcuterie Board Bundle (2-4 servings) is $16.99
Creamy Chicken & Wild Rice Soup (17oz) is $11.99
Salted Caramel Mascarpone Cheesecake (2 servings) is $5.99
HelloFresh also charges $10.99 for shipping on every order, regardless of the size of your plan.
HelloFresh Pricing vs. The Competition
To get a better understanding of whether HelloFresh's pricing is a good value or not, let's compare them to the competition I mentioned above.
Blue Apron meals range from $11.99 to $7.99 per serving depending on the size and plan that you go with. Blue Apron also charges $9.99 for shipping on every plan.
Home Chef meals range from $11.99 to $9.99 per serving depending on the size and plan that you go with. Home Chef also charges $10.99 for shipping on every plan.
Marley Spoon meals range from $12.99 to $8.69 per serving depending on the size and plan that you go with. Marley Spoon also charges $11.99 for shipping on every plan.
Sunbasket meals range from $11.49 to $15.69 per serving depending on the size and plan that you go with. Sunbasket also charges $9.99 for shipping on every plan.
Comparing HelloFresh's pricing with its closest competitors, you can see that they're actually a decent value (all things considered).
On the high end, HelloFresh is $12.49 per serving, which is only cheaper than Marley Spoon's highest price per serving ($12.99). However, on the low end, HelloFresh comes out to $8.99 per serving, which is cheaper than the majority of their competitors.
Blue Apron is the only meal kit that comes in slightly cheaper than HelloFresh when you order the maximum amount from both.
So, to get the best value it makes sense to order more meals—at least more than HelloFresh's smallest plan, which has the highest cost per serving.
While HelloFresh might not always have the cheapest options, I believe they offer a good balance between quality, convenience, and affordability.
HelloFresh Rewards Program
HelloFresh has an interesting rewards program that basically incentivizes you to stick with their subscription. Here's how it works…
After your 4th box you'll receive a free dessert in your box.
After your 6th box you'll receive a $10 credit to use towards a Premium meal.
After your 8th box you'll receive a free market side item.
While the rewards program is a great way to show appreciation to loyal customers, I've found there is one major drawback. The rewards have to be manually redeemed, which can be a hassle. It would be much more convenient if the rewards were automatically added to my next box once they were unlocked since sometimes I either forget or don't even realize I have a reward available.
HelloFresh Promo Codes & Coupons
HelloFresh is usually always running some type of promotion or discount. I've collected the best coupons below…
Coupon code "HELLOFRESH70" will get you 12 free meals and free shipping.
Coupon code "HELLOFRESH22" will get you 57% off (across multiple boxes) and free shipping.
Coupon code "GRPHF25A" will get you 25 free meals and free shipping.
To ensure that our readers have access to the best deals possible, I like to include multiple coupon codes in my reviews. In the event that a code is no longer valid or if you come across a better deal, please don't hesitate to let me know in the comments section.
If you're looking for the best HelloFresh discount, though, I wrote an article here outlining how you can get a completely free box by combining their promo codes with a cash back program.
Pros & Cons Of HelloFresh
Having used HelloFresh for years, I've rounded up what I really like about using them and what I don't. Hopefully this gives you more insight into their meal kit so you can determine whether it's right for you…
HelloFresh Pros
HelloFresh offers good pricing compared to many other meal kits out there, making it a fairly affordable option (though there are some cheaper options like EveryPlate and Dinnerly).
The marketplace has made substantial improvements over the years, offering a wide variety of meal options (including pre-made meals). This means that you can now use HelloFresh to cover every meal of the week—breakfast, lunch, and dinner.
HelloFresh consistently provides some of the best tasting meal options out there, with flavorful and well-balanced dishes that are easy to prepare and enjoy.
They are one of the few meal kit companies I've tried that offers a rewards program, which offers perks, such as free desserts and credits towards their premium meals.
HelloFresh is one of the most convenient and fun meal kits I've tried. Their recipe cards are well designed, the paper bags keep all of the ingredients organized, and they're constantly updating the menu to feature more interesting recipes.
HelloFresh is flexible and customizable. Not only do they allow you to swap out different ingredients in certain recipes, but you can also add more to a meal and upgrade certain ingredients.
HelloFresh is one of the only meal kits I've tried that is actively working to reduce their carbon footprint.
HelloFresh Cons
It can be hard to find many meals that aren't loaded with calories and sodium, making it a less than ideal option for those looking to stick to a healthier diet.
HelloFresh is not a good choice for single-person households (unless you're okay cooking and eating 2 servings), as their meal plans are geared towards 2 person households and families of 4 or more.
They lack transparency around whether their beef is antibiotic and hormone-free, which can be a concern for customers who prioritize ethical and sustainable food sourcing.
HelloFresh has been known to underestimate the prep times for some meals. I find this to be an issue when I purposely select a Quick and Easy recipe with a prep time of 5 or 10 minutes, only for it to take 20 minutes or more. Though, investing in a vegetable chopper has helped cut down the time.
Their packaging could be better. While they have made efforts to implement eco-friendly packaging, they still use a lot of single-use plastics, which can be a concern for environmentally-conscious customers.
My Final Review Score Of HelloFresh
Based on all of the factors I took into consideration for this review, here are my final scores…
Taste (4.9/5): HelloFresh offers consistently delicious meals that are full of flavor.
Variety (4.8/5): With a diverse menu and a wide selection of meal options in their marketplace, HelloFresh offers a good range of meal options to choose from.
Flexibility & Customizability (4.5/5): HelloFresh offers a lot of flexibility and customizability in terms of meal plans, delivery schedules, and ingredient substitutions/swaps/upgrades. However, there could be more options for those with specific dietary needs or restrictions.
Quality (4.6/5): HelloFresh uses fairly high-quality ingredients that are sometimes organic. However, there could be more transparency around whether their beef if antibiotic and hormone free.
Delivery & Packaging (4.3/5): HelloFresh now uses local delivery services to drop off boxes. All of my recent deliveries have been on time and boxes have been undamaged. While HelloFresh has made some efforts to use eco-friendly packaging, they still use a significant amount of single-use plastics.
Ease of Use (4.7/5): HelloFresh makes meal planning and preparation incredibly convenient, providing everything you need to make a delicious meal delivered straight to your doorstep. However, some of the prep times are often underestimated, leading to longer cooking times than anticipated.
Value (4.7/5): HelloFresh offers competitive pricing compared to other similar meal kits I've tried, making it an affordable option for those looking to simplify their meal planning.
My final review score for HelloFresh is 4.6/5. With a focus on taste, quality, flexibility, and ease of use, HelloFresh provides is a meal kit that offers a variety of options for busy individuals and families. While there are areas for improvement, such as packaging and variety, HelloFresh provides a solid value for its price and is a great option for those looking to simplify their meal planning without sacrificing quality or taste.
Past YouTube Reviews Of HelloFresh