One of the biggest complaints we often hear about meal kits is that they're expensive. While "expensive" can be a subjective term, I understand where these comments are coming from. It can seem like a lot of money to order a meal kit when you're so used to driving to the grocery store each week, buying a meat and veggies to cook at home.
However, what if I told you that there is are meal kits out there that aren't only inexpensive but also rival some of the most popular meal kits out there like HelloFresh and Blue Apron? Well, that's where Dinnerly comes in.
Dinnerly is a meal kit with meals starting at just $4.29 per person. That's nearly half the cost of what other popular meal kits are offering.
Is it too good to be true? Let's jump into our full review of Dinnerly so you can learn the details, read about our personal experience, and find out if it's right for you…
About Dinnerly & How It Works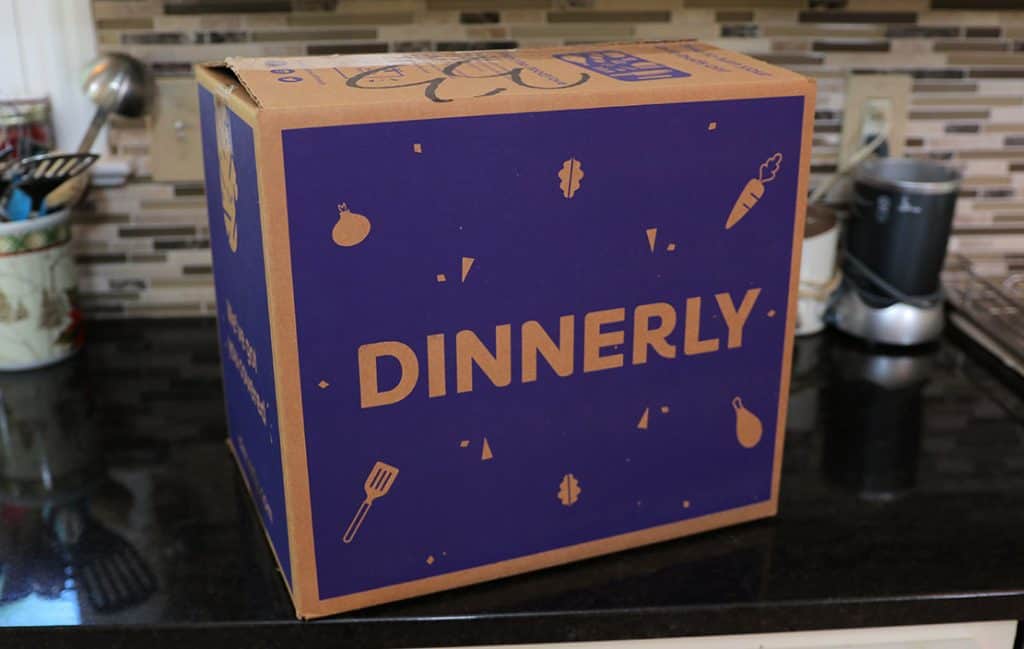 Dinnerly is a spin-off of Marley Spoon, one of the most popular meal kits on the market (backed by Martha Stewart). Their main goal as a meal kit is to offer delicious, simple meals at the most affordable price possible.
Dinnerly is a traditional meal kit, meaning that they offer a selection of recipes for you to choose from each week. If you don't pre-select your recipes, they'll send you a box with randomized recipes from that week's selection. At this time, they only offer dinners (hence, the name) with the occasional dessert/sweet.
Types of Plans Dinnerly Offers
Dinnerly keeps things very straightforward with their plans. You can choose from their two-person plan or their family plan (for 4 people). Within each of those plans you'll have the option to select 3, 4, 5, or 6 recipes to be delivered each week.
While they don't offer specific meal plans that fit into different diets, they do offer individual meals that do. Here are the categories of meals you'll find…
Vegetarian (Note: I found that many of the vegetarian meals that they offer are only pasta-based meals, not vegetables like salads.)
No added gluten (Note: These are

not

certified gluten free meals.)
Under 30 minute meals
One pot meals
Kid friendly
Low calorie
Low carbohydrate
Dairy free
Types of Foods Dinnerly Offers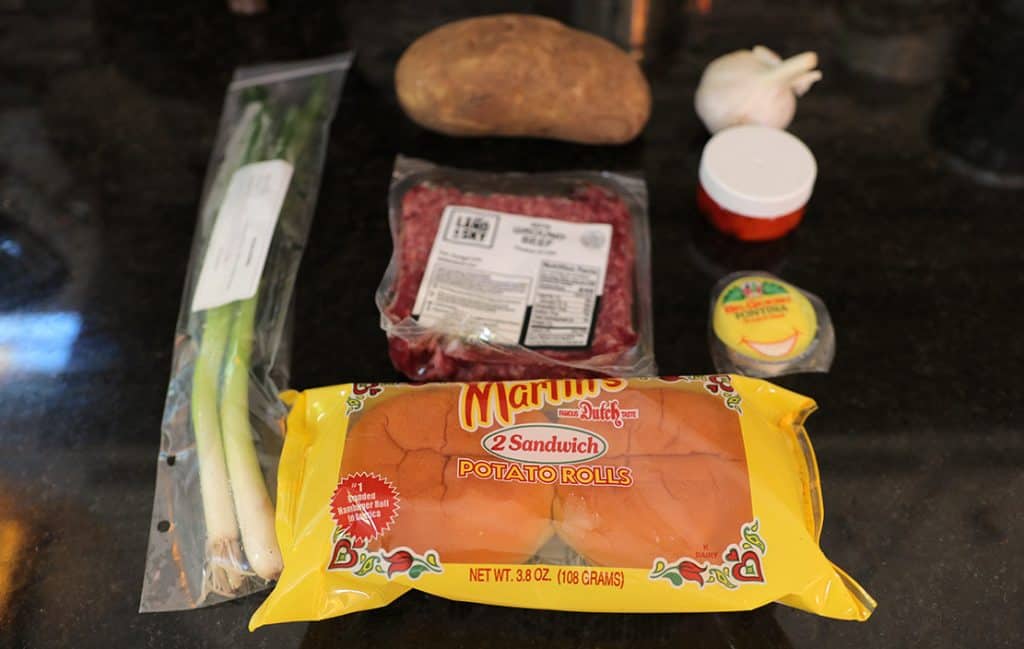 The meals Dinnerly has to offer are no-frills. They aren't spins on classics or anything out of the ordinary. However, they offer a variety of different types of meals and most of them come with a meat, vegetable, and a starch. So, they are a "square" meal.
Here are some examples of different meals they offer…
Saucy Vinegar Chicken with Mashed Potatoes & Broccoli
Smash Burger & Oven Fries with Special Sauce
One-Pot Chicken & Rice with Roasted Red Peppers
Teriyaki Beef & Broccoli with Rice & Toasted Sesame Seeds
Louisiana-Style Shrimp with Cheddar Grits & Spinach
In addition to their regular meals, Dinnerly has also begun offering Protein Variety Packs. These can be added as meals to your box or as an add-on. They currently offer ground beef, chicken breasts, and shrimp.
Last, but certainly not least, they usually offer one dessert per week. For example, Whoopie Pies with Cream Cheese Filling. Of the Dinnerly desserts we've tried, they have all been absolutely delicious.
Delivery
Since our last review, Dinnerly has expanded their delivery locations to most of the contiguous United States, covering 93% of the U.S. population. This means they can't ship to Alaska or Hawaii.
The exact day and time of your delivery will depend on your location, due to the shipper. However, they do allow you to select which day you prefer to receive your box on.
One of the biggest drawbacks of Dinnerly is that they charge a shipping fee on every order, no matter how big or small of a box you order. This delivery fee is currently set at $8.99, which is quite high when you compare them to the price of the meals.
Packaging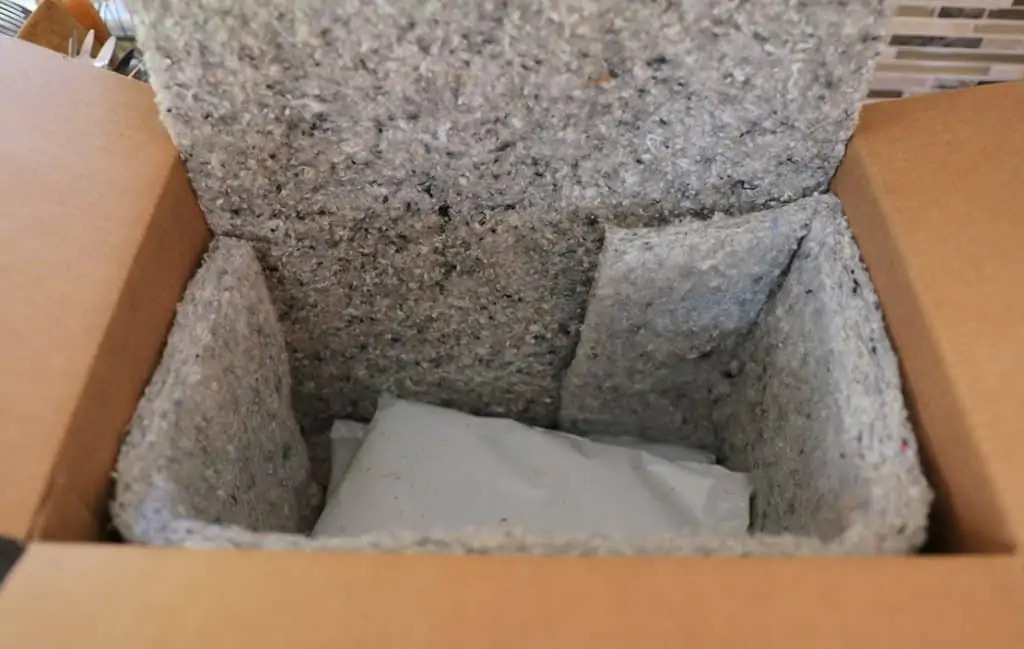 For being a pared-down meal kit, Dinnerly's packaging is surprisingly great.
The cardboard box everything comes in is not only recyclable but it's also made of paper sourced from sustainably managed forests.
Inside the box you'll find ice packs to keep everything cold. They're made of 98% water and 2% super absorbent polymer. Dinnerly recommends cutting open the ice pack, pouring out the liquid in the garbage, and recycling the #4 outer plastic.
The insulation liner is made up of 85% cotton and polyester fibers and 15% low-melt polyester binder. Like the cardboard box, it is also made from recycled content.
Overall, the packaging protects the food and keeps it cool while in transit. Out of all the Dinnerly boxes we've received, we've never had issues with the packaging or spoiled foods.
What Meals We Got In Our Box (June 2020 Update)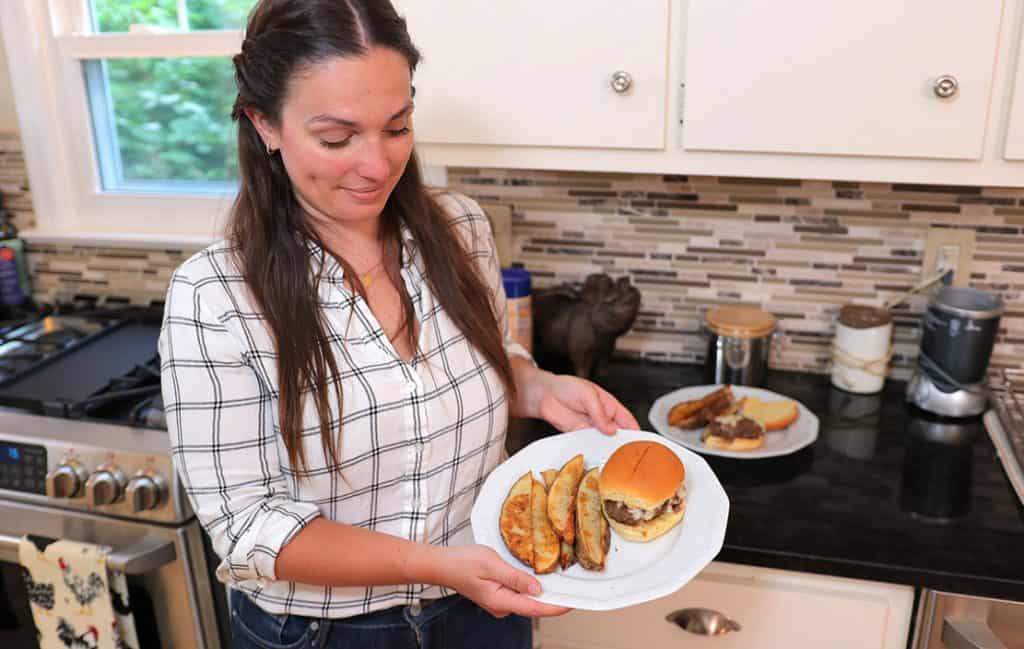 Now let's get to the good stuff — our meals! Here's what we received in our most recent box, along with my thoughts on each…
Philly Cheesesteak Burger With Oven Fries: Not exactly the most healthy meal out there but it is delicious. This was Emily's first cheesesteak ever and she gives it two thumbs up! The one downside is that there aren't any real veggies in this one (only potatoes).
Crispy Buffalo Tortelloni with Spinach Salad & Ranch Dressing: I love that this was a balance between pasta and salad — two foods I love but don't think to combine. The buffalo totelloni was the perfect pairing with the ranch dressing too.
Pan-Roasted Chicken and Mashed Potatoes with Herb Gravy, Peas, and Carrots: I'm a fan of "boring" staple meals like chicken and veggies so this one did not disappoint. It was a classic with all the right tastes.
Dinnerly Recipe Cards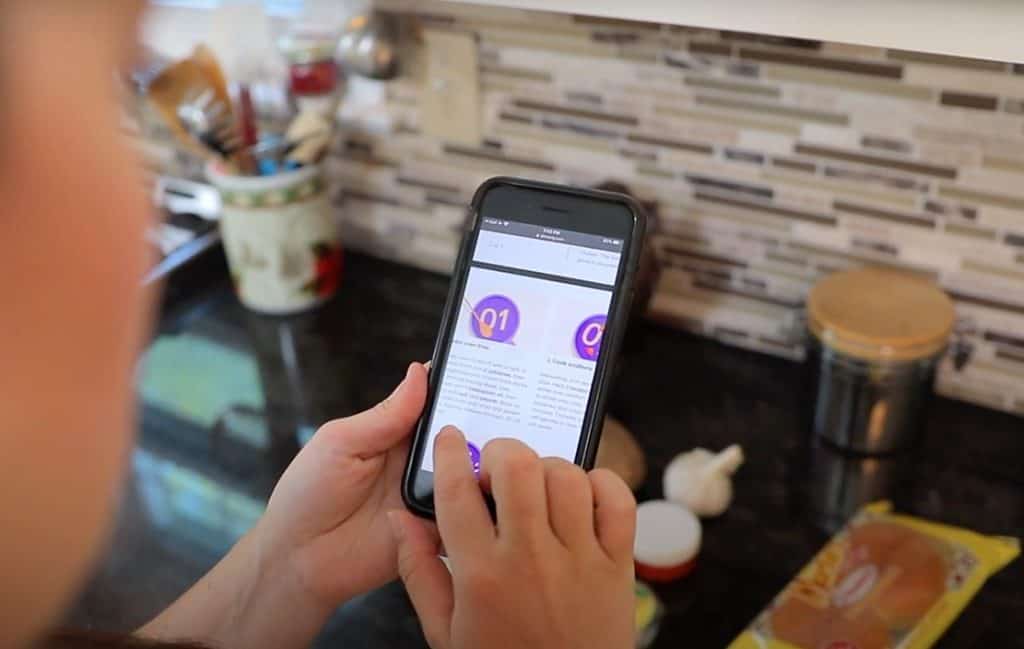 Dinnerly does recipe cards a bit differently than any other meal kit out there. You won't be sent a paper booklet, pamphlet, or card with your recipe on it, like most meal kits do. Instead, all of the recipes are digital. So, once your box is on its way, your recipes will be emailed to you.
I can see how people may look at this as a con, since they aren't actually sending you the recipe with your meals. But, I actually prefer the digital recipe card they offer. Here's why…
It cuts down on waste, which is better for the environment.
Everyone has a digital device capable of reading the recipes.
You can easily zoom in to certain parts of the recipe, rather than squinting. I have bad eyesight so this is especially helpful for me.
The only real downside is that you may have to touch your phone or tablet while you're cooking, which could mark up the screen. So, just be sure to wash your hands between cooking and touching it.
In terms of the recipes themselves, they're very simple, straightforward, and easy to follow. Here's the recipe from the Philly Cheesesteak Burger we make in the video above. You'll see that it has all of the important aspects of a recipe:
Serving time
Cooking level
Description of the meal
Nutrition
Allergens
Step-by-step breakdown of the recipe (including images of each step)
Pictures of ingredients sent
Any miscellaneous ingredients needed (example: salt, pepper, oil)
Kitchen utensils needed (example: pots, pans)
Is The Dinnerly App Worth Downloading?
Every meal kit these days seems to have their own mobile app and Dinnerly is no different. In their app, available for iOS and Android, you're going to have many of the same abilities as you would on their website.
Get alerted to when your next box is coming and when meals need to be picked.
Easily pick your upcoming meals and servings.
See your digital recipes within the app.
Rate past meals.
Save your favorite recipes for future use.
One of the main reasons I recommend downloading the app is because I've found it to be a much more organized way of dealing with the recipe cards (since they're all digital). They usually email you the recipes before your box gets to your door but I've found that I usually have to rummage through my inbox to find the recipe email prior to cooking. Having the app open allows me to easily see the meals and digital recipe card for each.
Ease of Cooking Dinnerly Meals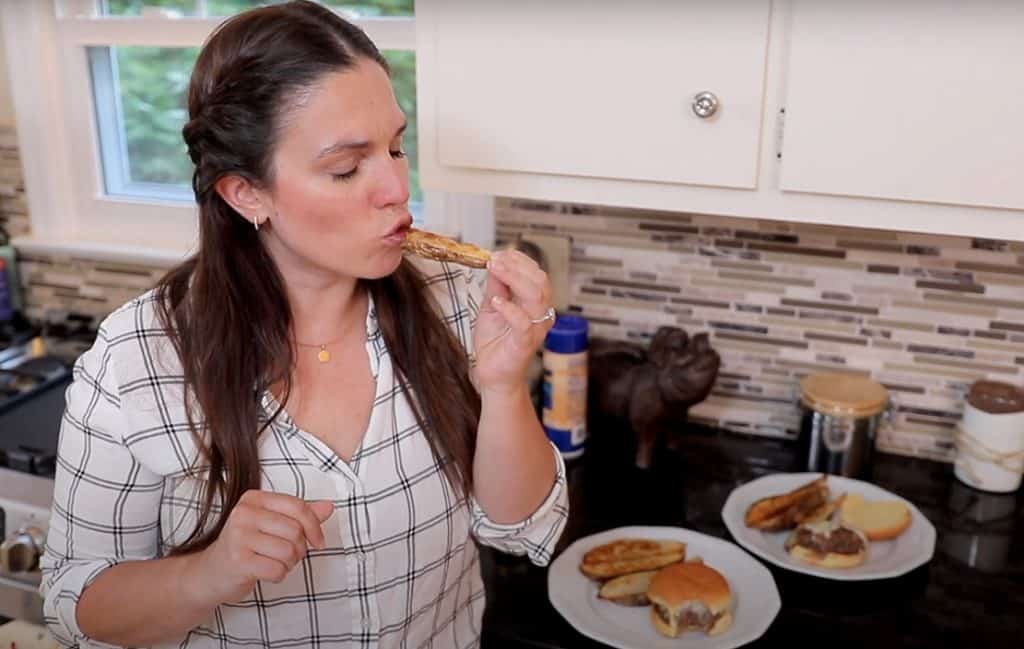 Since the meals are inexpensive, it means that they send fewer ingredients. Fewer ingredients to cook with means that the recipes are fairly straightforward and easy.
I've found that the vast majority of Dinnerly meals we've cooked over the years have all taken less than 30 minutes. Many of them required little preparation at all. To give you an example, they have a category of meals labeled "one pot meals", which literally allow you to throw all the ingredients into one pot and cook.
Dinnerly vs. EveryPlate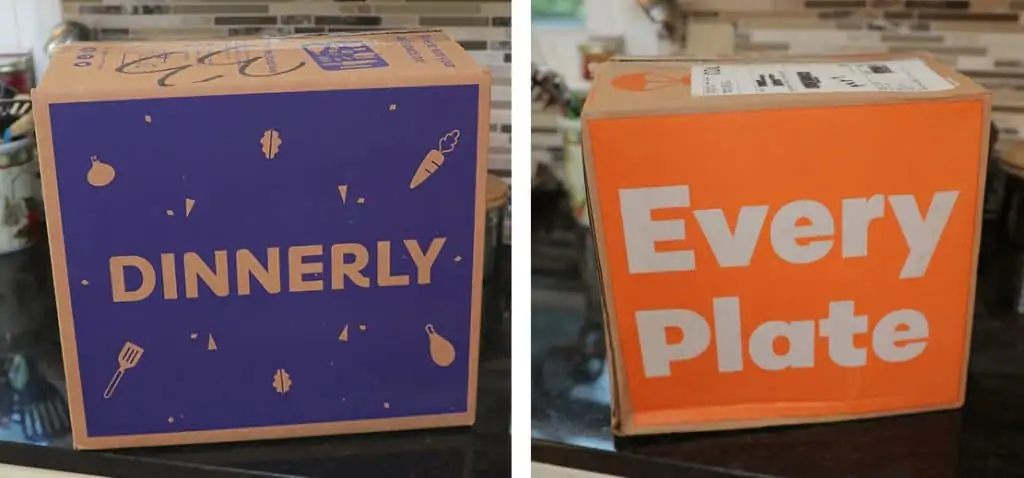 Dinnerly doesn't have many similar competitors other than EveryPlate. Both are currently the only meal kits on the market that are considered "inexpensive" or "affordable". On the surface, both of these meal kits look very similar but there are some big differences between them you should be aware of before making your final choice.
Dinnerly Differences
Offers protein variety packs and desserts.
Technically has a lower price per meal than EveryPlate (Dinnerly's is $4.29, EveryPlate's is $4.99).
Allows you to get up to 6 meals per week (EveryPlate only offers up to 5).
EveryPlate Differences
Gives you paper recipe cards, unlike Dinnerly's digital recipe cards.
Offers premium meals that can be added to your box for a small fee.
They both charge the same $8.99 shipping fee on all boxes.
Pros & Cons of Dinnerly
Now that we've covered all of the important details of Dinnerly's meal kit, let's recap what we loved and what we didn't to help you decided if this is the right meal kit for you…
Dinnerly Pros
It's very inexpensive. I would be remiss if I didn't mention their low price as the main pro, especially when you compare it to other popular meal kits with $7+ price per servings.
They offer extras. I love that they now offer protein packs and desserts so you can really start to customize it based on your preferences.
Good for picky eaters. Having meals that aren't too far "out there" means they're likely going to be a good option for those with less adventurous tastes.
Meals can be made in less than 30 minutes. They offer a variety of recipes each week that focus on simplicity, even some meals which can be made with one pot/pan. This makes cleanup a breeze too.
Dinnerly Cons
Don't bag each set of ingredients for the specific recipe. One of my main gripes with the box is that things aren't properly organized as well as other meal kits are. I wish that they would put each recipe's ingredient into a bag so you could easily pull it from your refrigerator and start cooking.
Not every meal has a decent amount of vegetables. The amount of vegetables you receive in each meal can be hit or miss. For example, our cheesesteak burgers really didn't have any vegetables (unless you count the potato wedges).
They charge for shipping. Being a cheap meal kit, they can't work the shipping costs into the overall price so they have to charge it additionally.
Are There Any Dinnerly Coupons?
Yes, there are Dinnerly coupons available. Use any of the available promo codes and links below to help save yourself some money!
If, for any reason, these codes are not working, please let us know in the comments below! We update this section as frequently as we can with the best coupons and promotions to help save you money.
Final Thoughts: Who Is Dinnerly Right For?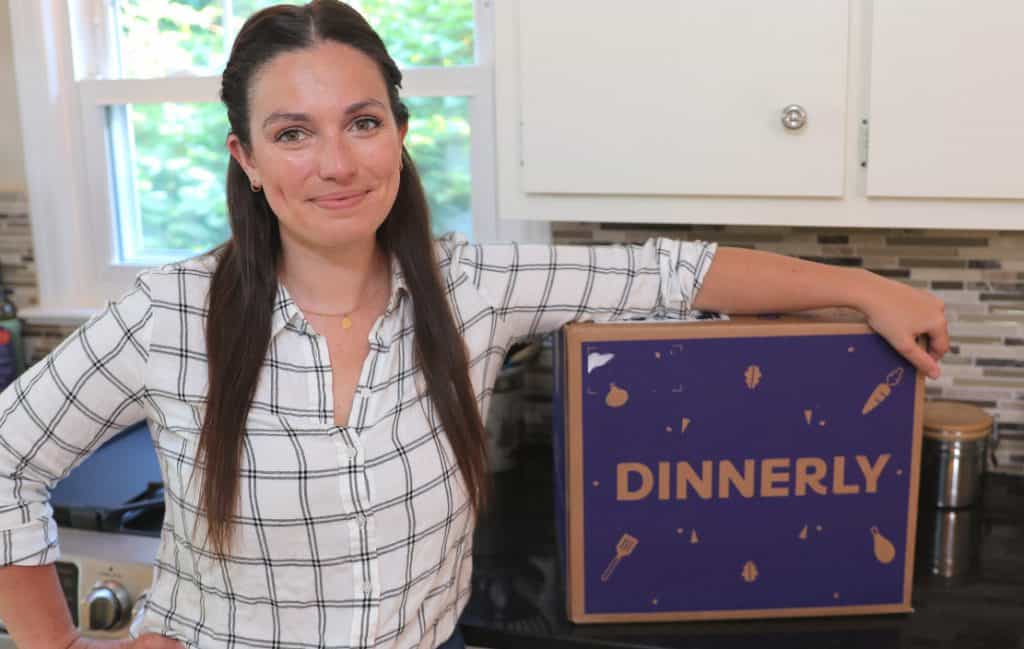 Dinnerly's meals are not groundbreaking or Michelin star worthy but that's not really what they're going for. They're trying to provide their customers with tasty meals that are affordable and easy to make.
If you're someone who has a habit of stopping at the drive-through and eating off the dollar menu too often or you tend to eat too many TV dinners, Dinnerly is a really great meal kit option to consider. They'll allow you to eat tasty, home cooked meals that are pretty simple to prepare and cook. So, even if you're not a seasoned cook, you can still get a nourishing meal on the table and in your belly.
Our Past Dinnerly YouTube Reviews
Have a question about Dinnerly we didn't answer? Have you tried Dinnerly's meal kit before? Let us know in the comments below!