When it comes to meal kits, there is one name that stands out among the rest — Blue Apron. They're one of the first true meal kits to hit the scene back in 2012.
Since its beginning, many other competing meal kits have entered the market (such as Sun Basket and HelloFresh). Is it still the top meal kit out there? Let's jump into our full review of Blue Apron so you can learn the important details, read about our personal experience using it over the years, and find out if it's right for you…
About Blue Apron & How It Works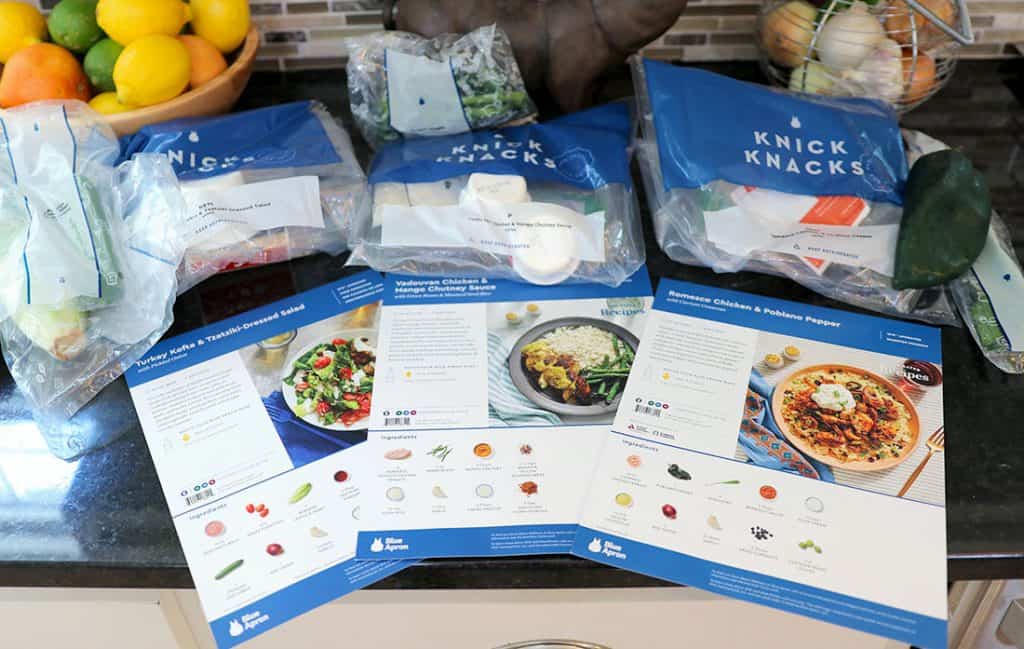 Blue Apron is a traditional meal kit. This means that each week they give you a variety of recipes to choose from, you select the amount you'd like (based on the plan selected), and they ship them to your door for you to make in the comfort of your own home. They only offer dinner meals, so you're not going to find lunch, breakfast, or even snacks on their menu.
I found getting started with their meal kit to be very straightforward and simple:
You input your email and preferred password to create your account.
You select which plan and amount of meals you'd like to receive each week. They also give you the ability to add wine pairings. (I go more in-depth on this below.)
You checkout, giving them your payment info.
You select which meals you'd like to receive in your upcoming box and which date you prefer to receive them.
FYI, you can see the upcoming recipes before you complete your sign-up for Blue Apron by going to their "On The Menu" page. You're not forced to checkout first before seeing the meals, like some meal kit companies do.
Fun Fact: They are named "Blue Apron" because new chefs wear blue aprons when they're learning to cook.
Types of Plans Blue Apron Offers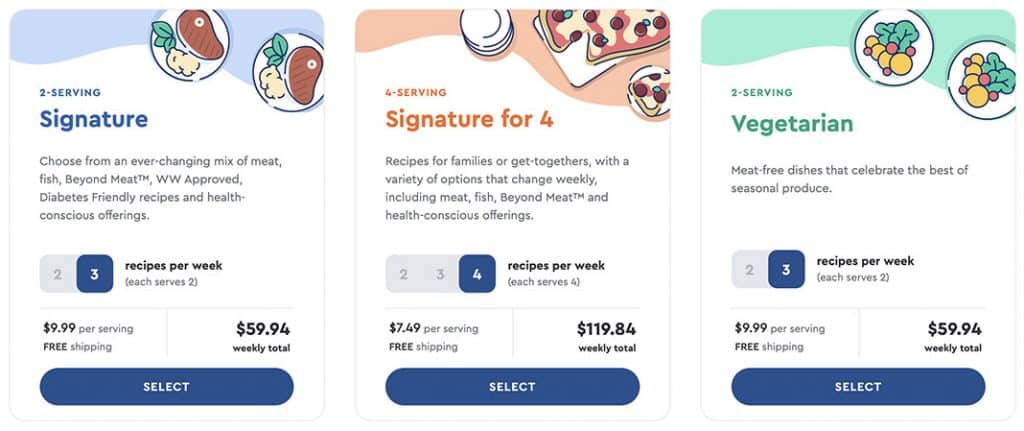 Blue Apron currently offers 3 different types of plans.
Signature: This is their 2-serving plan that offers 2 or 3 recipes per week. Each recipe serves 2 people.
Signature For 4: This is their 4-serving plan that offers 2, 3, or 4 recipes per week. Each recipe serves 4 people.
Vegetarian: This is basically a vegetarian version of their Signature plan. It offers 2-servings with 2 or 3 recipes per week. Each recipes serves 2 people.
Be aware that Blue Apron only offers weekly plans. You're unable to change the frequency to bi-monthly or every other week, like some other meal kits offer.
Types of Meals Blue Apron Offers
Over the many boxes we've received from Blue Apron, I can say that their meals are unique and fun without being overly "out there" as to alienate picky eaters. They have something for everyone — from burgers to pesto cavatelli — no matter your taste preferences. This is most likely due to the fact that all of the recipes are designed in-house by Blue Apron chefs and they even have a team dedicated to perfecting the recipe taste.
Here are some example meals we've had throughout the years from Blue Apron…
Creamy Chipotle Chicken with Cilantro Rice & Cotija Cheese
Smoky Chicken & Honey Butter with Corn on the Cob & Cabbage Slaw
Shiitake & Hoisin Beef Burgers with Miso Mayo & Bok Choy
Pork Chorizo Meatballs & Pepper Rice with Chipotle-Peanut Sauce
Sweet & Spicy Chicken Stir-Fry with Rice & Snow Peas
In addition to their regular meals, Blue Apron also offers one optional "premium" meal per week that can be added to your box for an additional fee. While the premium meals we've had have been tasty, I don't think they are worth the increased cost. Because of this, we rarely add it to our box. To give you an example, the premium meal for the current week we're writing this review is Calabrian Shrimp & Prosciutto Crostini with Pesto Corn & Pasta Salad. It is $18.99 per serving, which means if you have their smallest 2-person plan, it would cost you $37.98 for this meal. That seems exceptionally high, even when compared to what you'd pay in a restaurant.
Where Does Blue Apron Source Their Ingredients From?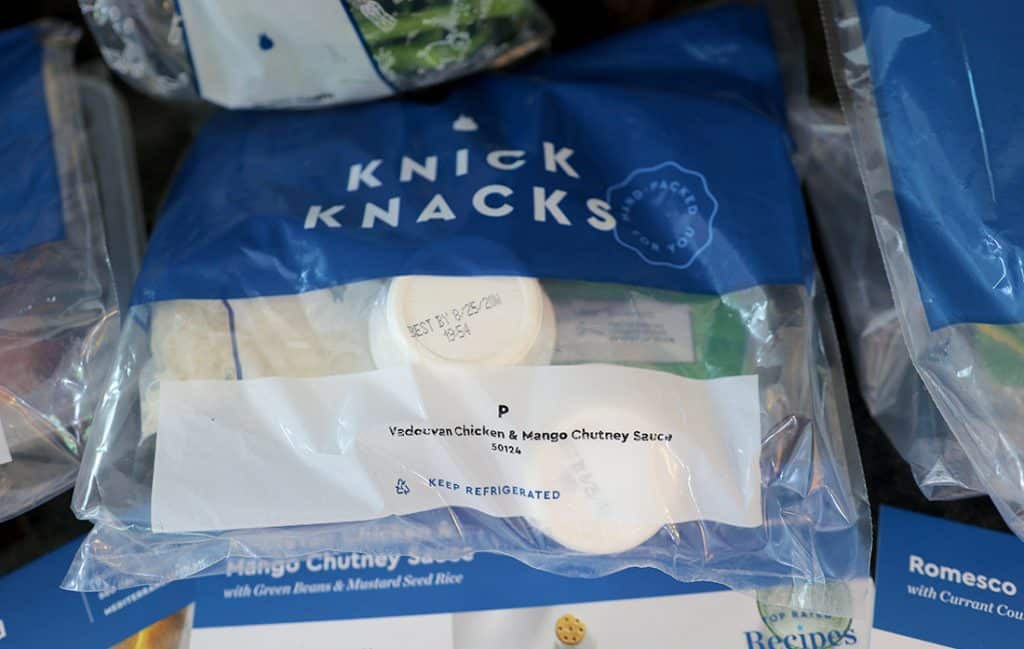 A meal is only as good as the ingredients that make it up. Poor ingredients equal a poor meal experience. Blue Apron is one of the few meal kits that puts a ton of their effort into the entire sourcing process — from farm to table. Here's how…
They source sustainable seafood recommended by Seafood Watch, a program helps consumers and businesses make choices for a healthy ocean.
100% of its pork supply is Certified Humane.
50%+ of its beef supply comes from grass-fed cattle raised entirely on pasture.
Awarded the Good Chicken Award in recognition of the company's commitment to using higher welfare chicken in its supply chain.
Animals are never fed antibiotics or hormones.
They use non-GMO ingredients.
They support regenerative farming practices which focuses on putting more back into the land than you take.
Some (not all) ingredients are USDA certified organic.
Blue Apron Wine Pairing
Blue Apron is one of the few meal kits out there that has an add-on service allowing you to pair wines with each meal. Technically, you don't even need to order their meal kit to receive the Blue Apron wines, it can be subscribed to as an entirely separate subscription.
You'll receive 6 500 mL wines of your choice each month. You can select all reds, all whites, or mix and match as you see fit.
The real selling point behind the wine subscription is that each meal kit recipe allows you to match your Blue Apron wine to it. On the recipe card there are wine pairing icons that will list the type of wine that goes best with the meal…
Floral & Aromatic: These wines are going to be best for spicier dishes like Indian or sausage meals.
Light & Fresh: These are going to go best with lighter meals like salads.
Zesty & Tropical: These are going to go best with creamy ingredients like cheese.
Crispy & Minerally: These are going to go best with salty seafoods like smoked trout.
Lush & Fruity: These are going to go best with buttery dishes like roasted chicken.
Light & Bright: These wines go with just about everything — cheesy, spicy, and more.
Fruity & Savory: These wines go with savory vegetables like eggplants and roasted beets.
Plush & Fruits: These wines go with just about any meat, from beef to pork.
Bold & Spicy: These wines go well with peppered meats such as grilled lamb.
Rich & Decadent: These wines go with rich meals such as burgers and BBQ.
Crisp & Minerally: These wines go well with fresh seafood such as seafood salad and grilled octopus.
Lush & Fruity: These wines go well with both light and rich meals, from turkey burgers so grilled vegetables.
I found the Blue Apron wine club to be a fun addition to the meal kit but not necessarily a "must have". It's more of a fun way to try wines that pair well with your foods but there are better wine clubs out there (see Winc).
Does Blue Apron Offer Diet-Specific Meals?
When first starting out, Blue Apron just offered a variety of meals that didn't necessarily fall under any specific diet umbrella. However, recently, Blue Apron has started to branch out and become more niche diet friendly. They don't have specific diet plans (other than vegetarian) the way that Sun Basket does but they do offer meals that fit into specific diets. Here are all of the diets their meals cover…
Vegetarian
Low Calorie (less than 600 calories)
Low Carbohydrate (48 grams of carbohydrates or less)
Weight Watcher Approved
Mediterranean Diet
Plant-Forward (not to be confused with vegan meals, these meals may have light animal proteins)
Diabetes Friendly (these are meals that adhere to guidelines set forth by the American Diabetes Association)
One note regarding the vegetarian meals is that I've found many of them to be very heavy in carbohydrates like pastas. Keep this in mind if you are vegetarian and are looking for more healthy meals that are more greens and vegetable focused.
Blue Apron x Weight Watchers Partnership
Blue Apron is one of the only meal kits that is specifically made to follow the official Weight Watchers or "WW" diet.
The Weight Watchers meals are only available on the Signature and Signature For 4 plans. You'll have the ability to choose from 3 or more approved meals per week.
What people following Weight Watchers may like best though is that each recipe card will show you the exact points for each meal. Plus, they have even included a barcode you can scan on your WW app to track everything.
Here are some example Weight Watcher approved meals you could find on the weekly Blue Apron menu…
Spiced Pork & Glazed Apple (6 points)
Orange & Ponzu-Glazed Turkey Meatballs (10 points)
Spanish-Spiced Beef & Kale Salad (9 points)
Delivery
When considering signing up for a food subscription service, it's important to make sure they deliver to your area. Blue Apron delivers to all of the contiguous United States. This means they can't deliver to Hawaii or Alaska. If you want to be sure you can place an order with them, you can enter your zip code and see delivery options over on their site.
After you've signed up and entered your zip code, you'll have the ability to select your specific delivery day. You can always view your delivery date by logging into your account and heading over to the "Upcoming" page. You can also change it there at any time. Typically, deliveries are scheduled from Tuesday to Friday each week, but some locations are eligible for Monday and Saturday deliveries.
If you ever need to, you are able to skip a delivery with Blue Apron. All you have to do is log into your account and select the week you'd like to skip. This is ideal if you're ever going out of town or just want to take a break from receiving their deliveries. If you change your mind, you can even reschedule those deliveries you skipped. However, you need to remember that all changes need to be made by the "Changeable by" date in your account. Your "changeable by" date is six days before your next shipment, by 12 PM Eastern Time.
You also don't have to be home for the delivery, which means there's no waiting around for a shipping carrier to show up with your meal ingredients. Packages are typically left on your doorstep, but you may be able to provide additional shipping instructions that indicate where you'd like the package to be left if you aren't home.
Shipping is free for most plans. However, you will have to pay $7.99 shipping fee if you go with their cheapest plan (the 2-Serving Signature plan with 2 recipes per week).
Packaging
Since you will be receiving ingredients that need to be kept cold during transit, Blue Apron has designed their packaging to ensure everything remains cold and protected. They even modify packaging depending on the season and your location, so you shouldn't have to worry about anything spoiling or not being in great condition upon its arrival.
Here's what their packaging is made up of and their recyclability…
Cardboard box, which is curbside recyclable
Plastic metallic bubble insulation (not recyclable)
Ice packs made from a water-based solution, which can be poured down your drain and the plastic outer can be recycled (#4 plastic film)
Hard plastics that hold the liquids, herbs, and other ingredients can be recycled (#1 and #5 plastics)
There is some small miscellaneous packaging that cannot be recycled like their spice blend packets. Overall though, around 85% of the Blue Apron packaging can be recycled.
They used to give you the option to return your packaging to them so that it could be recycled but, unfortunately, they discontinued that service. I really wish they would bring this service back as it would not only make them the most environmentally friendly meal kit option but also be a service no other meal kit offers.
While the insulation that they use seems thin, it seems to be rather protective. In all of the boxes we've received from Blue Apron, we've never had issues with receiving food that wasn't cold or was damaged in transit.
What We Received In Our Most Recent Box (July 2020)
Now let's get to the good stuff — our meals! Here's a rundown of what we received in our most recent box…
Vadouvan Chicken & Mango Chutney Sauce with Green Beans & Mustard Seed Rice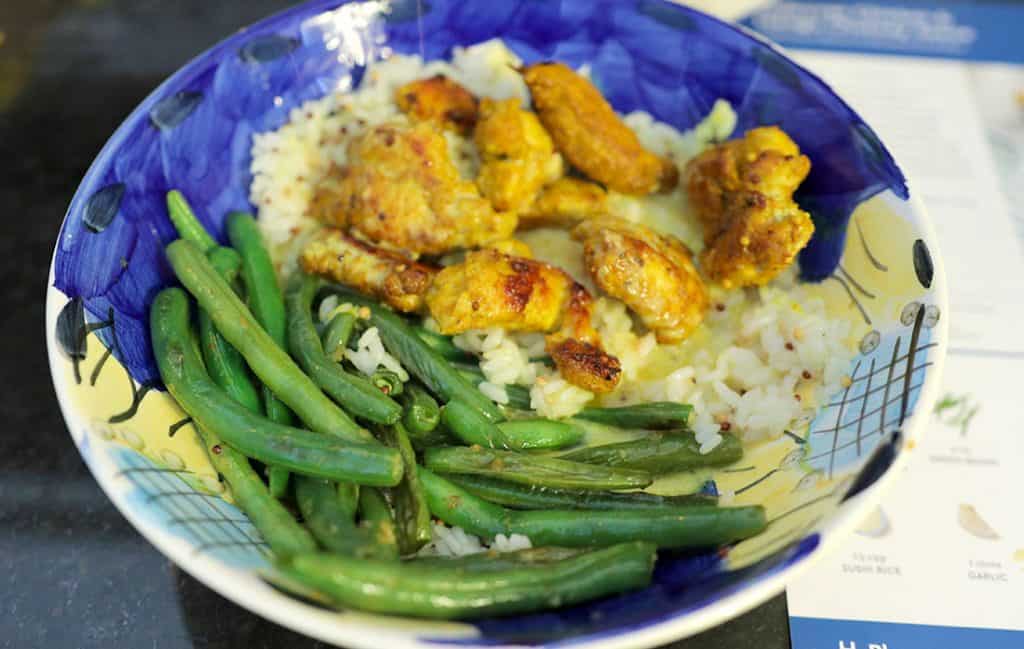 As a fan of Indian food, this was my favorite meal in the box. I've never had vadouvan chicken before but I have to say it was delicious (Emily agrees). The entire meal was packed with flavor and just the right amount of spice without being overwhelming, as sometimes Indian food can be.
Turkey Kofta & Tzatziki-Dressed Salad with Pickled Onion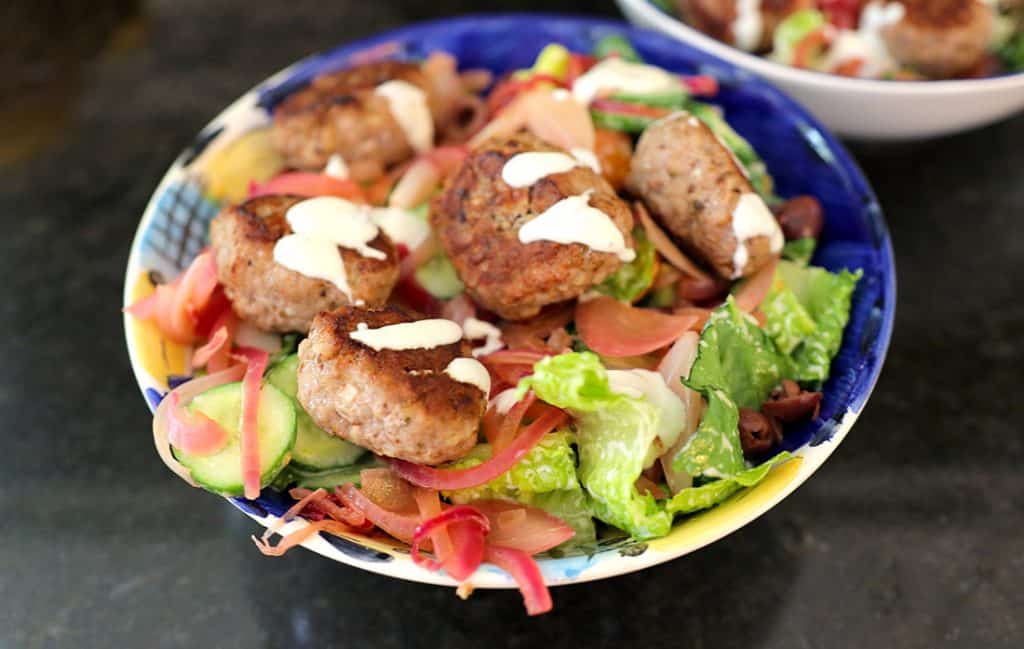 This was the meal you can see us make in our video review here. This was definitely not a meal we've ever made before. The seasoning had a distinct tang, yet was also smooth at the same time. It complimented the turkey meatballs perfectly. In a salad with pickled onion, it was the perfect meal for a hot summer day — light, yet filling.
Romesco Chicken & Poblano Pepper with Currant Couscous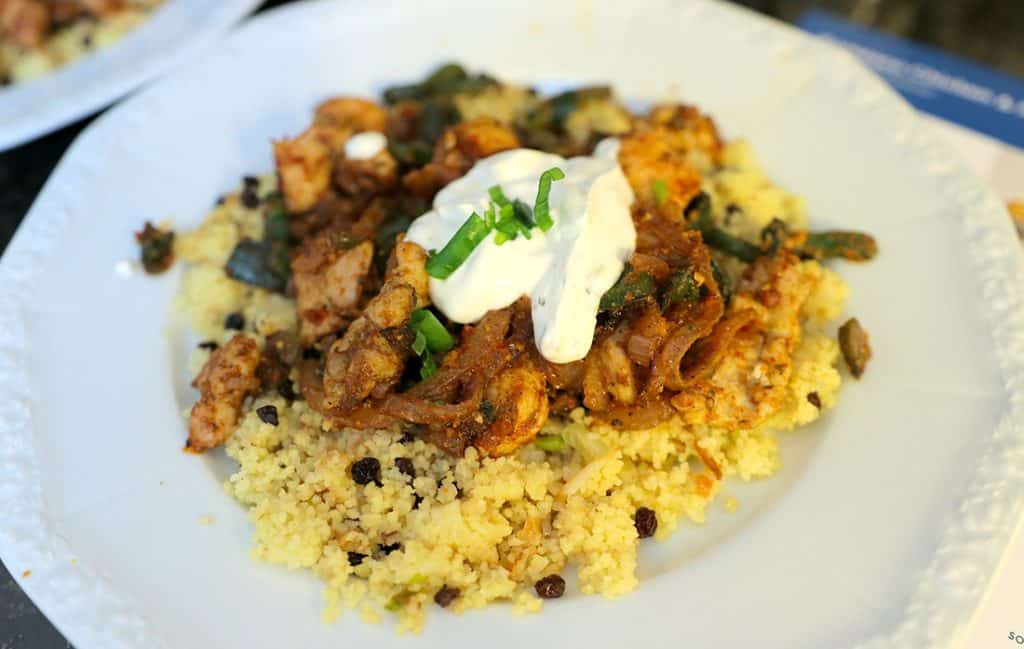 This was more of a Spanish-style dish with a lot of interesting flavors, specifically thanks to the labneh (which I've never had before). While we usually don't make couscous because it often comes out "meh", the Blue Apron directions helped us make them light and fluffy.
As you can see, in this box we explored some of their more unique meals. However, if you're a picky eater, they do have options for you too.
Blue Apron Recipe Cards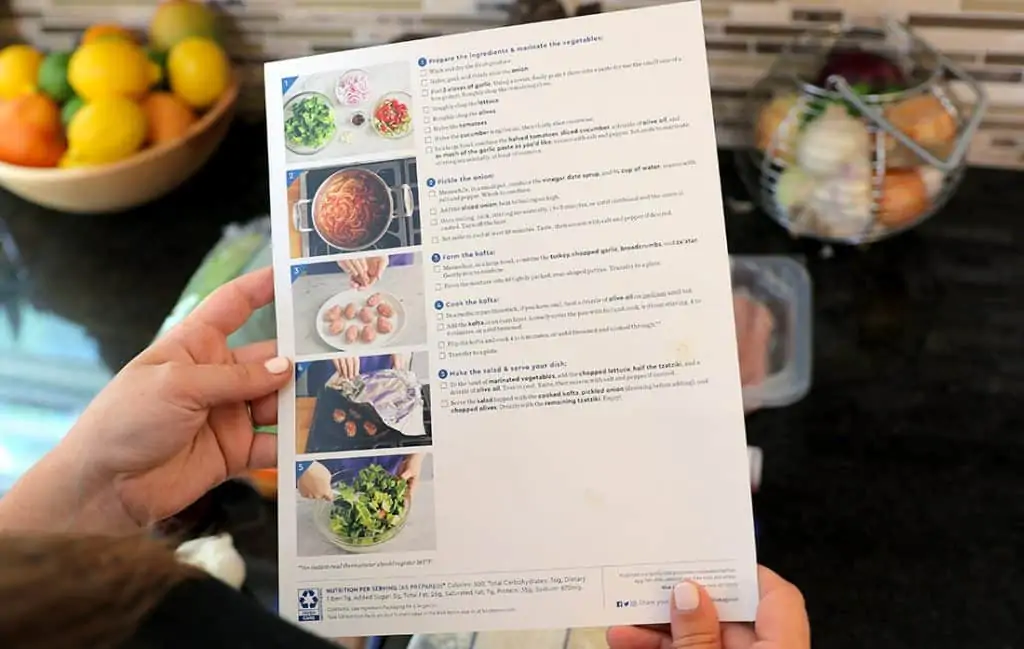 The Blue Apron recipe cards are really one of the most underrated features of this meal kit. Even though I would consider some of the recipes we've received previously as intermediate to advanced, the way that Blue Apron has written the recipe steps makes the cooking process pretty simple and straightforward for any level cook.
Here's what you'll find on each recipe card…
The name and description of the meal along with a picture of what the finished meal looks like
How long it will take to prep and cook
How many servings each recipe makes
The wine it pairs with (if you added on their wine option)
Weight Watchers barcode and points
Any diets it fits into (vegetarian, diabetes friendly, Mediterranean, etc.)
Ingredients
Nutritional information (calories, carbohydrates, fiber, sugar, fat, protein, and sodium)
A step-by-step breakdown of the recipe along with pictures of each step and check boxes to easily follow along
They don't just stop at the recipe card you receive in your box. If you log on to their website, you can view a digital version of your recipe card along with a "tips and techniques" section. It is here where they'll breakdown specific aspects of prepping and cooking the meal. They cover everything from how to properly chop certain ingredients to how to peel others. This section is exceptionally helpful for new cooks since these are all videos you can watch and follow along with.
I'm very impressed with how thorough the Blue Apron recipe cards are!
Using The Blue Apron Website Admin Section
I found using your Blue Apron admin section to be very straightforward. It's here that you'll have the ability to control your subscription, select meals, rate them, and more.
When selecting your meals for the week, they give you information such as which diets it adheres to and how long it takes. They also link to the full recipe so you can see everything from the steps involved to the full nutritional information.
It's in the admin section where you can also control the settings associated with your account. For example, you can pause your subscription and skip a week of meals if you're out of town.
Here's how to cancel your Blue Apron subscription in your admin panel:
Sign into your Blue Apron account
Head to the "Account Information" in your "Account Settings" and click "Edit"
In the pop-up window click on "Manage Status" and follow the cancellation instructions
Or, you can simply go to https://www.blueapron.com/cancel_subscription and it will redirect you to where you can cancel your account.
Is The Blue Apron Mobile App Worth Downloading?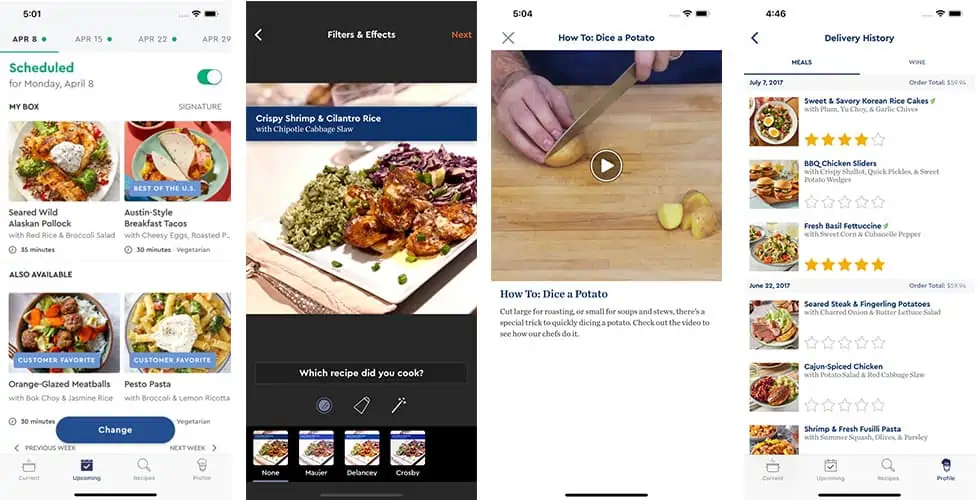 It's all the rage these days for meal kits to have a complimentary mobile app. However, I've found most of them are just a copy of their website in app form. The Blue Apron app (available for both iOS and Android devices) actually has some features that make it distinctly different from its website.
Efficiently Manage Your Account & View Upcoming Meals
If you download the Blue Apron mobile app, there's a good chance you won't even have to view their website on desktop anymore. You can do things like change your delivery day, update your payment information, and skip a delivery. Plus, you'll have the ability to view your upcoming orders and make any necessary changes. This means you don't have to go to their website to pick your meals each week and you can make any necessary changes on the go.
The added bonus of using the Blue Apron mobile app is that you can receive notification reminders regarding your account, shipping notifications, special deals and promotions, and order status reminders. These mobile notifications make managing your meals and knowing what's coming when a lot easier.
Get Exclusive Tips, Techniques, & How-To Videos to Improve Cooking
One reason that some people shy away from meal kits is because they think they have to be a master in the kitchen. But this simply isn't true. With the Blue Apron mobile app, they take education seriously by giving you access to a number of exclusive tips, techniques, and how-to videos so you can improve your cooking skills. So, when you're preparing your meals, you can refer to these videos any time you need them. Anything you need to know when cooking your meal, there's most likely a video in their app to help you out.
Gain Access to 1,400+ Recipes Whenever You Need Meal Ideas
Most Blue Apron plans only send you two or three dinner recipes per week. So, what are you to do on those other nights when you don't have Blue Apron meals to prepare? Instead of scouring the web for recipe ideas or resorting to takeout, you can use their app to find a recipe. Inside, you'll find a library of over 1,400 recipes that you can check out whenever you find yourself asking, "What's for dinner?" The best part is that you can save your favorites so you can refer to them quickly and easily when needed.
Save Photos of Your Favorite Blue Apron Meals
Want to remember the meal you just created from scratch? Well you can take a picture of your meal and keep in organized within the mobile app. Mobile users have the ability to take photos, edit them using special effects and filters within the app, and then save them to your camera roll or share on social media.
Blue Apron vs. HelloFresh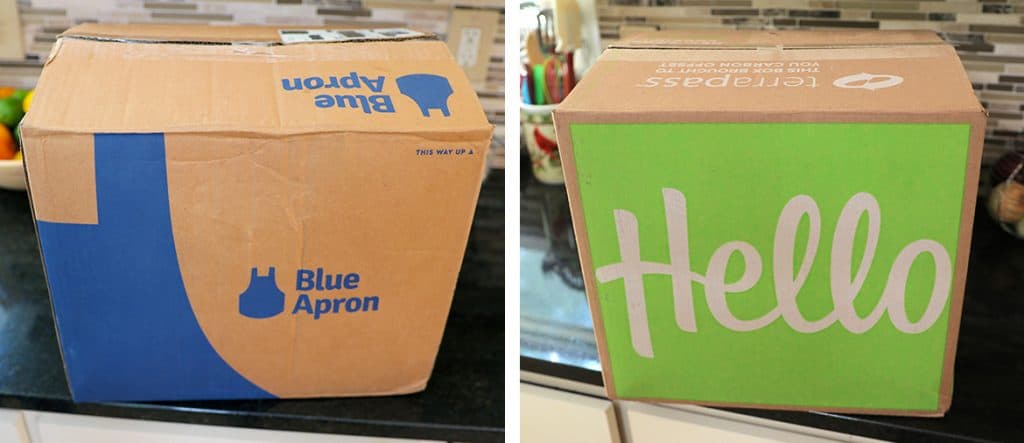 The most similar meal kit to Blue Apron is definitely HelloFresh. Not only are they both known as the original meal kits, pioneering the industry, they are structured very much the same way in what they offer. They both allow you to select 2 or 4 person plans, they both have a vegetarian option, and they both focus on sending you primarily dinner recipes.
However, there are fundamental differences between both of them that you should be aware of before making your final decision…
Blue Apron is the only one that offers wine pairings. HelloFresh used to offer a wine add-on too but discontinued it.
HelloFresh allows you to receive up to 5 recipes per week while Blue Apron only allows you to receive up to 4.
HelloFresh allows you to add other foods to your box such as avocados, meats, and even easy to make lunches. This is a big deal if you need to have more than just the dinner recipes that Blue Apron offers.
Blue Apron has a separate "market" that offers wine packs, kitchen tools, and pantry essentials like seasonings.
One thing to note is that they both have the same pricing, starting at $7.49 per serving.
Blue Apron vs. Grocery Shopping
Comparing meal kits to the grocery store can get a little tough. There are a lot of factors to consider beyond just comparing the total price of the ingredients.
When you go with a meal kit like Blue Apron, you're getting more than just your groceries delivered in a box. You're getting a chef-created recipe that is easy to follow and replicate. The benefit over going to the grocery store is that, while maybe not as cost effective, you save time and create a delicious meal.
Another point I often hear about the meal kit vs grocery store debate is that meal kits are bad for the environment because of all the packaging. Research has found that is not true. A study in the scientific journal Resources, Conservation and Recycling, examines the whole life cycle of meal kits and their grocery store equivalents, and found that, on average, store meals produce 33% more greenhouse gas emissions than their equivalents from Blue Apron.
Pros & Cons Of Blue Apron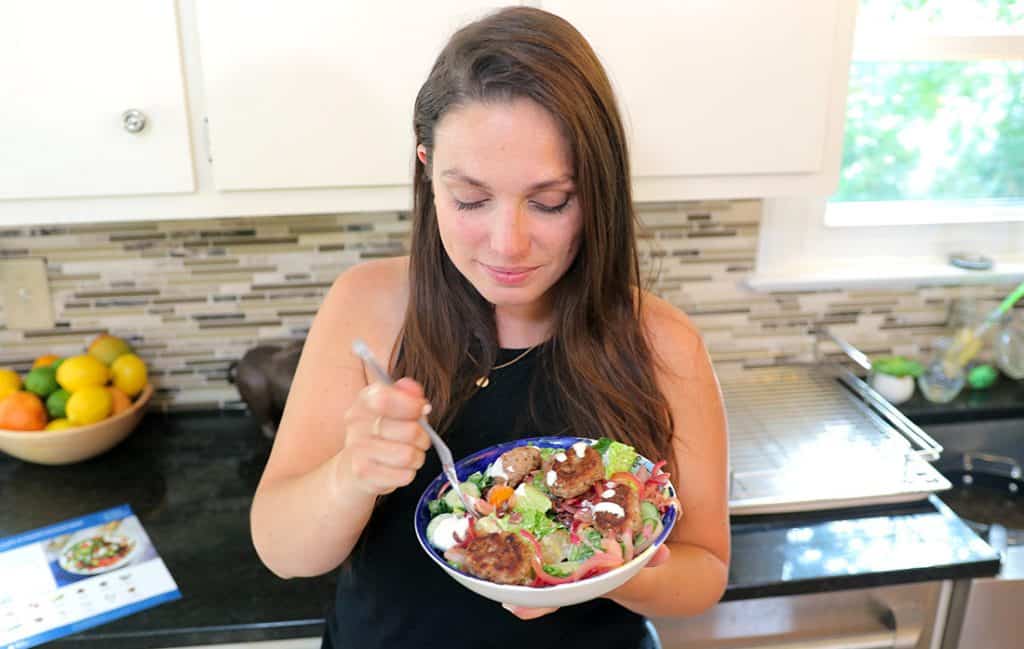 Now that we've gone in-depth on Blue Apron's meal kit and our personal experience using them over the years, let's dive into what we love most and what we don't…
Blue Apron Pros
Definitely some of the tastiest meals we've had. There's no question about it, Blue Apron has some of the most delicious meals available from a meal kit.
They structure the recipe and recipe cards to make even "advanced" meals easy to make. I love how they've designed their recipe cards to make them super easy to understand and follow, even for new cooks.
They have a whole "tips" section to teach you how to properly prep/cook specific parts of the recipe (including how to videos). This is huge for people who are just learning how to cook.
If you're following Weight Watchers, it's the best meal kit for you. Their partnership with WW means you don't have to worry about counting the points of each ingredient, it's all covered for you.
Their add-on wine pairings are fun. Although it's not necessary, adding on the wines can be a fun and interesting way to learn what pairs well with your dinner while learning more about wine.
The ingredients are high quality. In all the boxes we've received from Blue Apron, there has never been an issue with the ingredients. Also, the meat and seafood is particularly high quality.
They offer Beyond Meat. They're one of the only meal kit companies that offers plant-based meats in their meals.
Blue Apron Cons
Not enough food to feed you for the week. Surprisingly, Blue Apron still doesn't offer you the ability to receive more than 4 meals per week. This means you'll still have to cook dinner at least 3 more times per week. Plus, they don't offer any breakfast or lunch options.
Premium meals not really worth extra cost. While tasty and a treat to have, I didn't find these "premium" meals to be worth the additional cost.
There is a lot of plastic. Even though most of the packaging is recyclable, there is still a considerable amount of plastic waste involved in wrapping everything.
Recipes often use a lot of pots and pans. This usually requires extra time to clean up after cooking.
Does Blue Apron Offer Any Coupons?
Yes, Blue Apron does have coupons! And we're here to help save you money. Use any of the coupon/promo codes below...
Save $20 off your first order with coupon code "NEWMEALS20".
Get your first 2 meals free with promo code "DOUBLEX".
If any of the above coupon codes do not work anymore, please let us know in the comments below. We work hard to find you the best working promotions.
Final Thoughts: Who Is Blue Apron Right For?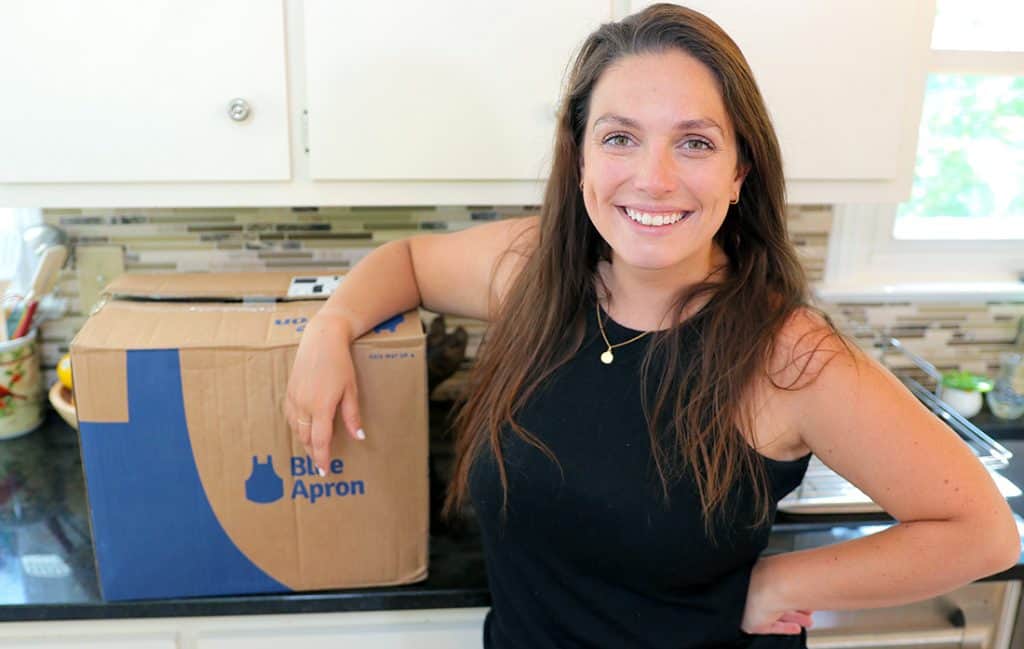 When meal kits first started out, they all were basically the same. They sent you dinner recipes you could make in the comfort of your own home. Since then, many of the original pioneers (like HelloFresh and Sun Basket) have evolved into more than just dinners by offering marketplace add-ons, meal plans to meet specific diets, and more. Blue Apron, however, has stayed pretty much the same from day one. Sure, they now offer wine and a partnership with Weight Watchers but the basics are the same — dinner recipes 3 to 5 times per week. For this reason, it's hard for me to recommend this meal kit to everyone when there are many other meal kits out there with more features for around the same price (if not less).
While Blue Apron might not be right for everyone, they are a great fit for a select few. It is a perfect choice for those who are on Weight Watchers since their partnership means all of the essentials (like their points system) is built into the recipes. Also, if you're trying to learn how to cook without being overwhelmed, Blue Apron is a really great meal kit to consider. Since they only send you a maximum of 4 meals per week, you can learn at your own pace and won't be bombarded with have to cook new meals every night. Plus, their recipe cards and "tips & techniques" section are the perfect tools to help beginners succeed in cooking.
Our Past Blue Apron YouTube Reviews
Have a question about Blue Apron we didn't answer? Have you tried the Blue Apron meal kit before? Leave your comment below!