Blue Apron is one of the most popular meal kits in the world. Although, that doesn't necessarily mean that they're the best option for everyone out there.
If you've given Blue Apron a try but found it's not the right meal kit for you and you're ready to cancel your service, you may be wondering what your options for canceling are.
To help you through the process, we'll guide you through how to cancel your Blue Apron subscription, remedies for common reasons for wanting to cancel, and I'll even give you my personal favorite Blue Apron alternatives.
Canceling Your Blue Apron Subscription (The Easy Way)
The cancellation process for Blue Apron is a little finicky and not super straightforward. Plus, there are a few different ways to go about it.
Previously, when canceling my Blue Apron account, they made it so that you had to email cancellations@blueapron.com. I found that when I emailed that email address with my request to cancel, they simply sent back an automated reply (screenshot below) with a link to use to cancel my subscription: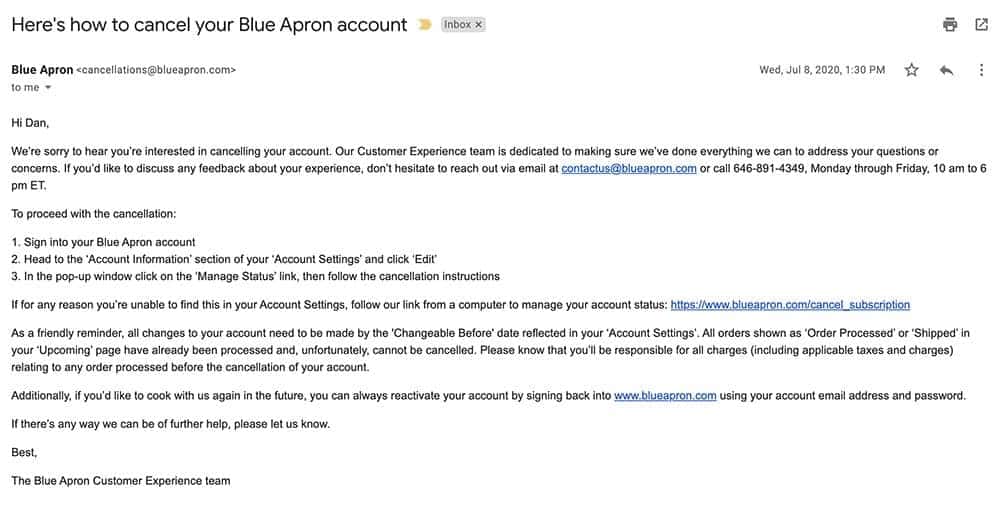 Here is the link that they send in those automated emails: https://blueapron.com/cancel_subscription
Going to that link will direct you to a section in your Blue Apron account where you can immediately cancel your account. Now you don't have to go through the hassle of emailing them and waiting for the response email.
Reactivating Your Blue Apron Account
When you cancel your Blue Apron account, you aren't actually deleting your account entirely. Rather, canceling just indefinitely pauses your account. This means you have the ability to reactivate your account at any time. It's very simply to do.
Here's how to reactivate your Blue Apron account:
Sign back into the website or mobile app using the email address and password you originally signed up with.
Click the "Reactivate Account" button to resume your subscription. If you were previously subscribed to both their wine and meal deliveries, you can opt to reactivate only one or both of your subscriptions by selecting "Meals Only", "Wine Only" or "Both Meals & Wine".
Deactivating & Deleting Your Blue Apron Account
If canceling your Blue Apron account isn't enough and you'd rather they fully delete your account (including removing your personal and payment details) there is a way to do it. It's just a little more involved than simply canceling.
You'll have to either call 1-888-278-4349 or email privacy@BlueApron.com. In your request, you'll want to share your account details (e.g. full name and email address associate with your account) and that you would like to have your account fully deleted.
You can also request this information via mail by sending them a written request to the address below:
Blue Apron, LLC
Privacy Requests
28 Liberty St., Floor 28
New York, NY 10005
More information can be found on their privacy page here.
Reasons For Wanting To Cancel Your Account & Possible Remedies
Sometimes, when an issue arises, people jump right to canceling their meal kit subscription. Over the years, I've found that many issues can be solved through means other than simply canceling.
Below are a few of the most common reasons for canceling, along with potential remedies.
Your Schedule Has Changed
One of the biggest reasons why many people jump right to canceling their account is because their schedule has changed. Sure, if your schedule changes drastically, this could warrant canceling your subscription entirely. However, if you have a temporary schedule change, you may want to skip an upcoming box instead.
Blue Apron makes the process of skipping upcoming deliveries on both their desktop website and mobile app pretty simple.
To skip Blue Apron deliveries on their website:
Navigate to your Upcoming page, where you'll be able to see all your upcoming orders.
Scroll down the page until you find the specific delivery you'd like to skip.
Select "Manage Delivery". A pop-up window will appear, where you can change your delivery day for the week, skip the order, or change your delivery address.
Select "Skip This Delivery" and confirm it by selecting "Skip" one more time.
Once the skipped order is saved, you'll see a little red "x" next to the delivery date.
To skip Blue Apron deliveries on their mobile app:
Using the navigation bar at the bottom of the screen, navigate to the Upcoming tab to see your upcoming orders.
Select the delivery date you're planning on skipping.
Confirm that you'd like to "Skip This Delivery" by tapping on the green toggle icon. Blue Apron might ask you for feedback on why you're skipping the delivery.
To confirm whether you've successfully skipped the order, look for the word "Skipped" at the top of your screen.
To unskip a delivery you've already skipped, select "Unskip" or the red toggle icon next to the delivery date.
It's Expensive Or Not Worth The Money
Blue Apron may be convenient and a good way to try new, fun recipes but it's definitely not cheap.
One way to make your Blue Apron subscription a bit cheaper is to change your plan and/or reduce the number of meals you receive in your box.
Going off of that, you could also periodically skip weeks so that you don't get a box and, therefore, aren't charged. An easy way to cut your Blue Apron spending in half is to skip every other week. This way you can still enjoy Blue Apron on a regular basis but spend less money doing so.
If changing your plan or periodically skipping deliveries still isn't enough, you may want to consider changing meal kits entirely to a cheaper meal delivery service. We've rounded up our favorites here.
Your Diet Has Changed
While I wouldn't consider Blue Apron to be the best or most comprehensive diet meal delivery service, their Wellness plan is one of the only options I've tried that follows the Weight Watchers (WW) diet.
So, if you're currently on another Blue Apron plan but you're looking to shed some weight, you may find it helpful to switch over to their Wellness plan and try out the WW diet.
Poor Customer Experience
One of the worst things that can happen when ordering from a meal delivery service is something happens to your box that damages the food. Since the food has to be shipped a long distance through a delivery carrier, there are a lot of variables that could cause issues to arise. This includes the box getting thrown around and the food inside being damaged or, worse, the box gets delayed in transit and all the food spoils when it gets to your door.
Blue Apron has an entire support center equipped to deal with these types of issues. If any of these issues have happened to you, I highly suggest reaching out to their support team and letting them know. In the vast majority of cases where the food is damaged or spoiled, Blue Apron works to remedy the situation any way they can. This can include everything from a full refund all the way to covering the cost of the single broken or damaged ingredient.
You can submit a help request using this form here or by calling them directly at (888) 278-4349.
The Grass Is Greener Elsewhere (Blue Apron Alternatives)
If none of the remedies above work for you, canceling your Blue Apron account is likely the next best step.
If you don't want to give up on meal delivery services entirely, there are other options out there that may better suit your needs than Blue Apron. Below are some of my favorite Blue Apron alternatives…
Like Blue Apron, HelloFresh is another super popular meal kit. While on the surface they look fairly similar, there are some key differences between the two.
From my experience, HelloFresh is much better suited for those who are newer in the kitchen. This is because they do an exceptional job of simplifying their recipes and even designing their recipe cards in a way that makes following the steps very simple and intuitive.
Additionally, HelloFresh is one of the best tasting meal kit services I've tried. That's not to say Blue Apron isn't good (they are) but HelloFresh has a knack for taking a regular recipe and upgrading it. For example, one of my favorite HelloFresh meals is their Firecracker meatballs. It's such a simple dish—literally just meatballs, rice, and veggies—but packs an incredible amount of flavor.
If you like the convenience of Blue Apron sending you meals but you wish there were more options on the menu, Sunbasket might be the meal kit you're looking for.
Sunbasket is part meal kit and part marketplace. Yes, they offer meal kit meals like Blue Apron, but they also offer a ton of additional foods. This includes pre-made meals, breakfasts, smoothies, breads, pastas, meats, and many different snacks. If you're looking to reduce or even eliminate your usual grocery store runs, Sunbasket might be the meal kit for you.
They also cater to an impressive roster of dietary restrictions and diets, including paleo, carb-conscious, gluten-free, calorie-conscious, diabetes-friendly, vegetarian, pescatarian, Mediterranean, and more. Plus, if you favor organic foods, you'll be happy to know that Sunbasket is one of the few USDA certified organic meal delivery services out there.
Home Chef is another one of the "popular" meal kit options out there, right under Blue Apron and HelloFresh. Whereas Blue Apron and HelloFresh are geared towards those who want to push the bounds of their cooking skills, Home Chef is really more for those who just want to cook easy-to-make meals that also taste delicious.
While Home Chef does have some expert-level recipes, where I think they really shine is when it comes to their Easy Prep and Oven-Ready meals, many of which can be made in around 15 minutes. In fact, we even listed Home Chef as one of our favorites out of all the oven-ready meals that we tested.
Like Sunbasket, they have a marketplace of add-ons (though, it's not nearly as extensive). This includes options such as added meats, salads, and even desserts.
One of the features I like most about Home Chef is that they allow you to customize your recipe by upgrading certain portions, swapping out meats for other options, and even doubling up on portions. This can be especially helpful for picky eaters.
If you're canceling your Blue Apron subscription because it's too expensive, EveryPlate might be the best option for you. They're one of the least expensive meal kits out there. However, that doesn't mean that their meal kit is much different.
EveryPlate is one of the meal kits I most often recommend to people, not only because meals are on average around $5 each, but because the recipes are simple and tasty. Sure, you aren't going to be cooking a gourmet meal like many of the recipes Blue Apron offers. But if you're looking for an inexpensive meal kit that offers the same level of convenience as Blue Apron, EveryPlate is a great option to consider.
Final Thoughts
And there you have it, a guide to canceling your Blue Apron subscription. If you're down in the dumps about breaking up, don't worry! There's plenty of fish in the sea, and with the sheer number of options available in the meal kit subscription sphere, you'll be able to find a replacement soon.
Have a question about the cancelation process? Let me know in the comments below and I'll be happy to answer!