HelloFresh is one of the biggest and most well-known meal kits on the market. In fact, they're one of the first meal kits Emily and I have ever seen. When living in our first apartment together, we would often see the HelloFresh boxes out for recycling and wondered what they were. After a little internet digging, we fell down the meal kit rabbit hole and, a little later on, this website you're on was born!
But just because HelloFresh is the biggest doesn't necessarily mean it's the best option out there for you. Since we first tested them out in 2017, their service has changed a bit. Let's jump into our full updated review to go over what they have to offer, our personal experience using them over the years, and if it's the right meal kit for you.
About HelloFresh & How it Works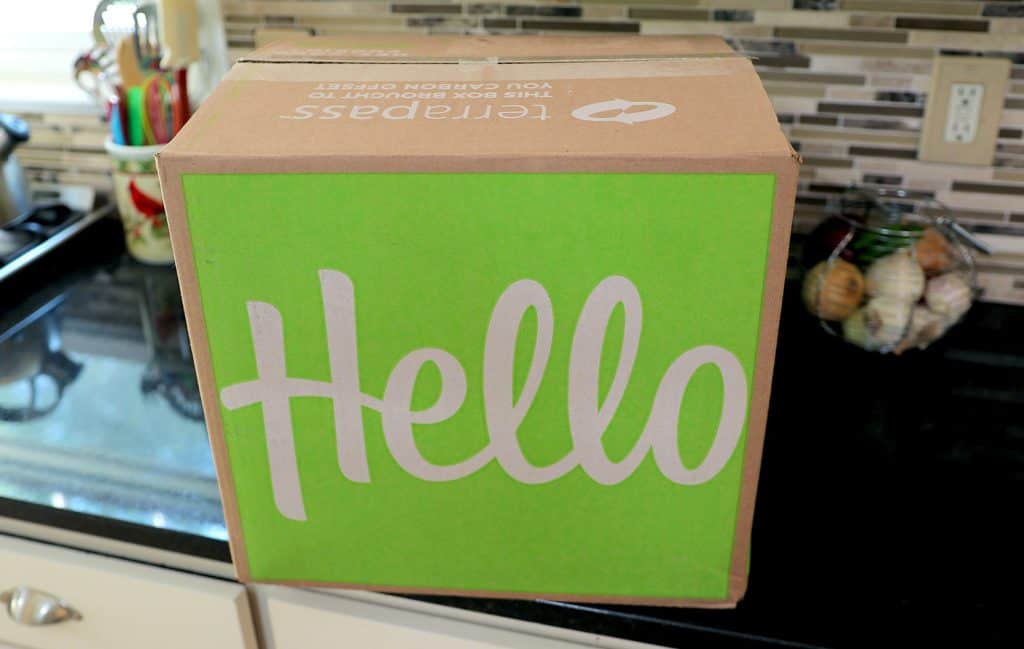 HelloFresh was founded in 2011 in Berlin, Germany. Today they're one of the few meal kits that operates in multiple countries (US, UK, Germany, Netherlands, Austria, and Australia).
First starting out HelloFresh was simply a traditional meal kit that would send up to 5 dinner recipes per week, which you would cook. Since then they have expanded to include a small marketplace of add-ons to allow you to also receive some lunch meals, breakfasts, deserts, and meats (more on that later).
I found getting started with HelloFresh fairly simple…
When you go to sign up, they immediately direct you to select which plan and size you prefer.
You then register your email and password.
You then input your address to ensure they can ship to you.
Finally, you input your payment info to check out and then select the meals for your upcoming box.
One thing that is a little annoying is that you cannot select your preferred meals prior to checking out and paying. However, you can see what meals are on their menu for the upcoming weeks by going here.
HelloFresh Group Brands
Since conquering the traditional meal kit market, HelloFresh has expanded and purchased many other popular meal kits on the market today. You might be surprised to hear that they also own the following meal kits…
As you can see, HelloFresh is expanding their reach to include a variety of different types of meal kit buyers—from the health-conscious to budget eaters.
Types of Plans HelloFresh Offers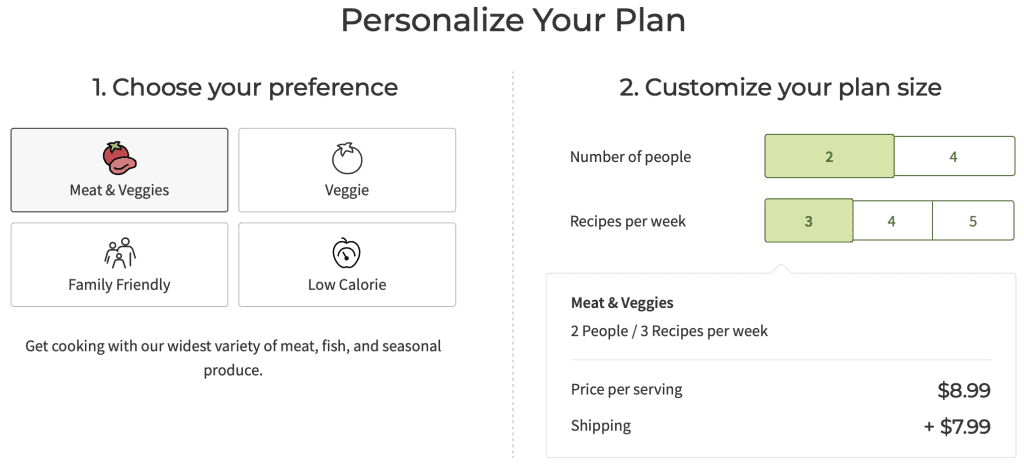 HelloFresh currently offers 4 different plans that can each be moderately customized to fit the number of people you'd like to feed, as well as the amount of recipes you prefer to receive each week.
They offer the following plans:
Meat and Veggies: This plan will contain meals that have meat (beef, turkey, chicken, pork, fish) and vegetables.
Veggies: This is their vegetarian plan, consisting of meals made with seasonal vegetables
Family Friendly: This plan was created to suit families with picky eaters. The meals are going to consist of meats and veggies and will also be relatively simple to make.
Low Calorie: This will be a low calorie version of their meat and veggies plan. Each meal will be around 650 calories.
Once your plan is selected, you can select the amount of people you'd like to feed (2 or 4). If you go with 2 people, you'll be able to select 3, 4, or 5 recipes per week. If you go with 4 people, you'll be able to select 2 or 3 recipes per week.
I find it odd that they only allow you to select up to 5 recipes per week since that is not enough to fill a full 7-day week. So, you'll be forced to make non-HelloFresh meals at least 2 days per week, regardless of the plan you choose.
Types of Meals HelloFresh Offers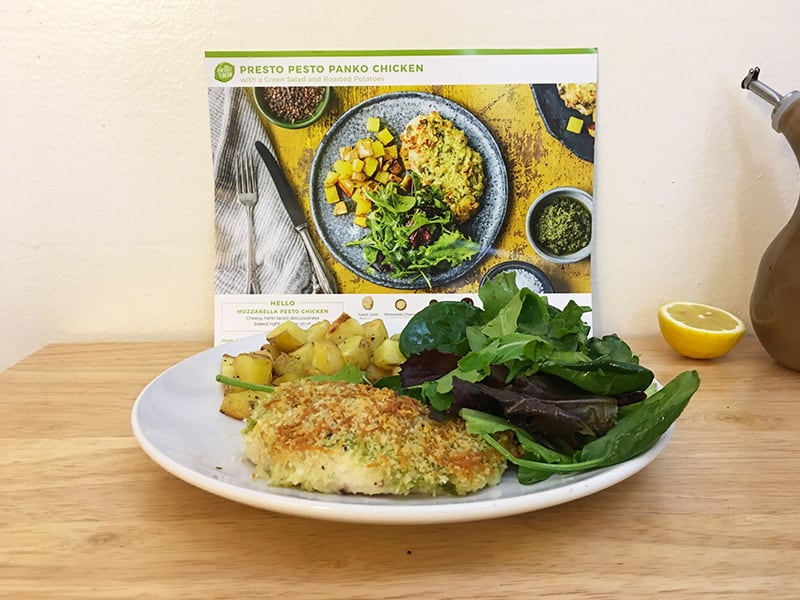 HelloFresh offers a variety of traditional-style meals. Rather than a spin-off of a classic meal, like many meal kits offer, HelloFresh takes classic meals and upgrades them to their highest level.
Here are some examples we've cooked in the past…
Crispy Cheddar Chicken with Loaded Bacon Mashed Potatoes & Asparagus
Pork Schnitzel with Roasted Veggies & a Creamy Mustard Dipper
Chicken Stir-Fry Tacos with Tangy Cabbage Slaw & Sriracha Mayo
Cheesy Smothered Mushroom Chicken with Mashed Potatoes & Roasted Carrots
You'll notice they offer a variety of cuisines too—American, Mexican, Italian, and more. They don't get too adventurous with their meals like Sun Basket and other meal kits do but I've found that the quality and flavor of their meals is one of the best out there.
Over the years of using HelloFresh, I've found their meals to be very rich and decadent (expect a lot of butter and some sugar). For example, when you cook a HelloFresh burger, it's not just a "burger", it's a "craft burger". Their burgers are something you'd be likely to find at a luxury restaurant—packed with all the extras and toppings. See their Mozzarella-Stuffed Little Italy Burgers for the perfect example of what I'm talking about.
Other than dinners, HelloFresh also dabbles in semi-prepared lunches and even some breakfast dishes. There aren't enough options currently to have most meals covered but it looks like they're expanding to cover all 3 meals soon — breakfast, lunches, and dinners.
HelloFresh Add-Ons & Premium Meals
In addition to the dinner meals HelloFresh offers, you can also throw in other add-ons that include foods like deserts, extra meats, avocados, and even (mostly) pre-made lunches and breakfasts. This is a feature I personally love to see meal kits offer since one of the main selling points of meal kits is to reduce trips to the grocery store.
They have also added in premium meals, which can be added to your box for a slight fee. They are basically upgraded versions of their standard meals. While they don't come with more food, the recipes themselves are more in-depth and feature fancier ingredients (steaks, salmons, and other higher end meats). I tend to throw in at least one premium meal per box we receive these days and I can definitely tell the difference in flavor. But don't expect these premium meals to be healthy. I've found that most of them are loaded with butter or sugar, which add to the flavor but also the calories.
HelloFresh Diet Specific Meals
Other than their vegetarian and low-calorie plans, HelloFresh doesn't offer any other specific dietary options. However, they do list out which ingredients used in each meal that are potential food allergens, such as wheat, milk, soy, eggs, tree nuts, peanuts, fish, and shellfish.
It makes sense that HelloFresh doesn't have many diet-specific meal plans since they own Green Chef, which has many.
HelloFresh Spice Blends
One of the most beloved aspects of HelloFresh is, surprisingly, their spice blends. Based on my personal experience, I'd say they're one of the secret ingredients in giving many HelloFresh meals their amazing flavor. But don't take my word for it, there's a ton of posts on the /r/HelloFresh subreddit exclaiming their love for the spice blends…

They even put together a handy list explaining the ingredients used to make each one…
Where Does HelloFresh Source Their Ingredients?
It's easy for a meal to taste good, just load it with salt, fat, or even sugar. It's harder for a meal to taste good and be good for yourself and the environment. That is why it's important to understand how meal kits source their ingredients and what goes into their sourcing process. Here's a rundown of everything we could find out about the HelloFresh sourcing process for their ingredients…
Meats are sourced (mostly) domestically, where HelloFresh can make on-site visits to ensure a safe operation.
Their chicken and pork are hormone free.
They use both wild-caught and farm-raised fish.
They work with the Monterey Bay Aquarium Seafood Watch to ensure they source ocean-friendly seafood.
Some ingredients (but not all) are certified organic.
Other than the points listed above, it was hard to get a clear picture about their sourcing practices. They have a list of which suppliers they work with here but don't go into much depth on any farming practices, whether they use GMO or non-GMO ingredients, if the animals are fed antibiotics, etc. While not necessarily a red flag, I wish they would be more transparent about these aspects of their food since it is important to understand what we're putting in our bodies.
HelloFresh Partnerships
Like Blue Apron, HelloFresh will occasionally partner with other brands to bring a unique spin to their service and meals. In the past, for example, HelloFresh partnered with Ocean Spray to offer recipes that used Ocean Spray cranberries.
Many of these partnerships seem a little "gimmicky" and likely serve as a way for HelloFresh to make additional money by advertising the partnering brand within their meal kit. For example, in our most recent box, our peppercorn-crusted beef recipe card had a Budweiser advertisement/coupon code on it.
Recently though, HelloFresh has formed another type of partnership where they can now sell their meals in Target. It's unclear whether Target simply licensed the HelloFresh brand name and put their own ingredients in the box or they're truly made by HelloFresh. If you've tried a HelloFresh Target meal kit, let us know your thoughts in the comments!
Delivery
HelloFresh delivers to all of the continental United States. This means they cannot deliver to Hawaii or Alaska.
When signing up, you will have the ability to select which day you prefer to receive your box. However, not every day will be available.
You can expect your box to be shipped via UPS, FedEx, or a local/regional courier. There's no need to be home when your HelloFresh box is out for delivery. The driver will leave it at your front door or at a preferred location (such as your apartment mailroom).
Packaging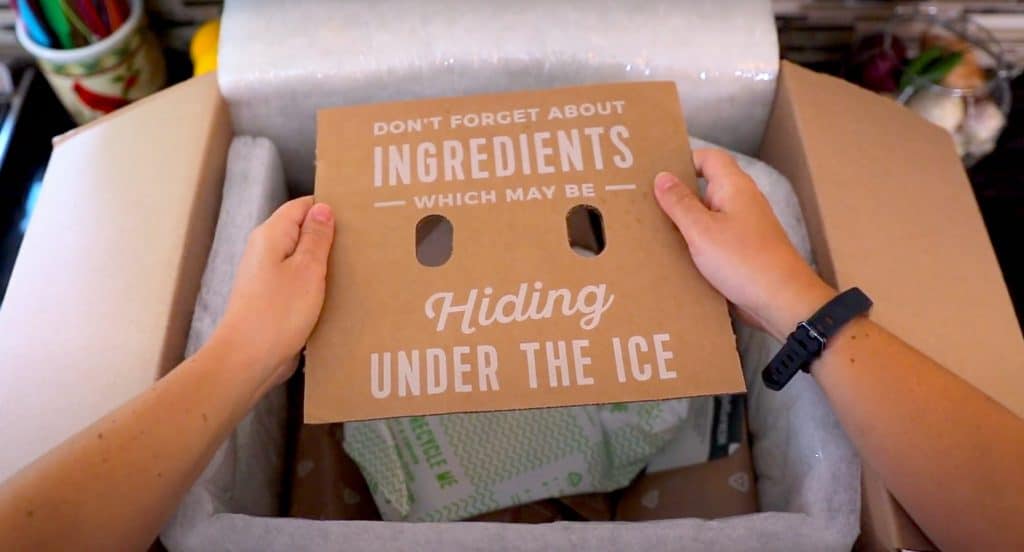 The packaging HelloFresh uses is fairly straightforward. Inside your cardboard box you'll find insulation. I've noticed this insulation will change time to time. Sometimes it will be a recyclable plastic that resembles cotton. Other times it will be ClimaCell insulation, which is not only fully curbside recyclable but also made from renewable plant-based components.
Within the insulation you'll find the ingredients organized in recyclable brown paper bags. This makes grabbing the ingredients for each meal super simple since you don't have to wade through all the ingredients in your refrigerator to find the exact ones needed.
Last are the gel ice packs. You'll need to empty the contents of the pack in the trash, wash it out, in order to recycle it (#4 plastic).
What We Received In Our Recent Box (July 2020)
Now let's get to the good stuff, our recent HelloFresh meals! Here are the dinner recipes we received in our recent box...
Peppercorn-Crusted Beef Tenderloin with Chive Butter, Asparagus Amandine, and Mashed Sweet Potatoes
We've made peppercorn-crusted beef maybe a handful of times in my life prior to this recipe but after making it we kept the recipe card to make it again — it was that good. The beef was juicy yet had just enough crunch from the peppercorn. I'm a huge fan of sweet potatoes and the addition of sour cream gave it just the right flavor.
Szechuan Pork & Green Bean Stir-Fry with Peanuts & Jasmine Rice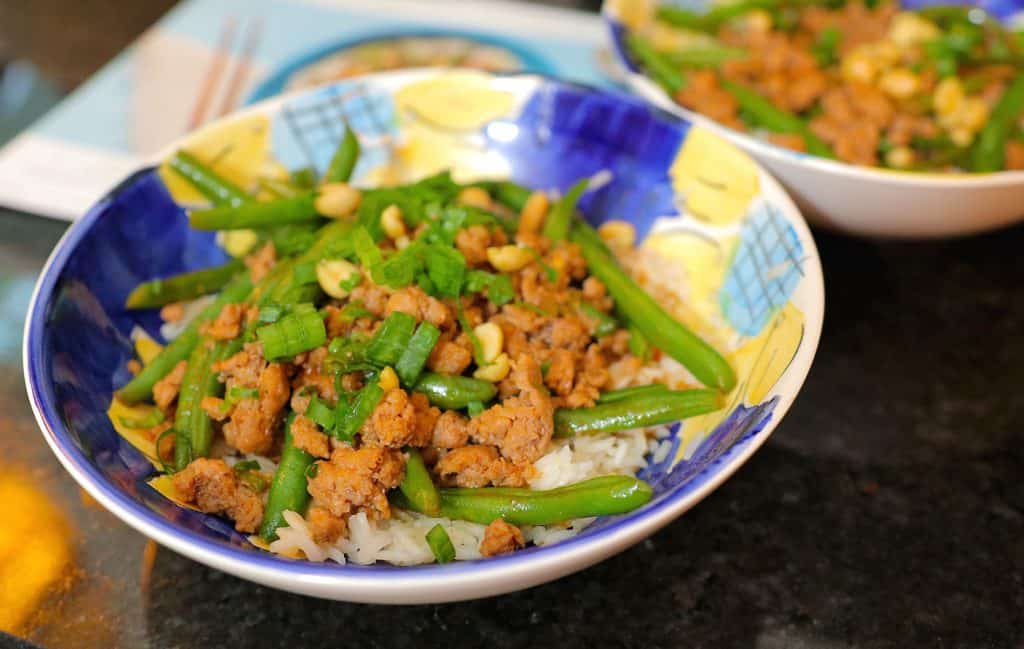 This Szechuan stir-fry was the perfect sweet and spicy dish. The peanut topping had a coating of sugar, giving the dish a deliciously sweet taste. Of course, not the healthiest!
Beef Tenderloin in a Savory Mushroom Sauce with Roasted Brussels Sprouts and Herb Butter Couscous (Premium Meal)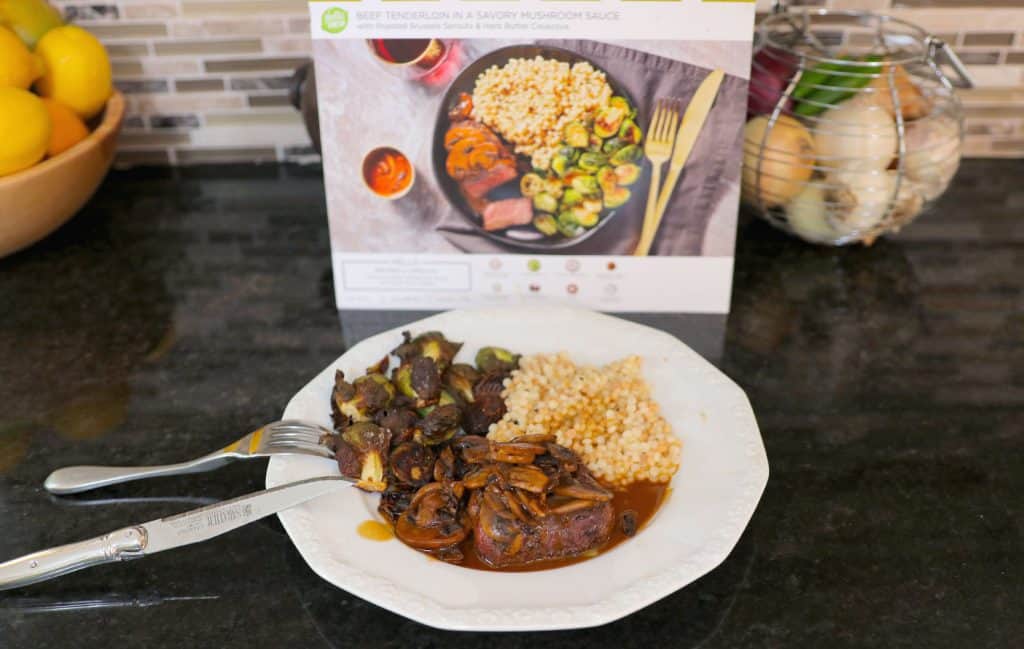 This was the meal you can see us make in our video review here. It was absolutely delicious (probably because it was loaded with butter). Nonetheless, the beef and couscous was melt-in-your-mouth good. It was super rich but this may be one of the best HelloFresh meals we've made to date!
Here are the add-ons we received…
BBQ Pulled Chicken Sandwiches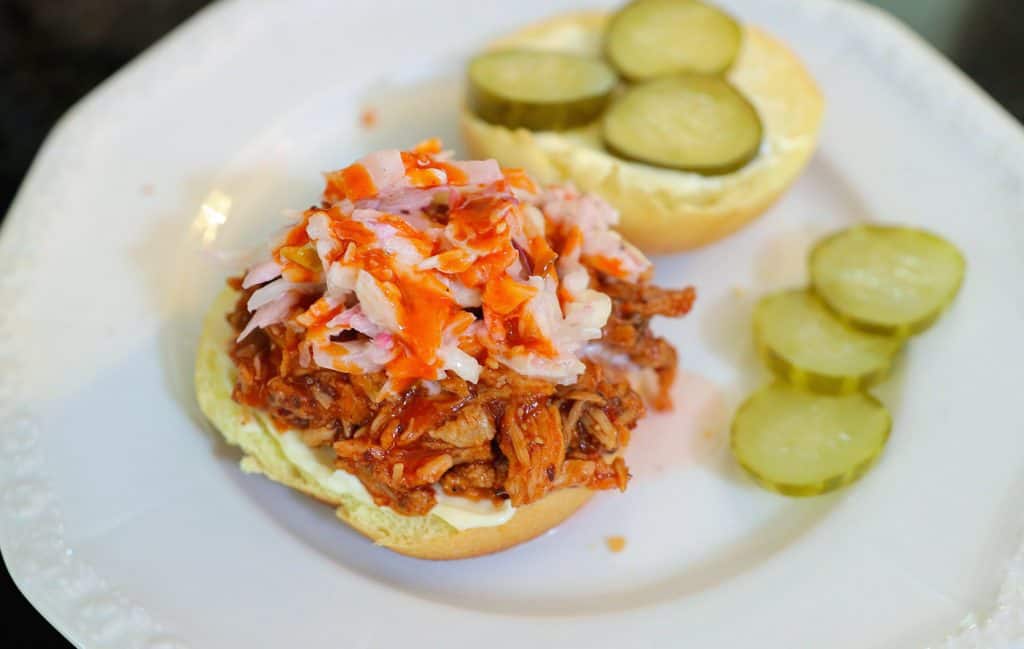 This was a delicious lunch and since it was super-hot on the July day that we made it, we opted not to warm up the pre-made chicken or toast the buns. It still came out juicy and packed with flavor.
Avocados
As an add-on, I threw Lil 'Cados avocados into our box. These are small, single-serve avocados. They came undamaged and were ripe enough to eat about 1-2 days after opening our box.
Chocolate Lava Cake
The cherry on top was the chocolate lava cake (pun intended). I've never had refrigerated chocolate lava cake before but, I have to say, after warming it up, it was as good as some I've had at restaurants.
Lastly, we also received a free Kinder chocolate bar in our box as an extra gift. They recently started adding little gifts to your box at no extra charge, which is a really kind gesture.
HelloFresh Recipe Cards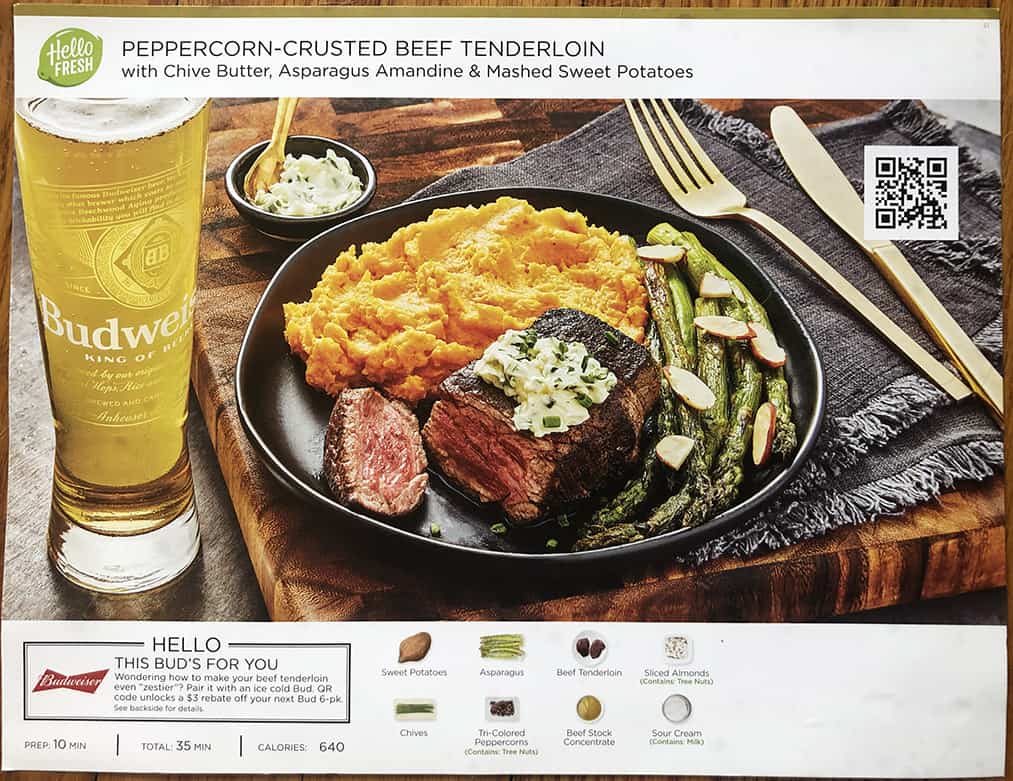 Recipe cards can either make or break a meal kit. A great recipe card will smoothly guide you through any level of cooking. Whereas a bad recipe card can make the cooking process a nightmare.
Here's what you'll find on the HelloFresh recipe cards…
The name and description of the meal along with a picture of what the finished meal looks like
How long the prep and cook time takes
The amount of calories each serving has
A list of the included ingredients (the front will have pictures and the back will have the measurements of each)
What you'll need from your pantry and kitchen utensils
A step-by-step breakdown of the recipe along with pictures of each step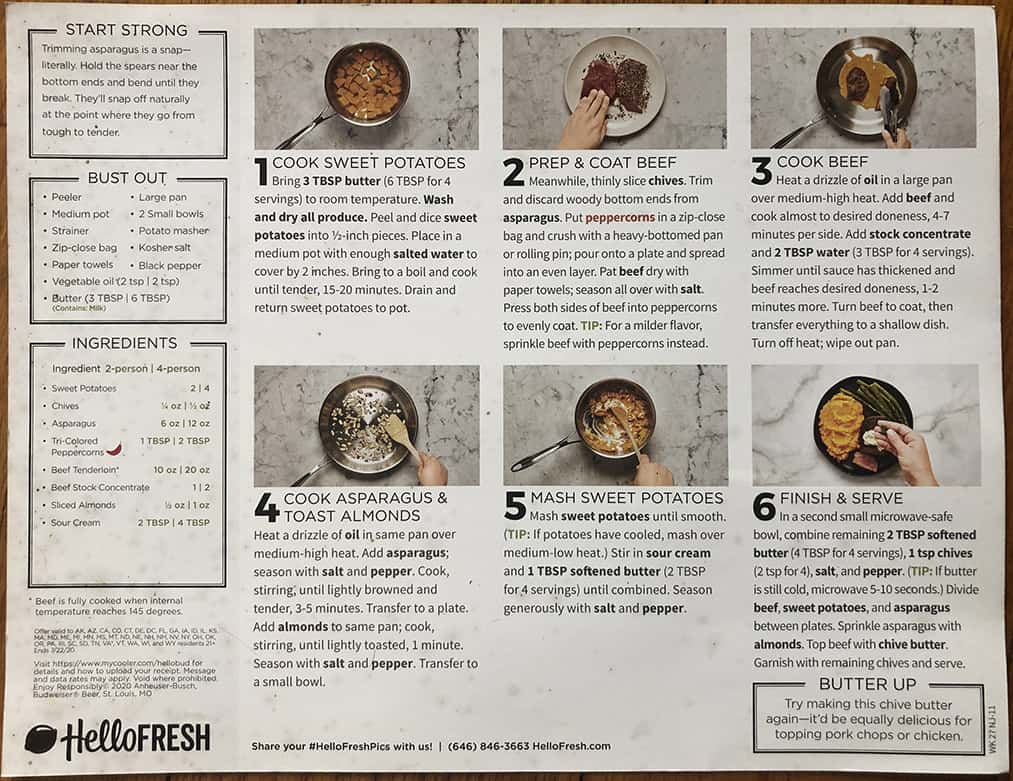 While the recipe card is nicely organized and has all of the necessary elements to help you make the meal, I wish the step-by-step instructions were designed in a way that made it easier to follow. Each step currently has a block of text describing what you need to do. But when you're in the middle of cooking, you jump back and forth looking at the step to see what's next or make sure you didn't miss anything. I found that I would lose my place and have to re-read the step again to make sure I didn't miss anything and to get back on track.
Using The HelloFresh Admin Section To Manage Your Account, Skip Meals, Cancel Your Account, and More

Using the HelloFresh admin section is fairly straightforward for managing your account. Your homepage allows you to see all of the recipes available for that week. You can also "jump ahead" to see what meals are going to be available up to the next 5 weeks.
At any time up to 5 days before your box is supposed to ship, you can pause your next delivery. It's very simply to do: select the week you want to pause/skip, then click the "manage" button, and click "skip". You'll also see the options to donate the box (which sends your box to a food bank) or increase/decrease the box size.
In addition to managing your account settings, where you can change payments, plans, address, and more, you'll also have the ability to "favorite" meals you loved, where they'll be saved for later. This not only helps you keep track of your favorite meals, where you can see their online recipes, but it also helps HelloFresh determine which meals to bring back on their menu.
HelloFresh makes canceling your plan pretty simple. You don't have to jump through any hoops or call them up. You simply go to your account settings and click "Cancel plan" under the "Plan Settings" link.
Is The HelloFresh App Worth Downloading?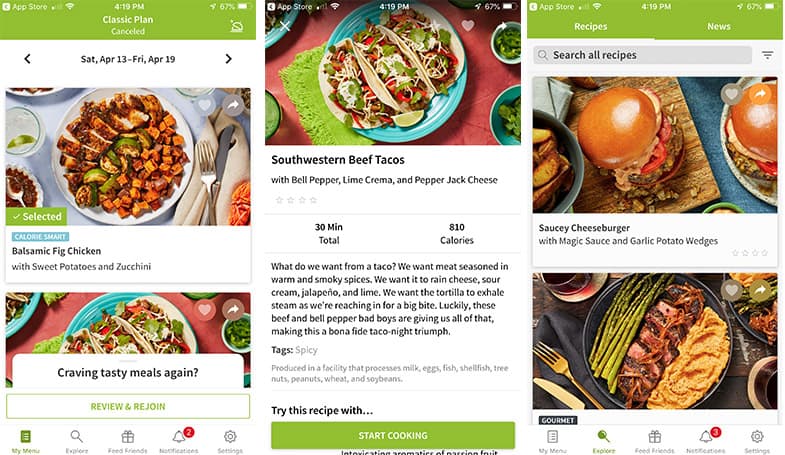 It seems like every meal kit these days has their own app. But is it actually worth downloading when you can simply log in to your account using your phone's internet browser? Let's jump into some of the key features of the HelloFresh app (available for both iOS and Android devices) so you can decide whether it's worth downloading or not...
Easily Manage Your Account & Select Weekly Meals
Once you've downloaded the app and logged in, you can fully manage your HelloFresh account. You'll be able to change your subscription, view recent orders, and update any user details such as payment information. Plus, the app allows you to track your delivery with automatic updates. What I like most, though, is that it will send me a reminder notification for when I need to select the meals for my upcoming box. This is important because if you don't select what meals you want, they send you a box of random meals from that week.
Access Cooking Hacks & Step-by-Step Guides to Boost Your Skills
Inside the app, you'll discover their interactive cooking mode that features meal prep tips to make preparing your dinner quick and easy. Having access to this should help boost your kitchen confidence. My one wish is that they had complimentary video walkthrough guides like Blue Apron does.
Get Inspiration for Meals From the HelloFresh Archives
What are you supposed to do for dinner when you don't have a HelloFresh meal to prepare? Their app helps fill in these meal gaps. You can browse through their expansive database of curated recipes, which they say is one of the largest in the world. Not only that, but the app gives you the ability to search for a particular type of meal that comes to mind or a specific ingredient that you'd like to use. You can also save your favorite recipes, give them ratings, and add comments. This way, you can easily refer to them later on. 
Syncing Between the HelloFresh Mobile App and Your Apple Device
When cooking, it's important to keep an eye on the time. You don't want to overcook your food, otherwise you risk the chance of ruining it. Luckily, the HelloFresh app actually has a built-in timer that allows you to track your cooking times with your Apple Watch.
Another way the app syncs with Apple is through the Health app. If you've been using Apple's Health app to get fit and stay healthy, this will really come in handy for you. Instead of having to manually enter nutritional information for your HelloFresh meal, it'll be updated automatically.
HelloFresh vs. Blue Apron
If you're familiar with meal kits at all, you likely know about Blue Apron from their extensive advertising across the web and on podcasts. They're the one major competitor to HelloFresh.
While both Blue Apron and HelloFresh are alike, there are some key differences you should know about before making your final decision between the two. If you're considering both, any one of these differences might be make or break differences…
Blue Apron is the only one that offers wine pairings. HelloFresh used to offer a wine add-on too but discontinued it.
HelloFresh allows you to receive up to 5 recipes per week while Blue Apron only allows you to receive up to 4.
HelloFresh allows you to add other foods and meals to your box such as avocados, meats, and even easy to make lunches and breakfasts. This is a big deal if you need to have more than just the dinner recipes that Blue Apron offers.
Blue Apron has a separate "market"that offers wine packs, kitchen tools, and pantry essentials like seasonings.
Blue Apron has recipe cards that are slightly easier to read (bulleted steps instead of paragraph of text).
While they have their differences, their price is basically the same. Both start at $7.49 per serving.
Pros and Cons of HelloFresh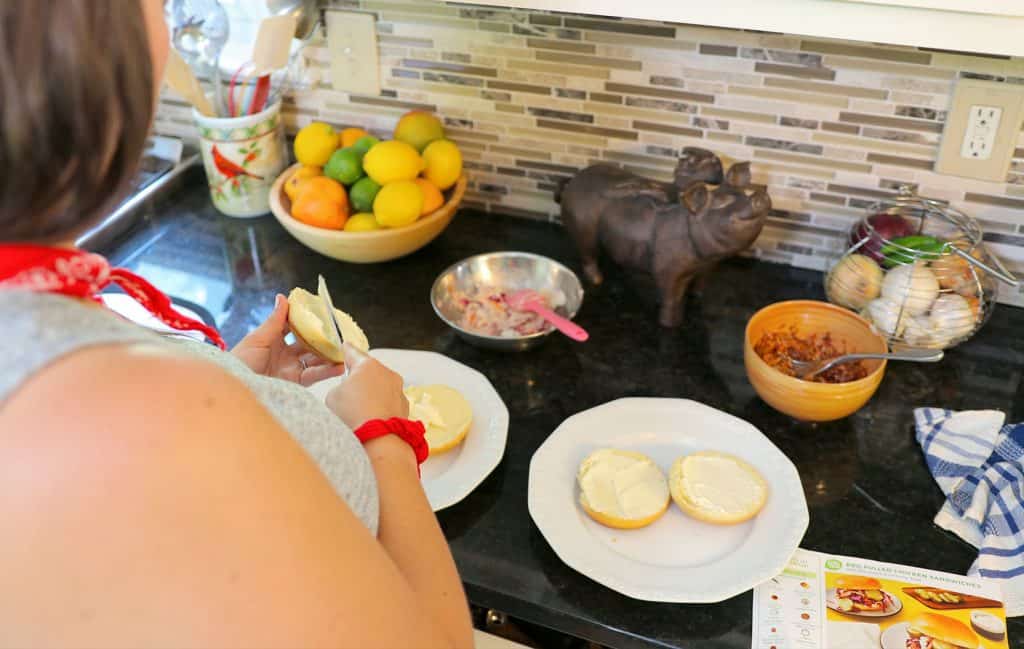 Now that we've covered HelloFresh in-depth, including our personal experience, let's go over the key features we love about them and what we don't…
HelloFresh Pros
They have excellent customer support. Whenever we haven't enjoyed a meal, we've contact customer support and they've given a refund/credit.
They now include little free gifts in your box. This may seem small but I really like the fact that they include a little extra free gift in your box. We've received chocolate bars and Red Bull so far.
Meals are full of flavor and delicious. I have to say they know how to put together a recipe that is very tasty.
They now have additional meals and foods. If you need more than just the dinners, you can add extras into your box like additional meats, avocados, easy-to-make lunches, and there are sometimes even breakfast meals.
They vary the menu but bring back "hall of famers" often. There's nothing worse than loving a meal kit meal but they never bring it back on their menu. On the flip side, it gets boring when a meal kit doesn't vary their meals and always offers the same meals. HelloFresh has a good balance between varying meals and bringing back the top ones.
HelloFresh Cons
Not enough meals to fill a whole week. It surprises me that HelloFresh still doesn't allow you to add enough meals to your box to feed you for the week, even with the add-ons.
Their recipe cards could be designed better. In addition to the wall of text for the step-by-step instructions, they're also lacking full nutritional information.
Not a lot of information on how they source their ingredients. Surprisingly, even with a deep dive on the internet, I couldn't find much information regarding their sourcing process or ingredient specifics. I'd love to know what farms they work with, if their foods are GMO, animal welfare information, etc.
They underestimate the preparation times. In many recipes I found that when HelloFresh stated it would only take 10 minutes to prep the meal, it actually ended up taking at least double that.
Does HelloFresh Offer Any Coupons or Promo Codes?
Yes, HelloFresh does offer coupons and promo codes. And to help save you money, we've outlined the best ones. Use any of the coupon or promo codes below…
You'll receive $60 off with coupon code "9J-AFA2P".
All medical professionals will receive an extra 50% off their order after verification.
Who Is HelloFresh Right For?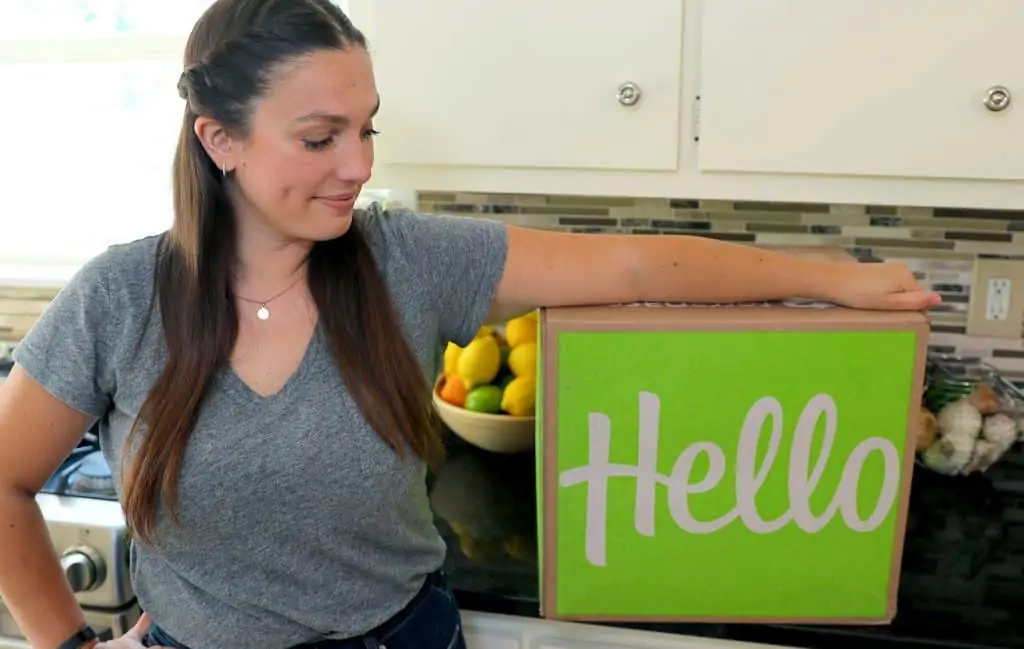 While HelloFresh is one of the oldest and most popular meal kits on the market, I don't think they're necessarily right for everyone. In fact, based on my personal experience, they're really only right for a specific household. If you're looking to have 2 to 5 easy-to-make dinner recipes delivered to your home with the ability to add-on a few extra foods, HelloFresh is perfect for you. Their meals are absolutely delicious and rival Marley Spoon's (one of the tastiest meal kits we've tried).
However, if you're looking at HelloFresh as a way to learn how to cook, you may be better off going with Blue Apron. While both meal kits are pretty similar, I believe Blue Apron has a better recipe card that's easier to follow. Blue Apron even goes the extra mile by including video tutorials on their website to help guide you through tougher recipe steps.
Overall though, I like HelloFresh. They're a good traditional meal kit and while the recipes might not be super healthy, they are truly delicious.
Past HelloFresh YouTube Reviews
Have a question about HelloFresh we didn't answer? Have you tried their meal kit before? Let us know in the comments below!