Diet meal delivery services are a dime a dozen these days. So, when I first heard about ModifyHealth, I thought they were like any number of the other Atkins, keto, paleo, etc. meal delivery services we've previously tested.
However, I was wrong.
ModifyHealth is one of the few  meal delivery services out there that doesn't frame their program as a way to lose weight. Rather, they take a different approach entirely by looking at food as medicine and crafting their meals to improve overall wellness rather than just weight loss.
Upon doing more digging as well as getting a chance to try their program and meals myself, I was intrigued with just how unique ModifyHealth's meal delivery service is among the others out there.
Today I'm going to share my honest thoughts about ModifyHealth—from how it works and my taste tests to what I love and what I don't.
Before jumping into the review of ModifyHealth, do be aware that this is not medical advice. You should speak with your doctor before stopping or starting any diet. ModifyHealth even states on their website, "The meals are not intended to diagnose, treat, cure, or prevent any disease."
What Is ModifyHealth & How Do You Get Started?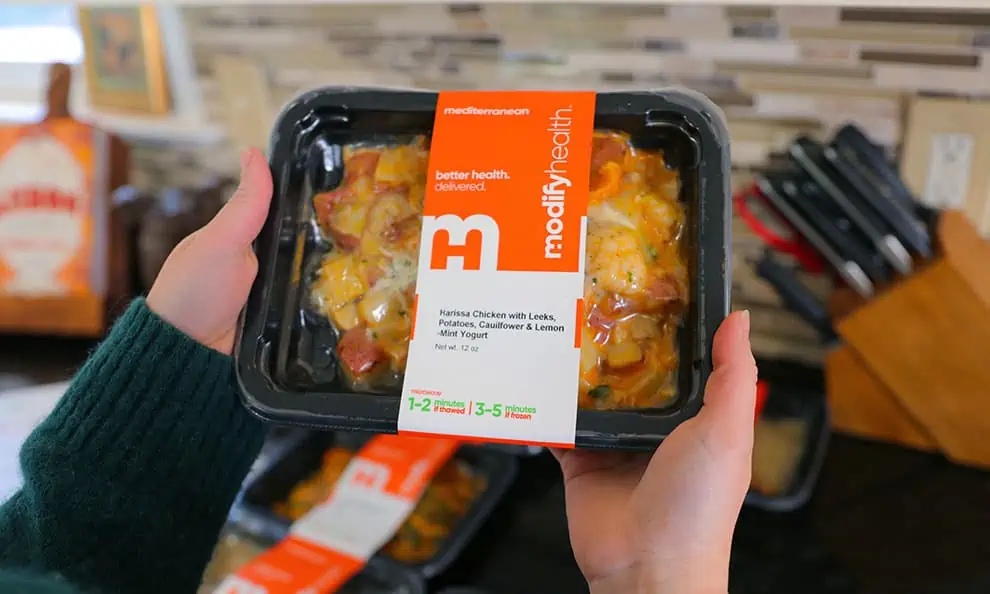 ModifyHealth is a pre-made meal delivery service with programs/plans which focus on crafting nutritionally balanced meals that fit into specific diets.
Upon signing up, they ask you to select between two of their main plans—currently Low-FODMAP and Mediterranean. We'll be going over both of those (along with the specific diets accommodated later on).
From there, you'll have the ability to begin personalizing the meal plan to best fit your needs, including:
Choosing whether you'd prefer to receive additional expert advice from a dietician.
Selecting the quantity of meals you'd like to receive.
Excluding specific ingredients and allergens.
From there, ModifyHealth gives you the ability to select the meals you'd like to receive in your first box.
What I enjoy most about their onboarding process is that they give you the ability to customize your plan and select your meals without having to first pay or input any personal details beforehand.
This might seem like a subtle thing to call out but there are many meal delivery services we've tested in the past that make you give them your email address before you can even see the meals that they offer. This has occasionally led to me getting spammed by their email marketing services.
ModifyHealth Plans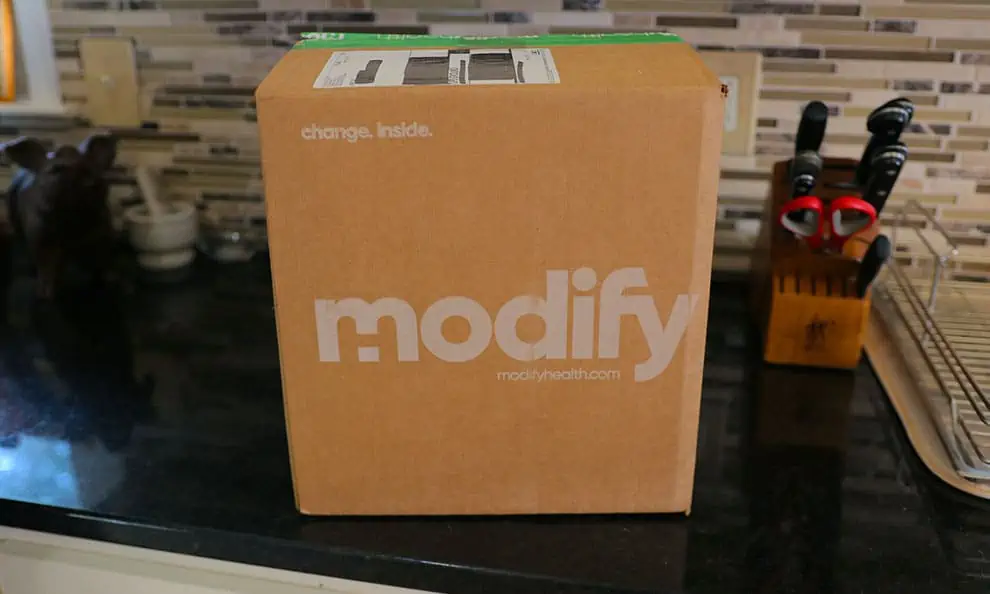 As mentioned above, ModifyHealth currently offers 2 meal plans: Low-FODMAP and Mediterranean. Here's an in-depth look at both…
Low-FODMAP Plan
This plan was built specifically to help those who are suffering from irritable bowel syndrome (IBS) and some other GI issues. For that reason, it likely won't be the right choice for the majority of people reading this article. That being said, if you do suffer from IBS, you will definitely want to consider this plan. This is because, not only is ModifyHealth one of the few meal delivery services out there with a low FODMAP plan, they are the only one that is currently recognized and accredited by the foundation that created the diet in the first place (Monash University).
Should you choose to go with the Low FODMAP plan, you'll have the ability to personalize it in a variety of different ways.
First, you'll be able to select whether you want to go with a full Low FODMAP program or just the meals. They break this down into 2 options...
Low-FODMAP Program: Selecting this will give you the ability to cover all of your meals (breakfast, lunch, and dinner) or just lunch and dinner. You'll also have the option to receive GI specialty-trained dietitian support and low-FODMAP educational materials.
Low-FODMAP Meals: Selecting this will only give you access to all of their breakfast, lunch, and dinner meals. While this option does not come with dietician support, you can add it onto your plan.
It was a little tricky for me to understand the difference between both of these options at first. Basically, the Low-FODMAP Program is a "bundle" of meals where you have the option to add more meals and dietician support. The Low-FODMAP Meals option is more a la carte. Regardless of the plan you choose, though, you can add as many meals as you'd like to your box each week.
Once you've selected the plan option you prefer, you can begin to customize by the specific ingredients you'd like to exclude as well as begin selecting the meals for your first box.
Mediterranean Plan
This is the plan most people are likely to opt for since the meals are more accommodating to general wellness rather than the highly restrictive Low-FODMAP diet.
If you're unfamiliar with the Mediterranean Diet, it's considered to be the diet that doctors are most likely to recommend. Why? There's a wide array of consistent research that backs up the Mediterranean Diet's efficacy. This includes reducing the risk of cardiovascular diseases, improving cognitive function, and more.
The ModifyHealth Mediterranean Plan is structured similarly to their Low-FODMAP plan in that you have 2 plan options you can go with...
Mediterranean Get Well™ Program: Selecting this option will give you the ability to choose upwards of 10 lunch and dinner meals per week. Additionally, you'll receive educational materials and have the option to receive dietician support.
Mediterranean Meals: Selecting this option gives you the ability to choose upwards of 6 lunch or dinner meals each week.
The biggest difference between the two options really comes down to the quantity of meals per week. With the Mediterranean Get Well Program you get a minimum of 10 and can add on as needed whereas with the Mediterranean Meals you get a minimum of 6. Regardless of which plan you go with, you can add or remove the dietician support.
Diets & Allergens ModifyHealth Accommodates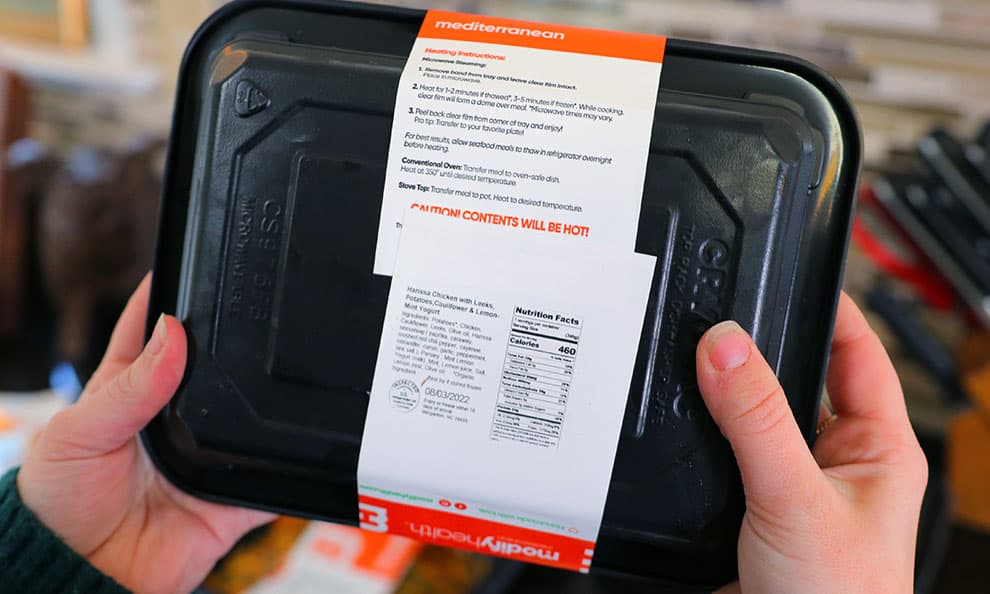 While the Low-FODMAP and Mediterranean diets are the central diets ModifyHealth focuses on, they also fit into a few additional diets as well.
Below are all of the diets that ModifyHealth covers:
Low-FODMAP
Mediterranean
Gluten-Free (They are one of the few certified gluten-free meal delivery services out there.)
Low Sodium (They abide by the American Heart Association recommendation that those who have hypertension or other heart conditions should consume no more than 1500 milligrams per day and those with diabetes should limit their daily sodium intake as well.)
Plant-Based
Pescatarian
Dairy-Free
One thing to keep in mind is that all of the Low-FODMAP plan meals fall under all of the other diets but not all of the other diets fall under the Low-FODMAP plan meals. This is mainly because the Low-FODMAP diet is a fairly restrictive diet in general.
Below are the allergens that ModifyHealth accommodates by allowing you to exclude specific ingredients from meals on your plan:
Animal Proteins
Chicken
Bell Peppers
Dairy
Salmon
White Fish
Soy
Eggs
Shellfish
Controlling Your Account, Plan, & Meals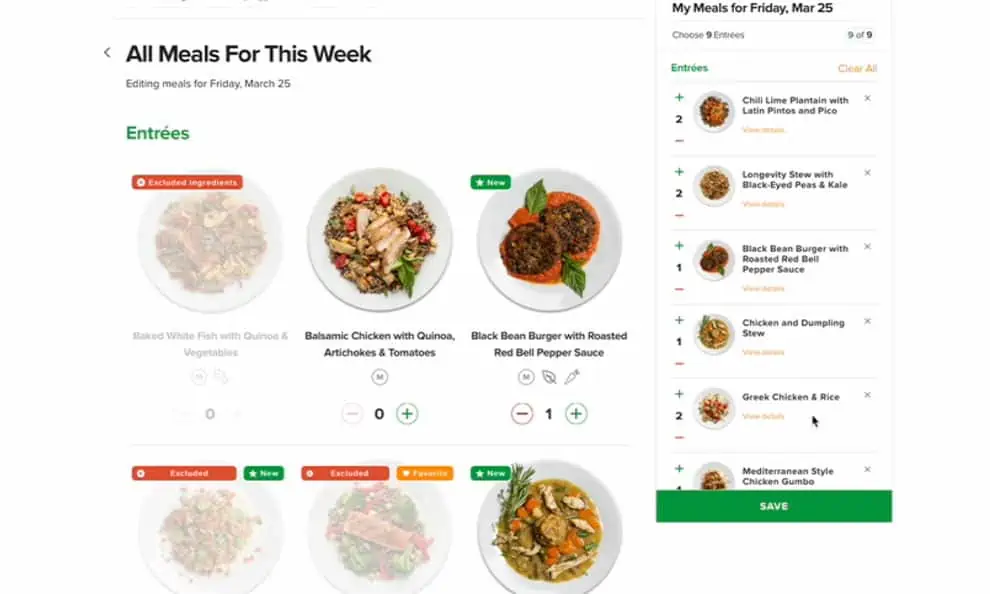 The way you control your ModifyHealth account works like many other pre-made meal delivery services we've tested before.
Logging in you'll immediately see the meals available for the upcoming week. If it's past the cutoff date, those meals will be "locked" and you won't be able to change them. You also have the ability to view and edit your meals for a few weeks out.
I found it to be simple to make any adjustments to your box, such as adding in more meals or swapping meals. Additionally, they make it pretty simple to skip weeks.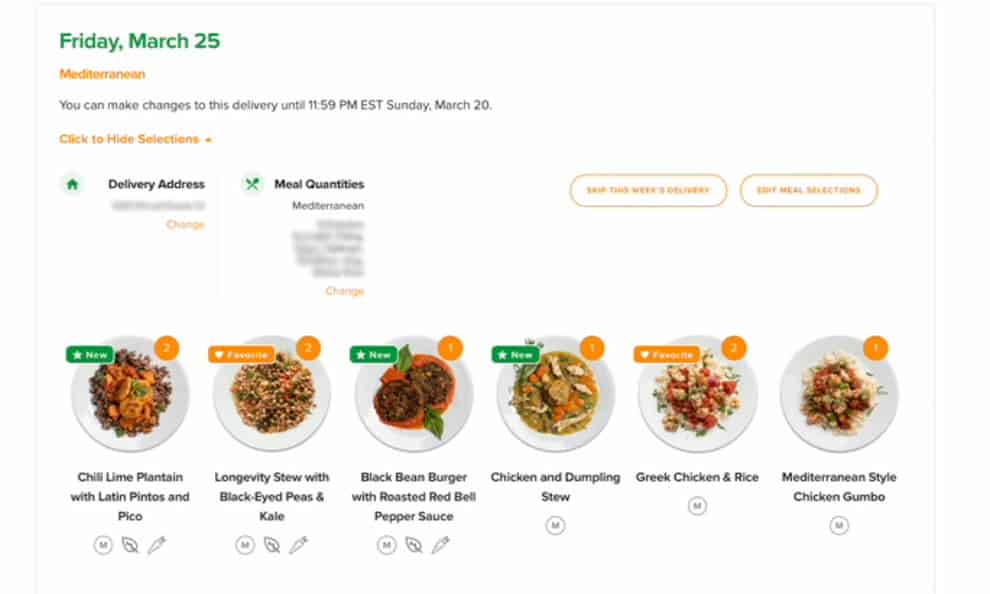 One thing I appreciate is that they don't "hide" the ability to cancel your account like I've seen some other meal delivery services do. Should you want to cancel your ModifyHealth subscription, just head to "Account Settings" and scroll down to "Manage Subscription & Payment Details". From there you'll see a link to cancel. This basically deactivates your account, allowing you to come back at a later time and reactivate it if you want.
Meal Variety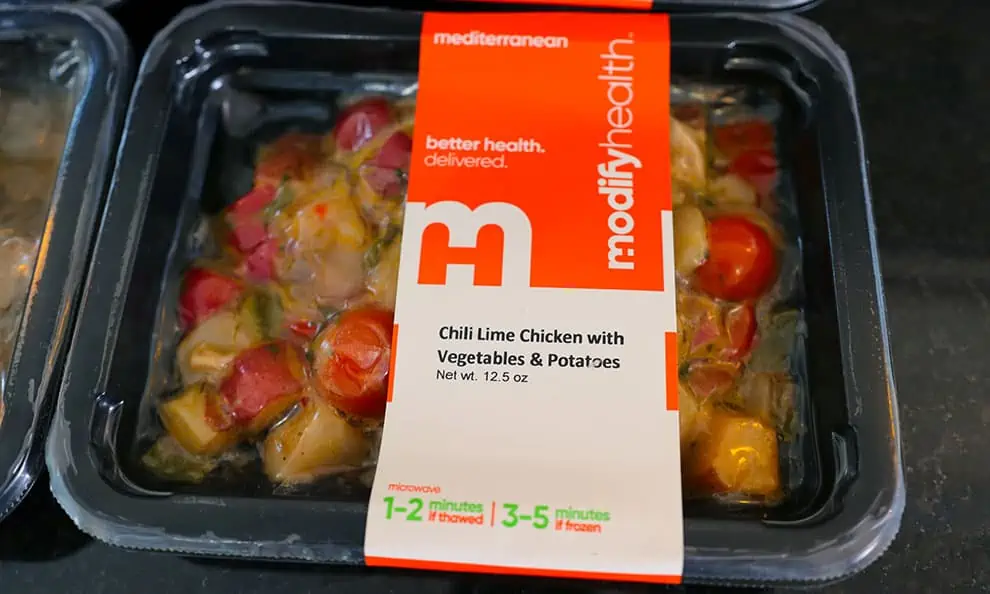 If I were to only look at the menu of meals ModifyHealth offers, there's no way I would assume this is a diet meal delivery service. That's to say, I believe they do a great job of providing a wide range of selection when it comes to the cuisines they offer.
On both the Mediterranean Diet and Low-FODMAP Diet meal plans they offer upwards of 30 meals each week. However, it's important to note that they only offer breakfast options on the Low-FODMAP plan.
Both menus contain a diverse selection of meals. This makes sense because the Mediterranean diet actually encourages eating a variety of different types of whole foods—from plants to lean meats to fish.
The meals ModifyHealth has on their menu range from classics such as steak and veggies to more eclectic offerings such as black-eyed pea gumbo. The best part is I found this amount variety on both plans they offer.
One of the things I noticed after we finished our first box from ModifyHealth is that the majority of the meals are "bowl" style, meaning all the ingredients are mixed together rather than separated. I have nothing against this myself but I know some people are particularly picky when it comes to having their food divided by meat, veggies, etc.
Meal Quality
While ModifyHealth doesn't say too much about where they source their ingredients, they do share some indicators about the overall quality of their meals:
Not every meal is 100% organic but they do use organic ingredients when they can.
The meals are crafted by classically trained chefs. What's more, in this video review, the reviewer mentions knowing the creators of ModifyHealth and how they work with James Beard award winning chefs to create their meals. This isn't something mentioned on their website.
None of the meats they use contain hormones or antibiotics.
They do not use any processed or artificial ingredients in their meals.
All ingredients used are non-GMO.
Their animal proteins are grass-fed meat, free-range poultry, and sustainably fished.
The meals we received tasted fresh. This was particularly noticeable when it came to the vegetables in the meals. Not only was there a nice crunch (they weren't soggy or overcooked) all of them retained a lot of flavor. That's saying a lot considering they're both pre-made and reheated. A little later on I'll dive into the specific meals we tested and what they tasted like.
Like most pre-made meal delivery services out there, ModifyHealth meals stay fresh for about 7 to 10 days after they're delivered. Should you want to preserve them further, it's possible to freeze them and they'll stay good for around 6 to 8 months.
Delivery & Packaging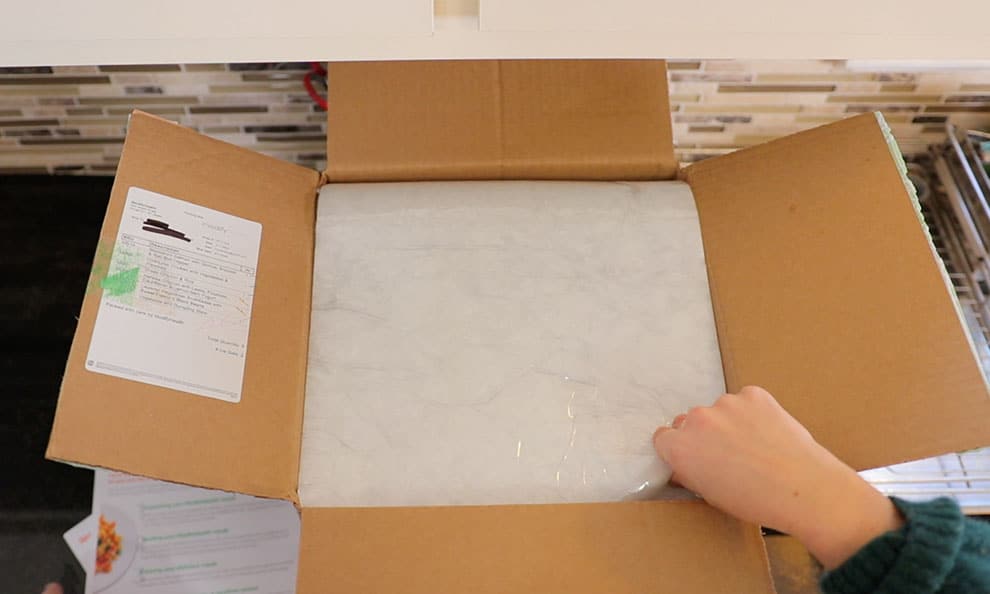 ModifyHealth delivers to the entire continental United States. This excludes Alaska and Hawaii.
One of the nicest things about their delivery process is that shipping is free on every order, regardless of your plan or the amount you order. This isn't something I see too often when we test meal delivery services. Usually they make you order a certain amount before free shipping is activated.
The meals come delivered in a cardboard box with an insulated liner. They say that they use ClimaCell insulation, which is environmentally friendly. However, in our first box it looks like we actually received a generic plastic insulated liner instead. Not a huge deal—maybe it was a mix up or they simply ran out of the ClimaCell insulation.
Within that insulation liner are the meal trays, which are covered in a few ice packs. They say that these ice packs are made from a water-soluble and food safe gel.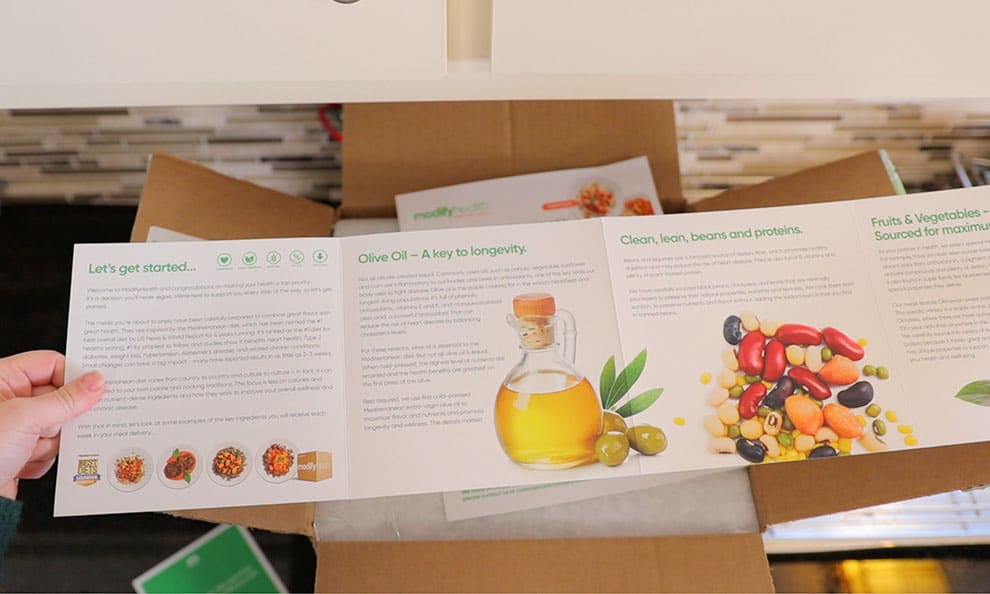 As for the meal trays, they have a similar look to what we've seen before with Fresh n Lean and Trifecta Nutrition. They're vacuum-sealed, which tends to do a better job at locking in freshness and protecting the meal than a simple plastic cover. Although, what I found nice about ModifyHealth's vacuum-sealed trays is that I found them to be much easier to open than Fresh n Lean's and Trifecta's (which often feel like they're superglued shut). Additionally, the trays are BPA-free.
On the front of the meal trays they lay out the basics like the name of the meal and how to heat it up. On the back they list out the nutritional information and ingredients used. Though, what I particularly appreciate is that they include a "best by" date. Some meal delivery services don't include this information and it makes it hard for me to know exactly when the meal actually spoils.
As an added bonus, ModifyHealth includes educational material about either the Mediterranean diet or Low-FODMAP diet (depending on the plan you go with).
With our first box being from the Mediterranean diet plan, we received some pamphlets explaining how the Mediterranean diet works, the types of food you can eat on it, etc.
Taste Testing Our ModifyHealth Meals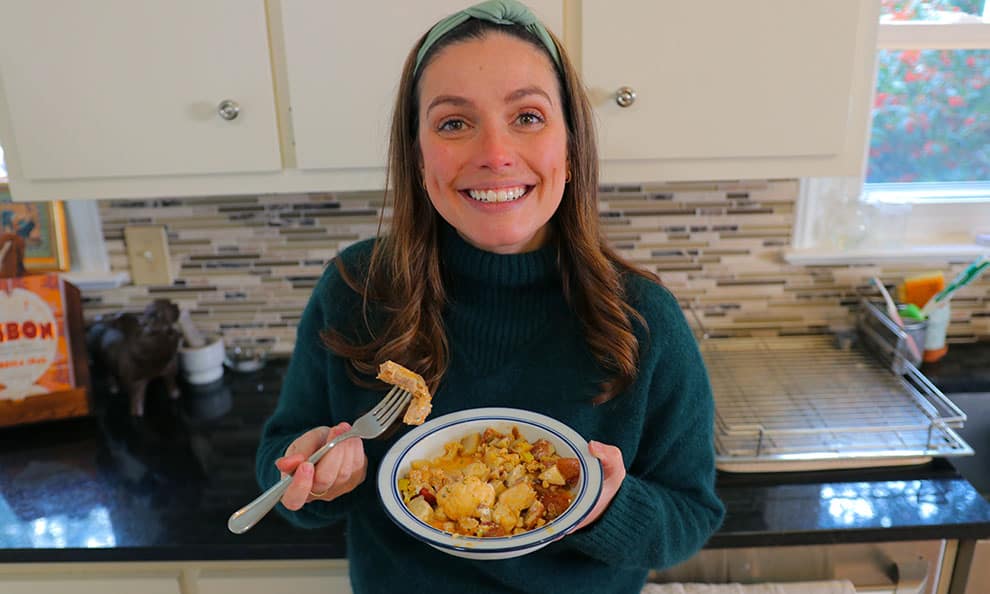 We went with the Mediterranean plan for our first box. Below are the meals we received, along with my thoughts on how they tasted.
Chili Lime Chicken with Vegetables and Potatoes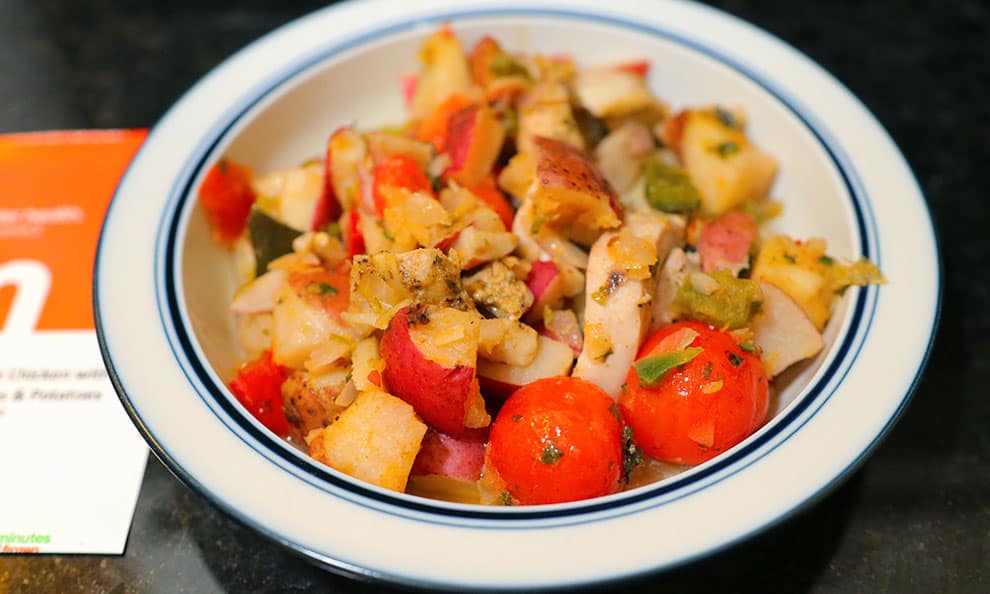 This was one of my favorite meals in this box. Between the cherry tomatoes and lime, it was bursting with flavors. Surprisingly, the cherry tomatoes weren't overcooked and soggy (as they sometimes can be in pre-made meal delivery service meals). While I found it filling, I wish that there was a bit more chicken to balance things out.
Vegetable Stew with Dumplings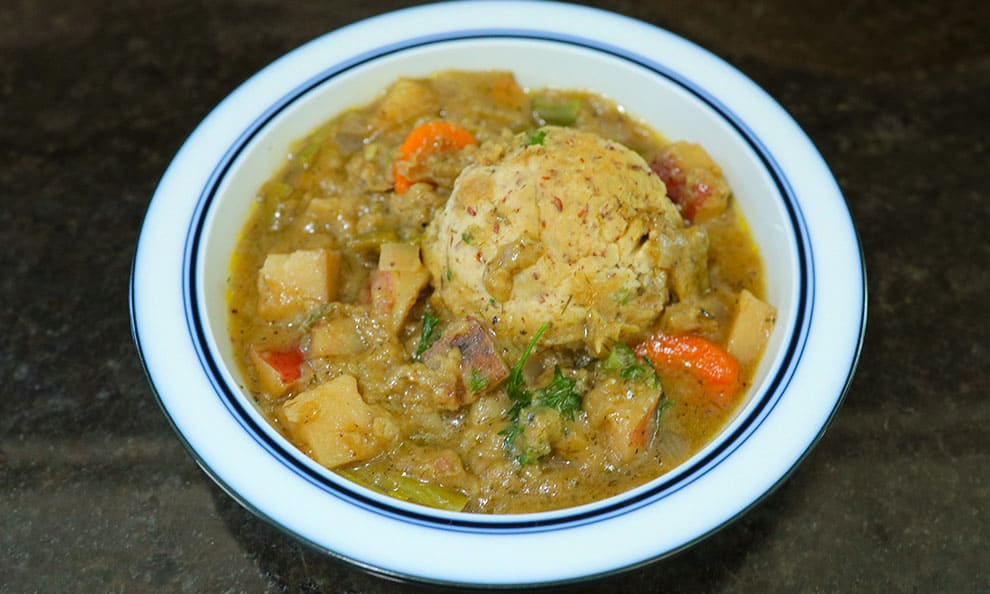 While this meal wasn't as colorful as some of the others, which had a multitude of different veggies, the stew portion was very tasty. I will say that the dumpling was slightly dry but after breaking it up a bit and letting it "soak" in the stew, I found it much more flavorful.
Harissa Chicken with Leeks, Potatoes, Cauliflower, and Lemon Mint Yogurt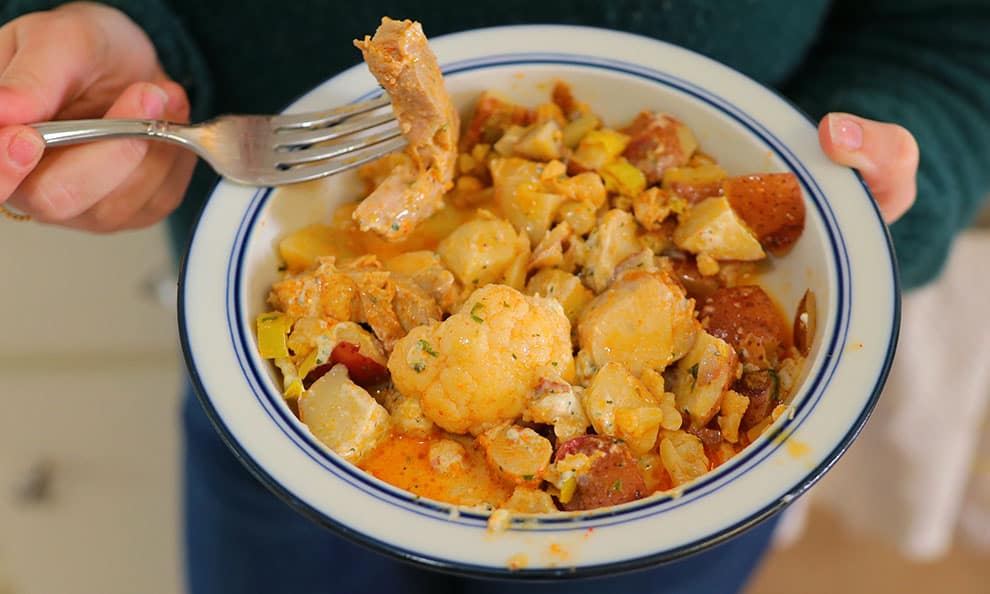 Emily and I both agreed that this was the best meal we received in our box. It's also the meal you can see Emily taste test in our video review here. It had everything going for it—a hearty amount of meat and different veggies, very flavorful, and very filling.
Layered Vegetarian Enchiladas with Sweet Potatoes and Black Beans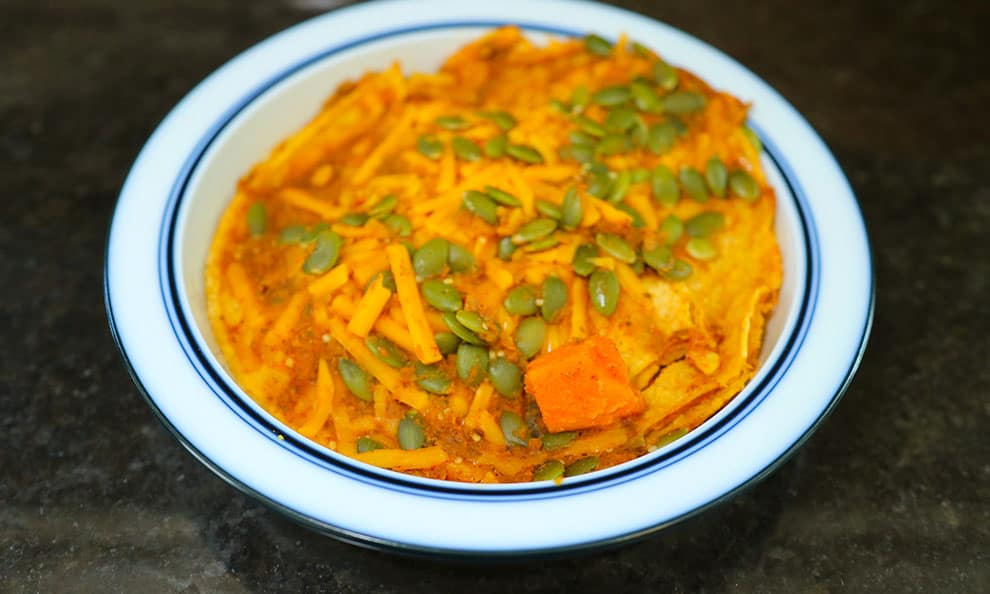 This was one of the more interesting meals in the box. It wasn't as flavorful as I'd hoped. However, for being plant-based, it was definitely filling and the sunflower seeds were a nice, unexpected touch.
Blackened Salmon with Quinoa, Broccoli and Red Bell Peppers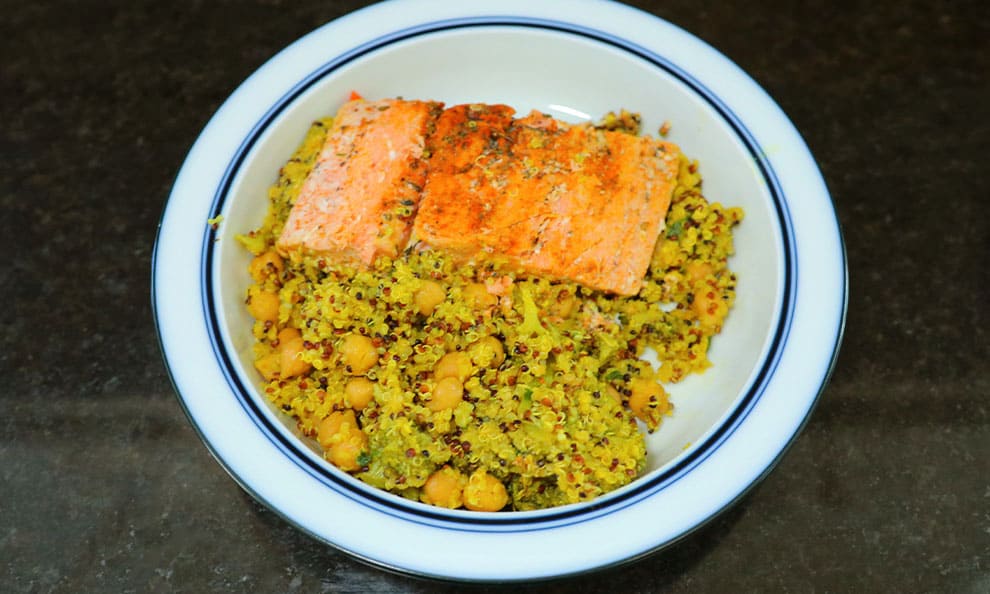 I'm not usually a fan of ordering fish from any pre-made meal delivery services simply due to the fact that fish can spoil quicker than other meats. That being said, I was surprised at how delicious it came out. One thing to note though, the meal seemed to be missing the red bell peppers. As you can see from the picture, there was quinoa, broccoli, and chickpeas. It's possible that they ran out of red bell peppers and had to use chickpeas instead.
Greek Chicken and Rice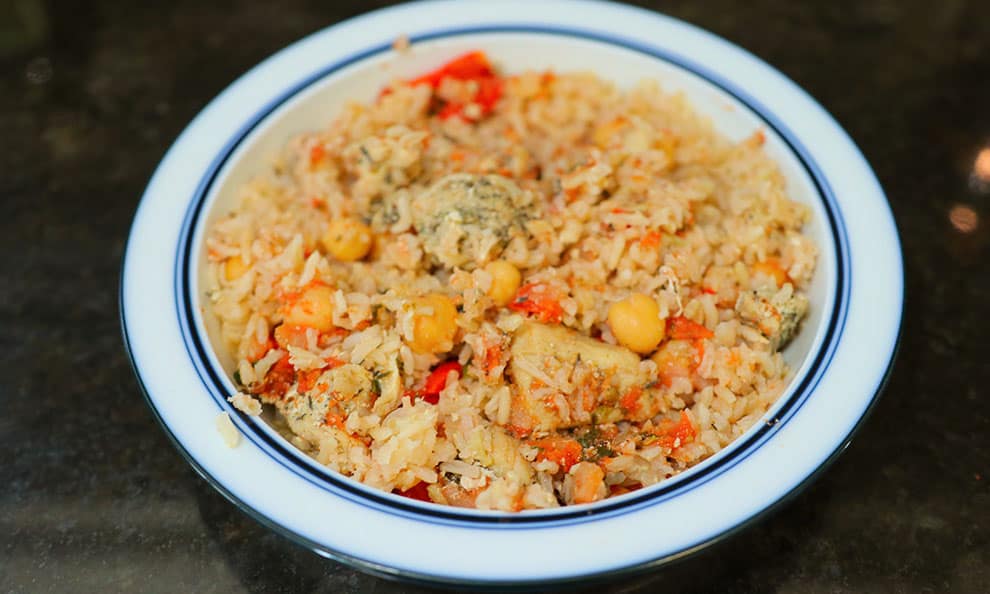 This was another favorite of mine. It had a good mix of vegetables, including chickpeas, bell peppers, and broccoli. Also, as you can tell from the picture above, it was one of the bigger portions compared to the others.
Food Box HQ Note: When heating, I found that the stovetop is much better than the microwave at bringing out the flavor of the meals.
ModifyHealth vs. The Competition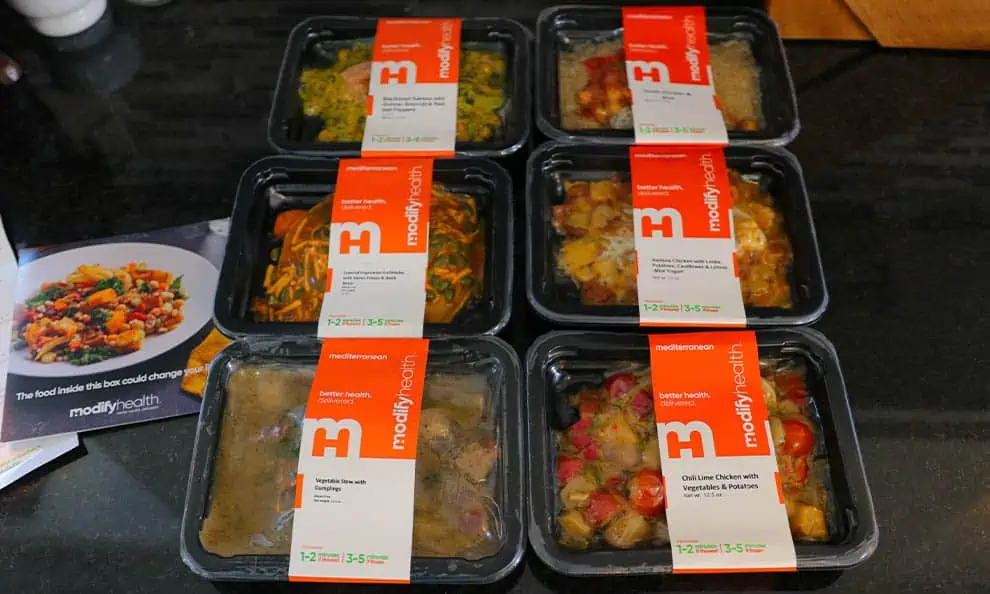 While there are a lot of pre-made meal delivery services out there these days, there aren't a ton that focus on the specific diets that ModifyHealth does (namely Low-FODMAP). In fact, as of right now, they really only have one main competitor—Epicured. Let's take a closer look at some of the main ways both of these meal delivery services are alike versus some of the main ways vary.
Here are the ways that they're similar…
Both offer Low-FODMAP and gluten-free meal plans.
Both craft their meals in partnership with medical professionals, dieticians, and award winning chefs.
Both claim that they are doctor recommended meal delivery services.
And here are the ways that they differ…
ModifyHealth is certified Low-FODMAP whereas Epicured is not.
Epicured only offers Low-FODMAP meals whereas ModifyHealth offers Low-FODMAP and Mediterranean diet meals.
Epicured offers GERD-Friendly meals, ModifyHealth does not.
Epicured has partnerships with Mount Sinai Gastroenterology care team and AbbVie pharmaceuticals in order to craft their meals.
ModifyHealth Pricing
The price you pay is going to depend on a few different factors, including the plan you go with and any add-ons. Below is a breakdown of the costs…
The Mediterranean Get Well™ Program plan option (10 or more meals per week) starts at $11.75 per meal.
The Mediterranean Meals plan option (6 or more meals per week) starts at $12.50 per meal. If you add 4 or more additional meals to your box, the price per meal decreases to $11.75 and this plan effectively becomes the same as the "Get Well™ Program" above.
The Low-FODMAP Program plan option starts at $165 per week which will get you either 14 (lunch & dinner) or 21 (breakfast, lunch & dinner) Low-FODMAP meals. Due to the way that they structured this option, it gets a little confusing to break down on a per meal basis. It's either $11.78 per meal if you only get the 14 lunch and dinners per week or $7.85 per meal if you get the 21 breakfast, lunch, and dinners.
The Low-FODMAP Meals plan option starts at $7.90 per breakfast and $11.75 per lunch or dinner.
Dietician support (up to 3 consultations) can be added to any plan for an extra $99.
As mentioned above, shipping is always free, regardless of the plan you choose or quantity of meals you go with.
I found their pricing to be just slightly more expensive than what other pre-made meal delivery services offer. To give you an example, Freshly's 10 meal per week plan comes out to $92.90 plus $10.99 shipping, which equals $103.89 or $10.38 per meal. On the other hand, Epicured charges around $15 per meal. ModifyHealth's pricing falls around the middle.
ModifyHealth Coupon
When we first tested out the ModifyHealth meals they reached out to us and sent over a coupon code exclusive for Food Box HQ readers. You can use the promo code "FOODBOX20" for 20% off of your first purchase.
Pros & Cons Of ModifyHealth
Before we wrap things up with this review, let's talk about what I like most about ModifyHealth and what I don't…
ModifyHealth Pros
Based on my experience, they offer larger portions sizes than many other pre-made meal delivery services we've tested in the past. Take a look at our meals above and compare them to previous pre-made meal delivery service reviews we've done here.
They are one of the best pre-made meal delivery options available for those looking for an easy way to follow a Low-FODMAP diet. As of writing this review, there are no other meal delivery services available that are certified Low-FODMAP by the organization that created the diet (Monash University).
They are one of the only meal delivery services that has a clinical advisory board made up of medical experts who help guide the company. In my eyes, this helps lend credibility to their meal delivery service.
ModifyHealth Cons
Some of the meals we had were lacking in flavor. It wasn't every one but I did find myself reaching for salt and pepper more than usual. This may have to do with the fact that the meals are more low sodium than others we've tested.
Breakfast options are only available on the Low-FODMAP plan, not any others. This wasn't a big deal for me since I either skip breakfast or have a simple smoothie. For others who want a meal delivery service to cover every meal, this could be a dealbreaker.
Final Thoughts: Who Is ModifyHealth Right For?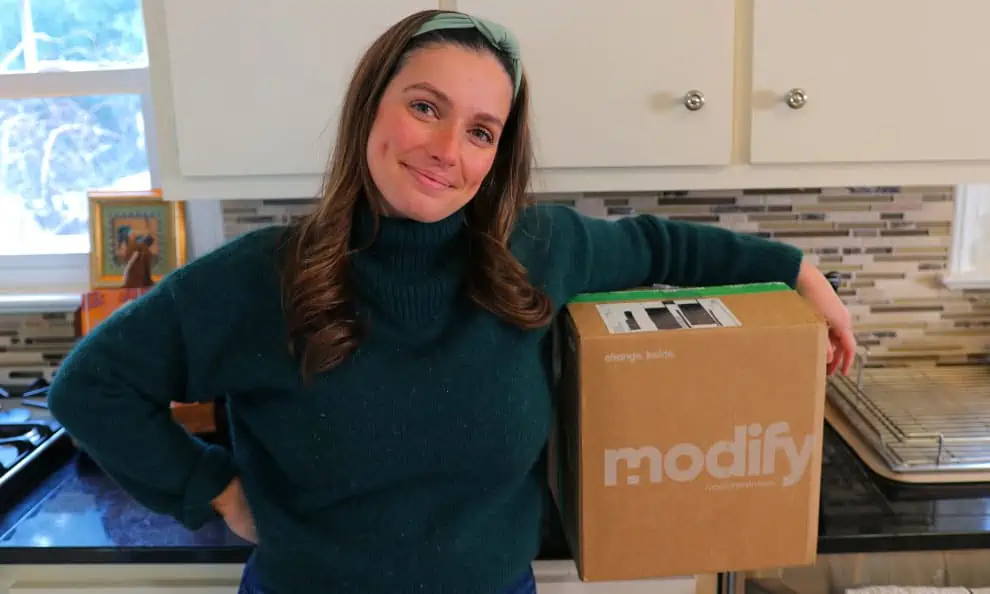 The world of pre-made meal delivery services has evolved a lot since we first started Food Box HQ. I remember when Freshly was the only service out there that could deliver meals across the country. Fast forward to today and there are dozens of pre-made meal delivery services popping up every year.
What makes ModifyHealth stand out is that they aren't taking the usual approach that these other new pre-made meal delivery services are. For example, rather than  using "fad" weight loss diet plans as a way to market their brand (like I've seen a lot of meal delivery services do in recent years) ModifyHealth built their entire menu off of one of the leading doctor-recommended diets (the Mediterranean diet).
Beyond that, they're one of the only meal delivery services that even has Low-FODMAP meals. As someone who has friends and family members suffering from IBS and other GI issues, I know a meal delivery service like ModifyHealth can be a huge help. It means no more having to double check serving sizes, ingredients, and hoping you don't eat the wrong thing that could trigger an IBS episode.
However, I wouldn't say that ModifyHealth is necessarily the best option out there for everyone. They aren't the most budget friendly and the flavor of the meals isn't on the level of Cookunity or Territory Foods.
That being said, if you're looking for an overall general wellness meal delivery service that crafts meals created in partnership with both classically trained chefs and medical professionals, ModifyHealth is a good option to consider. Additionally, if you're someone following a Low-FODMAP diet, in my opinion, there is no better option out there.
Have a question about ModifyHealth I didn't answer in this review? Have you tried ModifyHealth before? Let us know in the comments below!