If you've been exploring options for pre-made meal delivery services, chances are high that you've come across Factor Meals, as they're currently one of the most popular options available.
This meal delivery service has undergone several name changes in the past, going by Factor75, Factor_ Meals, and simply Factor. Not only have they rebranded, but they've also made significant changes to their meal delivery service over the years.
As someone who has been using Factor Meals since 2017, I've had the opportunity to see how their meal delivery service has evolved over the years.
In this review, I'm going to share my experience of using Factor Meals (on and off) for more than six years.
Food Box HQ Disclaimer: Before we delve into the review of Factor Meals, it's important to acknowledge that the information provided in this article is for educational purposes only and should not be considered medical advice. You should consult with a qualified healthcare professional before making any changes to your diet, particularly if you have a medical condition or are taking any medication. Lastly, food allergies and sensitivities are a serious matter, and it's essential to carefully review the ingredients of any meal delivery service before consuming the meals.
Why Should You Trust This Review?
Here at Food Box HQ, we have invested more than half a decade in purchasing and trying out various pre-made meal delivery services. We have purchased dozens boxes from Factor Meals since 2017.
As with all of the food boxes we try, we put Factor through a rigorous review process (which you can read about here).
For your reference and so that you can make the most well-informed decision, we purchased all of our Factor Meals boxes ourselves and were not gifted any free items.
Additionally, we strictly prohibit any sponsored content or brand influence in the content we create. This is to guarantee that our reviews remain as objective and impartial as possible.
How We Tested Factor Meals For This Review
When reviewing any meal delivery service, I like to make sure that I'm being as thorough and objective as possible. Below you'll find the key factors I based this review around…
Taste: A crucial aspect of any meal delivery service is the actual taste of the food. As such, I assessed the flavor of the meals.
Variety: Repeatedly ordering the same meal can be boring, so I evaluated how well Factor Meals diversifies its menu on a week to week basis. Additionally, I considered the variety of cuisines offered to determine if the service could cater to different taste preferences.
Quality: The taste and variety of the meals would be irrelevant if the food's quality was subpar. Therefore, I examined the type of ingredients used, sourcing practices, and potential allergens (particularly for individuals with food allergies).
Delivery Options: The convenience of any meal delivery service hinges on timely and reliable deliveries. In this review, I analyzed the availability of delivery options, such as scheduled deliveries and vacation holds.
Packaging: I scrutinized the quality of Factor Meals' packaging, specifically its ability to maintain food safety and temperature during transit. I also considered the eco-friendliness of the packaging.
Value: The cost of a meal delivery service is a significant factor in most people's decision-making process. As part of my review, I compared the cost of Factor Meals with that of similar meal delivery services. This allowed me to determine whether Factor Meals offers good value for the money.
Ease of Use: The service's ease of use is another essential factor. I assessed how easy it was to modify meals, switch plans, and cancel the service.
Of course, while I've spent a lot of time and energy on this review, I implore you to go out and look at other people's experiences. The popular review aggregators, such as Trustpilot and Yelp, are a good start but keep in mind that people usually write those reviews when they are either very upset or very happy with their purchase. So you tend to see the extremes of both sides.
In my experience, one of the most reliable sources of genuine testimonials from average Factor Meals customers is the /r/ReadyMeals subreddit. This platform provides a forum for people to share their personal experiences with various pre-made meal delivery services. You might even find me (my username is FoodBoxHQ) in the comments answering questions!
About Factor Meals
Before Factor Meals there was Factor75, which was founded by Nick Wernimont.
As an MMA fighter and prolific boxer, Nick felt like he wasn't getting the results he wanted after training hard. He says in this interview, "I was training 4 hours a day and I didn't know how to eat healthy or have the time. It really started affecting me—I could hardly leave the house, I was so run down."
It wasn't until he hired a personal chef to cook meals for him that he began to see a big increase in his performance, both mentally and physically.
That's when everything clicked. Nick wanted to create a service that allowed everyone to have balanced, healthy meals, regardless of whether they're in the gym or the boardroom.
I was able to dig up the initial email that Nick sent his college roommate when he got the idea for Factor75 (which you can see below).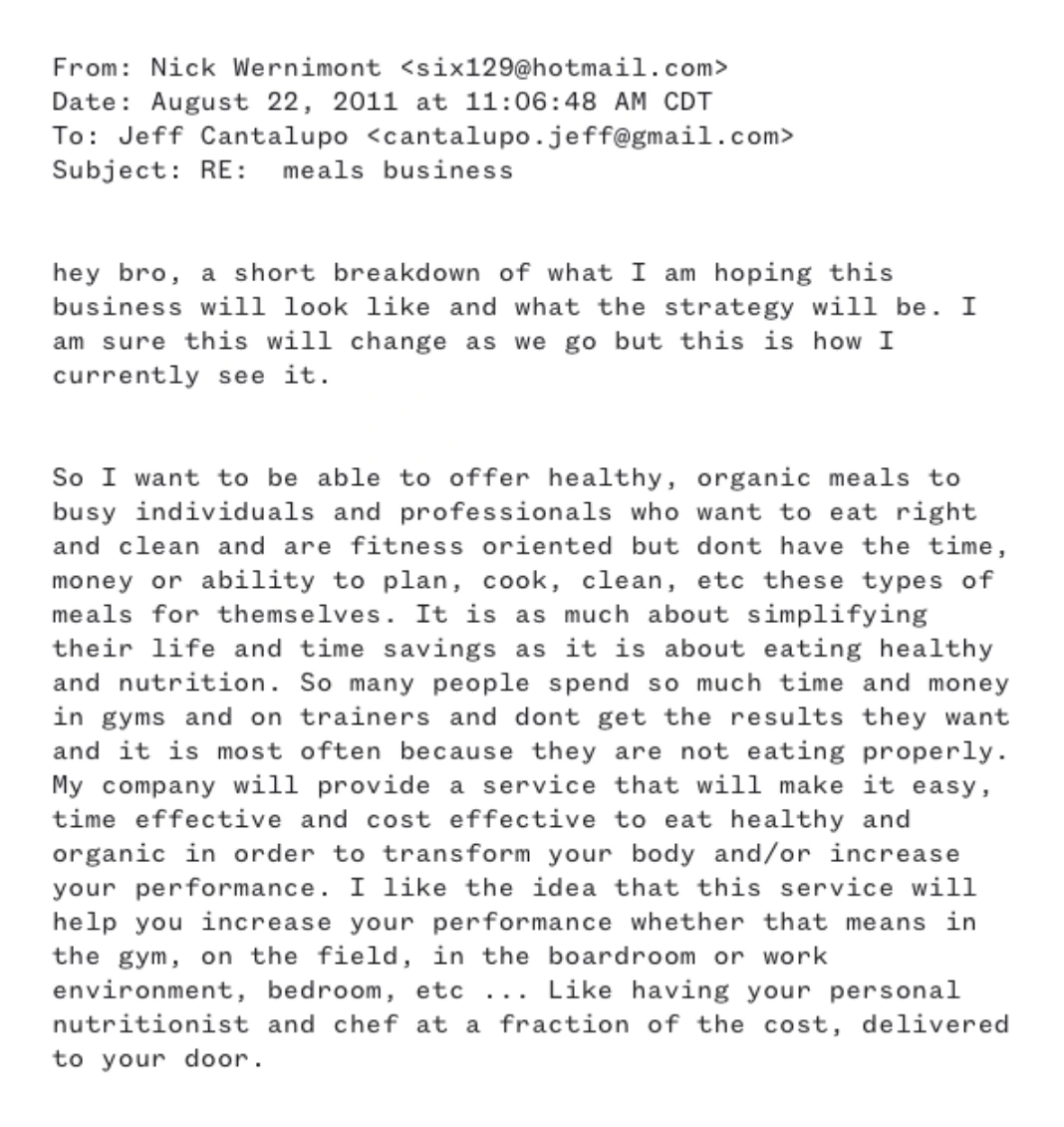 What's remarkable is that in the email you can see the foundation for what Factor has become today.
The name Factor75 came to Nick because his philosophy is that 75% of how you look, feel and most importantly, perform, is a factor of what you eat.
It should be noted that Factor was not an overnight success. In fact, early on it almost went out of business.
As explained in this infographic comic from Inc.com, in 2015 Nick hired venture capitalist, Mike Apostal to become his COO. What Mike didn't know before taking the role was that Factor75 was on the cusp of going out of business. On Mike's first day, they only had 2 weeks of payroll left in the bank.
Through Mike's connections in the venture capital industry and him going as far as selling his own home, they were able to raise enough money to keep the business afloat.
In order to turn the business around, they completely transformed Factor75's service by leveraging customer data. One of the key ways they were able to do this was by focusing on offering meals that were customer favorites rather than constantly trying to spend money expanding their menu and introducing new meals.
While Factor75 started to turn itself around and gain traction as a prepared meal delivery service, unfortunately, tragedy was right around the corner.
In May of 2018, Nick was involved in a devastating motorcycle accident that resulted in a coma and a traumatic brain injury. The incident left everyone shocked and deeply concerned for Nick's life. However, in a display of leadership and determination, Mike stepped up to take charge and run Factor75 the way he thought Nick would've.
That quick thinking saved Factor from going out of business.
In the following year, they entered into discussions with HelloFresh regarding a potential partnership, which ultimately resulted in their acquisition in 2020 and integration into the HelloFresh Group brand.
How Factor Meals Works (Joining & Choosing Your Meals)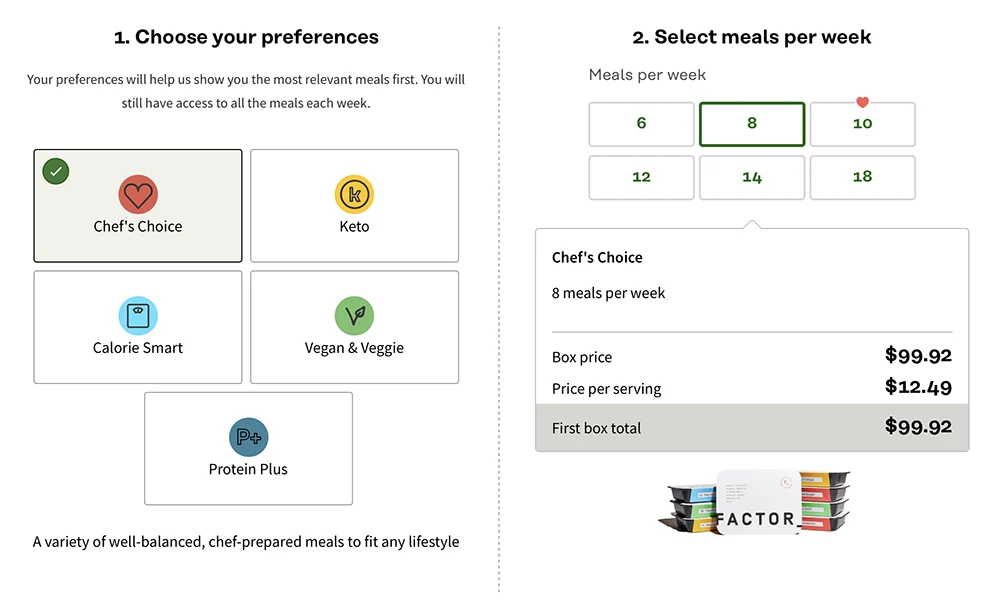 Factor Meals works very similarly to most other premade meal delivery services that I've tried, such as Cookunity and Trifecta Nutrition.
Every week, they'll send you fresh (not frozen) prepared meals based on the specific plan you choose.
I found their sign-up process to be fairly straightforward. In fact, it looks nearly identical to the HelloFresh, Green Chef, and EveryPlate sign-up process (probably because they're all owned by the same parent company).
First, you'll be asked to choose your plan preferences—Chef's Choice, Keto, Calorie Smart, Vegan & Veggie, and Protein Plus. I'll go more in-depth on what each of those plans entails, as well as my personal thoughts on each, a little later on.
Second, you'll be asked to choose the amount of meals you'd like each week—6, 8, 10, 12, 14, and 18. From my experience, having tried dozens of different prepared meal delivery services, Factor is one of the few that I've tried that allows you to order up to 18 meals each week. The only other option that exceeds 18 meals per week is Trifecta Nutrition, which allows you to order up to 21 meals each week.
After finalizing your preferred meal plan and size, the next step is to input your address and payment details before selecting your meals for the upcoming week.
If you want to avoid any unpleasant surprises, I recommend reviewing Factor's menu before signing up. You can find the menu for the upcoming week on their homepage or on their weekly menu page here. This way, you can ensure that they offer meals that match your dietary preferences and taste preferences. There's nothing worse than going through the whole process of signing up, only to find out that none of the meals actually appeal to you.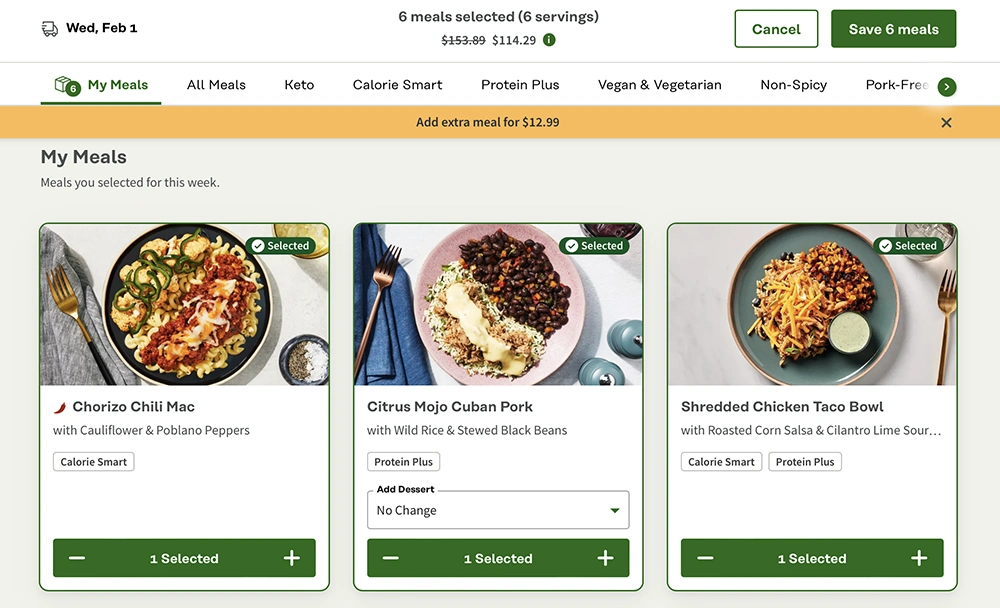 Once subscribed, each week you'll be able to choose from a new menu of meals. You'll want to be sure to select your meals before Wednesday by 11:59 PM CST. Should you miss this cut-off, Factor's algorithm will automatically choose your meals for you based on your plan and previous meals that you've ordered and rated.
My Honest Thoughts Of Factor Meals Plans
Factor Meals offers five different plan categories which, although not as extensive as some other prepared meal delivery services I've tried (such as Fresh n Lean, which has 8 plans and regularly introduces new ones), should still cater to the majority of people's preferences.
It's worth noting that you can select multiple plans. For example, if you wanted, you could select the Protein Plus, Keto, and Calorie Smart plans. Technically, you could select all of the plans, if you really wanted to.
Here are my thoughts on each of their plans…
Chef's Choice Plan
The Chef's Choice plan from Factor Meals initially puzzled me as it shares the same name with a plan from another meal delivery service, Trifecta Nutrition, where the chef selects your meals for you. However, Factor's Chef's Choice plan does allow you to choose your meals.
This is their most inclusive plan, which covers a wide range of different cuisines and diets. This means you can expect to find everything from keto and high-protein meals to vegan options and more within this plan.
I typically opt for this plan when ordering from Factor Meals as it gives me the highest level of flexibility with my meals. This allows me to make dietary adjustments and customize my meals to my specific needs on a week-to-week basis.
For instance, when I'm aiming to cut back on carbs, I can quickly filter the menu to display all of their keto options. Or, when I'm looking to pull back on the total number of calories I'm consuming, I can quickly filter my menu by their Calorie Smart options.
Because this plan encompasses all of their meals, it's a great choice for those who want to have the most flexibility in their diet.
Keto Plan
Factor's Keto plan is, as the name suggests, designed for those following a keto diet. They say that all of the meals will be low carb and high fat.
I was a bit skeptical when I first read that they have a keto plan since the keto diet is fairly restrictive. The goal of the diet is to put your body into a metabolic state known as ketosis, whereby your body burns fat for energy over glucose.
While there are a variety of different types of keto diets, the standard keto diet involves eating a macronutrient ratio of 70% fat, 20% protein, and 10% carbs.
In this diet, you'll eat significantly fewer carbs than the average person, with a limit of less than 50 grams of carbs per day. This means that carbs should only make up 5-10% of your daily calorie intake.
Instead, you'll consume a high amount of healthy fats, such as avocado, nuts, seeds, and oils, which should make up about 70-75% of your calorie intake, and moderate amounts of protein, which should make up about 20-25% of your calorie intake.
For instance, if you follow a 2,000 calorie per day diet, you'll consume only 200 calories (or 50 grams) from carbs, 400 calories (or 100 grams) from protein, and 1,400 calories (or 156 grams) from healthy fats.
Perhaps you, like me, are wondering whether Factor's meals are truly keto-friendly. To provide some clarity, let me break down the macronutrient profile of three different meals (breakfast, lunch, and dinner) from their keto plan so you can see what an average day of eating would look like...
The total macronutrient breakdown for all of those meals is…
132 grams of fat
47 grams of carbohydrates
112 grams of protein
To determine if this diet is ketogenic, we need to calculate the percentage of calories that come from each macronutrient.
132 grams of fat contains 1,188 calories (132 x 9 calories per gram of fat)
47 grams of carbohydrates contain 188 calories (47 x 4 calories per gram of carbohydrate)
112 grams of protein contain 448 calories (112 x 4 calories per gram of protein)
In total, these 3 meals contain 1,824 calories.
Now we have to calculate the percentage of calories from each macronutrient:
Fat: 1,188 calories / 1,824 total calories = 65% of calories from fat
Carbohydrates: 188 calories / 1,824 total calories = 10% of calories from carbohydrates
Protein: 448 calories / 1,824 total calories = 25% of calories from protein
This is almost in line with the standard keto diet. However, one would need to eat slightly more fat in order to hit 70% of calories from fat (rather than 65%). The good news, in this case, is that Factor has a pretty massive marketplace of add-on foods (many of which are also keto-friendly). One of their "Fat Bomb" snacks would put you at the ideal macro range for keto.
All of that math above was a long winded way of confirming that Factor's Keto meal plan does, in fact, offer keto-friendly meals.
Calorie Smart Plan
Factor says that their Calorie Smart plan offers dietitian-approved meals that are around or less than 550 calories per serving. Therefore, this meal plan is really geared towards those who are looking to lose weight through a calorie-controlled diet.
Experts, such as the Mayo Clinic, say that adopting an eating style that promotes weight loss must include lowering your total calorie intake. That being said, you will want to speak with a medical professional such as your doctor or dietician to make sure that this plan best suits your individual needs. This is because making significant changes to your caloric intake can be a bit dangerous. It can lead to low energy levels, sleep issues, anxiety, and more.
I very rarely choose meals from Factor's Calorie Smart plan because I've found that most of Factor's meals (regardless of the plan) are within 550 to 750 calories anyway.
Here's a look at a few example meals from this plan…
Vegan & Veggie Plan
Factor's Vegan & Veggie plan name is a little misleading. Technically not all of the meals on this plan will be vegan. In fact, I usually only see around 2 to 3 vegan meal options offered each week on this plan.
That brings me to my next point, which is that there really is not many meals to choose from on the Vegan & Veggie. Including both vegan and vegetarian options, there are only around 5 to 6 meals to choose from each week.
Therefore, if you were to use this plan and opt for more than 6 meals per week, you would likely have to double up on certain meals.
In my opinion, there are better pre-made vegetarian meal delivery services and vegan meal delivery services out there.
Here are a few of the meals you can expect to see on this plan…
You may also notice that most Vegan & Veggie plan meals also happen to fall under the Calorie Smart plan as well. This is something worth considering for those interested in Vegan & Veggie plan since the meals may not be as calorie dense as you'd prefer.
Protein Plus Plan
Factor's Protein Plus plan offers meals with 30+ grams of protein. Although, from my experience, many of the meals on this plan actually tend to hit over 40 grams of protein per serving. This could make the Protein Plus plan ideal for those who lift weights, are athletes, or are simply looking to increase the amount of protein they eat.
Here are a few example meals you can expect on this plan…
Factor For Teams
In addition to Factor's main plans above, they also offer Factor For Teams. This is a service that allows businesses to bulk order Factor Meals for their employees.
Factor doesn't make it clear whether they give discounts on these bulk orders. However, they do say that businesses who sign up will receive "specific corporate offerings, as well as a designated account representative to assist you during your entire customer experience."
Not many other meal delivery services offer bulk ordering for employees so this could be a good option to consider for businesses looking to feed their teams.
Meal & Food Variety (What You Can Really Expect)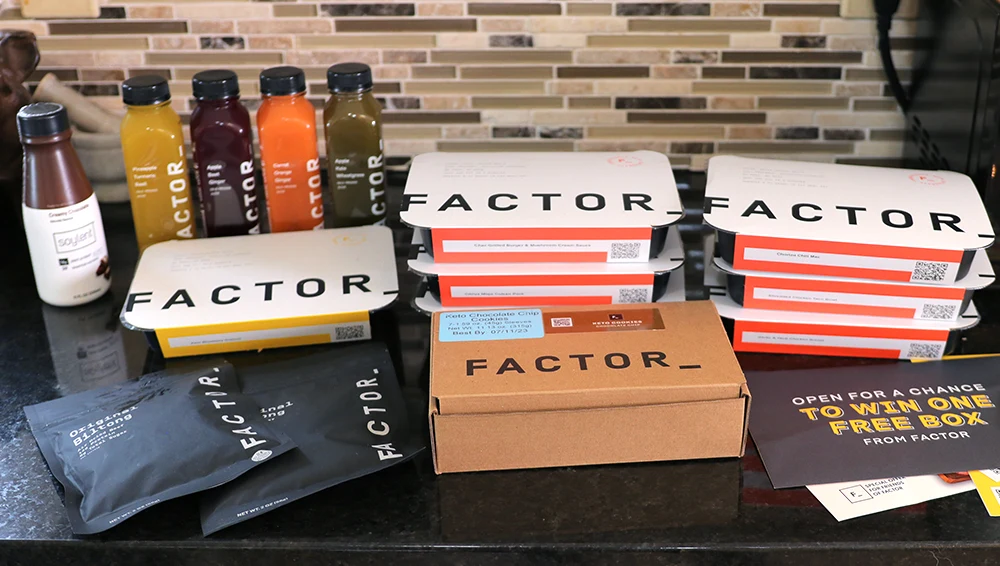 The amount of meals you'll see on your menu will be wholly dependent on the plan that you choose upon signing up.
Here's an overview of the amount of meals I've seen on each of the plans that Factor offers…
Chef's Choice plan will give you access to all 35 meals offered for the week.
Keto plan usually has around 13 meal options every week.
Vegan & Veggie plan usually has around 6 to 7 meal options every week.
Calorie Smart plan usually has around 16 meal options every week.
Protein Plus plan usually has around 25 meal options every week.
Keep in mind that the meals on each plan will sometimes overlap. For example, I often see meals that are on both the Keto and Protein Plus plans.
When it comes to different types of cuisines that Factor offers on their menu, they do a decent job of keeping things interesting week-to-week. Don't expect super adventurous meals like you would with a meal delivery service such as Sunbasket but the meals tend to range from American and Mexican classics to a few Indian and Asian inspired meals as well.
The menu also tends to feature a decent amount of spicy meals. For example, I usually see around 5 to 8 different spicy meals on my menu each week. While spicy food isn't my favorite, some people may appreciate the options.
While not boring and not too adventurous, Factor's meals meet somewhere in the middle, making them a great option for those who are looking for consistently crowd-pleasing meals.
Add-On Marketplace (Snacks, Drinks, Desserts, & More)
Something we've yet to touch on is Factor's marketplace for add-ons.
This is one of my favorite aspects of Factor Meals. Their add-on marketplace may not be as extensive as what I've seen with RealEats or Sunbasket but what Factor does have is high-quality and it tends to be mainly low-carb.
Here are the options you'll see as add-ons:
Breakfast meals such as egg skillets and overnight oats
Smoothies and shakes
Cold press juices
Keto and low-carb desserts such as keto cheesecake (which is one of my favorites)
Additional pre-cooked meats such as roasted herb chicken breasts
Sides such as mac and cheese, green beans, and white cheddar broccoli
Snacks such as granola and biltong
Over the years Factor has pulled back on how many items they offer as add-ons. If you watch the video above, you'll see that we've previously tried a wide variety of add-ons from Factor's marketplace. They don't have as much to choose from today. They used to have more options like grab and go soups, which I really loved because of how convenient they were.
Diets That Factor Meals Covers
Back when I first started using Factor Meals, they used to be much more of a diet meal delivery service. However, after HelloFresh purchased them, I noticed that the menu was broadened to include more types of meals. This was likely done as an attempt to grow their customer base.
While that might sound like a negative, I'm actually impressed that they were able to make this change to their core menu while keeping the meals fairly diet-friendly (depending on the specific diet you're following).
Here's a look at the diets that I think are best suited for those who are looking at using Factor Meals…
Low Calorie
Low Carb
Keto
High Protein
You may be wondering why I didn't include vegan and vegetarian diets even though Factor has a Vegan & Veggie plan. This is because I don't believe that Factor offers enough meals for those following those diets. There are also many better vegan and vegetarian meal delivery services out there than Factor Meals.
If you were thinking of using Factor Meals to help you achieve specific dietary goal, it's worth mentioning they do offer a nutritional coaching session for free. This allows you to speak with one of their staff dieticians to see how their meal plans could be used to fit your diet and nutrition goals.
How "Cooking" Works & My Recommendations For Improving Flavor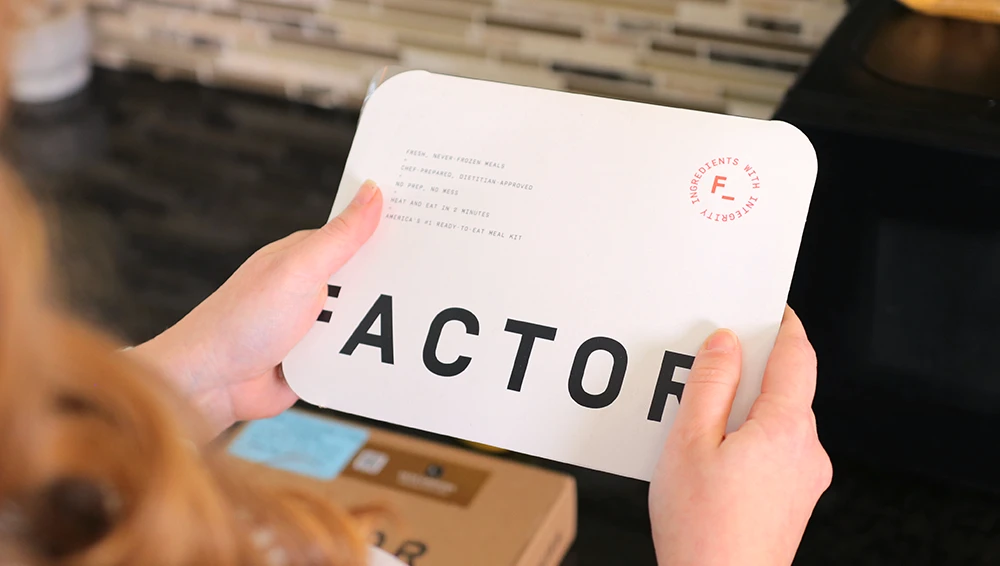 Every meal that Factor Meals sends is fresh and pre-made. That means you just need to heat it up (no prepping and cooking involved).
As someone who leads a busy lifestyle, I used to be guilty of quickly grabbing a meal and eating it cold. But now, I've come to appreciate the extra effort of taking a few minutes to heat up my meal and enjoy its taste.
Below are two different ways that you can heat up the meals, including a few tips for getting the most flavor.
Microwave
This is the quickest and most convenient option. With most meals Factor recommends simply removing the outer packaging, piercing the plastic film, and heating it on high for 2 to 3 minutes. Once that's done, you can eat it.
That being said, I usually don't follow those directions when heating my meals in the microwave. For one, I'm not a fan of heating up plastic. Additionally, I like to be able to take the meal out of the microwave, mix up the food a bit, and put it back in the microwave. This makes it so that the meal heats much more evenly.
Oven
If you have some time to spare, heating the meals in the oven is the way to go. Not only does it bring out more of the flavor, it makes the meal taste like it was just cooked.
Factor's instructions for when heating meals in the oven say to put the plastic try in the oven at 375 degrees Fahrenheit. Again, since I'm not a fan of heating plastic, I've always just transferred my meal over to an oven-safe tray and heated it up that way.
Interestingly, if you do use the plastic tray, Factor recommends putting 2 ounces of water in one of the empty slots in the tray. What this does is create a steam oven effect to bring out more of the flavor. I usually just pop my meal in our Tovala to heat it up (which happens to be a steam oven).
Taste Test Of Our Most Recent Meals (2023 Update)
Now let's talk about one of the most important parts of this review—how the meals actually taste!
Below are the meals and add-ons from my most recent box and what I thought of each…
Jalapeño-Lime-Cheddar Chicken with Spicy Cilantro Cauliflower "Rice"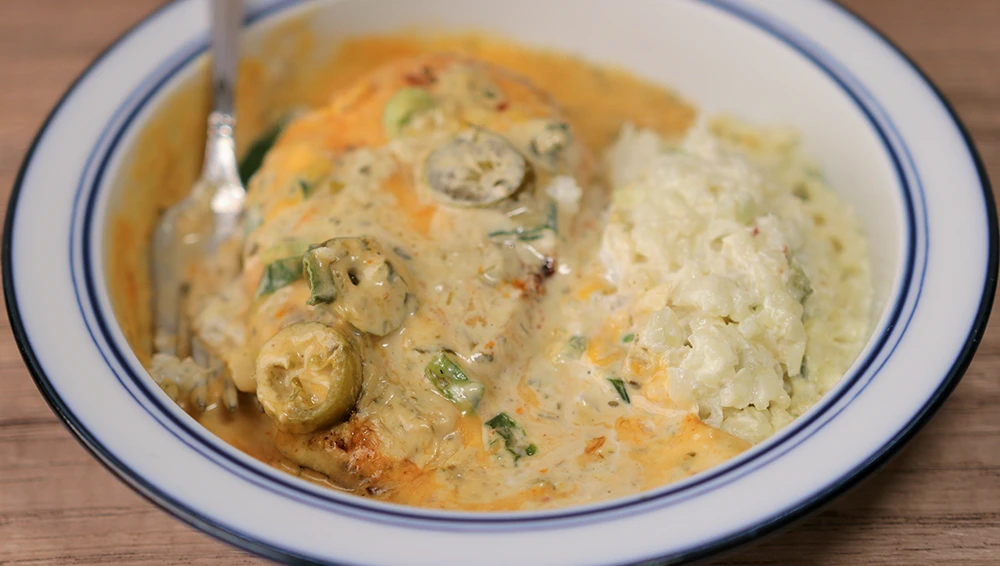 The chicken breast was the star of this dish. It was cooked perfectly, coming out both tender and moist. It was well seasoned with a blend of jalapeño powder, smoked black pepper, garlic, and lime, which added a delicious depth of tangy and smoky flavor.
The creamy cilantro-cumin sauce made with heavy cream, sour cream, onions, and garlic was a perfect pairing for the chicken breast. It was tangy, slightly sweet, and had a beautiful herby flavor from the cilantro.
On the side, the cauliflower "rice" infused with cream cheese, jalapeños, onions, and cilantro was a very unique twist on a classic rice dish. The cauliflower was cooked well (not hard or too mushy) and absorbed the flavors of the cream cheese, jalapeños, onions, and cilantro beautifully. It was slightly spicy and had a rich, creamy flavor that complemented the chicken very well.
Citrus Mojo Cuban Pork with Wild Rice & Stewed Black Beans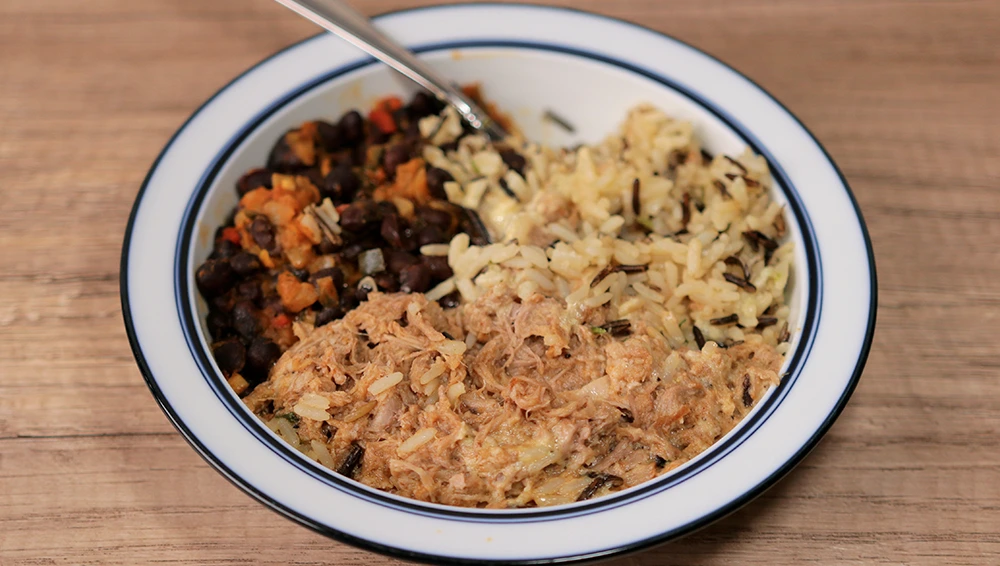 The slow-cooked pasture-raised pork shoulder was cooked to perfection in a blend of spices and fresh orange juice, giving it a sweet and tangy flavor that was perfectly balanced. The pork was super tender and juicy, with every bite it just melted in my mouth.
The pork was drizzled with a citrus mojo sauce made with olive oil, lime juice, orange juice, cumin, oregano, and garlic. The sauce added a beautiful citrusy flavor that complemented the pork perfectly. It was tangy, slightly sweet, and had a nice hint of garlic and cumin, which brought everything together.
The wild rice added a slightly nutty flavor to the meal and was also cooked very well. Not too hard, not too soft—a great texture.
The stewed black beans were a good addition to the dish, providing a rich and hearty flavor that rounded out the meal well. I also happen to be a huge fan of black beans for their high fiber content.
As someone who's not typically a fan of pork, I really enjoyed this meal.
Garlic & Herb Chicken Breast with Smoked Cheddar Cauliflower "Grits"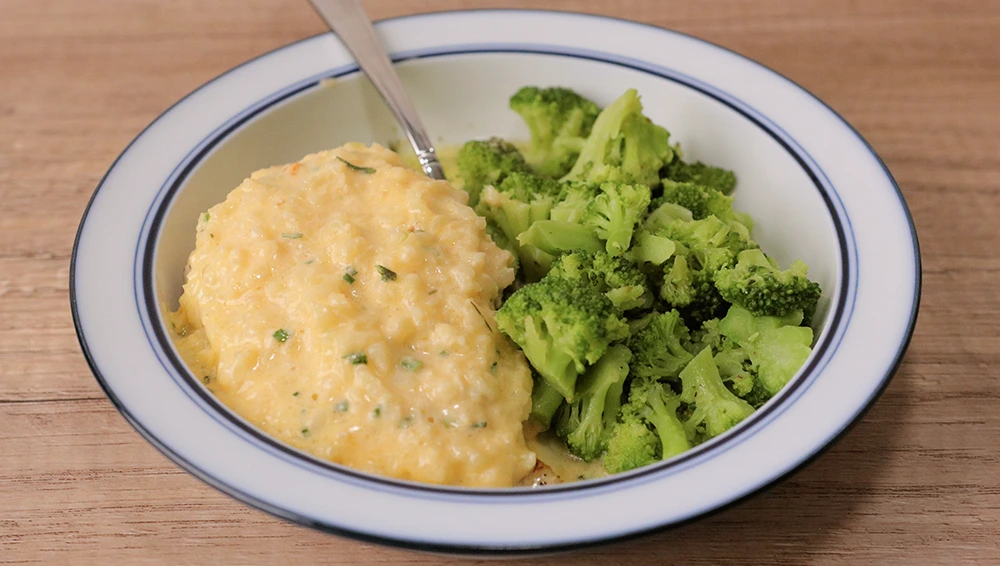 The chicken breast was brined and marinated in roasted garlic oil and Italian herbs, which made the meat incredibly juicy and flavorful. The grilling added a nice little char and smokiness to the chicken.
The chicken was served over a bed of cauliflower grits, which was infused with smoked cheddar cheese, adding a slightly nutty and overall cheesy flavor that complemented the herbed chicken very well.
A side of roasted broccoli was added to the dish, which was topped with a smoky chili garlic butter, providing a delightful kick to the flavor. The roasted broccoli was cooked so that each bite was a bit tender and crunchy.
I'm a fan of slightly overcooking broccoli so it's less crunchy, but cooking it the way Factor did does technically help it retain more nutrients.
Overall this was a very tasty and filling meal. I was initially wary of the cauliflower grits (since I don't usually enjoy cauliflower) but the added cheese made it much more delicious than I thought it was going to be.
Shredded Chicken Taco Bowl with Roasted Corn Salsa & Cilantro Lime Sour Cream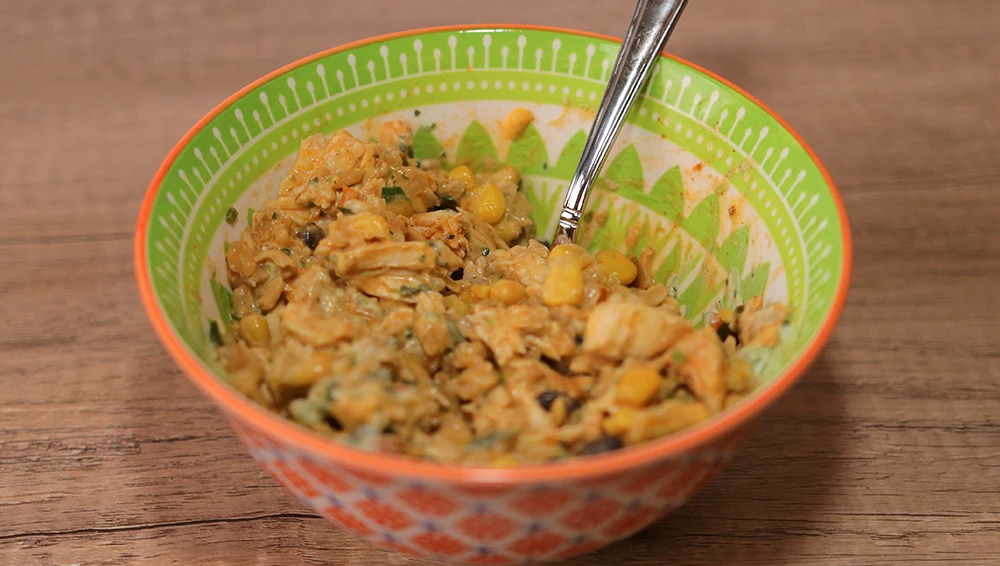 This meal was a delicious combination of traditional Mexican flavors.
The shredded chicken was served on a bed of brown rice, cooked with sea salt and cilantro, all mixed with black beans. The dish was then topped with shredded cheddar cheese and green onions, adding a mouthwatering savory flavor and a nice pop of color to the dish.
On the side, there was a roasted corn salsa made with poblano and red bell peppers, red onion, cumin, chili powder, and cilantro. The roasted corn added a smoky and sweet taste, while the peppers and spices provided a bold and tangy flavor that complemented the chicken and rice perfectly.
To complete the dish, a cup of cilantro lime sour cream was added, which had been mixed with jalapenos and garlic. The sour cream was tangy and creamy, with a delightful hint of cilantro and lime that brought all the flavors together.
Char-Grilled Burger & Mushroom Cream Sauce with Steamed Spinach, Tomatoes & Parmesan Cauliflower Mash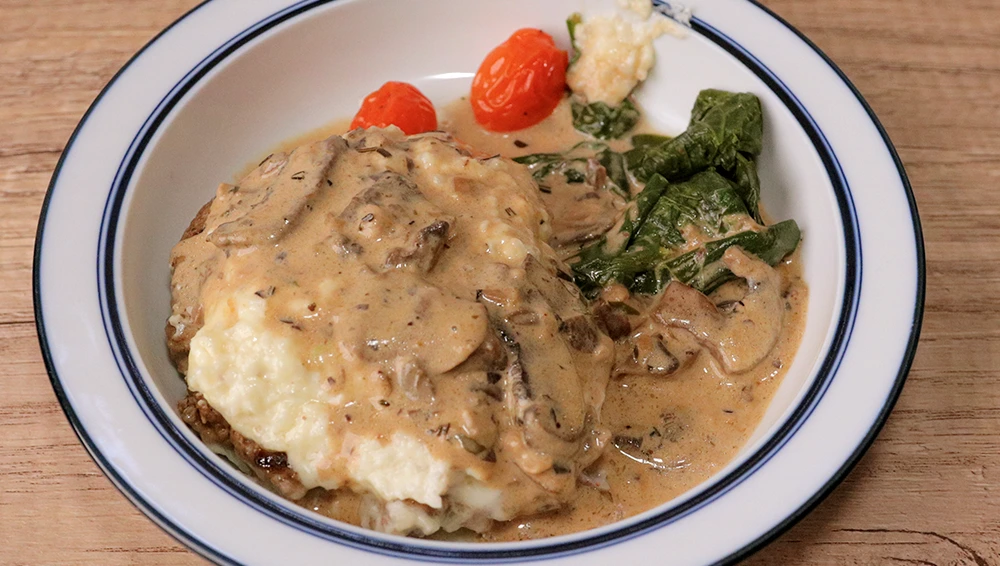 This meal was another winner in my book. Since I had a bit of extra time in the day, I decided to cook it up in the oven so that I could try to really bring out as much of the flavor of the burger as possible.
The beef patty was especially juicy, which surprised me. It was seasoned with porcini mushroom powder, garlic, onion, and Parmesan, giving it a rich umami flavor. Topping the burger with melted swiss cheese gave it a nice slightly sweet, mild, and nutty flavor.
The burger was served over a creamy Parmesan cauliflower mash that was velvety smooth. Roasted tomatoes added a sweet and tangy flavor, while steamed spinach was a nutritious and refreshing accompaniment.
The mushroom cream sauce was really what took this meal to the next level. Made with rosemary and thyme, it was rich and flavorful.
Chorizo Chili Mac with Roasted Cauliflower & Poblano Peppers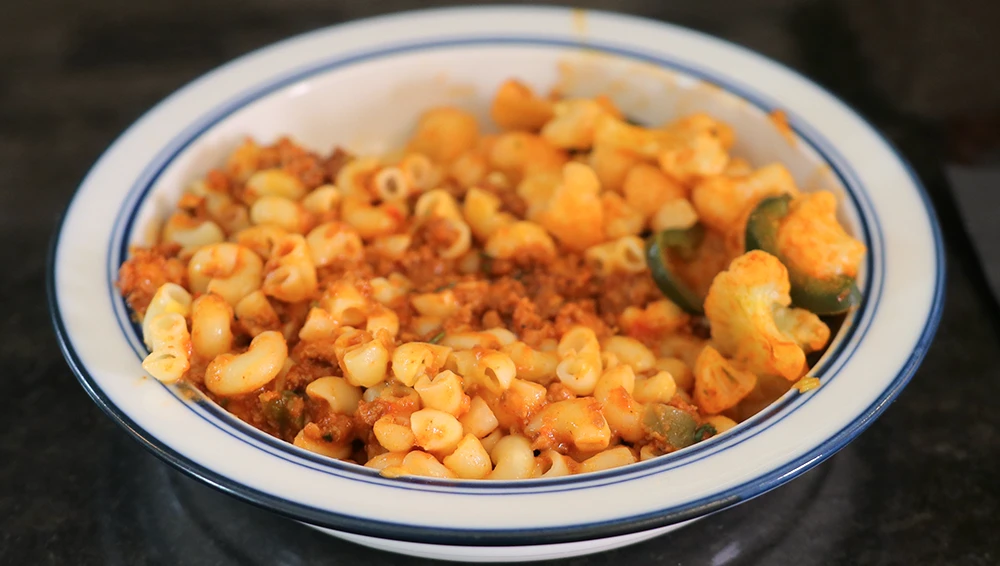 This is the meal you can see us taste test in our YouTube review at the top of this article.
As someone who doesn't love spicy food, I added this to our box because my wife (Emily, who is in the video above) loves chorizo. Surprisingly, it was not as spicy as I thought it would be.
The combination of ground beef and mildly spicy chorizo created a nice savory and slightly smoky flavor that balanced out with the sweet and tangy notes from the onions, peppers, tomato, and cilantro in the chili.
The cheddar and jack cheese melted on top of the chili mac gave the dish a nice rich, creamy, and indulgent texture, which was absolutely delicious.
I didn't find myself eating all of the paprika cauliflower florets but they were cooked decently—nice and tender. I'm just not a fan of cauliflower.
Pack Of Cold Pressed Juice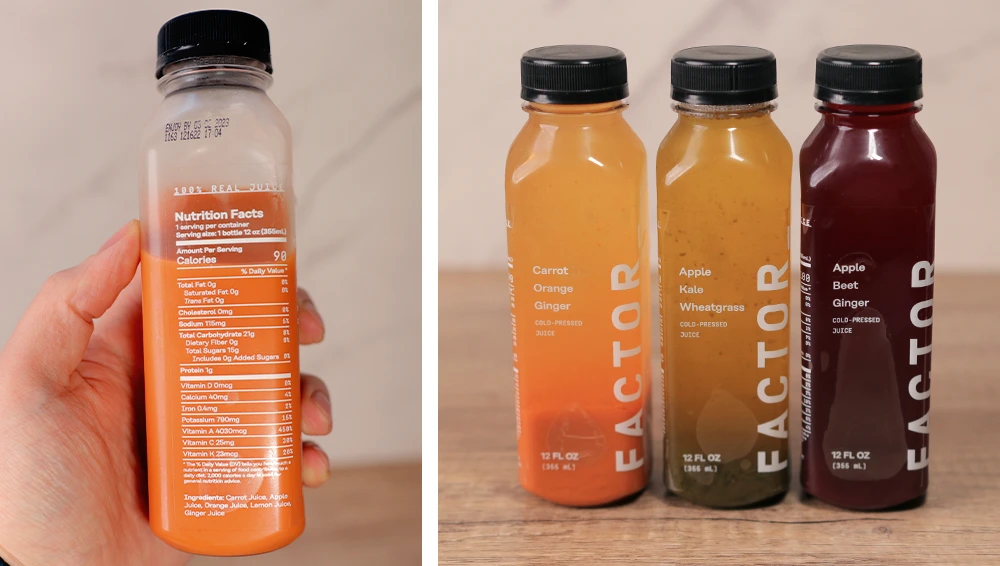 I added a pack of Factor's cold pressed juice variety pack to get a sense of what their new flavors are like since they've added some new ones that I hadn't tried yet.
Apple Beet Ginger: This was a very refreshing drink. The combination of sweet apple, earthy beet, and spicy ginger came together well. The ginger is definitely noticeable and gives the drink a "kick" with every sip. I could see this juice being a great option for someone who wants a nutritious drink that isn't too sweet or too bland. Anyone who loves ginger will also likely enjoy this one.
Pineapple Turmeric Basil: This is the juice that you can see us taste test in the YouTube video at the beginning of this article. This one was a lot sweeter than all of the other juices. The turmeric and basil cut down on the sweetness, though, so it's not overpowering. Overall, it has a really nice balance between all 3 flavors.
Carrot Orange Ginger: This one, like the Apple Beet Ginger juice, was also not too sweet. The ginger juice gave the juice a pleasant kick, with its slightly spicy and slightly bitter taste. The orange juice provided a zesty and sweet citrus taste that was noticeable from the first sip. I wouldn't say it was my favorite of the cold pressed juices but if you enjoy carrots, you may enjoy this one more than me.
Apple Kale Wheatgrass: While packed with vitamins and nutrients, this one was probably my least favorite. The sweetness of the apple juice was quite pleasant, but the strong, grassy taste of the kale and wheatgrass was slightly overpowering. If you're a fan of green juices and don't mind a strong taste, then this juice could be a good choice for you, though.
Keto Original Biltong (Air Dried Beef)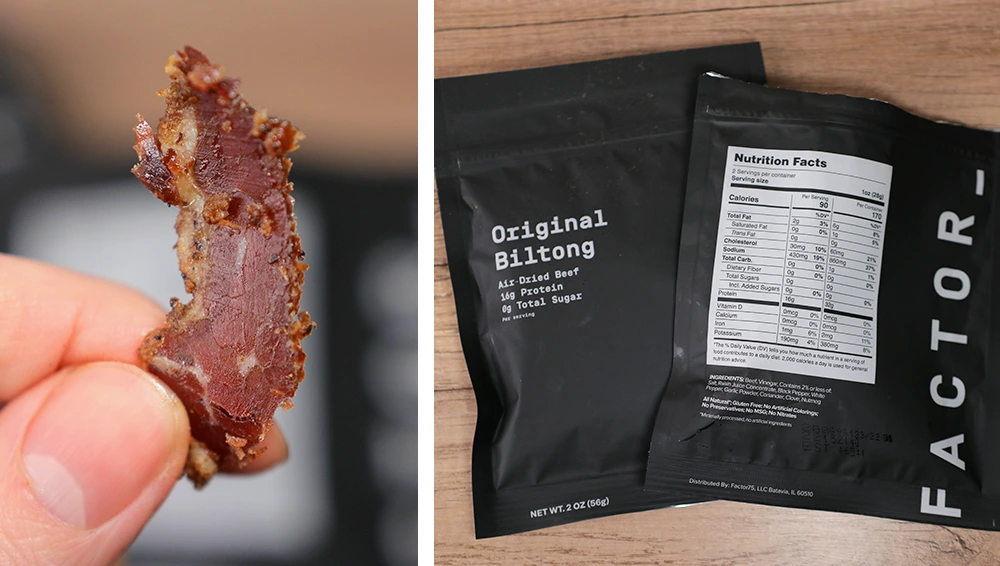 Funnily enough, I'm actually eating the rest of the biltong as I'm writing this review!
The beef is cut super thin so it's not as chewy as typical jerky. The air-drying process also gives the beef a tender texture.
The meat is dry-rubbed in a seasoning of black and white pepper, garlic powder, coriander, clove, and nutmeg which adds a delicious flavor to the meat.
One of the best things about this snack is that it is keto-friendly, having zero carbs. It's also high in protein, with 16 grams per serving, which makes it a great option for anyone who is looking for a quick and easy protein-packed snack.
Keto Granola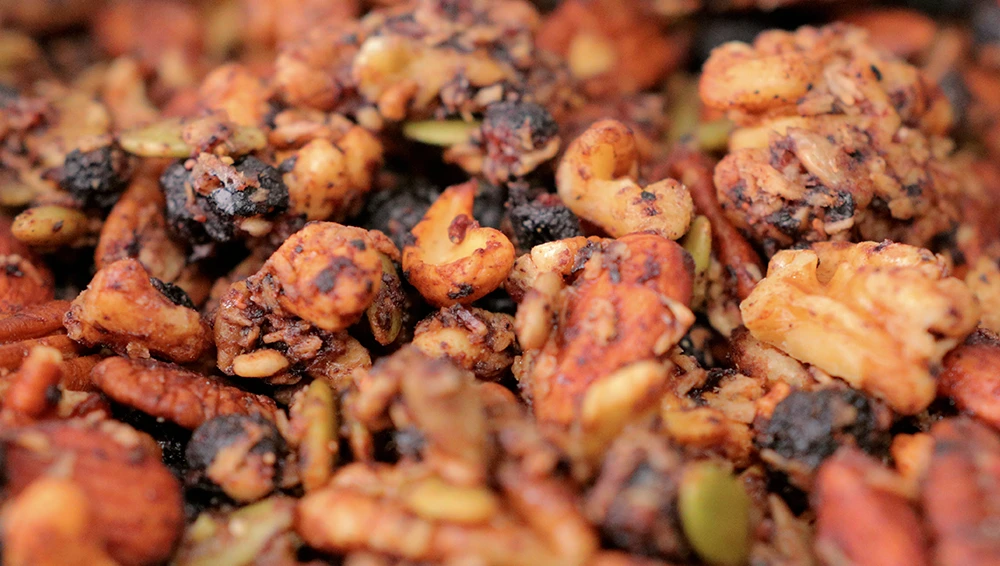 Surprisingly, this was my favorite snack out of all the add-ons in my box. I ended up devouring the whole thing right after opening it.
The granola is grain-free, which makes it a great option for anyone following a low-carb or keto diet. The mixture of pecans, almonds, cashews, walnuts, pumpkin seeds, sunflower seeds, and coconut, along with the freeze-dried blueberries, provided a tasty and sweet combination of flavors and textures.
One of the things I appreciated most about this granola was the use of zero-calorie monk fruit sweetener. I actually didn't even realize it wasn't real sugar until I looked at the ingredients.
Keto Chocolate Chip Cookies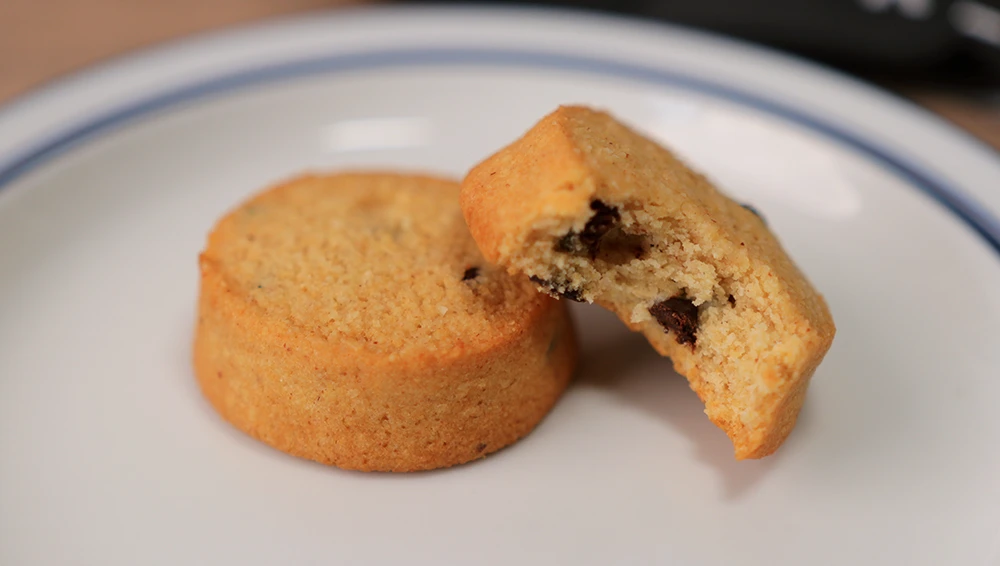 These cookies are made with a blend of almonds, coconut flour, butter, and a monk fruit sweetener.
While Factor says these are low in carbs, they're really only low in net carbs (which is a bit different). Each serving is 19 grams of carbohydrates but because they have 5 grams of fiber, 7 grams of sugar alcohol, and 5 grams of allulose, it reduces the net carbs to 2 grams per serving.
The texture of the cookies aren't like your typical chocolate chip cookies. They were a bit cake-like. That being said, they were still tasty, just not what I was expecting.
Food Box HQ Note: In addition to the meals and add-ons I got in this box, Factor Meals also gave me a bottle of Soylent as a gift. They will occasionally add little gifts to their boxes, which is a fun surprised.
Portion Sizes Of My Meals
One of the biggest issues I have with pre-made meal delivery services is that their portion sizes always seem a bit smaller than what I'd usually eat. While this is also true for Factor's meals, they aren't the smallest of the pre-made meals that I've ever had.
The weight of most of the meals I've had from Factor clock in at 340 grams. You can see the size from the pictures of the meals above. However, to give you a better reference, they usually fill up a medium-sized 10 inch diameter plate.
While they are not as big of a meal I might usually scarf down, they are always filling. This may have to do with the fact that many of their meals are high in fat and protein. Being a keto-focused meal delivery service, this makes sense. Both protein and healthy fats are macros that are known for helping you feel full for longer.
Meal Quality, Ingredients, & Nutrition
When it comes to maintaining a healthy and balanced diet, knowing the ingredients and nutrition of the foods we eat is crucial.
The good news is that Factor Meals does a good job of keeping their food decently clean and balanced when it comes to nutrition. Although, they aren't perfect.
Factor says that their meals are free of hormones, antibiotics, refined sugars, and GMOs. Upon further investigation, I also found out that Factor uses certified humane free range eggs (for example, in this baked chicken dish).
That said, I found it impossible to find any specific information about their sourcing partners. All I was able to find was that they say their meals are "made up of the freshest ingredients sourced from our network of trusted partners."
The only other issue I have with Factor's meals is that some of them may have high sodium levels.
The American Heart Association says that the ideal limit of sodium for most adults is no more than 1500mg per day. Many of the meals I've had from Factor had well above 600mg of sodium per serving. Some were close to 1000mg of sodium, like this Spicy Poblano Beef Bowl, which clocks in at a massive 940mg of sodium.
If you're on a low sodium diet, Factor Meals may not be the best option. There are many low sodium meal delivery services that you can consider instead, though.
Allergens
Factor Meals is not the best meal delivery service to go with if you have any severe food allergies.
While they do a good job of listing out what allergens each meal has (for example, milk, soy, tree nuts, and eggs), all of their meals are produced in a facility that processes eggs, fish, milk, peanuts, sesame, shellfish, soy, tree nuts, and wheat. This means there is a risk of cross-contact in the cooking process.
Delivery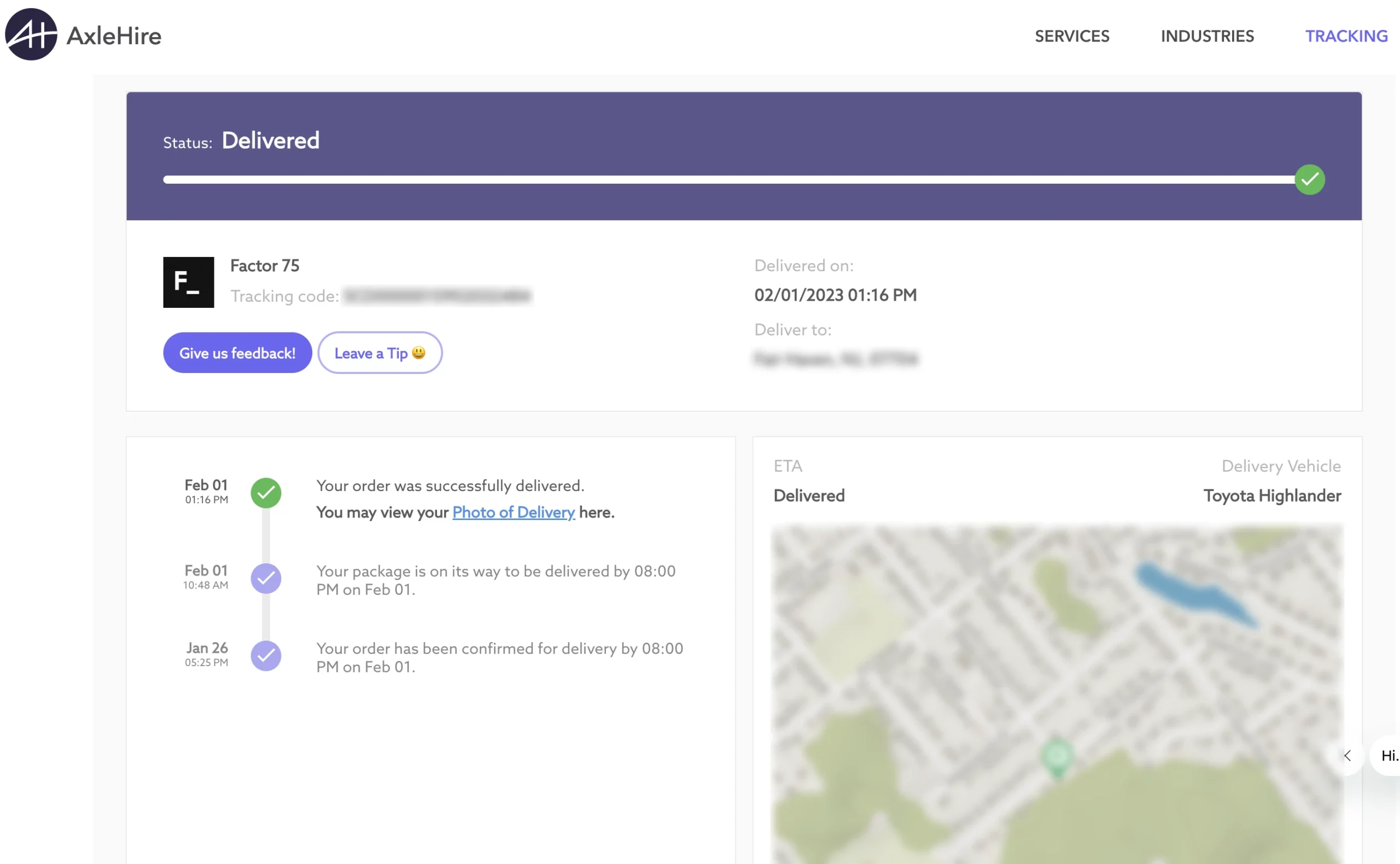 When signing up for Factor Meals, you can choose your delivery day. Only certain days will be available depending on where you live. For example, I live in New Jersey and have Monday, Tuesday, and Wednesday as available delivery days.
Factor used to ship their meals using UPS, which wasn't always the best experience because their delivery drivers tend to be rough with the box. Sometimes my box would arrive banged up.
Recently, though, I've noticed that they've switched to a local delivery company called AxelHire. Once it ships, I get a notification email which tells me when I should expect the box to arrive as well as a map so that I can track it arriving. They even go as far as telling me what type of vehicle is delivering my meals.
I find this super helpful because I work from home and it allows me to know exactly when I should be expecting the meals to arrive. This way they don't sit out in the sun for longer than they need to.
Packaging
For all the years I've been using Factor Meals, they've always done a great job packaging the meals so that they not only stay cold in transit but also safe from any bumps along the way. This is important considering some delivery drivers will throw the box around in their truck. I've had a number of experiences where the box came banged up but the meals inside were fine.
The outer box is made up of cardboard. Nothing fancy, but it is fully recyclable.
The cardboard box is lined with a cotton insulation material. While Factor doesn't make it clear if the insulation is made from recyclable material, it is curbside recyclable.
What I like most about this insulation is that it's around 1 to 2 inches thick, providing enough cushion for the meals, should the bounce around while they're in transit.
Wrapped in the insulation will be the meals and any add-ons surrounded by 2 to 3 ice packs.
My ice packs have always come about half melted but the meals have always been cold to the touch. It's worth noting that if your ice packs ever come fully melted and your meals are room temperature or warm to the touch, you should contact Factor Meals for a refund. While this has never happened to me, I've read about others who have experienced late deliveries where this has happened.
The inner contents of the ice packs are made of 99% salt water and 1% sodium polyacrylate. While they're non-toxic, I highly recommend not cutting them open and pouring them down any drains. This is because the gel substance is thick and it could clog your drains. Unfortunately, the ice packs are not recyclable so you will have to throw them away or reuse them.
In theory it's great that they're reusable. However, after receiving my 10th box, I started to run out of room in my freezer for all of the ice packs that we had and had to start throwing them away.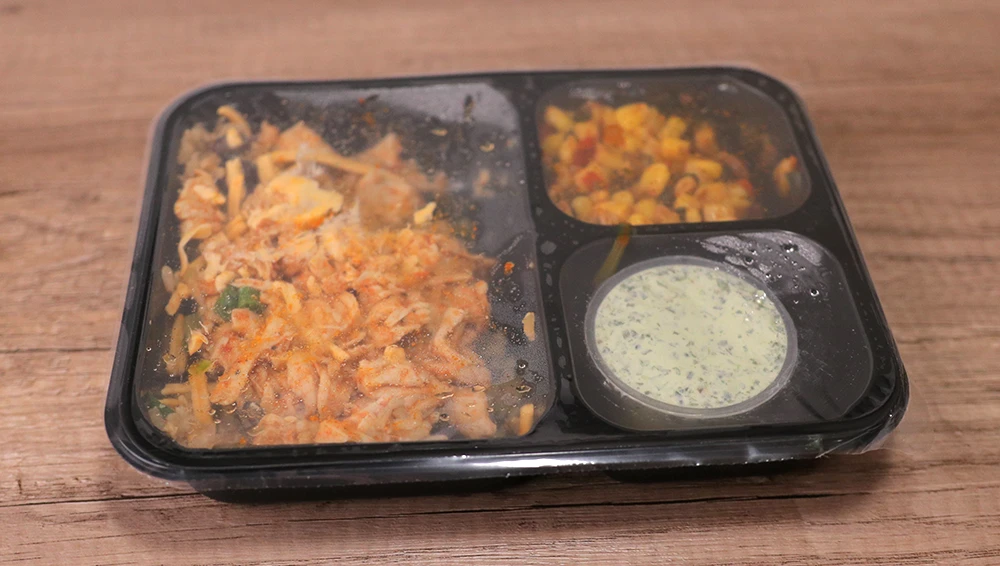 As for the meal trays, they are fairly standard BPA-free recyclable plastic #1. The outer liner will have all of the meal information (including nutrition facts and ingredients). There's also a QR code that can be scanned, which will take you to the meal page on Factor's website.
Is Factor's packaging the most eco-friendly out there? Not really, I've seen better.
They do a decent job of making sure some materials are recyclable but there's a lot of room for improvement. For example, Trifecta Nutrition has switched from fully plastic meal trays to biodegradable ones.
Customer Service
Thankfully, I've never had any instances where I've been forced to contact Factor support. That being said, they make it fairly simple to reach out to them.
On their contact page they give you a few different ways to get in touch with them. You can…
Live chat with support by clicking the chat button on the bottom of the page.
Email support at help@factor75.com.
Call support at (888) 573-5727.
For what it's worth, this is on par with what other meal delivery services offer.
Factor Meals vs. The Competition
Factor Meals is not the only pre-made meal delivery service out there, nor is it the only one you should consider. While there are many other options out there, below are the ones I've tried that I believe are most comparable to Factor Meals.
Trifecta Nutrition vs. Factor Meals
Out of all the alternative options to Factor, Trifecta Nutrition is probably the most similar. Yet, while they're both pre-made meal delivery services that focus on offering nutritionally balanced and convenient meals, there are some big differences between both.
Trifecta Nutrition offers a whole program, rather than just a meal delivery service, like Factor Meals does. With Trifecta you can customize your plan based on your specific dietary goals—whether that is gaining muscle, maintaining weight, or losing weight. Trifecta also gives you access to their comprehensive app, which has a meal/macro tracker, workout plans, instructional fitness videos, and more.
Both Trifecta Nutrition and Factor Meals offer similar meal plans, though. They both have a general plan as well as a keto plan. Trifecta takes things a step further with a Whole30 approved plan, Paleo plan, and individual Vegan and Vegetarian plans. Factor only has one small Vegan & Veggies plan.
If you're interested in learning more about Trifecta Nutrition, you can read my full review of them here.
Cookunity vs. Factor Meals
If you're seeking more upscale meal options than what Factor provides, Cookunity may be worth considering. While Cookunity also offers diet-specific choices like Factor, the similarities between the two end there.
Unlike Factor, Cookunity does not operate a centralized pre-made meal delivery service. Instead, Cookunity is a network of hundreds of chefs located throughout the United States. This means that when you order Cookunity meals, they are prepared and shipped to you by individual chefs, resulting in a more diverse range of culinary options.
In my experience, Cookunity's meals are some of the most restaurant-quality meals available from a meal delivery service. While I've found Factor's meals to certainly be delicious, I think Cookunity's are even better. However, one downside compared to Factor is that the portion sizes of Cookunity's meals can be smaller.
If you want to learn more about Cookunity, you can view my full review of them here.
Fresh n Lean vs. Factor Meals
If you're looking at pre-made meal delivery services because you want to follow a specific diet, Fresh n Lean might be a better option to consider.
Unlike Factor (which really only supports low calorie, low carb, keto, and high protein diets), Fresh n Lean has the widest variety of meal plans and supports the most amount of diets that I've seen from a meal delivery service. You can choose from Protein+, Keto, Paleo, Standard Vegan, Low Carb Vegan, Whole30 Approved, and Mediterranean Diet plans. They also have a Bulk plan that allows you to choose from dozens of pre-cooked meats and sides.
The biggest difference between Fresh n Lean and Factor Meals is that, with Fresh n Lean you have more options to customize your meal plan to fit your specific preferences. For example, Fresh n Lean allows you to exclude specific ingredients (such as nuts, dairy, olives, and more). This makes them an ideal choice for those with highly specific taste preferences or those with food allergies.
You can view my full review of Fresh n Lean here, if you want to learn more.
RealEats vs. Factor Meals
RealEats is another popular pre-made meal delivery service but their meals are slightly different from Factor's.
Instead of the meals arriving in a meal tray, like with Factor Meals, RealEats sends everything in vacuum-sealed bags. This is because you heat RealEats' meals by boiling them, sous-vide style.
While this sounds a bit crazy at first, I found that it actually does a great job of locking in the flavor, especially when it comes to meats like chicken, which stay particularly fresh, juicy, and tender.
Where RealEats differentiates itself from Factor the most is with their massive variety. They offer hundreds of meals to choose from each week. This variety also extends to the types of diets they cover—keto, low sodium, plant-based, Mediterranean, low calorie, and more.
If you're looking for more variety than what Factor offers, you may want to consider RealEats. You can view my full review of them here.
How Much Is Factor Meals?
Factor's individual meal cost will vary depending on the size of the plan you go with. The more you order, the less each individual meal will cost. This is pretty consistent with how other meal delivery services price out their plans.
Here's an overview of what you can expect to pay on each plan size…
Ordering 6 meals per week will come out to $12.99 per meal.
Ordering 8 meals per week will come out to $12.49 per meal.
Ordering 10 meals per week will come out to $11.99 per meal.
Ordering 12 meals per week will come out to $11.49 per meal.
Ordering 14 meals per week will come out to $11.19 per meal.
Ordering 18 meals per week will come out to $10.99 per meal.
Pricing isn't as straightforward when it comes to Factor's marketplace add-ons. They will range depending on what you order. The good thing, though, is that they offer discounts on certain items (usually anywhere from 10% to 15% off).
Here are some example prices of add-ons I've purchased previously…
Keto Cookie Bundle (28 Cookies) = $24.99 ($0.90 per cookie)
Cold Pressed Juice Variety Pack (8 Juices) = $37.99 ($4.75 per juice)
Keto Chorizo Egg Skillet & Turnip Hash with Roasted Peppers & Ancho Lime Crema Meal = $10.99
Keto Blueberry Granola (8 Servings) = $12.99 ($1.62 per serving)
Factor Meals Pricing vs. The Competition
To get a better understanding of whether Factor's pricing is a good value or not, let's compare them to the competition I mentioned above.
Trifecta Nutrition meals range from $15.50 to $11.42 depending on the size and plan that you go with.
Cookunity meals range from $13.49 to $10.49 depending on the size and plan you go with.
Fresh n Lean meals range from $15.99 to $8.49 depending on the size and plan you go with.
RealEats meals range from $15.99 per meal to $13.49 per meal depending on the size and plan you go with.
Comparing Factor's pricing with its closest competitors, you can see that they're actually a decent value (all things considered). Even on the high end, Factor comes in a bit less expensive than most of the comparable pre-made meal delivery services.
Promo Codes & Coupons
Factor Meals is usually always running some type of promotion or discount. I've collected the best coupons below…
Coupon code "4BHRG" will get you 50% off your first order.
Coupon code "6TAPT" will get you up to $99 off your first order.
Coupon code "FACTOR276" will get you up to $276 off your order.
I like to include multiple different coupon codes just in case one doesn't work. If you find a better coupon or the ones above are not valid anymore, please let me know in the comments below and I'll update this review.
Pros & Cons Of Factor Meals
Having used Factor Meals for years, I've rounded up what I really like about using them and what I don't. Hopefully this gives you more insight into their meal delivery service so you can determine whether it's right for you…
Factor Meals Pros
Comparing Factor's meal costs to other comparable meal delivery services, we can see that Factor comes in at a lower price than most, making them a good value for what you get.
Factor is one of the few meal delivery services out there that is fully keto-friendly. This also makes them a good option for those looking for a low-carb meal delivery service.
The vast majority of the meals I've had from Factor have been delicious. They've also done a great job improving meals over the years and bringing back favorites.
They do a great job of making healthy swaps for certain ingredients. For example, instead of rice, they use cauliflower "rice" in many meals.
I found Factor's meals to be very filling. In fact, I've never found myself hungry after eating any of their meals.
Factor will occasionally add little gifts to their boxes. For example, in my most recent box I received a bottle of Soylent.
They have a really good marketplace for add-ons like snacks, desserts, smoothies, cold pressed juices, and even additional meals.
Factor Meals Cons
I noticed that some meals do have high sodium levels so be sure to check the nutrition facts.
The packaging could be better. Many other meal delivery services are moving towards more sustainable options with their meal trays and insulation, as well as reducing plastic.
I wish they were more transparent about their sourcing practices. I could not find any information about where they get their ingredients.
While filling, many of the meals have calorie counts that could be considered low (in the 500 to 600 calorie range per serving).
Factor Meals is not the best option for big households. In fact, I would really only recommend them for 1 to 2 people max.
My Final Review Score Of Factor Meals
Based on all of the elements I took into consideration for this review, here are my final scores…
Taste: 4.8/5
Variety: 4.6/5
Quality: 4.6/5
Delivery Options: 5/5
Packaging: 4.7/5
Value: 4.8/5
Ease of Use: 4.9/5
Tallying up the votes, Factor Meals received 4.8 out of 5. This makes them one of our highest reviewed pre-made meal delivery services.
Final Thoughts: Who Is Factor Meals Right For?
Based on my experience and comparing Factor to the dozens of other pre-made meal delivery services that I've tried over the years, I believe they are one of the best options currently available.
While I do wish that they were more transparent about their sourcing practices, ever since Factor was purchased by HelloFresh, I've noticed a significant improvement in the meals (as well as the service overall).
Those who will get the most benefits out of Factor are going to be…
Busy professionals looking for quick, easy, and nutritionally balanced meals.
Fitness enthusiasts looking for high-protein meals.
People following a keto or low-carb diet.
People who want to eat better without sacrificing taste.
That's not to say Factor is right for everyone. If you're looking for more variety, meals with lower sodium, or cheaper meals, there are better options out there. If that sounds like you, would recommend exploring all of the pre-made meal delivery services we've reviewed here.
Have a question about Factor Meals? Let me know in the comments below!
Past YouTube Reviews Of Factor Meals