Eating right can be hard—I know from experience.
Finding recipes that are nutritionally balanced, simple to make, and actually taste good is a challenge. That's why, when I first stumbled upon Green Chef, I was excited.
You see, there are a lot of meal kits out there that offer simple recipes and great tasting meals but it's tough to find one that also has meals that are nutritionally balanced. Green Chef says that they are all of those things and more. If that's true, are they actually worth it?
Today we're going to find out.
In this in-depth review of Green Chef I'll share what it has been like using green Chef over the past 6 years, what I like about this organic meal kit, what I don't like about them, and much more. I'll dive into all the little details I've uncovered while using them—from convenience and taste to overall value—so that you can decide if Green Chef is right for you.
Food Box HQ Disclaimer: Before we jump into my take on Green Chef, let me clarify that the following information is purely for educational purposes and should not be considered as medical advice. If you have any dietary restrictions, medical conditions, or are currently on medication, it's crucial to consult a qualified healthcare professional before making any changes to your diet or nutrition. Furthermore, always remember to carefully review the ingredients of Green Chef meals, especially if you have any known food allergies or sensitivities.
Why Trust This Review?
Here at Food Box HQ we take testing and reviewing meal delivery, meal kits, and food boxes seriously. Having started this blog as a fun side hobby many years ago, it's evolved into one of the most trusted publishers of meal delivery service reviews. This is because we dedicate ourselves to thoroughly testing and honestly reviewing the meal delivery services on this website. As you'll see in the review below, we do not cut any corners or leave any stone unturned when reviewing.
Our commitment to providing accurate and unbiased reviews has earned us the trust of our readers and established us as a leading authority in the industry. We will never compromise that to make a quick dollar. So, you can rest assured that the information and opinions shared here are based on genuine experiences and a genuine desire to help you make informed choices.
Just like all the meal kits we review, we put Green Chef through our meticulous evaluation process (which you can learn more about here).
We made sure to purchase all our Green Chef boxes ourselves, without any incentives from the brand to speak highly of them. Furthermore, we have a strict policy against sponsored content or brand influence, ensuring that our reviews maintain the highest level of objectivity and impartiality possible. This website does generate money through the use of affiliate commissions. This means, should you order Green Chef using one of our affiliate links, we would earn a commission at no additional cost to you. This money helps us run this website, order more meal kits, and pay for all of the miscellaneous costs associated with Food Box HQ (such as our web hosting and our email service provider).
Our Testing & Review Process For Green Chef
When it comes to reviewing meal kits, I believe in being as thorough and objective as possible as to leave no detail untouched. This helps to ensure that you, as the reader, are able to make the most informed decision possible.
Below you'll find the main categories I focused on in this review of Green Chef in order to arrive at a final review score (outlined at the bottom of this article):
Taste: Let's be honest, taste reigns supreme when it comes to meal kits. No one wants to pay for bland meals. I've ordered dozens of boxes from Green Chef over the years to evaluate the taste of their meals and how they've evolved over time.
Variety: Mealtime shouldn't be boring and variety is the key to keeping things interesting. I delved into Green Chef's range of meal options and cuisines. Moreover, I scrutinized how they keep things fresh by regularly introducing new recipe choices.
Flexibility & Customizability: A meal kit should easily bend to your personal preferences. I assessed Green Chef's level of flexibility and ease in accommodating specific preferences as well as providing customization options for a personalized experience.
Quality: Quality is a non-negotiable aspect of the meal kit experience. I meticulously inspected the types of ingredients used by Green Chef. From freshness of ingredients to their organic certification, I scrutinized their ingredient selection and sourcing practices. This evaluation shed light on the level of quality maintained in Green Chef's meal offerings.
Delivery & Packaging: The meal kit experience rides on the back of timely, reliable deliveries and packaging that safeguards and organizes your meals. I looked at Green Chef's delivery options in order to evaluate their delivery service's dependability. Additionally, I investigated their packaging materials, with a keen eye on recyclability, eco-friendliness, as well as their effectiveness in recipe protection and organization while in transit.
Ease of Use: A meal kit should simplify your cooking journey, not make it harder or more tedious. I assessed Green Chef's user-friendliness, from the sign-up process to meal selection and the overall cooking experience.
Value: The cost may be the most important factor for some readers of this review. As such, I compared Green Chef's pricing with that of similar meal kits, carefully examining whether they offer a good value.
While I strive to provide the most comprehensive review of Green Chef possible, I highly recommend considering a variety of sources to gain a well-rounded perspective on Green Chef before making your purchase.
There are popular review aggregators like Trustpilot and Sitejabber, which can offer valuable insights from past and current customers. That said, I've noticed that reviews on these platforms often tend to be more extreme, as people typically share their opinions when they're either very satisfied or very dissatisfied. Therefore, the feedback can be skewed in either direction.
In my experience, seeking testimonials from average, everyday Green Chef customers can provide reliable, unbiased insights. YouTube is a great place to start but also consider subreddits on reddit such as /r/mealkits, and even our own /r/FoodBoxHQ are great resources where you can find genuine testimonials and ask current Green Chef customers about their experiences. Keep an eye out for my username, FoodBoxHQ, as I might even be there in the comments answering questions!
About Green Chef
Green Chef's story begins in 2014 with co-founders Brian Popper, Dan Yue, Ling Xiao, and Michael Joseph. Their vision was to revolutionize the way people approached cooking and eating. At the time, meal kits were a novelty—not many people were using them. In fact, HelloFresh had only started 3 years earlier in Germany.
Unlike HelloFresh, Green Chef wanted their meals to be more than just great tasting, they wanted their meals to be great for you too. That's why, as soon as they launched, they decided to make their meal kit USDA certified and certified gluten-free.
"We knew that becoming a USDA certified organic, direct-to-consumer online retailer was a huge differentiator and customers really responded to that," explains Michael Joseph, co-founder, in this interview. He goes on to say, "Also, we saw other important facets of demand not being met by this market, which led us to become the first gluten-free certified retailer in the space and the first to support paleo and ketogenic diets."
Green Chef was not only an early adopter of specialty diet plans and organic meals, they were also one of the first meal kits to lean into sustainability.
In an interview with Fortune in 2017, Michael Joseph explains that Green Chef is trying to stay on the forefront of minimizing their environmental impact. For example, Green Chef redesigned their meal kit box size to be 20% smaller in order to minimize cardboard usage and fit more deliveries per truck. They also switched the insulation material to be 85% recycled content and fully compostable after use.
Interestingly, many of the strategies adopted by Green Chef in their early stages—from sourcing organic ingredients to reducing waste—reflects trends that are just now starting to gain traction in other meal kits.
By 2018, just 4 years after their founding, Green Chef's innovative approach had made them a stand-out success in the increasingly competitive meal kit space. Their rapidly expanding customer base and strong brand reputation attracted the interest of major players in the market. That year, Green Chef was acquired by meal kit giant HelloFresh. That acquisition provided Green Chef with greater resources and reach, while allowing them to maintain their unique health and sustainability focus.
How Green Chef Works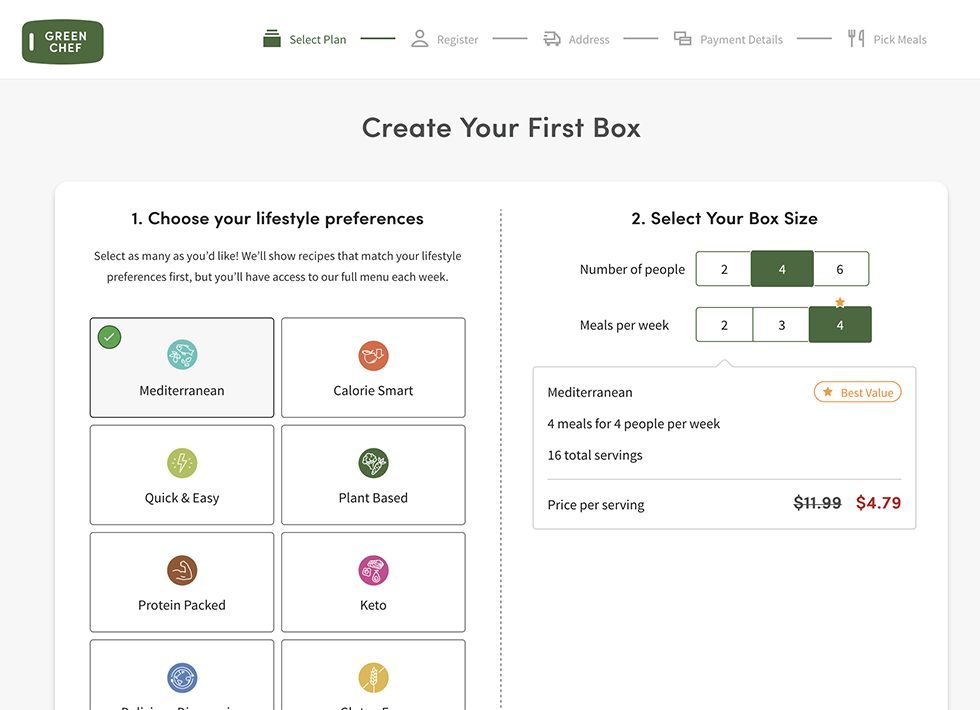 Green Chef works very similarly to most other meal kits on the market. Interestingly, since its acquisition by HelloFresh, the resemblances between Green Chef and its parent company have become quite apparent. How you actually sign-up, choose meals, and manage your account is nearly identical between both.
The signup process for Green Chef starts with you selecting your meal plan and box size. Current meal plans include Protein Packed, Keto, Vegetarian, Vegan, Mediterranean, Fast & Fit, and Gluten Free. Box sizes range from 2 person plans at 3 meals per week all the way to 6 person plans at 4 meals per week. I'll be covering the meal plans more in-depth a little later on in this review.
One thing to note about the meal plans, though, is that they are essentially just indicators to tell Green Chef what meals to show you first. It gives their recommendation algorithm a better idea of what meals are most suited to your personal tastes, lifestyle, and dietary preferences. You'll still have access to the full menu, should you ever want to change things up down the line.
After determining your desired meal plan and size, the next step involves providing your address and payment information (remember that Green Chef is a weekly subscription so you'll be billed weekly). Following that, you can proceed to select the meals you'd like to receive for the upcoming week.
To avoid any unexpected disappointments, I strongly recommend taking a look at Green Chef's menu prior to subscribing. You can easily access the menu for the upcoming week either on their homepage or the dedicated weekly menu page. By doing so, you can ensure that they provide meals that match any of your dietary requirements and taste preferences.
There's nothing quite as disheartening as going through the entire meal kit signup process, only to discover that none of the offered meals truly entice you.
Managing Your Green Chef Account (Picking Meals, Skipping Weeks, & More)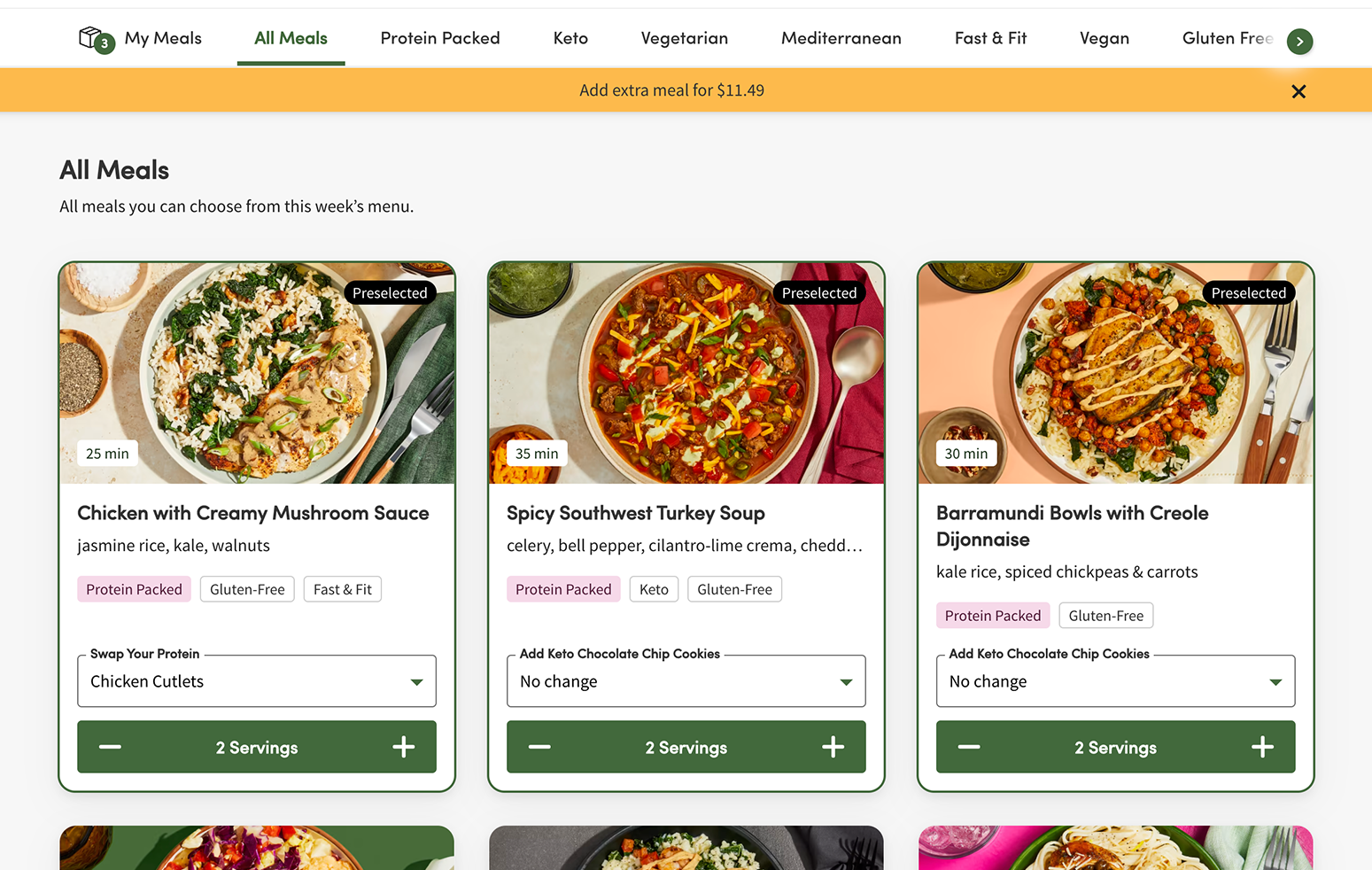 After getting signed up for Green Chef, you'll have the ability to manage your account preferences, delivery schedule, payments, and more. Here's everything you can do:
Managing Your Upcoming Deliveries & Skipping Weeks
One of the major perks of Green Chef is the ability to plan upcoming deliveries in advance and easily skip weeks when needed.
Under "My Menu," you can browse Green Chef's rotating weekly recipes and select your meals up to 3 weeks ahead of time. This is handy for staying organized if you have vacations planned or will be out of town.
Should you need to pause service for a limited time, Green Chef makes skipping weeks simple. Navigate to "My Menu" then select "Edit Delivery." Here you will see the option to skip your next scheduled delivery date. Click that and confirm to seamlessly push back your next shipment.
The skip feature is flexible—you can use it to postpone by 1 week or several weeks in a row if you'll be away. There's no penalty or limit, so you can skip as many upcoming delivery dates as needed to accommodate your schedule.
Food Box HQ Note: Be sure to select your meals at least 5 days prior to your selected delivery day at 11:59 pm PST. After that, your order locks and you will be billed.
Making Changes To Your Subscription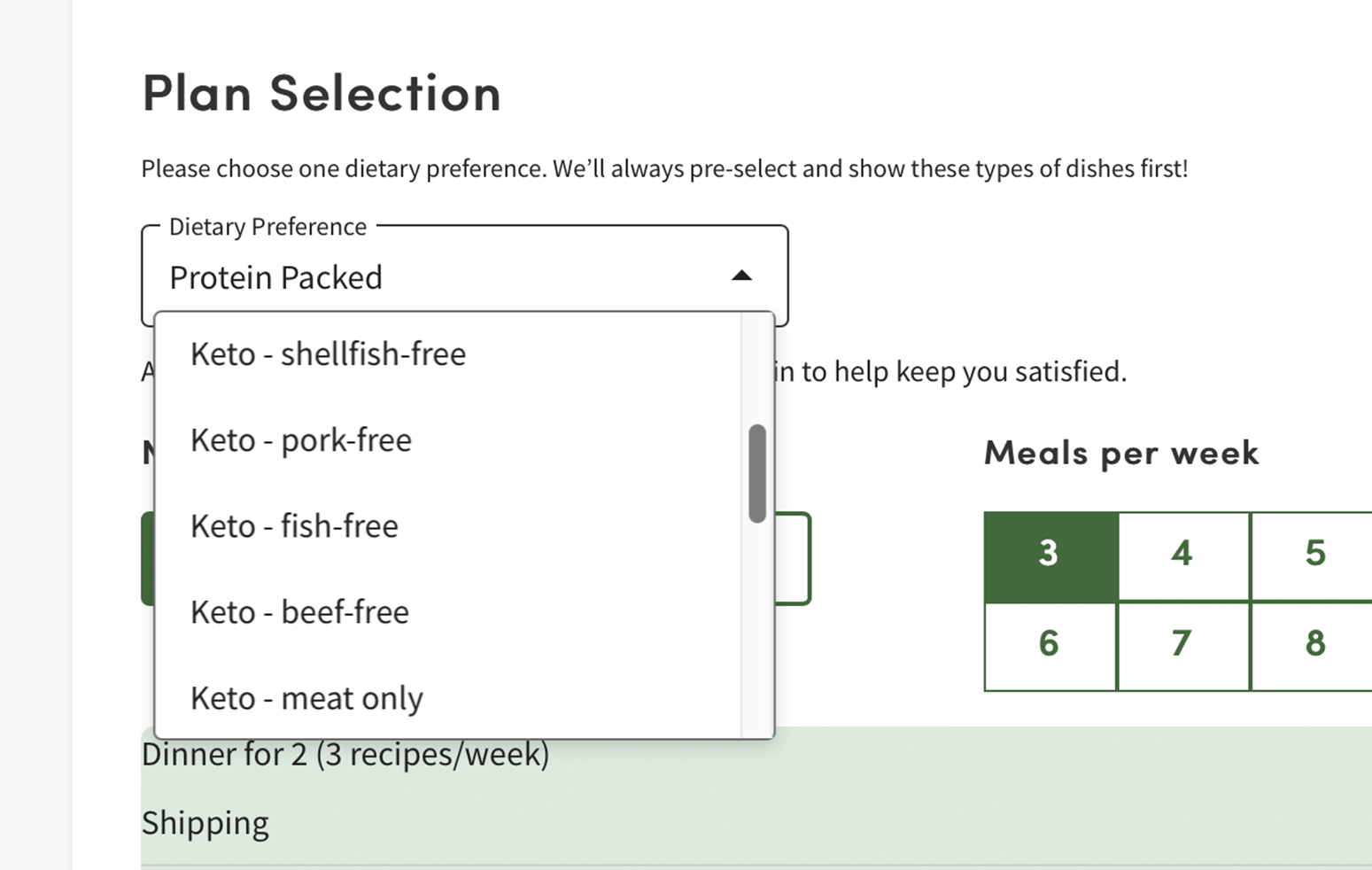 A major advantage of Green Chef is the unparalleled ability to customize your entire meal plan through your account settings. You can tailor every aspect to match your dietary needs, serving size, and delivery preferences.
Beyond just choosing one of their dietary plans like Keto or Vegan, you can further niche down your preferences with advanced filter options. For example, those on Keto can not only select Keto-friendly recipes, but also specify additional filters like fish-free, meat-free, or pork-free.
You can also adjust the number of people you're cooking for each week, allowing complete control over serving sizes. Other key customizations include picking how many recipes you want delivered each week, your delivery date, and delivery location.
Account Security
Green Chef's website is encrypted, which adds a layer of security. However, I am a bit disappointed that they do not have two factor authentication. While encryption protects your data in transit, two factor would further safeguard your actual account access.
With two factor authentication, users receive a unique code via text or app to enter alongside their password when logging in. This prevents unauthorized access even if someone obtains your password through a breach (which is becoming more and more of an issue these days).
Canceling Your Subscription
Should you want to cancel your subscription, Green Chef makes it very simple. Go to "Settings" and scroll down to the "Account" section where you'll see a link that says "Deactivate you Plan." Green Chef will walk you through the process and send you a confirmation email once it's complete. From my experience, it only takes a minute or so to cancel. Keep in mind that canceling your Green Chef subscription is the same as putting it on a permanent pause (it does not terminate your account entirely). To terminate/delete your account, you'll need to contact customer support directly and request it.
My Honest Thoughts On Green Chef's Meal Plans (Good & Bad)
Green Chef offers 7 different meal plans, which is a bit more than what most offer. I usually see anywhere from 5 to 6 meal plans with most meal kits.
What's nice about Green Chef's plans is that they don't limit you to only being able to select one option. In fact, you can choose as many options as you'd like to customize your menu to fit your exact preferences. For example, if you want to select Protein Packed and Gluten Free, you'll see meals from both plan options recommended to you on your menu.
Here are my honest thoughts on each of the Green Chef meal plans…
Mediterranean Plan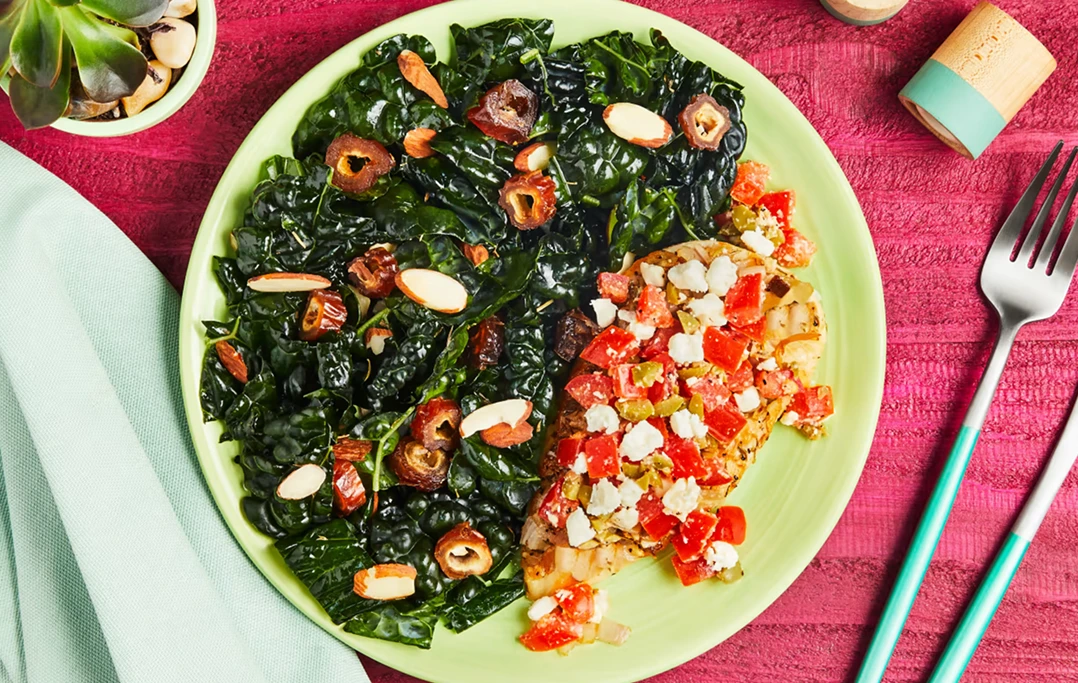 When Green Chef rolled out their Mediterranean plan back in 2019, I couldn't help but get excited. While the Mediterranean diet is one of the most popular doctor recommended diets in the world, not many meal kits offer specific Mediterranean meal plans. This makes Green Chef one of the only organic meal kit options to offer Mediterranean meals.
If you're unfamiliar with the Mediterranean diet, it's a way of eating that emphasizes fruits, vegetables, whole grains, fish, and healthy fats. It embodies a balanced and wholesome approach to eating rather than cutting out calories or carbs.
Based on my experience, Green Chef's Mediterranean plan definitely sticks to the core of the Mediterranean diet principles. I've noticed that the majority of their Mediterranean meals use a lean protein (often turkey or chicken but sometimes a fish) and a large amount of vegetables. What I like is that the vegetables aren't the stereotypical broccoli, green beans, or brussels sprouts. I've had meals with yellow squash, chard, dates, sun-dried tomatoes, and more.
Though, what I like most about Green Chef's Mediterranean plan is that the meals are filling. Because the Mediterranean diet prioritizes lean proteins, high fiber veggies, and fats (from places like almonds, olives, certain cheeses, and more), I find myself full on very reasonably sized portions.
Here are some of my personal favorite meals on this plan…
Calorie Smart Plan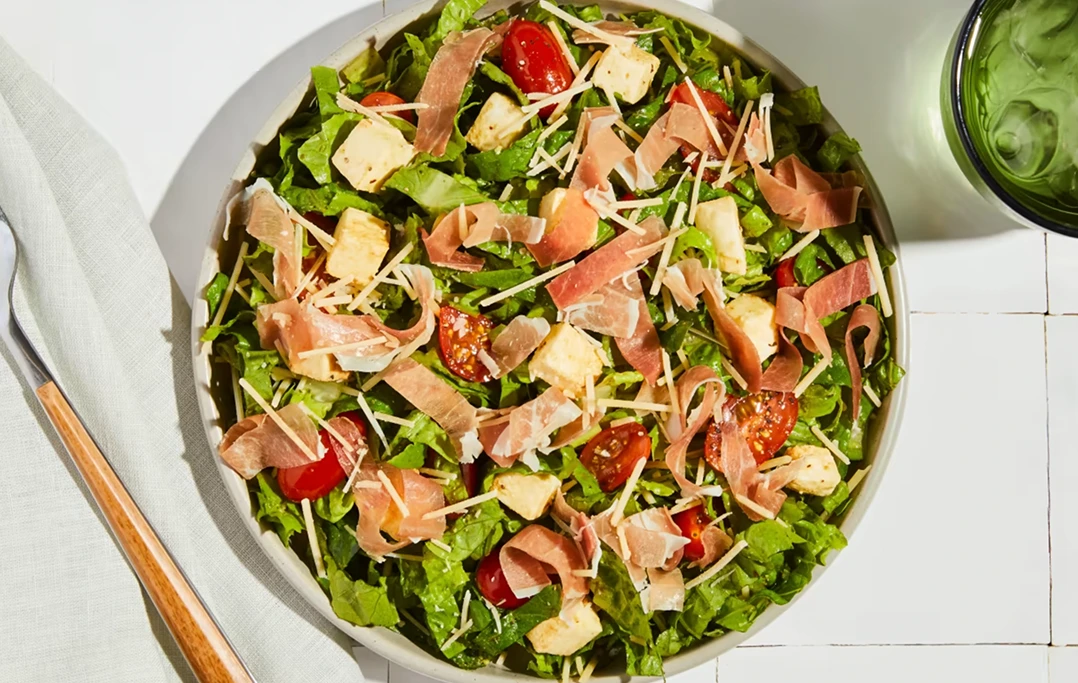 Green Chef's Calorie Smart plan offers meals that hover around or stay under the 650-calorie mark per serving, making it an ideal choice for those looking to maintain or reduce their caloric intake without compromising on flavor or nutrition.
While I've found that the meals on this plan can sometimes be a little smaller (in terms of portion sizes) than others, Green Chef does do a fairly decent job of making the meals interesting and flavorful. That's to say that the meals on this plan are not boring by any means. I've seen everything from Orange-Miso Shrimp to Sriracha-Tamari Tofu Bowls on the menu.
Like the Mediterranean plan, Green Chef's Calorie Smart plan also offers meals with lean proteins like chicken and fish. The veggies and fruits also tend to be vibrant and colorful (think radishes and mangos).
However, a word of caution for specific dieters: while the plan is good for controlling calories, it does not impose limits on carbohydrates. Take, for instance, the aforementioned Sriracha-Tamari Tofu Bowls dish. Though it's only 610 calories, it comes with a substantial 67 grams of carbohydrates per serving. This might be something to consider for those monitoring their carb intake, as it could be a potential deal-breaker.
Additionally, some of the meals seem to be a little too low in calories, with certain options edging close to the 300-calorie mark per serving (for example, this salad comes in at 360 calories). While this might be appealing to some, it's important to note that very low-calorie meals might not be suitable for everyone's energy and nutrient requirements.
If you are considering using this plan as a means of restricting your calories, I strongly recommend consulting with a medical professional or a registered dietitian. Individual nutritional needs can vary greatly, and a medical professional can help assess whether this plan fits with your unique dietary requirements, lifestyle, and long-term health objectives.
Here are some of my personal favorite meals on this plan…
Quick & Easy Plan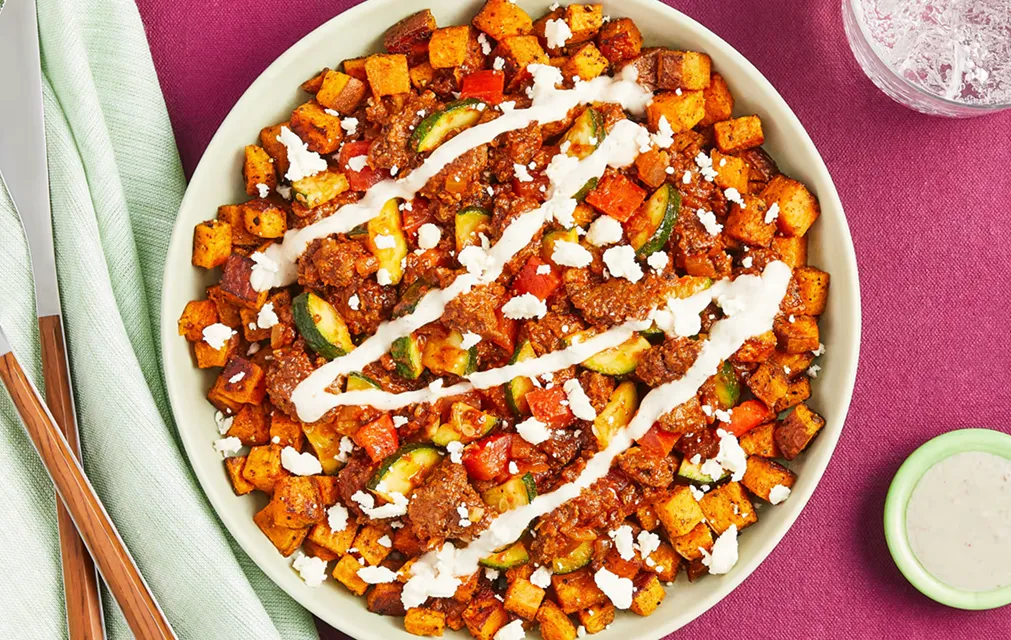 Green Chef's Quick & Easy plan is fairly straightforward. It includes meals that can be made in 25 minutes or less.
I've noticed that a lot of the meals tend to be dishes that are already simple to make—think tacos, soups, and salads. Though, Green Chef does tend to give each of them their own unique flair. For example, one of my favorites is their Turkey Tacos with Mango Chimichurri Slaw. It's made with refried beans and Monterey Jack cheese. It only took me around 20 minutes to make but one bite and you'd swear that it was from the best Mexican restaurant in your town!
Another nice thing about the meals on this plan is that they're also pretty simple to clean up. Many only use 1 or 2 pots/pans and some are one-pan meals you can throw right in the oven. The less dishes I have to clean after cooking, the happier I am!
The only downside to this plan is that the meals vary wildly in terms of nutritional values. For example, those Turkey Tacos I mentioned before, while delicious, they have 1150 calories, 82g of carbohydrates, and 1650mg of sodium. Just keep that in mind if you're eyeing this plan and watching what you eat.
Here are some of my personal favorite meals on this plan…
Plant Based Plan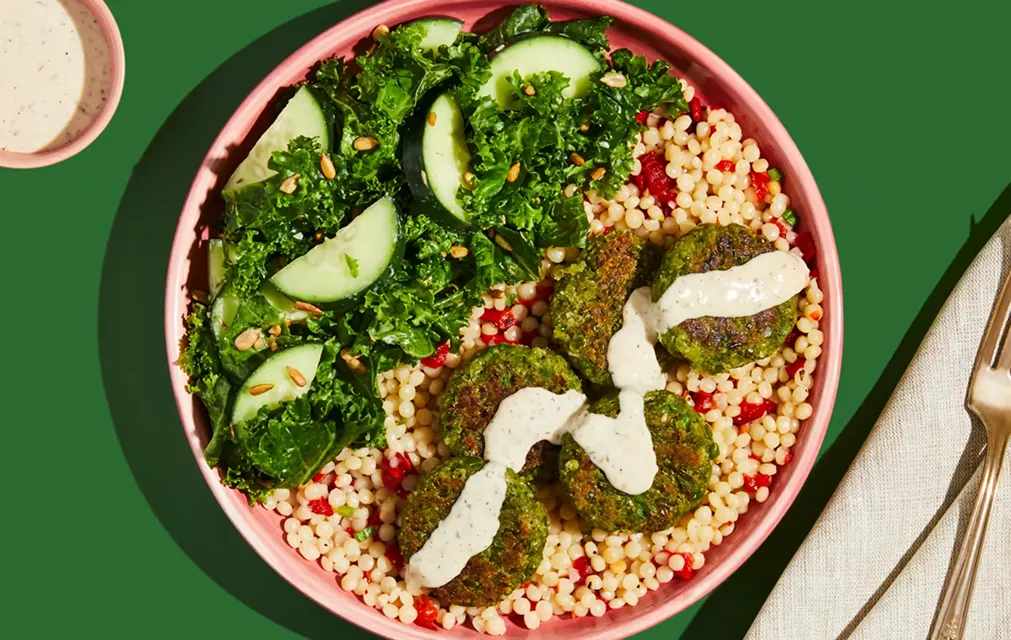 As the name suggests, Green Chef's Plant Based plan offers plant based, vegan meals. This means that all the meals in this plan are entirely free from animal products such as meat, cheese, and milk.
Green Chef is one of the few meal kits that offers a vegan meal plan option. In fact, the only other meal kits that offer vegan plans that ship nationwide are Purple Carrot and Sunbasket.
If you're like me and you hear the word "vegan" and instantly think of boring salads and tofu based dishes, the meals on this plan may surprise you. Green Chef does a pretty great job of making their plant based meals unique, interesting, and flavorful. For example, one of my favorite plant based dishes that Green Chef offers is their Falafel & Kale Stuffed Pitas with harissa hummus dressing, cucumber, tomato, lemon aïoli. They're not only delicious but they're simple to make, coming in at around 10 minutes for both prep and cook time. This makes them an ideal lunch for when I'm on the go or in the middle of a busy work day.
One other thing I like about Green Chef's Plant Based plan is that, unlike other meal kits that offer plant based meals, Green Chef's meals are not all pasta-based. I'm particularly a fan of this because when I try to eat plant based, I don't like being forced to eat high-carb meals as a result.
Here are some of my favorite meals on this plan…
Protein Packed Plan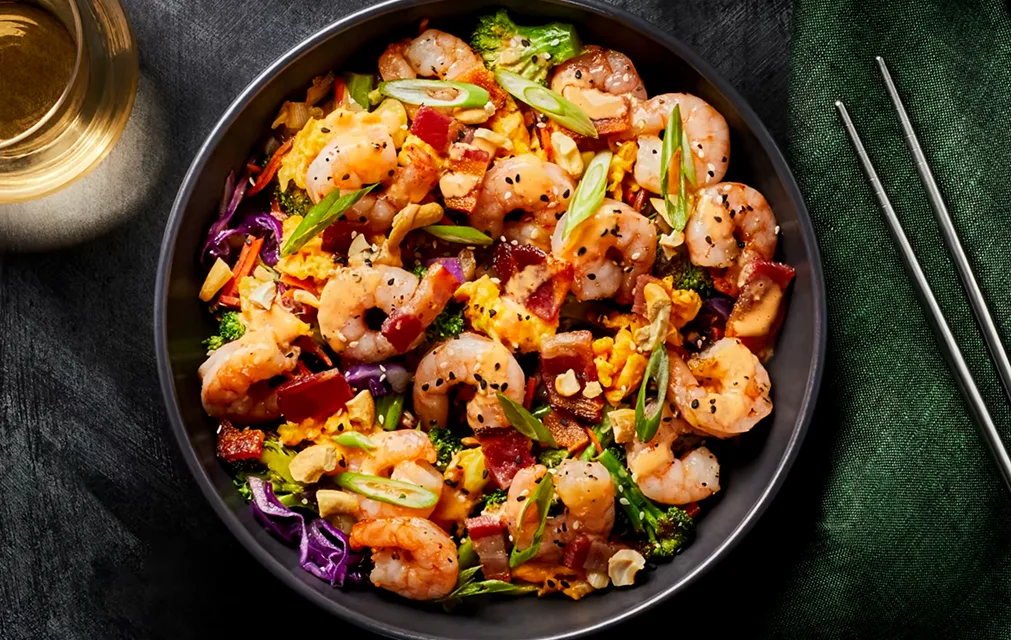 Green Chef's Protein Packed plan offers meals that have 40 grams or more of protein per serving.
While I've come across meal kits in the past that offer fitness oriented meal plans, I've never come across one that specifically offers a high protein plan until Green Chef. Whether you're an athlete striving for peak condition, a bodybuilder sculpting muscle, or simply someone aiming to enhance your fitness levels, Green Chef's high-protein plan could be a good option to consider.
The nice thing about Green Chef's Protein Packed plan meals is that they vary where the protein comes from. It's not always from the same meat like chicken or beef. For example, one of my favorites is their Southwest Shrimp & Bacon Cobb Salad which also includes hard-boiled eggs and comes in at 47 grams per serving.
What I like most about this plan, though, is that the meals aren't bland. I've had my fair share of high-protein diets in the past, and I can vouch for the fact that they can become a bit monotonous and lacking in taste. Green Chef has cracked the code on how to keep high protein meals exciting on the palate.
Here are some of my favorite meals on this plan…
Keto Plan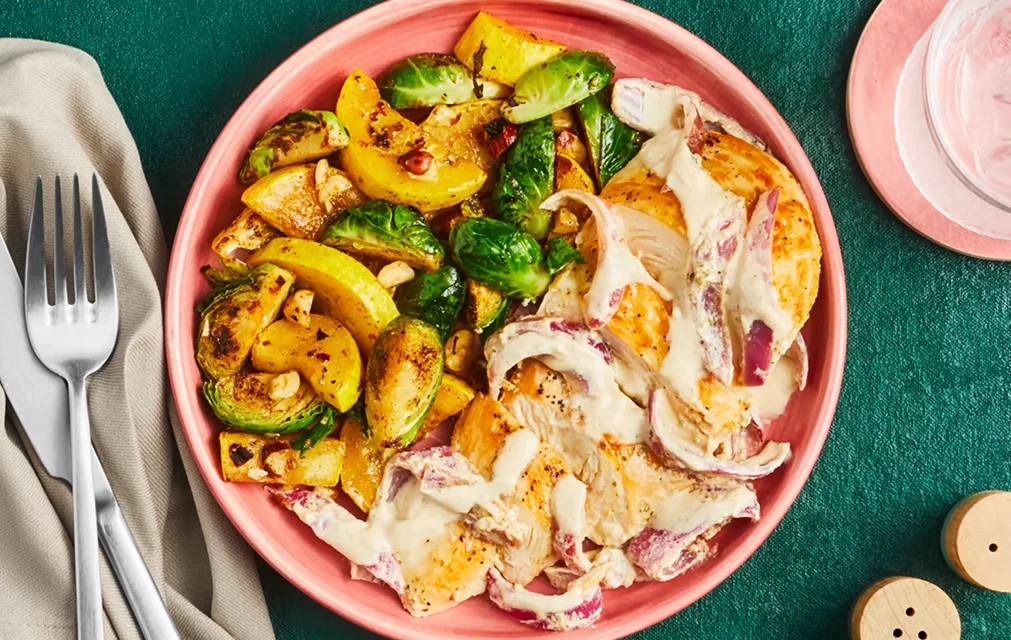 Green Chef's Keto plan offers meals that are less than 20 grams of net carbs with no gluten, additives, or added sugar.
As someone who has tried a lot of meal delivery services that offer keto meals, I can tell you that not every single one truly adheres to the diet. This is because keto is one of the more strict diets out there.
If you're unfamiliar, the keto diet is a high-fat, low-carbohydrate dietary approach that aims to shift the body's primary fuel source from carbohydrates to fats. Here's a breakdown of the standard keto diet macros:
Carbs: 10% of your calories
Fat: 70% of your calories
Protein: 20% of your calories
With that in mind, let's take a look at an example day of eating on the Green Chef Keto plan…
Breakfast: Scrambled Egg, Bacon & Kale Bowls Cheddar, Swiss Cheese, Chive Crema (14g carbohydrates, 38g fat, 39g protein)
Lunch: Prosciutto, Artichoke & Herby Feta Salad Tomatoes, Bell Pepper, Lemon-Dijon Vinaigrette, Almonds (16g carbohydrates, 29g fat, 15g protein)
Dinner: Pork Chops With Basil Pesto Sautéed Broccoli, Sun-Dried Tomatoes, Artichokes, Feta (19g carbohydrates, 52g fat, 40g protein)
Adding up those macros we get 49 grams of carbohydrates, 119 grams of fat, and 94 grams of protein.
Knowing that carbohydrates provide 4 calories per gram, protein provides 4 calories per gram, and fat provides 9 calories per gram (source), we can look at the total caloric value of each macronutrient in the meals above:
Carbohydrates: 49 grams x 4 kcal per gram = 196 kcal
Fat: 119 grams x 9 kcal per gram = 1071 kcal
Protein: 94 grams x 4 kcal per gram = 376 kcal
The total caloric intake for the day would then be 1643 calories.
Now, we can calculate the percentage of each macronutrient:
Carbs: 196/1643×100≈11.9%
Fat: 1071/1643×100≈65.2%
Protein: 376/1643×100≈22.9%
As you can see, the macros are close but do not exactly match the standard keto diet of 10% carbs, 70% fat, and 20% protein. It's slightly higher in carbohydrates and protein and a bit lower in fat. The good news is that Green Chef does sell keto-friendly snacks and add-ons that can help bump up your fat intake.
Here are some of my favorite meals on this plan…
Delicious Discoveries Plan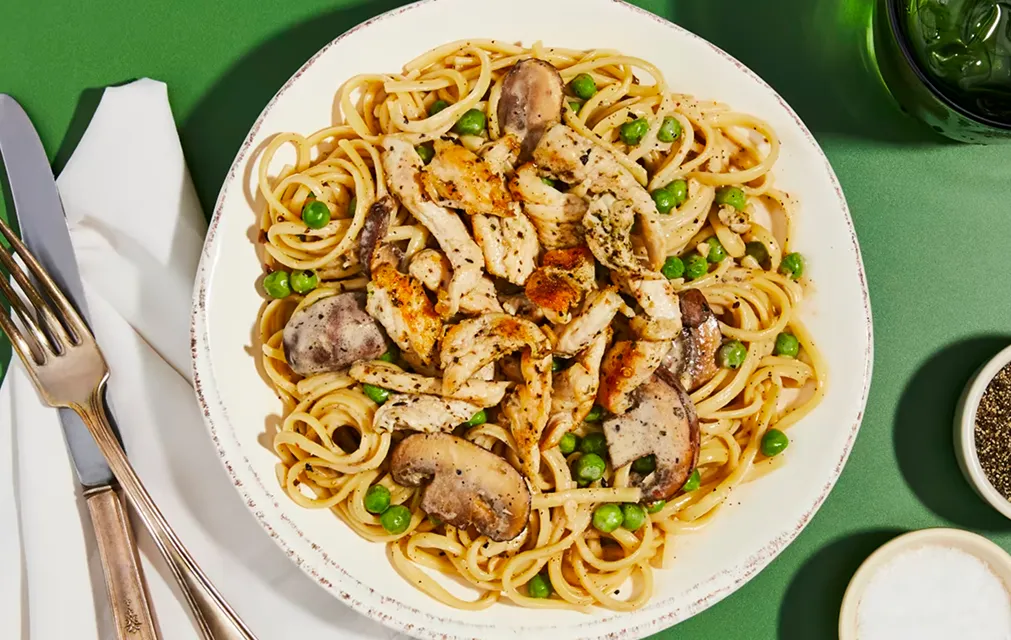 Green Chef's Delicious Discoveries plan features an eclectic mix of meals from around the world. Unlike their more specialized dietary plans, this option is designed for food enthusiasts who are looking for more interesting recipes to cook and exotic flavors to try.
What I particularly like about this plan is it's not purely about exotic meals, it's also about making them more accessible to everyone. The meals I've made on this plan have been, more often than not, simple to prep and easy to cook. While there have been a few times I've felt a little overextended in the kitchen, I'm nearly always impressed with what I've made.
One consideration to bear in mind about Green Chef's Delicious Discoveries plan is that it may not be suited for those with more selective or conservative tastes. With its embrace of diverse flavors, including bold ingredients like kimchi and truffles, this plan is best suited for the more adventurous palate. That said, if you're eager to broaden your flavor horizons, this might just be the right Green Chef plan for you.
Here are some of my favorite meals on this plan…
Gluten-Free Plan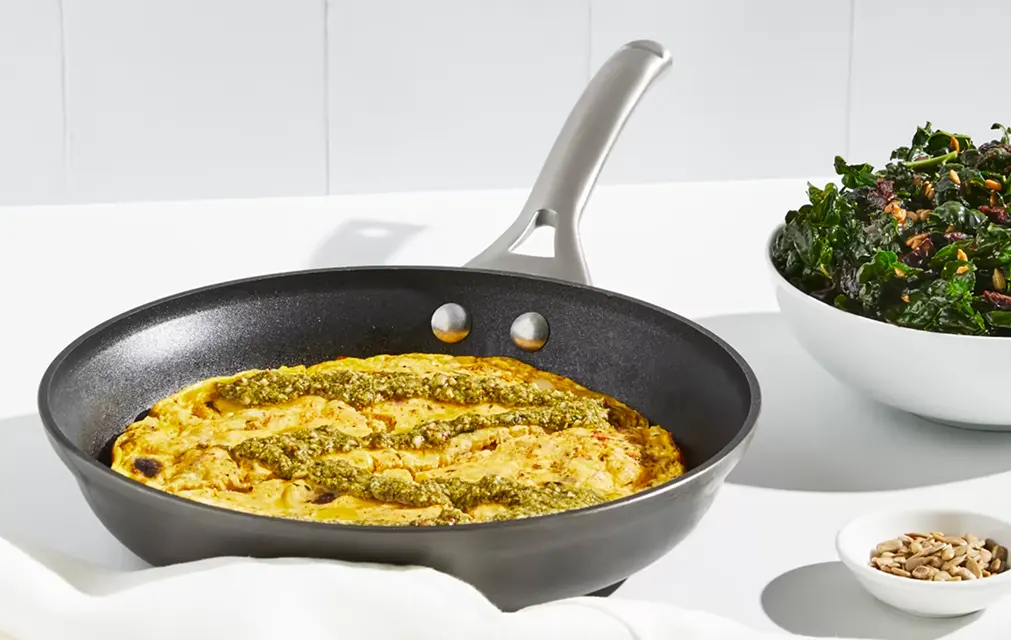 Green Chef's Gluten-Free plan features meals that are free from wheat, barley, rye, and triticale.
What I like about the meals on this plan is that Green Chef doesn't simply swap out ingredients to make these meals gluten free. Instead, they lean into cuisines that are already naturally gluten free (for example, Thai, Indian, and Mexican). This means that the carbohydrates, instead of coming from gluten-containing sources like pasta, are from naturally gluten free sources like rice.
That said, Green Chef is technically not certified gluten free. That means, those who are especially sensitive to gluten (for example, those with celiac) may want to be extra careful when ordering their meals. Gluten free certification is important for those who have celiac or have a gluten allergy as it ensures that the food is free of gluten and there is no risk of cross-contact during the manufacturing process.

I have noticed, though, that all of the meals on Green Chef's gluten free plan are certified gluten-free by the Gluten Intolerance Group's Gluten-Free Safe Spot Program. The Gluten-Free Food Service (GFFS) program provides validation for restaurants and food service businesses that serve gluten-free dishes. While certification does not fully guarantee gluten-free safety, it provides assurance to patrons that the restaurant understands celiac disease needs and follows strict protocols to avoid gluten exposure when preparing meals.
Since there are no gluten-containing ingredients like pasta and bread, Green Chef adds in more veggies, grains, and beans in these dishes. Because of this, I've noticed that many of these meals are much lower in carbohydrates and higher in fiber.
Here are some of my favorite meals on this plan…
Green Chef Add-Ons (Also Called "Green Market")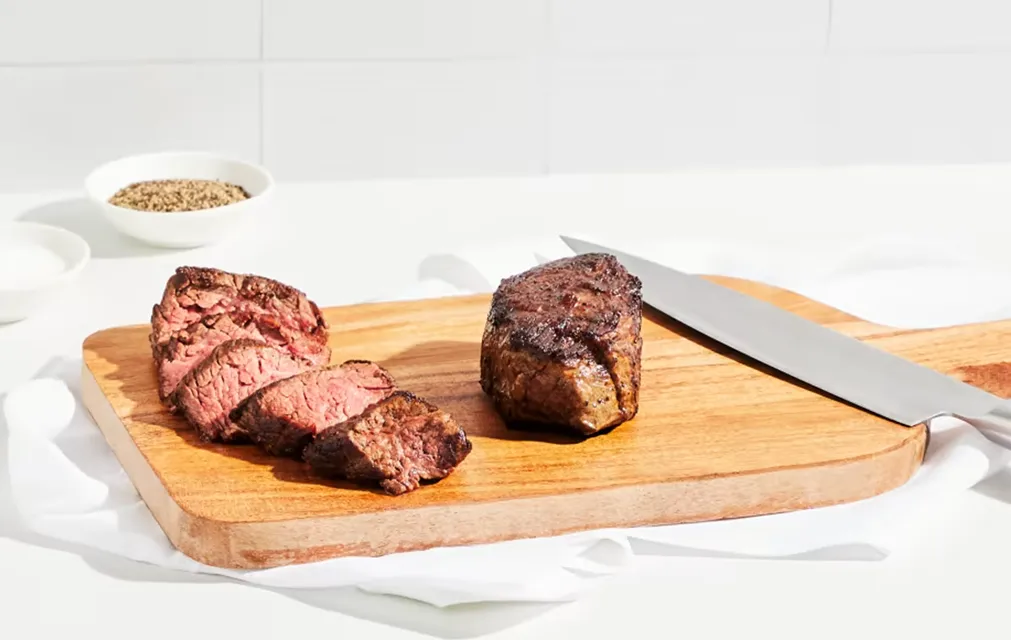 In addition to their meals, Green Chef also offers an add-on marketplace that allows you to get additional foods such as snacks, desserts, extra proteins/meats, extra lunches, and breakfast items.
If you're looking to use Green Chef to cover all of your meals, you'll have to browse their add-ons to get additional meals like breakfasts and snacks. This is because Green Chef's main menu really only covers lunch and dinner meals (with the occasional 1 or 2 breakfast items).
While not as extensive of a marketplace as I've seen with other meal kits, such as HelloFresh or Sunbasket, Green Chef's add-ons seem to focus on quality over quantity. For example, they have meats such as Bavette Steaks and fish such as Barramundi Fillets. Even their coffee selection is from La Colombe.
Variety Of Green Chef's Meals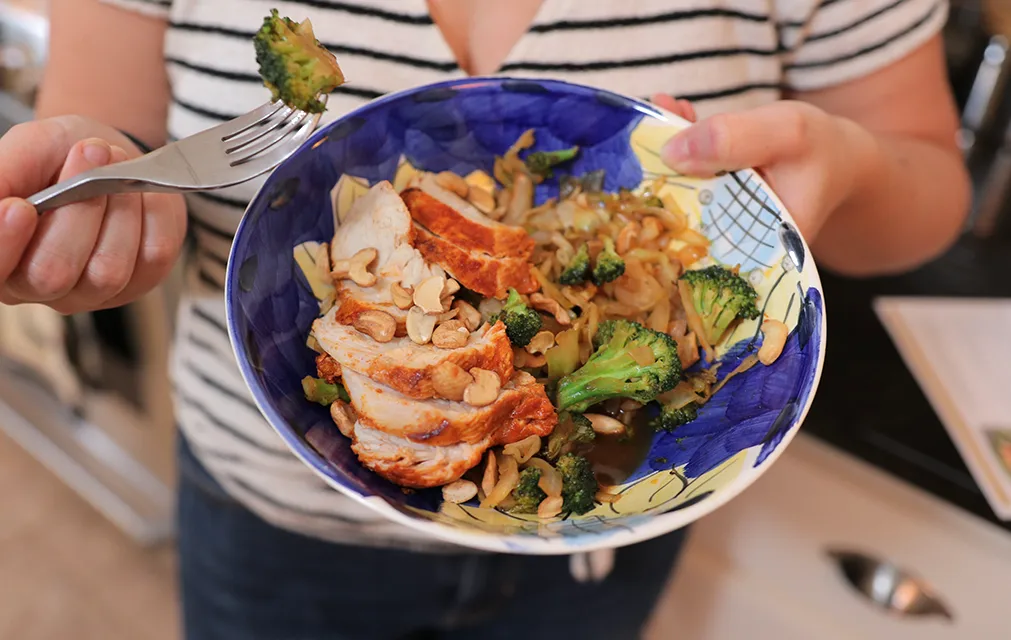 When it comes to Green Chef, one thing is crystal clear: health is the heartbeat of their culinary philosophy. Every recipe they create is crafted with nutrition in mind.
Because of this, the meals tend to be less indulgent than other meal kits out there like Blue Apron and HelloFresh. This means you'll see less high-calorie, high-sugar, and high-carb options on the menu compared to other meal kits out there.
For some, this may be a drawback. But Green Chef really isn't made for those who are looking to indulge in comfort foods. Rather, it's made for those who want to eat nutritionally balanced meals that are unique, exciting, and delicious.
What I appreciate most about Green Chef as a meal kit is the variety of cuisines they offer goes far beyond the run-of-the-mill salad or grilled chicken dish. They dive into a culinary world that draws inspiration from global tastes and traditions.
Here are some of the various cuisines I've seen on their menu…
American: Think nutritionally balanced twists on classics, with a farm-to-table freshness that characterizes contemporary American fare.
Mexican: Expect dishes like tacos, enchiladas, and chiles rellenos, all given a nutritionally balanced spin without losing their zest and authenticity.
Mediterranean: Fresh, flavor-packed options that highlight the diet often touted as one of the healthiest in the world.
Italian: Think beyond spaghetti; I'm talking Italian-inspired dishes with whole grains, fresh herbs, and robust flavors.
Asian: A wide range of meals that could include anything from Japanese-inspired Teriyaki to Indian curries and Thai coconut-based dishes.
Middle Eastern: Rich in spices, herbs, and healthy grains, Green Chef's dishes usually include falafel, tabbouleh, and more.
Latin American: This encompasses more than just Mexican cuisine, with a reach into South American and even Cuban flavors.
African: Think dishes inspired by Moroccan, Ethiopian, and South African traditions.
The only other meal kit I've tried that comes close to the global cuisine variety that Green Chef offers is Sunbasket.
What's particularly enjoyable about Green Chef's variety is the way it encourages adventurous eating. Even those who might usually stick to their comfort zone in the kitchen (myself included) are tempted to explore.
Diets That Green Chef Covers
Green Chef covers a wide variety of different diets. In fact, they cover the most amount of diets out of any meal kit I've tried.
What I find funny about that is I wouldn't even consider them to be a traditional "diet" meal delivery service (in the weight loss sense). When I eat their meals I don't feel like I'm "dieting" by any means. Rather, I feel like I'm simply eating something that's better for me (but still tasty).
Below is an overview of all of the diets Green Chef covers. You'll notice there is a lot of overlap between the plans I covered above.
Mediterranean: This diet is inspired by the traditional eating habits of countries bordering the Mediterranean Sea. Rich in fruits, vegetables, whole grains, olive oil, and fish, it's renowned for its heart-healthy benefits. Green Chef's take on Mediterranean meals emphasizes freshness and flavor.
Keto: The ketogenic diet focuses on high-fat, low-carbohydrate meals that help the body enter a state of ketosis, where it burns fat for energy. Green Chef's Keto offerings are cleverly crafted to satisfy cravings without the carbs, providing tasty alternatives that don't compromise the diet's principles. As noted above, Green Chef's meals do adhere to the standard keto diet.
Low Carb: Similar to Keto but with more flexibility, the low-carb diet minimizes sugars and starches. Green Chef's low-carb options provide filling meals without the heavy carbohydrate load, featuring innovative uses of vegetables, lean proteins, high-fiber ingredients, and healthy fats to create full-flavored dishes.
Low Calorie: For those watching their caloric intake, Green Chef offers meals that are mindful of energy balance while still being flavorful.
High Protein: Targeted at those looking to build muscle or simply increase protein intake, Green Chef's high-protein meals focus on lean meats, fish, legumes, and other protein-rich foods.
Vegan: Embracing plant-based living, Green Chef's vegan meals are free from all animal products. They showcase the richness and variety of vegan cuisine, creating dishes that celebrate the flavors and textures of plants, grains, nuts, and seeds.
Vegetarian: Vegetarian meals from Green Chef go beyond mere meat exclusion, offering inventive and delightful plant-based dishes that may also include eggs and dairy.
Paleo: Rooted in the presumed dietary patterns of our Paleolithic ancestors, the Paleo diet emphasizes whole foods such as meats, fish, fruits, vegetables, nuts, and seeds. Green Chef's Paleo offerings take you back to food basics without sacrificing modern tastes.
What I like about how Green Chef approaches their diet specific meals is their idea that eating well doesn't mean eating less; it means eating right. Whether it's a keto-friendly dish or a vegan delicacy, the focus remains on organic whole foods.
Green Chef's Nutrition Coaching
One of the most unique services Green Chef provides is free one-on-one nutrition coaching with a registered dietitian. Customers can book a 20-minute phone call with an expert to get science-backed advice tailored to their health goals.
Some key benefits of Green Chef's nutrition coaching include:
Personalized guidance based on your specific needs whether that's weight loss, bulking up, overall diet revamp, or other goals. The dietitian will listen to your issues and provide customized recommendations.
Practical meal planning assistance to help choose Green Chef recipes that align with your nutritional needs, lifestyle, and preferences each week. The coach can walk through ordering meals optimized for you.
Accountability through setting clear nutrition goals with the dietitian and getting their input on achievement strategies. You leave with an actionable plan.
I will say that, because this is something new that Green Chef offers, I have not had the chance to use it. Though, it's something that I've only seen a handful of other meal delivery services offer. Having the personalized support and accountability of a dietitian, especially at no added cost, could be hugely beneficial for optimizing your nutrition through their meal kit.
What It's Like Cooking Green Chef's Meals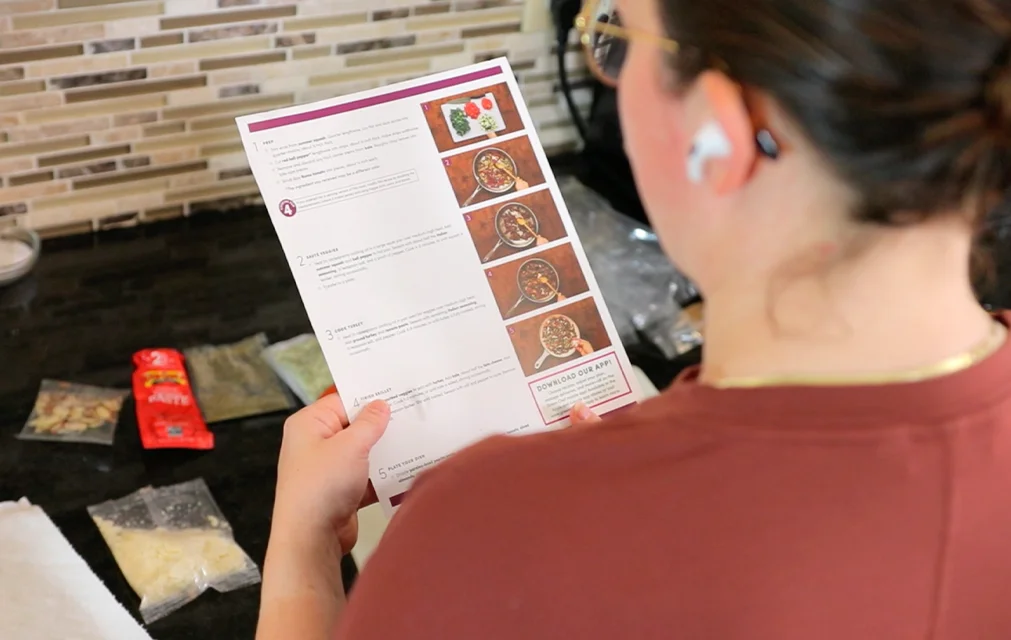 Having cooked dozens of Green Chef meals over the years, I've had a lot of great experiences and some not-so-great experiences. Let's dive into both so I can give you the clearest picture of what it's like to actually cook Green Chef's meals.
Let's start with the good…
Easy to Follow Recipe Cards
Green Chef's recipe cards are not only simple and user-friendly but also quite intuitive. Each step of the cooking process is not only described but also illustrated with pictures. This is nothing new in the world of meal kits but I always highly appreciate when a meal kit includes them on their recipe cards (some don't). Being able to, at a glance, know where I need to be at any step of the recipe makes the prep process a lot easier. Additionally, if you opt to swap ingredients when you're choosing meals in your account, all of the Green Chef recipe cards also include instructions for the ingredient you chose.
I'll cover more on the recipe cards a bit later on in this review.
Mostly Simple Prep
Green Chef offers a variety of meals that are surprisingly easy to prep. A prime example would be the fig and pita pizza we whipped up in the video above. What seemed like an ambitious culinary adventure based on the picture of the meal on the recipe card turned out to be a fairly delightful and hassle-free cooking experience.
Mostly Easy Cleanup
Going off of the above point, because many recipes prioritize single pan meals or minimal recipe steps, I've found that cleanup is also pretty minimal too. It also helps that the ingredients in Green Chef's meal kits come pre-measured. This means fewer utensils cluttering your counters and sink once you're done.
Now let's look at some of the not-so-great things about cooking Green Chef meals…
Some Recipes Require More Work Than Expected
While the majority of the meals I've made with Green Chef have been fairly simple, occasionally there will be times where there will be a step that just puzzles me. For example, as you can see in our video review above, there were multiple recipes where we had to chop and "massage" the kale. While I'm not against trying new things, some people may want to be prepared to get their hands dirty and spend a bit more time cooking than expected with some of these recipes.
Prep Times Aren't Always Correct
I'm sure it can be hard for meal kits to estimate prep times for their recipes because it really comes down to how quick their customer can actually get through each of the steps. That said, there have been some times where I've been cooking a recipe for far longer than the estimated prep time says on the recipe card. For example, some "30 minute" meals have ended up being closer to 50 to 60 minutes all said and done.
Everything Is Wrapped In Plastic
One of the biggest issues I have with cooking Green Chef's meals is the crazy amount of plastic involved. The smallest and simplest ingredients like a cucumber or chives are all wrapped in plastic bags. I'm not saying that they shouldn't have any type of protection to keep them safe while in transit but there are definitely more eco-friendly options available. For example, other meal kits and food boxes I've ordered from use a recycled paper material to wrap the vegetables and fruit.
What To Know About Green Chef's Recipe Cards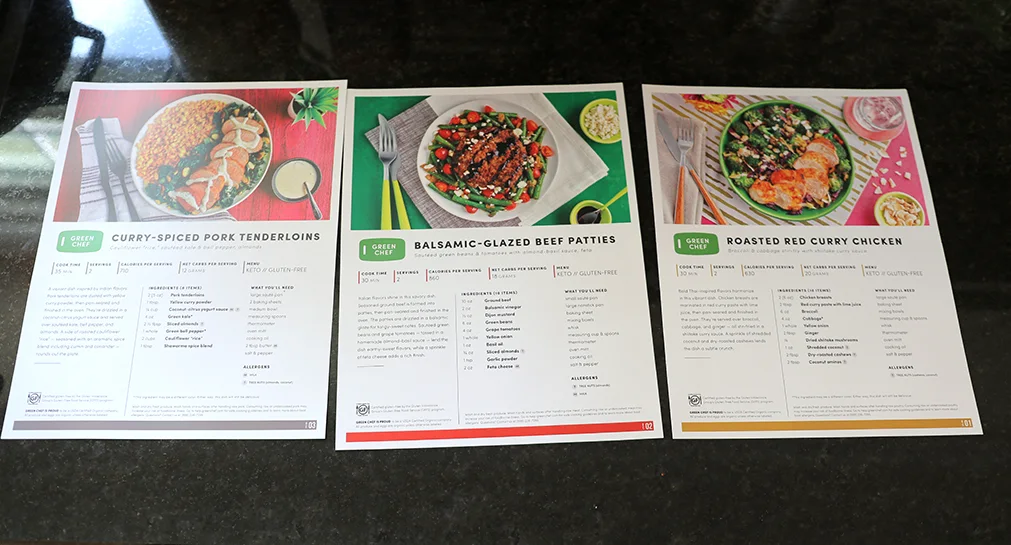 In my opinion, having tried hundreds of boxes over the years, the recipe cards a meal kit sends you play a huge factor in the overall meal kit experience. A well designed recipe card allows you to breeze through the prep and cooking. On the flip side, a not well design recipe card makes it tough to follow and understand where you should be at each stage.
Thankfully, Green Chef's recipe cards are some of the best I've come across.
On the front of the recipe card they list out the name of the recipe, along with an image of what it should look like. Under that they have the estimated cook time, number of servings, and calories per serving. For their keto recipes, Green Chef adds in the net carbs per serving on the front as well.
They then give a brief description of the meal, along with a list of the ingredients that come in the bag as well as what items you'll need from your kitchen. Knowing what you'll need to have to make the recipe before getting started makes things a bit easier when cooking. Green Chef even goes as far as to tell you about the most minuet items you'll need (like an oven mitt).
The front of the recipe card also includes any allergens that are in the meal.
Flipping the recipe card over, you'll see the recipe steps. Each step is broken up with bullet points. I love this because it allows me to easily jump from point to point within the recipe. I've tried a lot of other meal kits that make each step a big block of text. Whenever it's designed like that and I'm trying to cook while reading the recipe, I always lose my place. Green Chef even takes things a step further and bolds the ingredients you'll need at each point in the recipe (as you can see in the picture below).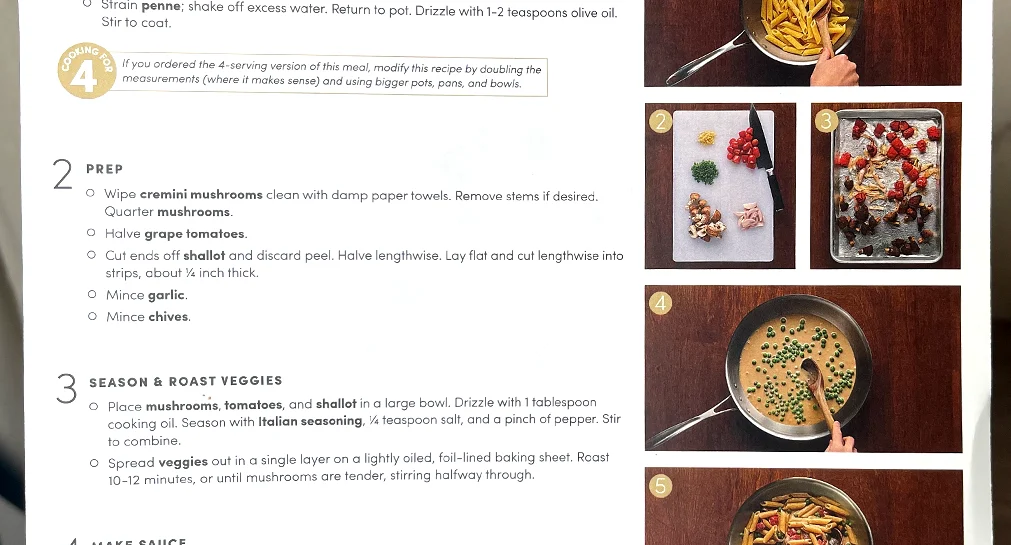 Lastly, and most importantly, the recipe card has pictures of what the meal should look like at each step of the recipe. I've found this to be super helpful when bouncing from step to step because it allows me to visually know where I should be at each stage.
While I like the design of Green Chef's recipe cards, I do believe that they're missing one key thing—nutrition facts. For example, when I order a keto meal, I need to be able to know more than just the calories and net carbs. It's a pain having to go on the app, look up the meal, and check the nutrition facts there.
Providing complete nutrition information on the recipe card allows customers to track important macronutrients like protein, fat, fiber, and sugar quicker. This data is indispensable for anyone following specific dietary plans, especially keto and low-carb diets. It's very surprising (and pretty frustrating) that Green Chef makes me jump through hoops to get it.
Taste Test Of My Most Recent Green Chef Meals
Now let's get to the fun part—how the meals taste! To keep this review as up to date as possible, I've included how our most recent Green Chef meals tasted. Of course, you can always check in on our past Green Chef YouTube reviews here to see some of the other meals we've tried.
Chicken With Cilantro Mojo Sauce, Smoky Roasted Carrots, Kale Salad, & Toasted Pepitas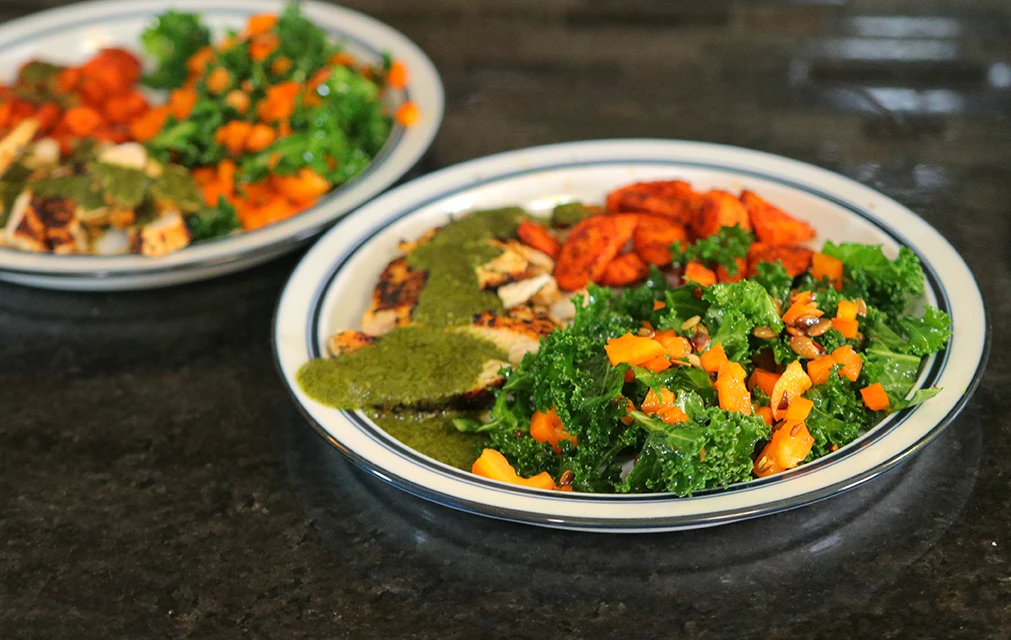 In terms of prep, this meal took the longest out of all the meals in this box. We had to cut, chop, slice, and grate just to get things prepped. While the recipe said the cook time would be 30 minutes, it really came out to around 40-45 all in. It wasn't necessarily hard by any means but it just took a bit longer than I expected it would.
Even though it took a bit more prep work than the others, the meal tasted great. One of the steps in the recipes had us "massage" the kale with the lemon sauce we made. While it sounded crazy, it really helped the kale absorb the lemon, which cut out a lot of the bitterness and made it taste absolutely delicious (something I've never said about kale before).
The spices in this recipe really added another layer to this dish. They were different from anything we've ever cooked with before but added a beautifully zesty tang to each bite. That said, the meal was still balanced between the lighter cilantro mojo sauce and the heavier spices. Definitely a winner in my book and one of my favorites out of all the meals in this box.
Fig & Prosciutto Pita Pizza With Feta, Mozzarella, Tomato, Kale Salad & Hazelnuts
This meal was the easiest to make out of all the recipes we got in this box. It simply involved slicing prosciutto and tomatoes, then massaging kale with a zesty basil dressing. Within minutes, we had a gourmet flatbread piled with sweet figs, salty prosciutto, creamy cheeses, and fresh veggies.
Taking my first bite, I was amazed how all the ingredients blended together perfectly. The sweetness of the figs contrasted delightfully with the sharp feta and nutty hazelnuts. Savory prosciutto, melty mozzarella, and bright tomatoes balanced the flavors. Even the massaged kale provided the perfect tang.
There was only one minor thing that threw the texture off. In the recipe it tells you to microwave the pita. Instead, it would make more sense to put the pita in the oven for a few minutes. In fact, we saved this recipe and ended up using our Tovala to warm up the pita (rather than microwave it) and it came out even better the second time around!
Turkey Skillet With Pesto & Feta, Summer Squash, Bell Pepper, Kale, Tomato, & Almonds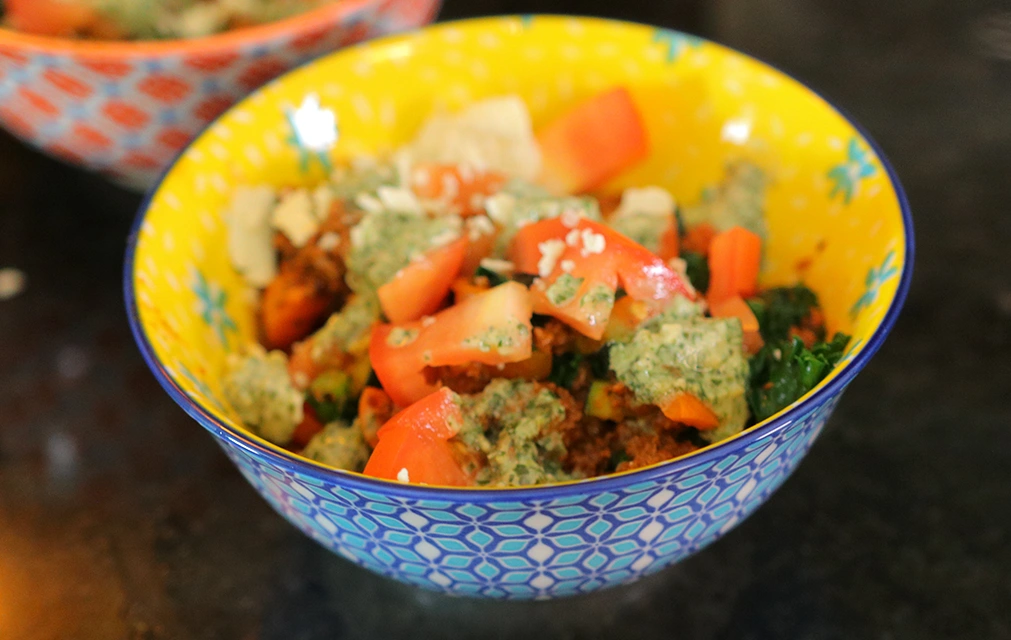 In terms of prep, this was a super simple meal to make. Just some chopping of the veggies—all of which were nice and fresh. The best part was it was a one-pan meal so it made cooking and clean-up easy as well.
Visually, the dish looked very appetizing. It featured a lot of vibrant colors from the squash, bell pepper, tomato, and basil, which I always appreciate in a dish.
Upon first bite, the taste of the pesto is prominent. Its herbaceous notes compliment the savory turkey. The feta adds a tangy undertone, but some might find it slightly overpowering if they're not fans of strong cheese flavors. There also seemed to be a little too much kale. I'm not against kale, by any means, but its bitterness brought down the taste just a bit. And while I appreciate the almonds for the added protein, I don't think they added to the overall texture of the dish in a great way.
In terms of overall taste, I would say it was pretty good but not my favorite of the bunch. We rarely cook with the seasonings in it (like parsley-basil pepita pesto) so it was nice to explore new tastes.
Dairy-Free Creamy Truffle Penne With Cremini Mushrooms, Grape Tomatoes, Peas, & Chives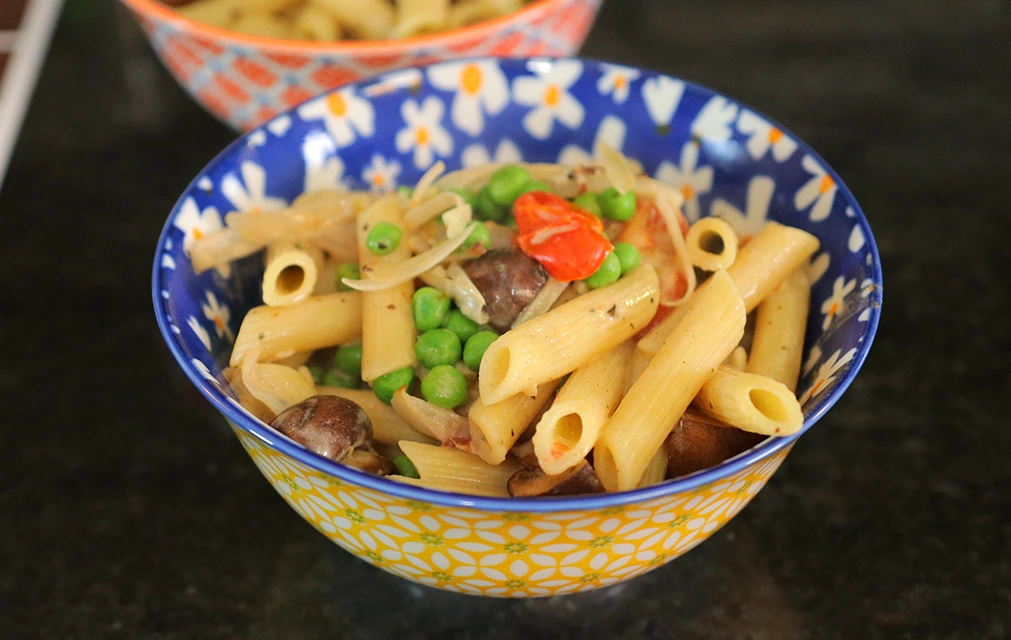 This meal was also very simple to cook. Just a bit of chopping up some of the veggies and mushrooms and most of the dish was done. There was a bit more cleanup involved with this one simply due to there being pasta involved.
Visually, it was another winner in my book. It's hard to go wrong with vibrant veggies and creamy pasta.
The one minor inconvenience we had when cooking was that the chives weren't as fresh as they should have been. They were a bit soggy—likely from being in a plastic bag for an extended period of time—but it wasn't a huge issue.
My wife Emily was unsure about this dairy-free pasta dish, since she generally dislikes coconut milk. But to both our surprise, she enjoyed it just as much as I did!
Despite its creamy taste, the dish still felt light thanks to the coconut milk base. Each bite of pasta had a luscious quality that was satisfying without weighing us down.
The grape tomatoes added a burst of freshness and the peas provided a pleasant sweetness and textural contrast that I enjoyed. Though, for anyone looking to try this dish, I would only recommend it to those who enjoy the taste of truffle—it's prominent in this dish. I'm a big fan of truffle but I know it can be an acquired taste.
Mylk Labs Oatmeal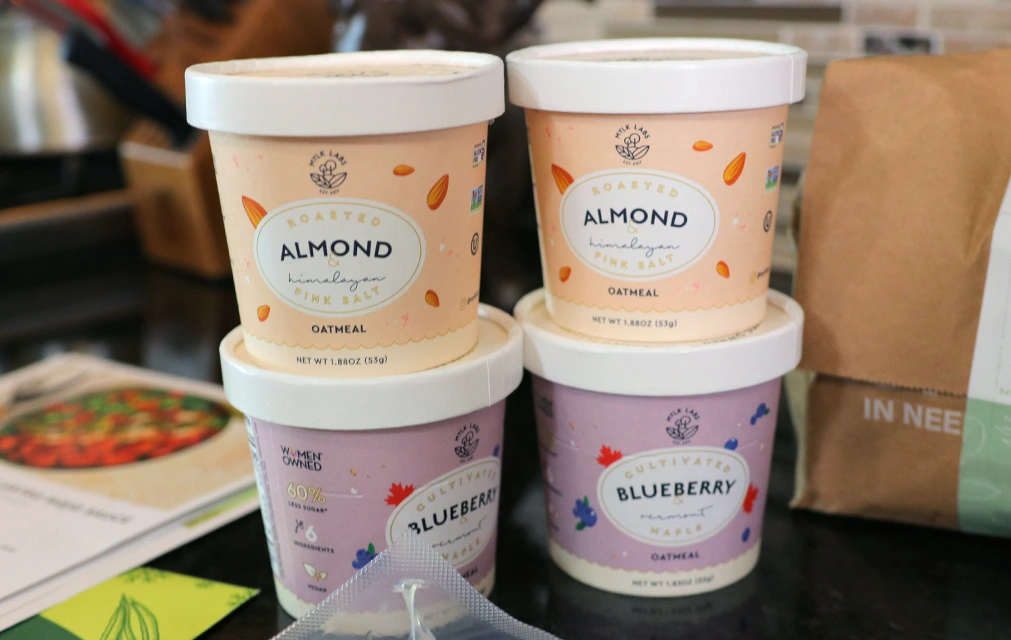 As an add-on, from Green Chef's market, I decided to throw in these Mylk Labs Oatmeal bowls. I got two of the almond and Himalayan pink salt and two of the blueberry maple. Both were delicious but I knew that beforehand because I've had them before. In fact, I've actually had the pleasure of interviewing the founder of Mylk Labs (which you can read here).
Portion Sizes Of Green Chef's Meals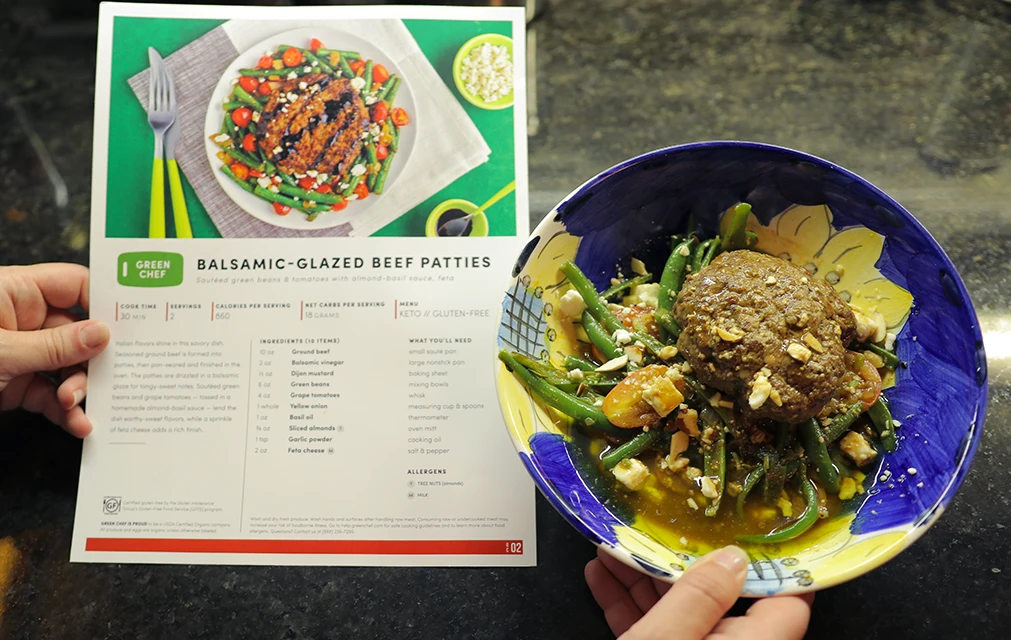 I'll be the first to admit that, for the majority of the meals I've had with Green Chef, the portion sizes aren't massive. Though, as you can tell from the pictures above, there are a few that have normal and bigger than normal portions (such as the pita pizza).
That said, I don't know if I can fully count Green Chef's portion sizes as a negative. I choose to use Green Chef as a way to reel in my eating habits and pull back on binge eating.
When Emily and I cook on our own and make a normal dinner, we often make way more than two servings. This can lead me to eating more than I should and feeling uncomfortably full rather than simply satiated.
One of the main reasons I continue to use Green Chef is that it helps me eat healthier and in proper portions when I've fallen off track. I know that every meal kit is not only organic and nutritionally balanced, but also perfectly portioned out. This takes the guesswork out of getting my diet back on track. I don't have to count calories or nutrients since Green Chef does it for me.
Quality Of Green Chef's Meals
First and foremost, Green Chef is certified CCOF organic. This is different than a meal kit that simply uses organic ingredients. From their FAQ page, it means that their ingredients are sourced from certified suppliers who are subjected to annual compliance inspections.
Green Chef is also one of the only fully organic meal kits out there at the moment that uses USDA certified organic ingredients. Most others that I've tried only offer some organic options.
Eating organic means choosing foods that are grown or raised without the use of synthetic pesticides, hormones, antibiotics, or genetic engineering. Organic farming practices promote biodiversity, healthy soils, and animal welfare.
The flip side of eating organic is that it costs more (which I'll cover in-depth below).
In terms of the ingredients I've received from Green Chef, the vast majority have been fresh and, being organic, I can taste the difference. The vegetables seem to have more flavor, they are more crisp, and their colors are more vibrant. Though, every so often I will receive an ingredient that's slightly wilted or soggy (for example, the chives in the turkey skillet dish I mentioned before).
The biggest gripe I have with the quality of Green Chef's meals comes down to transparency. I've scoured their website and all of the ingredients they've sent me and I have found no indication as to how or where they source their ingredients from. Compare this with Sunbasket, who lists out exactly which farms they work with.
This lack of transparency is a bit concerning because I want to know that the organic ingredients they claim to use are truly organic and locally sourced. Green Chef really should provide more transparency around their sourcing, production, and distribution practices.
Allergens In Green Chef Meals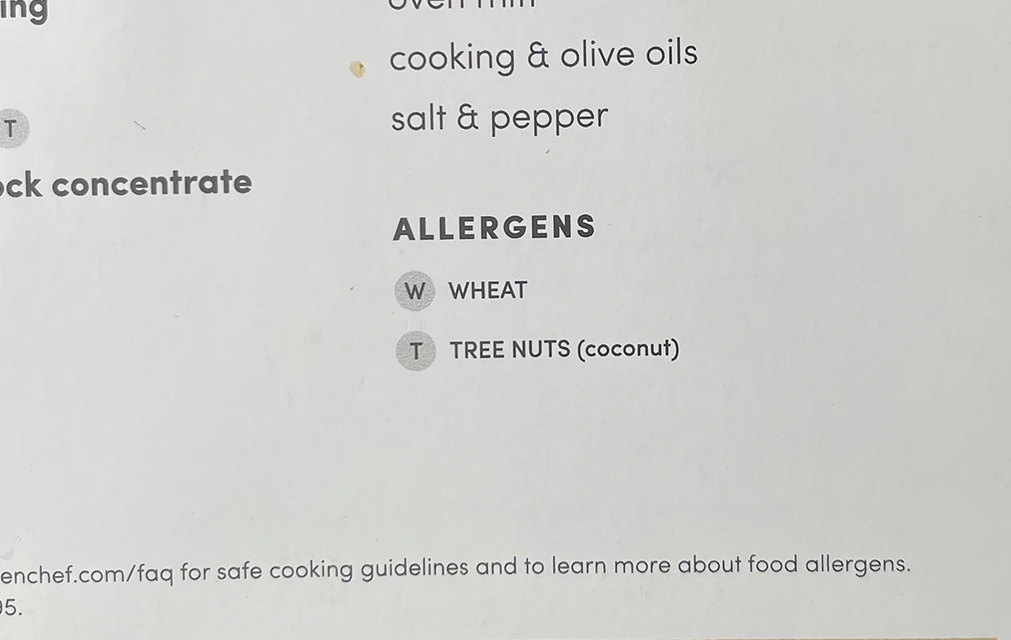 While Green Chef labels allergens for individual recipes, their meals are produced in facilities that process many major allergens. On each recipe, they state the following: "Produced in a facility that processes eggs, fish, milk, peanuts, sesame, shellfish, soy, and tree nuts. All Produce & Eggs are organic."
Green Chef's meal options may work for those with mild intolerances or lifestyle preferences like going gluten-free without any allergy. But for anyone with a life-threatening food allergy, the lack of dedicated allergen-free facilities means Green Chef can't guarantee absolute safety from cross-contamination.
People with severe food allergies should consider a meal kit service that offers more protections. While Green Chef's labels help, their lack of separate facilities means an unavoidable risk for those that are highly sensitive.
What You Should Know About Delivery
The nicest part about Green Chef's delivery is that you can choose your preferred delivery day—Monday through Saturday. Being able to select a day that works with my schedule ensures that I'll be home and have time to put everything away.
When I first signed up for Green Chef years ago, I did have some concerns about the delivery process because some customers did complain about damaged boxes. That said, I have never had any issues with my boxes showing up damaged. Going off of that, I've never had any issues with ingredients being damaged inside of the box either.
In my experience over the years as a Green Chef customer, the shipping reliability has depended on which courier service handles the delivery based on your location. Green Chef utilizes either FedEx or UPS logistics networks across different regions.
Personally, my Green Chef boxes have always shipped via UPS to my area and I've rarely had any delivery issues. The handoff seems to go smoothly from Green Chef's warehouse to the UPS network.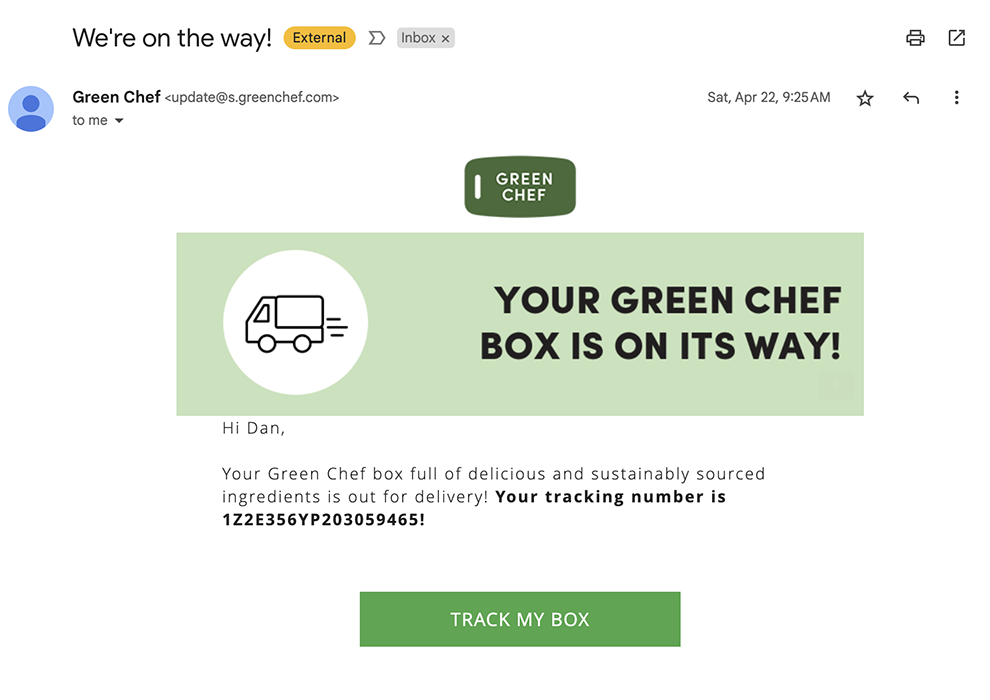 Once your weekly box ships out, Green Chef provides an email with the tracking number and estimated arrival date. This allows you to closely monitor the boxes transit status.
I've noticed that the shipping times are pretty quick. My Green Chef boxes generally spend less than 48 hours in transit, usually arriving at my doorstep within 36 hours after I receive the tracking email.
Of course, experiences may vary depending on your location and potential shipping delays.
Food Box HQ Note: Green Chef ships to the majority of the United States except of Alaska and Hawaii.
Green Chef Packaging
Over the years of using Green Chef, I've seen them change their packaging around quite a bit.
All of the meals get shipped in a standard cardboard box, nothing fancy. Inside the box there's an insulating liner that keeps the ingredients cold while in transit. I've noticed that the type of insulation Green Chef uses in their packaging changes depending on the time of year. For example, in the warmer months I've received boxes with thick insulation (as you can see in the picture below).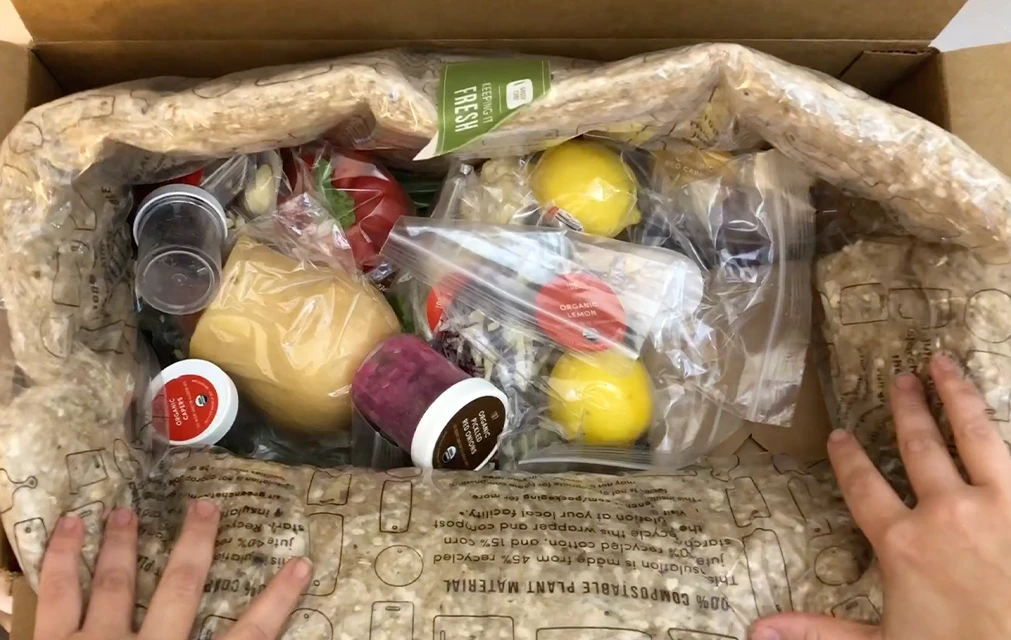 In the colder months I'll receive boxes with very thin insulation (as you can see in the picture below).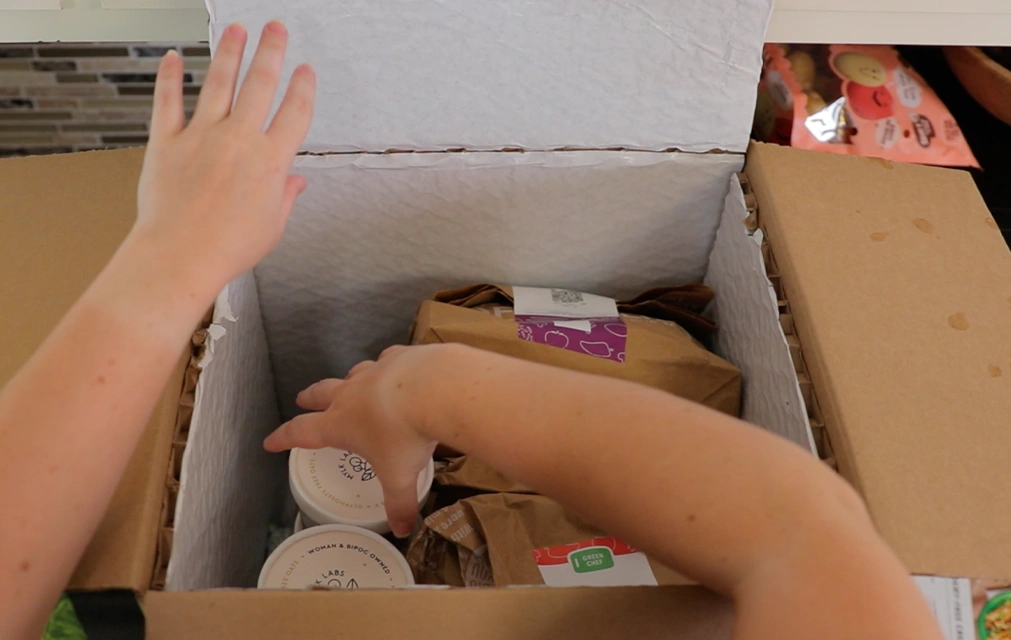 By reducing the insulation in the colder months Green Chef is able to save money on packaging costs. However, it does come at the risk of damaging the ingredients. The thicker insulation definitely does a better job of keeping the ingredients from bumping around in the box. Though, I should say that I've never received any bruised or broken ingredients.
Within the insulation Green Chef includes big ice packs at the bottom of the box. I've never run into any instances where the ice packs have come warm. They've always either been either very cold or still frozen. If you receive a box where the ice packs are not still cold or frozen, you should immediately contact Green Chef and let them know. All of the ingredients inside your box should be cold at all times.
Perishable meats are placed at the bottom of the box, in direct contact with icy gel packs to maintain a cold temperature throughout transit. On top of the meats there are the bagged ingredients.
Green Chef's practice of bagging every ingredient separately may seem like a minor detail, but it makes keeping everything organized a lot easier. Rather than sorting through loose ingredients, each component is packaged per recipe.
When I order from a meal kit that doesn't individually bag the ingredients (like EveryPlate or Dinnerly) all of the items are rolling around in the box while being shipped. Then I have to take time (and be extra careful) when unpacking to sort and group everything for each recipe before putting it in the fridge. With the ingredients jumbled together, it's easy for me to misplace something and not notice until I'm in the middle of cooking. With ingredients organized from the start, I've found I'm less likely to lose track of something important mid-recipe.
Green Chef also color codes their recipe bags with the recipe cards. To give you an example, in the picture below you'll notice that the label on the bag of ingredients is purple. That color corresponds with the purple bar on the recipe card. It's little details like this that I love because they add up and make the overall prep and cooking experience a lot easier.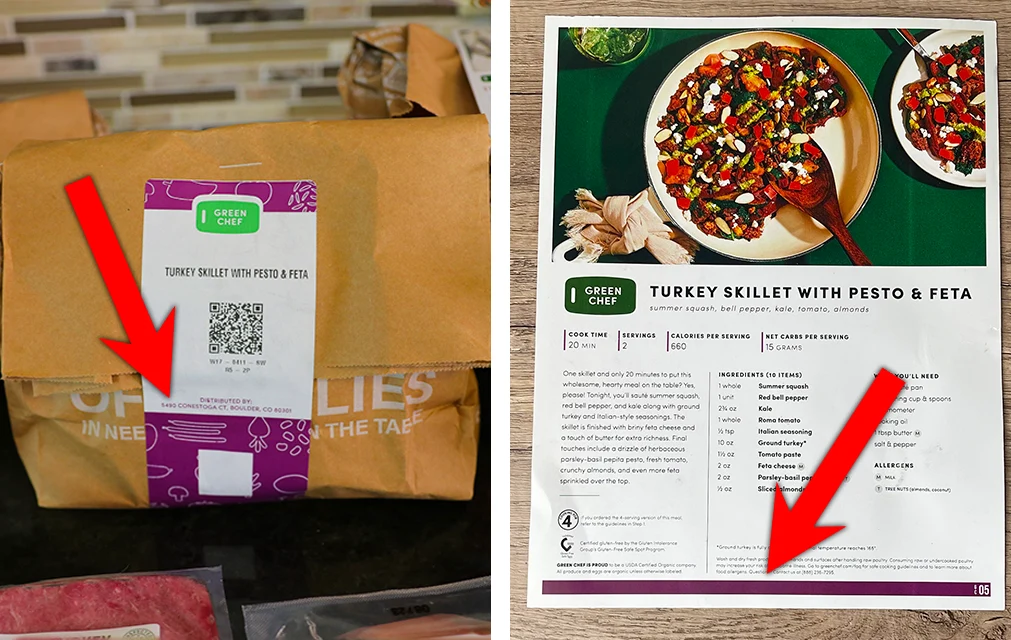 Going off of the above, the label on each bag of ingredients also has a QR code so that if you misplace the recipe card, you can still easily access the recipe on your phone.
Now let's talk about the elephant in the room—the plastic. Green Chef uses a lot of single use plastic. While they've reduced the amount of plastic they used to use they still use quite a bit.
This is a bit disheartening because Green Chef brands themselves as an eco-friendly, organic meal kit but with all of the plastic they use, it really does the brand a disservice. I will give Green Chef a few bonus points, though, because they do say that they offset 100% of the plastic in each box (screenshot below) but they do not go into any detail as to how they do that.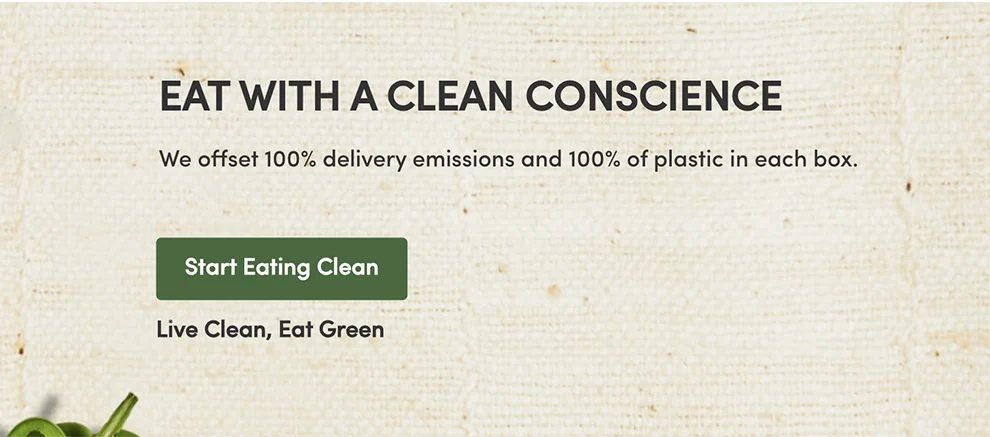 Recycling Green Chef Packaging
A good portion of Green Chef's packaging can be recycled. However, there are some caveats to be aware of.
The cardboard box can be easily recycled curbside. As for the inner liner, recycling will depend on the type that you receive. For example, if you receive a liner that says "ClimaCell" on it, that can be curbside recycled. I recommend checking the side of the liner to see if it says it's recyclable, just to be safe.
Recycling the ice packs from Green Chef takes some extra effort. You have to fully thaw and drain the liquid from them before recycling. Additionally, the ice packs are made from #4 plastic, which not all local recycling programs accept. You'll need to check if your facility takes this plastic type.
The plastic bags wrapping loose ingredients are also #4 plastic, so face the same recycling restrictions. And the plastic storage jars included with some meal kits are made from #5 plastic, which comes with its own recycling restrictions. This article does a good job of explaining the different types of plastic and how they can be recycled.
Lastly, the paper bags and any egg cartons (made of a wood pulp material) that Green Chef sends are easier to recycle since they can be taken with the vast majority of curbside recycling programs.
Food Box HQ Note: Here's more info on how to recycle Green Chef's packaging.
Is Green Chef Eco-Friendly?
Now that we've covered Green Chef's packaging and recyclability, let's talk about how eco-friendly they are.
Let me start by saying that Green Chef is one of the few meal kits I've tried that offsets 100% of their emissions and offsets 100% of the plastic they send. They don't explicitly say how they do this on their website but I was able to learn more in their Sustainability Report. Here's what I found out:
Reducing Carbon Footprint: Green Chef has implemented measures to reduce its carbon footprint. This includes optimizing transportation routes and using energy-efficient facilities.
Responsible Sourcing: Green Chef emphasizes responsible sourcing, ensuring that the ingredients are ethically obtained and support local farmers (though they do not mention which farms). They also mention that the challenge in sourcing responsibly lies in maintaining this commitment as the company scales.
Food Waste Reduction: Efforts to minimize food waste are also part of Green Chef's sustainability agenda. By providing pre-portioned ingredients, they aim to reduce unnecessary waste. While this is a positive step, it could also be argued that the individual packaging of ingredients might offset the benefits of reduced food waste.
Compared to many other meal kit companies I've tried, Green Chef definitely takes sustainability seriously and make it a priority in their business practices.
Don't get me wrong, Green Chef still has room for improvement—no company is perfectly sustainable yet. But their multifaceted approach shows authentic initiative to become greener in all aspects of operations. They go beyond surface-level gimmicks to enact meaningful changes, both small and large-scale.
I appreciate Green Chef's efforts to "walk the walk" when it comes to environmental aims. More meal kit companies should follow their lead on sustainable best practices.
Green Chef App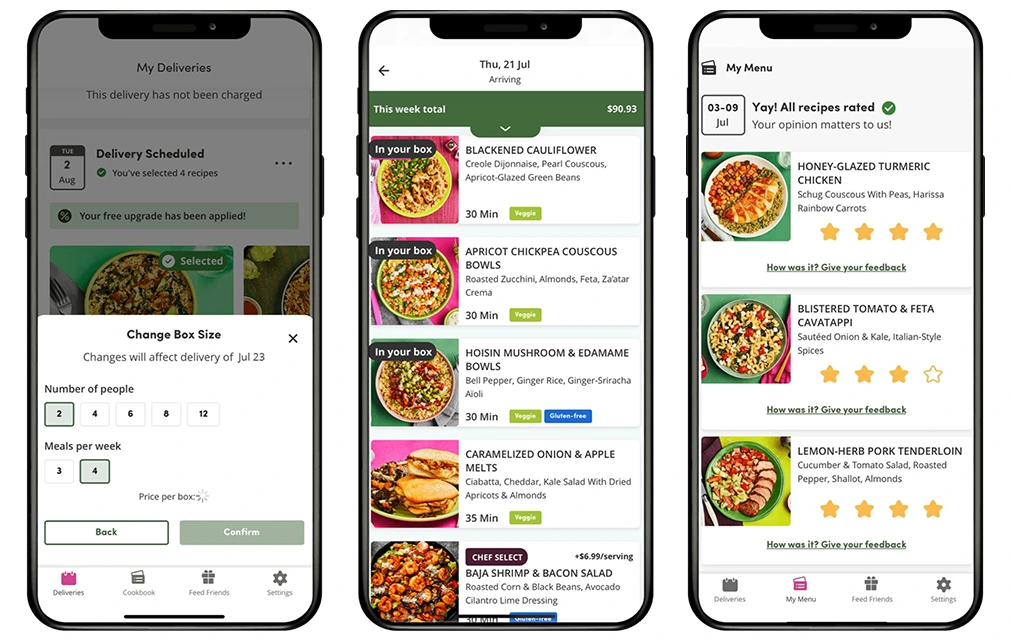 Like most meal kits, Green Chef has a mobile app for both iOS and Android phones. When using any meal kit, I tend to prefer using their app over using their website. I find it makes the entire meal selection and management process a lot quicker. Plus, I can get notifications on my phone when I need to pick my next meals, when my box ships, and more.
Green Chef's app isn't anything new or revolutionary among all the other meal kit apps I've tried, it has pretty much all the same features as other meal kit apps offer.
Here's an overview of what you can do with it:
Pick and schedule your meals up to 3 weeks in advance.
Skip weeks that you're not going to be home or don't want to receive a box.
Rate recipes and provide meal feedback.
Access recipe instructions and view photos.
Save favorite recipes for quick access.
Contact customer support via in-app messaging.
Manage payment information and billing.
Refer friends and earn credit.
Discover cooking tips and recipe techniques.
Integrate with Apple Health to track nutrition.
Other than managing my meals, the feature I use most often is rating the recipes. Rating allows me to tell their algorithm what I like and what I don't like so I'll get recommended meals that are more in line with what I prefer.
Green Chef Customer Service
As a Green Chef customer, I honestly can't say much about their customer service because I've never had to contact them. And I think that speaks volumes about the quality of their meal kit.
In the 6 years I've been ordering from them, have had zero issues beyond small things such as slightly soggy or wilted produce. No damaged boxes, no missing ingredients, and no reason to contact support to clear up any issues.
Though, if I did need to contact support, Green Chef's website and app make the experience fairly simple.
Customers can contact them through the following methods:
Phone via +1 (888) 236-7295
Email via help@greenchef.com
Live online chat (via their contact page here)
Green Chef vs. The Competition
Green Chef is not the only meal kit out there. They are also not the only meal kit you should consider if you're thinking about trying one.
Below you'll find the ones I've used that I believe are direct competitors to Green Chef and possible alternatives you may want to look into.
HelloFresh vs. Green Chef
HelloFresh is probably the most well-known meal kit company out there. Like Green Chef, they offer a variety of meal plans to accommodate different diets and preferences. However, I find the overall quality of ingredients and recipes to be better with Green Chef.
Both Green Chef and HelloFresh provide multiple meal plan options tailored to different dietary needs like vegetarian, keto, low calorie, etc. This allows customers to choose a menu that fits their lifestyle.
When it comes to the total number of weekly recipes available, HelloFresh offers a significantly larger market with dozens of options to choose from each week across their various plans. Green Chef's menu is still robust, but their total selection is smaller compared to HelloFresh's expansive offerings.
The upside for Green Chef is that their smaller catalog allows them to focus on curating higher quality, more specialized recipes optimized for each dietary plan.
Which do I think taste better? Honestly, HelloFresh has better tasting meals. That said, I've found them to be higher in sodium and calories than Green Chef's meals. So the tradeoff may not be worth it to those watching what they eat.
I've also noticed it's easier to customize meals with HelloFresh by swapping and upgrades ingredients in certain meals. Green Chef doesn't offer nearly the same flexibility that HelloFresh does.
Of course, it's important to remember that while both Green Chef and HelloFresh are both meal kits, they're really meant for different people. HelloFresh is best suited for those who want a mix of tasty meals (some comfort foods, some nutritionally balanced foods). Green Chef is more geared towards those who are only looking for nutritionally balanced and organic meals.
Home Chef vs. Green Chef
Home Chef is another popular brand in the meal kit delivery space. They offer some similarities to Green Chef, like dietary-conscious meal plans and pre-portioned recipes. However, there are key differences that set the two apart.
Home Chef meal kits cater more to family-friendly simplicity over gourmet appeal. Their recipes typically have shorter prep times and easier-to-find ingredients. For example, I'm a big fan of their oven-ready meals. I've also found their meals to be more appealing to picky eaters since they offer more straightforward American classics. Green Chef's offerings feel more global, elevated, and unique. Though, they can require more effort to make.
In terms of customization, Home Chef definitely has an edge. They allow you to easily swap proteins or sides in all recipes and even change the amount of servings you receive. Green Chef has less flexibility to modify dishes.
Looking at variety, Green Chef comes out ahead. They offer more global cuisine options and adventurous flavor combinations. Home Chef has a heavier rotation of American classics.
Sunbasket vs. Green Chef
Sunbasket is another major player in the meal kit delivery space and one that I would say is the closest alternative to Green Chef in terms of what they both offer.
When it comes to dietary choices, both companies offer paleo, vegan, vegetarian, low-carb, and other specialized meals. Like Green Chef, Sunbasket also is one of the few meal kits that is certified organic.
While both Green Chef and Sunbasket accommodate special diets, their meal kits differ significantly in culinary style. Sunbasket embraces bolder, more adventurous global flavors in their recipes compared to Green Chef's approach.
Looking through Sunbasket's menu, you'll often find dishes drawing inspiration from diverse world regions like Creole, Burmese, Puerto Rican, Korean, Moroccan and other unexpected international cuisines.
I've found that Green Chef pulls more from popular European and Asian cuisines. So those wanting to expand their culinary horizons may be drawn more to Sunbasket's exotic meal options from diverse cultures. However, Green Chef likely appeals to those looking for globally inspired meals with a bit more familiarity and approachability.
The biggest difference between both of these meal kits is how they handle the meal selection process. Green Chef is like most meal kits, allowing you to choose from a selection of 40+ weekly meals. Sunbasket, on the other hand, operates more like a marketplace. This allows you to choose from over 100 different meal options on their menu each week. This includes breakfast, lunch, dinner, snacks, drinks, meats, fish, and more. If you're looking for the most amount of variety and selection, Sunbasket is definitely the winner.
How Much Does Green Chef Cost?
Green Chef's individual meal cost varies based on the plan size you select. The more servings you order per week, the lower the per-meal price becomes (up to a certain point).
It should be noted that there's no difference in cost between Green Chef's plans—a meal on the Keto plan is the same price as on the Mediterranean plan. The final price comes down total number of servings ordered. For instance, getting 3 meals per week for 2 people on the Keto plan would be the same price as 3 meals per week for 2 people on the Mediterranean plan.
Below is an overview of what you can expect to pay on each plan size.
Here's what you can expect to pay per serving on the 2 person plan…
3 meals for 2 people per week (6 total servings) comes out to $13.49 per serving.
4 meals for 2 people per week (8 total servings) comes out to $12.99 per serving.
Food Box HQ Note: Green Chef's 2 person plan does not give you the option to choose 2 meals per week like their other plans do.
Here's what you can expect to pay per serving on the 4 person plan…
2 meals for 4 people per week (8 total servings) comes out to $12.99 per serving.
3 meals for 4 people per week (12 total servings) comes out to $12.49 per serving.
4 meals for 4 people per week (16 total servings) comes out to $11.99 per serving.
Here's what you can expect to pay per serving on the 6 person plan…
3 meals for 6 people per week (18 total servings) comes out to $11.99 per serving.
4 meals for 6 people per week (24 total servings) comes out to $11.99 per serving.
My main frustration with Green Chef's pricing structure is that the per-meal cost stops decreasing after you order 4 meals for 4 people per week. This means that there is no further discount for plans larger than 4 servings per meal, 4 meals per week. The price per serving stays flat once you exceed that tier, rather than continuing to incrementally drop with more volume.
Additionally, Green Chef charges a flat-rate shipping fee of $10.99 regardless of how many meals you order per week. I wish they incentivized larger plans through either free shipping above a certain threshold or progressively lower shipping rates for more servings.
Green Chef Promo & Discount Codes
While Green Chef may not be the cheapest option out there, they do offer some great discounts and coupons for new subscribers. I've rounded up my favorites below…
Coupon code "GREENCHEF200" will get you $250 off your first 5 boxes.
Coupon code "2I-3JOG0" will get you $223 off your first 4 boxes.
Coupon code "1Y-ULJNY" will get you $243 off your first 5 boxes.
To help readers access the best Green Chef savings, I aim to provide multiple current discount codes in my reviews. Meal kit promotions and coupons frequently change, so a working code now may expire soon in the future. If you find a code I shared no longer valid or come across a better Green Chef deal, please let me know in the comments!
Pros & Cons Of Green Chef
Having used Green Chef for years, I've rounded up what I really like about them and what I don't. Hopefully this gives you more insight into their meal kit so you can determine if Green Chef is the right choice for you...
Pros Of Green Chef
Even though Green Chef focuses on healthy, nutritious ingredients, their meals are still very flavorful and satisfying.
Green Chef incorporates cuisines from all around the world into their weekly menu rotations. You'll find bold spices and sauces from Mexican, Italian, Indian, Thai, and Middle Eastern cuisines. The wide range of global flavors keeps meal times exciting and ever-changing. I've never gotten bored with the diverse selection on their menu.
Green Chef provides a good balance of quick, 30-minute meals for busy nights and more elaborate 1-hour recipes for relaxed weekends. The recipes conveniently indicate time estimates which allows me to plan out my week accordingly.
They are one of the only certified organic meal kits available.
The wide variety of diet-based plan options makes it easy to stick to your lifestyle goals.
While not perfect, Green Chef has taken many steps to become more eco-friendly through their packaging, facilities, and supply chain. I'm impressed that they offset 100% of their emissions and I haven't come across any other meal kit that offsets both other than them.
Cons Of Green Chef
Green Chef is pricier than many competitors. While quality and organic ingredients justify costs for some, others might find it too expensive.
If you have a larger appetite, Green Chef's single-serve portions may feel too small. Most plates are satisfying for one average eater, but bigger eaters may want larger servings or additional side dishes.
Green Chef doesn't give you the same level of customizability as other meal kits like HelloFresh and Home Chef do.
I've noticed that the estimated prep/cook times are sometimes understated. While most recipes provide accurate time estimates, occasionally a 30-minute meal takes closer to an hour.
Their packaging uses a lot of single use plastic. Despite eco-friendly efforts, each meal still contains plastic bags, pouches, films.
Green Chef doesn't provide much info on their suppliers or farm partners. More transparency would build greater trust in where they source ingredients.
Final Review Score Of Green Chef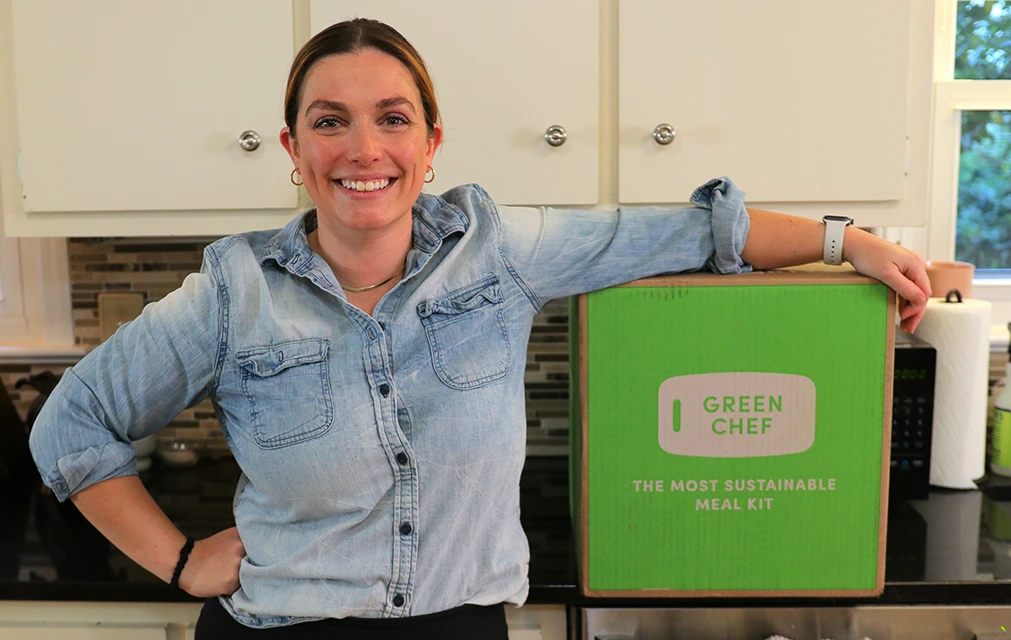 After using Green Chef for over 6 years and examining all the pros and cons for this review, I'm ready to give my final take on how they stack up...
Taste (4.4/5): Even though these meals cut back on sugar, sodium, and high calorie ingredients, Green Chef has done a great job of keeping them flavorful.
Variety (4.3/5): Green Chef's rotating menu of 40+ meals with flavors that span the world are perfect for adventurous eaters who want to discover new, nutritionally balanced cuisines each week.
Flexibility & Customizability (3.9/4): Green Chef's meal kit is very flexible in terms of managing your account, skipping meals, changing plans, and more. However, they do not offer as many customization options as I've seen from other meal kits (such as being able to swap and upgrade ingredients).
Quality (4.9/5): Green Chef's meals are not only certified organic but they are also some of the highest quality meals I've come across in my many years of testing different meal kits.
Delivery & Packaging (4.7/5): In my experience, Green Chef deliveries consistently arrive on schedule and the boxes have all been undamaged. They have invested in recyclable packaging to be more eco-friendly (though, they are not perfect).
Ease of Use (4.7/5): Across the board, from their website and app to prepping and cooking their recipes, I've found Green Chef to be very easy to use. With their Quick & easy plan you can find meals that can be made in 10-20 minutes with minimal prep and clean-up, which I love.
Value (9/5): While Green Chef has a lot going for it in terms of quality, variety, and ease of use, it is still more expensive than many other meal kits I've tried. This certainly places it in a higher bracket, and the value proposition may not align with everyone's budget.
My final review score for Green Chef is 4.4/5.
Green Chef's meals taste great even though they keep them within certain diet guidelines. The variety of global cuisines keeps things interesting week to week. While customization is limited, Green Chef offers excellent dietary options and flexibility in delivery management.
While the pricing is certainly higher than many other meal kits out there, the tradeoff is quality. There are very few organic meal kits available and Green Chef is, in my opinion, one of the best.
Overall though, I find their recipes satisfying, their ingredients top-notch, and their sustainability mission admirable. For those seeking superb nutrition-focused meals, Green Chef delivers a delicious, health-conscious meal kit.
Have a question about Green Chef I didn't answer in this review? Let me know in the comments below!
Past Green Chef YouTube Reviews