Eating right when you're on a strict diet is hard enough (at least for me). Having to cook everything yourself can add an extra layer of complexity.
That's why when we stumbled upon Trifecta Nutrition, I was excited to try them out.
There are a lot of premade meal delivery services out there these days—from Factor Meals to Fresh n Lean. But not a lot of them are geared specifically towards health and fitness the way that Trifecta Nutrition is.
Today I'm going to share with you our thoughts of their prepared meal delivery service, having used them all the way back in 2017 to how they stack up now.
A Bit Of Background On How Trifecta Nutrition Got Its Start
I admire the passion and heart-driven success in a company's origin story. That's why I was pleasantly surprised to see that Trifecta was founded by brother and sister duo Greg and Elizabeth Connolly, who both have an enthusiasm for fitness and living a healthy lifestyle.
Elizabeth is a lifelong runner with a background as a CrossFit coach, and Greg has a 20-year background in the health and fitness industry.  They combined their skills and passion for healthy food to create Trifecta Nutrition. As northern California natives, Trifecta Nutrition's headquarters is based in Sacramento, California.
Their philosophy goes beyond just healthy eating, as they aim to build more than just a meal delivery service. Their goal is to create a service that supports individuals' well-being on a mental, physical, and social level. They see food as just one aspect of healthy living and strongly encourage a healthy social life and mentality in the people who subscribe to their service. This is highly evident in their philosophy statement:
"We began Trifecta because we believe there are three fundamental areas of health - mind, body, and social. These areas are interdependent, meaning you cannot thrive in one area without thriving in the others."
I noticed that one of the things that sets Trifecta Nutrition, as a business, apart from other meal delivery services is their approach to transparency. On their Our Story page, you'll find that they've included a photo and a brief biography for every member of their team, which is a rare and refreshing find in the industry. This allows you to get to know the people behind the food you're eating.
Not only that, but after researching their team, I was impressed by the qualifications and expertise of their dietitians, nutritionists, and lead chef.
Recipes are managed and created by Executive Chef, Mario Limaduran, who has a background in crafting healthy, nutritionally-dense meals for athletes. He has created meals for Olympic athletes and has cooked for the NFL, MLB, NHL, and MMA. This interview gives a great insight into how Mario thinks about the quality of Trifecta's ingredients and how he crafts the recipes.
These recipes are co-created with the in-house nutritionist and dietician Emmie Satrazemis who also serves as the dietician for the Navy SEALs. Along with Kiah Connolly, MD (health director) and Scott Leibfried (Director of Product-Food Manufacturing), the team that handles the weekly menu ensures each recipe adheres to a specific plan and is macro-balanced.
Food Box HQ Note: If you're interested in learning more about how Trifecta Nutrition got to where it is today, I found this great podcast interview with Elizabeth Connolly. She shares how her background in fitness and her relationship with her co-founder and brother really led to the growth of Trifecta over the years.
How Trifecta Nutrition Works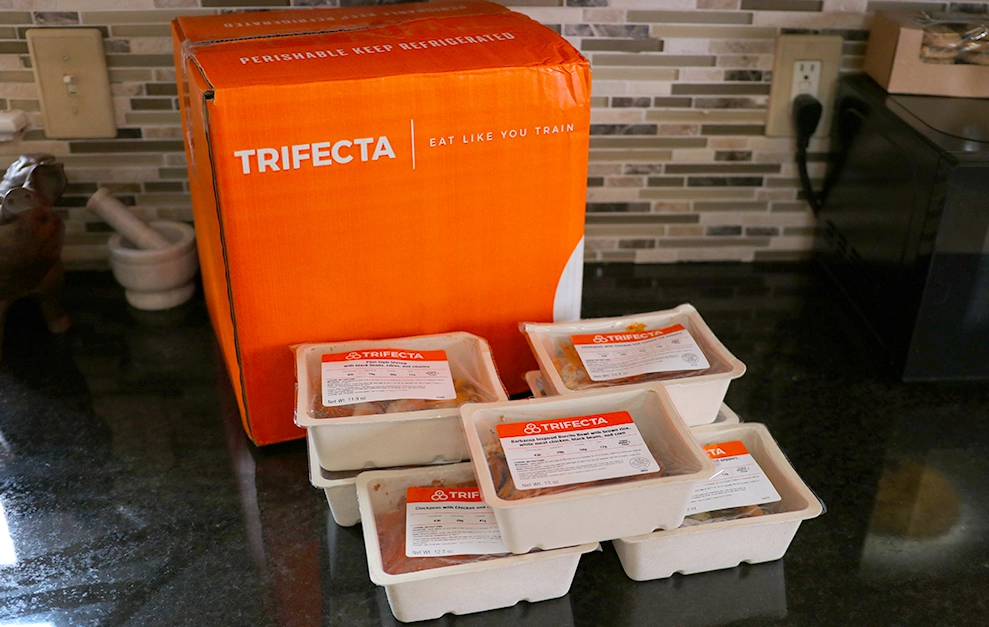 Similar to many other premade meal delivery services, Trifecta Nutrition is a subscription service. This means that once you sign up on their site, you choose your meal plan (more on those below), your initial meals, and they send you your first box. Then depending on your plan, you'll receive recurring boxes each week.
What I enjoyed most about the Trifecta Nutrition sign up process was the initial quiz you take. While some might find it "gimmicky", I think others (like me) find it to be a good way to onboard yourself with their offerings and customize the service to best fit your needs.
Here are the questions they ask:
What's your nutrition goal?
What's your activity level?
What's your diet focus?
Which of the following foods are you NOT willing to give up?
Are you a picky eater?
Select your gender.
Select your weight & height.
They go pretty in-depth with their questions compared to other meal delivery service quizzes that I've used in the past. And, from my experience, it definitely helped customize my plan to fit my needs. This is a big plus because, as you'll read later in this review, Trifecta has a lot of plan options.
Trifecta Nutrition Meal Plans
This is where I believe Trifecta Nutrition really shines—especially for those who are looking for diet-specific premade meals.
They breakdown their specific meal plans into two different categories: convenience and control.
Meal plans under the "convenience" category are meant for people who don't want to pick their meals each week and would prefer to simply have a box of food show up each week that fits their dietary needs. Trifecta Nutrition calls this their "chefs choice rotating menu".
Meal plans under the "control" category allow you to select your meals a la carte each week.
If you're a picky eater, go with the control meal plans. If you're more laid back with your tastes and prefer to try new things, consider meal plans under the convenience category.
Below are the plans in each category...
Convenience Meal Plans
Clean Meal Plan: This is what they refer to as their "balanced" plan and from my experience, it's the best option for anyone who is looking to eat better. The focus is whole foods made with clean ingredients that are high in protein, organic vegetables, and whole grains.
Paleo Meal Plan: These meals follow the paleo diet, which is modeled after prehistoric human eating behaviors. Like the clean plan above, all the meals are made with whole foods and clean ingredients but the meals focus on lean meats, fish, fruits, vegetables, nuts, and seeds.
Keto Meal Plan: If you're looking for low-carb meals, this is the plan to choose. Each meal has an average of 9 net carbs, 35 grams of fat, 35 grams of protein, and 500 calories. From my experience, their keto plan is one of the few that truly adheres to the strictness of the keto diet.
Whole30 Approved: Trifecta is one of the few meal delivery services I've encountered that is approved by Whole30 to serve their meals.
Vegan Meal Plan: Fully plant-based, this meal plan uses only organic vegetables. What's more is that this plan is completely gluten free.
Vegetarian Meal Plan: Like the vegan plan, their vegetarian meal plan only uses organic produce and is gluten free as well as dairy free. They do use eggs in some meals for added protein.
Should you choose to go with a convenience meal plan, you'll have the ability to select how many meals you want each day (1 to 4) and how many days you'd like covered (5 or 7).
Control Meal Plans
Meal Prep: If you need complete control over every aspect of your meals, this is the plan to go with. It's made specifically for those who need to control every macro they eat. You'll be able to choose foods a la carte from a list of subcategories such as protein, carbohydrates, vegetables, and "classics" (very simple meat and carbohydrate meals).
Classic Meals: If you're looking for meals that are more pared back, this is the plan to consider. These are the same meals mentioned in the meal prep plan above. They're mainly lean meats mixed with vegetables and a complex carbohydrate (ex: brown rice). No rich sauces or anything that may add unnecessary calories, carbohydrates, etc.
Budget Meal Prep: This plan is exactly the same as the meal prep plan listed above but it includes less meals at a lower per-meal cost.
Meal Lovers Meal Prep Kit: Following the carnivore diet? This is the plan to go with. As the name suggests, all of the meals on this plan are 100% meat—no carbohydrates, produce, vegetables, etc.
Trifecta Nutrition Meal Variety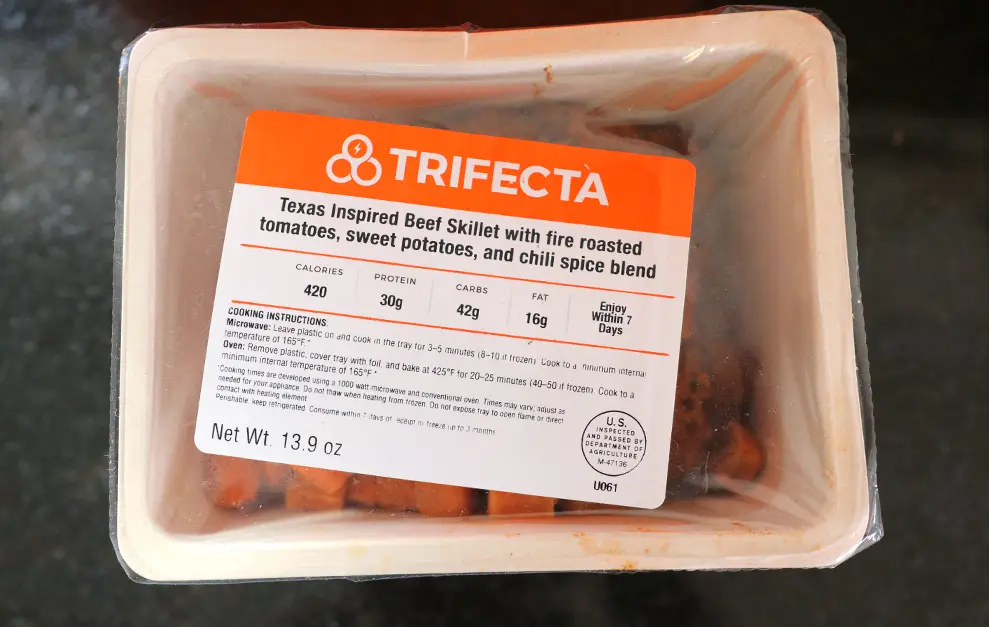 Compared to non-diet meal delivery services, Trifecta Nutrition may not seem like they have a huge variety. However, that's by design.
Their overall goal is to focus on meals made with whole foods and clean ingredients. Because of that, they can't include processed foods,  pasta-based dishes, or indulgent sauces the way that other meal delivery services can.
That being said, for what they can work with, they do offer a great variety.
Here are some examples of meals (classic, chefs choice, plant-based, and vegetarian) as well as their a la carte options you can find across their menu...
Example Meal Variety
Teriyaki Bowl with Garbanzo Beans and Broccoli
Salsa Verde Salmon Casserole with Rice and Beans
Sesame Chicken with Bok Choy
Beef Sloppy Joes
Herb Roasted Potatoes with Green Beans and Plant-Based Chicken
Egg Scramble with Sausage and Potato Breakfast
Chicken Breast, Sweet Potato, Mixed Vegetables Meal
Flat Iron Steak, Sweet Potato, Mixed Vegetables Meal
Example A La Carte Variety
Chicken Breast
Salmon
Bison
Alaskan Cod
Venison
Elk
Beyond Burger
White & Brown Rice
Quinoa
Broccoli
Mixed Vegetables
Portobello Mushroom
The above lists are not exhaustive. Trifecta Nutrition covers nearly all the bases when it comes to red meat and lean meats. They're one of the few premade meal delivery services I've ever seen to offer both venison and elk.
Diets Trifecta Meals Accommodates
Since Trifecta Nutrition is known as a healthy meal delivery service, they fall under quite a lot of different diets.
Here's a look at what specific diets that they accommodate:
Keto
Low-Carb
Paleo
Carnivore
Vegan
Vegetarian
Whole30 (via their a la carte options)
Mediterranean
One of the best aspects of the way that Trifecta is setup is that you can truly customize it to fit your specific dietary needs. That means if you're looking to gain weight (e.g. bulk) you can load up on their variety of a la carte meats and clean carbohydrates. On the flip side, if you're looking to lose weight, they have a ton of low calorie and low carbohydrate meal options.
Delivery & Packaging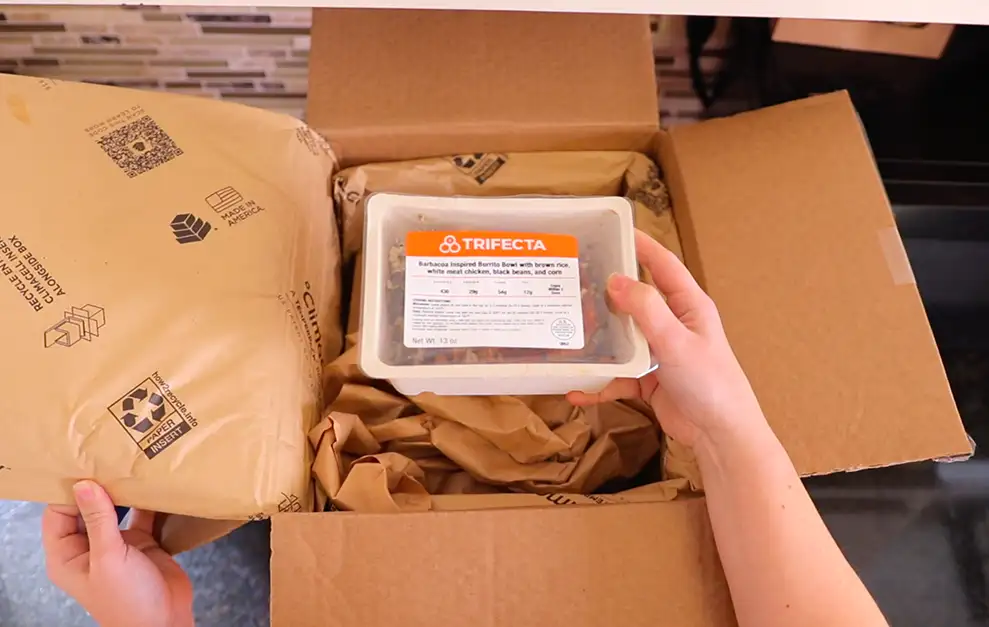 We received our Trifecta Nutrition box via Fedex on a Friday. Based on what they say on their website, they try to make sure that all boxes are delivered on a Friday or Saturday. I found this to make it a bit more convenient to plan what I'm going to eat for the week.
There's no need to be home when your box is delivered since no signature is required. Just make sure that your delivery person makes sure to put it in a location where someone hungry can't snag it!
When it comes to the box packaging, Trifecta does a great job of not only keeping everything cold while in transit but also safe from bumps that could damage the food inside.
The inner liner is ClimaCell made by a company called TemperPack. It's 100% recyclable and made of 90% paper and corn starch.
The meals are surrounded by ice packs to keep them cold. The ice packs can be reused or drained and recycled.
Where Trifecta's packaging really impressed me is with their meal trays, which are fully biodegradable. This means that you can actually compost them.
What's more, the trays have important macro information right on the front. This includes calories, carbs, protein, and fat. They also add an eat by date, which many other meal delivery services do not include.
Trifecta Meals Mobile App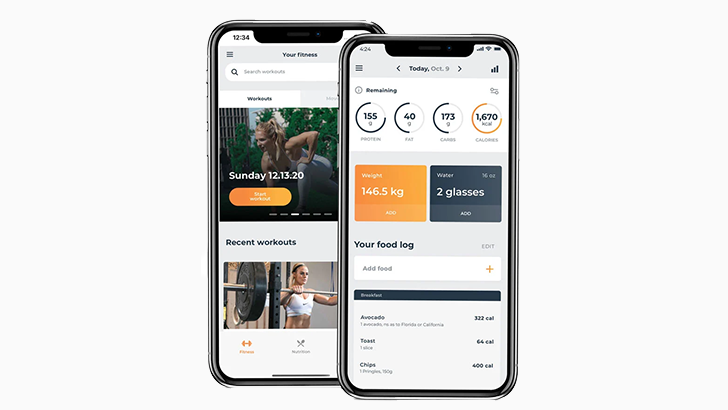 Like many meal delivery services, Trifecta Nutrition has a mobile app. However, I was pleasantly surprised at just how robust and effective there's is compared to nearly every other meal kit app I've tried.
Most meal delivery apps simply allow you to plan out your next order, rate past meals, and view recipes. With the Trifecta Nutrition app you have the ability to not only plan your next meals but also track all of your macros (calories, protein, carbohydrates, fat), track what you've eaten throughout the day, track your water intake, and access daily workout regimens.
Having used it for the time we were reviewing Trifecta's meal delivery service, I found it to be a great way to approach living a healthier lifestyle.
While I ended up using the macro tracking more than their recommended workouts (since I already use Apple's Fitness+ service), I still believe it could be beneficial for others looking to take a holistic approach to a healthier lifestyle.
Trifecta Nutrition Taste Test
Now let's dive into what most people really care about—how our meals tasted!
We've ordered from Trifecta multiple times, from different plans, over the years. Below you'll find an overview of what we thought of the meals we've had from a few of the different plans.
Here is an overview of the meals we had from Trifecta's keto meal plan. Keep in mind that these meals were from our initial review back in 2021. Trifecta has since updated their entire meal delivery service (including their meals). For the most up-to-date taste test, feel free to jump to the section below this one.
BBQ Steak With Bell Pepper: The steak was cooked just barely well done—but it wasn't too chewy. I understand that they have to make sure that the steak is cooked so there are no issues, so I wasn't expecting 5-star restaurant quality. It still was very good though.
Walnut Parmesan Garlic Salmon: I'm not usually a fan of fish from premade meal delivery services but since we ordered the keto box from their convenience category, we didn't have a say in the selection of these meals. That being said, the salmon was cooked very well. The parmesan and walnut added another level of flavor that I've never had before with salmon.
Romesco Cod & Chorizo: I wasn't a huge fan of the cod but not necessarily because of the way it was cooked. I simply don't love fish, especially white fish. However, with my wife being Portuguese, I am a huge fan of chorizo so this meal was 50/50 for me.
Blackened Shrimp With Roasted Cauliflower: While seemingly "plain", this meal still had a lot of cajun-inspired flavor.
Beef Sloppy Joes: Not exactly the best looking meal but I have to say this was probably one of my favorites. The beef had a slight kick to it. They also pack it with cheddar cheese, which reminded me of how I used to eat it when I was a kid.
Roasted Chicken Thigh: While the chicken was cooked very well, the tomatoes were a bit soggy. This might be just how cooked tomatoes are a day or so after they're originally cooked. In terms of overall flavor, it was good but there were definitely better meals in this box.
Bolivian Pique Macho: I had never had this meal before so I was a bit unsure going into it. It's a beef-based dish with veggies and an egg. I was surprised to see the hard boiled egg in the dish but nonetheless, it was still a flavorful meal.
Garlic Chicken & Five Spice Veggies: This meal was probably one of the most "plain" compared to the others—just chicken and veggies. However, it was cooked and seasoned well so I have no complaints.
Ultimate Bison Burger: I'm a huge fan of bison and the burger was delicious. The only disappointment was the tomatoes were again a bit soggy. I'm just not a huge fan of cooked tomatoes in general.
Curry Grilled Chicken Thigh & Vegetables: As a fan of Indian food, I had high hopes for this meal and Trifecta delivered. The chicken was still very juicy upon heating up and the curry seasoning packed a lot of flavor. As for the vegetables, they still had a lot of crunch. What surprised me was the added walnuts, which I wasn't aware of until biting into the veggies. Luckily, I'm a fan of most nuts.
Tomato Squash Scramble With Turkey Bacon: This was probably the biggest letdown out of all the meals. The eggs were covered in water (I'm guessing from the tomatoes) and the turkey bacon seemed undercooked.
Ground Beef Frittata With Asparagus: While this frittata looks like a brick, it was actually delicious after I warmed it up.
Here is an overview of the meals we tried from Trifecta's Clean Eating plan in 2023...
Barbacoa Inspired Burrito Bowl With Brown Rice, White Meat Chicken, Black Beans, And Corn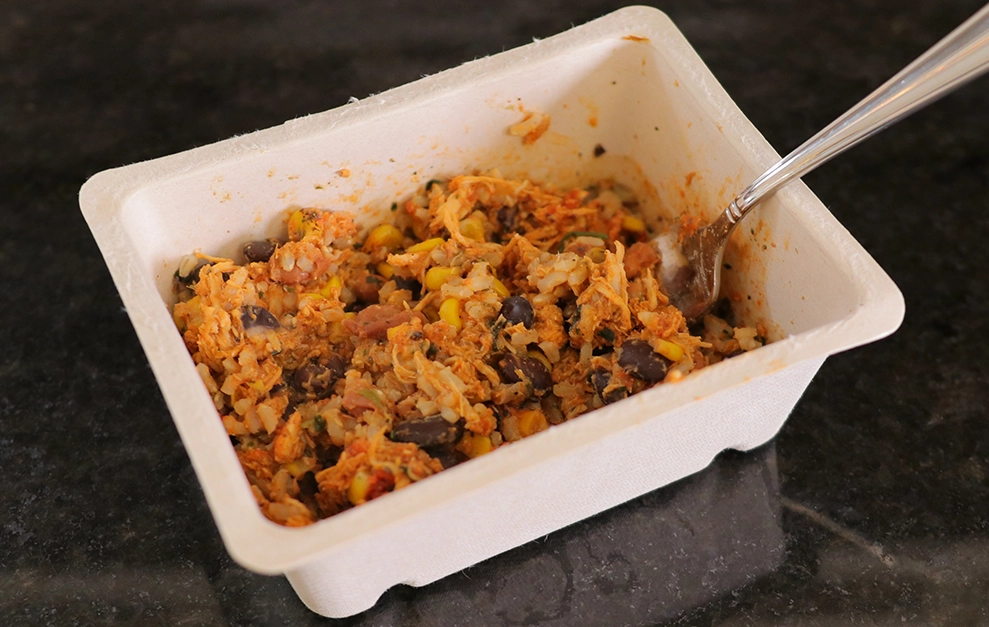 This is the meal you can see us taste test in the video review above. It was full of flavor—savory and slightly spicy. There was a combination of tender, slow-cooked chicken with a slightly nutty flavor (possibly from the brown rice). The creamy texture of black beans, and the sweetness of corn, also really added to the texture.
Chickpeas With Chicken And Roasted Red Peppers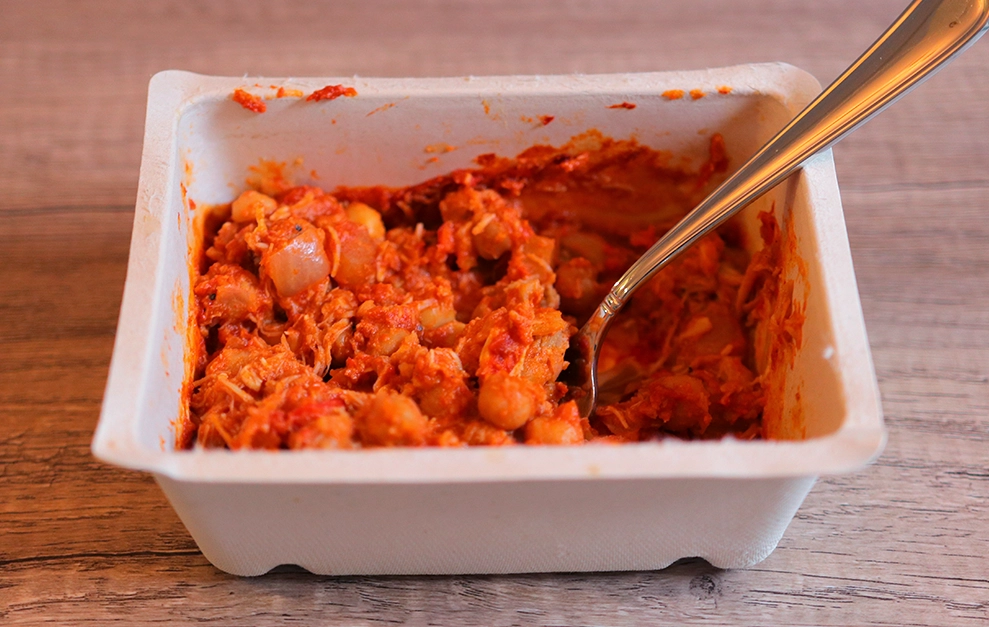 I'm generally not a huge fan of chickpeas on their own but the actual flavor of them was paired very well with the meal itself. The combination of flavors and textures was spot on. The chickpeas provided a slightly nutty and slightly earthy flavor that was complemented very well by the savory, tender chicken. The roasted red peppers added a nice sweetness to the dish with their smoky taste. Overall, the dish was very filling and absolutely delicious.
Pibil Style Shrimp With Black Beans, Citrus, And Cilantro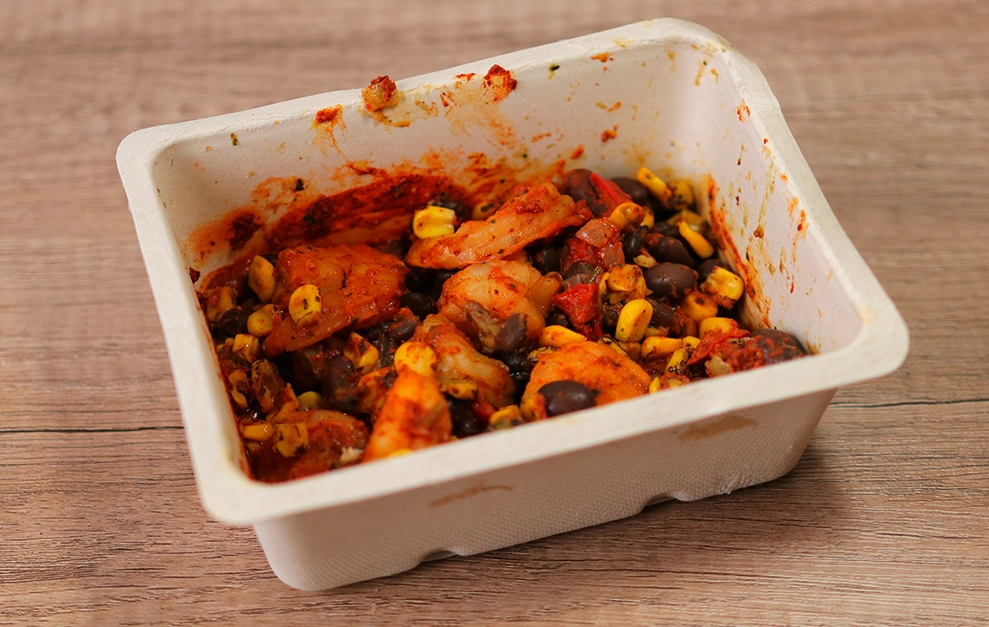 The pibil style shrimp was cooked to perfection—very rich and juicy. It had a nice balance of spicy and savory flavors. The black beans were creamy and provided a nice contrast to the shrimp. The addition of citrus and cilantro gave the dish a bright and refreshing taste, providing a burst of flavor that really elevated the dish. Lastly, the corn gave the dish a slightly sweet taste. As someone who isn't a huge fan of seafood, this was a great dish.
Shrimp Jambalaya With Rice, Bell Peppers, And Andouille Sausage
The flavors in the dish were bold and very well-balanced. It had the perfect combination of spices—not too overwhelming. The shrimp was cooked just right, tender and juicy like the meal above. The andouille sausage added a nice burst of spiciness and smokiness that really elevated the dish. The rice was cooked perfectly, not too hard or soft, making it a great base for the dish. The peppers and onions added a nice crunch and sweetness to the dish. Overall the dish was hearty and flavorful. I highly recommend it to anyone who enjoys seafood or Cajun food.
Pork With Salsa Verde With Tomatillos, Cilantro, And Rice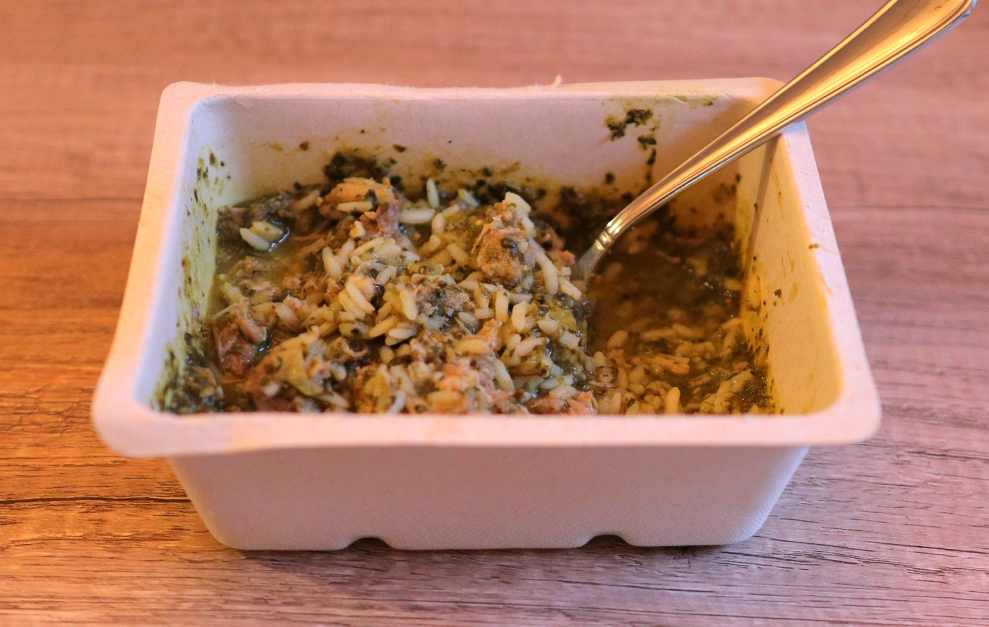 This was one of my favorite meals from this order. The pork was cooked to perfection, it was tender and juicy and had a great balance of flavors that were both savory and slightly sweet. The salsa verde added a slightly sweet and tangy, zesty flavor. The tomatillos and cilantro added a fresh and vibrant taste to the dish, and it really brought the meal to life. Again, the rice was cooked very well, it was fluffy and well-seasoned, adding the perfect base to soak up the delicious salsa verde (as you can see in the picture above). While I didn't find it as filling as some of the other meals, it was very delicious.
Texas Inspired Beef Skillet With Fire Roasted Tomatoes, Sweet Potatoes, And Chili Spice Blend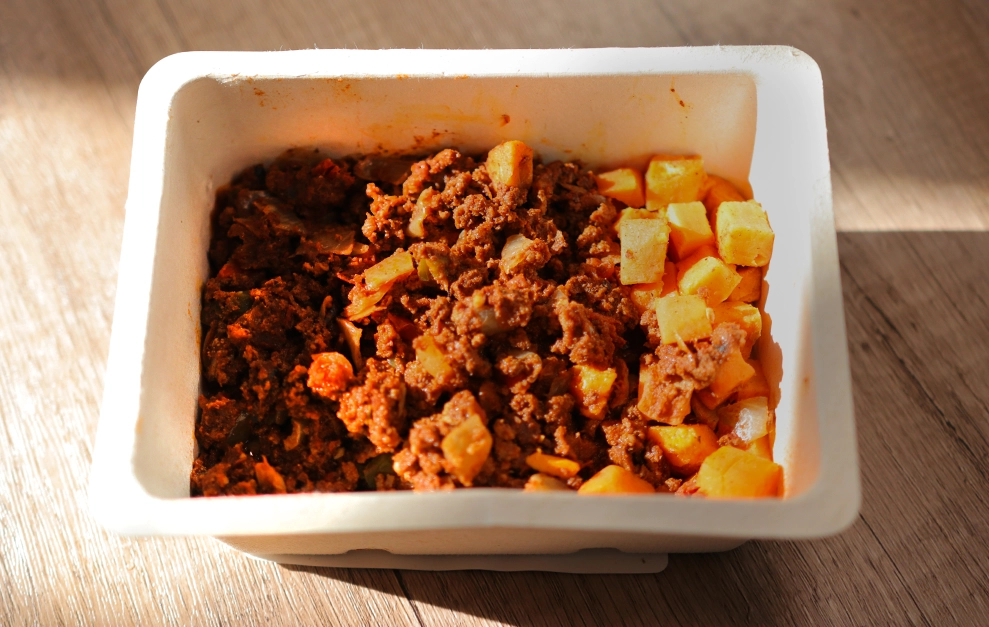 This was another one of my favorite meals in the box. The beef was cooked to perfection—tender, juicy and packed with rich, bold and smoky flavors. The fire-roasted tomatoes added a nice smoky and slightly sweet flavor to the dish. The chili spice blend was spot on, it was well balanced and not too overpowering, it provided a nice heat and added a lot of depth to the dish. The combination of ingredients really came together in this dish and made for a comforting, filling, and delicious meal.
Food Box HQ Note: One thing you may notice from the pictures is that the food doesn't always look the best. This isn't a great representation of how they tasted though. From my experience having tried nearly every meal delivery service out there, when it comes to premade meal delivery, it's hard to make the dish look good after it's traveled in a box to your doorstep.
Trifecta Nutrition vs. Meal Prepping At Home
Trifecta's target customers are those who put a lot of emphasis on the quality of their diet—from those trying to lose weight or gain weight to those who simply want to eat the highest quality meals without the added calories or carbs.
Does Trifecta Nutrition beat meal prepping at home? In my opinion, yes. But it really depends on your own unique situation.
Trifecta is incredibly convenient, especially for someone who has to be meticulous about what they eat. Take a bodybuilder for example. Sure, they could spend hours buying food in bulk, cooking everything, and placing everything in tupperware for the week. Or, they could go with Trifecta's Meal Prep plan, order everything they need to hit their macros, and not have to spend the time or energy dealing with cooking/prepping. That time can then be spent elsewhere—training, recovery, etc.
However, meal prepping yourself does have some advantages. First, prepping everything yourself will save you money (Trifecta is definitely not cheap).
Second, meal prepping also allows you to have complete control over every aspect of what you're eating—more so than Trifecta. Take for example, any meal plan in Trifecta's convenience category (chefs choice). As you could tell reading from our taste test section, there were definitely some meals that I didn't love. With meal prepping at home, that's obviously less likely to happen.
Overall Food Quality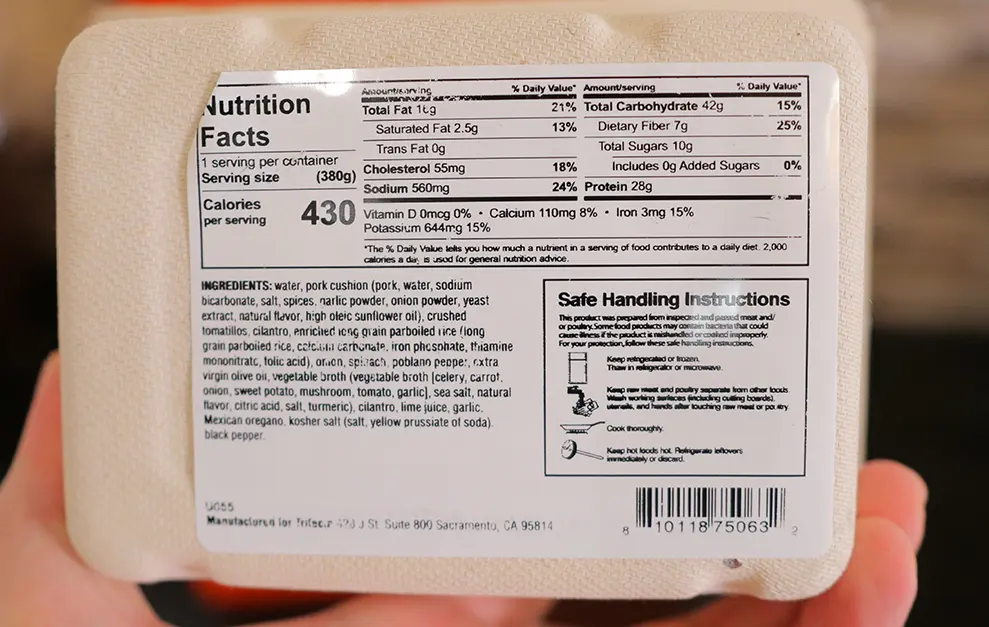 If you've made it this far in our review of Trifecta Nutrition, you likely already know that their meals are made to be high quality. Here's what that means...
They use organic ingredients across the board in all of their meals.
All of their foods are locally sourced to ensure they're as fresh as possible.
All of their meat is grass-fed and animal welfare level 5. This is a 5-step certification that ensures all animals are raised with high quality nutrition in environments that encourage natural behavior.
All of their fish is wild-caught.
Trifecta Nutrition Frequently Asked Questions
We initially reviewed Trifecta Nutrition way back when we first started this site in 2017. And since then, we've received dozens of questions from people just like you looking to learn more about their meal delivery service.
We've picked out some of the most popular questions and answered them below...
Is it easy to cancel your Trifecta Nutrition plan?
It's definitely not as simple as other meal delivery companies make it. To cancel your Trifecta Nutrition account, you will have to call (530) 564-8388. When we called to cancel our subscription after completing this review, the person on the other end did try to convince us to stay on. I get that they want to try to stop people from leaving but it would be way more convenient if they allowed you to cancel via their website or even simply emailing them.
Do they include all of the macros and ingredients on the packaging of the meals?
They do a great job of including all of the nutritional information on the packaging. On the front of the meal tray they give you all of the main info—meal type, calories, protein, carbs, fat, and best by date. On the side they have all of the specific macros, ingredients, and more.
Can you order more than 3 meals per day?
No matter what plan you choose, you can order more than 3 meals per day. This is a big perk for those looking to gain or maintain weight.
Is Trifecta food allergy friendly?
Yes, but I suggest using their control category of meal plans (a la carte) so that you can choose the specific meals yourself. They offer dairy-free, peanut-free, and soy-free meals.
Am I able to skip deliveries?
Yes, as long as you skip your delivery at least 7 days in advance of when it is supposed to be shipped out.
Trifecta Nutrition vs. The Competition
There are a number of premade meal delivery services out there these days. However, each of them offers something different when directly compared to Trifecta Nutrition. Here's a look at the main competitors to Trifecta and how they stack up...
Factor Meals: I'm personally a big fan of Factor meals. They have a great selection of high quality meals that taste delicious and fit into the lives of people who are looking to eat for a specific dietary goal (e.g. keto, low-carb). However, the biggest difference between these two premade meal delivery services is that Trifecta Nutrition offers way more ability to customize your plan via their a la carte options.
Fresh n Lean: Trifecta and Fresh n Lean are, in my opinion, the most similar. They both offer a wide variety of foods, customization ability, and meals that adhere to specific diets. From my experience, Fresh n lean does have more variety to choose from within each of their meal plans and they come in a bit cheaper than Trifecta at under $10 per meal (for most plans).
Territory Foods: We've tried Territory Foods a handful of times and I've always been impressed with the level of quality when it comes to the ingredients they use and flavor. Like Trifecta Nutrition, Territory also bills itself as a healthy meal delivery service fitting into paleo, vegetarian, and vegan diets. However, Territory is not really geared towards high intensity fitness or bodybuilders. I would say only consider them if you're looking for delicious, high quality healthy meals but you aren't necessarily looking to bulk up or slim down.
Trifecta Nutrition Pricing
Trifecta Nutrition is one of the most customizable meal delivery services that we've tried so their pricing is going to vary depending on how you build your plan. Here are the prices for 7 days of breakfast, lunch, and dinner for each of their plans...
Clean Meal Plan — $300.09 per week
Paleo Meal Plan — $300.09 per week
Keto Meal Plan — $300.09 per week
Vegan Meal Plan — $226.59 per week
Vegetarian Meal Plan — $226.59 per week
Now if you go with their control category plans (a la carte) you pick out foods and build your box each week. Here's an example of the prices you'll pay for various foods...
Free-range chicken breast (1lb / 16oz / 4 servings) — $14.49
Wild-caught salmon (1lb / 16oz / 4 servings) — $22.99
Bison (1lb / 16oz / 4 servings) — $26.39
Grass-fed elk (1lb / 16oz / 4 servings) — $22.39
Sweet potato (1lb / 16oz / 4 servings) — $8.99
Organic brown rice (1lb / 16oz / 4 servings) — $6.99
Organic broccoli (1lb / 16oz / 4 servings) — $14.99
Organic asparagus (1lb / 16oz / 4 servings) — $18.99
Trifecta Nutrition Coupons
If you've decided to go with Trifecta Nutrition, we want to save you some money on your purchase. Use any of the coupons below...
We like to include multiple different coupon codes just in case one doesn't work. If you find a better coupon or the ones above are not valid anymore, please let me know in the comments below and we'll update this review.
Pros & Cons Of Trifecta Nutrition
Trifecta Nutrition has a lot going for it but there are definitely things that, in my opinion, hold it back. Here's a look at the overall pros and cons of their premade meal delivery service...
Trifecta Nutrition Pros
They offer a wide variety of a la cart options. This makes it perfect for someone who needs to be specific about what they're eating.
High quality ingredients are used across all of their meals. From organic vegetables to grass-fed beef, they are very good at sourcing quality local ingredients to use in their meals.
They're one of the few meal delivery services that offers bulk ordering. This makes them perfect for bodybuilders and others looking to put on weight.
They're one of the few premade options that truly sticks to the specific dietary macros of keto. I've found that some other premade meal delivery services market themselves as keto but simply just offer low-carb options.
Their packaging is one of the most environmentally friendly that I've come across. The meal trays are compostable, the inner liner is 100% recyclable, and there is very minimal plastic (compared to other similar meal delivery services).
Their meals are some of the most flavorful that I've had from a diet-specific meal delivery service. They've recently updated their menu in 2023 and made vast improvements over the meals I've had from them before.
They offer a comprehensive program that focuses on both proper nutrition and exercise. Making any progress when it comes to fitness and/or weight has to be done through proper eating and exercise. Trifecta's meal delivery service paired with their app make this much easier to manage.
Trifecta Nutrition Cons
Their service can be expensive compared to others. For example, if you were to use their Clean Meal Plan and order 3 meals a day for every day in the week, it would come out to around $14 per meal.
If you go with any of their convenience (chefs choice) plans you don't have the ability to choose your meals. This could be a deal killer for picky eaters.
Canceling is a pain. You have to call up their number and explain why you're ending your plan.
Portion sizes are a bit small. While I found most of them to be filling and hit 450+ calories, they were a bit smaller than meals I usually eat.
Final Thoughts: Who Is Trifecta Nutrition Right For?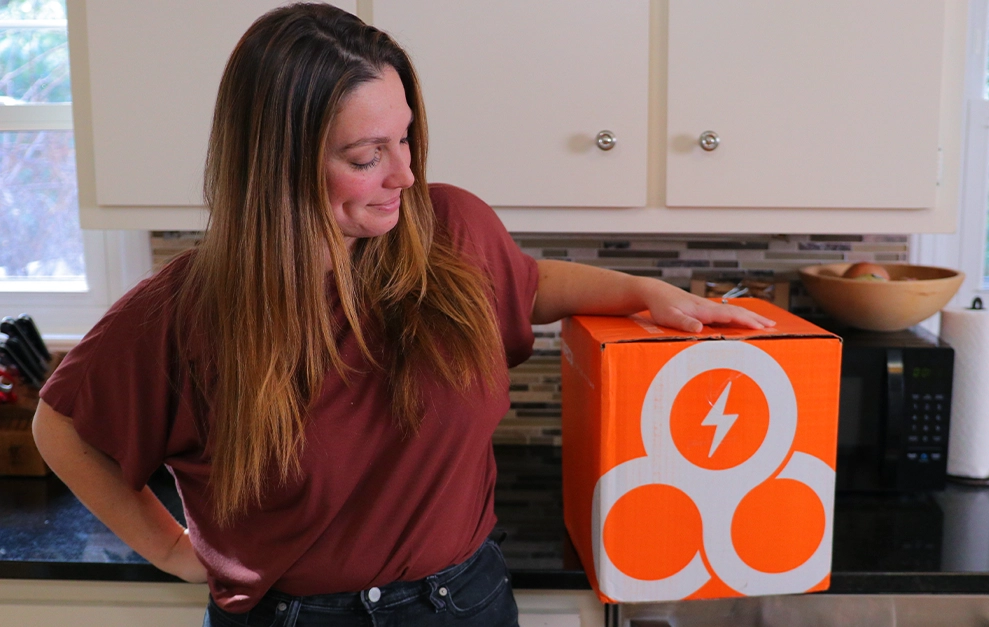 Trifecta is definitely not a meal delivery service that's meant for everyone. In fact, I would go as far to say that their service is really perfect for only a few different types of people:
Athletes who need to be meticulous about the quality and type of food they eat.
Bodybuilders who have to eat a specific amount of food per day (and hit macro goals).
People looking to lose weight through restricting calories, carbohydrates, or sticking to a specific diet such as keto.
If you're just looking to simply eat healthier, from my personal experience, there are other premade meal delivery options out there that offer more value. For example, with Factor Meals you have the ability to choose your meals each week regardless of the plan you choose. Plus, they also have a wide variety of a la carte options you can add to your box.
Have you tried Trifecta Nutrition before? Have a question about their meal kit we didn't answer in this review? Let us know in the comments below and we'll get back to you as soon as possible!
View our previous Trifecta Nutrition YouTube review, unboxing, and taste test here.