Like many reading, I've often found myself wandering the aisles of my local grocery store, struggling to find meat that checks all the boxes: high-quality, grass-fed, and free-range. And even when I stumble upon brands that claim to offer these features, there's always the lingering question: Do they really live up to the hype?
That's why I decided to take the plunge and try ButcherBox, a meat delivery service that promises not just convenience but also top-notch quality.
This review is based on my personal experience with ButcherBox, from the moment I signed up to the taste test of the meats they delivered. I'll walk you through everything you need to know to decide if this service is the right fit for you. We'll explore how ButcherBox sources its meat, the sign-up process, the variety of products they offer, and of course, the all-important question: How does the meat actually taste?
Why Should You Trust This Review?
Here at Food Box HQ, we've built our reputation on providing transparent, in-depth reviews of popular meal delivery services. With over half a decade of experience under our belt, we've tested and reviewed a wide array of services, fine-tuning our evaluation process along the way. Rest assured, this review of ButcherBox is held to the same high standards.
We have a strict policy against sponsored content or any form of brand influence, ensuring that our reviews are as unbiased and impartial as possible.
To maintain full transparency, it's important to note that we purchased the ButcherBox subscription ourselves—we did not receive any free items to sway our opinion. This means you can trust that nothing has been omitted or skewed to persuade you to make a purchase. Our primary goal is to empower our readers to make well-informed decisions that suit their individual needs, preferences, and budgets.
How We Tested & Evaluated Butcherbox For This Review
In this review, I focused on a few elements to determine the quality and Food Box HQ rating for ButcherBox. These include…
Taste: One way to determine meat quality is through its taste. I've tasted low to high-quality meat over the years, so I knew I could rely on my taste buds for this test.
Variety: It's important for a meat delivery service to offer a variety of meat choices and cuts. Because of this, I made sure to research all of Butcherbox's meat and cut options.
Flexibility & Customizability: A quality meat box should allow you to choose your preferred meat and cuts.
Quality & Sourcing Practices: These are critical elements in determining the value of a meat delivery service because no one wants poor-quality meat from questionable sources. To determine Butcherbox's quality, I looked into its sourcing practices and whether every cut of meat is organic with no antibiotics or hormones, if it is grass-fed, grass-finished, cage-free/open range, and if it's sourced in the USA.
Animal Welfare: This goes along with quality, as animals who are well taken care of and raised in an environment that encourages natural behaviors produce higher-quality meat.
Delivery & Packaging: It's important for a meal delivery service to deliver packages in a timely manner and to be flexible with delivery dates. I looked into these factors with ButcherBox, as well as their policy on vacation holds and skipping a delivery. The packaging reflects how conscious a company is with the type of materials they use, recycling, and overall waste. So, I paid attention to the box the meat came in and the packaging of each meat cut.
Ease of Use: I wanted to make sure that using ButcherBox was a simple and convenient process that was easier than choosing meat at the grocery store. Because of this, I looked into how easy it is to sign up, choose my box and delivery date, and cancel my account.
Value: One of the main considerations for most people when deciding on a meat delivery service is the cost. In light of this, I compared the price and value of Butcherbox to other popular meat delivery services to see if it offers good value for its price.
While I've included all the most important information to the best of my knowledge for this ButcherBox review, I encourage you to do further research by checking out other ButcherBox reviews (for example, what people think on forums like Reddit). This allows you to hear more than one opinion, ask personalized questions, and help you determine if this is the right meat delivery service for you.
The Story Behind ButcherBox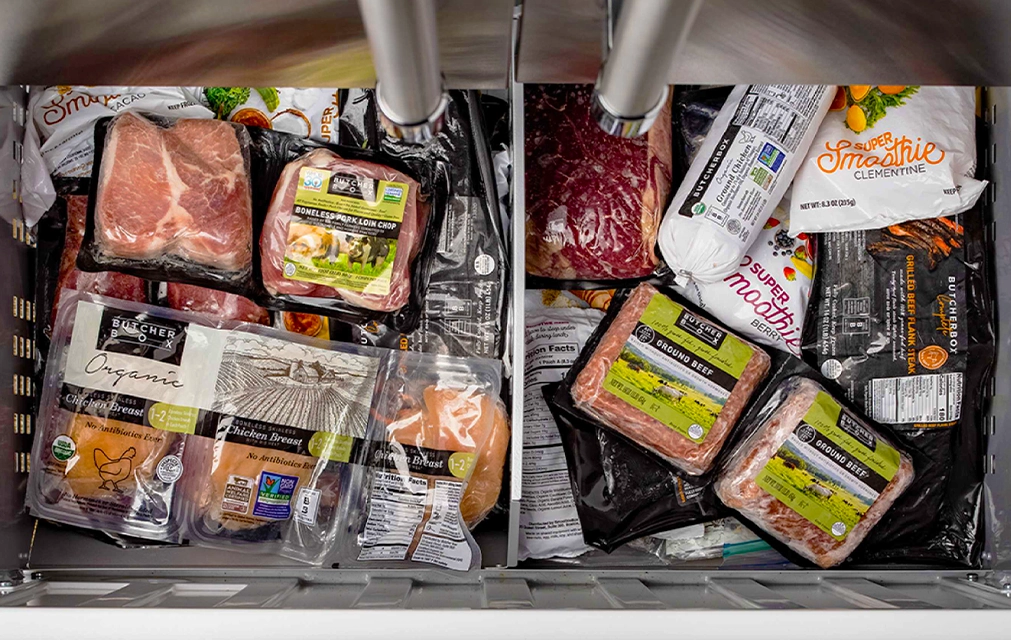 The seed for ButcherBox was planted when its founder, Michael Salguero, decided to buy a share of beef from a local cattle rancher. His quest for better-quality meat was personal—his wife has Hashimoto's disease, an autoimmune disease that necessitates a diet of grass-fed, antibiotic-free meat. The experience of sourcing meat directly from a rancher was eye-opening for Salguero, both in terms of quality and taste. This led him to two key insights that would become the foundation of ButcherBox: first, that grass-fed, grass-finished beef simply tastes better, and second, that the existing food system was failing consumers.
By "existing system," Salguero is referring to the broader food industry and its limited options for high-quality, humanely raised meat. Driven by the belief that there had to be a better way, he founded ButcherBox in 2015 with a straightforward mission: "to make high-quality meat more accessible to all."
But Salguero's vision extends beyond just making quality meat more widely available. As stated on ButcherBox's About Page, the company's mission is multi-faceted:
"Delivering high-quality meat is just the beginning (…) Our company began with a simple mission to make high-quality meat more accessible to all. We soon discovered that meant doing something not so simple at all: rethinking our food system. We're in pursuit of a better way, one that's focused on animal welfare, supporting farmers, treating our planet with respect, and upholding diversity, equity, and inclusion across our business."
Salguero's holistic approach to his business—seeing each component as an integral part of a larger, interconnected system—appears to be paying off. What began as a self-funded Kickstarter project has blossomed into a multimillion-dollar company enjoying widespread popularity.
How ButcherBox Works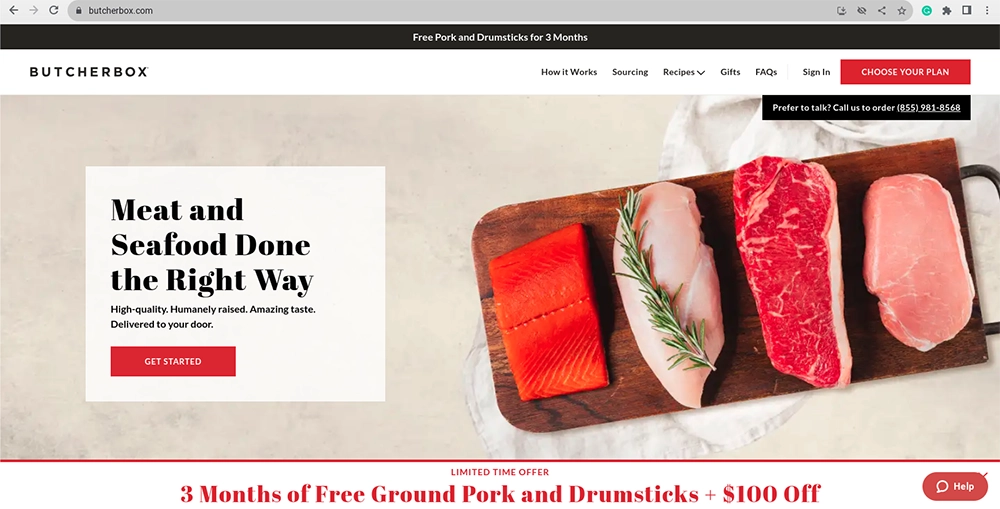 ButcherBox has a simple ordering system that allows you to choose the size of box you want, how frequently you want it delivered, and the type of meat you want. Depending on which box type you choose (which I will describe next), you can select the exact meat/cuts you want, or you simply pick the meat type (beef, pork), and they pick the cuts for you.
Going through this ordering process on Butcherbox is easy and straightforward. I'm going to walk you through it as a step-by-step process so you know exactly what to expect and how to order meat on ButcherBox.
To start, you click the "Choose Your Plan" button on the right top of your screen. This will lead you to a "get started" page where you have to input an email address that is connected to whatever special offer they currently have going, such as "Free Ground Pork & Drumsticks + $100 off."
While this is a great offer, I find it slightly unfortunate that there's no way around this, as you have to input your email address to continue the ordering process. I understand having to input an email address to order, but I don't like that there isn't a "no thanks" option for whatever they're offering. You HAVE to accept their offer (which is usually a good deal) in order to continue; then, that offer is automatically applied to your order. Now, if you like this offer—no big deal (and woohoo, free food)!
But I can also see a scenario where you wouldn't want the offer, such as if you don't eat pork. Basically, I'm not a fan of not having the option to opt out of the special offer if needed.
Anyway, let's get back to it.
Choosing Your Plan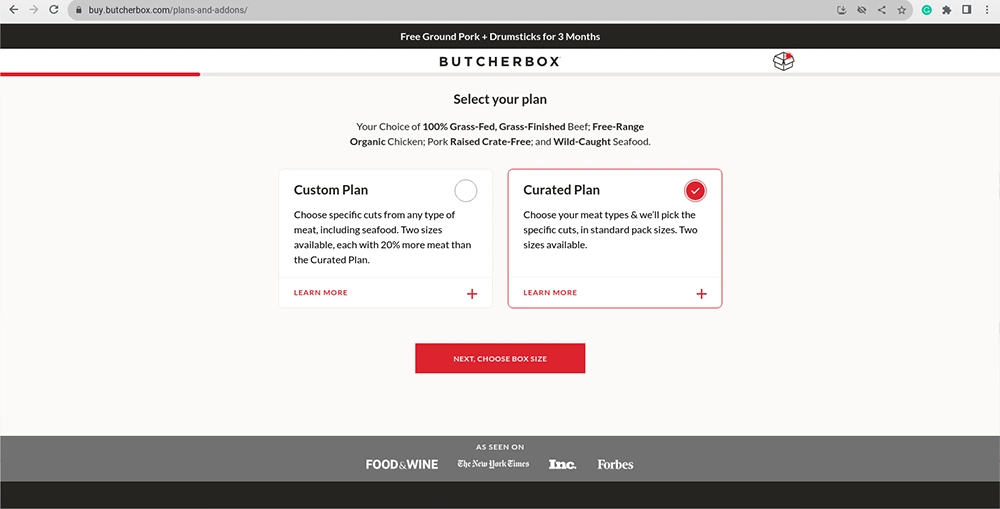 Once you've entered your email address, you'll be prompted to choose between two subscription options: the "Custom Plan" and the "Curated Plan."
The "Custom Plan" offers you the freedom to handpick specific cuts from a variety of meat types, including seafood options. This plan comes in two box sizes, both of which contain 20% more meat compared to the Curated Plan.
I opted for the "Curated Plan," which is a bit more budget-friendly. With this plan, you select the types of meat you'd like, and ButcherBox takes care of choosing the specific cuts for you. This plan also offers two box sizes to suit your needs.
Box Sizes
After selecting your subscription plan, you'll be prompted to pick a box size that best suits your needs: either the Classic Box or the Big Box. The amount of meat and the pricing for each box vary depending on whether you've chosen the Custom or Curated Plan.
The Classic Box is the more budget-friendly option and is recommended by ButcherBox for individuals or small families. On the other hand, the Big Box is pricier but comes with a larger quantity of meat, making it ideal for mid-size families or those with ample freezer space. ButcherBox considers this option to be their best value.
For those opting for the Curated Plan, the Classic Box is priced at $146 and includes between 8-11 lbs of high-quality meat. The Big Box version of the Curated Plan comes in at $269 and offers a generous 16-22 lbs of meat.
If you've chosen the Custom Plan, the Classic Box is available for $169 and provides 9-14 lbs of your chosen cuts. The Big Box for the Custom Plan is priced at $306 and offers a substantial 18-26 lbs of meat.
Delivery Frequency
On the same page that you select your box size, you also choose your box delivery frequency. ButcherBox currently offers deliveries every 4, 6, and 8 weeks. Shipping is always free, which is a nice perk.
After selecting how frequently you want your box delivered, you're directed to the next page to pick your meat cuts/protein.
Choosing Your Meat
Before we head into the process of choosing your meat, it's important to note that all of ButcherBox's beef is 100% grass-fed and grass-finished. Their chicken is organic and free-range. Their heritage pork is humanely raised, and their wild-caught seafood is sustainably harvested.
If you chose the "Curated Plan," as I did, then the next step is to "Select your types of meat." You can choose one of three options:
Beef, Pork & Chicken
Beef & Pork
Beef & Chicken
I chose the beef, pork, and chicken option. However, they don't tell you they will also throw in some seafood in your box, as they did with mine (more on that later).
With the "Custom Plan," the next page is more expansive as it lists all the meat cut options available. I won't list all the cut options they have as there are many—just know that there are several cuts available for beef, chicken, and pork, as well as a few different seafood options.
At this point, you might be wondering if they offer any wild game, and the answer is no, they don't. The closest they get is offering a package of ground bison.
They also have a "More" section, which includes options such as ground turkey, ground bison, different types of sausages, and some easy dinner options such as gluten-free chicken nuggets and uncured beef hot dogs.
If you selected the "Classic Box," you can choose 6 meat cuts (you can double up on certain types of meat if you prefer). Each cut option details how much you'll receive in your box. For example, if you select ground beef, one quantity = 2 lbs of ground beef, which equals two 1lb packages. If you select the Big Box, then you'll get to choose 12 different meat cuts.
If you have the custom box, you'll have to choose your specific cuts each month before your box is shipped. I recommend the custom box for anyone with specific meat preferences or dietary restrictions, such as a seafood allergy, rather than the curated box. This is because the custom box allows for more flexibility and customization, and you won't be surprised by any meat in your box you can't have (such as seafood).
ButcherBox Member Deals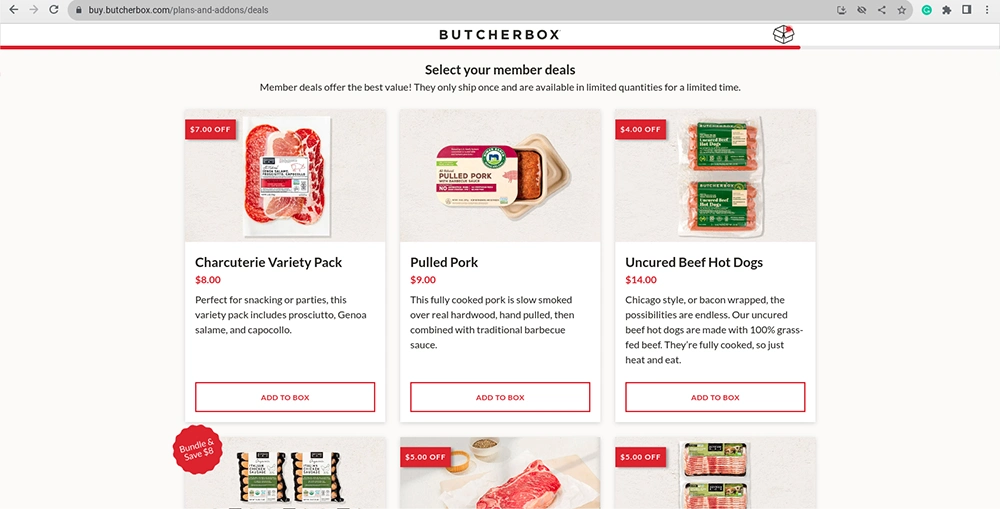 Once you've selected the meat for your box, you're directed to a page where you can "select your member deals."
These are optional add-ons for your box and include items such as a charcuterie variety pack, an organic lunch meat bundle, a ButcherBox Bacon 3-pack, and an Egg Bite Bundle. These member deals are only available in "limited quantities for a limited time."
At the bottom of this page, you'll find the "Proceed to Checkout" button, where you're directed to the shipping and billing page for your box.
ButcherBox Membership Perks
After you order your box, you're prompted to create an account. This account allows you to track your box, adjust the delivery date for your next box, and it gives you access to all of ButcherBox's resources.
Their member resources include articles on how to properly cook various types of meat, whether on the grill, in the oven, or on the stovetop. They also provide countless recipes, kitchen hacks, and member-only deals, such as discounted ground beef or sausages.
Once you cancel your account, you will lose access to these membership perks and deals if you're signed in. You can still access these recipes and cooking guides, as long as you aren't signed in, through their main page under the recipes tab.
Canceling Your ButcherBox Subscription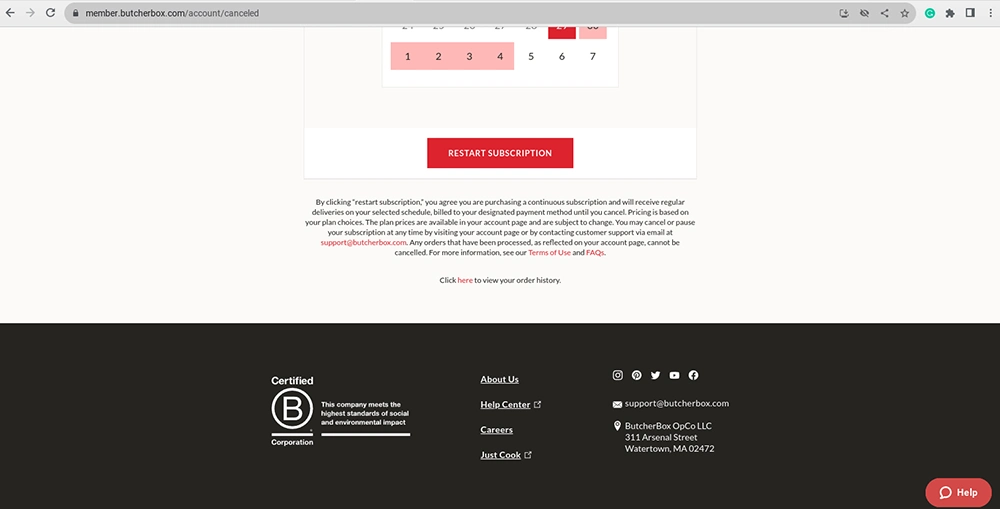 To cancel your ButcherBox subscription, simply go to your account page. Go to the "Box Settings" tab. Under there, you'll find options to delay your next delivery or cancel your membership.
When you cancel your membership, you go through a series of questions as to why you're canceling your account. I believe they do this as a way to learn more about why people are canceling, and ultimately, how they can improve their business.
Of course, at the end, they list everything you're about to miss out on as a last attempt to get you to stick around. Finally, you'll be able to cancel your account after answering the questions.
What I Received in My ButcherBox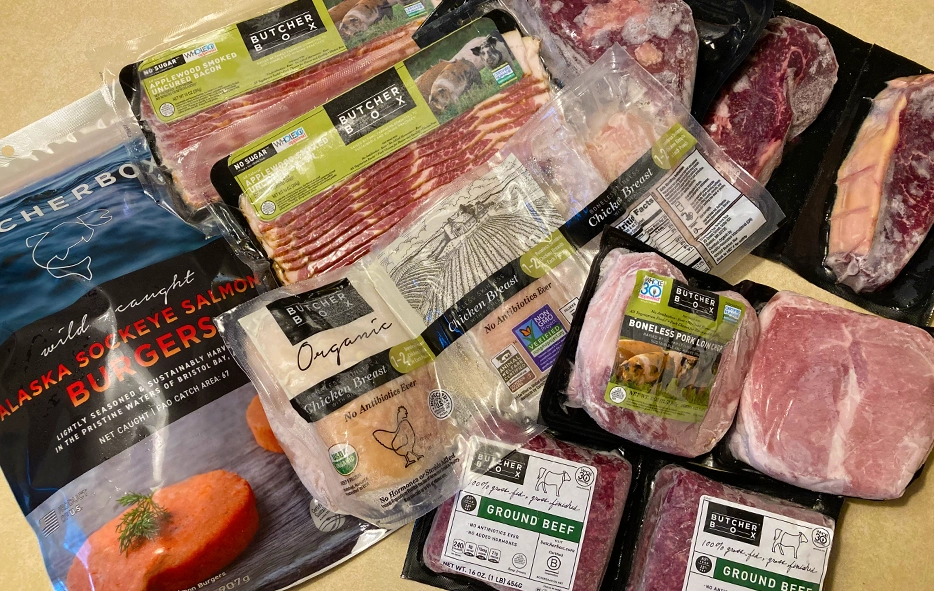 Now let's get to what I'm sure you really want to know—what I received in my box and, most importantly, the quality of the meat and how it tasted.
In my box, I received:
2 packages of 100% grass-fed, grass-finished ground beef
2 packages of boneless pork loin chops
1 (1.25lb) grass-fed beef top sirloin cap
3-pack of organic boneless, skinless chicken breast (1-2 breasts per pouch)
2 packages of applewood smoked uncured bacon (came free (!) with the purchase)
2-pack grass-fed beef strip loin steak (10 oz steak per pack)
A bag of wild-caught Alaska sockeye salmon burgers (contains 8 4oz individually wrapped salmon burgers)
Applewood Smoked Uncured Bacon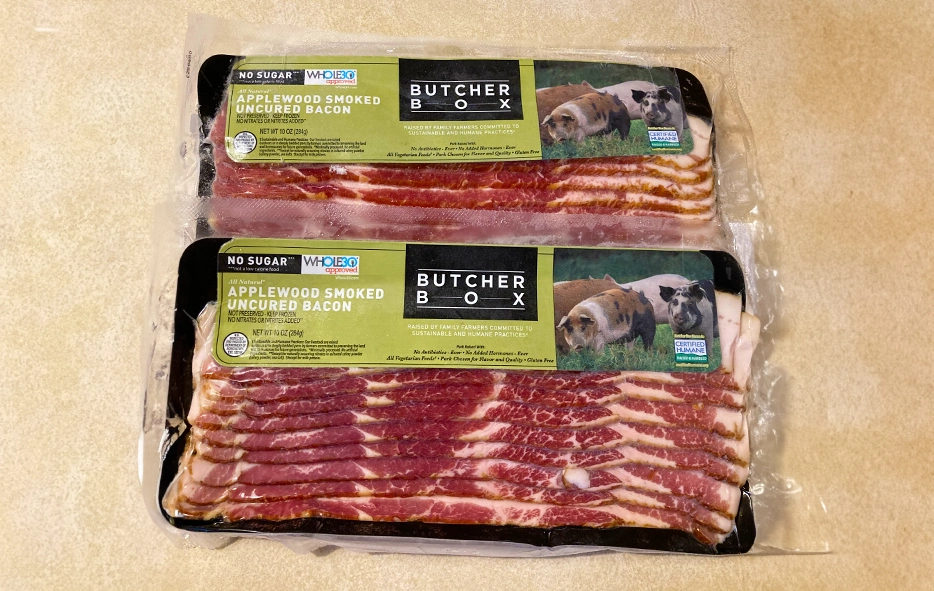 The first thing I cooked up, of course, was the applewood smoked uncured bacon. I made bacon-wrapped poblano poppers with them and kept a few on the side to try on their own.
I thought the bacon was absolutely delicious, and I loved that each strip had a perfect proportion of meat to fat. They were especially tasty wrapped around the cream-cheese-filled poblano peppers.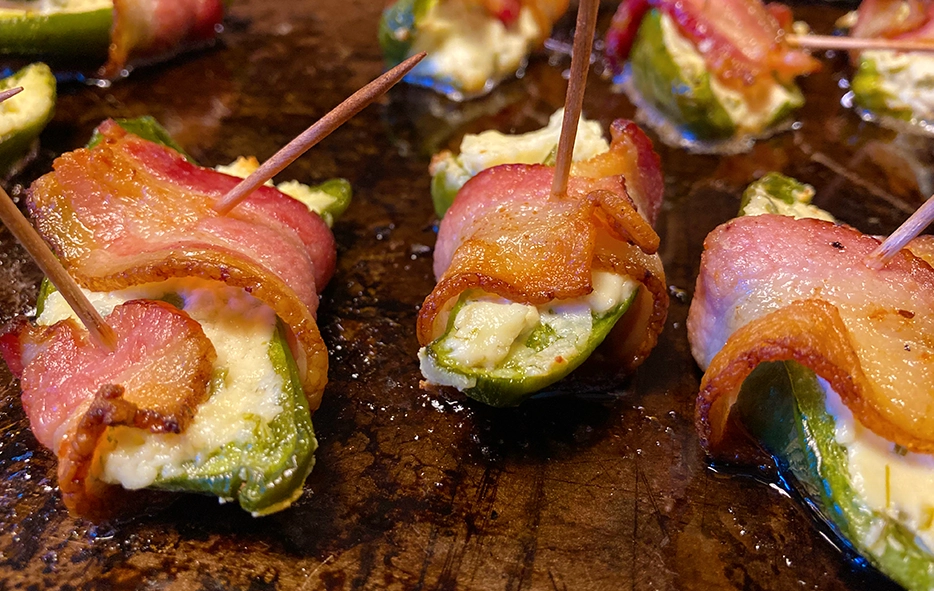 I've also enjoyed the bacon mixed in with my scrambled eggs in the morning and on a breakfast sandwich underneath a fried egg. No matter the meal I include them in, the bacon always stands out in taste and makes the dish so good. Truly high-quality bacon, I would say.
Wild-Caught Alaska Sockeye Salmon Burgers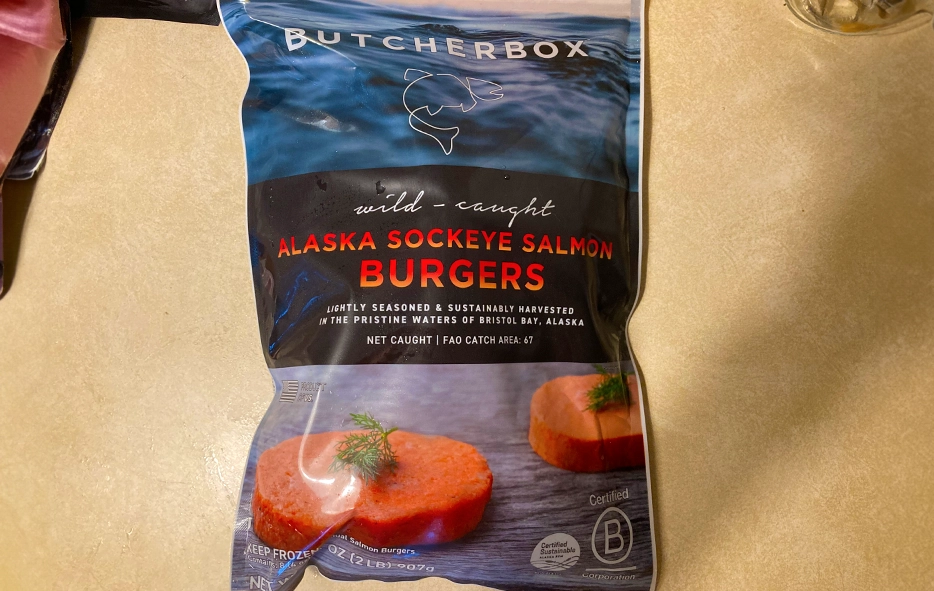 Next, I was excited to try the salmon burgers. We cooked them on the grill and seasoned them with paprika, garlic powder, thyme, and some salt and pepper.
The package instructed to cook the salmon burgers frozen and not to thaw them, as "thawing is not recommended for salmon burgers." Despite cooking them frozen, the burgers still cooked rather quickly.
We followed the cooking instructions of grilling each side for about 4-5 minutes for a total cooking time of 8-10 minutes, and we found that the salmon was slightly overcooked. However, our grill cooks hot (even on the recommended medium heat), so just know that it's easy to overcook them if your stove top or grill runs hot.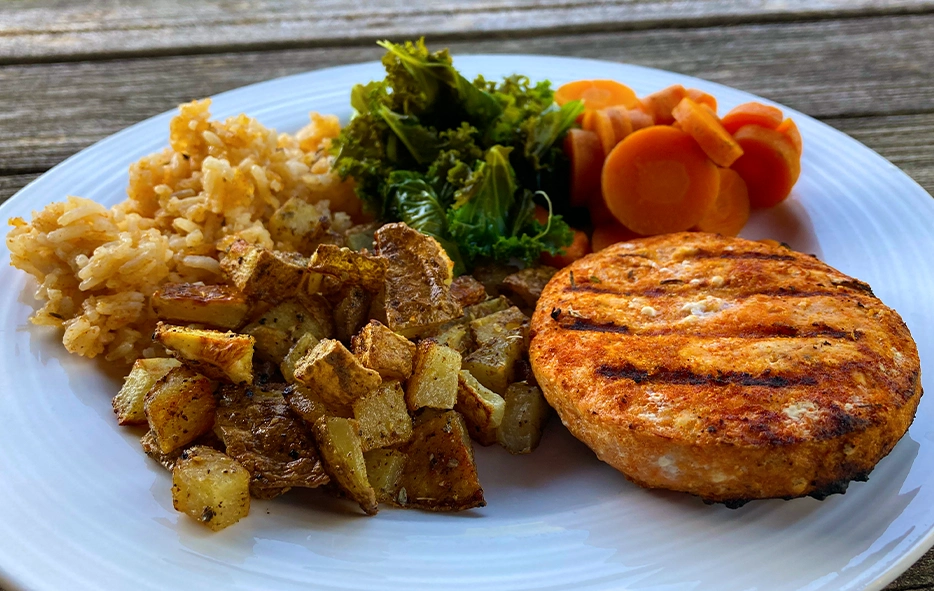 Even though they were slightly overcooked, they still tasted amazing. They tasted fresh and of high quality, just as you expect wild-caught Alaskan salmon to taste.
Originally, we were disappointed to not have any hamburger buns on hand, but after this experience, I'm glad we didn't eat them as a full sandwich. The reason is that we both found bones in our salmon patties! I was surprised there were bones, as I figured there wouldn't be because of the form they were in. It would have been much harder to detect bones if we had it in a full sandwich, as we ended up fully inspecting each bite after that.
On the package, I was able to find a note that says "may contain bones" under the ingredient list. It's clear that the meat was mostly deboned, as there were only a couple of bones in each patty. But I still find that significant, especially given that they're meant to be enjoyed as a burger.
Given their intended purpose, I think ButcherBox should either be clearer that there may be bones present or more thorough about making sure there aren't any bones in the meat. I think the latter is more important as you really don't want any bones in fish meat when enjoying it as a sandwich.
Either way, if you end up with these salmon burgers, make sure to chew the meat slowly and investigate each bite so you don't end up swallowing any fish bones!
Organic Boneless Skinless Chicken Breast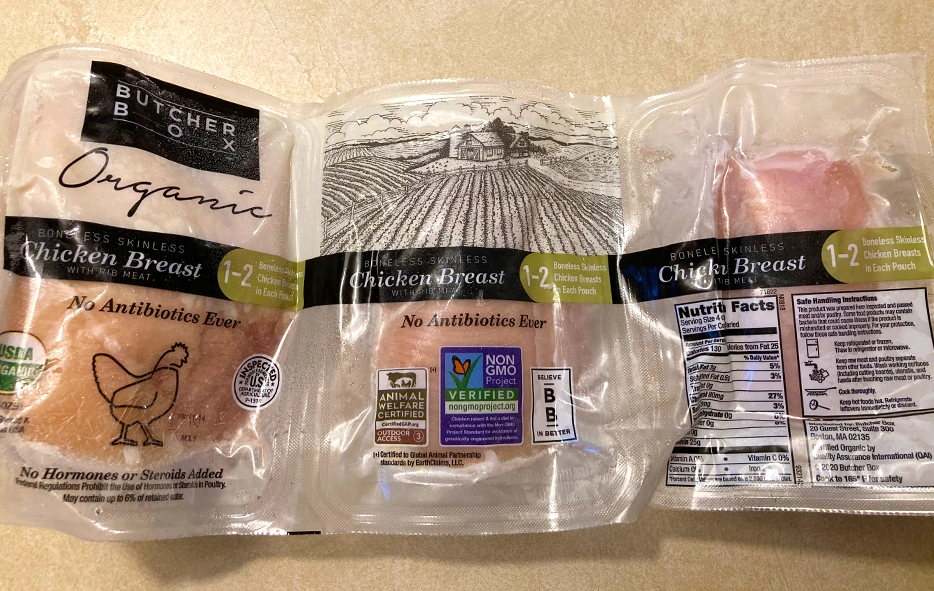 For this meal, I marinated the chicken in melted butter, lemon juice, garlic powder, salt, and pepper. Then, my husband cooked it on the grill. We added the chicken to a stir-fry meal of rice, sautéed cabbage, onion, garlic, and kale with a creamy butter parsley sauce. Of course, I tried the chicken on its own before mixing it with everything to see how it tasted.
The chicken may be my favorite meat that I tried for this review. It was exceptionally juicy, tender, and full of flavor with very little fat or sinew. I was quite impressed with it.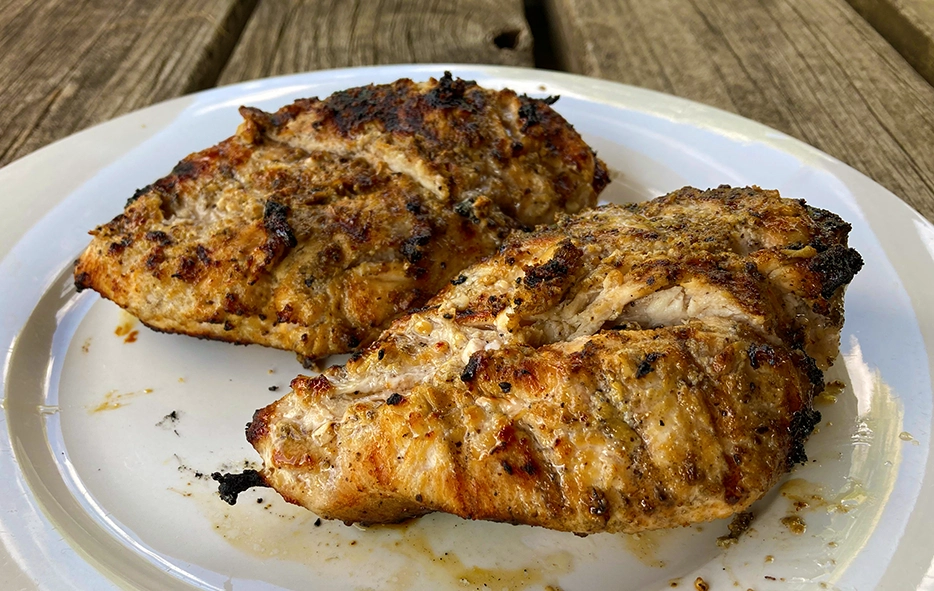 The chicken was also wonderful mixed in with the rest of the dish. I served this meal when we had company over, and everyone agreed the chicken was perfectly juicy and delicious (also thanks to my husband for cooking it so well).
We only cooked one of the three packages of chicken breast we received. There were two large breasts in this package, and it was more than enough for the recipe I made and to feed four adults.
This package was the largest of the three. In fact, all three packages of chicken breast were not equal in size or weight—there was a small, medium, and large package. If you're feeding a family of three or four, I suspect the medium and small sizes may not be enough on their own and would need to be combined, depending on the meal one is creating with them.
Grass-fed, Grass-Finished Ground Beef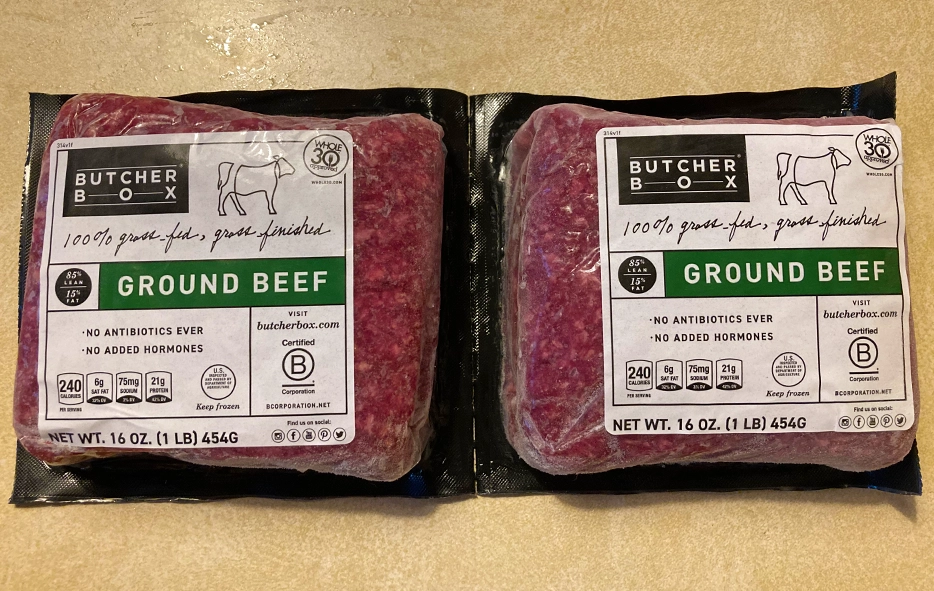 We made the ground beef into burgers using one of the two packages. Each package is 16 oz, and we made five small patties with it. It's probably best to make four larger patties with the amount in the package, as the hamburgers were pretty small.
The burgers were grilled and lightly seasoned so the full flavor of the meat could come through. It was everything you would expect high-quality ground beef to be. It had nice coloring, the taste was great, and the texture was perfect. All around, excellent meat quality.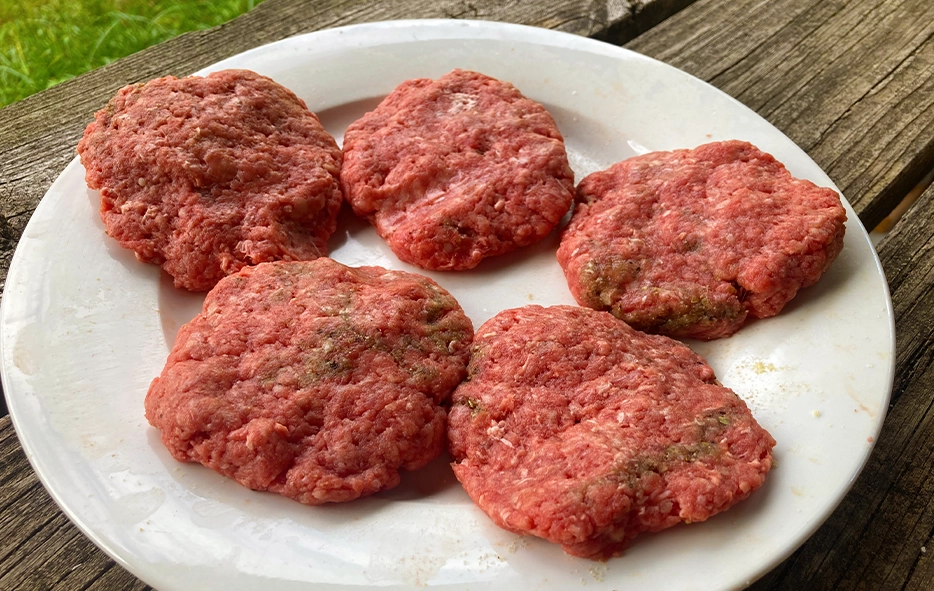 If you're feeding a family of four or larger, you'll probably want to combine both packages of ground beef to serve enough hamburgers for everyone.
Boneless Pork Loin Chops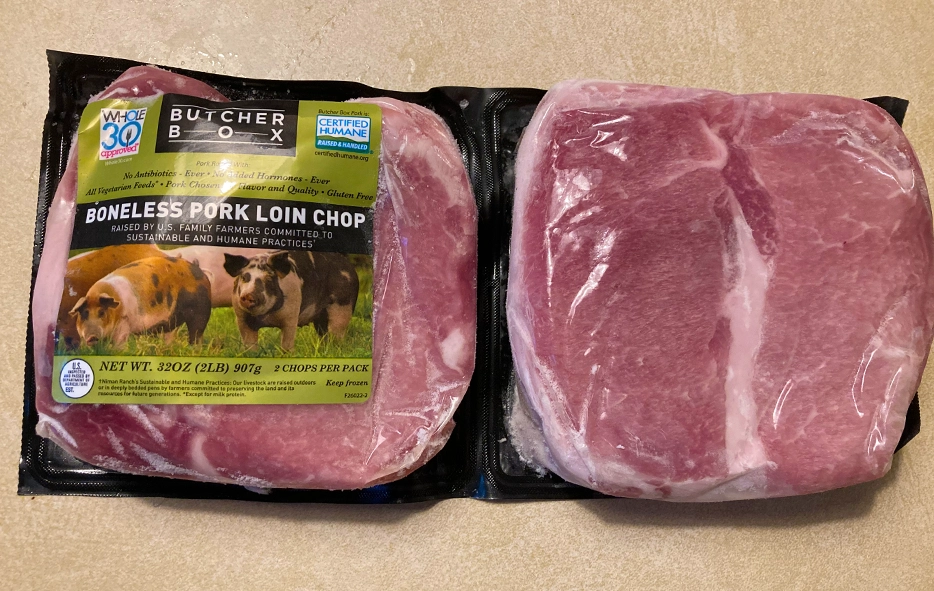 I love a good pork chop, so I was quite excited when I saw these beauties in my box. No other meat has the pronounced flavor and juiciness of a pork chop (in my opinion), so I was curious to see how the flavor and quality stood out for this cut of meat.
We cooked these in our cast iron pan on the stovetop with a little bit of oil. I did not season them (not even salt) as I wanted to fully taste the meat without any other flavor coming through. I found the pork chops to be exceptional in taste, texture, and juiciness—without any seasoning added to it! The meat was naturally salty and full of mouth-watering flavor. I was very pleased.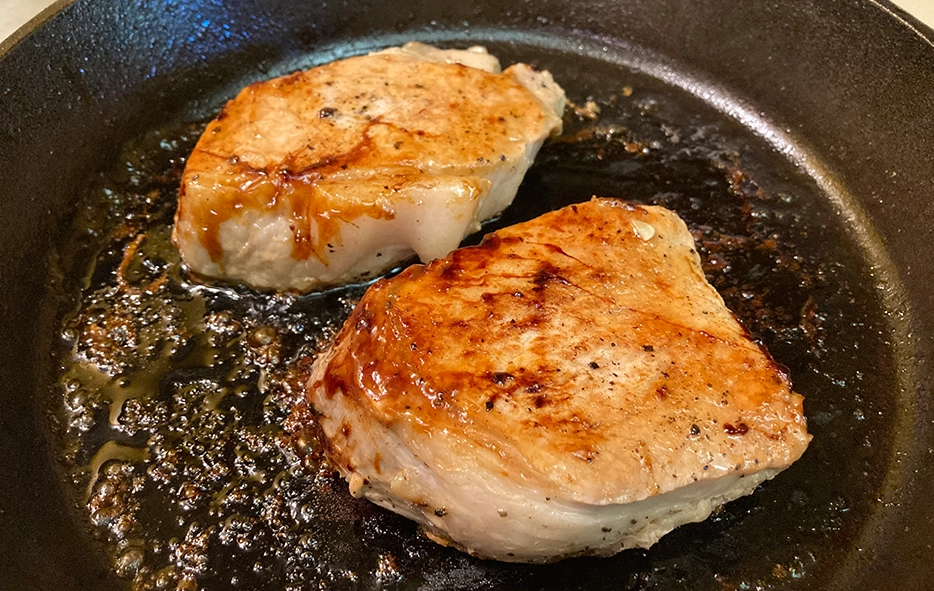 One package contained two pork chops (1 lb pound each). This was more than enough for the two of us, which meant we had leftovers! They weren't very large but were pretty thick, which made up for their smaller size.
Grass-fed Beef Strip Loin Steak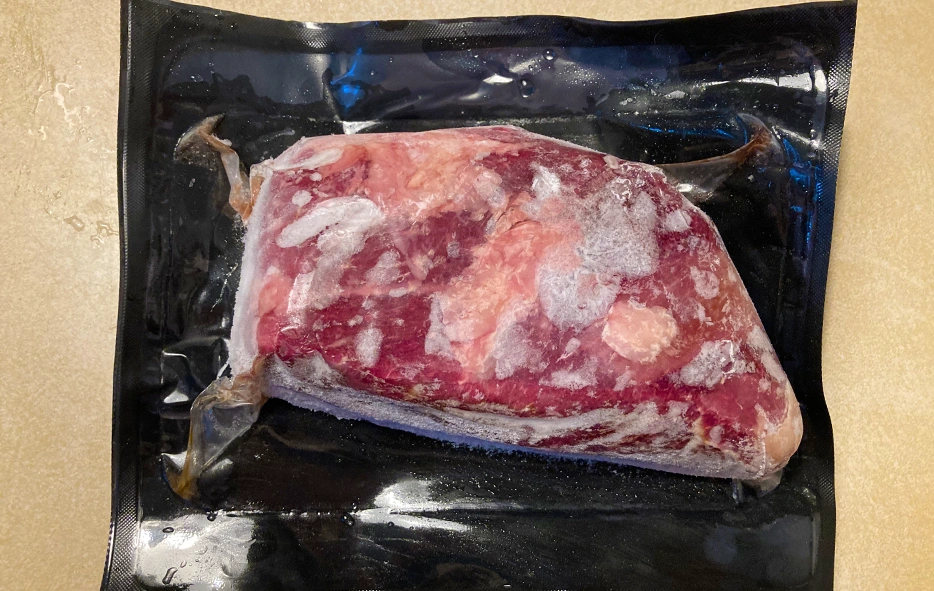 This was another cut of meat that I didn't season so I could experience the pure flavor of it. The grass-fed, grass-finished beef strip loin steak, like many others, was cooked on the grill to perfection.
The result was a juicy and tender steak that went beautifully with my simple dinner of baked potato halves and steamed broccoli. The meat was full of flavor. I ended up adding a little bit of salt to bring out the flavor more, and when I did, it was exactly what I was hoping for. Delicious.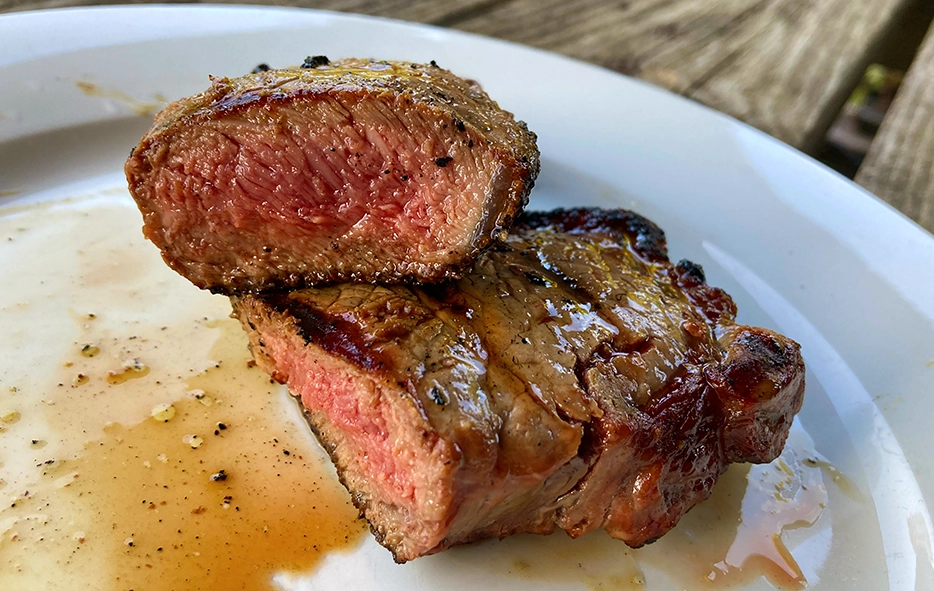 This beef cut came in a pack of two, and each cut was 10oz. So, it was not a very large steak, but it was enough for my husband and me (and we had leftovers).
For a household that eats larger quantities of meat at one time, this single steak may not be enough (depending on how many people there are). So, both packs may need to be cooked if there are more than two people present.
Grass-fed Beef Top Sirloin Cap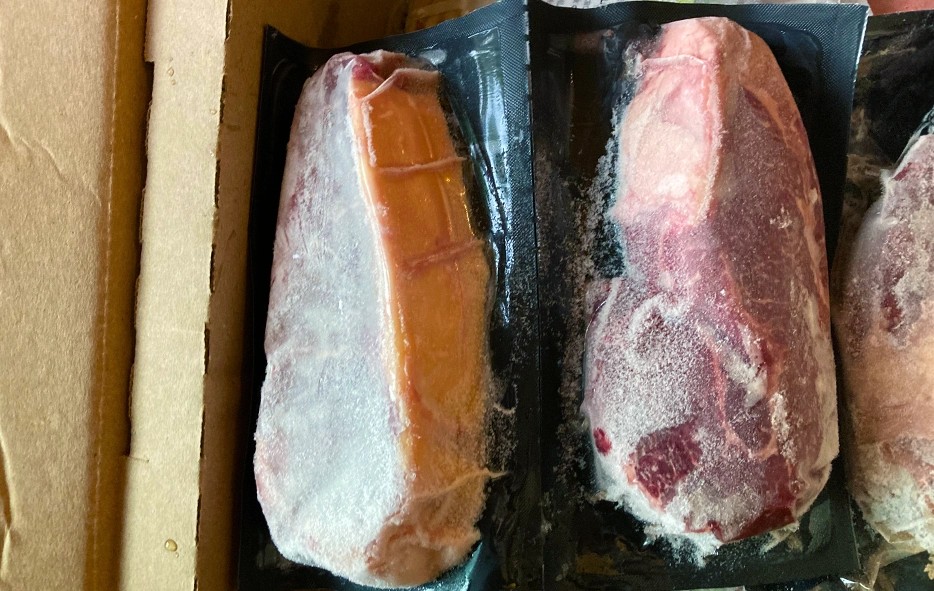 This beef cut was the largest cut we received, weighing in at 1.25lb. I decided to cook it in the crock pot at a low temperature for a few hours, which produced juicy, tender, and flavorful meat.
Before cooking it, I melted some butter and mixed in partially ground rosemary, oregano, garlic powder, onion powder, salt, and pepper. Then, I spread this herb butter mixture over the top of the beef.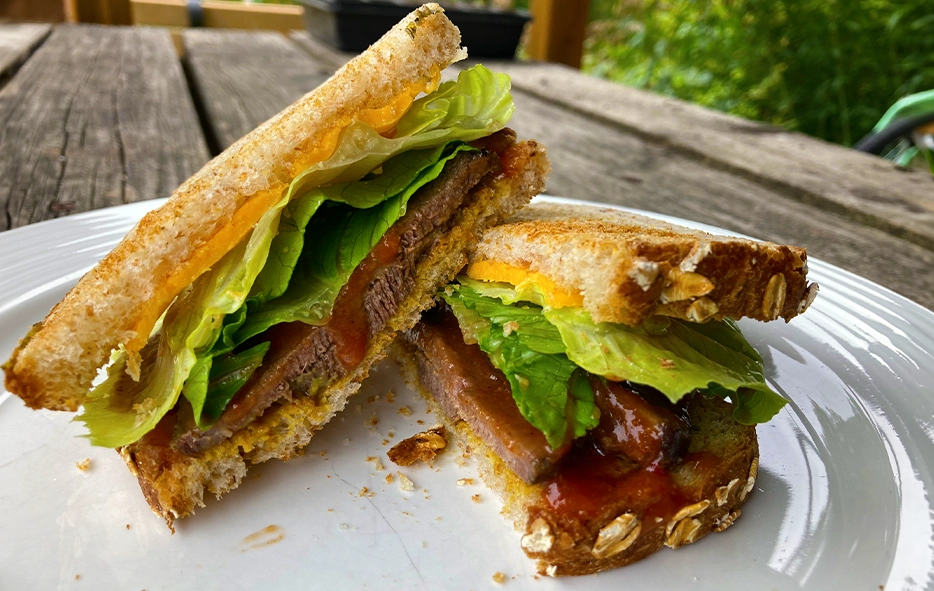 The taste was exceptional. The rosemary butter on top wonderfully complimented the natural taste of the beef.
Overall Thoughts About My ButcherBox Order
When it comes to ButcherBox meat quality, I am overall impressed. It's clear they hold true to their values of sourcing high-quality meat that looks and tastes amazing.
Also, they're spot on with the meat portions for the box I chose, which is designed for smaller families/smaller freezer spaces. I would say our box contained the perfect amount of meat for my husband and me. Plus, we don't eat meat with every meal, nor do we usually eat large quantities of meat at a time—so it was truly the perfect amount for us, and we still have quite a bit of meat in the freezer.
Now, let's say your household does eat a lot of meat and prefers larger quantities of meat. You're probably going to want to go with the larger box to get more bang for your buck. Otherwise, you'll go through your meat rather quickly, as you'll be cooking at least two packages of meat at a time to serve a family.
Delivery and Packaging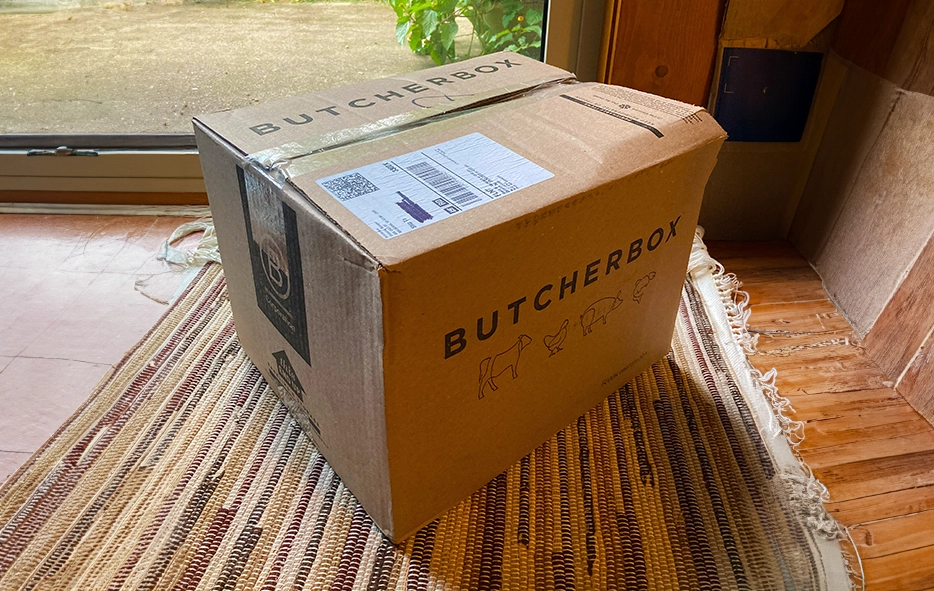 I ordered my ButcherBox on a Wednesday. It was shipped the following Monday and arrived the next day on Tuesday. I had to wait about six days to receive my box.
ButcherBox ships to all 48 contiguous states, which means it does not ship to Alaska, Canada, or Hawaii. However, it appears they are working on being able to deliver to those states. All shipping is 100% free.
ButcherBox uses a variety of carriers to deliver their boxes, including FedEx, LaserShip, United Delivery Service, Lone Star Overnight, and OnTrac, which was the carrier that delivered my box.
You aren't required to be home when the box is delivered, so you don't need to sign for it. However, they strongly suggest retrieving your order within 6-8 hours, lest your meat thaws. It's also important to know that none of these carriers will deliver to a PO box, but ButcherBox says they can deliver to "mail rooms."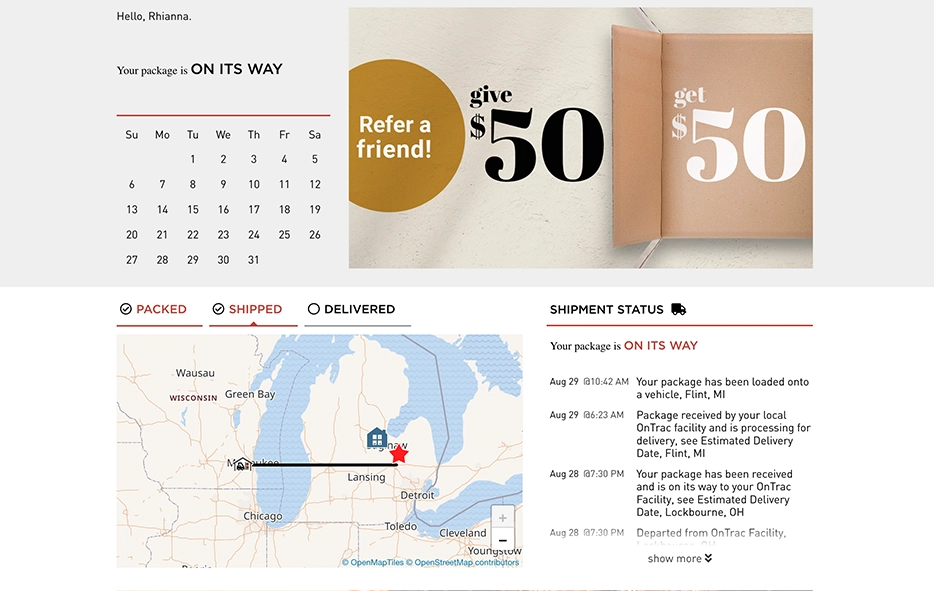 When my box arrived, I wasn't able to open it until I came home a couple of hours later, and all the meat was still frozen. ButcherBox uses a fully recyclable insulated box made from recycled materials. There's even an insulated cover over the meat that helps seal in the cold air and provides you with a warning about the dry ice underneath.
When I removed the top insulated layer, I noticed the dry ice bags had somehow ripped during transit. Most of the dry ice had already evaporated, and the rest had fallen into the box. This isn't a huge deal, but it is unfortunate that dry ice pieces were now amongst the frozen meat, so I had to be very careful taking the meat out.
When it comes to the specific packaging materials used, ButcherBox doesn't provide much information. As far as I could determine, the meat packaging is neither recyclable nor made from recycled materials. Additionally, there's no readily available information on whether the packaging is BPA-free. However, one upside is that each individual cut of meat comes with detailed cooking instructions, including the recommended internal temperature for safe consumption.
Compared to other meat delivery services I've experienced, ButcherBox's use of packaging seems fairly reasonable. The one area where it felt a bit excessive was with the salmon burgers. Each burger is individually wrapped and then placed inside a larger, non-recyclable bag. While I understand the individual wrapping may prevent the burgers from sticking together, it does contribute to additional waste.
ButcherBox Shipping Is Carbon-Neutral
One of the standout features of ButcherBox is their commitment to minimizing their carbon footprint. When a business claims to be "carbon-neutral," it signifies that the carbon emissions generated through production and shipping are offset by efforts to remove an equivalent amount of carbon from the atmosphere.
ButcherBox has made strides toward becoming largely carbon-neutral by reducing the need for re-shipments, minimizing air travel for shipments, and purchasing agricultural carbon credits. These credits are sold by farmers who engage in sustainable agricultural practices like cover-cropping, no-till methods, and extended crop rotations. By purchasing these credits, ButcherBox supports farmers who are actively improving soil fertility, which in turn benefits both the planet and the quality of crops.
Additionally, ButcherBox is investing in research focused on livestock emissions. Specifically, they are exploring how pasture-raised cattle, as opposed to those raised in feedlots, can positively impact soil health, biodiversity, and carbon sequestration in the soil.
ButcherBox's Sourcing Practices
The sourcing and treatment of animals are one of my top considerations when buying meat. I'm convinced that an animal's physical and emotional well-being has a direct impact on the quality and flavor of the meat it produces.
It's well-documented that animals in chronic stress conditions can have worse meat. When we buy meat from sources that confine animals in cramped spaces without outdoor access, we're essentially consuming meat from animals that have endured ongoing stress. I'm not comfortable eating such meat, nor do I want to financially back companies that engage in these practices. I believe animals deserve a life that is both healthier and more humane.
That's why I'm particularly impressed with ButcherBox's approach to sourcing. While not all their animals are raised in the U.S., the company goes to great lengths to prioritize animal welfare, which aligns well with my own values.
Beef Sourcing
All the beef ButcherBox uses is 100% grass-fed, which means at no time in the animal's life is it fed grain. The cattle are raised on pasture and roam across acres of grassland their entire lives. They are never given antibiotics or added hormones.
ButcherBox sources all their beef from cattle ranches in Australia. The reason for this is that Australia has high animal welfare standards and has built an entire system for certifying pasture-raised meat. Moreover, they have the climate and the acreage that allows them to do so.
Pork Sourcing
ButcherBox takes pride in sourcing pork that is humanely raised, crate-free, and of heritage breed. Their pork comes from farms in the United States and Canada that either provide open pasture for the pigs or raise them in what are called "hoop barns." Importantly, they avoid sourcing from farms that use farrowing or gestation stalls or slatted floors. Instead, the pigs are raised on even, natural ground in open spaces, allowing them to engage in natural behaviors.
Among the heritage breeds they source are Berkshire, Chester White, and Duroc. These breeds are known for their old-world genetics, which slow down the maturation process, resulting in pork with fine marbling and rich flavor.
Chicken Sourcing
All of ButcherBox's chicken is USDA-certified organic and comes from farms in the U.S. and Canada. It is free from antibiotics and added hormones and is Global Animal Partnership (GAP 3) certified.
This Global Animal Partnership has three levels of certification that are listed as GAP 1, 2, or 3. GAP 3 means that all the criteria in GAP 1, 2, and 3 are met. This means that the chickens are not subject to cages, crates, or crowding (GAP 1), chickens live in an enriched, open, enclosed environment with natural light where they can express natural behaviors (GAP 2), and the chickens have access to the outdoors, more space indoors and out, and further enrichments for natural behavior (GAP 3).
Essentially, this means that all the chicken ButcherBox sources come from farms where they are free-range, are fed certified organic feed, and aren't living in a crowded environment.
Seafood Sourcing
All of ButcherBox's seafood is wild-caught and sustainably harvested. Their salmon is sourced from Bristol Bay, Alaska, where they are harvested from people who "uphold strict fishing and handling practices to guarantee an unprecedented level of quality and sustainability." Their cod, halibut, and sablefish are also sourced from the Gulf of Alaska and the Bering Sea.
Their sea scallops are sold "dry" and are "all natural with no added water or chemicals." They are sourced from the George Bank off the coast of Massachusetts. They obtain their wild-caught lobster from a family-run business off the coast of Main.
Lastly, their shrimp is caught in the Gulf of Mexico. They are sold deshelled with their tails removed and deveined.
Turkey and Bison Sourcing
As of the time I'm writing this review, ButcherBox's offerings for turkey and bison are somewhat limited. They typically offer ground turkey and bison, although whole turkeys become available around the Thanksgiving season.
Their turkey is free-range and exclusively sourced from the United States. The meat comes from young turkeys and is all-natural, meaning it's minimally processed and free from artificial ingredients or basting substances.
As for their bison, it's 100% grass-fed and enjoys a free-roaming lifestyle over expansive grasslands that span more than 100 square miles.
ButcherBox and The Competition
Since there are several online butchers to choose from, it can be challenging to know which is the best for your budget, sourcing preferences, and the meat varieties you're after.
To help make the decision easier, here's how ButcherBox compares to other popular meat delivery services in terms of convenience, sourcing practices, and variety. Below, I'll dive into a direct comparison of pricing with these three companies.
ButcherBox vs. Good Chop
This meat delivery service is the most similar to ButcherBox in terms of meat variety, quality, and taste. They offer an assortment of beef, pork, chicken, and seafood. However, ButcherBox has better sourcing practices than Good Chop.
Good Chop only offers a few select grass-fed beef options, and their chicken and pork are sourced from farms that keep the animals contained without access to the outdoors in controlled environments. That said, all of Good Chop's meat is from the United States.
Their plans are more straightforward than ButcherBox's, and they only offer delivery every four weeks. Here's a more comprehensive review of Good Chop I wrote if you'd like to learn more.
ButcherBox vs. Crowd Cow
Crowd Cow stands out in their meat variety and sourcing practices. They offer more types of meat than ButcherBox, including Japanese wagyu beef and less common options, such as duck and lamb. You can also shop for meat directly by farm, which is a pretty neat feature.
With Crowd Cow, you're not locked into a subscription. While they offer a subscription for recurring customers, you can also order meat a la carte without having to commit to a subscription—just like you would at a local butcher shop.
Crowd Cow is more transparent with their sourcing practice, mostly because you can directly shop by the farms they source from, and is more convenient for those who don't want to be locked into a subscription.
ButcherBox vs. Omaha Steaks
Omaha Steaks is one of the oldest and most well-known meat delivery services. Despite their name focusing on steaks, they offer a variety of meat options, including beef, chicken, pork, and seafood. They even have an assortment of appetizers, sides, and desserts you can also add to your box.
ButcherBox has more transparent sourcing practices than Omaha Steaks, who are noticeably silent about where they exactly source their meat and the quality of their meat. They also don't seem as conscious of their environmental impacts, as they still use a styrofoam delivery box.
ButcherBox Pricing vs. The Competition's Pricing
For many folks, the price is ultimately the deciding factor for choosing which meat delivery service they want to go with. Because of this, I've directly compared box prices and the price per pound of ButcherBox's main competitors.
With ButcherBox, the price for a plan/box ranges from $146 (small classic box; 8-11lb of meat) to $306 (custom big box; 18-26 lb). From this, I calculated the average price per pound, which comes to $15.37 for the small classic box and $13.90 for the custom big box. Let's see how that compares to the other meat delivery services.
Good Chop Pricing
Good Chop offers a medium-sized box for $149 that includes 14lb of meat and a large box for $269 that includes 28lb of meat. Based on that, the medium-sized box averages $10.64 per pound, and the large box $9.60 per pound.
Crowd Cow Pricing
Crowd Cow's pricing for individual cuts varies from $7.69 per pound up to $170.29 per pound, depending on the type of meat. This is only the case if you go with the custom option and pick out the meat a la carte.
Crowd Cow also offers a Curated Box that is a flat rate of $149, with a variance of what's included in the box. For the purpose of this article, I'll compare the one most similar to ButcherBox's curated small box plan, which is the Best of Crowd Cow (includes beef, chicken, pork, and seafood). This box has about 8.5 lbs of meat, with an average price of $17.52 per pound.
Crowd's Cow Farm-to-Fork box that includes chicken, beef, and pork has about 9.75lb of meat, with an average price of $15.28 per pound.
Omaha Steaks
Omaha Steaks has a variety of meat assortments to choose from. For this article, I compared their Value Freezer Filler option, which includes 7 lb of assorted meat (plus one 3 oz jar of seasoning) for $179.99. That averages out to $25.60 per pound.
Price Overview
From this comparison, it's clear that ButcherBox isn't the cheapest (which would be Good Chop) nor the most expensive (which is Omaha Steaks).
Considering ButcherBox's impressive sourcing practices, quality, and company values, I think they offer fair pricing, given what they're offering and what they stand behind.
ButcherBox Pros and Cons
Now that we've covered the essentials on ButcherBox, it's time to condense things down to what I love about ButcherBox and the things I discovered that I'm not a big fan of.
ButcherBox Pros
They have impressive sourcing practices: As I've mentioned before, where my meat is sourced is of the utmost importance. I am impressed with ButcherBox's sourcing practices and transparency.
High-quality meat, high-quality taste: Everything tasted amazing, and it was clear the meat was high quality.
Variety: ButcherBox offers a variety of meats and cuts, making it easy to find the exact cut of meat you want if going with the custom plan.
They are B Corp Certified: This certification shows that they are a company that strives for exceptional environmental performance, transparency, and accountability.
Delivery packaging is nearly 100% recyclable: I always appreciate a company that takes the extra steps to use recycled materials and has most of their packaging be recyclable.
They always have member deals going on: They like to provide their members with perks and discounts, so when you continuously use their service, you can save on specialty items and your favorite cuts of meat.
Flexible delivery: I like that they offer a few recurring delivery options (4, 6, and 8 weeks) to accommodate more people's schedules and meat intake.
Shipping is free: This is pretty standard for meal delivery companies, but it's still always a bonus when shipping is free.
ButcherBox Cons
They could be more transparent and accommodating for those with food allergies or specific dietary preferences. I mentioned at the beginning that they wouldn't allow me to opt out of their special offer in order to continue with my order. For someone who doesn't want, or can't have, whatever they are offering, I could see that being frustrating. Furthermore, I chose the curated box that includes beef, chicken, and pork - nowhere on that page (or any other page I can find) did it mention they'll also throw a seafood option in there. If you're allergic to seafood, I could see how that would be a letdown, as you just paid for meat that you can't eat and would have to give away.
The website can be a hassle after you cancel: If you're logged into your ButcherBox account and you cancel your subscription, it's tricky to navigate out of the "resubscribe page." If you try just to go to their main page, they'll redirect you to the "resubscribe page," which I found frustrating as I was just trying to log out of my account. I was eventually able to log out by clicking the tiny "click here to view order history" at the bottom of the screen that was able to take me to my account page.
They're expensive: Let's face it, not everyone can afford their meat boxes. While I wish they were more accommodating to lower-income families, I also understand that you pay for what you get, which in this case, is exceptionally high-quality meat.
Canceling your subscription takes time: Now, I mention this con loosely. As I said above, they make you answer a series of questions about why you're canceling your account. I don't think this is a big deal, but for some, I could see it being a con. I wish they could make it as simple and straightforward as clicking a button, confirming your wish, and done - it's canceled. But, of course, they want you to feel compelled to continue. On the flip side - how else would they know why their customers canceled if they didn't ask? So, for that reason, I understand why canceling your membership takes time.
My Final Review Score of ButcherBox
Considering all the factors I took into account for this review, here are my final scores:
Taste (5 / 5): ButcherBox did not disappoint in the taste of their meat.
Variety (4.5 / 5): They offer a nice variety of meat and certainly all the essentials.
Flexibility & Customizability (4.5 / 5): With their custom box, you can choose the exact cuts of meat you prefer. Delivery is also flexible, as you have three delivery options, and you can reschedule or delay a delivery if needed.
Quality (5 / 5): ButcherBox sets high standards when it comes to meat quality.
Delivery & Packaging (4.5 / 5): The delivery time (6 days) was reasonable, and everything was frozen and neatly packed. The box is made from recycled materials and is 100% recyclable, while the meat packaging itself is not recyclable (which might not even be possible because it's touching raw meat?). Furthermore, the dry ice pack was damaged with dry ice loose in my box, which could have been a problem if I accidentally touched it with my bare hands.
Ease of Use (4 / 5): Everything from choosing my box to ordering it to receiving it was incredibly easy and straightforward. The only inconveniences I ran into were when I canceled (questionnaire) and not being able to access my account page after canceling my membership.
Value (4 / 5): ButcherBox has reasonable to expensive pricing depending on how you look at it. After evaluating their sourcing practices and the taste/quality of their meat, I believe their pricing reflects their commitment to high-quality meat from high-quality sources.
My final review score for ButcherBox is 4.5/5. Everything from the taste to where the meat is sourced to the ease of use and the variety proves that ButcherBox is an exceptional meat delivery service well worth its value. It's a wonderful option for those looking for high-quality grass-fed beef, organic chicken, humanely raised pork, and wild-caught seafood—all delivered straight to your door.