The world of meat delivery services is booming these days, with new online butchers popping up frequently. It can be tough to make the right choice when they're all promising the same high quality meats. Even more so, it's very important to know where your meat is coming from.
That's where Crowd Cow comes in. They're a meat delivery service that started out differently than all of the others out there.
Founded by startup vets, Ethan Lowry and Joe Heitzeberg, they wanted to allow people to purchase high-quality beef direct from local farmers. They took the wholesale business model of buying a whole cow to butcher it up and combined it with the crowdfunding business model to allow people to come together to purchase the cow. They called the individual crowdfunders "steakholders" and the cow "tips" once it reaches 100% funding (pun intended).
Fast-forward to today and Crowd Cow has changed a lot. The website no longer follows the crowdfunding model and has now evolved into an overall online butcher, much like Porter Road or Rastelli's.
I was a big fan of the original Crowd Cow. Is the new version still good? That's what we're going to be exploring in today's in-depth Crowd Cow review.
Let's jump into it!
How Crowd Cow Works
You can think of Crowd Cow as an online butcher. They offer a variety of different types and cuts of meats that can be sent directly to your doorstep.
You can purchase meats a la carte or opt for one of their combo boxes (more details on both below).
You're also not locked into a subscription like you would be with ButcherBox. However, they do offer the ability to have your box sent on a recurring basis.
Types of Meats, Cuts, and Boxes Crowd Cow Offers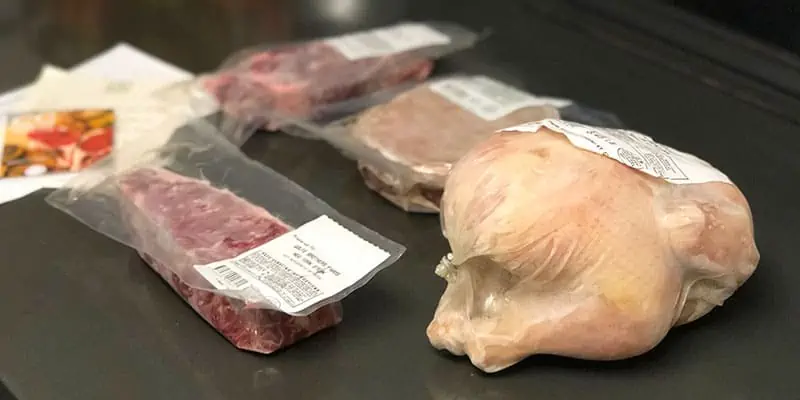 Crowd Cow offers all of the classic meats and cuts. However, they don't offer any exotic meats.
Here's a rundown of the meats you'll find on their site, along with example types/cuts…
100% Grass-Fed Beef: Filet mignon, NY strip, boneless ribeye, denver, flank, ribeye (bone-in and boneless)
Pasture-Raised Grain-Fed Beef: Top sirloin, flat iron, cowboy cut, chuck eye
Japanese Wagyu Beef: Filet, ribeye, NY strip, prime rib
American Wagyu Beef: Filet mignon, NY strip, ribeye (boneless and bone-in)
Chicken: Whole chicken, thighs, drumsticks, wings, breast
Pork: Heritage bacon, pork butt, sausage, ground pork
Sustainable Seafood: Red king crab, jumbo shrimp, wolffish, crab legs, scallops, black cod
Bison: NY strip, ground bison, ribeye
American Lamb: Loin chop, frenched rack of lamb, boneless leg of lamb, ground lamb
Turkey: Ground turkey, turkey patties, turkey hot dogs, whole turkey
The above types and cuts of meat are really just the tip of the iceberg. Over the years of trying and reviewing Crowd Cow, I've learned that they have a commitment to providing a variety of different types of meats—from grass-fed beef and premium Wagyu to heritage pork and turkey hot dogs—their selection is top-notch.
When first checking out the new version of their website that now focuses on variety rather than crowd funding a cow, I was a bit overwhelmed with selection. Where do you start if you don't know too much about different types and cuts of meats? That's where their combo boxes can help. These are pre-selected boxes of meats that vary in cuts and meat types that usually end up being less expensive than purchasing the individually.
Here's a rundown of some of the current combo meat boxes they currently offer…
Farmers Market Share: Assortment of pasture-raised beef, pork and chicken.
Bodybuilder Pack: 6lbs of pasture-raised lean chicken breast.
Truly Simple Meals: A variety of simple cuts to make cooking easier. Comes with sirloin tips, sirloin steaks, flat iron steaks, ground beef, and tenderloin steaks.
What I really love about the combo boxes is that in addition to making the selection process easier, you can order a box to fit certain occasions like holidays or backyard parties. For example, they offer BBQ grill combo boxes in the summer that come with grilling essentials like grass-fed burger patties, beef hot dogs, turkey patties and more.
Crowd Cow Meat Quality & Sourcing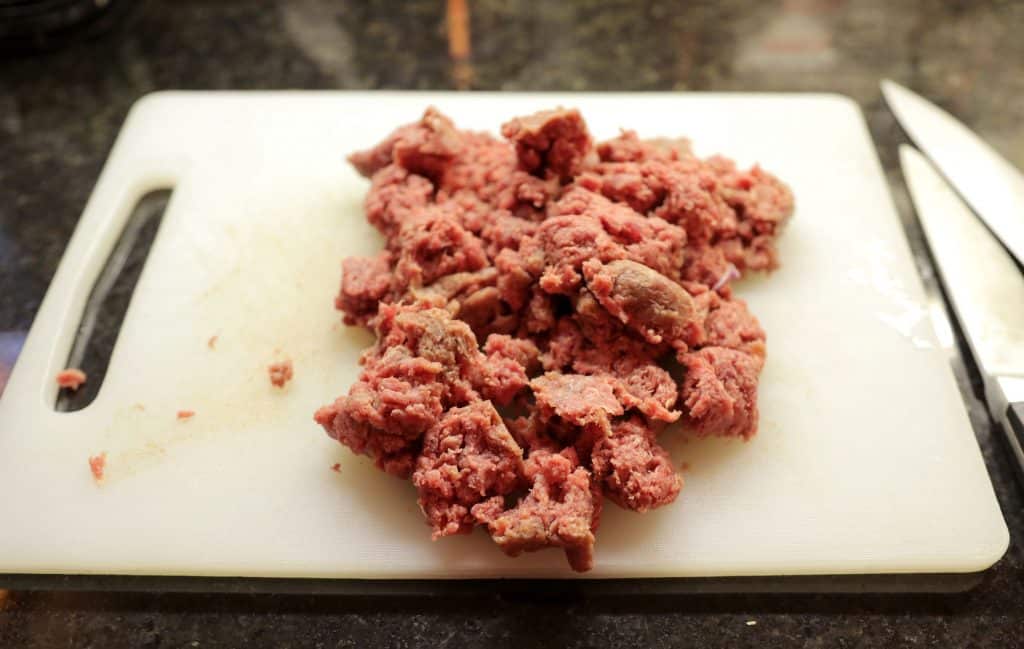 Not all meat is created equal. In fact, the meat business can be pretty shady. We did a deep-dive into the importance of knowing where your meat comes from in a blog post here and come away stunned by some of the facts we learned. For example, according to a 2011 study, almost half of all raw meat sold in grocery stores contains staph infection bacteria, including potentially lethal MRSA. What?!
For this reason, it's important that the meat delivery company you go with place an emphasis on quality of meats (not just quantity and variety). Here is a rundown of what you can expect from Crowd Cow meat…
All beef is dry-aged for a minimum of 14 days
Grass-fed and pasture raised beef (fed grass and natural grains)
Wild-caught and farm-raised seafood
They offer heritage breed pork (Berkshire, Tamsworth, and Duroc, and cross breeds)
They offer free-range, free-range organic, and truly-pasture raised chicken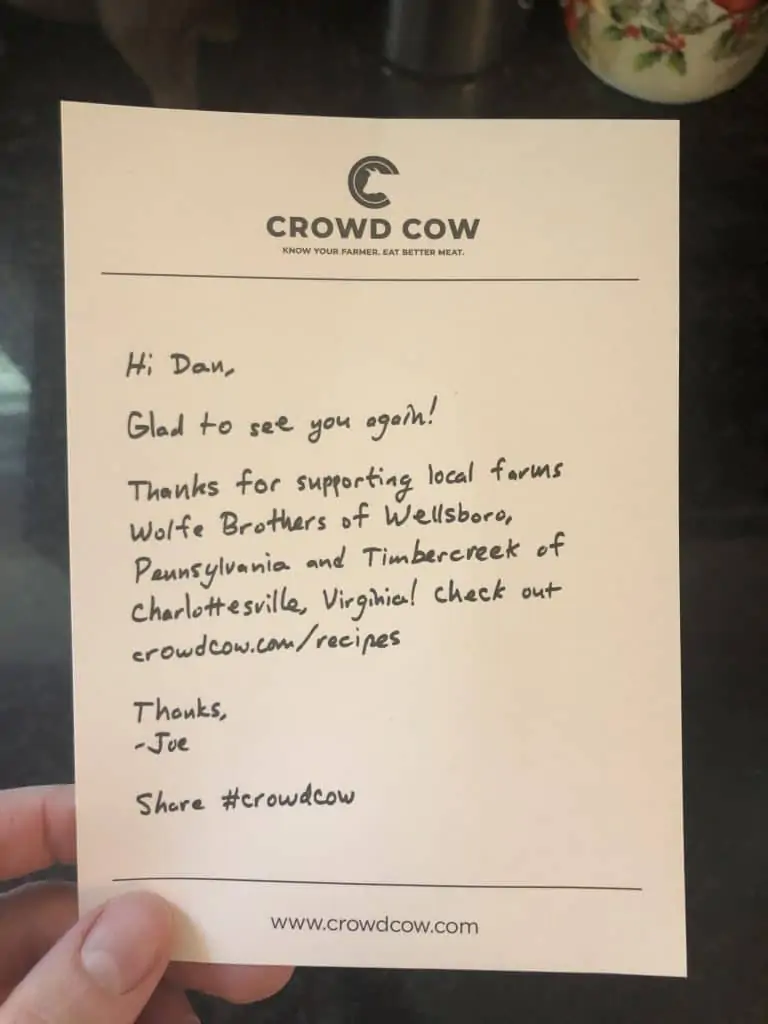 Crowd Cow works with local farms across the world. This allows them to source the highest quality versions of those meats. For example, their kobe beef comes directly from Hyogo, Japan.
The fact that they connect you with these local farms allows you to understand what those specific farmers do to raise their animals. You can even shop by farm on their website where you'll see if the beef was grass-fed, antibiotic free, dry aged, and more.
From my experience, some meat delivery companies tend to be vague about where they specifically source their meats from. I respect the fact that Crowd Cow is so transparent about their farmers, quality, and sourcing process.
What Else Does Crowd Cow Offer?
One of the lesser talked about features of Crowd Cow is the fact that they offer more than just meat delivery. They're a great cooking resource and they even sell some delicious spices.
Their website is a pretty extensive resource for how to cook the various meats they offer, and we're not just talking a blog. They've created a ton of guides (videos and articles) that have come in handy when we've cooked our meats in the past. They go over everything from how to properly cook a filet mignon to a full in-depth guide of how wagyu beef is butchered.
If you're looking for a way to kick your meat up a notch, I'm a big fan of their Steve Raichlen spices. Should you be under the $99 cutoff for free shipping, I suggest throwing in some spices so you don't have to pay the shipping fee. The Project Smoke Carolina Pit Powder is my favorite.
Crowd Cow Subscription Membership Features
Crowd Cow doesn't force you to become a member to use their service, nor are there any membership fees. Basically, if you ever order a recurring box, you become a member (AKA "steakholder") and you will receive 5% off and free shipping (so long as it is above $99).
You're not forced to receive the same meats in your box every recurring order either. They'll notify you when your next recurring order is going to be shipped and allow you to fill it with any number of meats beforehand.
I wouldn't say become a member is very beneficial other than receiving 5% off your order.
Delivery
Crowd Cow can ship everywhere in the continental USA (that excludes Alaska and Hawaii). Once your order has shipped, you will receive tracking information via email. This will allow you to see your expected delivery date and track your package as it makes its way to your home. All of the boxes we've ordered from Crowd Cow have arrived within 2 days of our order.
Since a signature isn't required at the time of delivery, it'll be left on your doorstep for you. The meat is packaged to stay cold for many hours after it arrives. You won't have to worry about something spoiling before you get home from work at the end of the day. However, once you do arrive at home, you'll want to unpack everything and put it in the freezer or fridge right away to ensure it stays safe and at the optimal temperature.
If the total value of your box is over $99, shipping is free. Since the minimum order value has to be $50 or greater, I've found it's usually pretty easy to receive free shipping.
Packaging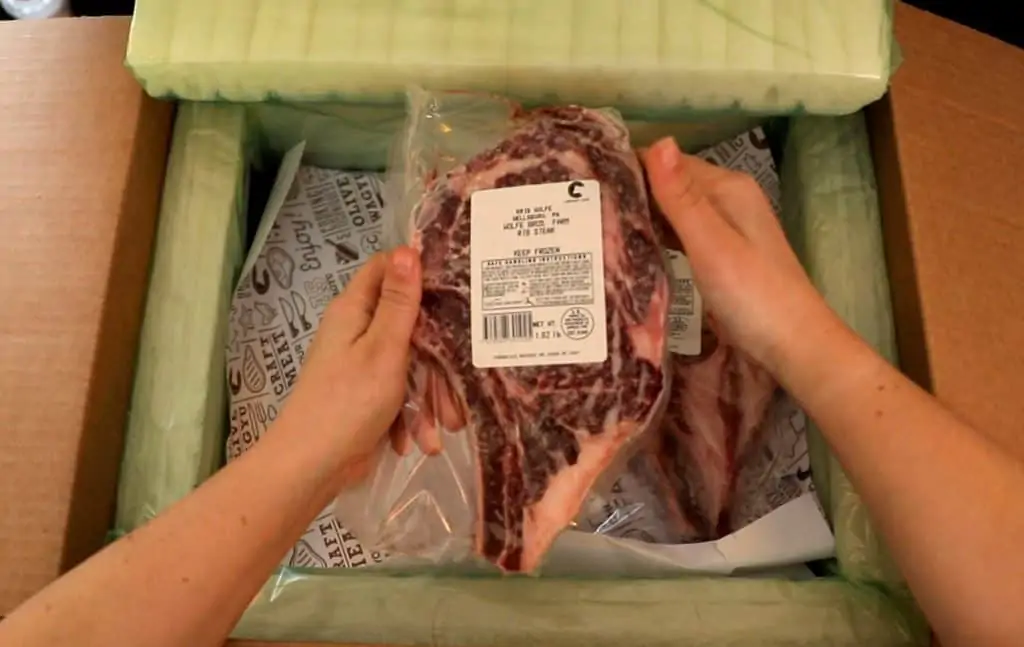 Crowd Cow's packaging has really come a long way since we first reviewed them. Initially, when they first started out, there were shipping all of their meats in a big Styrofoam box. While this helped the meats stay cold in transit, Styrofoam isn't exactly great for the environment.
Thankfully, they're upgraded to more environmentally friendly packaging options. Inside the cardboard box that the meats come in, you'll find a biodegradable insulation made from corn that can be composted, used as a fire starter, or even dissolved down your drain. This is my absolute favorite insulation to see food delivery services use because it's the most environmentally friendly scalable insulation out there.
Inside the insulated package you'll find your meats surrounded by dry ice. Be super careful not to touch it because it could burn your skin. You can simply let the dry ice melt—there's no need to throw it away or recycle.
Crowd Cow is even taking things a step further working with the Arbor Day Foundation to offset the carbon impact of every order.
What We Received In Our Recent Box (July 2020)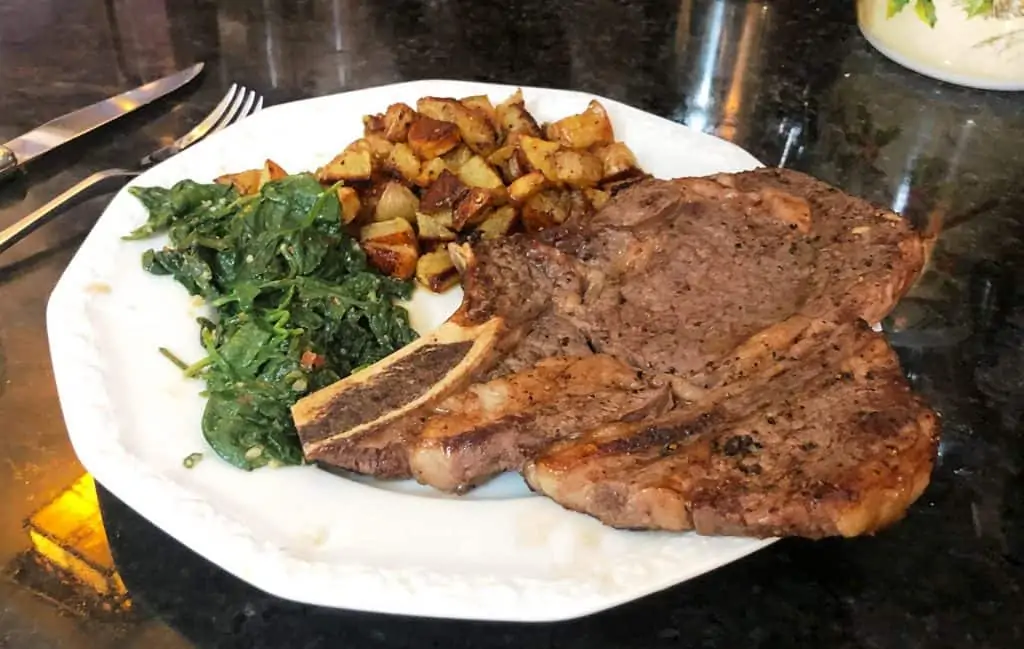 We ordered their Grill Master box and received the following meats…
2 Denver Steak (16 oz): We've only cooked Denver steak a handful of times in the past, though it's starting to become a favorite. These came out perfectly tender with just the right amount of "beefy" flavor. I suggest cooking it up on the grill for the best flavor and texture. However, using a cast iron pan and finishing in the oven also works very well.
2 Rib Steak (32 oz): This is what we decided to cook up in our video review here. We cooked it as basic as we could (just butter, salt, pepper, and garlic) so that we could really taste the meat to determine the quality and flavor. It came out delicious, having just the right amount of marbling to give that subtle beefy flavor.
4 Ground Beef (64 oz): We used these to make small tacos with guacamole. The beef was perfectly juicy and just the right flavor. You can really taste the difference when it comes to high-quality grass-fed beef.
1 Bone-In Pork Chops (16 oz): I usually don't love pork because it has a tendency to come out dry (if not cooked right). We pan seared these, which helped lock in the juiciness of the pork.
6 Hot Italian Sausage (24 oz): We made these a little differently than normal. Instead of grilling or cooking up the whole sausage and eating. We grilled, then chopped up and put into a pasta and spinach mix to make a "bowl". They were just the right spice level as to not overwhelm your taste buds.
As you can see from the selection above, you can get a good variety, even in their combo boxes.
Crowd Cow vs. Similar Meat Delivery Services
If you've done any research on meat delivery services, you've likely encountered a ton of different companies. While there is a ton of selection out there, not every meat delivery service offers the quality and variety that I've seen with Crowd Cow.
Here's a rundown of the most similar meat delivery services to Crowd Cow and how they differ…
Many people might assume ButcherBox is a similar meat delivery service to Crowd Cow but not necessarily. ButcherBox is strictly a meat subscription or "meat of the month" club, whereas Crowd Cow offers a subscription but is much more of an online butcher where you can purchase meats a la carte. You can also customize your recurring order much more with Crowd Cow than you can with ButcherBox.
Pros & Cons of Crowd Cow
Now that we've gone in-depth to review the Crowd Cow meat delivery service, let's highlight what's great about their service versus what we don't like.
Crowd Cow Pros
Offers both quality and quantity. Crowd Cow is one of the few meat delivery services that offers both quality (ex: local farms, grass-fed, no antibiotics) and quantity (chicken, beef, wagyu, lamb, pork, fish).
Give you the ability to shop by farm. One of the most distinctive features of Crowd Cow is that they allow you to shop by individual farm. I found this very helpful when we ordered a variety of meats and wanted to continue buying meat from that specific farm we tried.
They offer combo boxes. If you're not sure where to even start when buying meat online, this makes the whole process a lot easier.
Can customize your recurring subscription box. I've found that a lot of other meat delivery services don't allow you to customize exactly what you receive in your box (ex: ButcherBox). Crowd Cow gives you the ability to pick out exactly what you want and receive 5% discount on each recurring order.
The most environmentally friendly meat delivery packaging we've seen. Not only do they use biodegradable insulation and dry ice, which have very little to no waste, they go the additional step by making each delivery fully carbon neutral.
Crowd Cow Cons
Popular items sell out quickly. One of their biggest problems is that they're too popular! I've found that when trying to order, some meats that I want to add to our box are sold out.
$50 minimum order value. This isn't a huge deal since adding 3+ meats to your cart usually is going to hit that $50 value. However, comparing it to the grocery store or your local butcher, you can't just order 1-2 meats and check out.
Shipping is only free above $99 orders. If you spend below $99, you'll have to pay a shipping fee or around $12.99.
Does Crowd Cow Have Any Coupons or Promo Codes?
Yes, they do! Here at Food Box HQ, we want to help save you money on any food box delivery. As of right now, Crowd Cow only offers up to $25 with a referral link. You can use our referral link here to claim your $25 off. It'll be automatically applied to your account.
Final Thoughts: Who Is Crowd Cow Right For?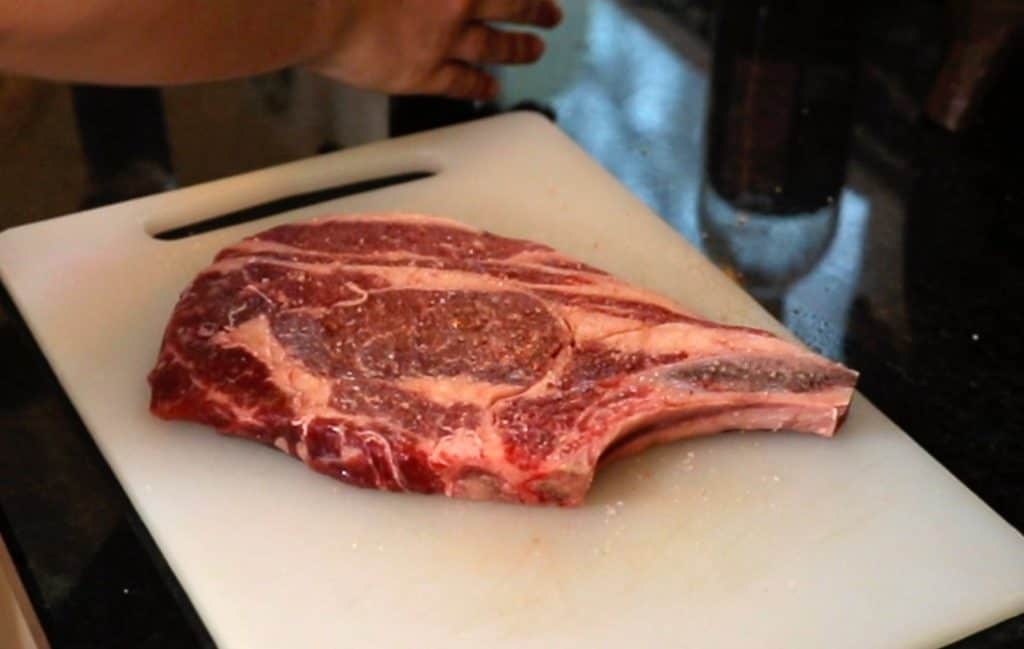 Since its inception, Crowd Cow has been dedicated to delivering high-quality meat. While I was impressed with the initial version of Crowd Cow, where you purchased a "steak" in a local farmers cow, I am even more impressed with the direction they've taken the new site.
Crowd Cow is one of my favorite meat delivery services for their quality and variety of meats. I love the fact that they don't lock you into a subscription if you don't want one. And should you decide to subscribe to a recurring order, you can customize it at any time. I even have family members that have thanked me for referring them to Crowd Cow to have their meats delivered.
Past Crowd Cow YouTube Reviews
Have you tried Crowd Cow before or do you have a question we didn't answer? Leave you comment below and we'll get back to you as soon as possible!