Back in the day, the only way you'd be able to get fresh, quality meat was to go down to the local butcher and purchase cuts over the counter.
Today, those local butchers are moving online. You still have the ability to get fresh, quality meat but now it's shipped right to your door.
One of the biggest meat delivery services to hit the scene has been Porter Road. The business was started by two friends, James Peisker and Chris Carter, when they realized it's getting harder and harder to find quality meat. What started as a local butcher shop eventually morphed into an online butcher in 2017.
With meat delivery continuing to grow in popularity, Emily and I got our hands on a box of Porter Road meats to evaluate and see how they stack up next to the competition. In this review we're going to cover everything from the meats and plans offered to our personal experience cooking up their steaks, bacon, pork, and more!
Let's jump into it!
How Porter Road Works
You can think of Porter Road as a local butcher… with a twist. They offer all of the same types of meats but their website allows for easy browsing based on meat type, cut type, and even cooking time or cooking gear used.
If you know what you want, you can build your own box, mixing any meats you'd like. Or, you can order a "combo kit" of complimentary meats. These kits also act as great gift ideas for the meat lover in your life. They tend to have seasonal kits too, such as Father's Day boxes, July 4th boxes, etc.
Types of Meats Offered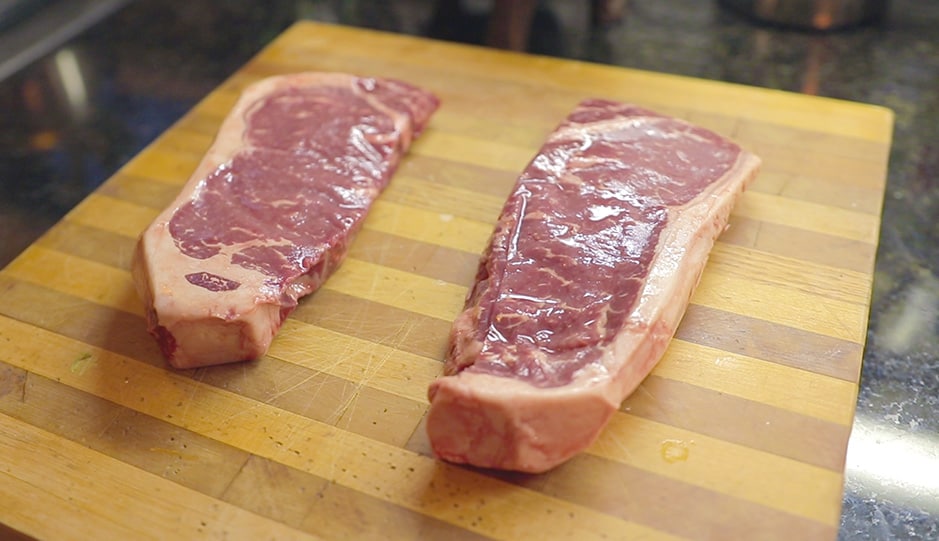 Porter Road offers the classic staples when it comes to meats. On their site you're going to see the meat organized by beef, pork, lamb, chicken, and sausage. So if you're into exotic meat or game meats like elk or venison, you're out of luck.
That being said, Porter Road has an incredible amount of variety when it comes to the cuts of meat. Some cuts and types I've never heard of and others they literally invented themselves.
Here's a rundown of some of the beef they offer:
Denver Steak
Korean Short Ribs
Beef vs Bacon (a blend of beef and bacon, which we cook up in our video review)
Teres Major
Beef Bacon (beef that you cook up just like bacon)
Like their beef, their sausages also come in a variety of classic and unique types. Here are a few highlights:
Bacon Maple Breakfast Sausage
Beef Chorizo
Bratwurst Links
Memphis BBQ Sausage
They offer all the classic chicken cuts (chicken breasts, drumsticks, and thighs) as well as whole chickens and even chicken stock.
In terms of pork, they have a wide variety of cuts, sausages, and bacons. Here are a few highlights:
Pork Butt
Pork Brisket
Pork Shank
Pork Ham Bacon
Last, but not least, they offer an assortment of lamb cuts. You'll find everything from classics like a leg of lamb and lamb chops to shoulder and even neck cuts.
Quality & Where They Source Their Meats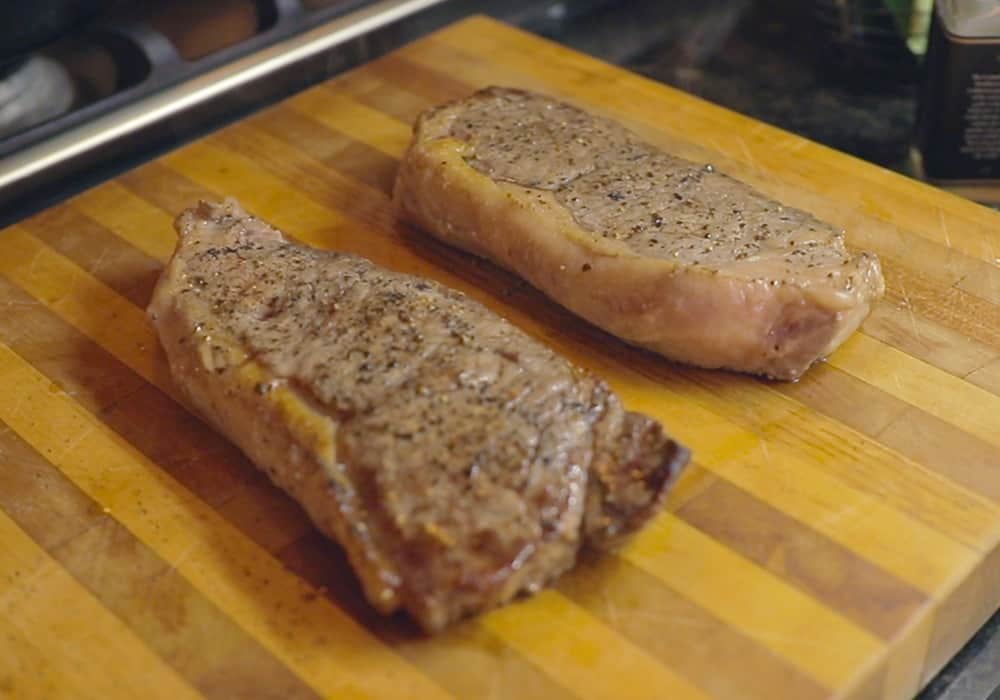 Variety of meat means nothing if the meat isn't good quality. High quality meat means it's not only better tasting but it's better for you. Check out our deep dive into why it's important you understand where your meat comes from.
Porter Road does something unique in the world of meat delivery services — they source their meats from local farms that are close to their facility in Kentucky. Why is this important? Working with farms close to them means that the meats spend less time in transit between the farm, Porter Road, and your grill.
You'll also notice that Porter Road is one of the few meat delivery services that doesn't send all of their meat frozen, only refrigerator-temperature chilled. Some meats will be sent frozen, like their ground beef, sausages, or larger roasts. However, most are not. This is specifically to keep the meat flavor and texture as high-quality as possible. When meat freezes, the water in the muscles turns to ice, which crystalizes and cuts into the muscle fibers. This can have a detrimental effect on the meat and impact how it tastes after being cooked.
In addition to the above, Porter Road also checks a lot of other boxes when it comes to high-quality meat…
The animals are all humanly raised and given a stress-free life experience on a small farm pasture.
They never use any antibiotics or hormones in any meats.
The farms all use sustainable farming.
Porter Road Meat Subscription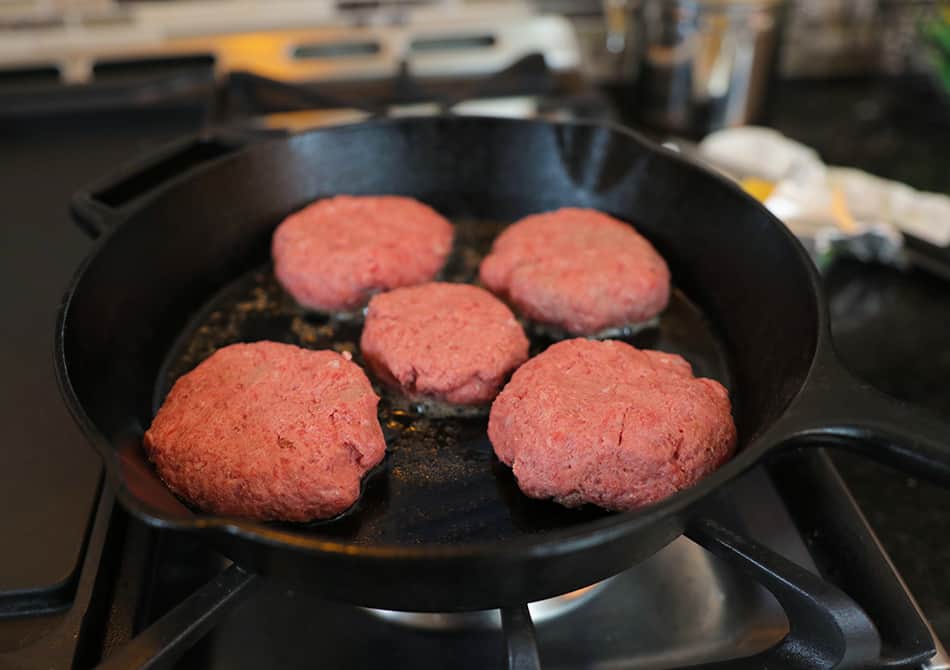 One of the things I love most about Porter Road is they don't force you to subscribe to get their meat like a lot of other meat delivery services do. They give you the option to order their meats as a one-off purchase or subscribe. This allows you to try their meats first before committing to any recurring order, which is what I recommend.
If you're ready to replace your local grocery store meat with a higher-quality version, Porter Road's subscription boxes make it pretty simple to do so. What's more is that they discount these boxes so it's actually a little less than what it would be buying each meat individually.
Here are the current subscription box options…
Beef and Pork Basics: This box includes 2 Dry Aged Sirloin Filets, 2 Pork Chops, 5 x 1 lb packs of Dry Aged Ground Beef, and 2 x 1 lb packs of Ground Pork.
Stay at Home Bundle: This box includes 5 lbs of Dry Aged Ground Beef, 2 lbs of Ground Pork, 2 lbs of Loose Italian Sausage, and 2 lbs of Country Breakfast Sausage in 1 lb packs.
Butcher's Choice Box: This box includes 2 Dry Aged Steaks, 2 Pork Chops, 1 lb of Ground Beef and 1 lb of Bacon. You'll also receive selections that change with what's in season.
Best of Porter Road Box: This box includes 2 dry aged steaks, 2 pork chops, 2 lbs of dry aged ground beef, 1 lb of bacon, 1 lb of country sausage, and 1 lb of chorizo sausage.
Grill Master Box: This box includes 2 dry aged steaks, 2 lbs of dry aged burger patties, and 2 lbs of bratwurst sausage links.
In terms of frequency, you can have these boxes delivered every 2, 4, or 8 weeks.
The only downside, as you'll notice, is that the subscription boxes are not fully customizable. You can't order specific cuts of meat to be sent on a recurring basis. However, you can select any of the boxes listed above and add on a selection of meats such as dry aged ground beef, sausages, and bacon.
Delivery
Porter Road can deliver to the entire contiguous United States. This means they can't ship to Alaska, Hawaii, American Samoa, U.S. Virgin Islands, Northern Mariana Islands, Guam or Puerto Rico.
They offer standard and express shipping on all orders. Standard shipping usually takes around 2-3 business days and express shipping usually takes around 1-2 business days. For reference, we received our express shipped box within 2 days of ordering.
Shipping is free on all orders over $100 and free on all subscription boxes.
Packaging
When it comes to delivering raw meats, there cannot be any compromises when it comes to packaging. One little mistake in packaging, insulation, or cold packs can lead to spoiled meats. Thankfully, Porter Road uses high-quality packaging materials to keep your meats safe in transit.
All of the boxes are made of cardboard and the inside insulation is Green Cell Foam. This insulation is common among the meal kit industry and one of my personal favorites to see for a number of reasons. First, it does a wonderful job at keeping foods cold while in transit. Second, it also acts as protection so if the box gets thrown around, the meats stay safe. Third, Green Cell Foam is cornstarch-based so you can literally wash it down your drain, making it one of the most environmentally friendly insulators around.
They use frozen gel packs to keep everything nice and cold in transit. In all of the boxes we've received from Porter Road, not once have there been any thawed or less than cool meats in our box.
What We Got In Our Recent Box (May 2020)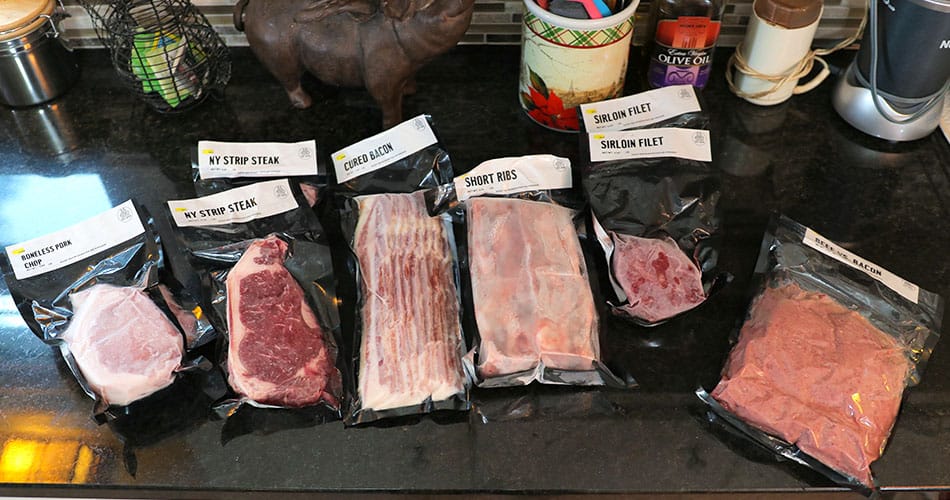 We've received a number of Porter Road boxes, each with a variety of different meats, so that we can properly test out their various offerings. Here's a rundown of what we received recently, along with our thoughts…
Beef vs. Bacon: I have to admit my jaw dropped when I saw this in our box. Two of my favorite meats combined! You can actually see us cook this up in our video review here. The short answer is these meat patties were super delicious. If you love beef and bacon, throw this in your next box and thank me later.
NY Strip Steak: We cooked this one the same way as we do most of our steaks — quick sear on the cast iron and then finish it in the oven (on the cast iron). This cut came out perfectly juicy and tender. In addition to the flavor, the texture is really where you can feel the quality difference in the meat.
Boneless Pork Chop: I admit that I'm not usually a fan of pork, mainly because in the past I've always been served overcooked/dry pork. However, the trick to cooking is to grill it until it hits an internal temperature of 145°F. We even go the extra step of searing it to keep in all the juices (so it doesn't dry out) and flavor. It also added a nice crispy crunch to each bite.
Cured Bacon: Porter Road knows how to do bacon! These were some of the most delicious, thick, juicy slices of bacon I've ever had. Not overly salty like you sometimes get from the packs at the grocery store and they just the right flavor.
Sirloin Filet: We cooked this one up just like the NY Strip, a quick sear on the cast iron and finished in the oven. However, since sirloins don't have as much fat as other cuts, it's important not to overcook it. This steak was packed with tender, juicy flavor.
Pork Short Ribs: Combine high-quality short ribs with the right marinade and you've got one of the best BBQ recipes around. We made these ribs with our favorite Trader Joe's marinade and they came out "finger lickin'" good.
One thing to note when watching the video review or looking at the pictures in this review article is that the meats may look a bit darker than what you're used to seeing at your local supermarket. This is because many low-grade meats from grocery stores are pumped with antibiotics, which cause artificial coloring to form from the rapid growth.
What Makes Porter Road Unique?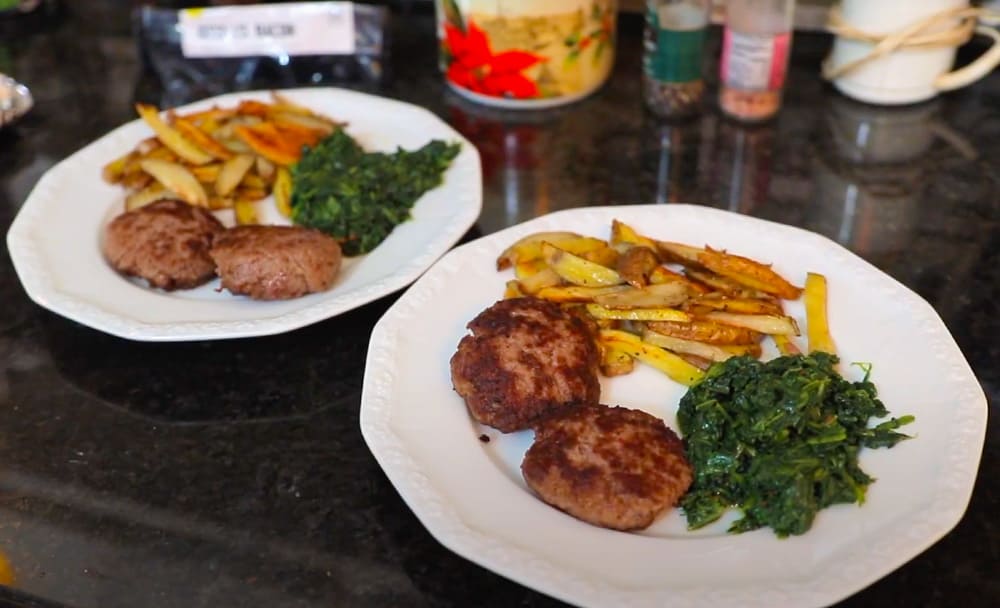 The meat delivery industry is one that is really starting grow. Over the past few years I've noticed the amount of new meat delivery businesses more than double, if not triple. Many of these companies tend to have the same standard offerings of meats and plans. So, what makes Porter Road stand out among this crowded industry?
First, their commitment to quality is a notch higher than what I've been seeing lately. I'm specifically referring to how and where they source their meats. They only work with local farms, within the region their facility is located. Many other meat delivery services work with farms all over the United States and some, like ButcherBox, actually get their meat from Australia. Now, there are pros and cons to sourcing from places far away like Australia (such as having the right environment year-round for cattle grazing) but I tend to prefer my meat to come from a farm that's close and local.
Another aspect to Porter Road's service that makes them stand out among the pack is the fact that they have cuts and types of meats that I've never even heard of before. For example, the beef vs bacon patties that we made in one of our review videos. If you're going to spend a little more money for quality, it's nice to have some fun variety to select from too.
Lastly, they're one of the few meat delivery services that doesn't freeze all their cuts. This ensures top-notch flavor. Of course, if needed, you can definitely freeze their meat to preserve it (we have).
Final Thoughts: Who Is Porter Road Right For?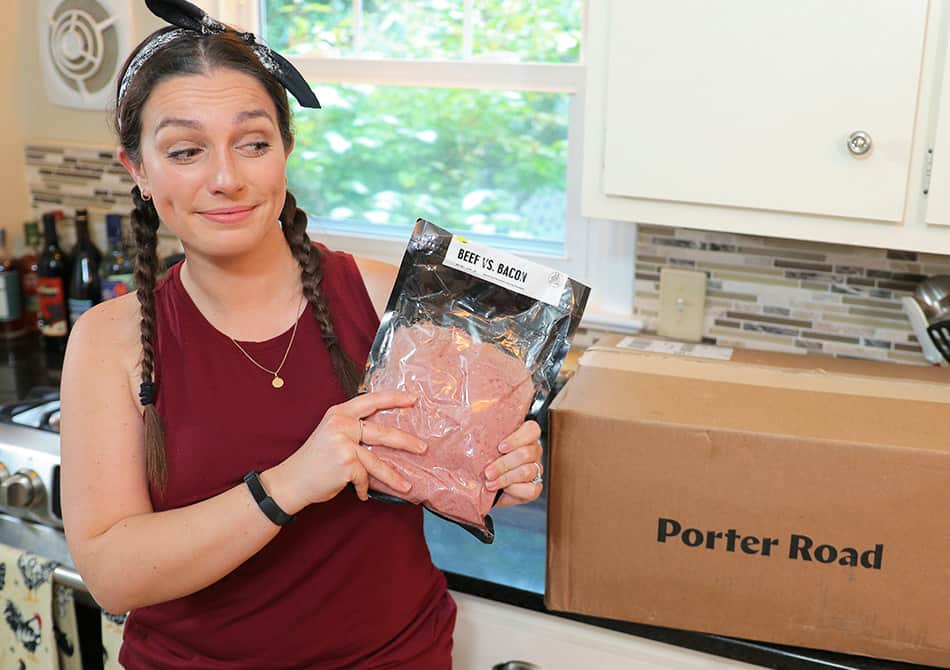 Overall, I'm impressed with Porter Road. Out of all of the meat delivery services out there that we've tried, they're definitely one of the best. It all comes down to their commitment to quality and their selection of meats.
Porter Road's subscription box is perfect for someone who is looking to replace their grocery store meats with an upgraded, higher quality version and have some fun selection too. You're definitely not going to find "beef vs bacon" at your local supermarket.
If you're having people over and you want to grill or really impress the guests with some great meat, a one-off order is a great option to consider. You don't have to worry about quality and there's enough variety that you're likely to have enough meat selections to make everyone happy.
Lastly, this box makes an awesome gift. When people think of meat delivery as a gift, they probably think of an expensive Omaha Steaks box but Porter Road is basically a more fun version of that. And if you don't know what meats to get the recipient, they have a ton of pre-made gift boxes available to select from.
Our Past Porter Road Reviews
Have you tried Porter Road before? Have a question about their meat delivery service we didn't answer? Let us know in the comments below and we'll get back to you asap!