I stumbled upon ButcherBox in 2017 after I read an article about just how shockingly disgusting the meat from local grocery stores can be. I won't gross you out with all the details but here are some "highlights":
Ever picked up a package of meat in the grocery store only to have the meat liquid inside drip onto your hands? Plastic-wrapped meats can not only be breeding grounds for food-borne pathogens (such as E. coli, listeria, and salmonella), but they're also rather easy to transfer those pathogens being in flimsy styrofoam packaging.
Raw meat sold in grocery stores is often treated with carbon monoxide to give it a bright red color that doesn't necessarily indicate freshness.
Packages of ground beef sold in stores can be made from the meat of hundreds, sometimes thousands, of cows.
(Feel free to read my in-depth article here to learn more on the importance of knowing where your meat comes from.)
After realizing that not all meat is created equal, we decided to give ButcherBox a try. Why their service in particular? They billed themselves as an online butcher that sources meat from animals that are humanly raised, never given antibiotics or hormones, grass-fed, and pasture-raised.
Since receiving our first box in 2017 and trying a bunch of their different meats, we put all our thoughts together in this review to help you make the most informed decision on whether it's the right meat delivery service for you.
Let's jump into it!
How ButcherBox Works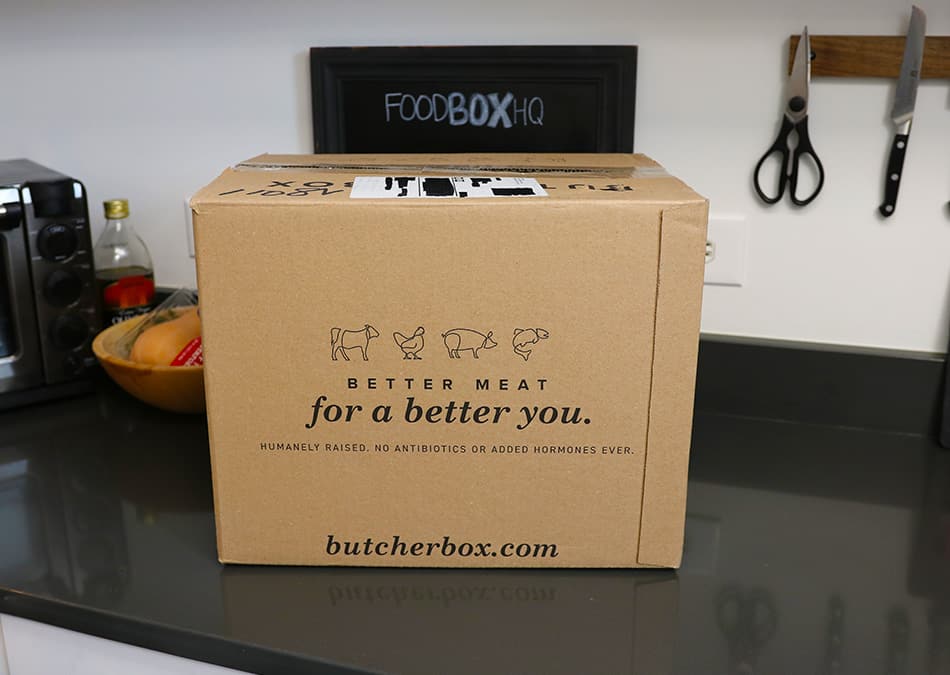 You might be surprised to learn that ButcherBox originally got its start on Kickstarter in 2015. They started out with a modest goal of raising $25,000 and ended up skyrocketing past it with over $200,000 raised. I guess this goes to show just how hungry people are for high-quality meats (pun intended).
How their meat delivery service works is pretty straightforward. They source butcher-quality beef, pork, and chicken from the farms they work with all over the world (more detail on the meat a little later on). You get to choose the variety of the meats you want and how big of a box you'd like to receive, as well as the frequency you want the box delivered.
Types of Meats Offered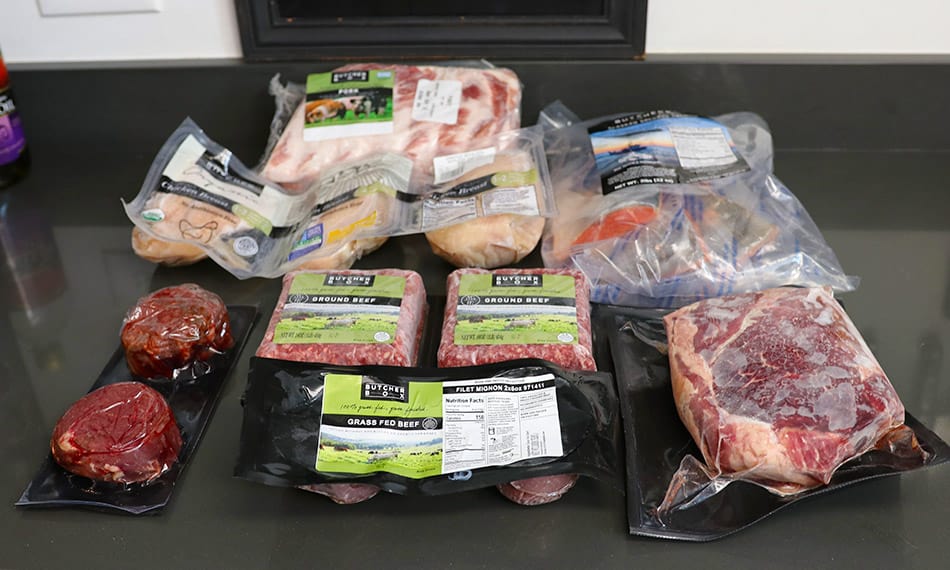 ButcherBox focuses on sending 3 types of meat — beef, chicken, and pork. Let's go over the details of each type to give you a better idea of what you're actually paying for.
ButcherBox Beef
All cattle is free-range and pasture raised. This means that the animals lived a healthier and less-stressed life, in comparison to being locked up in cages. Some people believe this translates to better-tasting meat. What is known for sure is that when cattle have the ability to freely roam and they aren't locked up together, there's less chance they're exposure to bacteria, viruses, and other diseases.
All cattle is 100% grass-fed. You've likely heard grass-fed is better than grain-fed. But do you know why? Research has shown that grass-fed beef is actually more nutritious, having higher fatty acid profiles and antioxidant content. Compared to grain-fed beef, I've found it has more of a natural "meat" taste and less marbling (fat).
No added hormones. This had been the subject of a lot of discussion and controversy over the years. Technically, added hormones are FDA approved and there aren't any direct connections to a decline in health. However, the hormones added to beef may increase another hormone in humans, insulin-like growth factor (IGF), which could mimic the effects of human growth hormone in negative ways — increased risk of breast, prostate, and other cancers.
No added antibiotics. Similar to added hormones, added antibiotics is another controversial subject. They're used to slow the spread of bacterial infections in cattle as well as added to animal feed to promote growth. The overuse of antibiotics leads to an increase in the bacteria that can resist antibiotic effects. This means that antibiotics could end up becoming less effective for both humans and animals.
Sourced from Australia. When I first heard they get their cattle from Australia, I was a little confused. Why not from any of the thousands of farms in America? Their reasoning is the climate in Australia is ideal for cattle grazing year round. Australia also has a high beef standard which is called the Meat Standards Australia (MSA) grading process, which factors in tenderness and juiciness for ultimate flavor. ButcherBox goes pretty in-depth on why they went with Australia as their main beef source in this blog post.
ButcherBox Chicken
All chicken is free-range, have outdoor access, and humanely raised. As with cattle, free-range chicken has been said to taste better. In my opinion, both chicken and eggs taste better when they're free-range and less-stressed.
No added antibiotics or hormones. I won't go over the details again since we covered above for cattle but it's good to see in the chickens as well.
Chickens are fed a non-GMO, vegetarian diet. Chickens are omnivores so there's technically no health need for them to be vegetarian-fed.
USDA Certified Organic. This means that zero pesticides or chemical fertilizers were used to grow the feed that the chickens eat, the chickens receive no antibiotics and they're given access to the outdoors.
ButcherBox works with the American Society for the Prevention of Cruelty to Animals to ensure better living conditions for their chickens. This means that the chickens get live a better life prior to making their way to your kitchen.
ButcherBox Pork
They only source heritage breed pigs. Basically, heritage breed pork means that the pig is the truest genetic breed of swine. There are a few different types of pigs that fit into the heritage breed category but they all are known for having the best flavor.
All of their pigs are Certified Humane and/or American Humane Certified. This ensures that the pigs were able to live more humane lives prior to making their way to your kitchen.
No antibiotics or hormones. I won't go over this again — see the ButcherBox beef section above for more on this.
Fed a vegetarian diet. Like chickens, pigs are omnivores so there isn't technically any need for them to be only fed a vegetarian diet. In fact, research has shown pigs fed a vegetarian diet incur higher levels of bone loss when compared to pigs fed a diet of fishmeal.
ButcherBox Plans Offered
They currently offer 5 different box options, based on the meat variety you'd like to receive.
Custom Box: This option allows you to select from up to 20+ cuts of beef, pork, and chicken. You'll receive anywhere from 9 to 14 lbs of meat total.
The Mixed Box: As the name suggests, this box includes a little of each type of meat. This is also the box we get. To give you an example of what you might get, we've received 2 lbs ground beef, 2 NY strip steaks, 4 top sirloin steaks, 3 lbs boneless chicken breasts, and 3 lbs of chicken drumsticks. You'll receive anywhere from 8.5 to 11 lbs of meat total.
The Beef & Pork Box: With this plan you'll receive 8 to 11 lbs of beef and pork. Examples of what you might get would be anything from ground beef and NY strip to pork chops and pork loin.
The Beef & Chicken Box: With this plan you'll receive 8.5 to 11 lbs of both beef and chicken. Examples of what you might get in this box include sirloin steaks, ground beef, boneless chicken breasts, and chicken drumsticks.
The All Beef Box: If you're a true carnivore and you only want beef, this is the box for you. You'll receive 8 to 10 lbs of only beef, such as steak tips, chuck roast, ground beef, sirloin steak, and more.
In addition to the boxes above, ButcherBox also offers monthly special add-ons. For example, we've added meats to our box like wild Alaskan salmon, breakfast sausage, and bacon.
Delivery
Ground shipping with ButcherBox is free to all of the contiguous United States. This is a nice perk, especially considering a bunch of other meat delivery services do charge for shipping.
You can expect your order to arrive via either UPS or FedEx. The carrier they choose will depend on your location and transit time to ensure it arrives as quickly as possibly. They ship to all of North America except for Alaska, Hawaii, and Canada.
No one needs to be home in order to accept your delivery from ButcherBox because a signature is not required for drop-off. The carrier will leave your package on your doorstep for you to receive as soon as you arrive home. For this reason, you also have the option to include special delivery notes for the driver with your order. We usually make sure that the delivery driver drops the box off in our mail room so we get a call to come pick up the box and get everything in the freezer ASAP.
Unfortunately, you do not have the ability to specify a specific delivery date at this time. ButcherBox prioritizes orders based on location, carrier, and transit time. They send out orders around 7 business days from your bill date (or the first time you place your order). So you can estimate when it'll arrive at your door based on that.
From personal experience, the amount of time the box is actually in transit before it hits your doorstep is around 1-2 days. Our box almost always gets to our door within a day of being sent out.
Because you can't choose the delivery day, ButcherBox recommends having orders delivered to your home address, not a business address. You don't want to worry about having your package delivered when your business is closed, especially since carriers may perform a drop off in your area during evenings and weekends.
You can also change the frequency of when your boxes arrive to every 2 weeks, every 4 weeks, every 6 weeks, or every 8 weeks.
Packaging
When it comes to meat delivery services, one of the concerns we hear most often is that people don't trust the meat will stay fresh/frozen in transit. Or worse, the package will be delayed or left out and the meat will thaw. The good news is that ButcherBox goes above and beyond when it comes to packaging to ensure your meat stays safe and frozen while on its way to you.
They comply with the USDA Mail Order Safety Guidelines when shipping each of their orders. These are specific packaging and shipping steps recommended by the USDA to ensure the meats stay fresh and prevents food-borne illness.
Before being shipped out to you, the meat is flash frozen and individually packaged and labeled. It's then put inside a reusable, insulated shopping tote. There's then an eco-friendly insulation liner surrounding that tote.
They add dry ice to the outside of the shopping tote, inside the liner that surrounds it. The amount of dry ice you receive is chosen based on your location and delivery time.
The entire box, packaging, and insulation inside is 100% recyclable and made from recycled materials.
They say the meat should arrive frozen, partially frozen with ice still available, or at the very least refrigerator cold. Your meat should measure at 40°F with a food thermometer. We've had our box sit outside for around 6 hours after being delivered and the meats were still frozen. If you are concerned about the safety of your meat or if your box has been laying around for more than 8 hours, contact ButcherBox right away via email. We've never had an issue with thawed meat in our box but I've read accounts of others who have and they received a refund from ButcherBox.
What We Got In Our Recent Box (February 2020 Update)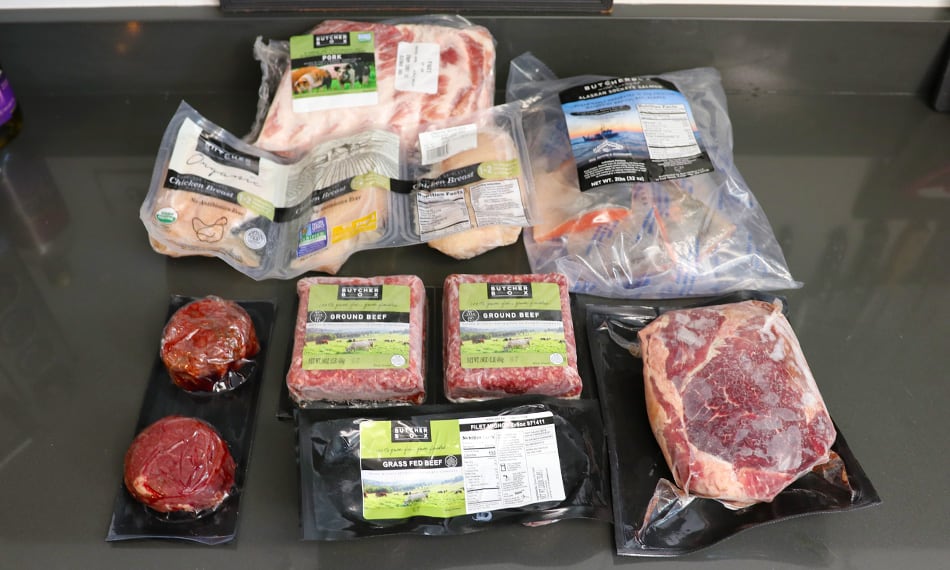 4 Filet Mignon Steaks
3 Boneless, Skinless Chicken Breasts
Beef Shoulder Roast
2 Ground Beef
1 Pork Spareribs
6 Alaskan Sockeye Salmon (our add-on)
While the meats ButcherBox sends are high-quality, they really only taste as good as they're cooked. Thankfully, Emily is a great cook :).
I've learned the best way to get the most flavor out of our ButcherBox steaks is to use a cast iron pan to sear them for about 2 to 3 minutes on each side. Then immediately put the entire cast iron pan in the oven at 425 degrees F for about 8 to 10 minutes. If you watch our video review here, you'll see that's how we cooked up the filet mignon steaks we received and they came out perfectly medium rare and deliciously juicy.
One of the things I really enjoy about ButcherBox, beyond the quality and amazing taste, is it allows Emily and I to try out new cuts of meat. Sure, ground beef and filet mignon are pretty common but before trying ButcherBox we had never cooked up a giant 3 lb beef shoulder roast before. Even though it took nearly 5 hours for it to slow cook, it came out super tender and packed with flavor.
ButcherBox vs Similar Meat Delivery Services
ButcherBox was one of the first online butchers to gain a ton of mainstream popularity but they're definitely not the only meat delivery service out there these days. For a comprehensive list of meat delivery services, check out our in-depth roundup here.
Here's a list of similar meat delivery services to ButcherBox and how they stack up:
Pros & Cons Of ButcherBox
Now that we've gone super in-depth on ButcherBox as a meat delivery service and our personal experience using it, let's highlight the key things we love and what we dislike…
ButcherBox Pros
The quality of their meat is top-notch. 100% grass-fed beef, free range organic chicken, and heritage breed pork
The meat tastes delicious. When cooked right, these have been some of the best tasting meats we've had (especially the filet mignon and grass-fed ground beef).
They have the best sign-up promotions. If you're looking to order ButcherBox, I suggest waiting a bit until they offer one of their free meat for life promotions. To give you an example of past sign-up perks, they've offered free bacon for life, free salmon for life, and even free ground beef for life.
They have cooking tips to help you get the most flavor out of each cut. If you're intimidated by the variety of cuts you might receive and you're not sure how to cook them, ButcherBox offers a pretty extensive cooking and recipe resource on their site here, which should help.
They have a good amount of variety. They may not offer the most amount of meat variety (you're not going to find lamb, venison, or turkey) but they do offer good variety when it comes to the cut of meats (such as filet, chuck, shoulder, and strips).
ButcherBox Cons
No one-off orders. They currently only offer their service as a recurring subscription. However, you could technically cancel or pause your subscription any time (even after the first box).
Not a ton of meat variety. As mentioned above, they don't offer as much variety of meats when compared to other services. So if you're looking for meats like turkey, lamb, venison, or niche beef like wagyu, you'll want to choose another meat delivery service.
Only offer grass-fed beef. Some people actually prefer the flavor and fattiness of grain-fed beef so this could be a negative.
ButcherBox Promo & Coupon Codes
If you've already made up your mind and you're ready to grab your first ButcherBox, we're here to save you some money! Below is a roundup of all the best coupons and promo codes ButcherBox has to offer:
Promo code "BULLETPROOF" will get you $20 off your first box and free bacon in every box you receive for life.
Promo code "MIL58857A" will get you $50 off your first box.
We're constantly on the lookout for the best live coupon codes. If any of the above don't work, please let me know in the comments below and I'll have them updated as soon as possible.
Final Thoughts: Who Is ButcherBox Right For?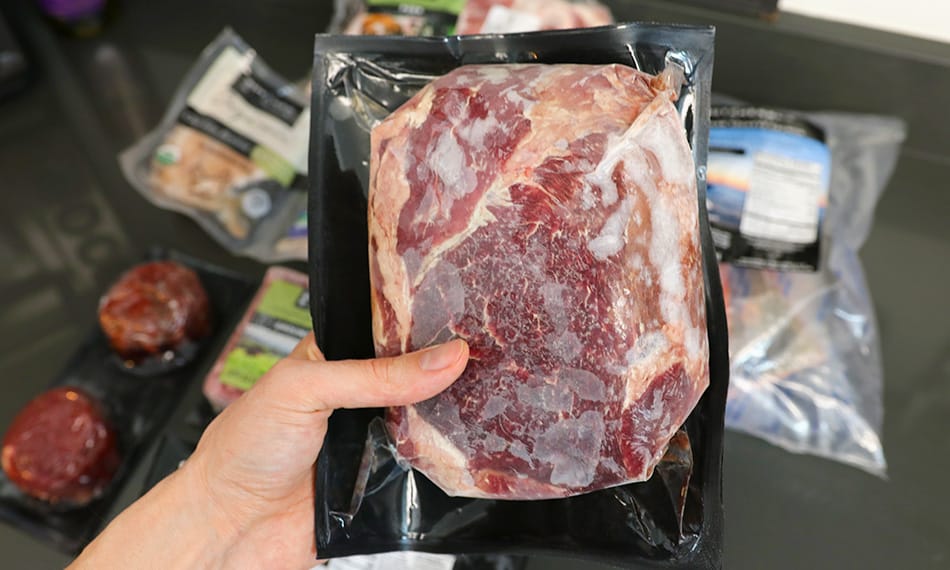 While Emily and I have enjoyed receiving ButcherBox, it may not be the perfect fit for everyone. If you're someone who lives alone or you don't eat meat all the time, you may actually end up with too much meat to handle. That being said, you can reduce the frequency at which you receive your orders to eight week intervals (at the most) so you wouldn't be overloaded.
Emily and I go through one box of ButcherBox meats (usually including 1 add-on) within about a 3 to 4 weeks so we have our box come every 4 weeks. Based on my experience, I'd say ButcherBox is perfect for anywhere from 2 to 4 people, like a couple or small family.
Alternatively, if you are someone who eats a lot of meat, ButcherBox could be a great option too. I know some people following the Carnivore Diet (a meat-only diet) use ButcherBox and similar subscription meat delivery services to make following the diet easier.
If you are looking to order ButcherBox, I highly recommend waiting until they're running one of their big promotions like free bacon for life or free ground beef for life, which they do pretty regularly. You'll see the promo listed on their homepage when it's running.
Past Food Box HQ ButcherBox Reviews
We've been trying ButcherBox since 2017. Whenever there's an update to their service we film a new review for our YouTube channel and update this post. Check out some our past video unboxing, taste test, and review below:
Have you tried ButcherBox before? Feel free to let me know what your experience was like in the comments below!