More and more Americans are becoming aware of how important the quality of food is and where it's sourced.
As awareness grows, so does expectation. Nowadays, most of us are looking for high-quality, organic, and sustainably sourced food—especially when it comes to meat.
Good Chop is stepping up to meet those expectations, but is their meat truly as high-quality as they claim?
In today's review, we'll answer this important question by sharing with you my personal experience using this meat delivery service as well as give you all the necessary details—ordering, packaging, cooking, and taste tests—to see if Good Chop is the right choice for you.
About Good Chop
Good Chop is one of the latest meat delivery services to hit the scene. They offer a variety of meats, including beef, pork, chicken, and seafood.
One of their main selling points is that they only offer meat from animals born, raised, and harvested in the U.S. I was pleased to find out that they work directly with domestic family farms and independent ranchers.
In my research for this review, I was surprised to find out that some meat delivery services source their meat from overseas. For example, ButcherBox sources meat from Australia.
The seafood Good Chop offers is either wild-caught off of American shores or raised on a farm.
They pledge that none of their meat has any of the following (source):
Antibiotics
Added hormones
Artificial ingredients
Preservatives
Growth promotants
Added coloring
How It Works
Good Chop works as a subscription service, meaning you'll receive your meat on a recurring basis. Their process is pretty simple: you start by picking a plan (we'll dive into the plans more below), then choose what types of meat you would like in your box.
Boxes are sent out every 4 weeks and your plan is automatically renewed each month. With Good Chop, you're not locked into any contracts, and you have the option to put your box on hold or cancel altogether.
On their website you'll see the statement, "you can cancel at any time." Though, I found out that this isn't 100% true, as you'll need to deactivate your plan by the Sunday before the next delivery date or you'll be billed and sent the next box.
You have the option of picking out your meat beforehand, or they'll send a box of randomly selected cuts. Before the next delivery, you'll have the option to switch out certain meats and upgrade to a larger, or smaller box, if desired.
Overview Of Plans
Good Chop currently offers two plans, the Medium Box and the Large Box. Rather than breaking down the cost by the price per cut of meat, each box is a designated flat-rate price. The Medium Box is $149 and the Large Box is $269.
Shipping is always free which is a huge plus considering the price isn't exactly cheap.
Below a breakdown of the what each box has to offer...
Medium Box ($149):
Allows you to select 6 cuts from the menu. Each cut is going to have two or more portions of meat, totaling up to 36 portions.
Comes out to $4.14 per meal.
Stores up to 1 year in the freezer (or longer).
They recommend this box for individuals and those with small families (3+ people).
Large Box ($269):
Allows you to select 12 cuts from the menu. Because there are always two or more portions in each cut, it can total up to 72 portions.
Comes out to $3.74 per meal.
Stores up to 1 year in the freezer (or longer).
This box is recommended for larger freezers and big families (6+ people).
After you select your plan, they take you to the menu where you can select the cuts you would like (according to your box).
They allow you to double-up on certain meats or select from the variety they have that week.
Type Of Meat Offered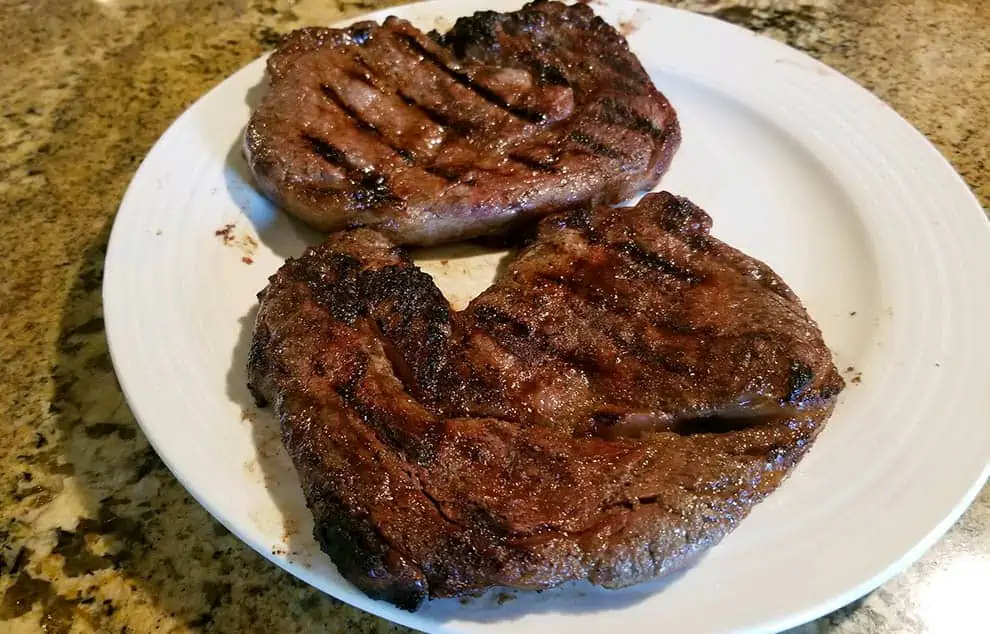 Good Chop is a true meat delivery service, meaning they only offer meat. Nowadays, there are a number of meat delivery services that have expanded their service to include pre-made meals, pre-cooked meats, side dishes, and desserts. Examples that come to mind are Crowd Cow, Rastelli's, and Omaha Steaks.
Good Chop, on the other hand, offers cuts of beef, pork, chicken, and seafood. Within each category is a number of specialty cuts to choose from.
I found that they have the most variety of beef, including many styles of steak, ground beef, and burger patties. They also have options for 100% grass-fed beef at no extra cost.
For chicken, they offer a lot of the basics most of us are familiar with. This includes organic ground chicken, organic chicken wings, organic chicken drumsticks, boneless skinless chicken thighs, and boneless skinless chicken breasts.
I also noticed that Good Chop offers a decent variety of pork cuts, some of which are hard to find outside of a local butcher. This includes pork tenderloin, ground pork, boneless pork butt, thick-cut uncured bacon, boneless pork chops, pork loin roast, and St. Louis pork ribs.
Lastly, they offer fresh seafood options, including Alaskan Halibut, Rockfish, Pacific Cod, Sea Scallops, Alaskan Sockeye Salmon, and Pacific Coldwater Shrimp.
I really appreciate the variety they offer within each meat category and the options of organic chicken and grass-fed beef. Plus, when scrolling through each meat option on their website, I noticed that they give further details about its quality as well as where it's sourced, such as "organic, free-range" (chicken) or "crate-free, heritage breed" (pork). This added level of detail isn't something I see too frequently with many meat delivery services.
How Their Meat Is Sourced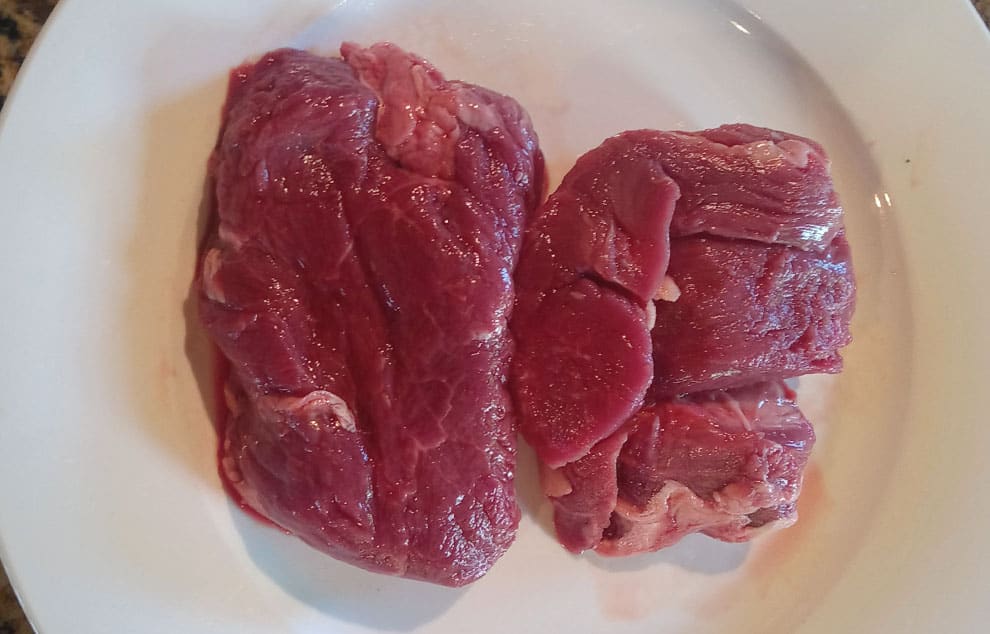 Good Chop is highly transparent with where and how they source their meat, which is definitely a positive in my book, considering other meat delivery services aren't as open about where their meat comes from.
If a meat delivery service doesn't share where they source their meat, that's a red flag. Good Chop, on the other hand, has a whole section where they dive into where they source from and their values when it comes to meat quality.
As stated above, all meat is raised, bred, and harvested here in the U.S. They only offer meat that doesn't have any added hormones, antibiotics, artificial ingredients, or preservatives. They ensure that the farmers and ranchers they work with provide humane living conditions and that the animals are treated with compassion.
Food Box HQ Note: This is what they claim; that doesn't necessarily mean that it is true. I'll jump on my soapbox below to give you more details on what is considered "humane" or "natural and healthy living conditions."
Beef
Good Chop sources its beef from family farmers and individual ranchers who raise purebred Angus cattle. These cows are raised on grass in large pastures for most of their life, and then they are switched to grains and roughage before being butchered. This diet switch in their last stage of life ensures the meat meets the standards for USDA Choice and Prime graded meat.
The 100% grass-fed beef options are not finished in this way. Rather, they live their entire lives on pasture and a mixture of hay and fresh grass.
Seafood
All of the seafood Good Chop sources are Marine Stewardship Council or Aquaculture Stewardship Council certified and don't contain any antibiotics, additives, or coloring.
The Marine Stewardship Council is a certification for wild-caught fish that are sustainably harvested. This council works to protect wild fish populations, so whenever you see "MSC Certified", it means the fish came from an abundant and sustainable source.
The Aquaculture Stewardship Council, on the other hand, sets the standards for sustainable farming techniques. This label ensures that farm-raised fish are humanely raised with high-quality food, water, and space.
Pork & Chicken
I combined these two because this is the only aspect of Good Chop's sourcing process that I wasn't a fan of, and that is that they source these meats from "climate-controlled barns." They try to make it sound like it's better for the animals by stating, "they're safe from extreme temperatures and predators while having access to the right amount of food, veterinarian care, and attention."
Coming from someone with real-world farm experience, a climate-controlled barn means these animals are not living in their natural environment—the outdoors. Sure, they're not caged (which is a step in the right direction), but they're still confined to a smaller living area.
What really ruffled my feathers is when I came across how they source their chicken, and that their chickens are fed "an entirely vegetarian diet consisting of corn and soybean meal."
Chickens are not vegetarians, not even close. They're omnivores who delight in catching bugs, scraping dirt to look for worms, and even going after small animals such as lizards and snakes. As someone who owns a flock of chickens and ducks, it hurt my heart to imagine the living conditions these birds are in, and that they aren't able to behave in their natural, instinctual way.
The biggest problem is that when you restrict a chicken to a vegetarian diet, it becomes deficient in a key protein—methionine, which has to be supplemented with a synthetic version.
There is so much I could say about the problem a vegetarian diet poses to the health of a chicken, as well as the animal being confined in a "controlled environment." I'm hoping that Good Chop makes a change and starts sourcing from farms that give their chickens and pigs a much more natural way of life. Not only does it allow the animals to live a happier life but it's even been shown to improve the taste of the meat.
What I Received In My Good Chop Box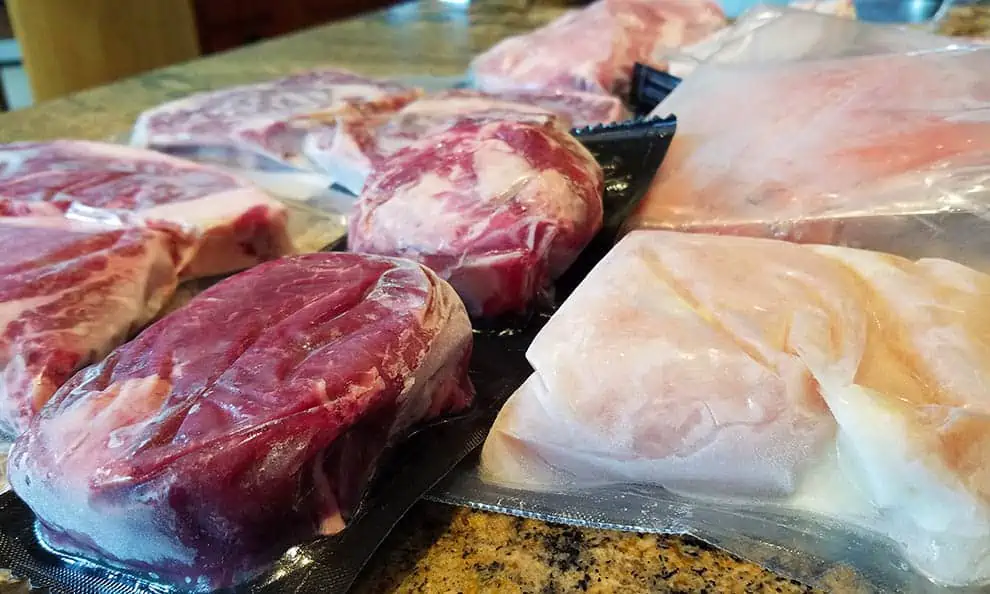 Okay, I'll step off of my livestock soapbox and get to what you really want to know: what I received in my box and how it tasted. We received the Medium Box, so I unpacked the following:
Beef Ribeye Steak
Beef New York Strip Steak
Boneless Skinless Chicken Breasts (package of 3)
Beef Filet Mignon (packet of 2 6 oz steaks)
Beef T-Bone Steak
Bone-in Ribeye Pork Chop
Thick-Cut Uncured Bacon
Wild-Caught Sockeye Salmon (packet of 6 5 oz filets)
So far, I've cooked up a package of the boneless skinless chicken breast, the beef filet mignon, thick-cut uncured bacon, sockeye salmon, bone-in Ribeye Pork Chop, and the beef ribeye steak.
Let's dive into how each of them tasted!
Boneless Skinless Chicken Breast (6 x 6 oz pieces)
The chicken breast comes in a plastic packet of three individual packages (2 oz each). My partner cooked the chicken on the grill and seasoned it with salt, garlic powder, and lemon pepper.
In my opinion, there wasn't a ton of meat in the individual package. Though, for the pasta dish I was making, it ended up being the perfect amount for myself and my partner. If you're a big eater and cooking for two, you would definitely want to cook up two packages.
I made pesto pasta to have with the chicken, but before I mixed it in, I tried it on its own to see how it tasted.
It sure looked amazing—perfectly golden from the grill and smelled wonderful. Cutting into it, the texture of the chicken revealed it was flawlessly cooked, tender, and juicy. Taking a bite of it revealed the same, and nothing could describe it better than, "that's some good chicken!"
Overall, this is high-quality chicken and I was very satisfied with how it tasted. Despite the unfavorable living conditions I mentioned before, you can tell that the chicken still lived a healthy life. Plus, there was hardly any sinew or fat in the chicken! That was pretty incredible. As you'll read, the theme of minimal fat was found in all the meat I tried.
100% Grass-Fed Beef Filet Mignon (2 x 6 oz steaks)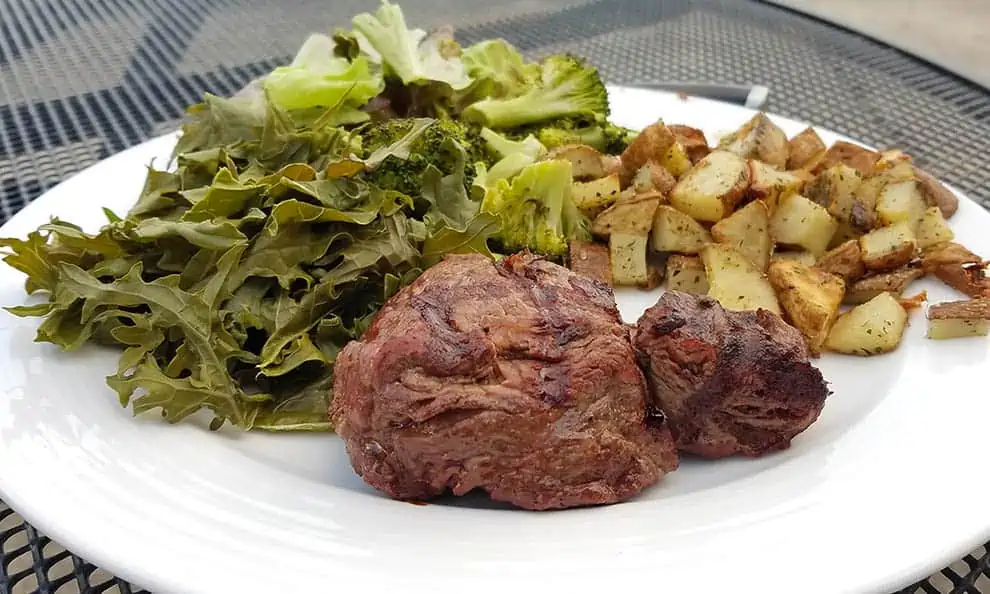 The beef filet mignon turned out very well. We cooked it on the grill but didn't add any seasoning so we could experience its authentic taste. It was juicy, tender, and tasted wonderful!
You can literally taste the quality of the beef, which I believe also has to do with it being 100% grass-fed. In my experience, grass-fed and finished beef has a better taste and quality than non-grass-fed beef. That may just be my personal preference.
Again, minimal fat was noticeable in the beef filet mignon, which my partner and I were quite pleased with, as neither of us is a huge fan of fatty meat.
Thick-Cut Uncured Bacon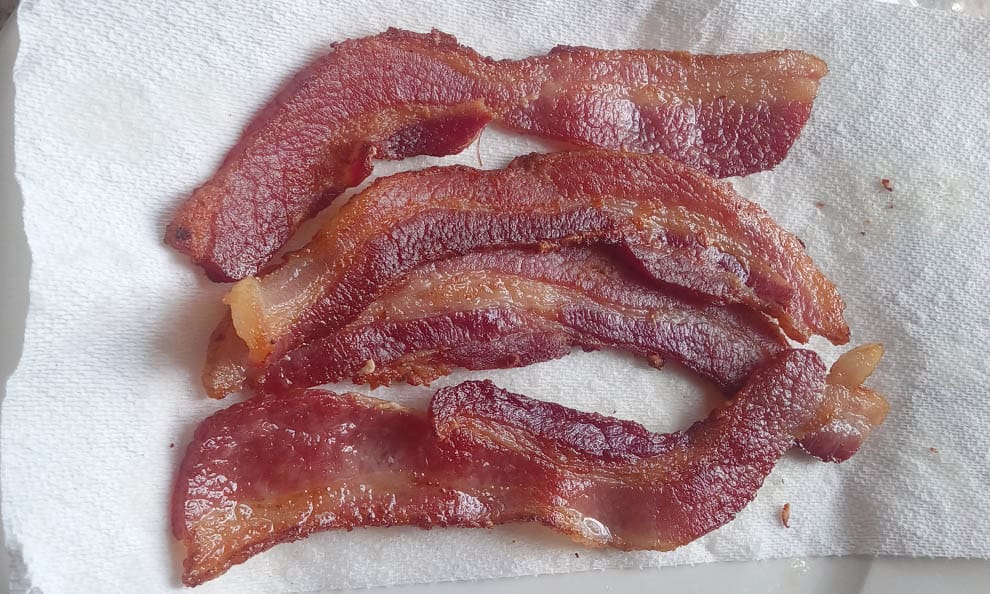 It's hard to go wrong with bacon. That being said, there is a noticeable difference between high-quality bacon and cheaper, lower-quality bacon. Good Chop didn't disappoint and delivered us high-quality bacon that tasted spectacular.
My partner was especially a fan as it wasn't very fatty, which he prefers. The decrease in fat is quite noticeable as compared to other bacon, as there wasn't much oil produced in the pan when it was cooked.
I prefer my bacon to have a little bit more fat to it. I believe more fat heightens the flavor, but I was still highly pleased with the taste and quality of the bacon.
Sockeye Salmon (6 x 5 oz filets)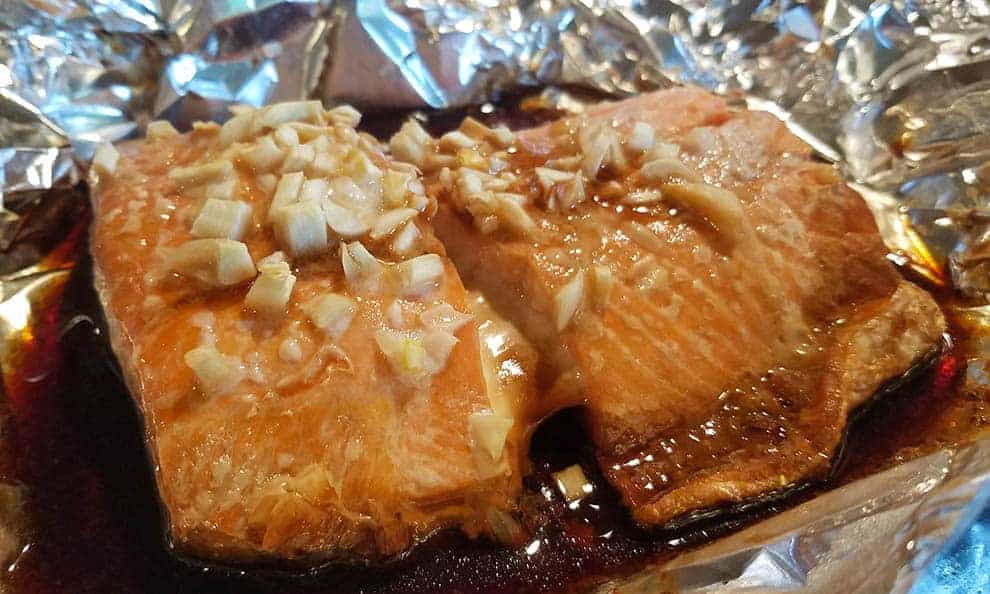 The salmon comes in a large package, with three individual packets of two filets each. One packet is perfect for a couple or small family (2-3 individuals), but you would need to cook up two packets for a larger serving.
We cooked the salmon in the oven in a tinfoil "boat" (similar to this method). We added a few tablespoons of soy sauce for it to soak in, along with minced garlic. It flaked off perfectly and was delicious with soy sauce and garlic. For someone who is quite picky with fish, I was particularly pleased with how well the salmon turned out—fresh, juicy, and flavorful.
There also weren't any bones to deal with while eating the salmon. While it's common for commercial fish to be deboned, sometimes a few will slip through the cracks. I was pleased that I didn't have to deal with any at all.
Bone-In Ribeye Pork Chop (2 x 16 oz)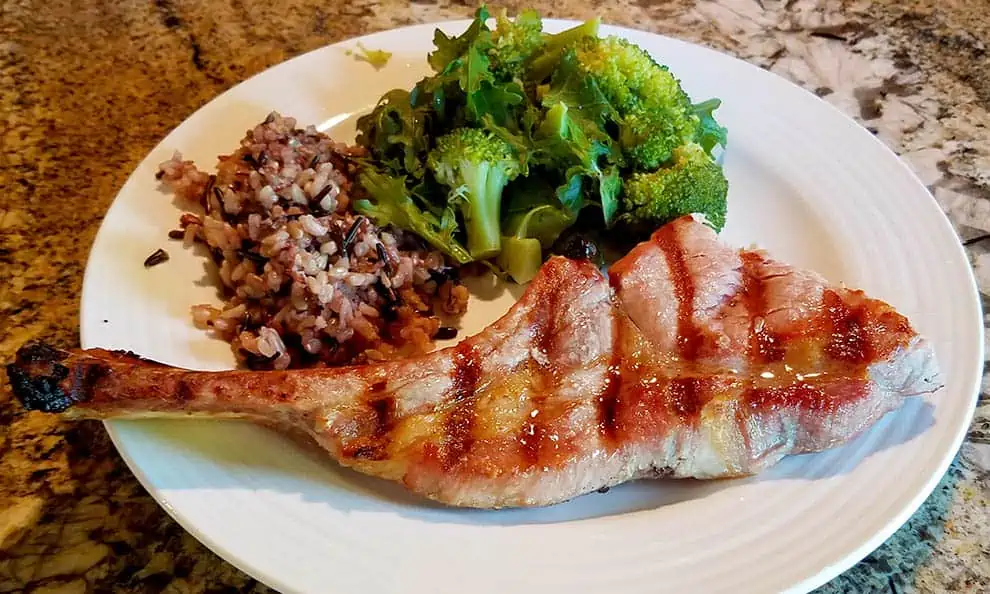 The pork chop was my favorite out of all the Good Chop meats I've tried so far. We cooked it on the grill and the only seasoning added was a bit of salt and pepper. Its flavor was rich, succulent, and juicy—absolutely phenomenal! I love a good pork chop, and Good Chop didn't disappoint. Even being slightly overcooked, the meat was still tender and full of flavor.
This particular pork chop is a "premium cut" which is Good Chop's "finest cuts of meat perfect for connoisseurs." My partner and I agreed that it certainly lived up to these expectations.
Beef Ribeye Steak (2 x 10 oz steaks)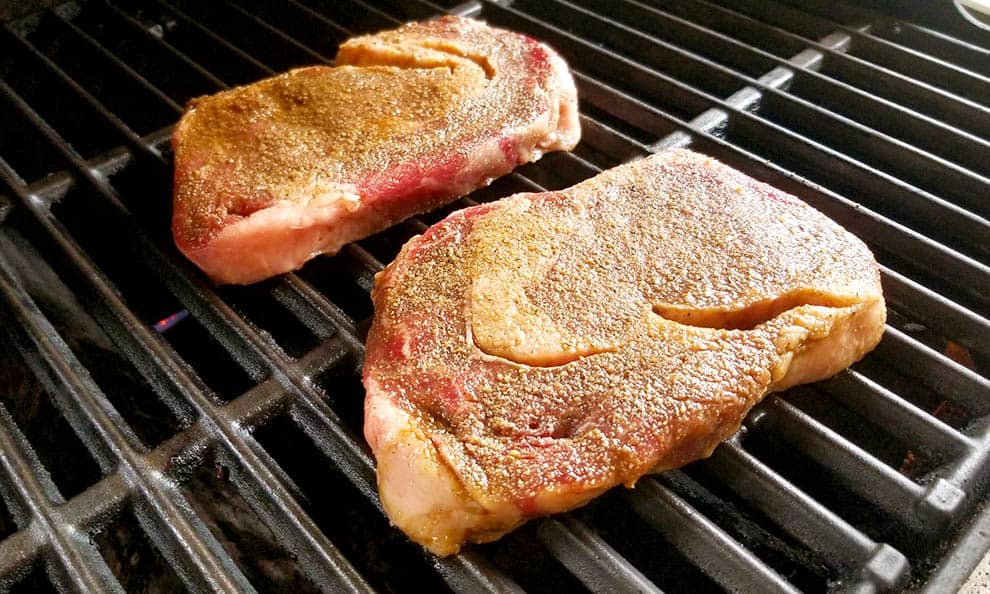 This wouldn't be a proper meat delivery review if we didn't include a good ol' fashion steak in here now would it?
We cooked the steak on the grill with some Worcestershire sauce, garlic powder, salt, and pepper.
I have to say, it came out exceptionally good! We shared this meal with our roommate and we were all highly impressed with how the steak tasted and how tender it was.
My partner was raised on an Angus cattle ranch so he's grown up on good quality beef. He stated that this was the best steak he's had in a long time. This is coming from someone who knows steak like no other!
This particular cut of beef is graded USDA choice, which means it's high-quality and has less fat than prime-graded beef. Good Chop only offers USDA choice or 100% grass-fed beef. I find this results in each cut being tender and juicy, without much fat.
Good Chop Delivery & Packaging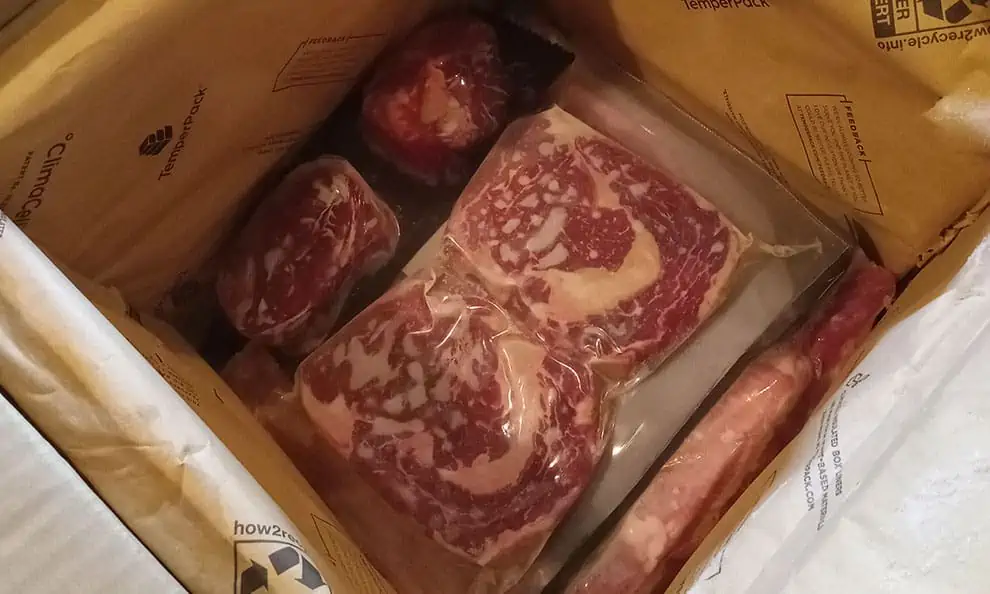 Our box was ordered on a Wednesday and arrived Friday afternoon via UPS. Everything arrived fully frozen and in good condition. Good Chop flash freezes their meat before delivery, which ensures peak freshness and quality of taste.
Upon opening the box, there's a cardboard cutout that gives details about Good Chop and a warning about the dry ice underneath.
Good Chop uses TemperPack to insulate the box and keep everything frozen. It works quite well and is made from renewable plant-based components and paper.
All of their packaging is fully recyclable and environmentally friendly. Overall, I'm pleased with Good Chop's packaging. While not 100% environmentally friendly, the only excess plastic was the double-packaged sockeye salmon.
Where Good Chop Delivers
As of now, Good Chop delivers to the majority of the continental United States. Unfortunately, they don't share what places don't fit into the "majority."
You can check if they deliver to your area by entering your zip code at checkout. I will say, it would be a major bummer if you went through the whole ordering/meat picking process only to find out at the end that they don't deliver to your area. In the future, it would be nice if they gave the option of entering your zip code before going through the whole ordering and checkout process.
Good Chop processes orders every day of the week and deliveries arrive on Tuesdays, Wednesdays, Thursdays, and Fridays. Our box was delivered by UPS but they may use other carriers to ship to different states.
Good Chop vs. The Competition
Nowadays, there are a number of online butchers to choose from, each with its own niche or specialty. To help you find which is best for you, here are the meat delivery services that are most comparable to Good Chop...
Crowd Cow: This meat delivery service offers high-quality, free-range, and organic meats and seafood. What really sets them apart from Good Chop is the variety of meats offered, including specialty meats such as bison, wagyu, duck, venison, elk, and wild boar. They also offer turkey, lamb, veggie burgers, and pre-made side dishes and desserts.
Porter Road: Located in Nashville, Tennessee, Porter Road sources all of its meat from small local farms in Kentucky and Tennessee. This means their meat has to go through less transit, and they hand-cut the meat themselves at their headquarters. They're quite similar to Good Chop in that they too offer a subscription meat delivery service. The main difference between the two is that Porter Road has more specialty beef and pork options, doesn't offer seafood, and you can order meats a la carte (without subscribing).
Rastelli's: This meat delivery service offers a variety of high-quality and organic meats and seafood. They're different from Good Chop in that they offer more types of meat, including more poultry options, as well pre-seasoned and even pre-cooked meats. They also stand out with their ethical sourcing practices—they're fully transparent and all of their meat is free-range with access to open pasture.
From these comparisons, Good Chop stands out as one of the most simple and straightforward meat delivery services. They don't have complicated plans and they only deliver every four weeks.
The other services on this list have more variety in what meat and plans/subscriptions they offer. This can be a pro or a con depending on what you're specifically looking for. Some may want simplicity, others may value an abundance of choice.
What's also clear is that these meat delivery services have better sourcing practices overall. From what I can tell, Good Chop is the only one (compared with these ones) that sources its chicken and pork from animals confined to climate-controlled barns without access to the outdoors.
Good Chop Pricing & Price Comparison
I believe the pricing of Good Chop is reasonable, given the quality of the meat. I also appreciate how their two plans, the Medium Box and the Large Box, are both flat rates. It doesn't matter what kind of meat you add the price will always be the same.
The Medium Box is $149 for 6 cuts of meat which totals around 36 portions, and the Large Box is $269 for 12 cuts which total around 72 portions. Shipping is free for both of the boxes, and they are fully customizable, meaning you get to pick which meat you would like in your box.
Because they have a flat rate for each box, the price per portion comes to ~$4.14 for the Medium Box and ~$3.74 per portion for the Large Box.
Pros & Cons of Good Chop
Now that we've gone over the most important parts of Good Chop, it's time to condense things down into what I love about Good Chop, and what I think could be improved.
Good Chop Pros
The meat is high-quality and tastes delicious. All the meat we tried was full of flavor, as well as being juicy and tender. Overall I'm very pleased with how each cut tasted and the quality is evident in every bite.
The meat is cut well and doesn't have excess fat. This was a huge pro for my partner and me as we love meat that doesn't have a ton of fat in it.
They offer simple and straightforward plans. Many of the other meat delivery services have somewhat confusing and complicated plans to choose from. Good Chop, on the other hand, keeps things simple and they allow you to have full control over what you want in your box.
They offer a 100% Satisfaction Money-Back Guarantee. If you're unhappy with anything Good chop sends, they'll refund you.
They offer a nice variety of meats. There are plenty of different cuts of beef, pork, chicken, and seafood to choose from.
Shipping is always free. I see this as a huge plus given the overall costs of the box.
Packaging is recyclable. I always appreciate a meat or meal delivery service that makes their packaging as recyclable and environmentally friendly as possible.
Good Chop Cons
They could have better sourcing practices. I appreciate how open they are about their sourcing practices, but I believe they could be better about where they source their chicken and pork from. Ideally, it would be nice to see them source from farms that allow their animals ample outdoor time in open pasture.
It's not cheap. When compared to other meat delivery services that have better value and better sourcing practices, such as Porter Road and Rastelli's, Good Chop is overpriced.
Delivery is only every four weeks. It would be nice if they offered more frequent delivery dates as some may go through their meat faster than others.
They aren't clear with where they can't ship to. It appears that they ship to the majority of the continental United States, but they don't share what areas don't fit into the "majority." Plus, you wouldn't be able to find out until after you go through the checkout process if they ship to you or not.
Final Thoughts: Who Is Good Chop Right For?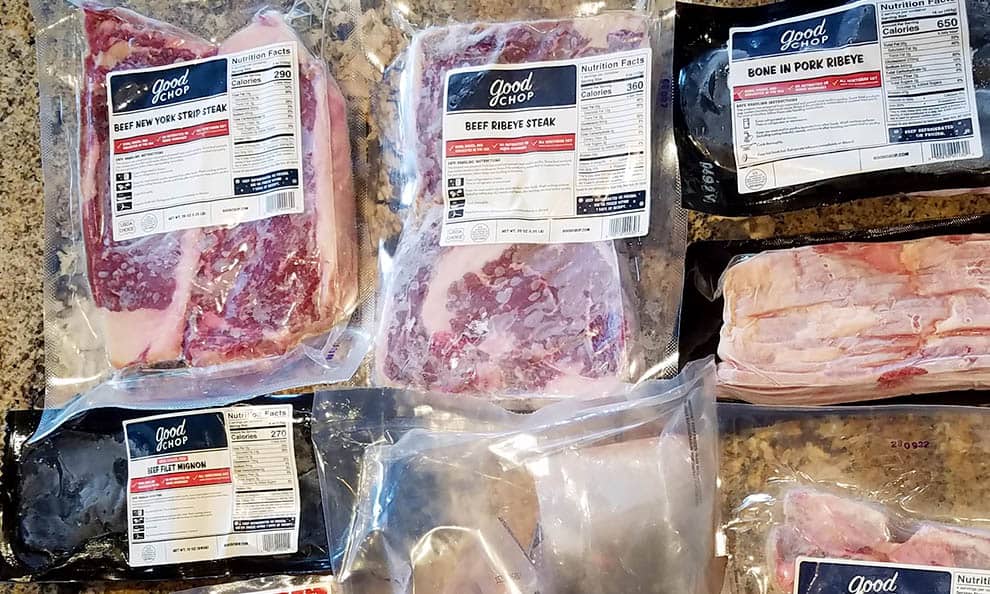 From my experience, I can say that Good Chop does an exceptional job at providing high-quality meat that tastes delicious. If you're looking for a reliable meat delivery service that is simple and straightforward, then Good Chop is for you. Plus, they offer a nice variety of meats so there's plenty to choose from.
Good Chop is great for a couple or family who enjoys staying stocked up on high-quality meat on auto-pilot. Using their service there's no need to wait in line at the local butcher anymore.
I will say, given that their sourcing practices aren't the best, and compared with the price, they may not be the best value. The sourcing practices aren't terrible, but they're not great either. If sourcing is highly important to you it would be worth considering another meat delivery service, such as Rastelli's, which only sources from farms that allow their animals free-range on open pastures.
That being said, Good Chop is still high-quality and has better sourcing practices than most of the meat you would find at the grocery store.
Have you tried Good Chop? Have a question we didn't answer? Let us know in the comments below and we'll get back to you as soon as possible!