The toughest part of eating healthy almost always comes down to the time it takes to cook something that both tastes good and is good for you.
I've found that if I'm trying to stick to a diet but it either takes too long to cook up the right meals or they just don't have any flavor, I'm much more likely to fall off the bandwagon and go back to my past eating habits.
That's why Emily and I are always on the lookout for nutritious meal kits that actually taste good and don't take a long time to cook up. So when we found out that Factor 75 (now called Factor_ Meals) revamped their brand, website, and pre-made meal plans, we knew we had to try them out again.
Today we're going to be exploring everything you need to know about the all new Factor Meals, including how their meal plans work, our experience, and (most importantly) how their meals taste.
Let's jump into it!
About Factor Meals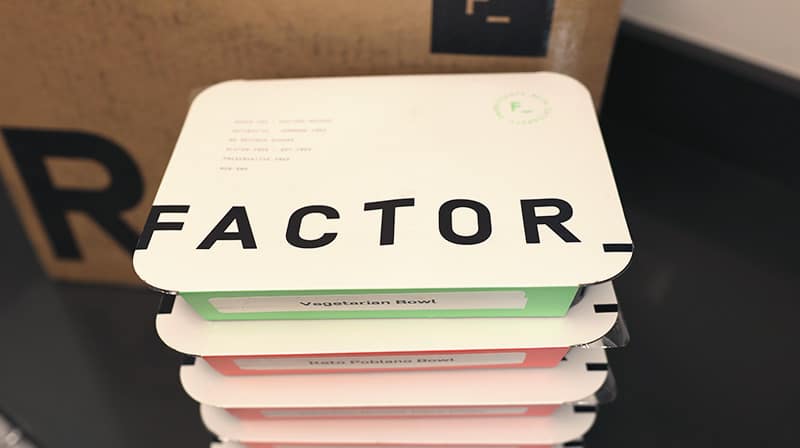 Factor was founded in 2013 by Nick Wernimont when he realized his body wasn't adequately recovering from his training sessions as an MMA fighter. He constantly found himself tired and rundown. Only after working with a personal chef did he realize the food he was eating was the root cause of the issues.
Then the idea popped in his head: How many people are out there that want to look and perform at their best but don't have the time or skills to eat optimally? That's when Factor 75 was born. And while they rebranded to simply "Factor", the essence of their meal delivery service has stayed the same — provide health-oriented pre-made meals made with high-quality ingredients.
All of their meals use ingredients/foods/meats that are grass-fed and pasture-raised, gluten-free, antibiotic-free, hormone-free, soy-free, non-GMO, and they do not contain any refined sugars.
Now let's dive into their available plans, the food on their menu, and all the other essentials!
How Factor Works — Plan & Meal Variety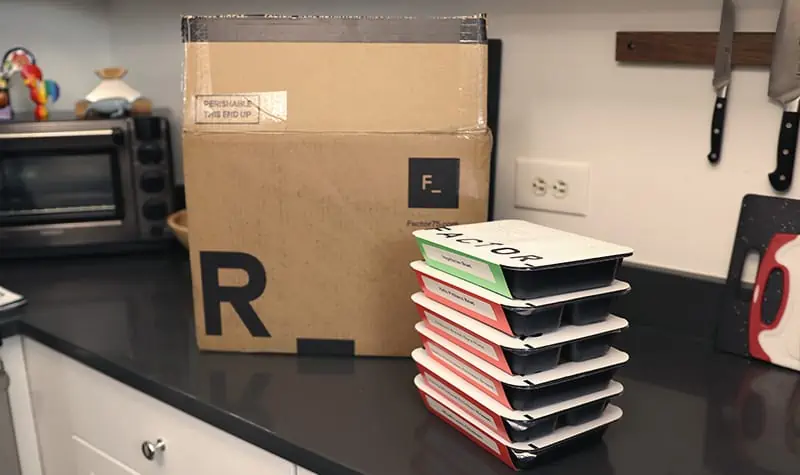 To get started, you'll need to decide how many meals you'd like to receive from Factor on a weekly basis. At this time, they offer five different options. You can go with 4 meals, 6 meals, 8 meals, 12 meals, or 18 meals for the week.
For our updated review, we went with their 6 meal plan. Just enough to try out a variety of different meals they offer.
To make your own choice, consider how often you'd like to cook at home or if you'd like to even cook at all.
What's great about pre-made meal kits in general is that you can work them into your daily routine pretty easily. For example, if you skip breakfast and know you only need to bring a nutritious lunch to work, you can easily get enough meals with Factor's 6 meal plan. If you're not sure of which plan is right for you, I'd suggest going with their 4 meal plan before committing to a larger order. You can always increase the weekly volume later.

Once you've made your decision, you'll be able to select your preferred meals from their menu. It rotates every week, giving you 20 meal options to try on a regular basis.
For an additional fee, you can add-on specific foods "a la carte" style after making your initial meal selection (they refer to this as "Factor+"). The majority of these are foods to help you stick to certain macros throughout your day, such as if you were following a high protein diet and needed more lean meat or fish. They also have a variety of juices, smoothies, soups, snacks, and even desserts. Check out our quick video below covering their add-ons:
So, what kind of food can you expect to see on the menu? Unlike a lot of meal kits that really only focus on lunch and dinner meals, Factor is one of the few that also includes breakfasts. Here's a rundown of example meals you can expect to see for each…
Breakfast: Pumpkin Pancakes, Overnight Oats, and Taco Breakfast Hash
Lunch: Taco Bowl, Garlic Parmesan Chicken Breast, and Vegetarian Tostada Bake
Dinner: Pork Tenderloin with Garlic Cauliflower Mash, BBQ Brisket Pot Roast, and Tuscan Tomato Chicken
Factor+ Add-Ons: Petite Filet, Keto Power Pack (nuts, cheese, eggs), and Cold-Pressed Juice
In our box, we received the following 6 meals:
Garlic Parmesan Chicken Breast with Zucchini Noodles, Avocado Mayo, Green Beans, and Cherry Tomatoes (keto and low carb)
Honey Mustard Chicken Breast with Organic Sweet Potatoes, and Asparagus (paleo and dairy-free)
Mushroom Chicken Breast
Keto Poblano Bowl (Grass-Fed Beef, Jalapenos, Poblanos Peppers, Sour Cream, Cheddar Cheese, and Green Beans)
Vegetarian Bowl (Kale, Mushroom, Broccoli, Roasted Garlic Cloves, and Squash) with Goat Cheese Polenta
Chicken Breast Gyro Plate
Keep reading to find out how our meals tasted!
Delivery
Currently, Factor delivers their meals to all 48 contiguous states. Unfortunately, this does mean that they're unable to ship to Alaska and Hawaii. But if you live anywhere else in the United States, they can ship their meals to you.
Tracking information will be emailed to you once your order ships out. This way, you'll know exactly when it's due to arrive. However, you don't have to worry about being home to accept the delivery. As long as the delivery driver deems it safe to do so, your package will be left on your doorstep and will be awaiting your arrival home.
You can expect your meals to be delivered either by FedEx or OnTrac. If you live in the Chicago area, orders will be delivered by Chicago Messenger Service.
For reference, our box took about 24 hours to go from the Factor kitchen to our doorstep in New Jersey.
Packaging
Each meal will be packaged in BPA-free CPET plastic containers. Factor's website states this type of plastic is both safe for food storage, as well as heating up your meals in the microwave or oven. Plus, they're easily recyclable and can be put in your recycling bin or taken to your nearest facility after you have enjoyed your meals and cleaned the containers.
The boxes your order ships in are insulated with gel packs in order to keep your food at a refrigerated temperature during transit. They consist of 98% water and 2% carboxymethol cellulose. The carboxymethol cellulose is used as a non-toxic and non-allergenic "thickener" to keep give the gel packs shape so they cool the meals properly when packed. You can either keep the gel packs, donate them, or cut open and drain. The exterior plastic is also recyclable.
If your gel packs are melted when you open your box, don't worry, it's normal for that to happen. As long as everything is cool to the touch, the food is safe to be eaten. Just make sure you transfer all of your meals to the fridge immediately after opening your box.
The insulation used keeps the meals cool and acts as protection while the meals are in transit. It's constructed from recycled paper products and is also curbside recyclable.
After everything is unpacked, the cardboard box the meals came in can be broken down and recycled as well.
One great thing about how the meals themselves are packaged is that each sleeve color corresponds to a specific meal preference. Meat is an orange sleeve, breakfast is a yellow sleeve, seafood is a blue sleeve, and veggies are a green sleeve. I found this little design touch makes reaching for meals in the fridge easier since you don't have to read through each one to find what you're looking for.
Factor Meals Taste Test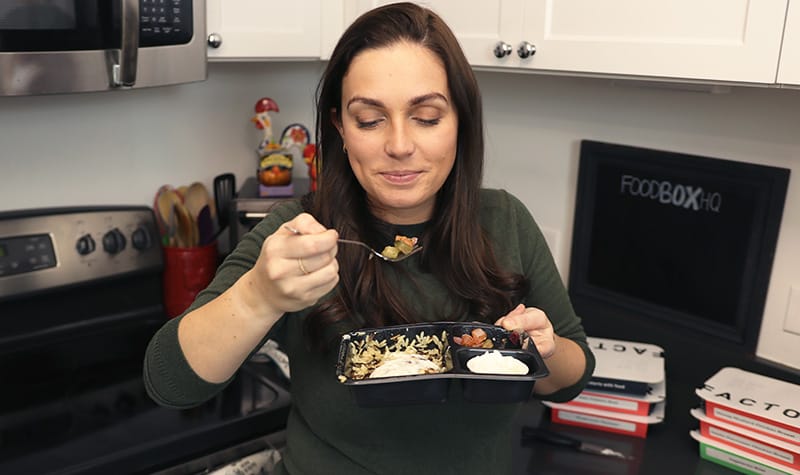 Now for the most important part of the review. Do Factor meals actually taste good? Let's go down the list of meals we received to give you a play-by-play of each…
Garlic Parmesan Chicken Breast
Usually, when you microwave chicken it comes out drier than how it was originally cooked. Not in this meal. The chicken was cooked perfectly. I noticed that it had a familiar rich and creamy flavor. Looking at the ingredients, I saw they cooked using unsalted grass-fed butter. This is the exact type of butter they we use to cook with and one of the best health-wise (more nutritious than regular butter).
Honey Mustard Chicken Breast
This meal was my personal favorite. The honey mustard sauce is what makes this one shine. Upon looking at the ingredients, I found it's made from whole-grain mustard, honey, avocado mayo and white vinegar — simple but delicious. The mashed sweet potato went perfectly with the chicken and honey mustard sauce. And while asparagus is one of my least favorite vegetables, Factor cooked them well enough to where I (to my own surprise) ate all of them.
Keto Poblano Bowl
This meal is a twist on a classic taco bowl (minus all the carbs) and it definitely had the most flavor to it. While the addition of jalapenos, poblano peppers, chili powder, and cayenne pepper gave this one a kick, the sour cream was a really nice subtle balance to the overall flavor. My only wish with this meal is that it came with more green beans but since it's keto, the carbs are restricted. If you like spicy foods and follow a low-carb diet such as keto, you'll want to give this one a try.
Vegetarian Bowl with Goat Cheese Polenta
Neither Emily or I strictly follow a vegetarian meal plan but we ordered this vegetarian meal to share our thoughts with you guys. One of my main gripes with eating vegetarian meals is I find they don't really fill me up. However, this meal was hearty enough to fill me up. It's loaded with kale, mushroom, broccoli, roasted garlic cloves, and squash. The addition of the goat cheese gave it a nice "pop" of flavor too. Not only did it taste good but it looked deliciously colorful too. 
Chicken Breast Gyro Plate
This is the meal we taste tested in our video review. As with the other chicken breast meals above, this one was just as moist and tender. Emily and I both loved the yogurt tzatziki sauce. It added the perfect "boost" of flavor to the chicken breast. The wild rice it came with was also cooked very well — not too hard, not to mushy. And while the first bite of the side vegetable medley was very hot, it was also cooked to perfection — just the right amount of "crunch".
Freshness & Quality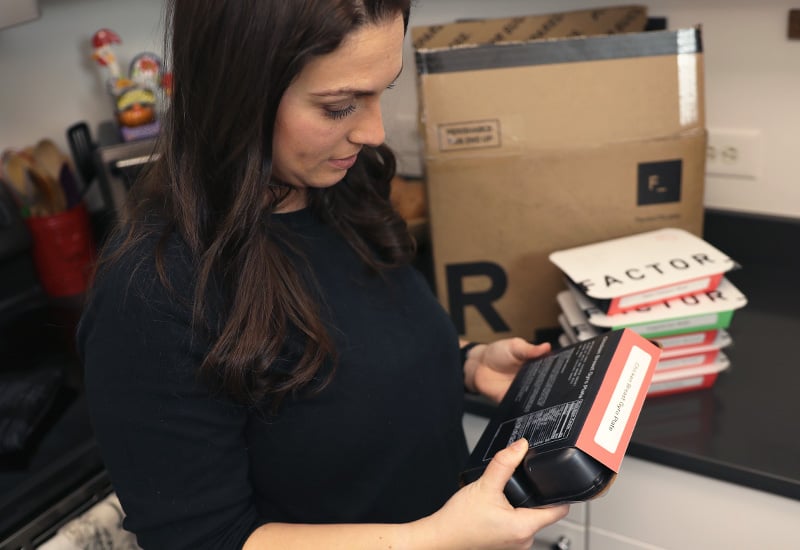 After eating all of the new Factor meals, I have to say that Emily and I were really impressed with both the freshness and quality of their meals.
On their website they make it clear that they're committed to quality using grass-fed and pasture-raised beef, gluten-free ingredients, antibiotic-free, hormone-free, soy-free, and non-GMO meats, as well as zero refined sugars. Of course, a lot of meal kits say that. But even digging into the individual ingredients in each meal, we couldn't find any added artificial ingredients, colors, natural flavors, or other "grey area" food additives which tend to plague many other pre-made foods.
Pricing
The cost of your Factor subscription will depend on how many meals you choose to order for each week. As with most meal delivery services, the more you order, the more of a savings you'll get on each individual meal.
The 4 meals per week plan comes out to $15 per meal
The 6 meals per week plan comes out to $12.83 per meal
The 8 meals per week plan comes out to $12.38 per meal
The 12 meals per week plan comes out to $11.50 per meal
The 18 meals per week plan comes out to $11.00 per meal
You can pause or cancel your subscription at any time, which is ideal should you be going out of town or want to take a break. Plus, you can make changes to your subscription whenever you'd like, allowing you to increase or decrease the amount of meals you receive depending on your needs.
Pros & Cons of Factor Meals
So, we've gone over how Factor works and our personal experience. But is it right for you? Let's break down the main pros and cons we discovered to help you make the right decision...
Factor Meals Pros
Using a pre-made meal delivery service means you can skip all the prep and cooking, which saves you a ton of time in the long run. And with their largest plan (18 meals per week), you can have nearly every meal for you planned out.
Factor uses quality ingredients to create their meals. Everything is grass-fed and pasture raised, gluten-free, antibiotic/hormone-free, soy-free, non-GMO, and there are never any refined sugars. Even digging into their ingredients list, we didn't find any artificial flavors or "natural" flavors.
There's a nice variety of meals to choose from each week as well as meals that stick to specialty diets such as keto, paleo, dairy-free, vegetarian, and gluten-free.
The meals are cooked very well and had a surprising amount of flavor in them for being pre-made.
They're one of the most eco-friendly pre-made meal delivery services we've come across. Everything we saw in our package was recyclable and they don't use any extremely environmentally unfriendly products like styrofoam in their packaging, which is a huge plus.
Factor Meals Cons
There aren't a ton of options that are suitable for breakfast. You'll typically only find a few breakfast meals each week and the cold-pressed juices, which make a good "grab and go" breakfast, are an additional fee under the Factor+ add-ons.
There also aren't a ton of vegetarian options. As of writing this review, their menu only has 4 vegetarian meals on the menu.
For those with food allergies, some cross-contamination is possible since their meals are created in a shared kitchen space. For example, even though their meals are made with gluten-free ingredients, they are not certified gluten-free.
Final Thoughts — Is It Right For You?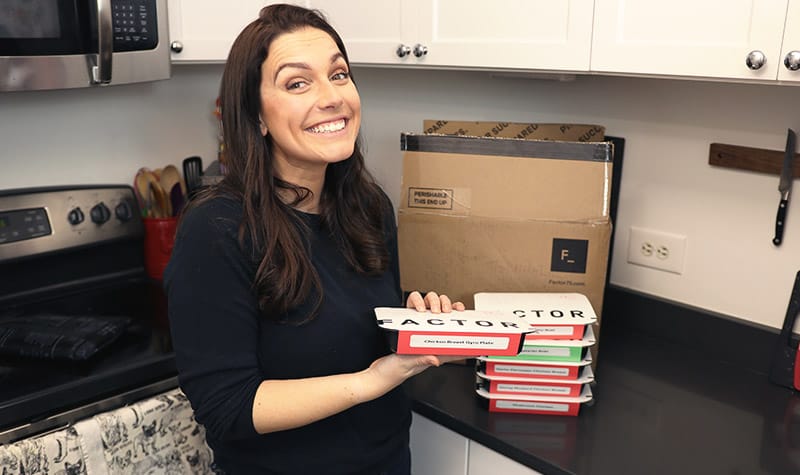 Their plans are ideal for someone who wants to eat nutritious meals, but also doesn't want to spend a ton of time in the kitchen. Instead of constantly opting for takeout or eating out and trying to pick the healthiest thing on the menu, you can grab one of these meals, heat it up in the oven or microwave, and enjoy knowing that you're eating something flavorful and nutritionally balanced.
Emily and I were both really impressed with the entire experience — from ordering to the packaging to the meals themselves. We consider Factor to be one of our favorite pre-made meal delivery services.
We actually spoke with a Factor representative about our awesome experience and they were kind enough to create an exclusive coupon for our readers. Use this coupon link to save $120 on your first order.
If you have any questions about Factor, let us know in the comments below and we'll be happy to answer them!