Meal kits like HelloFresh and Home Chef are all the rage these days for ease and convenience but they still require you to prep and cook the meal. Sure, you could always order a pre-made meal delivery service like Freshly or Snap Kitchen but those aren't truly homecooked.
What if you want the best of both worlds—the home cooked taste of a meal kit with the convenience of a pre-made meal delivery service? That's where Tovala comes in.
Tovala goes above and beyond the best of both worlds by not only shipping pre-portioned ingredients to make a complete meal, but also automatically cooking them to perfection with a wifi-connected steam oven in 20 minutes or less.
We've used our Tovala for years now and want to share our experience—both good and bad—with you!
How Do You Get Started?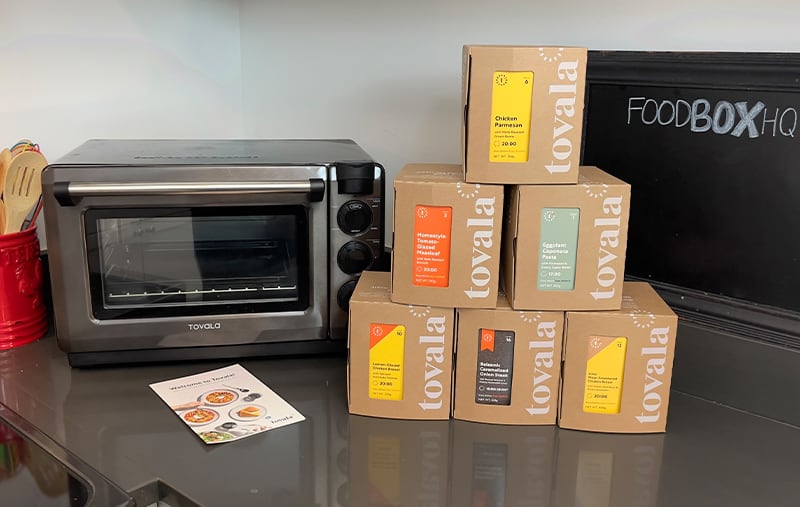 Tovala is technically a product and a service. The product being the oven and the service being their meal delivery service that goes with it. Do note that you do not have to subscribe to their meal delivery service in order to use the Tovala.
Getting started with Tovala is pretty simple. When you go to their website to order the Tovala, they'll ask if you'd prefer subscribe to their meal delivery service. Once you've submitted your order, you can expect your Tovala Steam Oven to arrive within 5 to 7 business days. Your first batch of meals will arrive shortly thereafter. I found the lag between receiving the Tovala oven and the meals to actually be beneficial. It gave us enough time to get familiar with the oven, read the manual, and figure out where to place it in our kitchen.
In addition to activating your subscription online, I also highly suggest downloading the Tovala app. You can use the app to manage your subscription (choose delivery options, pick your meals, pause/skip shipments) as well as control the entire Tovala oven. We'll go into the full details of the app below.
What Kind of Food Do They Offer?
Tovala offers a variety of different meal options. You'll notice in our selection, nothing is your ordinary run of the mill dinner. Upon reviewing their meals online, I found each to contains a great balance (protein, carbohydrates, and fat) to ensure that you feel full and satisfied but not overstuffed.
A new menu is released each week which enables you to choose from seven different meal options. Here's what we received in our recent box:
Homestyle Tomato Glazed Meatloaf with Herb Roasted Broccoli
Balsamic Caramelized Onion Steak with Roasted Potatoes and Creamy Horseradish Sauce
Lime Mojo-Smothered Chicken Breast with Cuban-Style Beans
Lemon-Glazed Chicken Breast with Spinach Artichoke Polenta
Eggplant Caponata Pasta with Parmesan and Celery Caper Relish
Chicken Parmesan with Herb Roasted Green Beans
What Diets Do Tovala Meals Cover?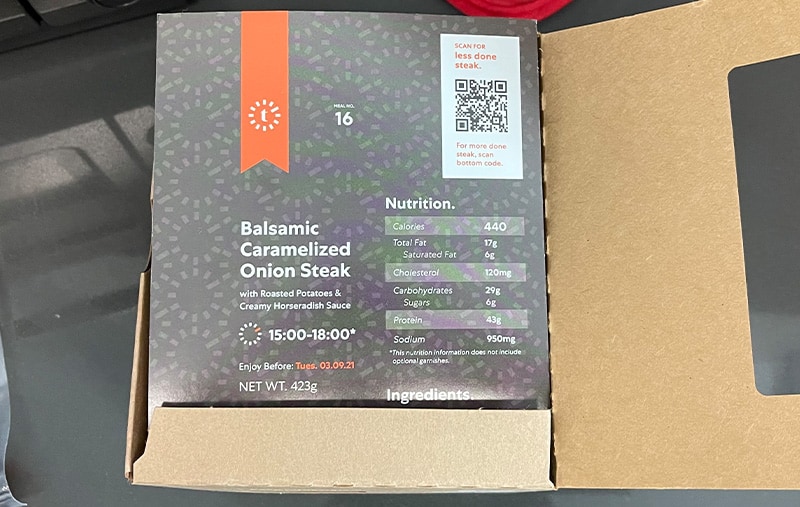 Tovala offers Calorie Smart, Carb Conscious, Gluten Free, and Vegetarian meal options. However, take these with a grain of salt.
I noticed that a lot of their Calorie Smart meal options had well over 400 calories, so not necessarily "low cal". Many of their Carb Conscious meals are upwards of 30 grams, so also not "low carb" by any means.
Do note, if you're celiac, Tovala's meals are not certified gluten free so there may be risk of cross-contact with gluten if their meals are prepared in a facility that also handles other gluten-containing meals.
Packaging & Delivery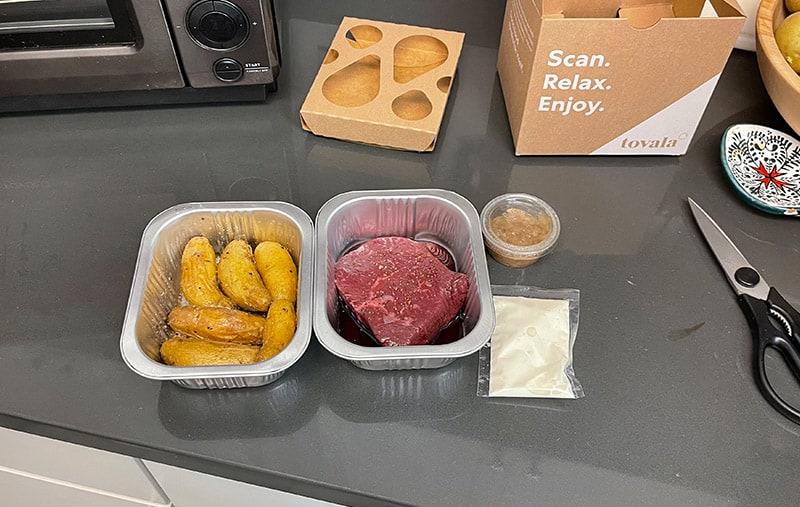 All of Tovala's meals arrive in recyclable packaging. The trays themselves are 100% aluminum which can be recycled right along side your aluminum cans. The trays arrive in cardboard packaging which can be recycled along with other paper goods.
You'll need to make room in your fridge for the trays, but they are fairly compact. I'd estimate that they're about 5 inches in height, 5 inches wide, and 7 inches deep.
Each meal is packaged together with all of the necessary ingredients and some meals use more than one tray. If needed, you can separate the trays to store them, just make sure that you keep track of which tray belongs to which meal so you don't forget. Each meal comes with a list of instructions and ingredients, however, so you'll still be able to figure it out if you forget.
When it comes to delivery options, you'll select your weekly meals by Wednesday at 6pm for the following week. Depending where you live, your meals will arrive on Tuesday or Wednesday. Delivery is available throughout the contiguous U.S.
Tovala Oven (Second Generation)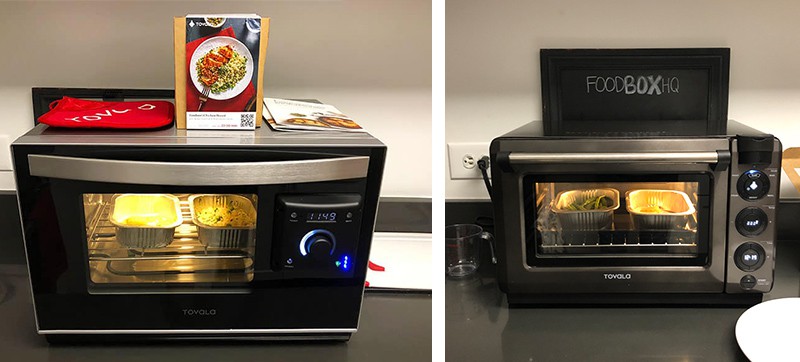 Tovala has recently made a huge improvement in their smart oven. To compare the first generation to the second generation, watch our first video review here. But even just by looking at the picture comparison above, you can see that the second generation oven (on the right) is sleeker, easier to fit on a counter, has more window to see inside the oven, and physical knobs/buttons.
Here's what's been updated and some of the main features in their second generation oven...
Built in Tovala IQ™ that allows you to use their smart oven and mobile app to precisely cook any meal. That includes their own meal kit, as well as meals that you can look up via their app and cook too.
You can use the smart oven to steam, bake, broil, reheat, and even toast. Yes, you can cook toast in your oven. We tried and it came out perfectly.
If using their meal kit, all you have to do to cook their meals is scan the barcode on the meal and the oven knows exactly how to cook it. You'll get a notification on your phone via the app when the food is ready to eat.
Their "Scan The Store" feature allows you to scan frozen foods bought from the grocery store and the Tovala oven will know exactly how to cook it. It is currently only available for Trader Joe's frozen foods.
The second generation oven is significantly smaller, making it perfect for sitting on your counter.
The new oven comes with a heat-resistant oven mitt and container to pour water into the oven.
Now let's go into detail on how to use this smart oven.
Using the Tovala Steam Oven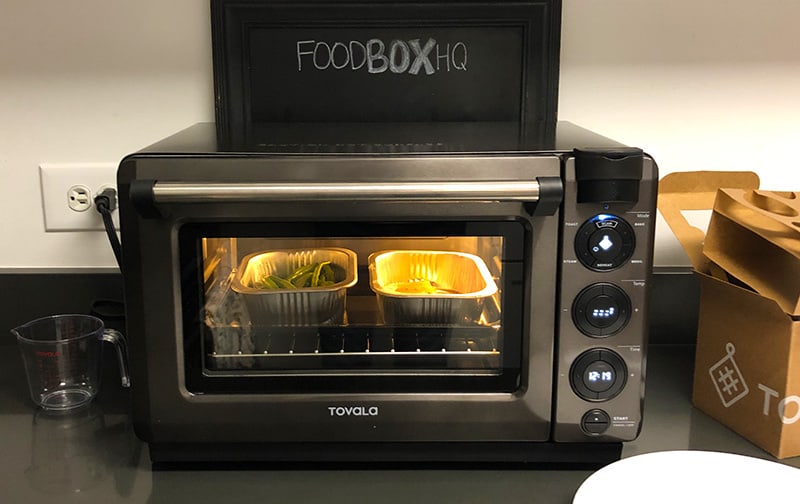 The first time you use your Tovala Steam Oven, you'll have to do a little bit of setup, which the app walks you through, but I found that it's smooth sailing once it's ready to go.
Start by unboxing the oven then download and set up the Tovala App (iOS and Android versions available) which will walk you through the rest of the process. You'll need to place the oven rack in the oven, fill the water reservoir, and connect the oven to your Wi-Fi network.
Each time you use the Tovala Steam Oven, you simply remove the plastic film from the trays and slide them into the oven. Make sure the water reservoir is full, then scan the code on the packaging and press the knob to activate the oven. It will automatically steam, bake, and broil the ingredients for the proper amount of time to provide you with a piping hot meal.
Preparing the meals for cooking is very simple, almost nonexistent. In the review video you'll notice we simply take the food out of the container and add the sauce. That's it.
How Does It Compare To Other Ovens?
You're probably wondering what makes Tovala different when it comes to a smart oven? Why not just buy a smart oven and be done with it? First, Tovala is much more than just a smart oven. The oven goes hand-in-hand with their meal kit. Second, and more importantly, the Tovala oven isn't an ordinary oven you're probably familiar with. It's a steam oven. That's the reason you have to fill it with water to use it.
A steam oven works much differently than a regular oven or even a microwave. Whereas a regular oven uses heat generated by metal coils or fire (if "broil" is selected) a steam oven simply uses... Steam. This may not sound like a big difference but it is. This is because the steam allows the food to cook while retaining all of it's moisture and flavor. Steam also transfers the heat to the food much more evenly. On the flip side, the heat from a regular oven can pull moisture and flavor when cooking, as well as not cook as evenly/thoroughly. For example, when you put a cold dish in the microwave (or even a regular oven) to heat up, often times the outside of the food gets very hot while the middle is still cold.
Using The Tovala App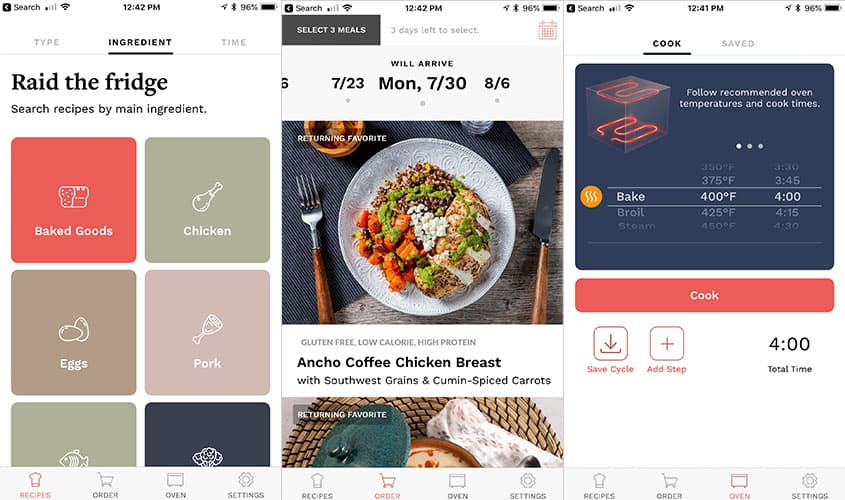 Often times I find meal kit apps to be secondary to their website. I often skip using them and control the entire ordering process right from the website admin page. However, the Tovala app is not just useful, it's mandatory.
At first I was skeptical that it would work. Surprisingly, setting up the oven with the app was a breeze. All you have to do is ensure that it's on the same wifi network and they can "talk" to each other.
One of the coolest aspects of the app is that it has a built in chat feature. So if you get stuck at any point in the setup process or if you have a question after it's setup, you can simply chat with their customer service right in the app! This is a huge plus in my book because getting in touch with customer service with some other meal kit companies has been a hassle in the past.
Once the app is all setup, you'll notice that it's the main way you control the oven. You literally use it to set the time, temperate, and even add additional steps to the cooking process. From my experience using the Tovala oven, controlling it from the app felt like I was living in the future. The fact that I could not only know when the oven was finished cooking the meal but also control every aspect of the oven from another room on my phone is pretty extraordinary.
As mentioned above, you can also control your meal plan subscription from the app. Going on vacation and need to pause your meals? A few taps and you're all set. They also give you the ability to view upcoming meals so you can see which you want to pick based on ingredients, nutritional information, and even cook time.
How Is The Freshness & Taste?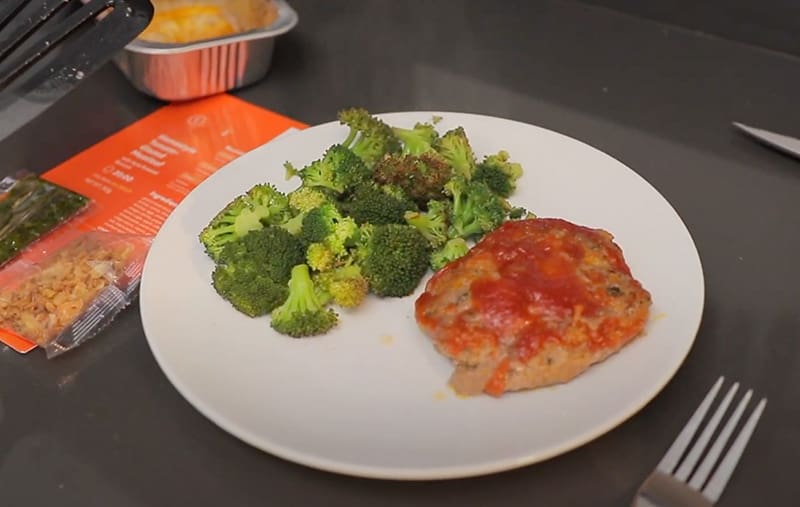 Tovala uses, what they call, "clean ingredients" – that means fresh, natural ingredients that arrive raw but already prepped. Everything is cooked fresh, in your Tovala oven, so you aren't reheating meals that have already been cooked days before.
All meats are free from antibiotics and hormones, and all ingredients and allergens are listed on the packaging.
Not only are Tovala's ingredients guaranteed fresh, but they are delivered in stay-cool packaging to maintain that freshness. Meals are delivered on Tuesday or Wednesday each week and will remain cold and fresh in their packaging until midnight, just in case you aren't home when they arrive. When you get home, simply open the box and transfer the containers to the refrigerator where they will remain fresh for up to five days. In all the years that we've used our Tovala, we've never had an issue with spoiled foods.
Most of the meals that they send are well-balanced. You'll receive a protein of some sort, a side dish, and vegetables. The protein is often a chicken, beef, or fish. However, you're likely to find tofu offered on their meal plans too — a great option for vegetarians and vegans.
How Do Tovala Meals Taste Once They're Prepared?
Upon receiving our first Tovala meals, my first thought was, "This is either going to go really good or really bad." My skepticism was based upon the fact that I felt like I was letting a robot or an algorithm cook the meal for me. Technically, I was.
After scanning the QR code and popping the Tandoori Chicken Breast with Rice in the oven, I sat back and let it cook. 20 minutes later, it was ready to eat. The final results? Amazing.
What I originally thought was going to merely be a reheated meal in a fancy microwave turned out to be a restaurant quality meal with (almost) zero prep or clean up.
We specifically made the Tandoori Chicken Breast with Rice because both chicken and rice are easy to over or undercook. When overcooked, it can turn out to be a very dry meal. Yuck... However, the steam oven ended up cooking it to perfection.
Oven Pricing Options
When it comes to pricing, the thing you need to know about Tovala is that you aren't just paying for your meals. This service requires an upfront investment of $249 to purchase the Tovala Steam Oven (second generation) but there is no additional charge to use the Tovala iOS or Android app. Plus, with financing options, you can divide this upfront cost into 3, 6, or 12 monthly payments at 0% APR for 12 months. A nice added bonus for those who can't afford to drop hundreds right now.
The Tovala oven is priced just around what you'd see a comparable steam oven, such as a Cuisinart (also priced at around $270 depending on where you purchase). However, Tovala is one of the only smart steam ovens on the market right now. There are a handful of other smart ovens, such as June and Suvie, but they do not use steam oven technology to cook.
Is It Worth Buying A New Kitchen Appliance?
If you're still a little skeptical about buying a new appliance, know that it can be used for plenty of applications other than Tovala meals. The Tovala Steam Oven can steam, bake, broil, or toast which means that you can prepare homemade recipes in the oven as well.
We actually use the Tovala oven more to cook non-Tovala meals such as toasting bread, heating up leftovers, and even cooking up meats. Be advised that cooking regular meals is a bit different using the Tovala steam oven. First, you're using steam instead of regular convection heating that most regular ovens use. Second, it's a smaller oven size. We accidentally underestimated one meal and had to cook it in two batches because it couldn't all fit in the Tovala oven.
Meal Kit Value & Pricing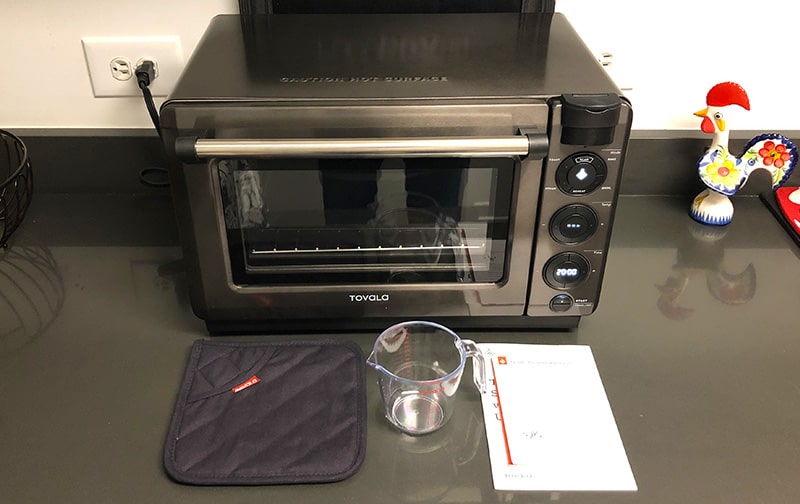 Tovala meals are made from scratch by their chefs and delivered right to your door, ready to cook. You have the option to choose from 3 to 16 meals per week, with 1 or 2 servings per meal. Each serving costs $11.99 so, for example, if you choose 6 single-serving meals per week your weekly cost is only $71.94 (shipping is free).
Billing is automatic, so once you sign up you never have to worry about making payments. You'll be billed every Wednesday at 6pm as long as your plan is active. If you want to skip a week or customize your delivery schedule, you can do that as well, on the app. You can pause, skip a week, or cancel your plan at any time with no fees.
They also have a great satisfaction guarantee policy on their oven: if you aren't fully satisfied you can return the oven for a full refund within 100 days of purchase.
Tovala vs. Other Meal Delivery Services
You may be asking yourself, "How do Tovala meals stack up to other meal kits?" Answering that question is a bit tricky. The meals we cooked with Tovala are, without a doubt, some of the best we've cooked, eaten, and reviewed on this site. However, they don't necessarily fall into any other traditional "meal kit" categories.
Tovala isn't like Blue Apron or HelloFresh where they a box of ingredients and you cook the meal. Nor are they like Freshly, where you receive a pre-cooked meal that simply needs to be reheated. It's more of a hybrid between the two where the meals are 99% prepped and you just need to cook them in the smart steam oven. Since the meals come prepared already and they use high-quality ingredients, you're going to be paying more per-serving than traditional meal kits. As mentioned above, each serving of a Tovala meal is $12. This is about $2 to $4 more per serving than you usually see from the "big" meal kits.
Pros & Cons Of Tovala
Now that we've covered our experience using Tovala and their meal subscription service, let's go over some of the key things we love about it and what we don't...
Tovala Pros
It's extremely convenient. Tovala has to be one of the easiest ways I've ever had a home cooked meal made. Plus, because everything cooks in a little pan, there's almost zero clean up involved.
You can use it for a wide range of foods. A lot of people assume you have to use it with their meal delivery service but that's not the case. We use it daily to toast up our morning sourdough bread for our breakfast.
The meals taste delicious. If you opt to order the oven and use their meal delivery service, I don't think you'll be disappointed. These meals have been some of the tastiest home cooked style meals we've had.
Tovala Cons
Portion sizes are slightly small. One of the biggest issues I have with the meals is that they seem a bit on the small side. I'm not necessarily left hungry but I do think they sometimes skimp out on ingredients on some meals.
The oven and meal delivery service can be expensive. Plunking down over $200 for a new kitchen appliance can be a lot of money. On top of that, the meals are also around $12 each.
There's not a lot of diet variety. This is another big issue I have with the service. I wish that they offered more diet variety to fit into specific lifestyles, whether that simply be truly low carbohydrate meals or as far as speciality diet meals like Whole30 or paleo.
Had a few instances of missing seasonings. Every now and then I've noticed a meal in the box will have a missing seasoning packet. It's not the end of the world since we have a lot of seasonings in our pantry but it is a bummer when it happens.
Is The Tovala Worth It?
I believe the future of cooking is not going to be going to the grocery store, picking out ingredients, preparing the meal, and cooking. I think it's going to be what Tovala has created, something as simple as scanning a QR code and waiting for an oven robot to cook it (perfectly, might I add) for you.
Many have tried and failed at revolutionizing the way we cook. Just look at how many meal delivery companies have tanked in the past decade. While some may laugh at the cooking industry being "disrupted" by advances in technology, there are many others like me that believe it'll be commonplace much sooner than expected. I believe Tovala is a giant leap forward for convenience when it comes to at-home cooking.
Tovala, as a steam oven, performed much better than I expected. It cooked the Tovala meals quickly and thoroughly. Even as a standalone steam oven, it cooked well. My only gripe is the size of the oven. We live in an apartment where out kitchen isn't the biggest. That means counter space is something we take very seriously. Weighing in at 33 pounds, the Tovala oven itself is 14 inches in height, 19.75 inches wide, and 17 inches deep. It's not huge but it takes up a bit more room than your average microwave would. That being said, it does the job of an oven, microwave, and toaster. So you could technically consolidate and save space in the long run.
As mentioned above, Tovala comes with a 100-day trial. So even if you change your mind, you can return it — no questions asked. I'm thoroughly impressed with the fact that they offer this type of guarantee. Even with that, they offer a 2 year warranty on the oven so you don't have to worry about it breaking.
The main benefit of Tovala is, without a doubt, it is extremely convenient. I would go as far as saying that Tovala is like having a private chef in your kitchen all the time. Not only does it save you the hassle of grocery shopping each and every week, but there is nearly zero prep work or cleanup involved.
Have you tried Tovala? Have a question about their service? Leave your question/comment below and we'll get back to you as soon as possible!