As someone who lives a busy life, I am always looking for ways to eat better foods as quickly as possible. Too often do I find myself reaching for a bag of pretzels or worse, the hidden bag of chocolates I keep from my wife (shh, don't tell her).
When I first stumbled upon Daily Harvest back in 2017, I was amazed. Fresh smoothies can be delivered to my doorstep? Fast forward to today and there are now a ton of different smoothie delivery services to choose from, all with different benefits.
The hard part is figuring out which one is actually worth it and, more importantly, which one is right for you.
Having covered the world of meal, snack, and smoothie delivery services for over half a decade and personally trying over 16 different smoothie delivery services, I've narrowed down the best options out there.
We'll be covering fresh, frozen, and freeze dried smoothie delivery services. So, there's options for everyone.
Let's jump into it!
Best Overall Option
What It Is: If you've done any prior smoothie delivery research, it's highly likely you've come across Daily Harvest. They started out as a service only selling smoothies and eventually evolved into a full on plant-based food delivery mecca. What makes Daily Harvest such a strong player in the world of smoothie delivery is that they were one of the first in the game. In all honesty, they basically created the industry of online smoothie subscriptions we see today and paved the way for all of their copycats. Not only that, but because they were one of the first of their kind to launch, they had a lot of time to work on which smoothie flavors customers enjoyed and which were flops.
The Details: Although Daily Harvest now offers way more than smoothies (such as oat bowls, harvest bowls, lattes, soups, snacks, and more) they're still best known for their smoothies. And for good reason. On their menu you'll find around 25 different smoothies at any given time. They do tend to alternate and test out new flavors from time to time but the menu doesn't fully change on a regular basis. Each smoothie comes pre-chopped and portioned in a recyclable cup. They have a ton of unique and delicious flavors that may surprise you. For example, when I first saw their cold brew and cacao smoothie, I was hesitant. Now it's one of my favorites.
Why It Made This List:
Daily Harvest has perfected their smoothie flavors since first launching. There is a great variety between "typical" smoothies (such as their mango and greens smoothie) and "weird" smoothies (such as their dragon fruit and lychee smoothie).
Because of all their additional offerings, you could use Daily Harvest as a full meal delivery service. They offer breakfasts, lunches, dinner, snacks, and even other drinks (such as their plant-based milk). Do be aware that the portion sizes tend to be smaller on these other meals.
Their smoothies are flash frozen, which I believe is the best way to store smoothies so that they retain the majority of their nutrients and allow you to for long periods of time in your freezer.
Food Box HQ Note: A decent alternative to Daily Harvest is Blend It Yourself smoothies. When researching and putting this article together we did consider putting them into the list. However, we found that Daily Harvest was ultimately the better option since they have way more flavor variety and more add-on options. We added this note because Blend It Yourself smoothies have different flavors that you personally may prefer to Daily Harvest's.
Best Pre-Made Smoothie Option
What It Is: Splendid Spoon first started out as a type of "reset" smoothie cleanse. Like Daily Harvest, they've been in the smoothie delivery game for a long time, also allowing them to perfect their smoothie flavors. In addition to pre-made smoothies they also offer soups, grain bowls, noodle bowls, and wellness shots.
The Details: Having used Splendid Spoon on and off since 2018, I've been able to try the majority of their smoothies. There are a few key takeaways from my experience that differentiate them from most of the other options on this list. First, their smoothies are created to be as balanced as possible. So, you're going to find each smoothie usually has a fruit, vegetable, herbs/spices (such as turmeric or ginger), and a protein (usually pea or hemp protein). Second, because they add all of these ingredients and the smoothie is pre-made, it can sometimes be "chunky". I've found shaking it up hard before drinking helps even out the consistency. Lastly, some people may not like the added plant proteins in their smoothies. It gives the smoothies a slightly gritty texture. I'm used to it by now and don't find it any issue but I know my wife sometimes comments on it. My personal favorites include their mint chip smoothie, power greens smoothie, and cacao almond smoothie.
Why It Made This List:
There are very few pre-made smoothie options currently available and of the other options out there, many have added sugars or other junk ingredients. Splendid Spoon is one of the few that uses real ingredients.
Like Daily Harvest, they also offer a ton of great add-ons such as soups, bowls, snacks, and more.
I love all the herbs and spices they include in their smoothies. Some examples include cinnamon and turmeric. They really give the smoothies an added kick of flavor.
Best Multi-Serving Bagged Smoothies
What It Is: SmoothieBox is a bit different from the above smoothie delivery options in that they send you the smoothie ingredients pre-bagged and frozen. You then throw this into your blender with your preferred base (such as water or coconut milk) and, voilà, you have a smoothie.
The Details: SmoothieBox only has four flavors to choose from— berry, green, clementine, and cacao. Of the small amount of variety they have though, the smoothies are packed with flavor. I've found that all of the smoothies tend to have a lot of fruit in them so they seem to taste a bit sweeter than many of the others on this list. My personal favorite out of all of their options is the green smoothie bag. It consists of pineapple, granny smith apple, chopped spinach, avocado, flax seed, hemp hearts, lemon juice, and apple juice.
Why It Made This List:
Having your smoothie in a bag allows you to pre-portion out the ingredients. This could make it a good option for anyone who wants to be selective about their portion sizes.
They use a lot of organic ingredients in their smoothies.
Their smoothies tend to taste sweeter due to them using more fruits and juices than many others on this list. This could make smoothies more appealing to someone looking to eat healthier but isn't necessarily a fan of veggie-packed smoothies.
Best Single-Serving Bagged Option
What It Is: The Frozen Garden is similar to SmoothieBox in that they send you pre-bagged smoothies. However, The Frozen Garden sends you single-serving bagged options.
The Details: The Frozen Garden, unlike SmoothieBox, does not add any protein supplements or juices to their smoothies. They only use real fruits and vegetables. For example, you're not going to see any added plant protein powder (like what's in Splendid Spoon smoothies) and you're not going to see any added fruit juices (such as what's in SmoothieBox). That's not to say these smoothies aren't balanced or delicious—they are! To give you an example, one of my favorites is there green protein smoothie, which is packed with leafy greens, flax, pumpkin, hemp seeds, and white beans.
Why It Made This List:
Single-serving bagged options make it better for those who may want to take their smoothie ingredients with them or just want to have the ability to pour all the ingredients into their blender without portioning it out.
The Frozen Garden works with local farmers to get all of their fruits and vegetables.
Among all of the bagged smoothie options in this list, The Frozen Garden has the most amount of variety with around 10 smoothie options to choose from.
Best Pre-Made Bagged Option
What It Is: Live Pure is similar to SmoothieBox and The Frozen Garden in that their smoothies are bagged. However, there's a slight twist. They come pre-made! Live Pure is the only smoothie company I've seen to date that blends their smoothies and then flash freezes them into cubes.
The Details: One of the main differences between Live Pure and their bagged smoothie competitors is their awesome flavors. These aren't your typical green smoothies. You'll see flavors such as chocolate peanut butter protein (one of my favorites pre- or post-workout), "the churro" (made with cinnamon, cacao, cashews, and banana), and coffee mocha recharge (a blend of freeze dried coffee, cacao, banana, and dates).
Why It Made This List:
Live Pure is a great middle ground between a fully pre-made smoothie delivery service (such as Splendid Spoon) and a bagged smoothie delivery service (such as SmoothieBox or The Frozen Garden).
They have some really interesting flavor varieties that I've found absolutely delicious.
Best Smoothie/Blender Combo
What It Is: Vejo is the first of its kind in the smoothie delivery world. They're a smoothie subscription service that uses pods (similar to those popular Nespresso coffee pods) along with their portable blender so you can literally have smoothies any time, anywhere.
The Details: Vejo is technically two products in one—their portable blender and insertable smoothie pods. The blender is surprisingly simple to use. Just pop in a pod, tighten the top until you see the light appear, then press the top button to blend everything up. The smoothie pods contain freeze-dried vegetables and fruits in a powder form so they fit right into the pod. Technically, you could even use their portable blender to blend other types of smoothie ingredients too but the motor is most equipped to handle freeze-dried powder mixes.
Why It Made This List:
Their pods are fully biodegradable. They're made from corn and other materials that biodegrade as to not take up long-term space in landfills. Vejo even says they're working on making the pods fully water soluble in the future.
All of the fruits and vegetables they use are 100% organic.
They have a great variety of smoothie blends. You'll find a lot of traditional flavors such as strawberry banana and their greens smoothie. But they also have a lot of unique blends that no other smoothie delivery service on this list offers, such as their sleep tart cherry blend, which includes magnesium, l-theanine, collagen, and other ingredients.
Best Single Serving Freeze-Dried Smoothies
What It Is: Kencko is a freeze-dried smoothie delivery company similar to Vejo. They even give you a complimentary shaker bottle to mix up your smoothie in.
The Details: What I like most about Kencko is that they break down their smoothies based on goals. So, you'll find categories such as repair, endurance, performance, brain boost, recovery, energy, focus, and more. While these are freeze-dried and mixable in a shaker bottle, don't let that fool you, they still taste like traditional smoothies. Some of my favorites include their green energy smoothie made with spinach, kale, kiwi, pineapple, apple, banana, ginger as well as their endurance smoothie made with pineapple, peach, zucchini, parsnip, dates, lime, blue spirulina, fennel seed.
Why It Made The List:
Kencko is one of the easiest to make smoothies on this list because you literally don't even need a blender to make them. Just add it to the free bottle they send with your first order, shake, and you have a smoothie.
They're made with real ingredients, no added artificial flavors, preservatives, or colors. Plus, all of their ingredients are organic.
They have mostly unique flavor varieties not seen among any other smoothie delivery service on this list. For example, another favorite of mine is their balance smoothie made with raspberries, sweet potato, apple, goji berries, orange, dates, pumpkin, red pepper, and maca.
Food Box HQ Note: Another good alternative to consider in the single-serve freeze-dried smoothie category is TUSOL and Realm Foods. While they have less flavor variety than Kencko, they do offer more smoothies, some with added protein options.
Best Freeze-Dried Multi-Serving Option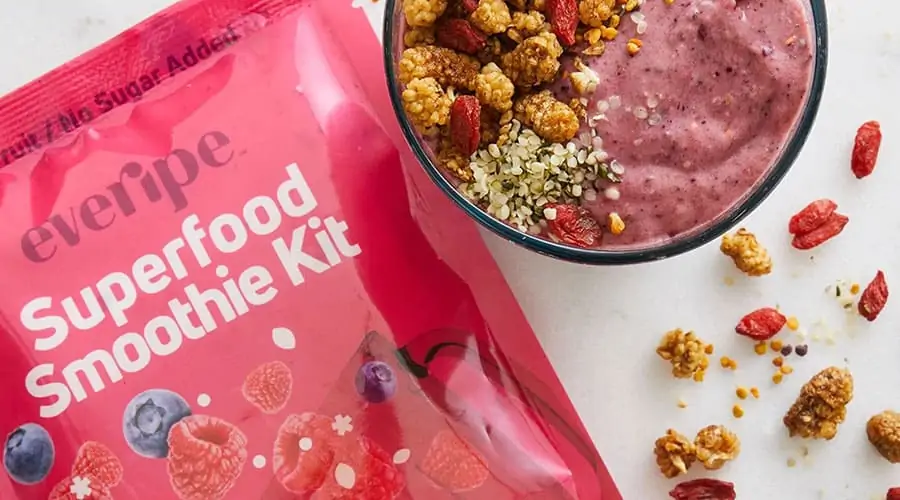 What It Is: Everipe is similar to Kencko and Vejo in that they're a freeze-dried smoothie option. However, Everipe isn't a powder, it's the full fruit and veggies (just dehydrated). I personally enjoy Everipe because you don't have to make them into smoothies if you don't want to. You have the option to just eat the freeze-dried fruits and vegetables as you like, right out of the bag.
The Details: Currently, Everipe only has five different flavors to choose from—strawberry bananza, cocoa mojo, unbelievaberry, pina colossal, and tropical zing. That being said, they are delicious recipes. I tend to be a traditionalist with smoothies and lean towards greens or the usual strawberry banana recipes but I really enjoyed the pina colossal and tropical zing flavors.
Why It Made This List:
These make for a great backup smoothie option to have in your pantry if you're running low on fruits and vegetables. Plus, being freeze-dried, they'll last a long time.
Since these smoothie mixes aren't in powder form, you can eat them as an on-the-go snack any time. One of my favorite road trip snacks are freeze-dried fruits!
Every bag comes with its own additional "superfood" packet that includes chia seeds, hemp, and other ingredients to customize your smoothie.
Best Smoothie Alternative (Juice)
What It Is: Pressed Juicery is one of the most popular cold pressed juice companies in the world. They have multiple stores across the US but they also ship all their offerings directly to customers.
The Details: One of the main reasons we included Pressed Juicery in this list is because they have a huge amount of options to choose from. You'll find multiple varieties of green juices, root juices, fruit juices, and even wellness shots. In addition to juices, they have ice creams, acai bowls, and even almond milk. While not a traditional smoothie delivery company, we included Pressed Juicery in this list because sometimes people will ask us for a smoothie delivery recommendation—something quick and easy to grab that isn't too thick or loaded with protein—and what they're really looking for is actually a cold pressed juice service.
Why It Made This List:
We've tried a lot of juices and juice cleanses over the years and Pressed Juicery has some of our favorite tasting flavors.
The variety between greens, vegetables, roots, and fruits allows you to mix it up as needed. They even offer variety pack bundles.
They aren't as ridiculously expensive as some other cold pressed juice companies are. My favorite for fasting is their "Celery Bundle" which is currently $20 for 5 juices or $4 per juice.
Best For Making It Yourself
What It Is: Imperfect Foods (previously called "Imperfect Produce") is one of our favorite fruit and vegetable delivery services. They're a great option if you want the convenience of having smoothie ingredients delivered to your doorstep but you'd prefer to customize the smoothie yourself.
The Details: Some people reading this article may go through each and every smoothie delivery option on this list and end up deciding they would rather just make the smoothie themselves. Maybe you don't like their flavors or you would rather have a smoothie made with fresh ingredients, that's perfectly okay. We've used Imperfect Foods on a regular basis to get fresh fruits and vegetables to our doorstep. While they say their fruits and vegetables are "imperfect" (which allows them to buy at lower prices and pass savings to their customers) we rarely have ever had any issues with them. Most of what's in our box each week looks like normal fruits and vegetables with the occasional Frankenstein-looking one in the mix.
Why It Made This List:
If you're looking to make the smoothies yourself, a fruit delivery company like Imperfect Foods is the best convenient option out there.
They buy "ugly" fruits and vegetables at low prices that supermarkets don't want and sell them to customers at low prices.
In addition to fruits and vegetables, they also offer add on items that basically turn it into a full on grocery delivery service. You can find everything from eggs and coffee to meats and seasonings.
Honorable Mentions
When doing our research for this article, we came across many services that have great smoothie options but didn't truly fit the mould when it came to smoothie delivery services. We wanted to highlight them so people know all their options.
Garden Of Life Green Superfood Powder: If you're looking for the most nutritionally "stuffed" freeze-dried powdered smoothie option available, this is one of my favorites. It has everything from greens such as spinach and kale to broccoli and asparagus. I use this on a daily basis to ensure I get the right amount of fruits and vegetables, and I even add it to my smoothies regularly as an extra boost. That being said, if you care about taste at all, I highly suggest that you

do not buy it

. It does not taste good at all, even when mixed with a smoothie. I just chug it down because I'm looking for the quickest nutritional benefits I can get.
Sun Basket: If you're looking for a smoothie delivery service to help you eat a better diet overall, you may want to consider looking at Sun Basket. They're one of my favorite meal kits for balanced, flavorful, and high-quality meals. The reason they made the honorable mention section is because they have a huge variety of smoothies you can add into your box each week. They switch up the flavor options each week but mostly feature pre-made smoothies from Remedy Organics.
Hungryroot: Another great option, if you're looking to have meals delivered to your doorstep too, is Hungryroot. They were originally a plant-based and vegetarian meal kit but ended up pivoting to become more of a hybrid between a both grocery delivery service and meal kit. They have a lot of great smoothie options too. My favorites are their Noka organic smoothies. They come in pouches, which make them super easy to take when you're on the go.
Our Favorite Smoothie Blenders
For some of the smoothie delivery recommendations on this list, a blender will be needed (for example, Daily Harvest). We've narrowed down our top three blenders below based on how you prefer to use them. If you already have a blender, you can skip this section.
NutriBullet (Best For Small Spaces): If you've watched any of the videos on our YouTube channel, it's likely you've seen our little NutriBullet in the background. We love this blender for the power it packs in such a small size. A big benefit is the fact that you can use the blender cup as your smoothie cup instead of having to pour it into another container to drink.
BlendJet (Best Portable Blender): Having already been surprised at the size and power of NutriBullet I was taken aback when I first saw the BlendJet. This portable blender packs a ton of power into the size of a regular water bottle. The only slight issue I have with it is that it can't pack as much into it as our NutriBullet can.
Vitamix (Best Countertop Option): If you don't care about space or portability and you just want the best option regardless of price, Vitamix blenders are where it's at. They are insanely powerful and can quite literally blend almost anything. There's a reason why they're used across smoothie spots like Smoothie King and even in Starbucks. Do be aware they are incredibly expensive.
The Benefits of Using a Smoothie Delivery Service
Whether they're for breakfast, a meal replacement, or an afternoon pick-me-up, smoothies are one of my favorite ways to incorporate fruits and vegetables into my daily meal plan. The main reason smoothies are so fantastic is because they can provide you with so many nutrients in a single serving.
What's not so great about smoothies, however, is the work that goes into making them. You have to choose recipes, go grocery shopping, and prep ingredients before anything even hits the blender. Luckily, the above smoothie delivery services have you covered. You can get ready-to-make and even pre-made smoothies delivered straight to your door so all of the hard work is already done for you.
If you're wondering if a smoothie delivery service is right for your specific needs, here are the benefits you should consider…
It'll Give You the Ability to Eat Better On-the-Go
When you're out and about, what are you most likely to do when it comes time to grab something to eat? Will you already be prepared with healthy snacks stashed in your bag? Or will you resort to the fast food drive-thru or takeout from local restaurants?
If it's the latter, you definitely aren't alone. We're a busy culture. And in terms of food, we typically go for something that's fast and easy—takeout, drive through dinners, sugar-loaded snacks. Ultimately, all of those junk foods can be sabotaging any wellness goals you've set for yourself.
The main reason I included freeze-dried smoothie options in this list is to give people super simple smoothie options that they can make in an instant or even take with them on the go (i.e. to work or the gym). Regardless of whether you have a portable blender or not, there are smoothie options out there that are super easy to take with you on the go.
Using a Smoothie Delivery Service Can Save Time
What usually holds people back from drinking smoothies as part of their regular routine is the prep and work that goes into making them. You have to make sure you have all the ingredients, wash them, pre-portion everything out, peal or chop, blend, and pour before you can enjoy it. And if you're like me, especially in the mornings, you just don't have that much time to spare.
With a smoothie delivery service, everything is either pre-portioned and ready to blend or already pre-made. We even included multiple fruit and veggie smoothie delivery services on this list that don't require a blender at all. For example, Kencko just needs to be poured into a bottle, shaken, and you're ready to drink.
It's the Easiest Way to Try Out New Smoothie Recipes
I've always been one to stick with traditional smoothie flavors, such as green smoothies or the typical strawberry banana. Smoothie delivery services have vastly expanded my palate in terms of new and unique flavors. For example, Daily Harvest has smoothie blends that seem absurd, yet taste delicious. Take for example their cherry and almond smoothie. It's made with strawberry, cherry, almond, sweet potato, sacha inchi, and vanilla bean. Never in a million years would I have thought to try this ingredient combination but it arrived in a recent box we ordered and it was delicious!
How We Selected The Smoothie Delivery Companies On This List
When we first published this article back in 2017, there were really only a handful of smoothie delivery companies out there. Today though, there are way more options. That being said, not every smoothie delivery company is good or even worth trying. We actually removed multiple companies that were previously on this list due to terrible customer support, lowering the quality of their ingredients, and/or making it hard for customers to cancel their subscriptions. We also removed some companies that have gone out of business, such as one of our past favorites, Green Blender.
To get to the list you see above, we first started the tedious process of researching and going over all of our past reviews. This included going over our records of old notes as well as pictures and video we've taken.
Once we had a comprehensive list of all the quality smoothie delivery services currently available, we further narrowed down the list to only those that offered smoothies with quality ingredients—no added artificial flavors and not loaded with sweeteners or junk ingredients.
We then finally narrowed down the list to only the companies that fell within a specific category, ensuring there were no duplicates. For example, we listed Kencko as our favorite single-serve freeze-dried option even though TUSOL was a close contender (which is why we listed it in a note below that section).
Types Of Smoothie Delivery Services Explained (Fresh vs. Flash-Frozen vs. Freeze-Dried)
Due to advances in how fruits and vegetables can be stored, you're no longer limited to only having to use fresh fruit for smoothies. Unfortunately, a common misconception is that the alternatives—flash-frozen and freeze-dried—are much less nutritious or may have preservatives. Just as an FYI, none of the options we included in this list have any artificial additives or preservatives. To clear things up, let's go over how flash-frozen and freeze-dried smoothies are made as well as determine whether they are as healthy as smoothies made from freshly picked produce.
Flash-Frozen Smoothies
The process of flash freezing food is actually pretty simple. A company will usually harvest the fruits at their peak ripeness and then instantly freeze them to prevent the fruits or vegetables from spoiling.
The key to flash freezing is picking the fruits and vegetables at the peak of their ripeness. As a fruit or vegetable further ripens, it starts to decay and loses nutrients. The process of freezing instantly allows those nutrients to be locked in for longer periods of time. Unopened fruit can last over 8 months frozen like this.
Additionally, studies have shown that the nutritional profile of both flash-frozen and fresh produce are similar.
Freeze-Dried Smoothies
Freeze drying produce is the process of literally dehydrating it to the point where there is virtually zero water in it. As mentioned above, this can allow food to last up to 25 years. For fruits though, the freeze drying process usually allows them to last for around 2 years (still a long time, all things considered).
Research has shown that while freeze-dried fruits and vegetables contain slightly lower amounts of certain vitamins, they are still rich in antioxidants and fiber. Many researchers agree that the amount of nutrients lost from freeze-drying is so little it's insignificant.
Final Thoughts
Don't let marketing or social media "hype" lead you to the wrong smoothie delivery service. There are a ton of options to consider but only a few, maybe even just one, could be right for your specific lifestyle. Luckily, in today's world you have options and we're here to help you find your perfect box.
Watch a playlist of our smoothie delivery videos here.
Have a question we didn't answer in this article? Have you tried a smoothie delivery service and want to let us know your thoughts? Leave you comment below!