One of the toughest parts of eating healthy is that it can be difficult and time-consuming to figure everything out — from what to eat to how to cook it so it actually tastes good.
A bunch of meal kits have tried to fill this need by taking care of all the guesswork involved in healthy eating by sending pre-portion or even pre-made healthy/diet meals. However, Hungryroot has taken healthy meal delivery to the next level.
Having once started as just a plant-based meal delivery service, they completely revamped their service in order to pivot to becoming more of an online grocery store or marketplace. You can still indulge in their plant-based meals but now they've expanded to non-vegan options (lean animal proteins like chicken and salmon), a variety of different meal options (breakfast, lunch, and dinner), as well as snacks.
Once Emily and I saw the new version of Hungryroot launch, we were super excited to check it out.
Read on to find out everything you need to know about Hungryroot (including our personal experience) to help you find out if it's right for you!
How Hungryroot Works
Hungryroot doesn't work the same way that most meal kits do. Instead of ordering from a plan that will send you a pre-determined amount of meals, Hungryroot works more like a marketplace.
To get started, they'll ask you a few questions to create a personalized plan:
How many people are you feeding?
What are your goals with Hungryroot?
Do you have any dietary needs?
They offer a surprising amount of dietary options, including many for those with food allergies: Vegan, Vegetarian, Pescatarian, Dairy-Free, Gluten-Free, Soy-Free, Tree Nut-Free, Peanut-Free, Egg-Free.
After you enter in your answers, they analyze them and create a personalized plan for you. The best part of how they setup their service is that you can completely customize your plan. Unlike other meal kits that only give you a pre-set amount of meals and servings you can order, Hungryroot gives you the ability to choose exactly how much of each you'd like.
To give you an example, Emily and I often skip breakfast and sometimes even lunch. So, we opted to go with 2 lunch recipe servings and 14 dinner recipe servings. Then, we added in 2-3 ready-to-eat breakfasts, 2-4 ready-to-eat snacks, and 2-3 ready-to-eat sweets.
The reason why all the read-to-eat foods are a range is because Hungryroot works as a marketplace with credits that can be used to redeem your meals each week. Each recipe and ready-to-eat food has its own unique credit value depending on what it is. For example, meats are going to be more credits than salads.
If it seems at all confusing, don't worry, it's actually pretty simple once you see it in action: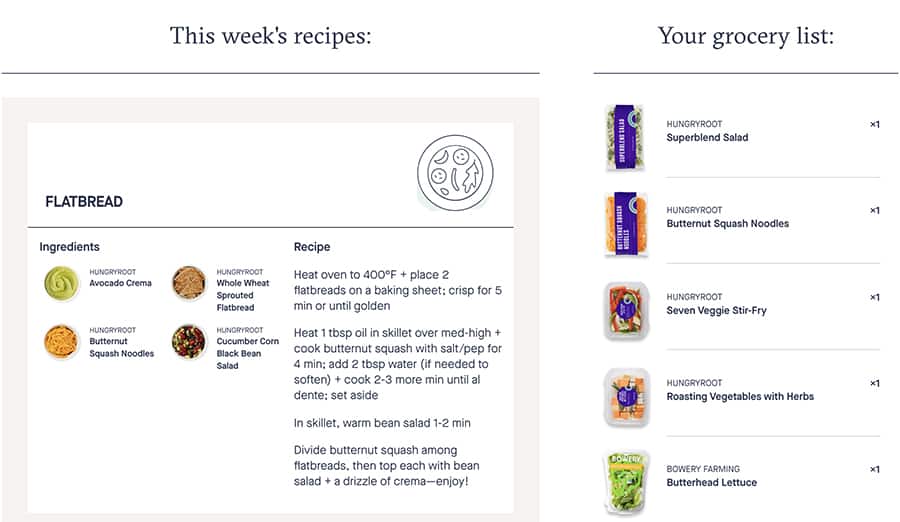 This is a snapshot of what our Hungryroot profile looks like for the next week. It has the recipes on the left and the list of ingredients they'll be sending on the right. And below all the recipes they list out all of the ready-to-eat foods (snacks, breakfasts, and sweets). We let them automatically select these recipes and ready-to-eat foods for us based on our profile.

If you'd rather not let Hungryroot choose your recipes and foods, you can always use them as an online grocery store and select everything yourself or even customize the recipes they sent you. For example, we really love the avacado crema they send so we usually double-up whenever we see they're sending us a recipe with that ingredient (FYI, this will use additional credits).
We generally don't customize our plan too often because Hungryroot has learned what we like and what we don't the more we've used it. How? After receiving each box, you can rate what you ate. This helps Hungryroot make better recommendations and so far, they've been on point!
Types of Food They Offer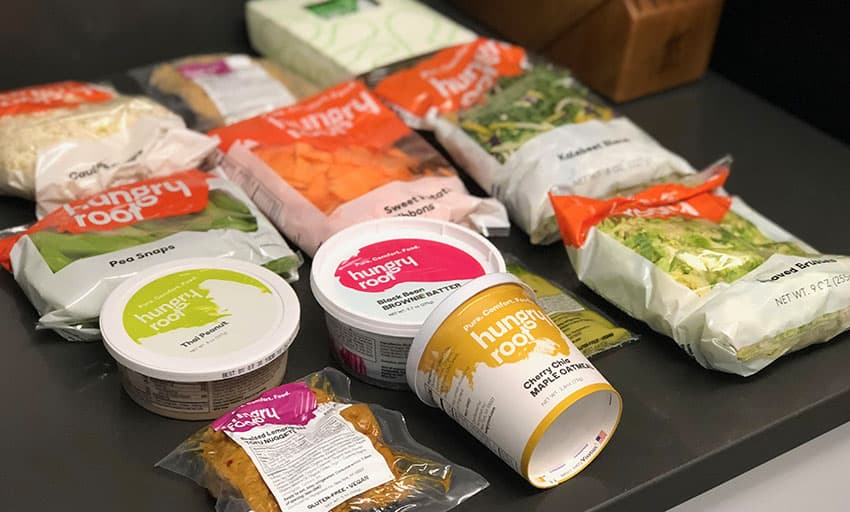 We're going to be going into detail on our Hungryroot meal experience (including a look inside our box, cooking, etc) a bit later on. But to give you an idea of variety of meals and the options you might receive in your box, here are are some examples of their breakfast, lunch, dinner, and snack options:
Example Ready-To-Eat Breakfast Options
Cherry Chia Maple Oatmeal
Southwestern Quinoa Tofu Scramble
Banana Bread Overnight Oats
Crunchy Walnut Date Muesli
Example Lunch Recipe Options
Smoky Avocado Superfood Salad
Green Goddess Lentil Salad
Spicy Tofu Quinoa Bowl
Cold Peanut Superblend Salad
Roasted Corn Edamame Salad
Italian Chickpea Quinoa Bowl
Lemon Kale Ceasar Salad
Red Pepper Edamame Succotash
Example Dinner Recipe Options
Sweet Potato Pad Thai
Green Chile Mexican Rice
Kale Salad Guac Burger
Beet Noodle Smashed Chickpeas
Spicy Tofu Cauliflower Rice
Black Bean Eggplant Hash
Cheesy Chickpea Broccoli Casserole
Creamy Corn Cauliflower Risotto
Example Snack Options
Almond Chickpea Cookie Dough
Black Bean Brownie Batter (get this, it's so good!)
Banana Nut Brownie Bites
Peanut Butter Coconut Cookies
Coconut Lemon Pie Bites
Vanilla Bean Snickerdoodle Dough
Remember, everything at Hungryroot is customizable. For example, if you see a dinner recipe like the "Kale Salad Guac Burger" above but you don't like kale, you could remove kale and add in their baby spinach (or any other topping they offer). It's like a hybrid of a meal kit and grocery store.
Delivery
Hungryroot ships orders to all of the 48 contiguous United States. That does, unfortunately, mean they're unable to ship orders to Alaska and Hawaii. At this time, it doesn't appear that they intend to expand their delivery area, but you can always check back for future changes.
With a subscription, you'll receive new orders each week, unless you choose to skip a week. You can expect the order to be delivered by 9 PM on your chosen delivery date. If you need to change your deliver date before an order ships out, you can do so via your online account. This gives you full control over when your food arrives each week. However, you don't have to be home in order to receive your delivery. A signature isn't required and everything is shipped in insulated boxes that will keep everything cool.
All orders that ship via ground will ship for free. If you select air shipping during checkout, there will be a $10 fee.
In all of the boxes we've ordered from Hungryroot, we've had zero issues with delivery.
Packaging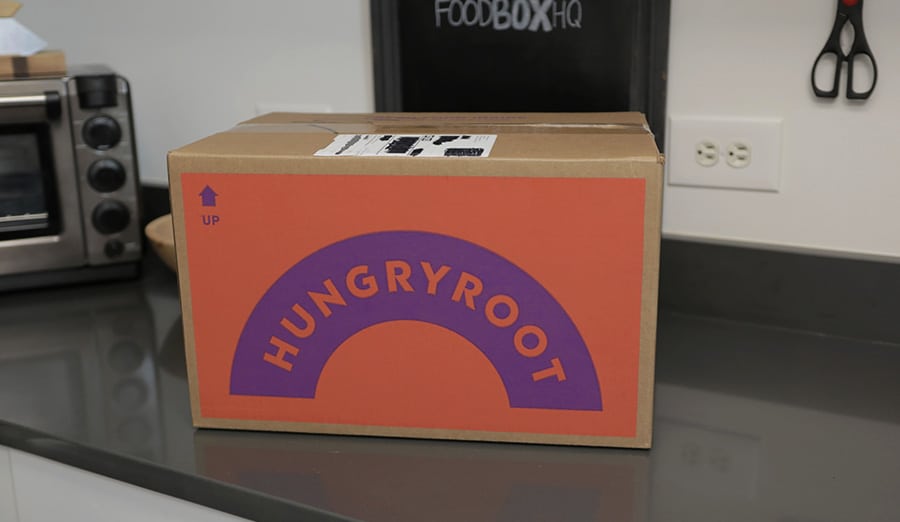 Everything is packed so that it will stay cold for at least few hours after being delivered to you, meaning it'll be waiting for you at home, safe and sound. Upon opening our first box, all the contents inside were still nice and cool. Just remember to refrigerate everything as soon as you can — don't leave it in the box.
You can also recycle the packaging when you're done with it. The shipping boxes are made from 100% recycled paper, so they can be recycled once you've unpacked your box. Simply put this with your regular paper recycling.
The ice packs inside your order can actually be re-used, which we highly recommend doing. Not only because they're high quality ice packs but because it's the best way to recycle them. However, they're filled with a non-toxic gel, which means you can safely dispose of them. Hungryroot says on their website all you have to do is cut open the ice pack, pour the gel into the trash, and recycle the exterior liner with your plastic.
And finally, the thermal "fluffy" liners Hungryroot uses are made of 100% recyclable ply film and post-industrial/pre-consumer 100% recycled cotton. To get rid of these, you need to cut the top of the plastic film and remove the cotton. You can throw the cotton out where it will biodegrade or compost, if this is available to you. If you can't compost, you can put it with your regular trash. And the plastic film that surrounds the thermal liner is made of #4 plastic and can be recycled as such.
If your box was shipped in the colder seasons, it may come with a silver bubble cooler rather than the cotton one. This can be recycles with #4 plastics too.
The individual plastic containers that your food, ingredients, and snacks come in are recyclable as well. Just be sure to check each package to see specifically how it can be recycled.
What We Got In Our Box (January 2020 Update)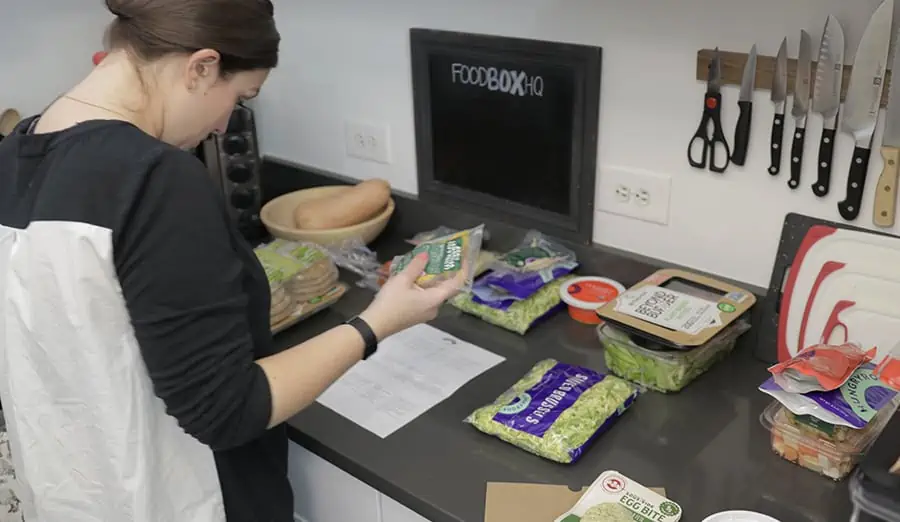 We got a ton of goodies in our most recent Hungryroot box. Here's a rundown of the recipes and read-to-eat foods:
Meals/Recipes
Hungryroot Kohlrabi Noodles + Hungryroot Superfood Tomato + Hungryroot Seasoned Grilled Chicken Breast
Hungryroot Shaved Brussels + Hungryroot Brown Rice Quinoa Blend + Hungryroot Coconut Curry + Hungryroot Ginger Tahini Yuba Noodles
Beyond Meat The Beyond Burger + Hungryroot Avocado Crema + Bowery Farming Butterhead Lettuce
Hungryroot Seven Grain Blend + Hungryroot Roasting Vegetables with Herbs + Hungryroot Basil Zucchini White Bean Salad + Hungryroot Kale Pesto
Ozery OneBun Multigrain + Beyond Meat The Beyond Burger + Hungryroot Avocado Crema
Lotus Foods Brown Rice Turmeric Curry Ramen + Hungryroot Shaved Brussels + Hungryroot Braised Lemongrass Tofu Nuggets
Ready-To-Eat Foods
Bobo's Maple Pecan Oat Bar
Les Trois Petits Cochons Sous-Vide Spinach Feta Egg Bite
Epic Provisions Wagyu Beef Jerky Strip
Hungryroot Black Bean Brownie Batter
Base Culture Mini Nutty Pumpkin Bread
Unreal Dark Chocolate Almond Butter Cups
You'll notice that some of the ready-to-eat foods aren't under the "Hungryroot" brand. This is part of their move away from the typical meal kit to become more of an online healthy grocery store.
Quality of Hungryroot Food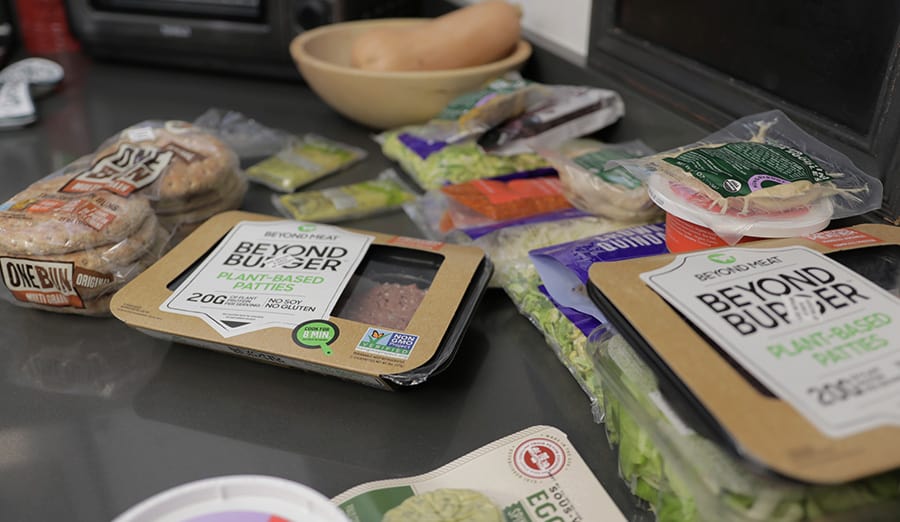 While some of the foods you receive with Hungryroot are ingredients to make a meal and others are pre-packaged snacks or sweets, everything is generally fresh. To give you an example, none of the foods we've ever receive in our box with Hungryroot has been spoiled or gone bad. All of the perishables are stamped with a "best by" date, to help you know when it needs to be eaten before it goes bad.
They source organic and non-GMO ingredients whenever possible. And you can find a full ingredient list and nutritional information on their site before ordering. So there's no need to worry about any allergies.
What I secretly really love about Hungryroot is that they offer really high quality snacks and sweets. Emily and I tend to snack a lot throughout the day so when we reach for a snack, we want it to be one that's not going to be too bad for us. For example, I'm a huge dark chocolate and peanut butter fan. So when I saw they were now offering Unreal dark chocolate peanut butter cups, I had to throw them in our upcoming box! Comparing them to traditional Reese's, Unreal's version has higher quality ingredients (no artificial ingredients/colors, non-GMO, organic, vegan) so I don't feel as bad when I devour them :).
If, however, you're not satisfied with the quality of your Hungryroot order, you can get in touch with them via email to resolve the situation. I checked out their terms, and they specifically say, "We want you to be completely satisfied with your order. If you're not, let us know at help@hungryroot.com and we'll make it right. Refunds are granted on a case by case basis within 30 days of your delivery date and take 10-15 business days to process."
Ease of Cooking
Many of the meals that Hungryroot offers don't require any preparation at all. For instance, the Braised Lemongrass Tofu Nuggets we received can simply be heated up and eaten. In fact, they don't even need to be heated, they could even be eaten cold. When I'm in a rush, I often find myself grabbing one of their pre-made meats, slapping on a sauce like their avocado crema and eating it cold.
When it comes to the meals that need to be cooked, Hungryroot says they are best prepared on the stovetop. However, some of them can also be heated in the microwave if you'd like. Just make sure you're paying attention to the cooking instructions and following along. Most recipes only require a few simple steps (we usually cook all of our meals in as little as 10-15 minutes) and one pan. This makes cleanup a breeze!
Taste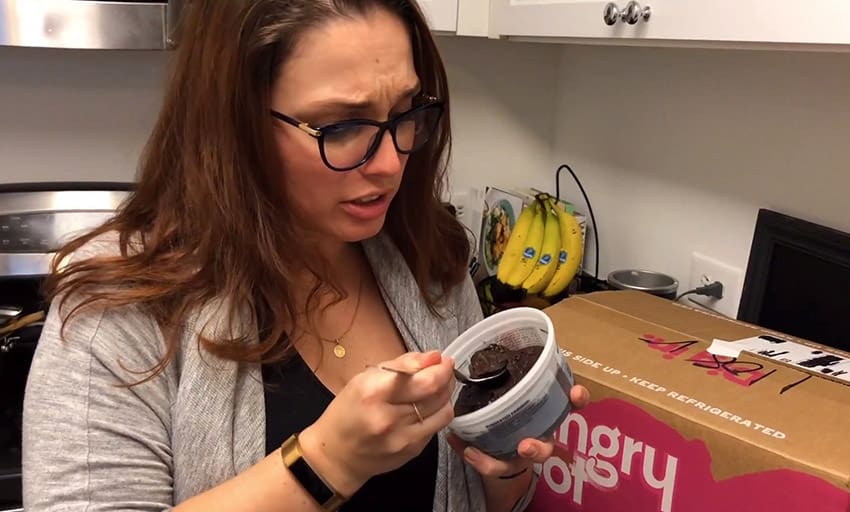 In our most recent box, we decided to try out their Beyond Meat Burger's. It was super simple to make — just cook up the burgers, toast the buns, and spread on the avocado crema.
This was our first time trying any type of plant-based burger and I have to say I was super surprised at how good it was.
The Beyond Burger itself did actually taste like a burger. Sure, you're not biting into an award winning, grilled to perfection, juicy beef burger. But if you didn't tell me that was a plant-based burger, I would not have known.
Overall, it was a great recipe — relatively healthy, easy to make, very little cleanup, and it tasted great.
Of course, if you've watched any of our other Hungryroot review videos (list below) you know we're obsessed with their Black Bean Brownie Batter. This is actually something they've had since they started out as just a plant-based meal delivery service and I'm very happy they decided to keep it all these years later. It tastes like brownie batter but it's made almost entirely from black beans. It's a delicious mind trick! If you like chocolate and decide to order a Hungryroot box for yourself, I highly recommend throwing it in your first order (currently only 4 credits).
Hungryroot Pros vs Cons
Now that you've had a chance to read our personal review of Hungryroot, let's go over the pros and cons of this service so you can decide if it's right for you...
Hungryroot Pros
Very unique and fun meals. Out of all of the meal kits we've reviewed, Hungryroot definitely has some of the most unique food options (in a good way). To give you an example, they're one of the only boxes we've tried (so far) that has Beyond Meat Burgers as meal options.
One of the few meal kits with vegan plan. While Hungryroot offers a variety of different meal options to suit different diets, you can customize your own plan to only be vegan.
In addition to breakfast, lunch, and dinner, they also offer sides and snacks. Very rarely do you see meal kits even offer breakfast options so seeing such a wide array of different foods and meals is a huge plus.
Very easy to cook. Many of the foods they send are either pre-cooked or need very little preparation prior to eating.
Hungryroot Cons
Some meals may need a little "extra". They provide you with the core of the recipe but sometime you may need to add extra ingredients to bring out flavor.  Not a huge deal though — just have the basics like salt, pepper, and other spices on hand and you should be good.
The "marketplace" could be confusing. Ordering recipes and/or foods for your box works in a few different ways. You could only order meals (where they send just the ingredients needed), you could only order groceries, or you could order a mixture of both.
It could be tough to use all your credits each week. Sometimes I find myself trying to figure out how to use last credits in my account for the week. Unfortunately, they don't roll over to the next week.
Final Thoughts — Is Hungryroot Right For You?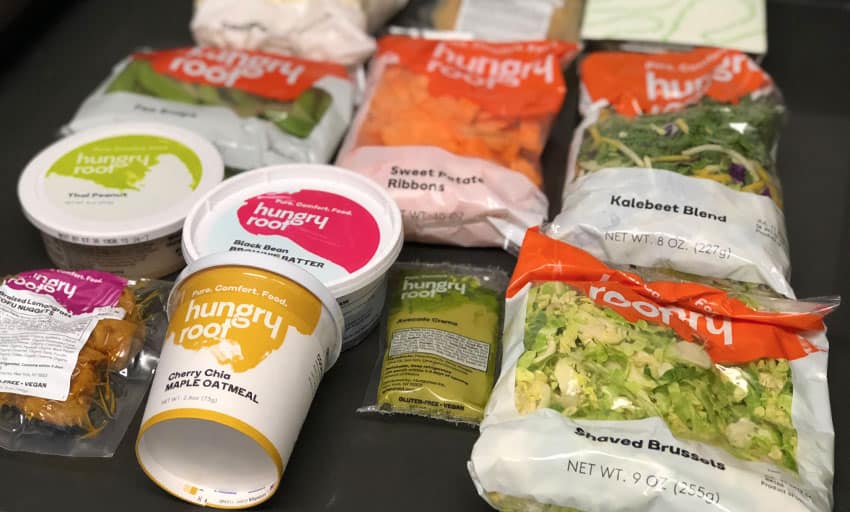 The new version of Hungryroot really surprised me. It seems like it could be the future of grocery store and meal kits.
I love the fact that you can customize nearly every aspect of your plan and that they offer healthy alternatives to everything from burgers to chocolates.
If you're someone who's looking to save time, eat better, and try out some new food experiences, Hungryroot might be the perfect pick.
Check out our previous video reviews of Hungryroot below:
Have a question about Hungryroot we didn't answer? Have you tried Hungryroot before? Leave a comment below!