How often have you tried sticking with a diet, only to fall back to old eating habits within the first couple of weeks?
This is a far too common occurrence among those trying to follow a diet for the purpose of losing weight. Often, the main cause of this is the amount effort it takes to follow a specific diet can be too overwhelming for the average person to handle.
Instead of eating your normal go-to meals, you have to plan ingredients, portion sizes, what meals you'll be eating, the amount of calories, and much more.
This can be a lot, and there's no wonder so many people fall off the bandwagon. The good news is that there are a number of meal delivery services out there that can help you along your weight loss journey. Some have specific weight loss programs, while others offer nutritious, balanced meals to help you eat better. Today we're going to be exploring our favorites based on 5+ years of reviews.
Before we dive into what these services are, let's address one phrase you'll hear frequently throughout this article: healthy weight loss.
What Does Healthy Weight Loss Mean?
When one has a weight-loss goal in mind, it's normal for them to want to see results and lose weight as quickly as possible. This happens because there's a focus on the end goal; how one will look and feel. While this is completely natural, it won't help you reach your goals, nor is it good for your health. Why? Research shows that people who lose weight fast (mostly through a low-calorie diet), often regain the weight (plus more than they started out with) within a couple of years.
For someone just starting on their weight-loss journey, that might be the last thing you want to hear. This is why it's important to lose weight at a consistent and steady pace. Medical professionals suggest about 1 to 2 pounds per week. It's also important to consider other factors that will promote healthy weight loss and what will help keep the weight off in the long run. This includes lifetime dietary changes, lifestyle adjustments, and exercise routines.
According to the CDC, "Healthy weight loss isn't just about a 'diet' or 'program'. It's about an ongoing lifestyle that includes healthy eating patterns and regular physical activity."
All of the meal delivery services in this article promote healthy weight loss, whether through a specific program or by promoting healthy eating patterns.
Now, let's dive into the best meal delivery services for weight loss.
Food Box HQ Note: Do be aware that this article is not a replacement for medical advice. We are not dieticians, nutritionists, or doctors. You should speak with a professional before stopping or starting any diet.
Best For Whole30 Diet
Fresh N' Lean
What It Is: If you're looking for delicious, ready-to-eat meals and a variety of different diet plans, check out Fresh N' Lean. They offer a wide selection of pre-made meals specifically crafted to help you along your weight loss journey. They're also a great choice if you follow a specific diet, such as Paleo, Keto, or Vegan since they have plans for many popular diets. Though, the program they offer that is most gear towards helping people with weight loss is their Whole30 Approved plan. If you're not familiar, the Whole30 diet is a 30-day reset program that encourages you to cut out sugar and alcohol from your diet. Each meal is dairy, soy, legume, grain, and gluten-free (which also helps reduce inflammation). The goal of Whole30 is to ease you into a lifestyle change that can help with weight loss while at the same time eliminating and then slowly reintroducing certain foods to see how your body reacts. From our tests here at Food Box HQ, we believe this is a great service to choose if you're looking for pre-made meals that will help you follow your Whole30 diet and shed some weight.
Types of Meals Offered: Breakfast, Lunch, Dinner, Dessert, and Snacks
Lowest Price Per Meal: $10.63 per meal on the Whole30 plan.
Examples of Fresh N' Lean's Meals:
Roasted Chicken Thigh with Cilantro Cream and Veggies
Pesto Veggies with Salmon
Ginger Sweet Potato Bowl with Shrimp
Zucchini and Bell Pepper Frittata
Why Fresh N' Lean Made The List:
Fresh N' Lean has made our list of top Whole30 meal delivery services year over year due to consistent meal quality, ease of use, and their ability to cover every meal (breakfast, lunch, and dinner).
They use organic and fresh produce. Plus their meat is grass-fed and free from any antibiotics or hormones.
Fresh N' Lean is one of the few meal delivery services that gives you immense control over the ingredients in your meal. This makes them ideal for those who are either picky eaters or have very specific food allergies.
Being pre-made, they cut out a lot of the friction of having to prep and cook meals yourself.
Best For Following Weight Watchers (WW) Program
Blue Apron
What It Is: If you're on a Weight Watchers (WW) program or considering joining, then you'll definitely want to look into Blue Apron. This popular meal kit offers "Weight Watcher" approved recipes, each of which displays the number of points for that meal. This feature is found on Blue Apron's Signature, Signature for 4, and Wellness plan. Even if you're not a part of Weight Watchers, we believe Blue Apron is still a great choice to consider. Having used Blue Apron since 2017, we found their Wellness plan offers meals that are both nutritionally balanced and nutritionist-approved. What we found nice about Blue Apron is that you can use their meal kit to learn to craft delicious and nutritionally balanced meals without the added stress of full on meal planning (e.g. scouring the web for weight loss oriented recipes, grocery shopping, prepping, and cooking). One downside to Blue Apron is that they can only support up to 4 recipes per week.
Types of Meals Offered: Lunch, Dinner, Wine, Kitchen Essentials
Lowest Price Per Meal: $7.49 (for their signature plan, with 4 people and 4 recipes selected). The average price per meal is $8.99.
Examples of Blue Apron's Meals:  
Sheet Pan Trout with Green Goddess Potatoes and Arugula
Curry & Soy-Glazed Chicken with Zucchini and Cashews
Couscous Stuffed Poblano Peppers with Spinach, Raisins, and Tahini Dressing
Sweet Chili Roasted Vegetables with Brown Rice and Cucumber-Yogurt Sauce
Why Blue Apron Made The List:
Blue Apron is the only meal kit currently available that has a direct partnership with Weight Watchers (WW), allowing you to more easily follow their systemized weight loss program. This convenience means no more having to add up points based on ingredients in a meal—it's all done for you already.
Their menu rotates every week, allowing you to try different meals and cuisines. We found this amount of variety can keep the WW diet from becoming boring or repetitive.
Using a meal kit like Blue Apron allows you to improve your cooking skills while also learning how to craft nutritionally balanced meals for your weight-loss journey. This can help you make better meal choices over the long-term by allowing you to learn recipes you can incorporate into your diet down the road.
Best For Following A Personalized Weight-Loss Program
Nutrisystem
What It Is: Nutrisystem is one of the most popular pre-made meal delivery service options specifically built to help aid in weight loss. Their program is one of the most unique that we've seen. This is because unlike other options on this list, Nutrisystem encourages you to eat 6 times per day. However, each meal is a smaller portion size than what you'd find with other meal delivery services on this list. This style of eating is research-backed to encourage weight loss. Signing up for Nutrisystem also gives you access to one-on-one coaching, and a meal plan that's specifically tailored to your needs. They take into account things like age, gender, weight, height, goals, lifestyle, and more to help create a plan that is best suited to your needs. Nutrisystem also has plans for diabetics, vegetarians, and those who have certain dietary restrictions. We found Nutrisystem to be a great service for those who would like a more personalized weight loss program with both support and guidance.
Types of Meals Offered: Breakfast, Lunch, Dinner, Dessert, and Snacks
Lowest Price Per Meal: $9.99 (per day).
Examples of NutriSystem's Meals:
Beef Lo Mein
Artichoke and Spinach Stuffed Chicken Breast
Classic Hamburger
Buttermilk Waffles
Lemon Zest Cake
Why Nutrisystem Made The List:
We found that Nutrisystem offers one of the best personalized weight loss programs currently on the market.
Due to the way that their program is set-up, they not only help guide you with the nutritional aspect of losing weight but also the mental aspect (through their coaching and dietician support).
We found that their menu has a lot of variety and generally consists of traditional, home-style meals (nothing too adventurous). This makes them an ideal option for more picky eaters.
Best For Meal Variety
BistroMD
What It Is: If you're looking for a weight loss program that offers the most amount of meal variety, you'll want to look into BistroMD. They offer a few different programs: Full Week, Work Week, and Custom. The 7 day, Full Week plan is 7 breakfasts, 7 lunches, and 6 dinners with one night off for you to eat whatever you desire (AKA a "cheat meal"). From our tests, we found this plan makes following a diet incredibly easy. Not only is every meal is already planned and prepared for you, we found that the meals don't feel like "diet food". They're pretty flavorful and there are a number of different options for every type of eater. The specific plans that BistroMD offers are based on gender and dietary needs. This includes a men's program, women's program, heart-healthy plan, diabetic-friendly plan, and gluten-free plan. With BistroMD, you can also work with one of their dieticians to craft a plan specific to your dietary needs and weight-loss goals.
Types of Meals Offered: Breakfast, Lunch, Dinner, Dessert, Sides, Drinks, and Snacks (as an add-on)
Lowest Price Per Meal: $7.50 (first week), $9.99+ average price per meal
Examples of BistroMD's Meals:
Tilapia with Orange Parsley Sauce
Green Chile Pork with Southwest Salsa
Chicken with Lemon Peppercorn Sauce
Artichoke, Spinach and Roasted Red Pepper Frittata
Chocolate Espresso Cheesecake
Why BistroMD Made The List:  
BistroMD meals are designed by doctors in an effort to craft food that is both tasty and helps guide healthy weight-loss. In fact, one of the founders is a triple board certified physician and created BistroMD to help people live healthier lives through what they eat.
When we tested BistroMD, we found there to be zero stress around meal planning, prepping, or cooking, making the entire process of following their plan super simple. Since their meals are pre-made, everything you need to follow their diet is within their program.
They offer a wide selection of breakfast, lunch, and dinner options, as well as a fairly large snack menu.
While each of their meals are portion controlled, we found that they still did a good job of filling us up (and keeping us full until the next meal). From our experience, we found many of their meals to be high in protein and fiber, which helps keep you feeling satiated longer.
Best Low-Calorie Pre-Made Option
Veestro
What It Is: Veestro is a pre-made, vegan frozen meal delivery service. They have a weight-loss program that offers 3 meals a day, for 5 or 7 days (depending on the plan) with approximately 1200 daily calories. Keep in mind that this could be a bit too restrictive of a calorie deficit for many so their program may need to be supplemented. Veestro allows you to add certain filters to the menu when selecting meals, such as gluten-free, nut-free, high-protein, and more, which aids those with specific food allergies. If you don't want to follow their weight loss plan or you want to access to meals that will add up to beyond 1200 calories per day, you can opt for their a la carte plan, which offers more meal variety than what you would find on the weight-loss plan. This is because the weight-loss plan filters out meals that are over a certain number of calories. Compared to other similar vegan meal delivery services, Veesto has an extensive menu. Their weight-loss plan has close to 40 different meals to choose from. However, one drawback is we noticed that it doesn't seem to rotate in new meals too often.
Types of Meals Offered: Breakfast, Lunch, and Dinner
Lowest Price Per Meal: $11.93
Examples of Veestro's Meals:
Creamed Spinach Bombay
Kale & Quinoa Salad
Miso Udon
Thai Chick'N Stew
Oatmeal Breakfast Pie
Why Veestro Made The List:
Veestro makes meeting a strict number of calories easy with their weight-loss plan, which caps daily calories to around 1200.
With Veestro, you can have every meal planned and prepared, 5 or 7 days a week. Structuring their plan this way makes it easy to have meals covered for the work week or for the whole week.
They use fresh, organic, and non-GMO produce. Plus, every meal is free from preservatives, artificial flavors, and ingredients.
Because all of their meals come pre-made and frozen, they're a great plan to consider if you have a busy lifestyle and don't have the time to cook every night.
Unlike other meal delivery services, you aren't stuck using their weight-loss plan. If you'd prefer to try other meals they offer or increase your daily calories, you can always switch to their a la carte plan.
Best For New Cooks
HelloFresh
What It Is: HelloFresh is one of the most popular meal kits on the market, and for good reason. They offer some of the highest quality and tastiest meal kit meals we've tested here at Food Box HQ. All of their ingredients are sustainably sourced, organic (when possible), and fresh from local farms. While they have a range of plans available, we recommend the Fit & Wholesome plan for weight loss, as these meals are going to have fewer carbs and calories. From our time using HelloFresh, we found their meal kit to be one of the best when it comes to guiding you through the cooking process. This not only makes their meal kit more manageable for new cooks looking to lose weight but it also gives you the ability to learn easy-to-follow recipes you can make in the future. One downside is that, like Blue Apron, they cannot support meals for every single meal of the day for an entire week (only up to 6 meals per week).
Types of Meals Offered: Breakfast, Lunch, Dinner, Dessert, Snacks, and Other Grocery Items
Lowest Price Per Meal: $7.99 (for 4 people and 6 recipes per week)
Examples of HelloFresh's Meals:
Creamy Lemon Butter Chicken with Parmesan Zucchini Rounds & Scallion Couscous
Pecan-Crusted Chicken with Honey Mustard Sauce & Lemony Apple Salad
Saucy Pork Burrito Bowls with Cilantro Citrus Rice, Charred Poblano, & Salsa
Mom's Magic One-Pot Chicken Noodle Soup with Mixed Veggies, Lemon & Dill
Why HelloFresh Made The List:
Compared to other similar meal kits with weight loss plans that we've tested, we believe HelloFresh has some of the best meal variety. This makes their meal kit a good option for those who'd like to try new and interesting cuisines.
HelloFresh uses organic, fresh produce and meat raised without antibiotics or hormones.
In addition to meals, HelloFresh is one of the few meal kits that also allows you to add other items to your box each week (this includes things like snacks and even some produce).
We found HelloFresh to be one of the best meal kits to learn how to cook.
Best Combined Diet & Fitness Program
Trifecta Nutrition
What It Is: If you're looking to exercise and diet in an effort to lose weight, Trifecta Nutrition might be the best option for you. They're a pre-made meal delivery service that supports athletes and those trying to eat healthier. If you are following a keto or paleo diet, they have plans specifically for those diets, as well as a vegan and vegetarian meal plan. To start, they have you take a quiz that tells them what they need to know to craft a specific plan for your needs. Then, you can choose from one of two categories—convenience or control—each of which has its own meal plans to select. With the convenience plan, they pick the meals for you and this is where you would find the diet-specific plans (like keto or paleo). The control plan allows you to pick each meal a-la-carte and offers plans such as meal prep (you craft each meal), classic, budget meal prep, and meat lovers. What makes Trifecta Nutrition really stand out among the others on this list is the fact that they combine diet and nutrition with fitness through their program. Much of this is done through their mobile app. Using their mobile app allows you to track daily macros, meals, workouts, and more. They even have a comprehensive library of workout routines and movements.
Types of Meals Offered: Breakfast, Lunch, Dinner, and additional meat
Lowest Price Per Meal: Pricing is dependent on the plan and customizations you make. The lowest price per meal is $11.42 on their vegan and vegetarian plans.
Examples of Trifecta's Meals:
Korean Beef Bulgogi
Roasted Chicken Breast with Asparagus
Sausage and Egg Scramble with Sweet Potatoes
Why Trifecta Made The List:
They have plans that are specific to the keto and paleo diets, as well as a plan that gives you full control of your meals.
Their meals cater to a variety of dietary needs/restrictions. In our tests, we found them to be highly accommodating to food allergies and sensitivities.
Their program is designed to support weight loss in the form of both nutrition and fitness. In doing so, they've created one of the best mobile apps we've seen out of all of the meal delivery services we've tried in the past. It supports a wide range of dietary and fitness tracking as well as coaching and a library of educational material.
Best For Portion Controlled Smoothies
Daily Harvest
What It Is: If you're looking to incorporate more plant-based eating into your diet to help shed some extra weight, consider taking a look at Daily Harvest. They're a vegan, frozen meal delivery service. While they don't have a specific weight loss plan like Veestro does, Daily Harvest is known for their delicious and adventurous pre-portioned smoothies. In fact, we enjoyed their smoothies so much that they've made our top picks list of smoothie delivery services year over year. What makes their meal delivery service nice is that you can ease into your weight loss journey on your own terms. Since everything is a la carte, you're not forced into eating their meals for every single meal. In fact, we found simply starting with the smallest plan they offer and ordering their smoothies is a great way to have a breakfast or lunch filled with fruits and vegetables. In addition to smoothies, they offer number of bowls, flatbreads, oat bowls, chia bowls, and more. We've taste tested every category of food they offer and can tell you from experience that the vast majority of what they offer is delicious. Daily Harvest's plans are quite simple, you just select the size box you would like and then select your desired items. The box sizes are small (9 items), medium (14 items), and large (24 items). Small and medium boxes are delivered weekly, while the large can be delivered weekly or monthly.
Types of Meals Offered: Breakfast, Lunch, Dinner, Desserts, Snacks, and Drinks
Lowest Price Per Meal: $5.99
Examples of Daily Harvest's Meals:
Sweet Potato + Wild Rice Hash Harvest Bowl
Cauliflower Rice + Pesto Harvest Bowl
Chickpea + Coconut Curry Harvest Bake
Tomatillo + Pepper Flatbread
Cherry + Dark Chocolate Oat Bowl
Banana + Almond Smoothie
Why Daily Harvest Made The List:
Being that their plans are so flexible, we found Daily Harvest to be a great option for those looking to ease their way into a new diet.
Every meal is packed with vegetables and fruit, meaning you'll be receiving plenty of dietary fiber, flavonoids, and antioxidants in your meals.
They have sustainable sourcing practices that support regenerative/sustainable agriculture.
They use organic, fresh ingredients from local farms.
Daily Harvest has an expansive menu featuring a number of breakfast options, which is not something we often see when it comes to pre-made meal delivery services.
They are one of the most inexpensive meal delivery services on this list.
Best Meal Kit For Diet-Specific Meals
Sunbasket
What It Is: Sunbasket is an organic meal kit that specializes in more eclectic and adventurous meals than any of the others we've covered. Due to the fact that they craft unique recipes, their meal kits can be a bit more involved—good if you're looking to expand your cooking skills. What really sets Sunbasket apart from other meal kit services on this list is how accommodating they are to specific dietary needs and restrictions. This is shown in their plan variety, which includes Paleo, Carb-Conscious, Gluten-Free, Diabetes-Friendly, Lean & Clean, Carb-Conscious, and more. Additionally, they allow you to exclude specific ingredients. From our experience, we found that the Carb-Conscious and Lean & Clean plans are best for supporting a healthy diet and weight loss. The Lean & Clean plan has meals with less than 600 calories per serving, and the Carb-Conscious plan offers a number of low-carb meals, each 25-35g net carbs or fewer per serving. Sunbasket has evolved a lot over the years, since we first reviewed them. They're much more than meal kit service these days, as they now offer a marketplace full of add-ons such as cheeses, meats, crackers, pre-made meals, and more.
Types of Meals Offered: Breakfast, Lunch, Dinner, Snacks, Drinks, Desserts, and additional Meats
Lowest Price Per Meal: $9.99
Examples of Sunbasket's Meals:  
Chipotle Shrimp and Cajun-spiced Potato over Romaine Salad
Roasted Lemon-pepper Chicken and Asparagus with Yogurt-feta smear
Spice Pakistani Beef Keena with Potatoes, Green Beans, and Tomatoes
Portobello & Spinach Empanadas
Why Sunbasket Made The List:
Sunbasket is highly supportive of specific diets, allergens, and preferences.
They practice sustainable sourcing practices and use the high quality, organic produce, and meats (grass-fed, antibiotic, and hormone-free).
We found their meal kit meals to be both delicious and adventurous (great for brave cooks and eaters).
For added convenience, they offer pre-made meals and an extensive marketplace. In our tests, we found that Sunbasket is one of the few meal delivery services that comes close to replacing grocery store trips altogether.
Best For Making Better Long-Term Food Decisions
Splendid Spoon
What It Is: Splendid Spoon is a pre-made vegan meal delivery service that is somewhat similar to Daily Harvest. However, unlike Daily Harvest, Splendid Spoon has specific programs set up to help people change their eating habits. They specialize in "grab n' go" style breakfast and lunch meals, including soups, grain/noodle bowls, smoothies, and juices. They offer a few different plans, including "Breakfast", "Breakfast, Lunch + Reset", and "Breakfast, Lunch, Dinner + Reset". The Breakfast, Breakfast, Lunch + Reset plan is what they say their customers use in an effort to lose weight. The "reset" is a day where you eat light soups and you're encouraged to avoid sugar, alcohol, and processed foods. For those making the transition to a new diet, this type of mental shift when it comes to nutrition is key for making long-term changes. All of their meals are plant-based and, based on our experience, have high amounts of fiber, antioxidants, and nutrients.
Types of Meals Offered: Breakfast, Lunch, Smoothies, Juices, and Snacks
Lowest Price Per Meal: $7.50
Examples of Splendid Spoon's Meals:
Green Tomatillo Soup with Tofu & Navy Beans
Kimchi Fried Quinoa Grain Bowl with Turmeric & Edamame
Cumin Sweet Potato Puree Soup
Creamy Mushroom & Spinach Noodles
Tropical Greens Juice
Why Splendid Spoon Made The List:
Though Splendid Spoon doesn't make any weight-loss claims, they say that many people have lost weight by using their service.
We found them to be one of the best weight loss meal delivery services for those who are looking to change their decision making process when it comes to nutritious food. By having a "reset" day they encourage people to make healthy eating behaviours on their own.
Their smoothies are pre-made and ready to drink, which we found to be great for when you're on the go.
Best For Highest Quality Pre-Made Meals
Factor Meals
What It Is: Factor Meals (also called "Factor_" and "Factor 75") is one of the highest quality, pre-made meal delivery services we've reviewed. This is mainly due to the fact that they use clean ingredients that are organic, non-GMO, gluten-free, and soy-free. Additionally, the meat is grass-fed, pasture-raised, and antibiotic/hormone-free. None of their meals have any refined sugars, preservatives, natural flavors, artificial flavors, or high-processed ingredients. Their plans are pretty straightforward. You start by selecting your preference (keto, calorie smart, etc), then select how meals you would like each week. The quantity of meals ranges from 4 to 18 meals per week and includes add-ons such as snacks, drinks, soups, and desserts.
Types of Meals Offered: Breakfast, Lunch, Dinner, Snacks, Desserts, and Drinks
Lowest Price Per Meal: $11.00
Examples of Factor's Meals:
Jalapeno Popper Burger with Cauliflower 'Popper' Rice & Roasted Zucchini
Creamy Parmesan Chicken with Roasted Broccoli & Tomatoes
Shrimp Alfredo with Zucchini Noodles & Broccoli
Stuffed Pepper Casserole with Roasted Green Beans
Why Factor Meals Made The List:
They give you access to their online nutritional coach who can help you design a diet to meet your weight-loss goals.
Many of the meals that they offer are geared towards the keto diet, which restricts carbohydrates. This could make Factor a great option if you are looking at cutting carbs in an effort to lose weight.
From our experience trying Factor, we found that their menu has a ton of variety and rotates every week.
All of their meals are crafted by chefs who work closely with dieticians to ensure each of their meals is nutrient-rich.
Best Plant-Based Meal Kit
Purple Carrot
What It Is: Purple Carrot is both a meal kit and pre-made meal delivery service that is fully plant-based. Studies have shown that following a plant-based diet not only helps you lose weight but also helps lower blood pressure and LDL cholesterol levels. Essentially, eating more plants is one of the best ways to improve one's diet, but it can also be challenging. With Purple Carrot, you have a lot of options for leaning into a plant-based diet to lose weight. We found their meal kit plan to be a great way to learn how to make delicious plant-based meals. Their recipes aren't stereotypically vegan (e.g. salads or pastas). For example, in the video review above, you'll see that we used Purple Carrot to make tasty tofu dumplings. We found making these unique plant-based meals to be a fun way to learn new vegan recipes that are more adventurous than your typical salads. On the flip side, if you don't want to cook, you can also check out their pre-made meal plan. Unlike Veestro, these pre-made plant-based meals are fresh (not frozen).
Types of Meals Offered: Breakfast, Lunch, Dinner, and some Pantry Items
Lowest Price Per Meal: $4.49 per serving for breakfast meals, $9.99 per serving for dinner meals.
Examples of Purple Carrot's Meals:
Spring Vegetable Gnocchi with White Beans & Lemon-Basil Butter
Crispy Quinoa Cakes with Rosemary Mushrooms & "Lemony" Arugula
Creamy Corn Bisque with Cilantro & Smashed Avocado Tostadas
Curried Cauliflower Tartine with Hummus & Roasted Red Peppers
Breakfast Tacos with Crispy Potatoes & Chipotle Aioli
Why Purple Carrot Made The List:  
Out of all of the plant-based meal kits that we've tested in the past, we found that Purple Carrot offers some of the largest amount of variety when it comes to recipes.
We found that Purple Carrot does a good job of leaning into plant-based meals that are more than the usual pasta-based dishes and salads.
In addition to meal kits, Purple Carrot has a pre-made meal plan for added convenience.
Best All-In-One Option
Hungryroot
What It Is: Hungryroot takes meal planning for your diet to the next level, by offering meal kits, pre-made meals, and an online grocery store. When we originally tried Hungryroot they were a fully vegan meal kit but they've since evolved their service to become more of a hybrid between a grocery store and meal delivery service. They've also now incorporated lean meats into their meals. Everything you need to follow a diet to reach your weight-loss goals can be found with their service, including fresh produce, meats, and essential pantry items. We found all of the food we tried from Hungryroot to be very high quality and made with clean, organic ingredients. To start, they have you take a quiz to go over any dietary restrictions/preferences, how many people you're feeding, and what your goals are with Hungryroot. Then, they show you their recommendations based on your answers. Each meal is fully customizable with the ability to swap one ingredient for the other, as well as bulk up on favorite ingredient items. Plus, after each delivery, you can rate your experience so that Hungryroot can continue to make recommendations based on your needs/preferences. How much you receive in your box is also fully customizable, making them a very flexible service to try.
Types of Meals Offered: Breakfast, Lunch, Dinner, Snacks, Desserts, Fresh Produce, and other grocery items
Lowest Price Per Meal: Hungryroot meals can vary in price because the cost is based on each ingredient in the recipe. Their lowest cost per meal is around $5.50, but the price will differ depending on the meal you choose.
Examples of Hungryroot's Meals and Grocery Items:  
Spinach Artichoke Salmon + Shaved Brussels
Coconut Curry Chicken Power Bowl
Fresh Cut Pineapple
Sweet Baby Broccoli
Cauliflower Linguine
Pumpkin Cinnamon Granola
Why Hungryroot Made The List:  
Hungryroot is one of the most unique meal delivery services we've tried. You can use them as a meal kit, pre-made meal delivery service, a grocery delivery service, or all 3. For those looking to lose weight, this provides a lot of flexibility to shape Hungryroot to best fit your daily lifestyle and needs.
Every item Hungryroot offers is fresh, organic, and sustainably sourced.
Their meals and plans are some of the most customizable that we've seen. What's great about this is you're never locked into a certain number of items you need to buy because of the way they structure their meal delivery service.
Hungryroot is highly accommodating to allergies and dietary restrictions/preferences.
Why Healthy Eating Promotes Natural Weight-Loss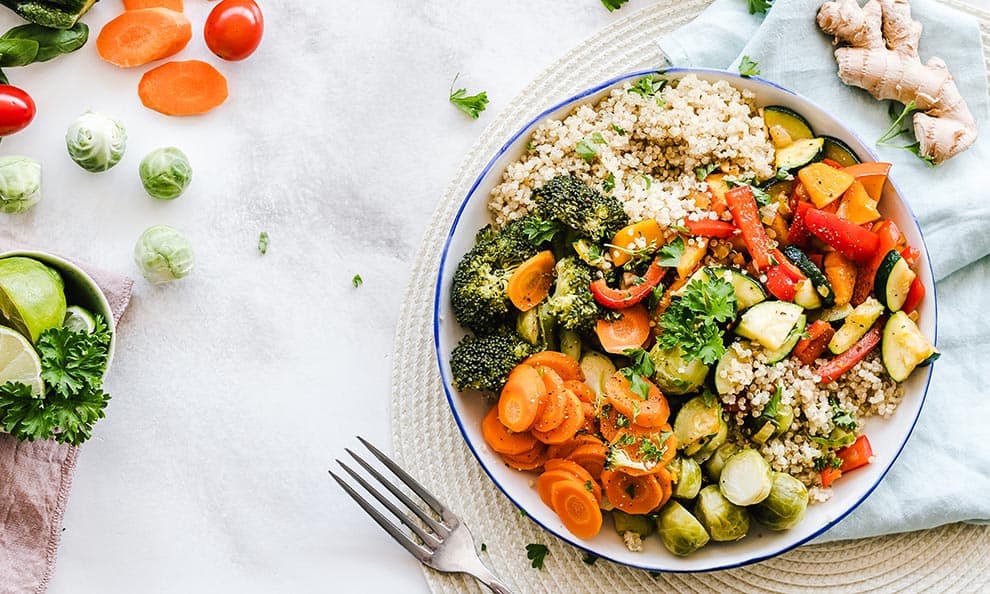 You may have noticed that many of the services we included in this article don't have a specific weight-loss program, rather they offer healthy, nutritious meals (focusing on unprocessed whole foods, fruits, and vegetables). We made a conscious effort to include these types of services because they promote healthy eating habits long-term, which helps one to lose weight in a more natural and balanced way.
By eating meals with whole food ingredients, one isn't consuming refined sugars, highly processed foods, trans fats, or artificial ingredients—all of which leads to weight gain. Eating high amounts of these things can also lead to not receiving adequate nutrients that support a healthy metabolism, such as fiber, healthy fats, minerals, and vitamins. By making the move to consuming fruits, vegetables, grains, and meats in their whole, minimally processed form, you're consuming high amounts of nutrients that support a healthy metabolism. A healthy and balanced metabolism is the key to supporting healthy weight loss.
It is for this exact reason we included a number of plant-based meal delivery services on this list. Diets high in fiber (which is found in most vegetables, fruits, and legumes), are proven to reduce the risk of heart disease, diabetes, high cholesterol, and promote healthy weight loss. Plus, plants contain high amounts of flavonoids and antioxidants, which help with inflammation and free radicals throughout the body, among many other benefits.
Which Weight-Loss Meal Delivery Service Is Best?
There are a lot of options on this list, and with so many to choose from, it might be hard to decide which one is best. Ultimately, deciding which service is right for you is dependent on what your needs are, your specific weight loss goals, and what you're looking for in a meal delivery service (more on that below). Nonetheless, we find it helpful to share which weight loss service we believe to be the best.
After evaluating convenience, value, and variety, our top pick is BistroMD. Here's why...
Their entire meal delivery service is designed around weight loss.
With their service, you have access to a personal dietician who helps create a diet plan to fit your unique needs.
They have an extensive menu with a ton of meal variety.
Having tried multiple boxes from BistroMD, we were pleasantly surprised at how flavorful they are for being a "diet" meal delivery service.
They're one of the few meal delivery services that offers a full 7-day plan so you don't have to spend any time cooking if you don't want to.
What To Consider When Choosing A Weight-Loss Meal Delivery Service
We understand that signing up for a meal delivery service can be a bit of a commitment. That's why we want you to be as prepared as possible. Before you finalize your choice, let's take a look at some important questions to consider to ensure you go with a weight-loss meal delivery service that best fits your needs.
Do You Want To Follow A Weight Loss Program?
If the answer to this is yes, then you'll want to go with a service that already has a weight loss program built into it, such as BistroMD, Nutrisystem, or Veestro.
The follow-up question is how in-depth do you want the program to be? If you're looking for a full-on program that will give you plenty of resources and support, we believe it would be best to go with either BistroMD or Nutrisystem.
Are You Following A Specific Diet?
The good news is if you're following a specific weight-loss diet, such as keto, paleo, or Whole30, there are plenty of services that offer plans for those diets.
Following a diet is tough already, so I find it to be super helpful when a service does the hard work of meal planning and prepping for me.
The services that offer the most diet-specific plans include Fresh N' Lean, Sunbasket, and Trifecta. That being said, every service on this list caters to diets in one way or the other.
Do You Prefer To Make The Meals Yourself Or Would You Like Them To Be Pre-Made?
If you're wanting a meal delivery service to help make mealtime more convenient, then you'll want to consider a pre-made meal delivery service. These services are great for those who live busy lives and don't want to think about what to make for dinner every night.
On the other hand, maybe you enjoy the process of cooking but meal planning is a bit stressful. With meal kit services, you'll still get to do all the hands-on work without the added stress of figuring out what the meal will be. Plus, meal kits can be a great way to improve one's cooking skills.
Do You Have Any Food Allergies?
Most of the meal delivery services listed here are going to be accommodating to dietary restrictions and specific preferences. Though, the level of accommodation varies from service to service. You can easily find if a service accommodates your allergy by looking at their menu. Many have a filter that will have you select what you don't want in your meals, such as dairy-free or gluten-free. Some are even accommodating to specific food preferences, such as no onions or cilantro, which you can exclude upon signing up.
That being said, we found the big meal kits like HelloFresh and Blue Apron are not as accommodating to allergies when compared to many of the others on this list. In order to make sure a service will work with your unique dietary needs, it's important to do some digging before signing up.
What Is Your Budget?
Ah, yes, the most important question of all (in my opinion). Knowing your budget beforehand, specifically how much you want to pay per meal, will help you in your search. That way you don't become excited about a meal delivery service only to find out it's not within your budget.
Luckily, many meal delivery services these days are reasonably affordable. That being said, if you're wanting to sign up for a weight-loss program, you may be paying more than you would with typical meal delivery services. This is because you're receiving more than just meals, such as online coaching and resources.
How Many Meals Do You Need Per Day?
Another way to ask this is how many mouths are you feeding? If you're trying to feed a whole family weight-loss friendly meals, you'll definitely want to consider a meal delivery service that will offer a high quantity of meals throughout the week so you can feed everyone. A good option in this case would be Fresh N' Lean.
We've found that most meal kits really only offer plans for 2 to 4 people. That means if you just have to feed yourself, you'll have to be okay with double the servings. Pre-made meal services, on the other hand, will offer mostly single-serving meals.
The follow-up question to this, is what types of meals are you needing for your lifestyle? Do you need breakfast, lunch, and dinner options, or just dinner? If so, then you'll want to go with a service that has a wide variety of menu options that support breakfast, lunch and dinner, such as Daily Harvest or Sunbasket.
Our Methodology For Selecting The Best Weight Loss Meal Delivery Services On This List
All of the weight loss meal delivery services listed in this article have been vetted by me and my team. This includes, but is not limited to, purchasing the product, reviewing the service in its entirety, taste tests, and more. You can read more about our review process here.
We use these specific guidelines to evaluate every weight loss meal delivery service we researched...
The meal delivery service has to offer a variety of weight-loss friendly meals to choose from.
They have to offer a weight-loss program, cater to specific diets, and/or offer nutritionally-balanced meals.
They have to offer high-quality and balanced meals. This includes, but is not limited to, organic and fresh produce, local produce, and high-quality meat.
The meal delivery service has to be able to ship to every state and town within the contiguous United States.
Have a question about any of the meal delivery services we covered in this article? Have you tried one of them before? Let us know in the comments below!