Over the years, Emily and I have dabbled in plant-based eating. One of the biggest headaches for us has always been trying to find an easy way to make vegan meals that isn't time consuming but still has the flavor and deliciousness of any of the non-vegan meals we usually make.
Sure, salads are great and we've even tried making our own vegan pizza but we really wanted variety. So when we initially stumbled upon Veestro back in 2017, we were intrigued. Is this the answer to our plant-based meal problems?
Well a lot has changed since then and we've completely updated this review to reflect it. Let's jump into our review of Veestro to help you get a better idea of if it's the right vegan premade meal delivery service for you…
How Veestro Works
Veestro is a premade meal delivery service that sends you fully made frozen vegan (plant-based) meals. They do not use any animals or animal byproducts in their foods.
They offer breakfast, lunch, and dinner meals that all range in cuisine types (more on this below).
Getting started on their site is pretty simple. When signing up, you'll have the option to subscribe to a weekly plan or make a one-time order. This is a huge benefit since most other meal delivery services only allow you to subscribe. After choosing your plan and delivery frequency, you'll be able to add meals to your box.
Veestro Plans
Veestro currently offers 3 plans, all of which are based on the amount of meals you'd like to receive in your box:
10 meal plan
20 meal plan
30 meal plan
Within each of these plans, you'll also be able to choose the delivery frequency you'd prefer. They can deliver every 1 week, every 2 weeks, or every 4 weeks.
One huge perk they offer is 50% off every 5th subscription order.
Meal Variety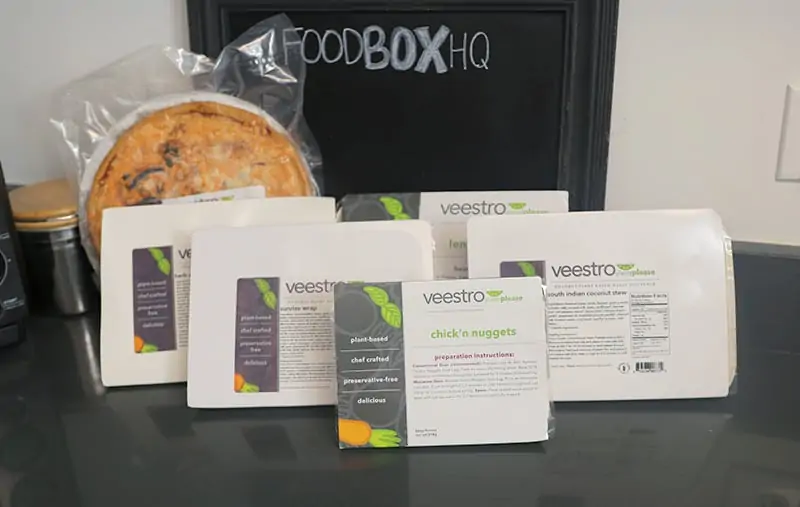 One thing Veestro really has going for them is meal variety. At any given time they have around 50 entrees and 8 breakfasts to choose from. That being said, do note that they don't rotate meals in and out as frequently as I've seen with other meal delivery services. So you're likely to see a lot of the same meals week after week. This could be a pro or a con depending on how you look at it. It's good for people who tend to find a meal and stick with it over time. It's not so good for adventurous eaters who prefer to try to meals all the time. Because they have a pretty extensive selection to choose from, I never found myself getting bored with any of the meals.
As for cuisines, Veestro has a good range to choose from. They offer dishes such as…
Plant-based fajitas made with kale, mushrooms, peppers, and rice
BBQ "Chik'n" Pizza made with vegan cheese
Chick'n Shawarma
"Shepherdless" Pie
One thing I've noticed from my experience using Veestro over the years is that they've changed up the types of foods they offer over the years pretty extensively. I remember when we first signed up to use them, we were able to add on extras like desserts, soups, and even juices. They don't offer extra addons like those any more, which is a bummer.
Diets Veestro Accommodates
While Veestro is known for their plant-based meals, they also have many meals that fall into the following diets:
High-Protein
Gluten-Free
Low-Calorie
Nut-Free
Soy-Free Kosher
Food Box HQ Note: Be aware of cross-contamination. Veestro says on their FAQ page, "our meals are produced in a plant which processes foods containing wheat, soy, nuts and seeds."
I have noticed that many of the meals we've had from Veestro tend to be high in sodium (over 600 mg per serving). To give you an example, their Turkish Meatballs are 680 mg of sodium. So if you're looking for a low-sodium meal delivery service, Veestro may not be the best option.
Frozen vs. Fresh Meals
There's a general misconception about frozen meals. When many people even hear the words "frozen meal" it conjures up images of those old school TV dinners loaded with questionable ingredients. The reality is, when done right, frozen meals can be as good, or at least close to, non-frozen premade meals (refrigerated).
Veestro meals are made the way many other premade meal delivery services make their meals, at a central kitchen. However, before being shipped out to you, they flash freeze the meal. The process of flash freezing can preserve nutrients with only minimal decreases.
Do Veestro's frozen meals taste as good as their fresh counterparts. From personal experience, that all depends on how you heat up the meal. When we first started getting Veestro, I would cook all of the meals in the microwave for convenience. Many of the meals came out soggy and bland. However, when I switched over to heating them up in the stovetop, the taste and texture improved dramatically.
Delivery & Packaging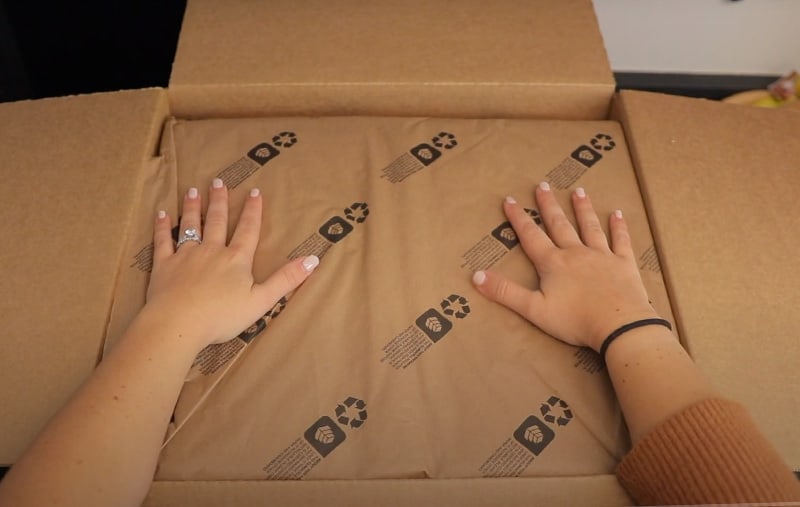 Veestro ships all of their meals using Fedex. There's also no need to be home when your box is delivered since there is no signature required to receive it.
Since these meals come frozen, Veestro packages every box with dry ice. Do be careful when unpacking the dry ice because it comes in big chunks that should not be touched.
The box itself is insulated very well and we've never had any issues with meals coming thawed or spoiled. The insulation is compacted recycled paper, which can go right in your recycling.
The meals themselves are also packaged very well. All of the meal trays are compostable and any plastic liners or pouches are recyclable.
Overall, I would consider Veestro to have some of the most environmentally friendly packaging, compared to many other meal delivery services out there. They focus on using recycled materials, offer compostable materials, and everything else can be recycled.
Taste Testing Of Our Recent Meals
Now let's get to the good stuff—how our meals actually tasted!
One thing I've noticed over the years is that Veestro meals can be hit or miss. When they're good, they're very good. On the flip side, I've definitely had to weed throw a lot of bland "duds". If you're looking to order your first box and don't want to wing it, feel free to add some of my personal favorites:
South Indian Cocount Stew
Chick'n Nuggets
Enchilada Casserole
Tortilla Chili
Chilaquiles (breakfast)
Quality Of Veestro Meals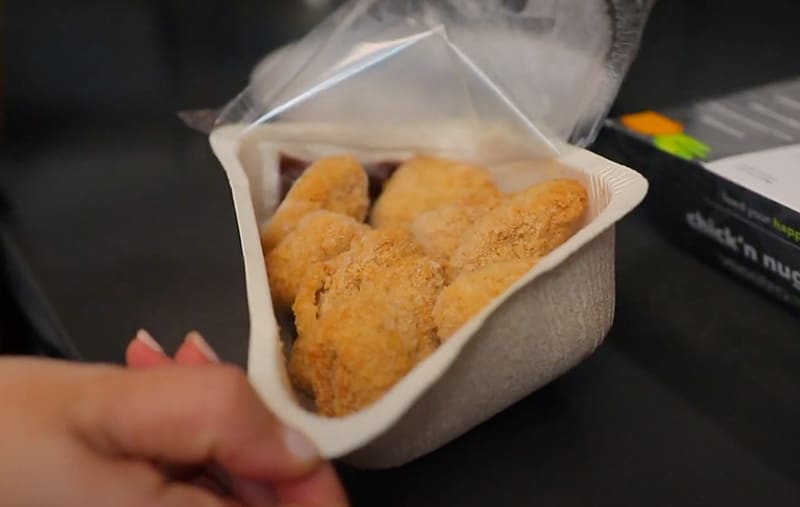 Being frozen, many people may assume Veestro meals are loaded with preservatives. That's actually not the case. In fact, Veestro meals not only do not have preservatives but they are also non-GMO and 96% organic.
That being said, as I mentioned above, I've noticed a lot of Veestro meals are relatively high in sodium. Also, many meals have natural flavors. This could be an issue for those following a vegan diet since natural flavors can come from both plants and animals.
Veestro Frequently Asked Questions
Since we first reviewed Veestro back in 2017 and have used them off and on since, we've received many different questions about their service. We've compiled the most frequently asked questions here with their answers to help anyone who may have the same questions.
How Long Can Veestro's Meals Last?
If kept in the freezer, the meals will stay good for up to 8 weeks. If kept in the refrigerator, the meals will stay good for around 3 to 5 days.
Can Veestro Be Used For Weight Loss?
Veestro does have a specific weight loss plan, which basically just narrows down their current selection of meals to the ones that are only 1,200 calories.
How Is Their Customer Service?
I've only had one interaction with their customer service team when we were accidentally sent the wrong item in one box and they were able to fix it without any questions.
How Do You Cancel?
Cancelling is simple and does not require you to contact them to do so or confirm. You simply log into your account and click on "Manage My Subscription", from there you can click "Cancel My Subscription".
Do They Allow You To Add On Extras?
No, unfortunately they do not. They used to have extras like juices and desserts but now they just stick to meals.
Veestro vs. The Competition
While Veestro was one of the first vegan premade meal delivery services out there, there are many more options currently available. Let's compare some of its similar competitors:
Sprinly: Sprinly is one of my personal favorite vegan meal delivery services. They're one of the only ones that sends fresh (not frozen) plant-based meals that go in your refrigerator. While it's definitely more expensive, I find Sprinly meals to be far superior to Veestro's when it comes to flavor and quality. Veestro does beat Sprinly when it comes to variety though.
Daily Harvest: Having first started as a smoothie delivery service, Daily Harvest is now a fully plant-based frozen meal delivery service. While Veestro and Daily Harvest seem the same, what they offer are both pretty different. Daily Harvest focuses on offering meals that are mainly "grab and go". This means smoothies, harvest bowls, soups, and more. In addition to meals, Daily Harvest also offers snacks and desserts like vegan ice cream.
Mosaic Foods: Relatively new to the frozen premade vegan meal delivery service industry, Mosaic Foods offers veggie bowls, soups, and oat bowls. I found the meals to have a lot of flavor, especially their veggie bowls. They also have a lot of variety to choose from, with around 40 meals at any given time.
All things considered, Mosaic Foods is most similar to Veestro in terms of offerings. I would also say that Sprinly and Daily Harvest are both superior options when compared to Veestro due to better quality and taste of meals.
Veestro Pricing
Veestro breaks up their pricing by meal based on what plan you decide to go with. Here's a rundown of the costs of each, including the per-meal cost and overall cost.
The 10 meal plan is $11.70 per meal, which comes out to $117 per order.
The 20 meal plan is $10.80 per meal, which comes out to $216 per order.
The 30 meal plan is $9.90 per meal, which comes out to $297 per order.
Every order always ships free.
Veestro Coupons
If you've made it this far and you're ready to order your first box, you're in luck! We've collected all of the best coupons and promo codes to help you save on your first box:
"VEGOUT25" will get you 25% off of your first order.
"HEALTHY30" will get you 30% off of your first order.
"HAPPY" will get you 10% off of your first order.
We include multiple different coupons here just in case one doesn't work or is expired. If any are not working, please let us know in the comments below and we'll update it as soon as possible.
Pros & Cons Of Veestro
Now that we've gone over every aspect of Veestro's vegan meal delivery service, let's cover what we loved and what we didn't…
Veestro Pros
It's a good for singles. It can be hard for those living alone to find meal delivery services that work since most send 2 servings. All Veestro meals are single serving, making it perfect for those who live along.
Easy way to go vegan. One of the main selling points of Veestro is that it is super convenient, just pull out a meal and pop it in the microwave. There's no preparation or cooking required. This makes it a great option for those who are looking to go vegan or are having a hard time cooking vegan meals.
They use mostly organic ingredients. There are very few organic meal delivery services out there these days so the fact that Veestro uses close to 100% organic ingredients is impressive.
 Veestro Cons
They don't rotate in new foods that often. While they do have a big selection to choose from, they don't often rotate their menu so this could be an issue for more adventurous eaters.
Some foods can seem a little bland. As mentioned above, their meals can be hit or miss, not every single one is a winner.
I found the sodium content to be a little high for my liking. If this bothers you, be sure to look at the nutritional info of each meal prior to adding to your box.
Final Thoughts: Who Is Veestro Right For?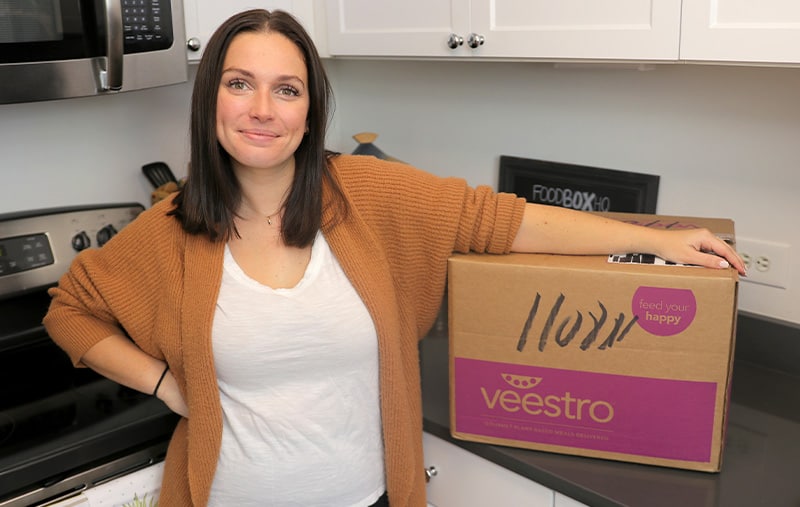 While convenient, I wouldn't necessarily call Veestro the best vegan meal delivery service out there. When they first came out, there was this "wow" factor that you could easily get vegan meals to support your plant-based lifestyle. And, at the time, they were one of the best options available since there was almost no other competition. Flash forward to today and competition has risen. Vegan meal delivery services like Daily Harvest and Mosaic Foods are similar and, in my opinion, have meals with more flavor.
All that being said, Veestro does have the most amount of variety when it comes to cuisine. There are no other premade frozen vegan meal delivery service out there that offer everything from comfort foods like pizza to more good-for-you options like kale and quinoa salad.
If you're looking for ease and convenience along with variety, Veestro is right for you.
Have a question about Veestro we didn't answer? Leave your comment below and we'll get back to you as soon as possible!