Following a vegan diet or plant-based lifestyle can be tough to do right.
Vegan meals can be a bit harder to find and make, compared to an omnivore/carnivore diet. Plus, there's a lot to think about when actually making a vegan meal from scratch. Are you getting enough of nutrients? Is it balanced? Are the ingredients truly 100% plant-based? Even after all that, does it taste any good?
That leads us to Sprinly...
Sprinly is a vegan meal delivery service that provides their customers with nutritiously balanced, plant-based meals that have been hand-crafted by their vegan chefs with organic ingredients. In addition to being 100% vegan, they're also gluten-free and never contain refined sugars or sweeteners.
But the best part is that you'll spend virtually no time in the kitchen because these pre-made meals simply need to be heated when you're ready to enjoy one and many can be enjoyed cold.
Let's dive into the details of Sprinly, including our personal experience, to see if it's right for you!
How Sprinly Works & How To Get Started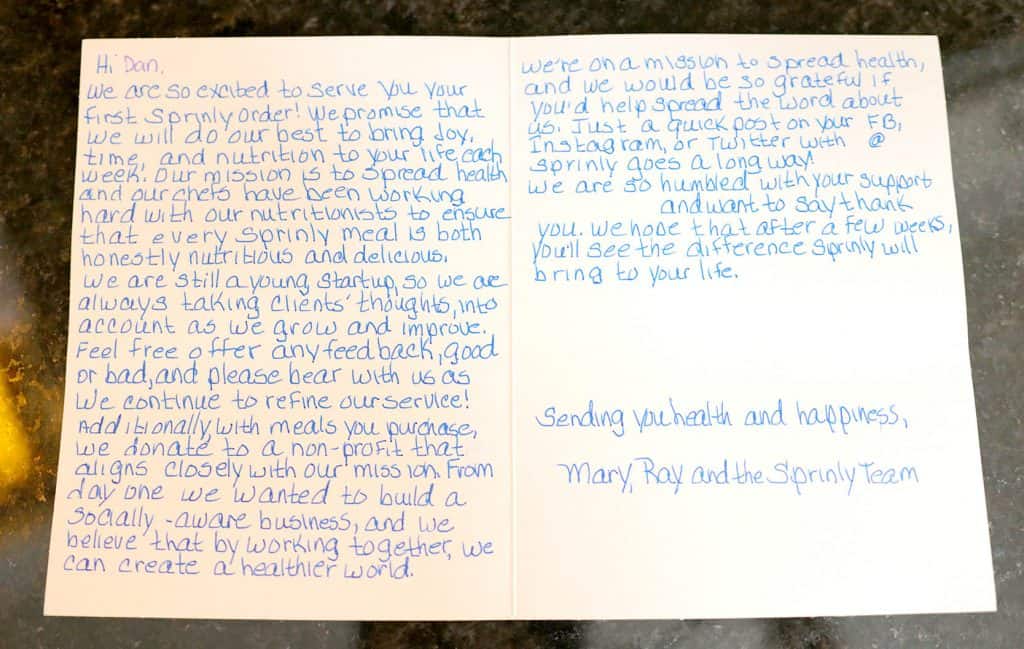 To get started and place your first order with Sprinly, you'll begin by choosing a weekly meal plan. There are three different options to choose from, which all depend on how many meals you'd like to receive every week.
You can go with six meals per week, 12 meals per week, or 18 meals per week. This will provide you with plenty of dishes to enjoy for lunch or dinner. FYI, there is no breakfast option.
After you've chosen your preferred meal plan, you'll then be able to select the plant-based meals you'd like to receive. Since the menu rotates each week, I've never had an issue with repetitive meals. The weekly menu has six options and you can choose however many of each meal you want or all of the same one if you'd really like to. Just make sure you make your meal selections by their deadline of 11:59 PM Eastern on Tuesdays. If you fail to choose your meals by this time, they will deliver one, two, or three of each dish, which gives you a variety to taste.
Types of Food They Offer
On Sprinly's menu, you'll find all kinds of organic, plant-based meals to enjoy.
Here's the list of meals we received in our box:
8-Spice Cashew Vegetable Soup with Citrus Detox Salad
Mediterranean Oasis Bowl with Baked Falafel and Dill Tahini
Almond Ginger Quinoa Bowl with Sweet Potatoes & Apples
Zucchini and Carrot Pasta Marinara with Plantballs (needs to be eaten earlier)
Peanut Red Cabbage Salas with Marinated Tofu
Brunch Frittata with Pecan and Strawberry Vinaigrette Salad
They've also conveniently labeled each meal so you can avoid certain ingredients or find quick and easy dishes. When reviewing each week's available meals, look for the following icons: Eat Me Earlier, No Refined Sugar, Oil Free, Nut Free, Spicy, Plant-Based, Soy Free, and Gluten Free. This will help you find the dinners that will best suit your exact personal preferences.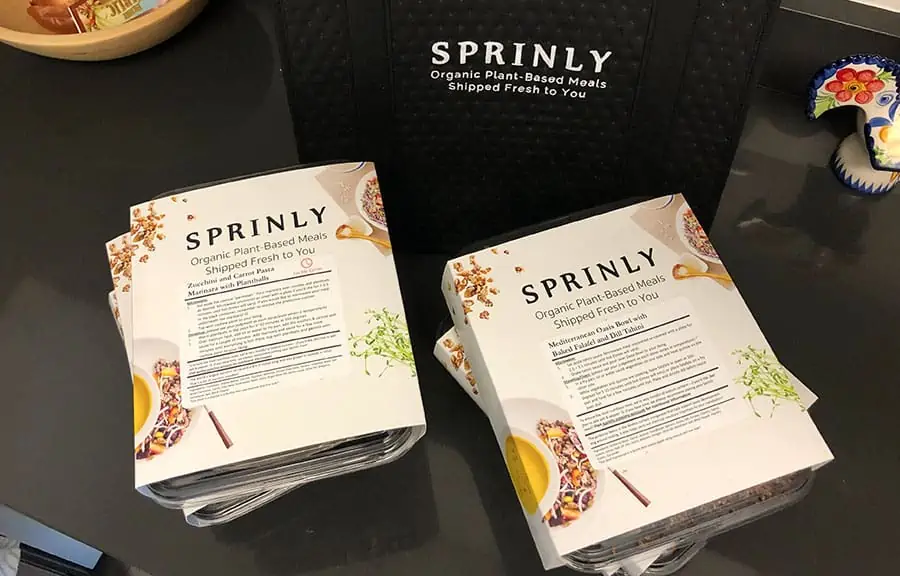 For being strictly plant-based, we were surprised at the extensive variety of meals they offer. When it comes to vegan meal delivery, you usually don't see a lot of different options, since plant-based meals can be tougher to prepare and ship because of the restrictions.
The best part about the meals Sprinly offers is that their team of chefs and nutritionists work together to make the meals. This is important because vegan diets can sometimes leave out important nutrients that are commonly found in animal products. Sprinly makes it easier to maintain a vegan diet while still getting all the essential vitamins and nutrients that your body needs to function in tip-top shape.
Not only that, but they use only high quality and organic ingredients. Plus, they source everything responsibly from farmers they trust and have built a relationship with.
Delivery
At this time, Sprinly isn't able to deliver meals to every location across the continental United States. They currently ship throughout Michigan, Ohio, Pennsylvania, Indiana, Kentucky, West Virginia, New Jersey, Delaware, Nashville, Buffalo, and the Greater Chicago Area. They are working to expand to other areas in the Midwest, the South, and the East Coast, so if you're not in their delivery area right now, make sure you check back for future development.
The reason behind this is because their meals are delivered fresh so shipping needs to be as exact as possible. They only expand to certain areas when they know for sure that they can ship their meals with no problems.
Your location will dictate when your meals are delivered each week. Some areas will receive meals delivered by the Sprinly team of drivers on Mondays, while deliveries in other locations will happen on Tuesday or Wednesday via FedEx. The good news is, you don't have to be home in order to receive your delivery and you can provide specific instructions for your FedEx driver if needed.
Packaging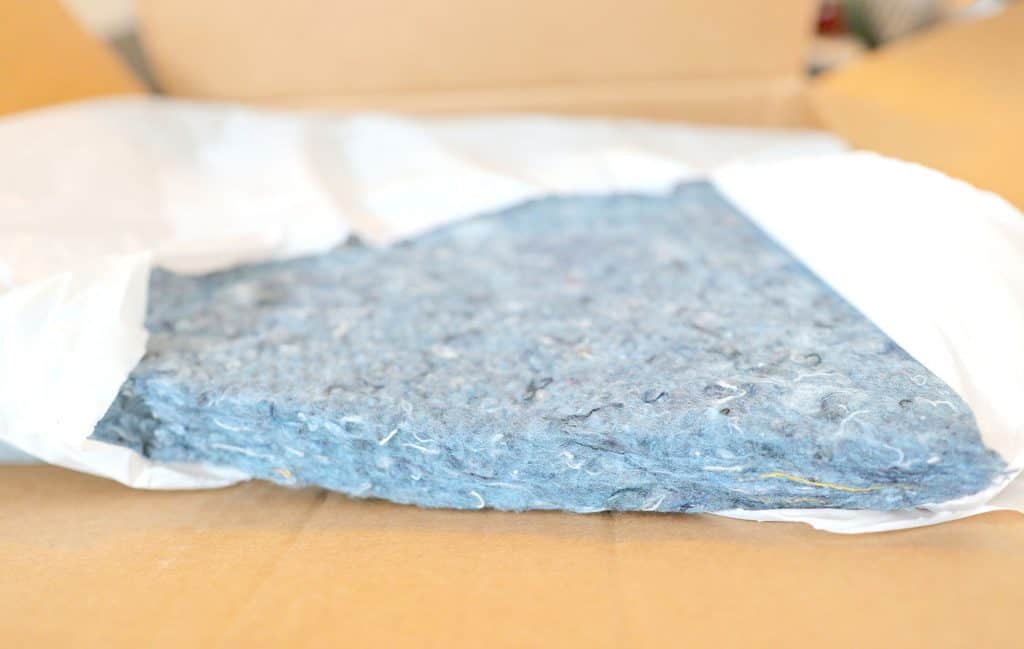 To ensure your food stays fresh during transit, everything is packed in insulated boxes along with ice packs between each meal box. This way, you don't have to worry about anything spoiling. Everything will be fine until you arrive home at the end of the day. You will, however, want to make sure you unpack everything as soon as possible once you receive the delivery. If you're going to be away from your home for longer than 24 hours, we recommend having the box shipped to your location (for example, your work office).
You can also reuse or recycle the packaging materials and food containers to eliminate unnecessary waste. The food containers are microwave-safe, oven-safe, and freezer-safe. They're also made up of 40% recycled materials and you can clean them and recycle them after you've enjoyed your meal. Or, feel free to reuse them. We found that the plastic meal boxes actually make great reusable Tupperware.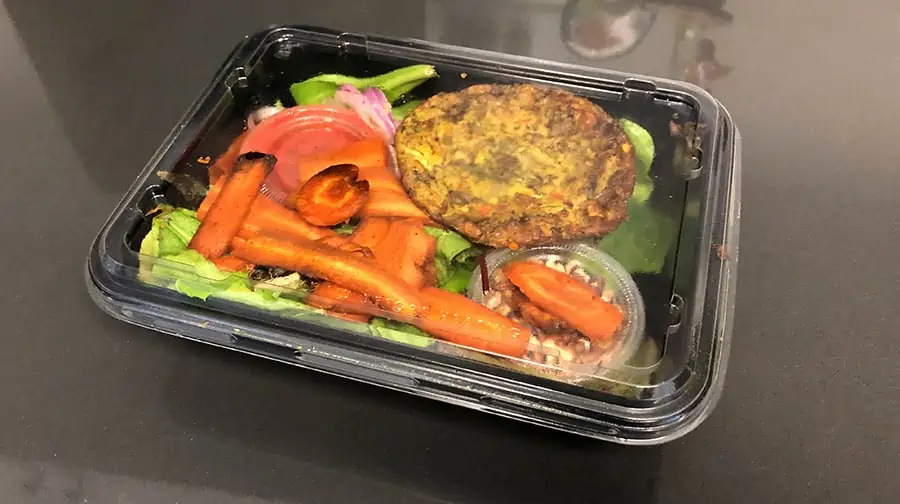 The eco-friendly insulated liner inside your box is compostable and you can recycle the outer bag portion. You can also reuse or donate the 100% water-based, non-toxic ice packs to local food banks, churches, shelters, or Meals on Wheels. If you live in Cleveland (where Sprinly HQ is) you can actually leave the insulated bags with ice packs on your doorstep the following week to be picked up. Sprinly will wash and reuse it if possible. How cool is that?
What Meals We Got In Our Recent Box (June 2020)
Here's a look at the meals we received in our most recent Sprinly order.
Citrus Detox Salad with Beets and Fresh Oranges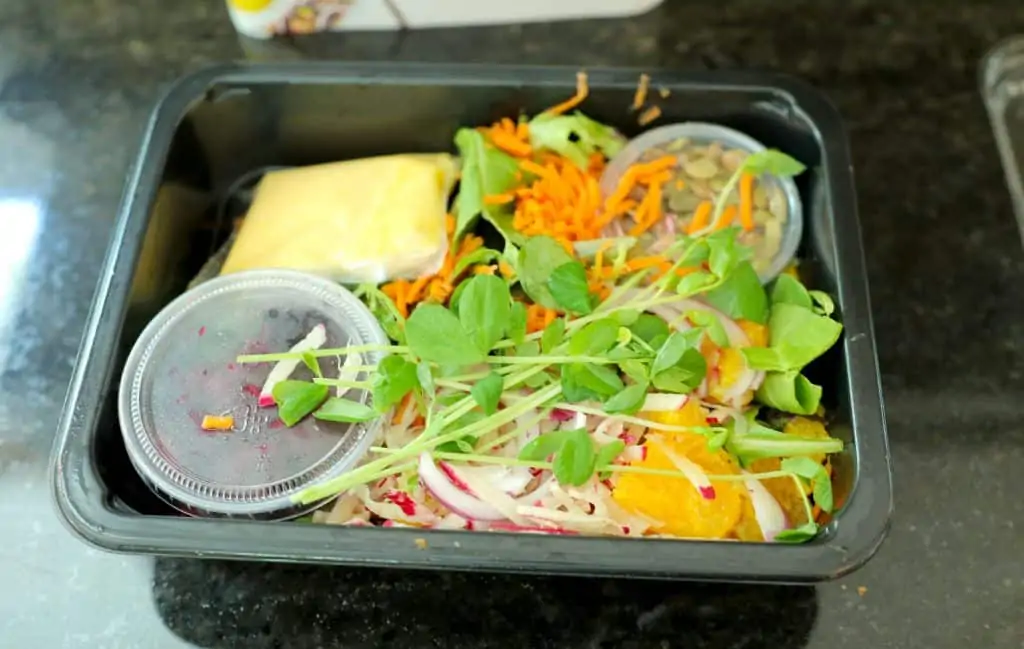 This salad was light and refreshing. It would easily make for the perfect summer lunch—I could definitely see myself eating this on the beach, haha. The dressing had an extra "kick" to it and I had to look at the ingredients to see that it was made from grapefruit. These nice little extra touches of ingredients are what I love most about Sprinly.
Almond Ginger Quinoa Bowl with Roaster Sweet Potatoes and Sliced Apples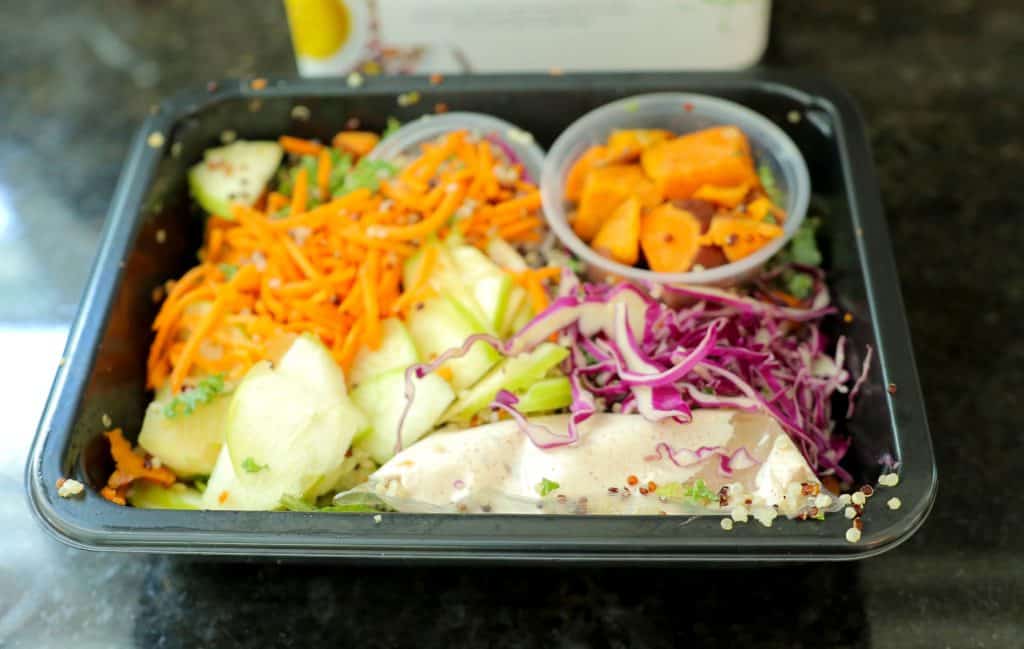 Sometimes certain apples can taste a little too tangy for my taste but it actually paired well with the ginger, which was also a bit tangy. Overall, with the sweet potatoes and almonds, it made for a rather filling salad.
Amalfi Lentil Bolognese with Gluten-Free Pasta and Cashew "Parm"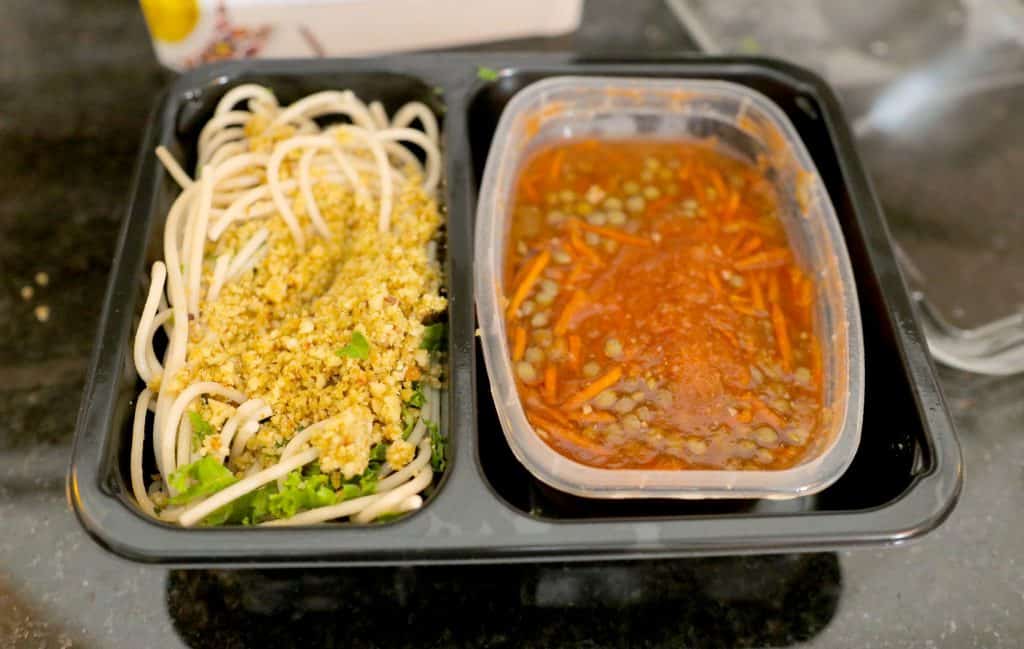 This was one of my favorites from our box this week. The tomato and lentil sauce was delicious and give the pasta a traditional feel. However, even though they were tasty, I definitely wouldn't call the cashews "parm" in any way. They did add a nice taste and texture to the meal though.
Zucchini Noodle Pad Thai with Baked Tofu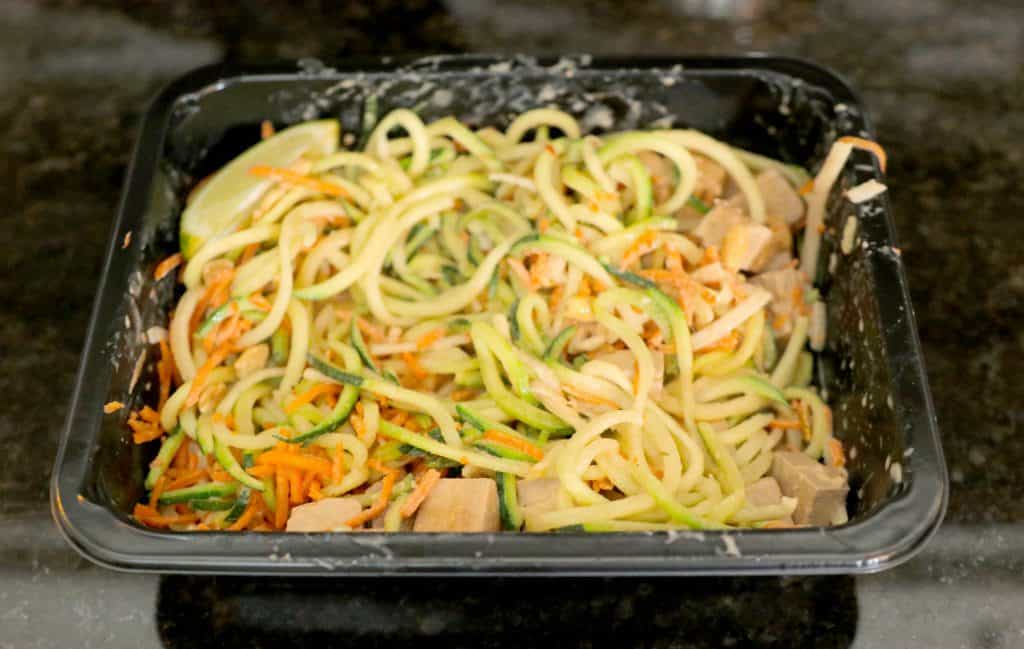 As someone who isn't a huge fan of tofu due to its texture, I have to admit they hide it very well in this meal. At least, I barely knew I was eating it. The sauce was pretty spot-on for pad thai too.
Mediterranean Oasis Bowl with Baked Falafel and Dill Tahini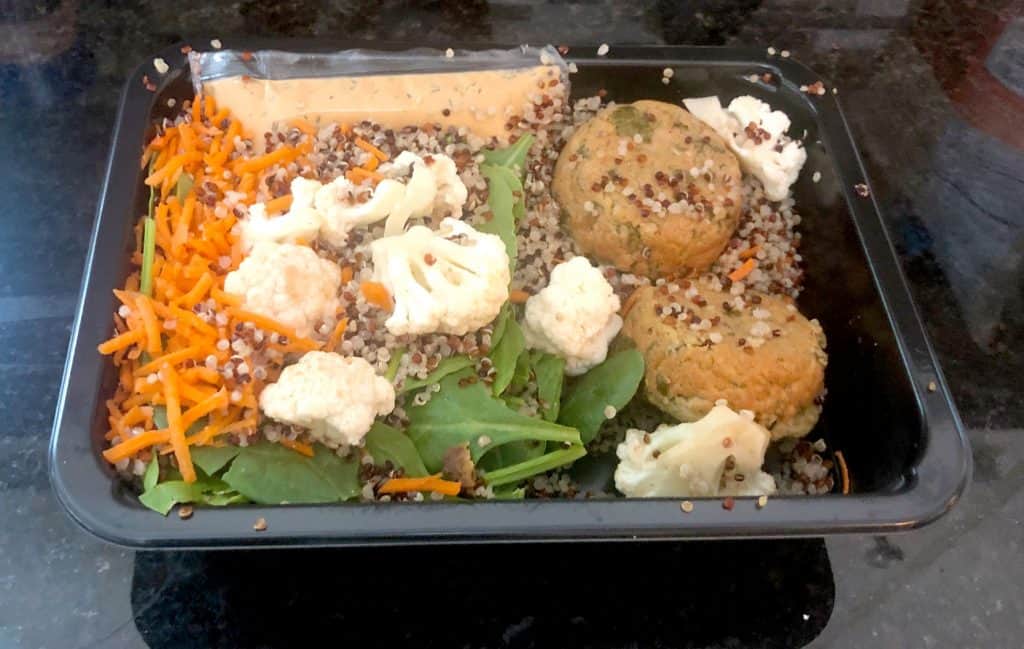 This meal was another personal favorite. The falafel came out perfect (almost like little vegan meatballs) and the dill tahini dressing was the perfect refreshing zest.
Warm Whole-Bean Chili with Fresh Pesto & Paprika Spinach Salad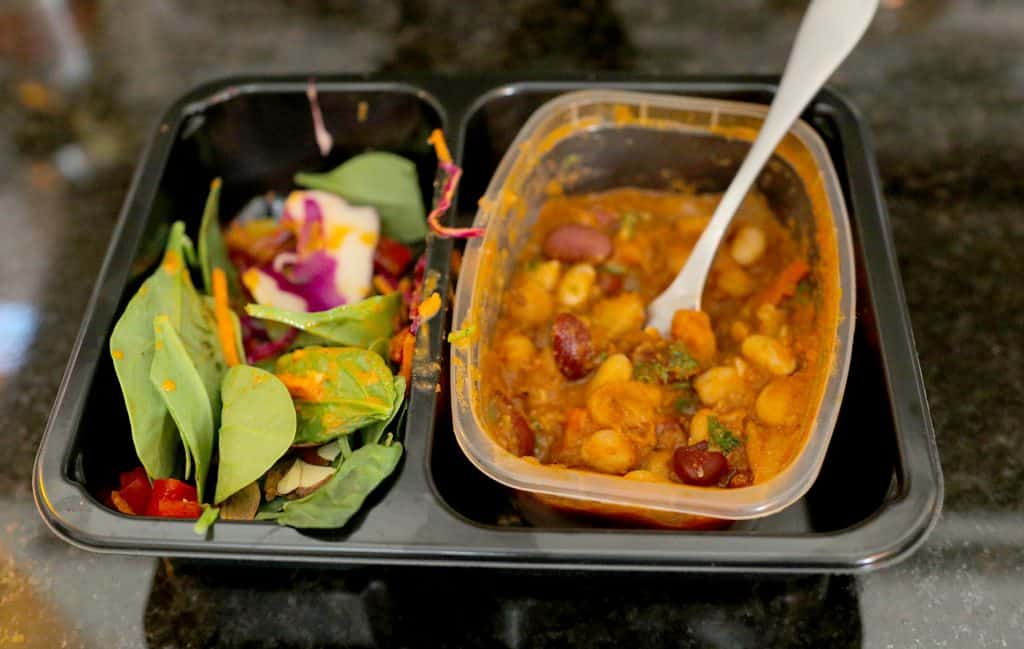 While I loved the taste, my only wish is that the portion size was bigger. With the divider splitting up the salad from the chili and having the chili inside another container, you lose a lot of space. It felt like nearly half the size of the other meals.
Freshness of Food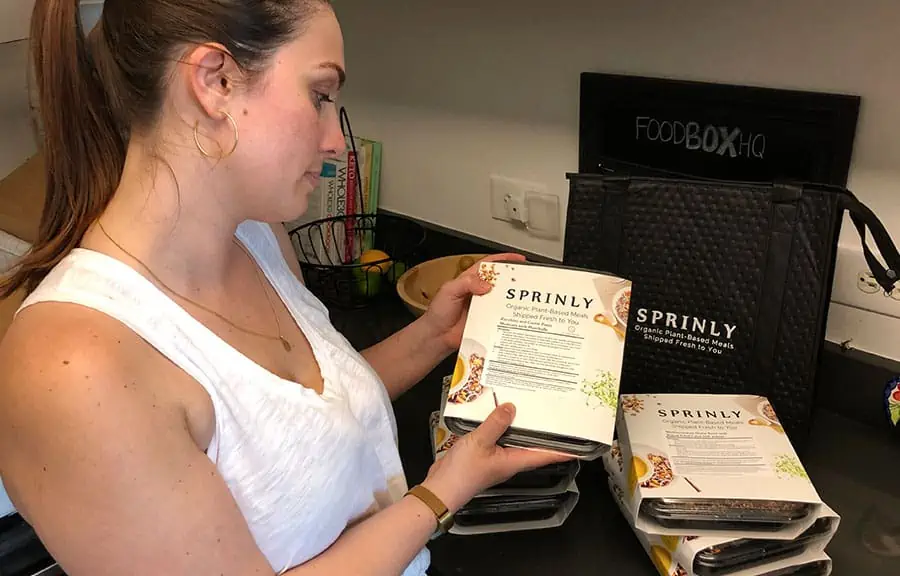 Every meal is fully prepared by Sprinly's chefs each week. This means the ingredients aren't sitting around for weeks, waiting to be put together into a meal and shipped out. They're actually fully prepared and then shipped directly to you in a quick and efficient manner. Meals can then be enjoyed within fix to six days of delivery. Some meals will last longer than that, but Sprinly just suggests using your best instincts when it comes to ensuring that meals are still fresh and safe to consume. I've eaten a few Sprinly meals on day 7 and haven't had any issues.
Meals will also be labeled to indicate which ones are best eaten earlier in the week (which you can see in our video review). You can also freeze meals if needed to enjoy at a later date, but Sprinly doesn't really recommend doing this since it can impact quality. However, things like soups or curries should hold up just fine.
The meals we received in our initial review help up beautifully in transit and made it to us cool and fresh. What's more is that they even looked appetizing (something that we discuss further in the video).
Ease of Cooking
Because these meals are pre-made, preparing them couldn't be simpler because all you have to do is heat them up. For someone who doesn't enjoy cooking or doesn't have time to spend an hour in the kitchen, this is the perfect option.
You'll find microwave and stovetop cooking instructions for each dish. And since the containers each meal comes in are microwave-safe, you don't have to worry about dirtying any extra dishes if you just pop it into the microwave for a few minutes. Meals may even be cooked in the oven, but Sprinly is still working on getting oven instructions prepared for each dish, so you may or may not find temperatures and cooking times for the oven.
We prepared all of our meals in the microwave and they each turned out delicious.
Taste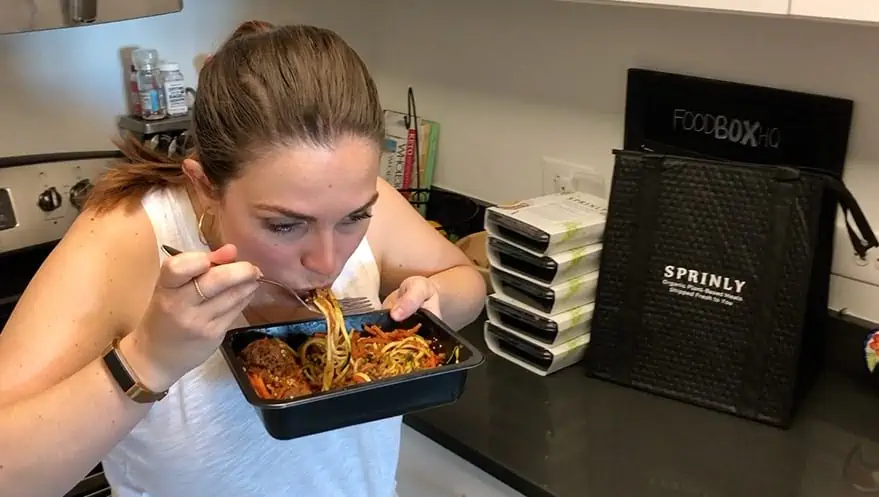 The biggest concern with pre-made meals is always wether or not they'll actually taste fresh. The good news is, I've found you don't have to worry about that with Sprinly. Because these meals contain such high-quality ingredients and they're packaged correctly to retain freshness, everything is full of flavor and tastes just like it's been prepared in your own kitchen.
Sine neither Emily nor I are vegan, when first reading the names of some of the meals, we were definitely hesitant at trying them. They sounded very unique and not like anything we'd ever tried before. However, I have to say that I was surprised by every meal we tried. Each meal box we opened and prepped, I would always think, "I probably won't like this one" but it would end up being delicious! In terms of taste, this has to be one of the best vegan meal kits out there. One of the main reasons being is that they've perfected the sauce and spices in each dish. I've usually found vegan meals to be pretty bland in the past but have found that Sprinly puts a big effort at making sure the sauces and spices in each meal compliment, don't overpower, the food you're eating.
The 8-Spice Cashew Vegetable Soup with a Citrus Detox Salad is definitely a favorite. The spices give the soup a really nice kick and it pairs really well with the fresh, citrus flavor of the salad. It's the perfect comfort dish, without being unhealthy. It surprisingly makes for the perfect summertime lunch or dinner.
Another favorite is the Zucchini and Carrot Pasta Marinara with Plantballs, which we review in our initial Sprinly video. If you're transitioning to a plant-based diet but still yearn for good ol' pasta and meatballs, this is a perfect substitute.
The best part about these meals is that none of them taste "bland" — they're full of flavor. That's something that you don't find too often with vegan meals.
Pricing
Now, let's talk about pricing! If you sign-up for the plan that delivers six meals per week, you'll be looking at a cost of $109. It's $199 for 12 meals per week and $289 for 18 meals per week. Shipping is 100% free.
It's not cheap but when you get your first box you'll understand why. Everything about this vegan meal kit is high quality — from the packaging to the ingredients.
Pros & Cons of Sprinly
Now that we've gone over all of the details of Sprinly's vegan meal delivery service, let's highlight some of the things we love versus some of the things we don't.
Sprinly Pros
One of the freshest meal delivery services we've tried. Sending salads and other pre-made veggie-based meals can be tough. In fact, I was against it before trying Sprinly simply because I thought these meals might get me sick (bacteria or other things living on the salads). I definitely was wrong. These meals are super fresh—literally the freshest meal delivery I've yet to try (and I've tried a lot).
I feel healthier eating their meals. I'm not against eating meat but I enjoy taking a break every now and then. For that, Sprinly has been absolutely wonderful. I truly feel a difference eating their meals. Most likely this is because they use zero processed foods, whole foods (like veggies), and they're not stuffing in refined sugars.
Delicious plant-based meals. Regardless of whether you're plant-based or not, it's hard to deny how tasty these meals are.
Sprinly Cons
It can be expensive. The only negative I have for Sprinly is that it isn't cheap. But, you get what you pay for. A high price usually means higher quality.
They do not ship to the entire United States. They're currently expanding their service so be sure to check if they can even deliver to you before making your final decision.
Portion size can be a little small. There were some meals we had that I felt could have been bigger portions and ended up leaving me a bit hungry.
Final Thoughts: Is This Vegan Meal Delivery Service Right For You?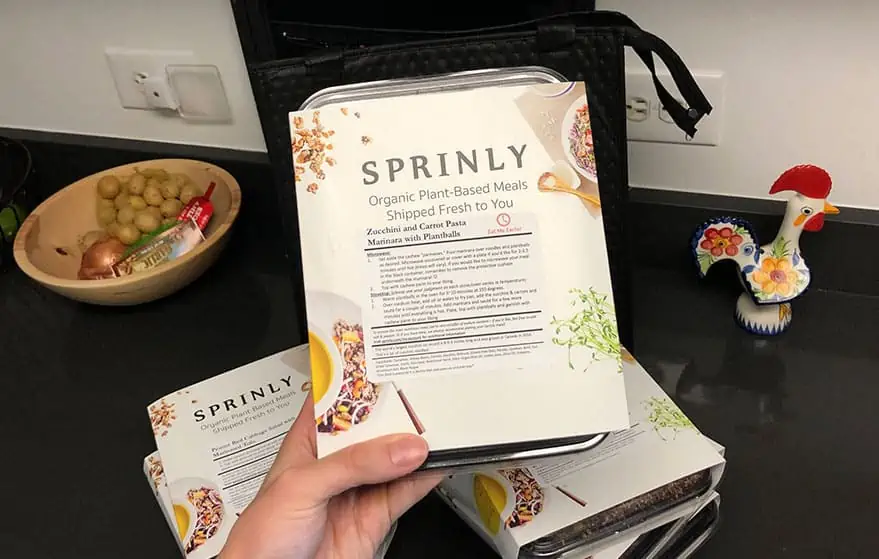 For anyone who is on the hunt for high-quality, freshly-made, plant-based meals, Sprinly is definitely one to check out.
With a focus on balanced nutrition and using organic ingredients, these are pre-made meals that you can feel good about eating. Just think about how much time and hassle it'll save you buying vegan ingredients and cooking. However, you do pay a premium for everything you're getting, as it's one of the more expensive meal kits we've seen.
That being said, regardless of whether you're vegan or not, the meals are delicious. When I'm looking for a healthy pre-made meal kit, Sprinly is the first option I think of.
Have you tried Sprinly before? Have a question about their meal delivery service that we didn't answer? Let us know in the comments below!