Ever since I stumbled upon pre-made meal delivery services and realized you could have fresh (not frozen) meals delivered right to your home for the week, I was pretty amazed. There used to only be a handful of these types of meal delivery companies out there and they didn't have a lot to offer.
Fast forward to today and there's a ton of more variety than there ever has been in the past. From Freshly to Snap Kitchen, there's a pre-made meal delivery service to fit nearly everyone. However, there wasn't one that offered restaurant-quality, private chef made meals. That is until CookUnity hit the scene.
CookUnity is a prepared meal delivery company that sends people small batch meals (as well as add-ons) hand-crafted by private chefs.
When I first heard of them, I figured they were just another company trying to capitalize on the growing meal delivery trend. I was very wrong—these meals are something unique.
Keep reading to find out what CookUnity is all about, how their service works, our personal experience, and if it's right for you…
How CookUnity Works & What Makes Them Unique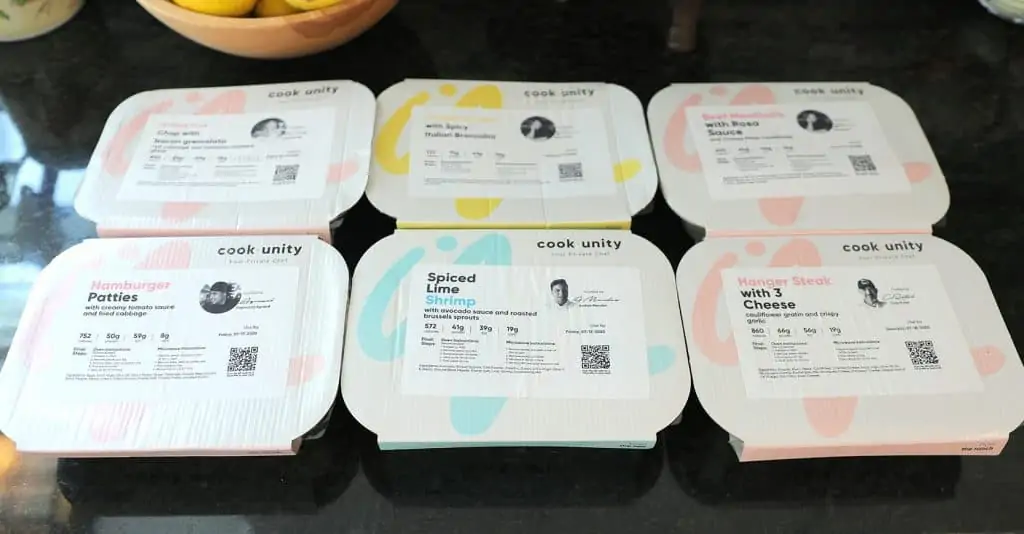 You can think of CookUnity as the Uber for private chefs. Except, instead of having a private chef come to your home and cook, they make everything in their kitchen and send it right to your door.
Everything is sent refrigerator-level cold, not frozen, in an insulated package. The meals themselves last for around 7 days, so you'll have a week's worth of food.
A lot people I talk to think that pre-made meals that are "heat and eat" style mean that they're similar to those old school frozen TV dinners. CookUnity could not be farther from a frozen TV dinner. These meals are quite literally prepped and cooked by chefs (some of which are Michelin-starred).
Types of Food They Offer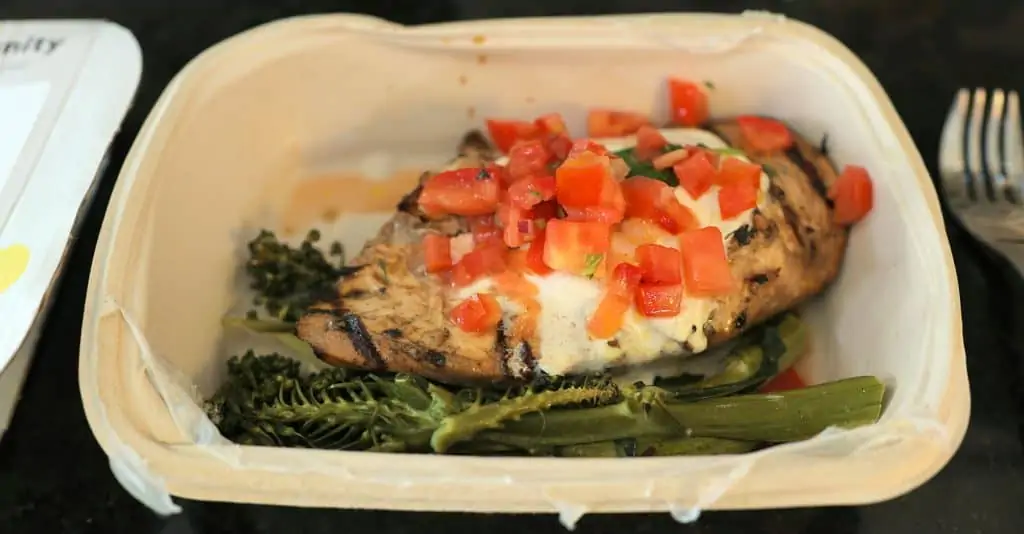 I've found that CookUnity meals tend to be more high-end than many of the other pre-made meal delivery services I've tried in the past. These aren't simple meat and veggie meals, they're crafted to be something you're likely to see at a nice restaurant.
Here are some examples of meals we've seen on the menu in the past to give you an idea of what you can expect…
Roasted Salmon over Sautéed Spinach and Broccoli
Delicata Squash Stuffed with Sprouted Black Lentils
Lamb Kebab Turmeric Hummus Roasted Sweet Potatoes
Seared Steak with Brussels Sprouts and Horseradish Cream Sauce
As you can see, these are some pretty exquisite, yet balanced, meals. However, they don't stop there. You can also add appetizers, snacks, breakfast, pantry items, and even drinks to your box. This basically covers all your food needs for the week, making grocery shopping and cooking obsolete!
Quality of Ingredients & Sourcing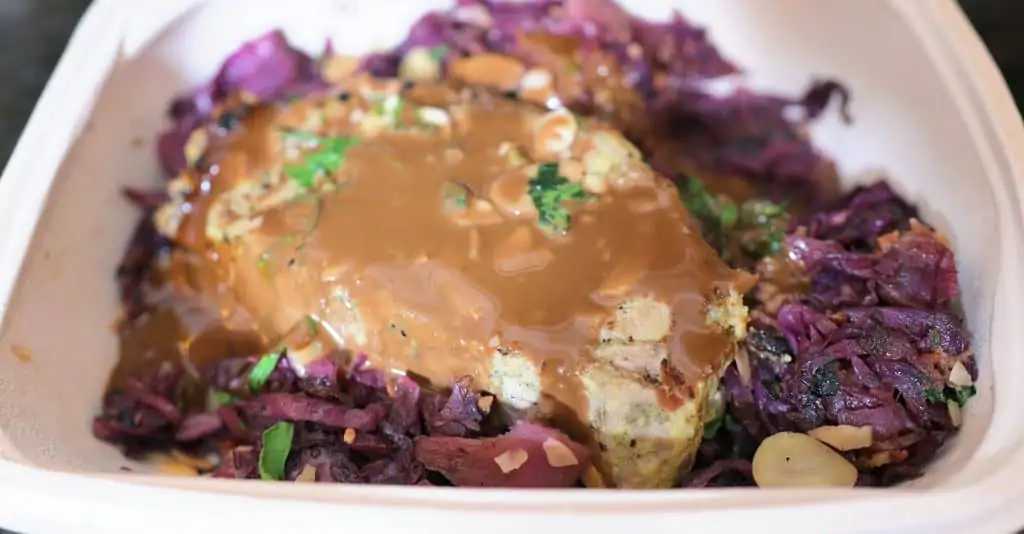 The quality of the ingredients plays a major role in how any meal tastes. A top notch recipe crafted with high quality ingredients is going to lead to a delicious meal. On the flip side, poor quality ingredients can make even the best recipe taste no good.
CookUnity works with local farmers around the NYC area to source all of their ingredients which have zero GMOs, nothing artificial, organic (when possible), are from humanly raised animals. Here are some of the farms they work with: Satur Farms, Summer Wind Farms, Eckerton Hill Farm, and Lancaster Farm Fresh Co-op.
Meal Plans & Diets Covered
CookUnity breaks their meal plans down by how many meals you'll be able to receive each week. You can go with their 12, 8, 6, or 4 meals per week plan. Any add-ons (like the snacks or appetizers mentioned above) will be an additional fee.
Once you select a meal plan amount, you'll be able to select meals on their menu based on specific dietary preferences. They cover a wide variety of diets, such as the following:
Keto (we actually review their keto meals in this video here)
Paleo
Low-Carb
Plant-Based
Vegetarian
High-Protein
Low-Calorie
They are also very particular about listing any food allergens in the meal (e.g. nuts, dairy, gluten). However, if you do have a severe food allergy, be aware that there may be cross-contamination involved in the food prep and cooking process.
Delivery
As of writing this review, CookUnity can only deliver to New York, New Jersey, Delaware, Massachusetts, parts of Pennsylvania, and parts of Maryland. They are growing to serve more locations but to do so, they need to vet new professional chefs that are quality enough to join the team. I definitely recommend using their delivery map to see if they can ship to your location before you make a decision or decide to sign up.
Packaging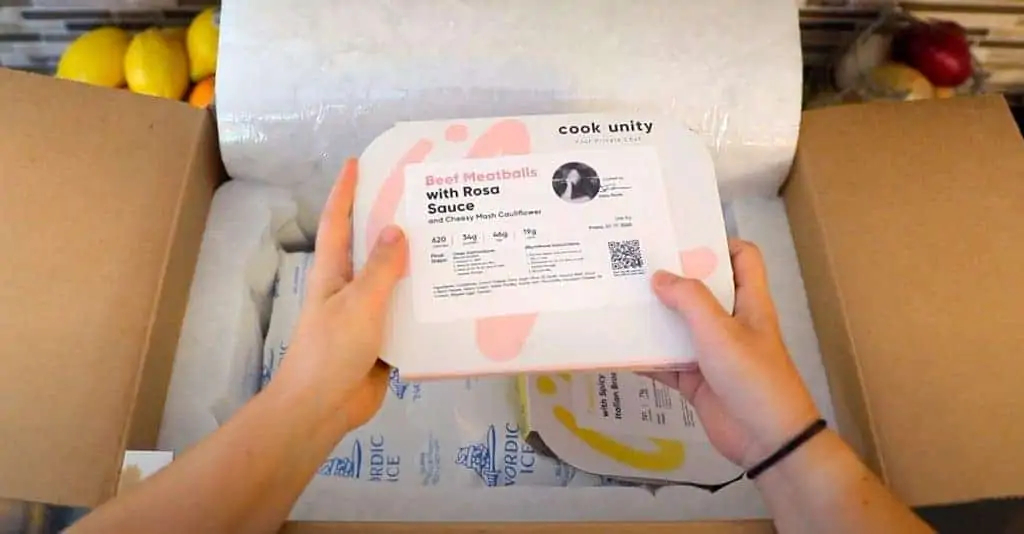 Being pre-made, it's important the meals stay safe and cold in transit. In addition, it's also important that the packaging doesn't create unnecessary environmental waste, which is prevalent in the meal kit industry. Thankfully, the packaging CookUnity has created is both safe and environmentally friendly.
The box meals come in is made of recycled and virgin kraft paper, which can be recycled with other paper products.
The thermal liner insulation inside the box is dense enough to keep meals cold, yet soft enough to protect meals from any bumps along the way. It is also made from recycled materials (water/soda bottles).
The gel packs, which keep the meals cold, are made from 98% water and 2% non–GMO cotton. Since they're non-toxic, you could technically drain them out in your sink but I advise against that since it could clog it. Rather, you should empty the gel in the garbage, wash out the plastic cover, and recycle it.
The meal trays themselves are made from a molded fiber pulp, which means that they are 100% compostable.
The tray sleeve has all of the information about your meal. You'll not only see the name of the meal but also the specific chef who cooked it, the eat by date, nutritional information, how to best heat it, and even a QR code directing you to a web page where you can learn more about the meal (including what farm the ingredients came from).
What Meals We Received In Our Recent Box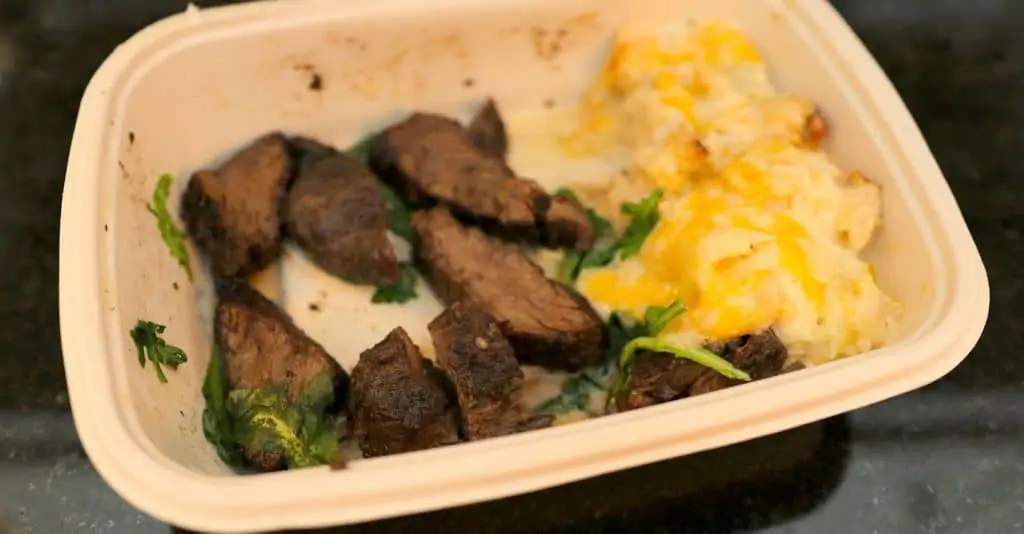 Now let's dig in to what we received in our most recent box!
Grilled Chicken with Braised Kale, Roasted Sweet Potato, and Nuts
Hanger Steak with 3 Cheese Cauliflower Gratin and Crispy Garlic
Black Bean Chilli Topped with Shredded Cheddar and Corn Muffin
Grilled Pork Chop with Bacon Gremolata, Red Cabbage, and Balsamic Mustard Glaze
Beyond Meat Tacos with Chipotle Lime Cream Sauce and Pico de Gallo
Spiced Lime Shrimp with Avocado Sauce and Roasted Brussels Sprouts
To be honest, when I first tasted these meals, I was very surprised. They look like any other pre-made meal delivery service. But when you actually dig in, you can taste the difference. I'm not sure if this is due to the level of the recipe, the quality of ingredients, the proficiency of the chef, or simply a mixture of everything. Whatever it is, these meals are some of the best tasting we've had from a pre-made meal delivery service.
My one tip is try to use an oven to heat the meals up if you can. I've heated up the meals in both the oven and microwave. While it takes longer, the oven is far superior. It heats the meal more thoroughly than the microwave. We use the Tovala steam oven, which does a perfect job of heating these meals up.
Is The CookUnity App Worth Downloading?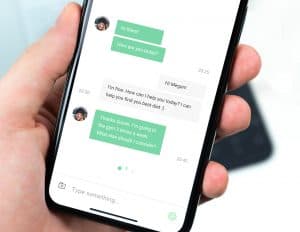 These days, every meal delivery service or meal kit seems to have their own mobile app. I usually hesitate downloading them as I don't want to clutter my phone and many of them are simply copies of the website.
That being said, I find that CookUnity's mobile app is worth downloading. In addition to being able to manage your account by selecting meals and viewing their nutritional information, you can also directly message with the chefs cooking your meals. This allows you to ask them questions directly and find answers to any questions you might need to find out regarding prep, ingredients, cooking, etc.
The app also allows you to connect with the CookUnity health coach and nutrition team. So, if you have any questions about how you should be eating based on your specific lifestyle, you can have a direct conversation with them. They can help walk you through what type of meals you should eat based on your specific lifestyle or even help design a specific plan for you.
CookUnity vs. Similar Pre-Made Meal Delivery Services
As I mentioned at the beginning of this review, there are many pre-made delivery services currently on the market. However, there are none really like CookUnity.
Freshly, Snap Kitchen, and Factor Meals are the big players in the pre-made meal delivery service game but they are all marketed towards a different people. Factor Meals focuses on high-quality, fitness specific meals to help you replenish your body. Freshly focuses on tasty meals made with quality ingredients that anyone would love. Snap Kitchen is a mixture of both—delicious meals and fitness based meals.
CookUnity is less like regular prepared meal delivery services and more like actually having a private chef from a top restaurant cook for you. What's more is CookUnity is one of the few out there (in addition to Snap Kitchen) that also allows you to add other foods to your box.
If you are interested in CookUnity but they don't serve your area, I definitely recommend checking out Snap Kitchen. They're very similar but slightly more "health" focused.
Pros and Cons of CookUnity
Now that we've gone over all of the specifics of CookUnity, including our personal experience, let's highlight some of the things we love about them and some of the things we don't…
CookUnity Pros
The meals are delicious. These meals are definitely the best tasting meals I've ever had from a pre-made meal delivery service.
You can speak directly with your chef. I've never seen a meal delivery service where you can speak directly with the person who is preparing your meal.
Their health coach can help craft your meal plan. This is perfect for people who want to eat delicious meals but still want to be conscious of their health.
They offer add-ons like appetizers, breakfast, snacks, juices, etc. The only other pre-made meal delivery services that offers the same variety of add-ons is Snap Kitchen.
If you're ordering for 2 people, you can specify dietary preferences for each individually. A small feature that I really like is that, if you order for more than one person, you can specify the dietary preferences for each.
CookUnity Cons
Only available in certain locations. The one big down side is that CookUnity is currently only available to a small number of people on the east coast.
Meals are slightly smaller portions than I normally eat. I noticed that the portion sizes are slightly smaller than other pre-made meal delivery services.
CookUnity Coupon
If you're certain CookUnity is the right meal delivery service for you, we're here to help save you money on your order! You can use this coupon code link to save 50% on your first order. If the link does not work, please let us know in the comments and we'll have it updated as soon as possible!
Final Thoughts: Is CookUnity Right For You?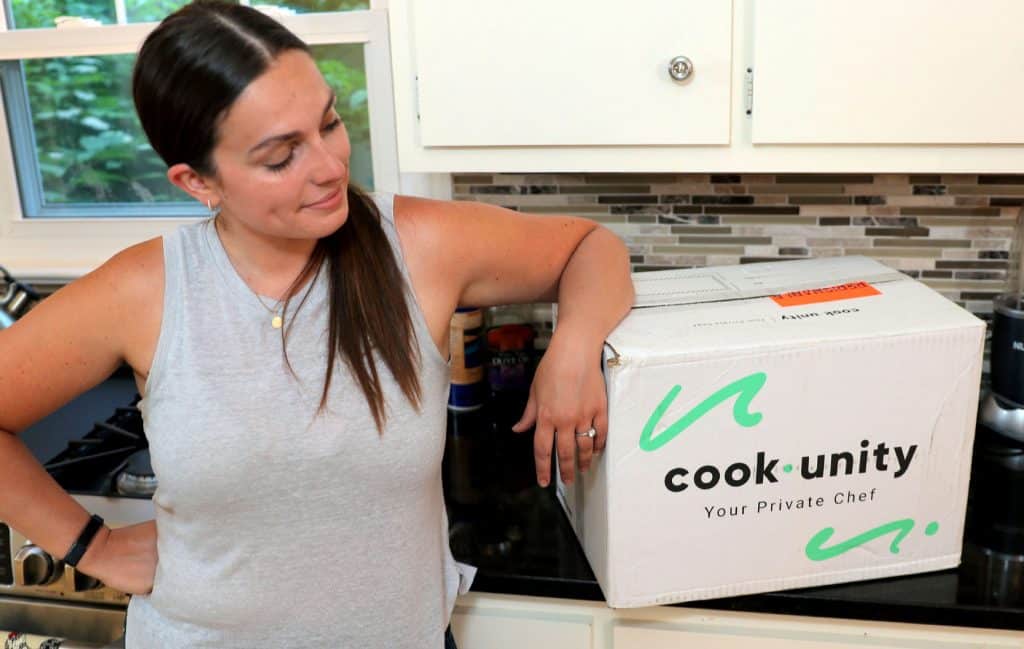 CookUnity is a refreshing new take on prepared meal delivery and they really surprised me with how good their service is.
If you're someone who is looking for quick, delicious, restaurant-quality meals with the ability to customize your meal plan as you see fit, CookUnity is a no-brainer. My one wish is that they expand to more states so others can experience their meal delivery service.
Have you tried CookUnity before? Have a question we didn't answer? Let us know in the comments below!