Snap Kitchen is one of the newer prepared meal delivery services to hit the scene. Starting out as a local meal delivery service serving southern states such as Texas and Arkansas, they've been branching out across the United States.
What peaked my interest when I first saw Snap Kitchen is that they were the first real competitor to one of our favorite pre-made meal delivery services, Freshly. And while we weren't in Snap Kitchen's initial delivery locations when they first launched, they recently started delivering to the east coast and we were able to get our hands on a box of meals!
Today we're going in-depth on Snap Kitchen to help you find out if this is the right prepared meal delivery service for you. We'll be covering everything from their meals and meal plans to our personal experience using their meal delivery service.
Let's jump into it!
How Snap Kitchen Works
At its core, Snap Kitchen is a prepared meal delivery service that focuses on nutritionally balanced meals and specific diet plans. However, what makes them stand apart is their ability to customize nearly every aspect of your plan (more on that below).
One thing to note is that while these meals are pre-made, they are never frozen. Each meal is prepped by a professional chef and kept cold in transit. It's basically like having a personal chef make your meals and send them to you.
Types of Meals Snap Kitchen Offers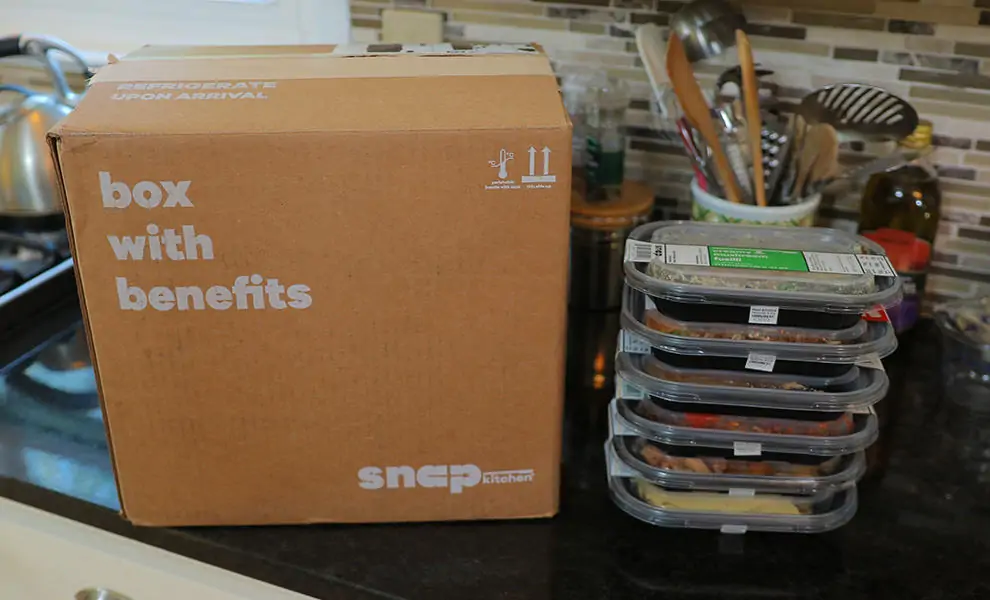 The thing that initially blew me away when I first encountered Snap Kitchen was that they offer a revolving menu of breakfasts, lunches, and dinners. This makes them one of the only pre-made meal delivery services that offers this type of variety.
Here are some examples of what types of meals you can expect for each…
Snap Kitchen Breakfast Examples
Banana Pancakes
Over Easy Sweet Potato Hash Browns
Spinach and Goat Cheese Frittata
Snap Kitchen Lunch Examples
Bison, Quinoa, and Hash Bowl
Chicken, Butternut Squash, and Macaroni Bowl
Chicken Piccata
Snap Kitchen Dinner Examples
Chopped Brisket with BBQ Sauce
Spicy Dan Dan Noodles with Cabbage, Carrots, Red Peppers, and Shiitake Mushrooms
Turkey Meatloaf with Green Beans
Snap Kitchen Meal Plans Offered
Snap Kitchen has the most variety of meal plans I've seen in a prepared meal delivery service. They focus heavily on meal plans geared towards very specific diets. Below is a look at all of their current meal plans.
Low Carb
These meals are all going to hit around 30% protein, 30% carbohydrates, and 40% fat. To give you an example, their Banana Pancakes (one of my personal favorites) are considered low-carb with 21 grams of carbohydrates. I wouldn't say 21 grams is super low-carb so if you really want low-carb meals, check out their keto-friendly plan.
Vegetarian
These meals are going to be full of nutrient-dense veggies and plant-based proteins (such as nuts). FYI, they don't currently have a full vegan or plant-based meal plan as of writing this so you're likely to find meals on this plan that use some animal proteins such as eggs.
Balance
This is the plan we went with for our first box so we could get a mix of different foods. It's basically a roundup of their best-selling menu items.
Whole30
Snap Kitchen is one of the few meal delivery services that is officially fully Whole30 approved. This means, if you follow Whole30, you don't have to worry about going through each ingredient to see if it's compliant to your diet.
High Protein
All of the meals on this plan prioritize protein so you're likely to see a lot of meat-based meals such as chicken and steak. To give you an example of a meal on this plan, the chicken piccata contains 30 grams of protein.
Keto-Friendly
Snap Kitchen is one of the few meal delivery services that offers meals that fit into the keto diet (which is a pretty restrictive diet). All of these meals are going to be highly low-carb. To give you an example, they have a grill chicken thighs meal that is 1 gram of carbohydrates, 29 grams of protein, and 7 grams of fat.
Paleo
All of these meals are going to be complimentary to the Paleolithic diet, which focuses on zero grains, legumes, soy, or dairy. To give you an example of a meal on this plan, their "naked chicken" with cauliflower and green beans has 48 grams of protein, 14 grams of carbohydrates, and 11 grams of fat. The ingredients in this meal are only chicken breast, cauliflower, green bean, olive oil, garlic, water, organic dijon mustard, sea salt, ground black pepper, garlic powder, crushed red pepper, and paprika.
Total Custom
Last but certainly not least on their meal plan list is a completely customized meal plan. This plan allows you full control over nearly every aspect of your meals. You'll have the ability to choose meals from any meal plan. You can even order their "large portion" meals, if you're a big eater.
Add-On "Components"
In addition to being able to select from a variety of meal plans, including total customization, you can take customizing your meals even further with add-ons that Snap Kitchen calls "components". These include fully prepared foods such as chicken tenders, grass-fed beef burgers, green beans, and grilled chicken breasts. You can even order these add-on components as single meals, which is perfect for people on very specific diets looking to eat as clean as possible (no sauces, cheeses, etc).
Choosing Meals, Making Changes, & Using The Admin Section

The Snap Kitchen administrator section, where you can select your meals and make plan changes, works slightly different than other meal kit admin sections.
First, you'll notice that to login you have to use your phone number. This is a bit of extra security. But when you actually login and make it to your admin panel, you'll be able to control your plan, choose your upcoming meals, see your past order history, and make any necessary account changes (such as updating payments and pausing or canceling your plan).
What I really like about their admin section is that they have a dedicated "favorites" section where you can tell Snap Kitchen which past meals you enjoyed the most. This allows them to understand what your food preferences is and make more personalized meal recommendations for you. 
Delivery
Snap Kitchen offers two different ways of receiving your meals. You can either have them delivered or you can pick them up at a partner retail location.
The only downside is that they don't deliver to every state and they don't have partner pickup locations in every state either.
They currently deliver to the following locations:
Most of Pennsylvania
Connecticut
New Jersey
Maryland
Delaware
Parts of New York
Massachusetts
Virginia
West Virginia
Most of Texas
Most of Oklahoma
Parts of Arkansas
Parts of Louisiana
Parts of Kansas
Parts of New Mexico
If you choose to have your meals delivered, shipping is always free.
They also have pickup kitchen locations in the following areas:
Philadelphia, PA
Tulsa, OK
Fayetteville, AR
Oklahoma City, OK
Little Rock, AR
Dallas, TX (and surrounding neighborhoods)
Fort Worth, TX (and surrounding neighborhoods)
Austin, TX (and surrounding neighborhoods)
San Antonio, TX (and surrounding neighborhoods)
Houston, TX (and surrounding neighborhoods)
Shreveport, LA
Baton Rouge, LA
New Orleans, LA
Mandevilla, LA
Packaging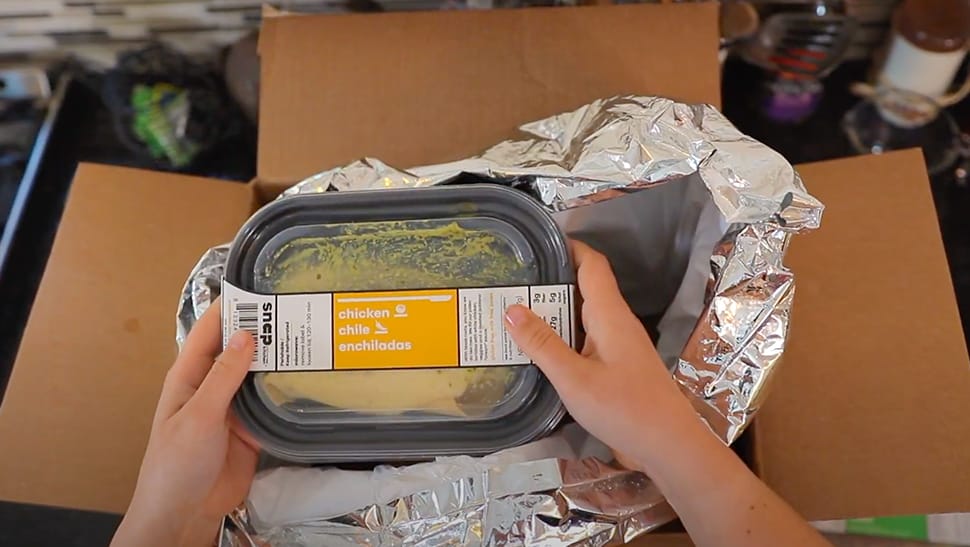 The Snap Kitchen packaging it pretty environmentally friendly. This is especially true compared to the entire prepared meal delivery industry, where single-use plastics run rampant.
The box used is made of recyclable cardboard. Inside, the insulation liner is made from recycled denim (which is biodegradable) and polyester fiber. The ice packs surrounding the meals can be drained in your garbage and the outer plastic can be recycled.
The meal trays are even compostable, which means you can throw them away at your town's municipal compost center. We did receive our first box during the coronavirus pandemic and Snap Kitchen told us that they had to switch our trays from the usual compostable ones to BPA-free plastic ones temporarily due to an increase in order volume.
Our first box came in great condition and even though we unintentionally left our box out on our front stoop for a few hours (before we realized it was delivered) all the meals were still cold and fresh.
What We Received In Our Recent Snap Kitchen Box (May 2020)
Now let's get to the good stuff… Our meals! Below is an overview of the meals we received in our first Snap Kitchen order. We went with a variety of different types of meals (breakfast, lunch, and dinner) to give you the best look at what the meals are really like. Check out our video review for a taste test!
Spaghetti Turkey Bolognese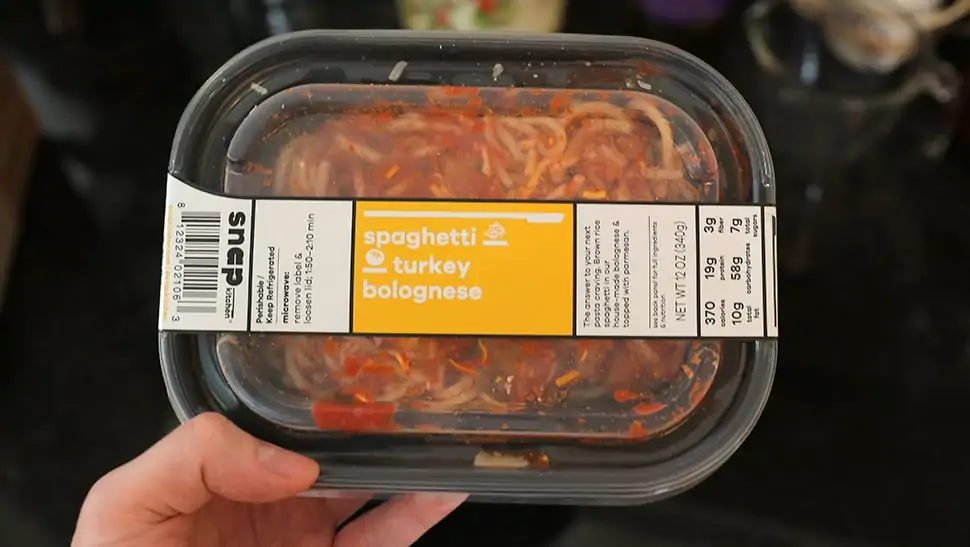 This was a delicious "good for you" substitution for the classic spaghetti Bolognese. They made it with cooked brown rice spaghetti and the sauce was simply tomato, extra virgin olive oil, garlic, basil, sea salt, and ground black pepper. This meal tasted identical to a similar, homemade Spaghetti Turkey Bolognese Emily sometimes makes.
Chicken Chile Enchiladas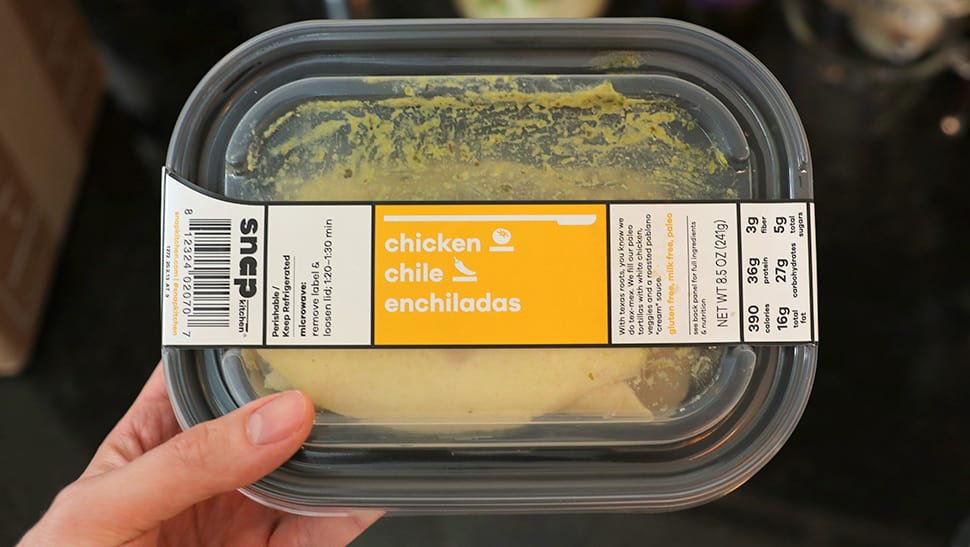 This was one of Emily's favorite lunches. It was made with chicken breast, poblano peppers, almond milk, red onion, cashews, and a paleo tortilla.
Banana Pancakes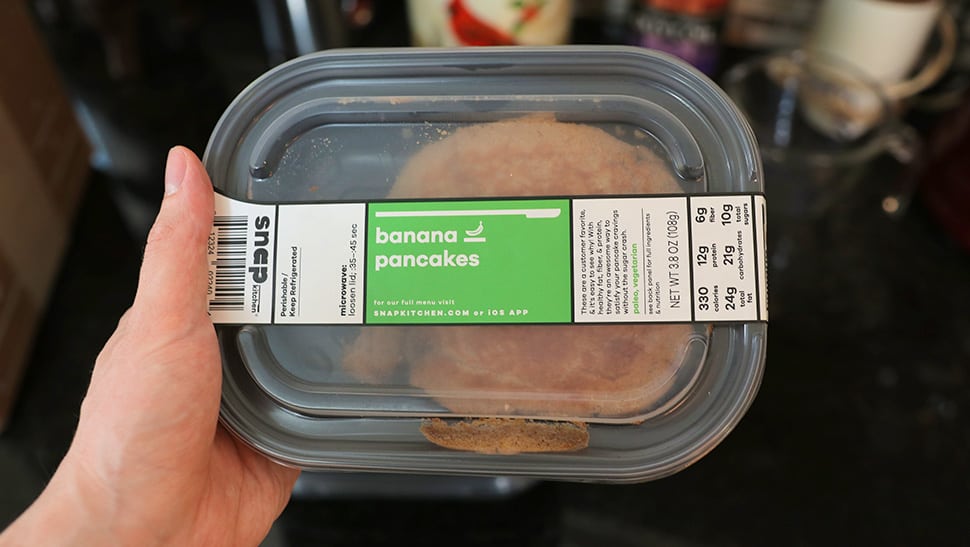 I added these to our box as an afterthought, not really thinking much about it but wanting to try out their breakfast options. Surprisingly, these were my absolute favorite! What's really crazy is the ingredients don't use any wheat products. It's made from banana, eggs, almond meal, almond butter, and almond milk. They also include pure maple syrup but even without the syrup, these pancakes are incredible and the perfect sweet, nutritious, grab-and-go breakfast.
Grass-Fed Beef Taco Hash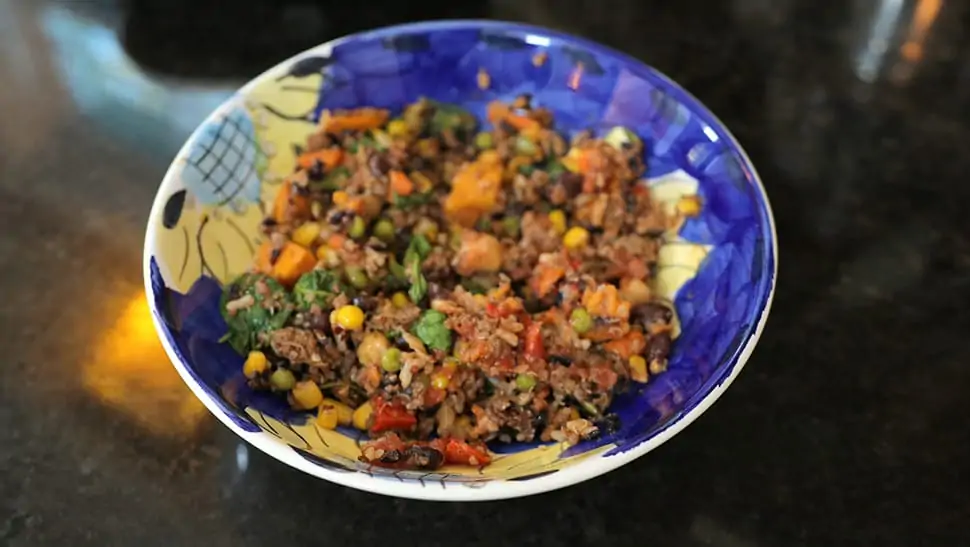 This is the meal we make in the video review above. Due to the coronavirus pandemic, they ran out of labels for this one so we kind of had to guess what the meal was. Not a big deal though. It came out absolutely delectable.
Creamy Mushroom Fusilli Bowl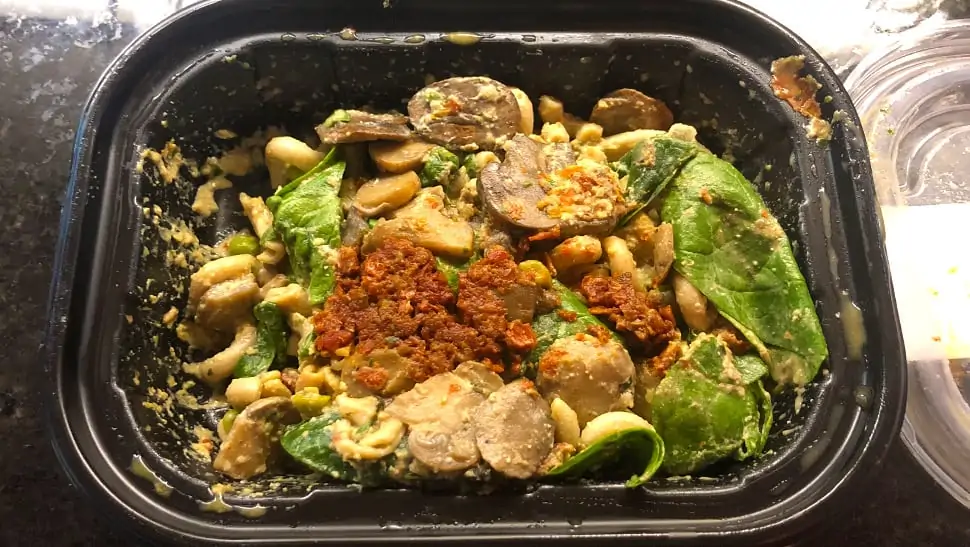 We had originally ordered the Cauliflower Satay Bowl but, because of the coronavirus pandemic, they had to replace it with the Creamy Mushroom Fusilli Bowl. It was still delicious though!
Chicken Thighs with Harvest Vegetables & Apples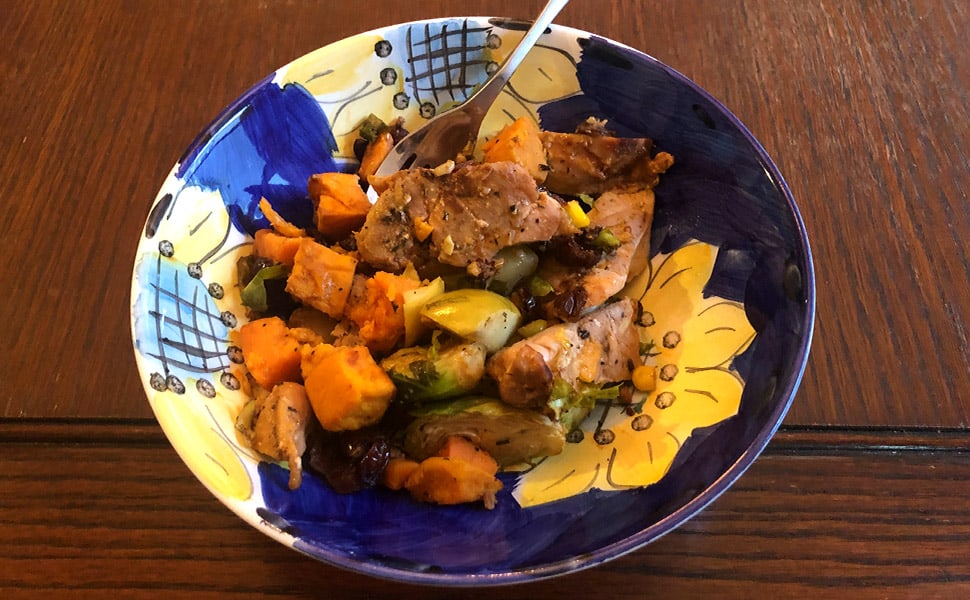 This was my favorite dinner meal. It may seem a bit straightforward but, for a chicken dinner, that's exactly what I love. The chicken thighs were cooked perfectly (juicy and moist) plus they were even pre-cut.
All of the meals can be heated in either the microwave or oven. We cooked half of our meals in the microwave and the other half in the oven. I would say, if you have the ability, heat these meals up in the oven. It takes a little longer but it brought out the taste of the food a bit more than the microwave does.
Snap Kitchen vs Similar Meal Delivery Services
There aren't many prepared meal delivery services available nationwide as of right now so there's little competition for Snap Kitchen. However, that being said, there are still two other meal boxes that offer very similar services — Freshly and Factor_ Meals.
Freshly offers similar pre-made meals but not breakfast options like Snap Kitchen does. Snap Kitchen also beats them when it comes to the amount of meal plan variety and customization they offer.
Factor_ Meals is much more similar to Snap Kitchen than Freshly is. Factor also offers meals for specific diets such as keto and paleo. And Factor also offers add-ons, like Snap Kitchen's "components". However, Snap Kitchen has more variety when it comes to meals. They offer more breakfasts, more add-ons, and more ability to customize your plan to best fit your dietary needs.
Pros and Cons of Snap Kitchen
Now that we've gone over every little detail of how Snap Kitchen works, their meals, plans, and our personal experience, let's go over what we loved and what we didn't love…
Snap Kitchen Pros
They offer breakfast, lunch, and dinner. This is almost unheard of when it comes to meal kits, let alone prepared meal delivery services.
They allow you to fully customize your plan. Out of all the pre-made meal delivery services we've tried, Snap Kitchen is one of the only ones that allows you to customize nearly every aspect of your plan, from offering bigger portions to allowing you to add-on additional foods.
They make "good for you" substitutions so you can still enjoy the classics. Even though these are healthier meal options than what you normally see, they aren't boring. Often times they take a classic meal and put a "good for you", nutritionally balanced spin on it.
They donate their unsold meals to food banks. I love that they give back to people in need by donating their unsold meals.
Snap Kitchen Cons
They're not in all locations yet. This is a big drawback if you live outside their delivery or pickup locations.
To be honest, it was very hard to find anything else I didn't like about Snap Kitchen. They check all the right boxes and I believe once they expand, they might become one of the top prepared meal delivery services (outpacing Freshly and Factor_ Meals).
Are There Any Snap Kitchen Coupons?
Yes! If you're ready to order Snap Kitchen, we're here to help save you some money. Use any of the coupon codes below:
Use coupon code "LIVEBETTER60" to receive $60 off of your first 3 orders.
Use coupon code "dsca-4d4" to receive $45 off your first order.
If any of the coupon codes above do not work, please let us know in the comments below. We update this section of the review as frequently as we can with the most up-to-date coupon codes.
Final Thoughts: Who Is Snap Kitchen Right For?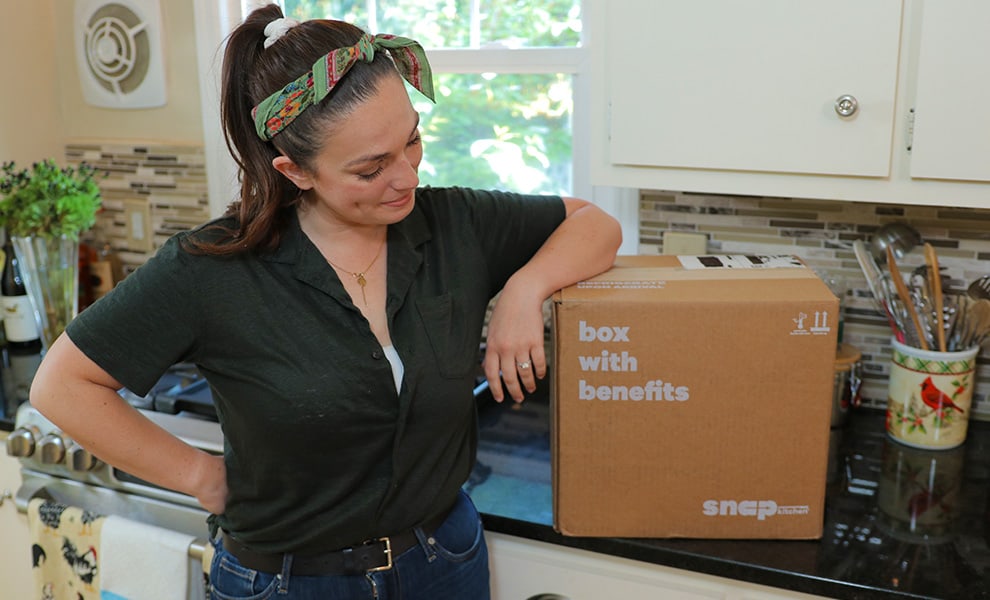 When Emily and I first placed our order, I was a bit skeptical about Snap Kitchen. It was relatively new to deliver to my area and I was already pretty impressed with other prepared meal delivery services (Freshly and Factor Meals). That being said, our Snap Kitchen experience really blew me away.
Even though there were some super small issues with our meals because of the coronavirus pandemic — one meal didn't have a label and another had to be replaced — they all still came out delicious.
This meal delivery service would be perfect for anyone who is looking to stick to a specific diet and wants to save time in the kitchen. There's zero cooking or prep involved. You just throw your meal in the oven or microwave and it's ready to eat in as little as 3 minutes. Plus, everything is nutritionally balanced and fresh.
Have you tried Snap Kitchen? Have a question about their prepared meal delivery service that we didn't answer? Let us know in the comments below!