Food Box HQ Note: Freshly has gone out of business. The last day of delivery is January 21, 2023. If you are looking for alternative pre-made meal delivery services, you can view our favorites here.
Like many people, Emily and I are always trying to find new ways to save some time during the day. Between work, random chores, going to the gym, taking care of Hank (our rescue pup), and everything in between, time always seems to fly by.
So, when it comes to cooking, there are some days we're just too tired to cook. Often, this means we order takeout, which is not only expensive ($40 or more) but also usually leaves us with unhealthy options to choose from. Pizza is great but not exactly the healthiest 😃.
When we first stumbled upon Freshly after seeing an ad, we were intrigued. Could a meal delivery service send good-for-you pre-made meals that actually have flavor? We decided to put our taste buds to work in order to find out!
Keep reading to see our full experience of using Freshly since 2017…
How Freshly Works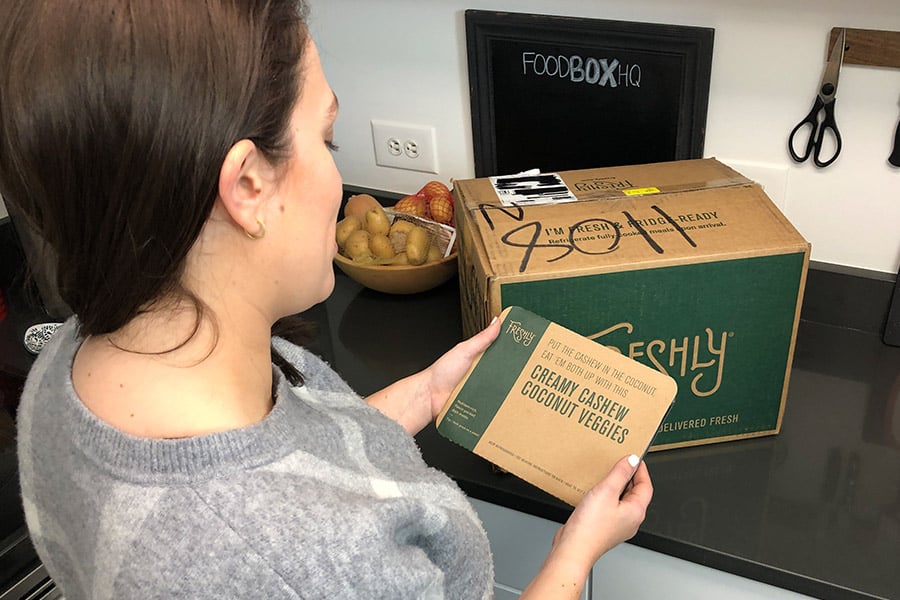 The premise of Freshly is simple — they send you pre-made meals on a weekly basis. Being pre-made, you simply heat them up and they're ready to eat. However, don't make the same assumption I originally did…
When I first heard these were "heat and eat" type meals, I just thought these must be the same type of meals you'd find in frozen section of the supermarket. I was very wrong.
Freshly's meals are pre-made but never frozen. I think of it like having a personal chef make all my meals for the week. This is because they're quite literally made by a team of chefs. They're also prepared without all those food additives like artificial flavors/colors you sometimes see in frozen meals (yuck).
Types of Meals They Offer

One of the things that drew me to Freshly before we even ordered our first box was when I was browsing their meals, I saw a ton of variety.
When you hear "pre-made meals" your first thought might be simple pasta dishes, maybe with a side of veggies, or other boring and easy-to-make meals. At least that's what I thought of.
Freshly surprisingly offers an assortment of cuisines — Italian, Mexican, Japanese, American, and many more. While I'm not a super adventurous eater, I like to throw in an "exotic" Freshly meal I've never had before into every box we get to try new foods I probably wouldn't order at a restaurant.
Here are some examples of meals you might see when ordering:
Chicken Teriyaki with Brown Rice & Veggies
Mexican-Style Shredded Beef with Masa Cakes
Super Pesto & Sausage Fusilli
Cod Cakes with Spicy Chipotle Sauce & Succotash
FYI, we'll go over the meals we got in our most recent box — including how they tasted and our favorites — a little later on!
Meal Plans
The plans they offer are based on how many meals you get each week. They currently have a 4 meal, 6 meal, 9 meal, and 12 meal plan.
With any plan you go with, you'll have the ability to select from over 30 different meals from their menu for the week. These meals are constantly rotating so you can expect to see new meals all the time. They do, however, bring back favorites every once in a while.
One thing to keep in mind is that Freshly sends single-serving meals, unlike other popular meal kits that send meals with varying servings (usually 2 or more). To give you an example using another meal kit, you can't really order a single serving meal from Blue Apron. The lowest they go is 1 meal that serves 2 people. With Freshly offering meals that are single-serving, it makes it a good meal kit option for people who live alone.
Food Box HQ Note: Freshly now offers a seperate business plan for bulk ordering.
Meal Categories
Freshly categorizes their meals into the following...
Purely Plant: These are Freshly's plant-based and vegetarian meals.
Signature Collection: These are Freshly's "original" meals. I find them to be more homestyle.
FreshlyFit: This is Freshly's take on more nutritious meals. All of the meals in this category are higher in protein and lower in carbohydrates. View our unboxing and taste test of FreshlyFit meals over on our YouTube channel here.
Proteins & Sides: Freshly now offers a handful of proteins such as chicken breasts and sides such as green beans.
Diets They Cover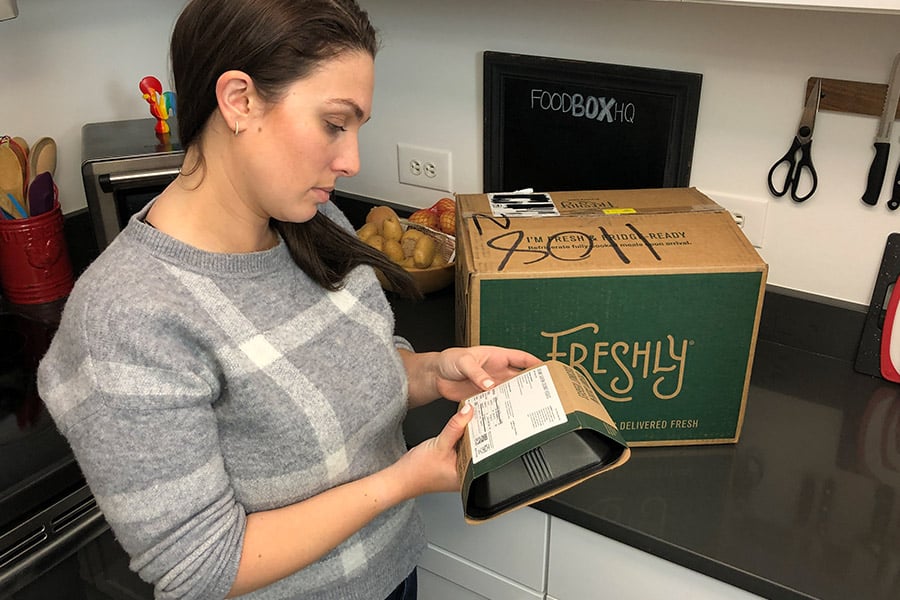 One of my personal favorite things about Freshly is their meal selector make it easy to see the dietary specifics of the foods you're looking at.
This means, at a glance, you can see which meals would fit into your personal dietary restrictions.
Here's a rundown of how they categorize meals:
High Protein
Dairy-Free
Soy-Free
Gluten-Free
Under 35g Carbs
Under 500 Calories
In addition to having gluten-free meals on their menu, they're also one of the few meal kits that's certified gluten free. What this means is that there is basically no risk of gluten cross-contamination in their kitchens since they have to meet strict standards for gluten-free safety. This is big news for those suffering from a gluten allergy or Celiac disease since, as of writing this, there are very few other meal kits that are certified gluten free.
Delivery
Starting out, Freshly used to only deliver to the west coast. Now that they've expanded, they're one of the few pre-made meal kits that ships to all states within the continental US. Sorry people in Alaska and Hawaii, they can't ship to you (yet)!
They ship packages Monday through Friday. This means, you can expect your order to arrive between Tuesday and Saturday. The date of delivery depends on the delivery date you selected when checking out and also on your location due to the ability of their carrier to make deliveries.
Freshly has been pretty on-point with our deliveries in the past. Each of our orders has arrived at our doorstep on the exact day we selected for it to come. While this may seem like a trivial detail, it's quite important.
When you get a meal kit of any kind, you need to be home within at least 24 hours of it being dropped off so you can put it in your refrigerator to ensure the food is kept from spoiling.
Unfortunately, we've had experiences with other meal kits in the past that delayed our order and sent it when we were out of town. This led to the food in our box going bad. While sometimes it's not the meal kits fault (Fedex and UPS do get delayed and make mistakes) it's still really important for the meal kit to show up when you expect and not when you're away.
Once your order has been shipped, you will receive a shipping confirmation email that contains your tracking number and the expected delivery date. Your box will always be shipped either by FedEx or OnTrac, so their delivery schedules will play a role in when you receive your order. Freshly chooses the carrier that is able to get the meals to you the fastest based on your location.
Packaging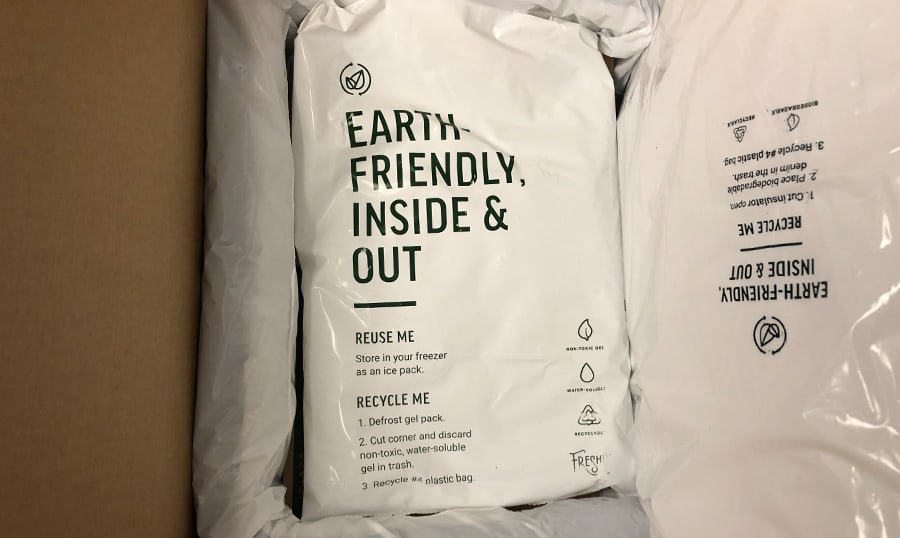 Freshly uses something called modified atmosphere packaging to keep food fresh during transportation. In scientific terms: this modifies the composition of the internal atmosphere of a package allowing food to last longer. In layman terms: this process basically extends the shelf life of fresh foods compared to packaging in air. It also lowers the amount of oxygen, which slows the growth of bacteria and lowers the speed of oxidation reactions.
Essentially, they've designed their packaging in a way that allows your food to last longer so they don't have to rely on the use of any kind of preservatives.
Meals will also arrive with recycled denim insulation (wrapped in plastic) inside the box, to keep everything cold and safe in transit. You can cut off the plastic wrapping on the insulation, recycle the plastic and throw away the denim insulation.
What's interesting about the denim insulation is that it's mostly biodegradable. This means that it will eventually breakdown in the landfill, rather than just taking up space or polluting the environment like polystyrene foam (commonly referred to as "Styrofoam").
The gel packs are non-toxic and Freshly encourages draining them, washing them out, and recycling the plastic.
Check out our video review of Freshly here where we go in-depth on the Freshly packaging, how to recycle it, and more.
Food Box HQ Note: In 2021 Freshly rebranded their packaging to look like this. Everything else, including their meals, stayed the same.
What To Know About Freshly's Environmental Impact
One of the complaints I hear all the time about meal kits is that people assume they create a ton of waste. I actually used to believe this too and it was one of the major reasons why I held off on ordering my first meal kit for so long.
Funny enough, once I started regularly using meal kits and comparing the waste they create to how much waste our average grocery store runs created, they were nearly the same. What's even more interesting is a study in 2019 found that meal kits actually have a smaller carbon footprint than grocery shopping.
Comparisons and research aside though, there will always be plastic involved in any meal kit you order (at least for now). However, since Freshly is a pre-made meal kit, they don't send you pre-packaged ingredients each wrapped in plastic like most other meal kits do. The only plastics in your box are going to be the meal tray/cover, ice packs, and denim insulation cover. And all 3 of them are easily recyclable!
This is the main reason we listed Freshly as one of our favorite eco-friendly meal kits for people looking to cut down on single-use plastics.
What Meals We Got In Our Box
Now let's get to the "meat" of this review (pun intended). Below is an overview of each meal we received in our most recent box, along with our thoughts on it…
Chicken Livorno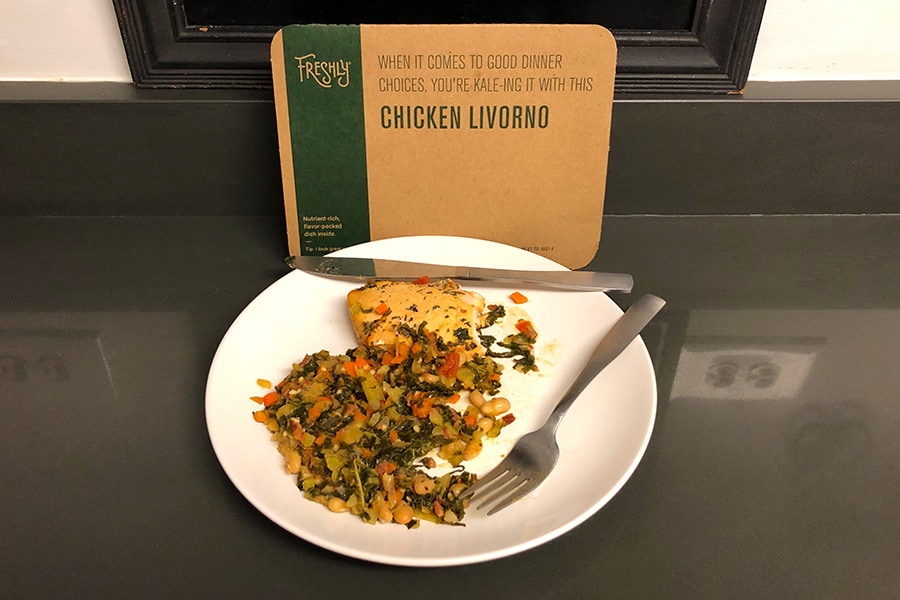 This is the meal you can see us taste test in the recent Freshly unboxing video above. It's made with fire roasted tomatoes, smoky bacon, roasted carrots, sautéed kale, and great northern beans. The chicken in this meal, like the all the others we've had, was not under or overcooked — it was perfectly juicy and tender. While flavorful, this meal was also one of the healthiest of our picks. It was 40g of protein, 22g of carbs, and 410 calories. Freshly also listed this one as dairy-free and soy-free.
Creamy Red Beet & Chicken Risotto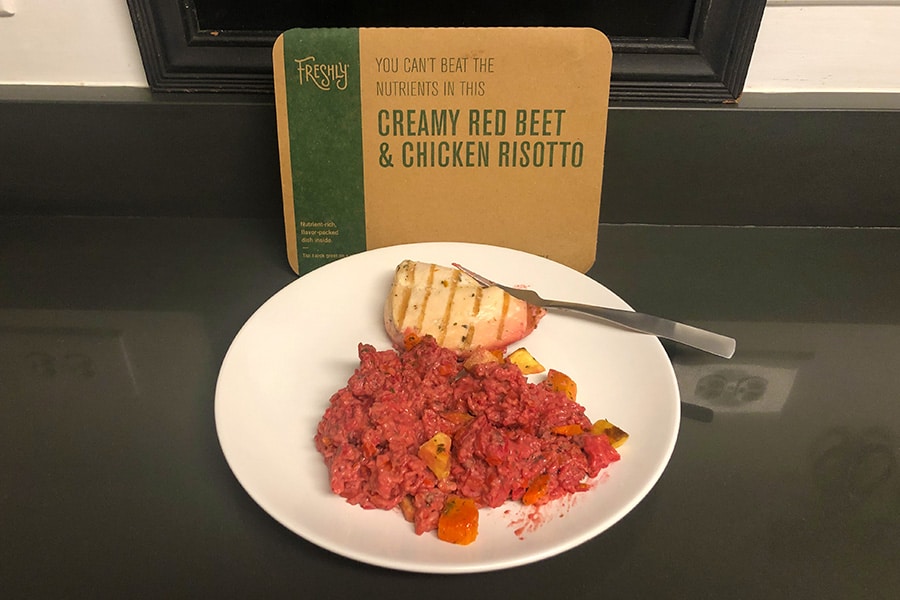 This was probably the most adventurous meal we ordered in the box. First being the fact that I'm not a huge fan of beets and second being that the beets turned the arborio rice a redish/pink color so there's no telling what the flavor would be. Getting over the initial look, the flavor was good — not my favorite but it did surprise me that I ate the whole plate. The beets actually added a pop of flavor to the risotto and, as always, the chicken was cooked to perfection. The only real downside was that this meal was a bit higher in calories (650) and carbohydrates (59g) than I would have preferred. But, as I mentioned earlier, I like to throw one "exotic" meal into each of our Freshly boxes and this was that meal.
Creamy Cashew Coconut Veggies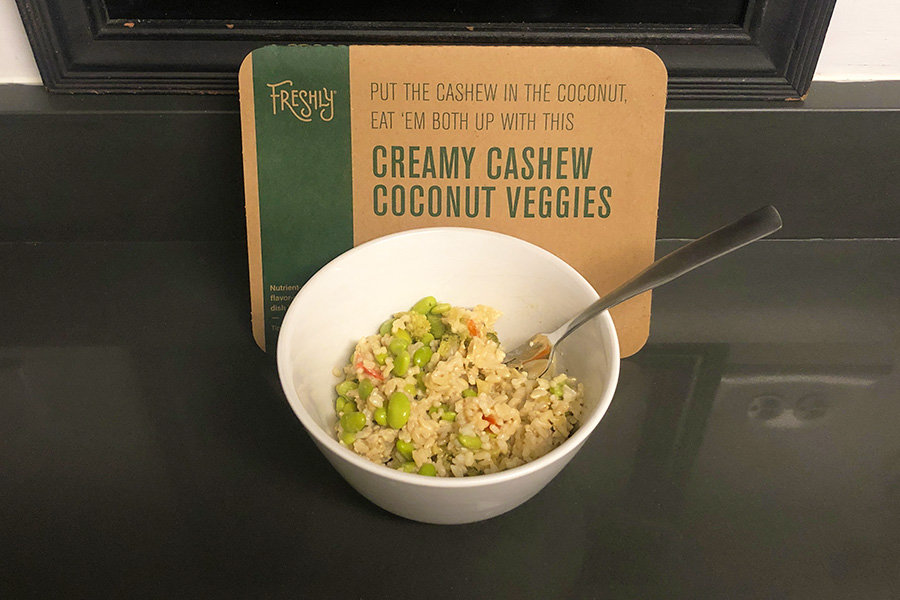 This meal is made with brown rice, broccoli, and almonds too. What made this meal shine was the sauce. It's made from cashew and almond butter, unsweetened coconut milk, garlic, coconut aminos (a gluten-free soy sauce alternative), and ginger. It was super tasty! This one clocked in at 530 calories, 49g carbs, and 29g of protein.
Carved Turkey & Grain-Free Stuffing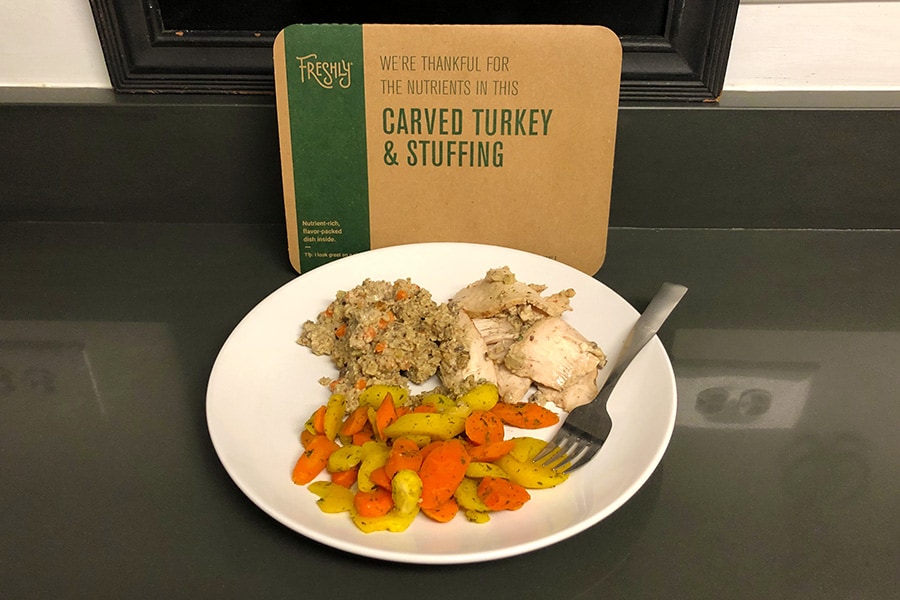 My absolute favorite meal to have is Thanksgiving dinner so I may be a bit biased when I tell you I loved this one. It's made with all the traditional Thanksgiving foods, including gravy and a side of seasoned carrots. I couldn't even tell the difference between their gluten-free stuffing (made with a cauliflower rice base) and traditional "stove top" stuffing. While this meal was probably my favorite, the cherry on top is the fact that it was only 450 calories, 25g of carbs, and 33g of protein.
Beef & Veggie Meatballs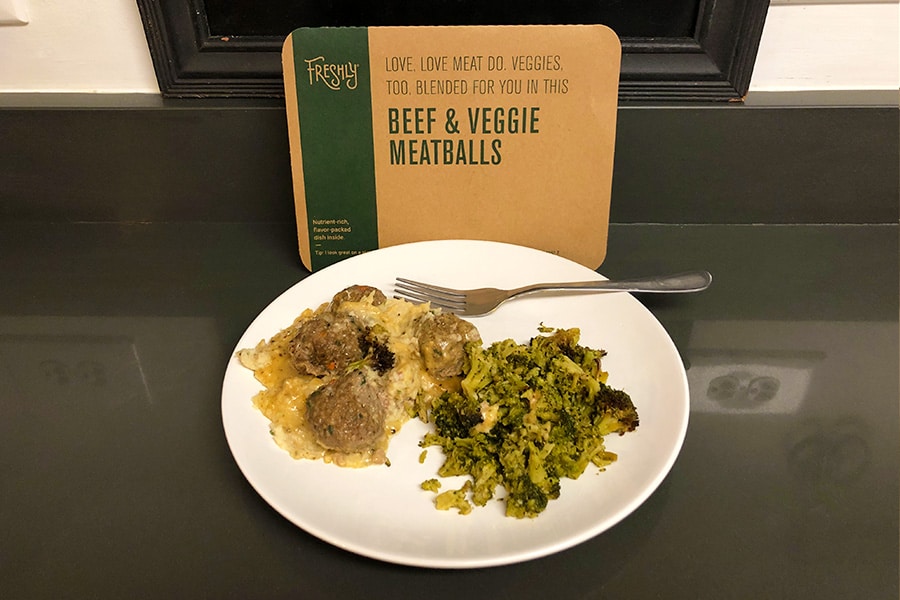 If you're not an adventurous eater but still want a meal packed with flavor, this is a great option. The meatballs come with a side of cauliflower potato mash and broccoli. But what really make this meal is the creamy garlic and herb gravy — so delicious. This meal comes in at 590 calories, 31g or carbs, and 30g of protein.
Backyard BBQ Chicken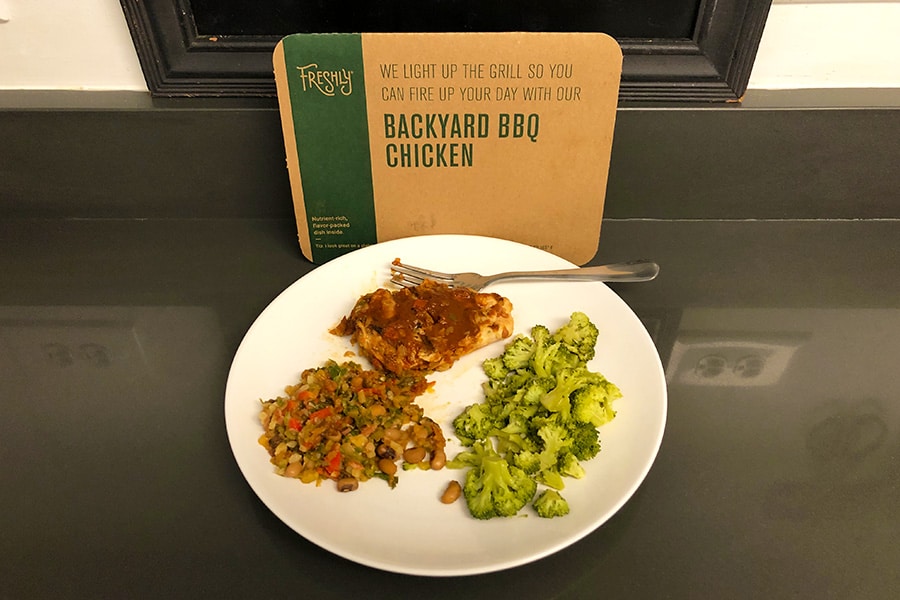 If you're looking for a good-for-you meal that's packed with flavor, this is the meal to go for. It comes with a delicious and perfectly cooked chicken breast, black-eyed peas, cauliflower rice, mustard greens, turkey bacon bits, and bell peppers, all topped with a sweet BBQ sauce made with honey. This was the most health-conscious meal we got in our box. Ready for this? The entire meal is only 360 calories, 26g of carbs, and a whopping 40g of protein.
Our Favorite Freshly Meals So Far
Since we've been receiving Freshly meals since around 2017, Emily and I have a running list of our favorites. If you're just ordering for the first time, feel free to use this as a starting point for what to fill your box with:
Steak Peppercorn with Sautéed Carrots & French Green Beans
Carved Turkey & Grain-Free Stuffing
Chicken Livorno
Chicken With Butternut Mac & Cheese
Buffalo Chicken
Backyard BBQ Chicken
Freshly Cooking Tip: Use An Oven To Get The Most Flavor Out Of Your Meal
Being pre-made, most people just throw the meals in the microwave to heat them up before eating. While this is a viable option, if you're looking to get the most flavor, we definitely recommend using an oven instead.
Microwaves heat food using a high-intensity electromagnetic field to create friction among the molecules within the food. This is the reason why you can stick your hand into a microwave immediately after it's done heating the food and not feel the heat (it's transferred directly to the food).
While efficient, microwaves don't always heat or cook food as thoroughly as they should. Think about the last time you heated up something in the microwave and the outside was scolding hot but the inside was cold. Happens all the time in ours.
An oven may take longer to cook the Freshly meals but I've found that they keep the original flavor of the food whereas microwaving sometimes leaves the meals bland and flavorless.
We often use our Tovala smart steam oven to heat up Freshly meals. It has the quickness of a microwave but keeps the flavor like cooking in a traditional oven.
Freshly's Mobile App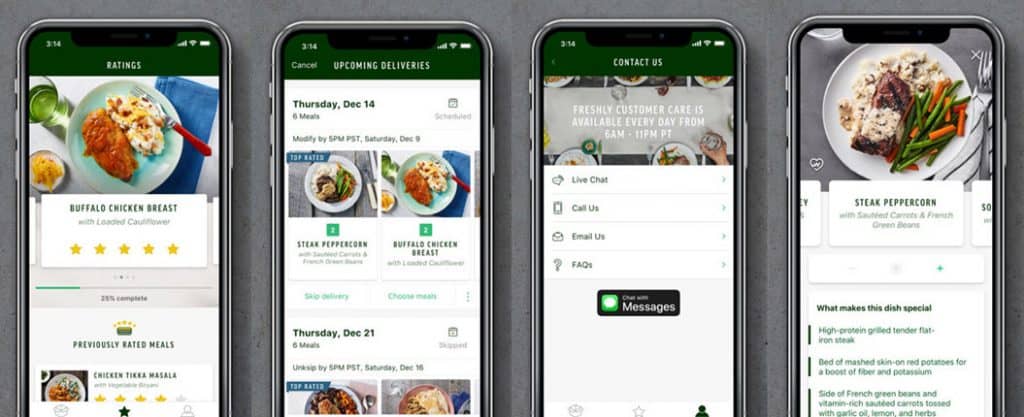 In addition to being able to access your personal Freshly account via their website, they also have a dedicated mobile app for both iPhone and Android users.
While I usually stray away from downloading another app on my already cluttered phone, the Freshly mobile app has some nice perks that make it worth using:
Edit Upcoming Meals on the Fly: When using a meal delivery service, it's important that you remember to make meal selections each week. Otherwise, you could wind up getting something that may not suit your personal preferences (since they automatically make the meal choices for you if you don't pre-select). With the Freshly app, there's no need to panic because you can grab your phone and edit your upcoming meals directly on your phone. Once I forgot we were going to be away when our next delivery was scheduled but in a few thumb taps on my phone, I was able to skip the delivery right in the app.
View Nutritional Information & Ingredients for Meals: When choosing your meals, you may want to see all the nutritional information and ingredients before you actually select it. You can do that right within the app.
Easily Log Daily Nutritional Information With Apple Health: I'm big into health tracking — everything from fitness to sleep (I wear my Oura ring religiously). One of the main perks of using the Freshly app for iPhone users is that it easily syncs with Apple Health to track your meals and nutrition (calories, protein, carbohydrates, etc).
Rate Past Meals for Better Future Recommendations: One of the best things you can do to help a meal kit better understand your flavor preferences is rate past meals. With this information, Freshly can recommend meals you might like. The app makes it super simple to rate your past meals. Simply log into the app, open the "Ratings" tab at the bottom of the screen, and then you'll see new meals from your delivery that are ready to be rated 1 to 5 stars.
Set Any Dietary Preferences: If you have any dietary preferences, you can easily set those or change them inside the Freshly mobile app. This allows you to choose any ingredients you want to avoid in your meals. After you've done this, you'll see a warning symbol over any meals that contains the ingredient you're avoiding so you don't add it to your cart.
Contact Their Customer Support Team: If you ever need to get in touch with Freshly's customer service, the app has made that easy too. You'll find a page that presents all the ways you can get in touch with their team. In addition to calling and emailing, you can even message with a representative right on your phone.
Freshly vs. Similar Pre-Made Meal Kits
These days there are dozens of pre-made meal delivery services to choose from. However, each has its own unique features and benefits. In order to help you make the right decision based on your lifestyle, below are the pre-made meal delivery services I believe are most similar to Freshly and how they differ...
Food Box HQ Note: Do be aware that many traditional meal kits (such as Sunbasket and Home Chef) now offer pre-made meal options.
Frequently Asked Questions About Freshly
Having shared our experience of using Freshly over the years, we've received dozens of comments and questions on this review article as well as on our many YouTube reviews of Freshly.
In order to help answer everyone's questions as best as possible, I've rounded up the most popular questions we've seen along with their answers below...
Can You Freeze Meals From Freshly?
Yes, there are people that order Freshly meals in bulk, freeze them, and reheat them to eat. I've done this on occasion when I know I'll be away and have an extra meal or two that I don't want to throw away when I get back. One thing to keep in mind is that if the meal is frozen, you can't use the same heating instructions they list on the label (since those are for refrigerated meals). Depending on the meal, I will transfer the frozen food to an oven safe dish and heat it up in the oven at 400 for about 20 minutes.
How Frequently Does Freshly Change It's Menu?
Freshly states that they "try to change up meals every week". I've found this to be true but I've noticed that they usually keep a few of their most popular meals on the menu week over week.
Are Freshly Meals Healthy?
Freshly is definitely leaning into more "health" focused meals. I've noticed that they're adding more and more plant-based meals and FreshlyFit meals, which are lower in carbohydrates and higher in protein.
Are Freshly Meals High In Sodium?
The level of sodium is going to vary meal to meal. To give you an example, here are the levels of sodium in 3 popular meals Freshly offers:
Steak Peppercorn with Sautéed Carrots & French Green Beans — 680mg of sodium (30% daily value)
Homestyle Chicken with Masterful Mac & Cheese — 560mg sodium (24% daily value)
Chicken Livorno with Hearty White Beans & Kale — 800mg (35% daily value)
Do The Pictures Of The Meals On Freshly's Website Look Like The Meals You Get?
I don't think Freshly does an good job of showing what the meals actually look like. This is likely because most meals from most pre-made meal delivery services don't look super appetizing when you first open them up. You'll notice in all of our pictures of the Freshly meals we ate, we didn't doctor them to make them look better. This is to give you the best idea of what they'll actually look like when you get your box.
Where Are Freshly Meals Shipped From?
Freshly runs 3 large commercial kitchens in New Jersey, Arizona, and Maryland. Your meals will ship from the kitchen closest to your location.
Are Freshly Meals Organic?
Freshly is not certified organic and they are a little vague when it comes to using organic ingredients.
Who Owns Freshly?
Freshly is now owned by Nestle.
Is Freshly Good For Weight Loss?
In my opinion, Freshly could be a decent pre-made meal delivery option for those looking to follow a diet that involves reducing calories and/or carbohydrates. They have a whole category of meals called FreshlyFit, which are meals that are low in carbohydrates and high in protein. That being said, Freshly doesn't explicitly market themselves as a weight loss meal delivery service. I believe there are better options out there that are similar to Freshly, such as BistroMD.
Are Freshly's Meals Filling?
The size of Freshly meals are going to depend on which you order. For the most part, they all have a protein, carbohydrate, and vegetable. The meals range from around 300 calories on the low end to upwards of 600 calories on the high end. I am full after eating one of their meals but the portion sizes are definitely smaller than what I normally make for lunch or dinner.
How Do You Cancel Your Freshly Subscription?
Freshly makes it pretty simple to cancel your subscription. Just log in, go to "settings", "my subscription", and click on "cancel subscription".
How Do You Skip A Week Of Meals?
Freshly also makes skipping certain weeks easy. Log in to your account and go to "deliveries". Then scroll down and click "skip week" on the weeks you'd like to skip.
Pros & Cons of Freshly
Let's review the main positives and negatives of Freshly to help you determine if this is the right meal delivery service for you…
Freshly Pros
Saves you time. Having used Freshly since 2017, I've found that the biggest benefit, without a doubt, is that it saves you time. I usually tell people it's like having a personal chef drop off meals once a week.
Variety of different types of meals. They have pasta, chicken, steak, fish, beef, turkey, pork, and veggie based meals. They're also always rotating in different cuisines and bringing back favorites.
Diet-specific meals. When choosing meals, you can see specific dietary categories that they fit into (under 500 calories, high protein, low carb, etc).
All meals are single-serving. This is a huge benefit for people who live alone since almost no other meal kits send one serving meals (most start at two servings).
All meals are certified gluten-free. Being certified gluten-free means that there is no risk of gluten cross-contamination in the meal prep and cooking process.
They're strict about what ingredients they use. They actually have a whole page on their website dedicated to the 85+ banned ingredients they'll never use in their meals.
Freshly Cons
No options for breakfast. Freshly meals really only cover lunch and dinner options as of right now. If you are in need of breakfast options too, Factor Meals is a similar pre-made meal kit that offers pre-made breakfast, lunch, and dinners.
Some customers have complained about a drop in quality since Nestle purchased them. I haven't noticed much of a difference in any of our recent Freshly meals but some others have.
Meals don't look as "nice" as a meal from a restaurant. One of the main negatives is a bit nonessential but something that a lot of people care about — how the meals look. This isn't something that I care about (I put more emphasis on flavor and how much time it saves me) but it is a negative I've heard other Freshly customers call out.
Freshly Coupons, Promo Codes, & Discounts
If you've already made up your mind about Freshly and you're ready to order, I'm here to help you save some money. Use any of these coupons to save on your Freshly order:
Use coupon code "BBQ60" to try Freshly's new BBQ Chicken meal (the one reviewed above) and take $15 off your first 4 orders.
Use coupon code "LAUNCH15" to receive $60 off your first four orders ($15 per order).
Use coupon code "GET50" to receive $50 off your first five orders ($10 per order).
I constantly update this section of the site with the most recent coupon codes. If any don't work or are expired, feel free to let me know in the comments!
Final Thoughts: Who Is Freshly Right For?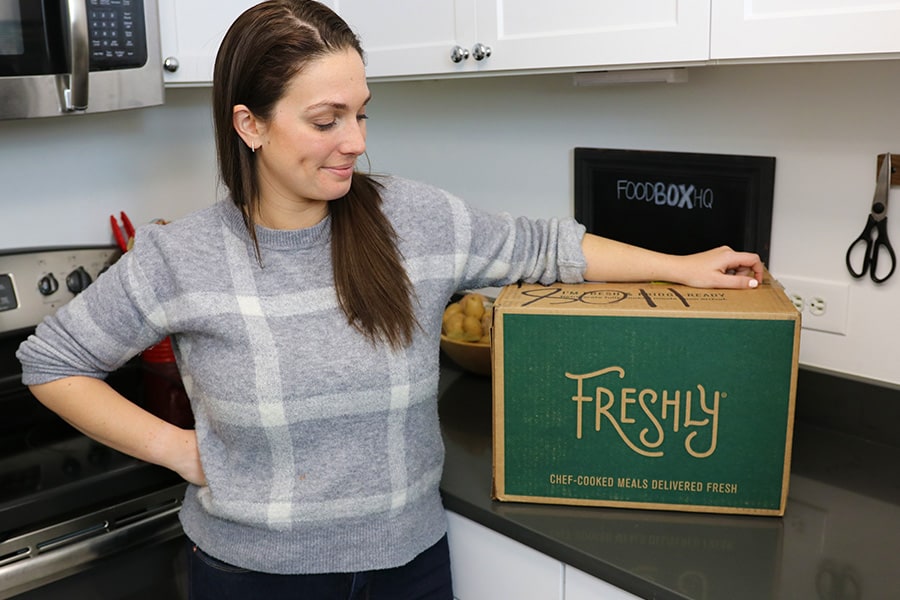 Freshly is one of my personal favorite meal delivery services. However, that doesn't mean that they're necessarily the right choice for everyone.
Being pre-made, they're able to offer some unique benefits over many of the other meal kits on the market. The main benefit being that they save you time.
With Freshly there's zero prep or cooking involved and basically no cleanup either. I've averaged saving upwards of 14 hours each month just using their service instead of prepping/cooking lunches and dinners. That's over half a day's worth of time!
Freshly is the perfect meal delivery service for someone who lives a busy lifestyle and would rather not have to worry about finding a recipe, buying the ingredients, prepping everything, cooking, and cleaning up.
Often, I find myself grabbing a Freshly meal for eating on the go. If you're someone who'd rather ring lunch to work, Freshly is a great option to consider.
That being said, if you truly enjoy cooking or it's a hobby of yours, you may want to consider a meal kit you can actually spend time and have fun cooking rather than a pre-made one.
Overall though, I'm really impressed with Freshly. When it comes to meal kits (especially pre-made ones) you often have to choose between it being nutritious, flavorful, or easy to make. Freshly is one of the few that checks all those boxes.
Have a question about Freshly we didn't cover? Have you tried them before? Let us know in the comments below!
Past Food Box HQ Freshly Reviews
Feel free to check out any of our past Freshly YouTube reviews below: