Dieting to lose weight can seem daunting. Not only do you have to restrict portions, calories, and carbohydrates, but most diets also require sacrificing taste. No wonder why so many people fail at dieting.
Thankfully, if you're looking to lose weight in today's world, you have a lot of resources to lean on for help. One of the most popular being meal delivery services.
Today we're going to look at one of the most popular weight loss meal delivery services—BistroMD. We'll be diving deep into how it works, taste/quality of meals, our personal BistroMD weight loss story, and if it's actually worth purchasing.
Let's get started!
How BistroMD Works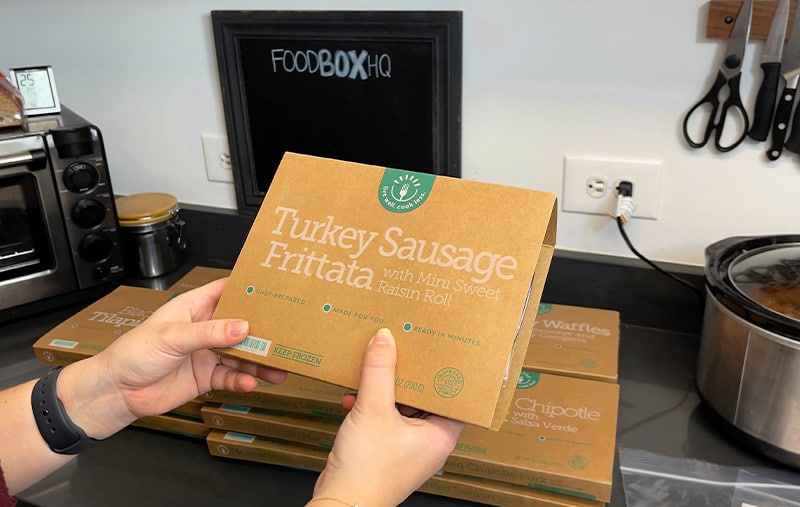 Getting started with BistroMD is pretty simple. Upon signing up, you'll select the plan that best aligns with your weight loss goals (more on that below). From there, you'll be able to select the volume of meals you'd prefer to receive. This includes either their "Full Program" which is a full breakfast, lunch, and dinner each day or their "Lunches & Dinners" plan, which is exactly what the name suggests, lunches and dinners only. Once you've personalized you plan, you can then begin choosing the meals you'd like in your next box.
All of the meals that BistroMD sends are premade and frozen.
BistroMD Meal Plans
BistroMD has a surprisingly diverse set of meal plans to choose from, more so than many other meal delivery services on the market. You'll be able to select from the following:
Standard: This is their most popular plan and basically allows you select from any meals, without restriction.
Gluten Free: As the name suggests, all of these meals will be gluten free. One thing to note is that these meals are not certified gluten free. Rather, they say on their website that these meals are "tested to the FDA gluten free standard and do not contain wheat, rye, or barley". If these meals are prepared in the same facility as their other meals, there is still a risk of cross-contact.
Heart Healthy: This program follows all of the diet specifics laid out by the American Heart Association. Specifically, this means that these meals will contain less than 600mg of sodium and less than 3.5 grams of saturated fat per serving.
Diabetic: These meals are meant to help those with diabetes regulate their blood glucose levels. This means that they contain 25 grams or less of net carbohydrates.
Menopause: The meals on this plan are designs to keep blood sugar stable in order to prevent the overproduction of insulin. Overproducing insulin can lead to weight gain. They do this by restricting net carbohydrates in each meal to 25 grams or less.
Food Box HQ Note: It is very important to call out that you should speak with a medical professional prior to starting any diet. While BistroMD does say that they work with registered dietitians and doctors to designs these meals, your body and needs are unique.
Meal Variety
This is where BistroMD really outshines nearly every other meal delivery service on the market. They currently have over 150 different meals to choose from. This not only means a wide variety of meals but also a wide variety of cuisines to choose from. You'll see traditional options ranging from Lasagna with Garden Marinara to Meatloaf with Honey Bourbon Glaze, all the way to more adventurous meals like Tilapia with Orange Parsley Sauce on a bed of red and wild rice.
Meal Quality — How Do They Combine Flavor With Results?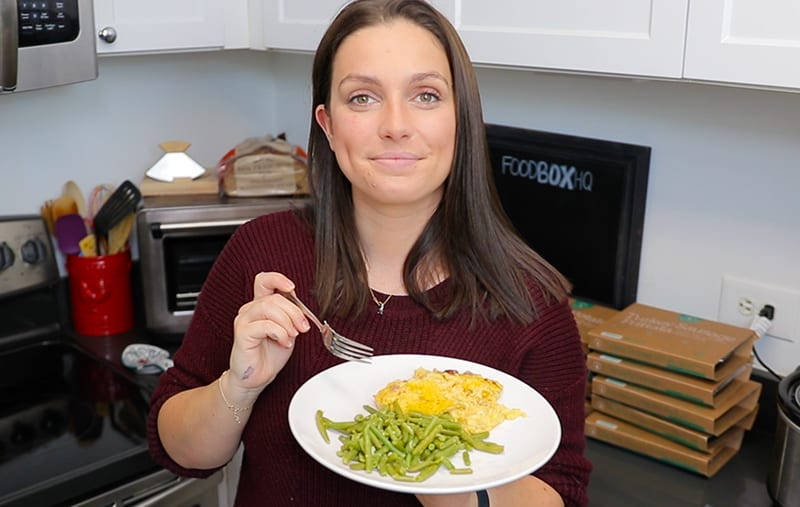 Sure, variety is great, but it's meaningless if the meals are low-quality or taste like cardboard.
BistroMD has a huge list of banned ingredients they say they'll never use. In fact, it's over 100 ingredients that include things like: artificial ingredients, trans fats, artificial preservatives, and refined sugars.
While this leads to the meals being very clean, do they actually taste good? Yes, they do.
We've reviewed BistroMD since 2017, and we've been thoroughly impressed since day one. The secret to their success is swapping those bad ingredients for better alternatives that keep flavor intact.
To give you an example, you might have been surprised to see you can eat meals like lasagna and meatloaf on BistroMD. This is because instead of using traditional recipes that rely on higher carbohydrates and calories, BistroMD sneaks in whole foods. So that meatloaf mentioned above isn't actually made with breadcrumbs, instead they use quinoa and carrots. Using these types of "good for you" ingredient swaps leads to meals that are not just better for you but also better tasting than a traditional diets meals.
Personal BistroMD Weight Loss Story
To give you an idea of just how long BistroMD has been around, Emily (my wife), began using their service back when she was in college.
As she says in the video above, after coming back from a semester abroad in Italy, eating a lot of pasta and drinking delicious wine, she wanted to try out a meal delivery service to help her get her diet back on track. This led her to ordering BistroMD.
While we don't have the exact records, since this was around 10 years ago as of writing this, Emily remembers the BistroMD plan helping her stick to pre-portioned meals that were low in calories without sacrificing flavor. This ended up helping her shed a few pounds within the first month.
What To Remember When Trying To Lose Weight
While Emily's story of losing weight could be inspiring to some who are looking to purchase BistroMD to start their own weight loss journey, it's very important to go about it the right way. This means not focusing on fast weight loss but rather healthy weight loss.
I've found that BistroMD does a great job of focusing on the core tenants of dieting when it comes to weight loss:
Removing refined sugar
Focusing on high-fiber foods (such as vegetables) to keep you feeling full
Cutting back on carbohydrates
Eating whole foods rather than processed ones
While BistroMD takes a lot of the stress out of the diet portion of losing weight, it's important to not forget about as a holistic lifestyle change. This includes exercise, hydration, and sleep too.
Unboxing Our Recent BistroMD Meals & Taste Testing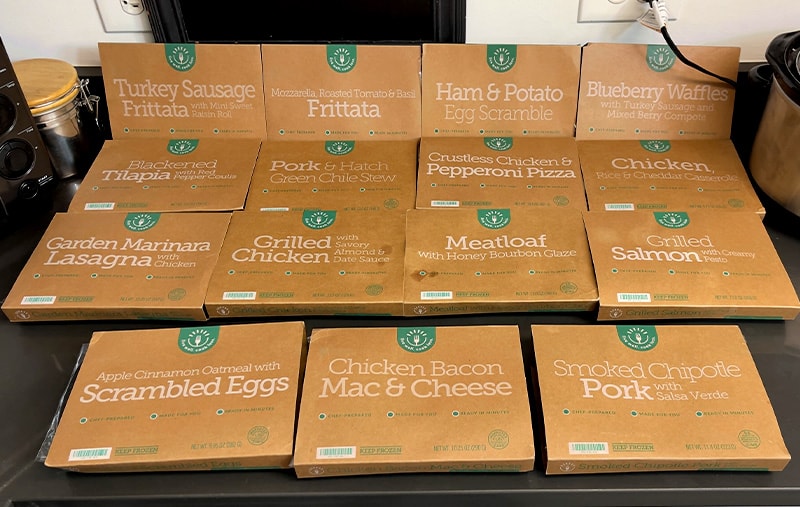 When using BistroMD, we usually go with their Standard Meal Plan, the Full Program, and select 5 day's worth of meals. Below is what we received in our most recent box…
Day 1 Meals
Apple Cinnamon Oatmeal with Scrambled Eggs (Breakfast): This was surprisingly delicious breakfast. I haven't had oatmeal in years and this reminded me of those old-school packets of oatmeal I used to have before school, of course not loaded with sugar.
Chicken Bacon Mac & Cheese (Lunch): This "good for you" mac and cheese is the perfect meal for when you're in the mood for some comfort food. The pasta is wheat-free and being portion controlled means you don't have to feel guilty eating it.
Smoked Chipotle Pork with Salsa Verde (Dinner): This meal had a delicious smoky seasoning with just a hint of spice from the salsa verde. As someone who isn't a big pork lover, this was actually a very tasty meal.
Day 2 Meals
Turkey Sausage Frittata with Mini Sweet Raisin Roll (Breakfast): The sausage frittata was delicious but I wasn't a huge fan of the mini sweet raisin roll as it was a bit dry.
Blackened Tilapia with Red Pepper Coulis (Lunch): For frozen fish, this tilapia actually came out very good. I always get a little hesitant whenever eating any premade fish dishes. This one had a surprising amount of flavor.
Garden Marinara Lasagna with Chicken (Dinner): It's amazing whenever I get to eat pasta on a diet meal delivery service. However, since it comes in under 28 grams of carbohydrates, I don't feel guilty scarfing it down.
Day 3 Meals
Mozzarella, Roasted Tomato & Basil Frittata (Breakfast): Out of all the breakfasts in this box, this one was my favorite. The mozzarella added the perfect level of juicy chewiness, the tomatoes were not overly soggy to weigh down the egg, and the basil was the perfect hint of extra flavor.
Pork & Hatch Green Chile Stew (Lunch): I wasn't a huge fan of this lunch. Maybe it was that I wasn't super hungry on the day I was to eat it but it just didn't have the level of flavor to interest me so I really only ate about half of it.
Grilled Chicken with Savory Almond & Date Sauce (Dinner): I'm a pretty boring eater whether on a diet or not so, for me, this grilled chicken was delicious. Even though it was premade and frozen, it still came out juicy reheated.
Day 4 Meals
Ham & Potato Egg Scramble (Breakfast): As far as traditional breakfasts go, this one was super tasty.
Crustless Chicken & Pepperoni Pizza (Lunch): Where else can you eat pizza on a diet? This was a great mid-day "cheat" meal.
Meatloaf with Honey Bourbon Glaze (Dinner): This was one of my favorite dinners. It's funny because even though they swap out breadcrumbs for quinoa and carrots, it still tastes just like traditional meatloaf!
Day 5 Meals
Blueberry Waffles (Breakfast): These waffles didn't come with any syrup but rather a mixed berry compote made up of blueberries, blackberries, raspberries, and strawberries. Even though I usually smother my waffles in syrup, the berry sauce was a delicious (and better for me) alternative.
Chicken, Rice, & Cheddar Casserole (Lunch): Another "boring" meal that I loved. My grandmother used to make casseroles and this one brought me back to being in her kitchen.
Grilled Salmon with Creamy Pesto (Dinner): Another winning fish meal! The salmon still had a lot of flavor for being frozen and the creamy pesto sauce was to die for.
BistroMD Pros & Cons
Now that we've covered the fundamentals of how BistroMD works and our experience having used it, let's go over the key pros and cons to help you decide if this is the right meal delivery service for you.
BistroMD Pros
The most amount of meals to choose from. Out of all of my years reviewing meal delivery services, I don't think there is any other service that comes close to offering over 150 meals to choose from.
Great selection of meal plans. BistroMD has covered a lot of bases when it comes to specific diets, having programs that range from diabetes and heart-healthy to gluten free. They even have a sub-brand called "Silver Cuisine" that caters to seniors.
The basis of how they design their meals works for weight loss. All of their meals are created according to research-backed methods for losing weight. This means portion-control, reducing calorie intake, reducing carbohydrate intake, and ensuring you're eating the right balance of foods (lean proteins, vegetables, complex carbohydrates).
BistroMD Cons
The meals come frozen. Some people may look at this as a negative since the meals are not coming "fresh", however, it will help the meals last longer if you don't prefer to eat them right away.
Some meals are duds. While we have enjoyed the majority of our BistroMD meals, there definitely have been meals I haven't necessarily loved eating. This is either due to little to no flavor or too much seasoning used to overly amplify the flavor.
Shipping is not free. They charge $19.95 and delivery generally takes 5+ days to hit your doorstep.
Is BistroMD Worth It?
Making a significant change to your diet can be hard. I know firsthand what those sugar and fried-food cravings can be like. When it comes to BistroMD, I believe they could be one of the best ways to jumpstart a change in your regular diet.
It really comes down to the fact that they understand how to create balanced and clean meals (lean protein, vegetable, and complex carbohydrate) that don't taste like cardboard. While not every one of their 150+ meals tastes like a 5-star gourmet chef crafted them, many surprised me with their flavor. However, that's not to say there weren't some that I won't reorder.
One of the reasons why BistroMD works is that they take recipes we all know and love, and swap out the "bad" ingredients for better ones (such as the meatloaf example mentioned above).
If you're someone looking to jumpstart your weight loss journey and get on the path to better eating, BistroMD is a great option to consider.
Have a question about BistroMD we didn't answer? Leave a comment below and we'll get back to you ASAP!