Whether you follow a specific diet or you're looking to simplify mealtime, meal delivery services are the way to go. These services offer a quick and convenient way to prepare healthy, home cooked meals without spending hours in the kitchen. Not only do they provide you with chef-designed recipes and all the ingredients you need to prepare them, but some go so far as to do the prep-work for you and send fully pre-made meals right to your doorstep.
Over the past few years, meal delivery services have exploded in popularity. While once your options may have been limited, today you can choose from a variety of meal plans for every diet or preference under the sun. This comes in particularly handy if you're following a diet with specific rules like the Atkins diet.
For those new to the Atkins diet, it can seem to a lot to handle. It can be a big undertaking to count all your macros every day for each meal to ensure that you're in line at each of the 4 phases.
However, with a meal delivery service, it takes the vast majority of the hard work out of the process. The trick is choosing the Atkins meal delivery service that is right for you.
Today we're going over the top meal delivery services to make following an Atkins low-carb diet easier than ever.
Best Frozen Option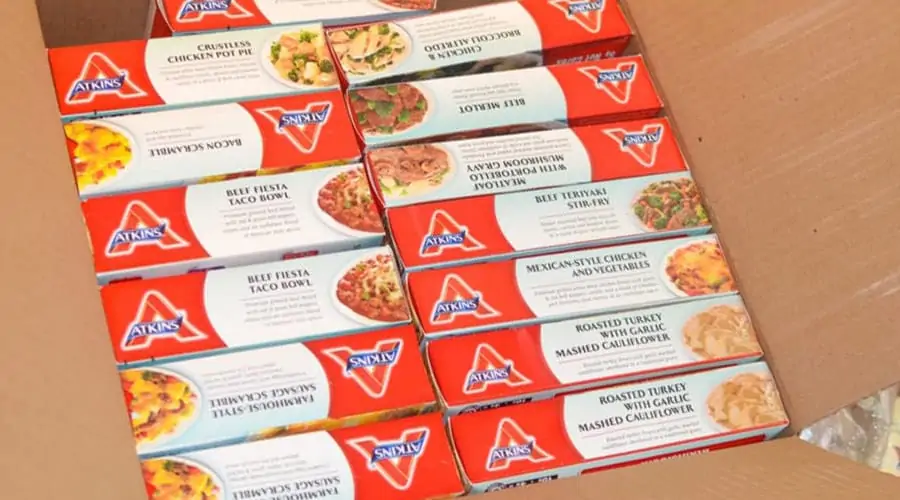 What It Is: Straight from the horse's mouth, the Atkins brand meal delivery service is designed specifically for followers of the Atkins diet. Whether you're trying to lose weight or maintain your results, this whole foods-based program can help you achieve your goals.
The Details: The Atkins meal delivery service is a little different than the other options on this list, and not only because it's the only Atkins branded meal service. What makes this option unique is that each meal kit includes full frozen meals, snack bars, and shakes for one to three meals per day. Simply choose the option appropriate for your level of commitment.
The Easy Peasy Meal Kit is the most comprehensive option. Priced at $97.99, this option includes frozen meals, meal bars, and shakes to cover breakfast, lunch, and dinner. At $89.99, the Evening Chef Meal Kit is the in-between option that includes frozen meals, snacks, and shakes for breakfast and lunch but provides recipes and shopping lists to prepare your own dinner. The Frozen Foodie Meal Kit ($69.99) features a variety of Atkins frozen meals for breakfast, lunch, and dinner.
Why It Made This List:
Specifically designed for the Atkins diet.
Fully prepared frozen meals, protein shakes, and snacks.
Three meal plan options available for customizing your diet.
Best For Customization
What It Is: As dedicated low-carb meal plan, Fresh 'n Lean pre-made meals offers clean low-carb meals made with organic ingredients, cooked by professional chefs and delivered right to your door.
The Details: With Fresh 'n Lean, you can completely customize your meal plan to receive 1, 2, or 3 meals per day – you can also shop for individual "a la carte" meals. Once you've chosen a meal delivery subscription, you can subscribe to a weekly meal plan or add recipes a la carte. As a member, you have the freedom to skip a delivery, pause your subscription, or cancel at any time with no hassle.
When it comes to pricing, Fresh 'n Lean has two options. The Plant-Based meal plan starts at $9.33 per meal while the Protein+ and Paleo plans cost an additional $3. Enjoy fabulous flavors and unique recipes like Mediterranean Salmon or Chicken Thigh with Almond Chipotle Sauce.
Having used Fresh n' Lean since they first launched their service, we've been pleasantly surprised with their meal variety and customization options.
Why It Made This List:
Designed for the Keto diet (meals average around 10g carbs) but is still applicable to the Atkins diet since they're both very low-carb diets.
They allow you to fully customize your delivery and meal plans.
You can exclude ingredients you do not like and they give you the ability to remove foods with specific allergens (gluten, soy, dairy, nut, shellfish).
Best For Meals & Snacks
What It Is: For people who want to eat high-quality, low-carb, and flavor-packed without the hassle of prep work, Factor Meals is one of my personal favorite options. They offer a wide selection of chef-crafted recipes that are expertly prepared with fresh, never frozen ingredients, and sent right to your door.
The Details: Factor Meals delivers fresh, fully prepared meals right to your doorstep. Choose from 20+ dietician-designed recipes with new menus each week. Once you receive your delivery, you simply prepare it in the microwave and you're ready to eat in minutes. Choose from Ketogenic, low-carb, low-calorie, or plant-based meals like Steak with Roasted Sweet Potatoes or Spicy Turkey Poblano.
Pricing for Factor Meals is simple and straightforward. Simply choose the number of meals you want to receive each week to start your subscription. For 4 meals per week, you'll pay $15.00 per meal. The per-meal price decreases the more meals you add, the lowest being $11.50 per meal for 12 meals per week.
Why It Made This List:
Some of the most delicious "good-for-you" pre-made meals I've ever tried.
Chef-crafted recipes that are fully prepared ready to reheat.
They offer a wide variety of delicious low-carb snacks and dessert add-ons.
Best For Organic Options
What It Is: Another keto-specific meal delivery service, Trifecta Nutrition offers science-backed and chef-curated recipes made using only the highest quality organic ingredients including humanely raised and grass fed proteins. Meals are fully prepped and sent on a weekly basis – you simply reheat and enjoy.
The Details: With Trifecta Nutrition, you don't have to lift a finger. Every subscription includes fresh, fully prepared meals made with locally sourced ingredients including organic produce and humanely raised proteins. You'll enjoy satisfying breakfasts like Turkey Bacon Cheddar Frittata and hearty lunches like Beanless Chili Con Carne. Menus change weekly so you'll never get bored. All Trifecta keto meals come in under 10g of net carbohydrates and are fully gluten-free.
Pricing is based on the number of meals you select per day and how many days per week (5 or 7) you want to receive them. For three meals per day, five days per week, you'll be charged about $215. A single daily meal 7 days a week runs about $108.
Why It Made This List:
The highest quality ingredients out of all the options on this list.
Dedicated ketogenic meal plans (low-carb, high-fat).
Wide variety of options for breakfast, lunch, and dinner.
Best Weight Loss Option
What It Is: Specifically designed for weight loss, Diet-to-Go is one of the most popular options out there for people looking for heart-healthy meals, including recipes with controlled levels of carbohydrates. You'll enjoy chef-prepared meals delivered right to your door on a weekly basis. Just heat and serve!
The Details: Diet-to-Go has a 25-year history of delivering dietician-approved recipes for individuals looking to lose weight and/or control diabetes. They offer a wide selection of heart-healthy meals with controlled levels of sodium, carbohydrate, fats, and cholesterol. They also offer a wide variety of vegetarian and seafood-free options on top of their already generous selection of dietician-approved meals.
The Keto-Carb30 plan is specifically designed for individuals looking for an Atkins-style low-carb diet. Each meal is carb-restricted to keep you below 30g net carbs per day. To subscribe, choose from 5 or 7 days per week and two or three meals per day. At two meals per day, five days per week, the weekly price is around $138, or about $14 per meal.
Why It Made This List:
Keto-Carb30 plan contains less than 30g net carbs daily for all 3 meals.
Have a variety of real success stories from other customers who have lost weight using their low-carb meals.
Signing up also gives you access to their Registered Dietitian, Nutritionist, and a Certified Health Coach to support your goals.
Best Meal Kit Option
What It Is: With three different diet plans to choose from, Green Chef provides healthy, delicious recipes and the organic ingredients you need to prep them. Simply select your desired number of servings and number of meals per week to view recipes and get started.
The Details: With Green Chef, you'll enjoy a wide variety of Keto-friendly recipes sent right to your door with all the ingredients needed to prepare them. You'll find classics like Italian Beef Stuffed Peppers as well as unique options like Thai Chicken & Veggie Curry. Each box comes with fresh, organic ingredients and pre-made sauces and marinades so you can prep your meals in 30 minutes or less.
Their Keto + Paleo plan allows you to select how many servings you want (2, 4 or 6) and how many meals per week (3 or 4). Depending on the specific plan you choose, meals come out to around $6.99 per serving.
Why It Made This List:
Ingredients are high-quality and fully organic.
Their recipes are fairly simple to make and usually take no longer than 30 minutes. Ingredients come pre-measured and mostly prepped.
A great way to learn how to cook healthy low-carb meals to sustain your Atkins results long-term.
How the Atkins Diet Works
The Atkins diet is a low-carb diet plan developed by Robert C. Atkins in the 1960s. The idea behind the diet is that by changing your eating habits, you can lose weight and keep it off for the long-term. Though some use it as a short-time weight loss diet, it represents a healthy approach to eating that may benefit individuals with certain health issues such as diabetes or high blood pressure.
One of the selling points of the Atkins diet is that you can make it as simple or complex as you want. You aren't required to count calories or measure portions, but you do need to track your carbohydrate intake. The diet recommends sticking to a maximum of 20g, 40g, or 100g net carbs per day. As long as you stick within that guideline and you're mindful about the types of carbohydrate you do choose, this diet actually offers a fair bit of freedom.
Traditionally, the diet is split into four phases:
Phase 1 (Induction): During this initial phase, you consume under 20 grams net carbs per day for two weeks. Eating a low-carb, high-fat, and high-protein diet will kick start your weight loss.
Phase 2 (Balancing): In this second phase, you'll start to add low-carb foods like nuts, low-carb veggies, and small amounts of food back into your diet to make it more sustainable.
Phase 3 (Fine Tuning): As you start to approach your goal weight, you can increase your carb intake slowly until your weight loss slows and you reach your goal weight.
Phase 4 (Maintenance): At this point, you can consume as many carbs as you like as long as your body tolerates them without gaining weight.
The Atkins Diet claims you can lose 15 pounds within the first two week of phase 1, though these results aren't typical. It's important to remember that everyone's body is different, and your body may respond to significant dietary changes faster or more slowly than someone else's.
It's important to stick to the tenets of the diet over the long term if you want to see results. That's where meal delivery services come in.
Before going on any diet, including Atkins, it's important to speak with a medical professional.
What to Consider Before Purchasing a Meal Delivery Service
If you're trying to lose weight or improve your health by following a specific diet, your results will be determined by how well you stick to that diet. In the early days of a diet, it's easy to get caught up in the excitement of trying something new and initial weight loss provides its own motivation. As the weeks and months drag on, however, you may find it more difficult to adhere to the diet.
Meal delivery services are a great option for people who want to be intentional about their dietary choices but don't want to have to actually make those choices themselves. Rather than doing the research to plan a menu, you simply choose from an available list of recipes and the ingredients are sent right to your door. It couldn't be simpler, but there are a few things to consider before you commit:
Meal delivery services can be pricey, depending what option you choose. Some companies charge by the meal, some by the "pack", and some offer premium meal choices or protein upgrades for an upcharge. Consider what's best for your personal lifestyle before purchasing.
A low-carb meal service can help you stick to your macros without having to do a lot of calculation on your own. When you sign-up for any of the above services, you'll be able to see a menu of meals for the upcoming week. It's there that you can view all the macro information (carbohydrates, proteins, calories, etc.) to ensure it fits into your Atkins diet phase.
Using a meal delivery service can save you a great deal of time. Not only do you not have to research recipes and create your own meal plans, but many companies do the prep for you. I know from personal experience that I've been able to gain 1-2 extra hours of my day back simply by using a pre-made meal delivery service.
A meal delivery service gives you the opportunity to try new things. Most companies have a large library of recipes that continuously rotates so you aren't always eating the same meals. Many people, like myself, save the recipe cards that meal kits like Green Chef send so that I can remake the meal at any time with grocery store ingredients.
Another thing you need to keep in mind when considering a meal delivery service is that while some companies allow you to choose meals that adhere to a specific diet, others do not. If you're following the Atkins diet (and you're not going with the Atkins brand meals) you want to look for a low-carb meal plan option like the Keto diet, which many meal delivery services adhere to these days.
Atkins Meal Delivery vs. Atkins Meal Planner
Before you settle on an Atkins meal delivery service, there's one more option to consider: an Atkins meal planner. There are plenty of meal planners available online, including the popular Atkins app. Even if you don't go with a branded Atkins meal planner, options like PlateJoy and eMeals offer low-carb plans too.
A meal planner offers the same benefit in terms of convenience when it comes with taking the guesswork out of recipe selection, but you'll have to do the shopping and prep work on your own. If you choose to go this route, be sure to select a meal planner that provides the macros for each recipe so you can make sure you're staying on track with your Atkins diet.
Have a question we didn't answer in this article? Have you tried one of the above meal delivery services? Let us know in the comments below!