Green Chef was one of the first healthy and certified organic meal kits to hit the scene back when the first wave of meal kits became popular in the early 2010's (i.e. Blue Apron and HelloFresh).
What made them stand apart among all the other meal kits, though, was the fact that you could select a meal plan to fit your specific diet. Seeing this in 2017, I remember thinking, "This is the future of meal delivery services!" It was so revolutionary at the time that HelloFresh actually acquired them in 2018. Fast forward to today, being able to customize your meal kit and select a specific diet plan is now starting to become a typical feature (see Sun Basket).
While Green Chef was one of our favorites years ago, do they still hold up as one of the best in todays competitive and saturated meal kit market? That's what we're going to explore in this review. We'll be covering their current meal plans, quality of meals, our personal experience, and much more. Let's jump into it!
How Green Chef Works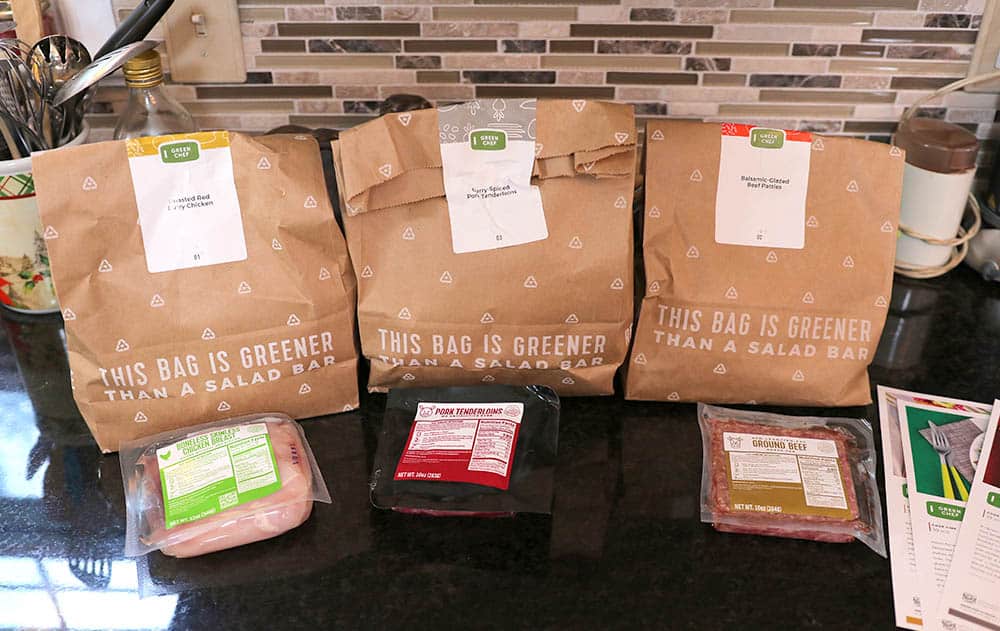 At its core, Green Chef is a traditional meal kit. This means that you select which meals you want for dinner and they send you the recipes and ingredients to make the meal.
Their main selling point is that all of their meals have a "good for you" theme. So you're not likely to find comfort foods like mac and cheese or burgers (unless they're healthier twists on those recipes). They also have meal plans that fit into some pretty niche diets — more on that below.
Meal Plans Green Chef Offers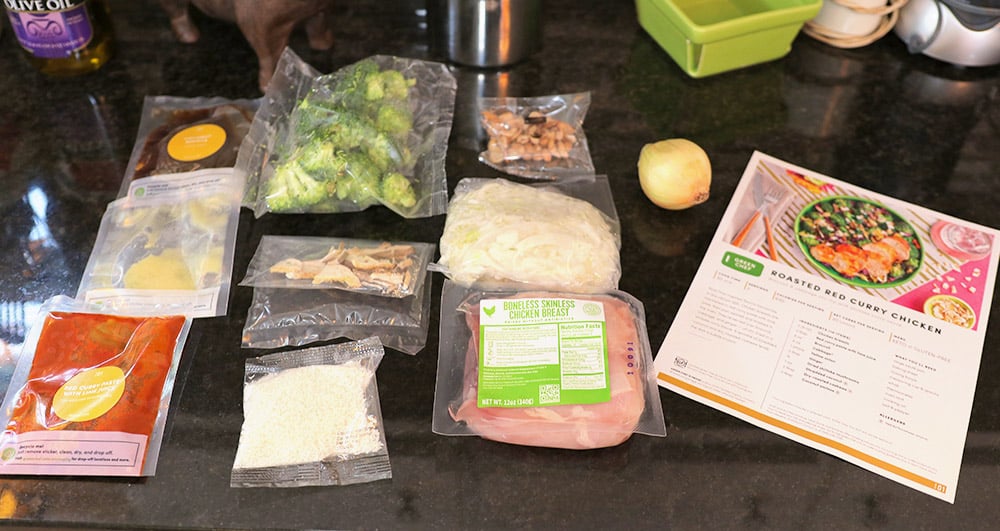 Since Green Chef's whole theme is healthy eating, they break down their menu into specific diet plans.
Keto: These meals are all going to be low-carb. They don't necessarily point out the exact carb restrictions they stick to for these meals, which is a bummer since that's a major part of the keto diet. I have found that most of the keto meals we've received have been under or around 20 grams of carbohydrates. If you do decided to go with this plan, the roasted red curry chicken is one of my favorite meals. You can actually watch us make it in our video review above!
Paleo: These meals are all going to be gluten, dairy, and soy free. They also generally stick to the paleo diet macros of 45% protein, 35% carbs, and 20% fat. My favorite meal on this plan is their grilled harissa chicken thighs with zucchini, carrots, apricots, and pistachios. It sounds like the weirdest combination of foods but the flavor works!
Balanced Living: This is going to be a mixture of all their meal offerings and is best for those who don't stick to any specific diet but still want to eat healthier. It has meat, seafood, and vegetarian meals. One of my favorites on this plan (and overall) is their pineapple beef tacos. Again, it sounds like a weird combination but it somehow works.
Plant-Powered: As the name suggests, all these meals are going to be plant-based so this is the best option for vegans and vegetarians. Unlike a lot of other vegan/vegetarian meal plans that usually do a lot of pasta dishes, this plan is much more veggie bowl oriented. But that doesn't mean they're flavorless or boring. In fact, the barbecue chickpea bowl is one of my favorites because it's packed with flavor.
Family Plan: This plan is basically the same as the Balanced Living plan but the recipes are slightly easier to make. I've found that they usually only take 30 minutes or less to prep and cook.
While they don't have a specific gluten-free plan, Green Chef is actually one of the few meal delivery services that has Gluten-Free Certification through the Gluten Intolerance Group's Gluten-Free Food Service program. So you will see certain recipes labeled as "gluten-free" in the Keto and Paleo meal plans.
Delivery
Green Chef can deliver to nearly everywhere in the continental United States. This is excluding Alaska, Hawaii, and parts of Louisiana.
What I like is that upon signing up they allow you to select your preferred delivery day. For example, Emily and I like to start cooking up our meal kits on the weekends so we select "Friday" as our preferred delivery day. This means we don't have to guess when the box is going to ship or keep it waiting in our fridge for longer than needed.
Also, Green Chef allows you to change your delivery frequency so you're not stuck getting this meal kit once a week. You can expand it to come every two weeks or every four weeks. And when your box does get delivered, there's no need for you to be home as a signature is not required.
The only downside to Green Chef delivery is that they charge a $7.99 fee for every box (no matter what plan or size ordered).
Packaging
On their website they say that they insulate their boxes using Climacell, which is a thick and padded plant-based insulation material that's also fully recyclable. However, you'll notice in our video review here that there is actually no real insulation. Instead, they used a material called "Popbox", which is basically just the same as bubble wrap. While it is recyclable, it doesn't insulate the food to keep it cold and it doesn't really help keep foods from bumping around in transit.
The ice packs they use are made from a non-toxic gel but don't pour it down your drain. You'll have to pour the gel out into your garbage (which can get a little messy), wash out the plastic, and then recycle it.
The rest of the box is recyclable too. The egg cartons are even made of wood pulp! Pretty cool to see that level of environmental ingenuity.
What We Got In Our Recent Green Chef Box (April 2020)
Now that we covered all the essential details of the Green Chef service itself, let's dive into what meals what got in our most recent box and how they tasted…
Curry spiced pork tenderloins with cauliflower rice, sautéed kale, bell peppers, and almonds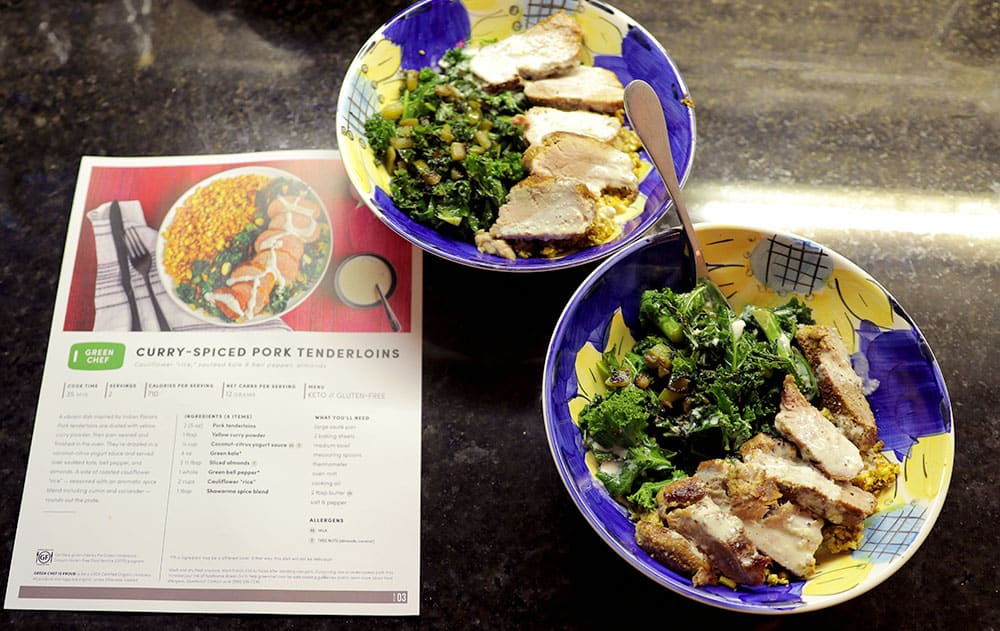 As a lover of Indian food, I really enjoyed this dish. The pork tenderloins were dusted with a curry powder and pan-seared to lock in the flavor. It had everything I love about Indian — spicy yet the yogurt sauce balanced the heat. I also like that they used cauliflower rice as a healthier alternative to traditional rice.
Roasted red curry chicken with broccoli, cabbage stir-fry, shiitake mushrooms, coconut, and cashews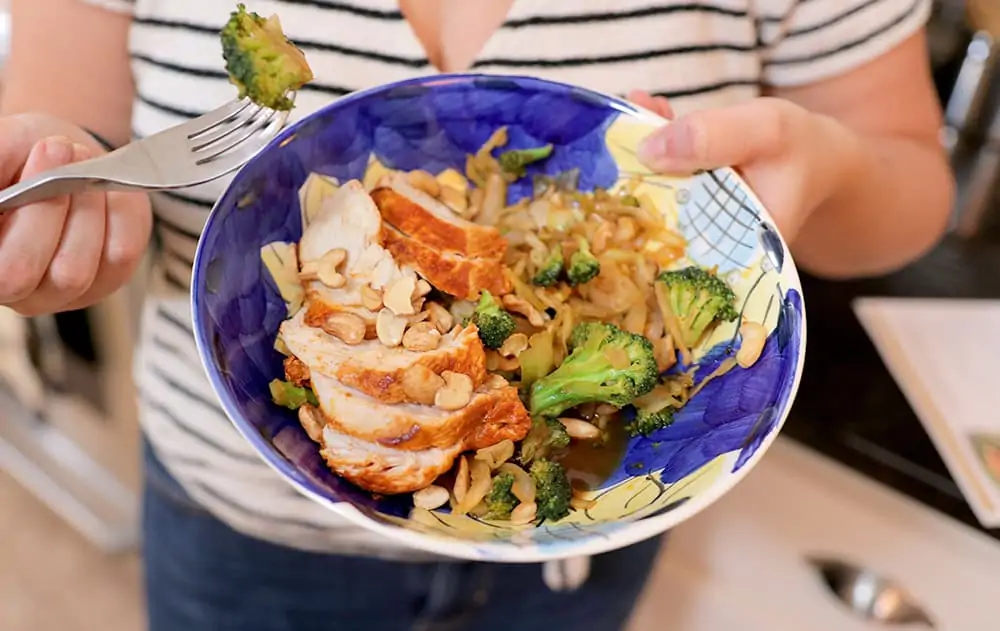 I always hesitate whenever I heard of nuts being added to a dish because they usually add a texture that detracts from the overall flavor. Luckily, I love cashews. Overall, this meal had a ton of bold flavors — tangy, savory, sweet, nutty — but they all came together very well in a succulent fashion.
Balsamic glazed beef patties with brussels sprouts, mushrooms, pesto, and feta cheese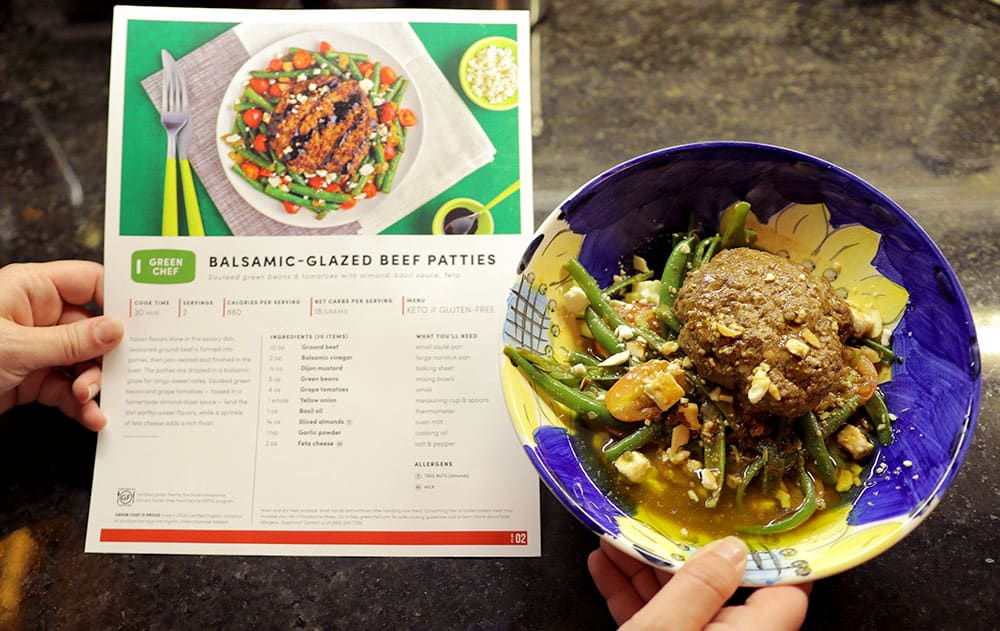 This was my overall favorite dish of the box since it combined all of my favorite foods — beef, brussels sprouts, mushrooms, and cheese! This dish was a mix between Italian and American inspired with sweet and savory flavor notes. The crumbled feta cheese with the perfect touch.
Green Chef Recipe Cards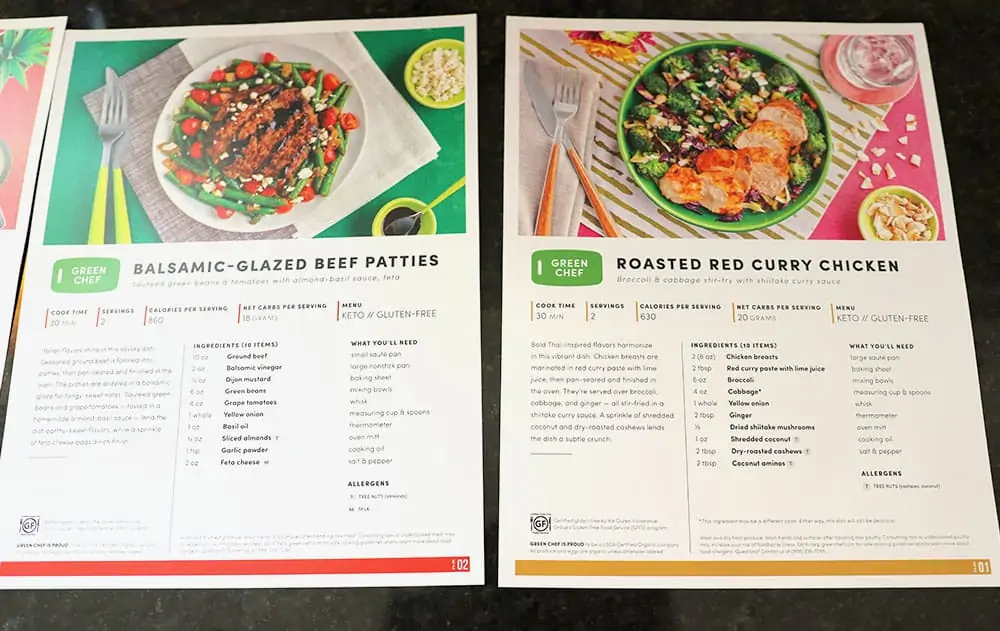 Meal kit recipe cards are often overlooked but they're such an important part of the overall meal kit experience. If the recipe card isn't design well, it can make cooking the meal a pain. On the flip side, if it is designed well, it can make it a breeze.
The Green Chef recipe cards are design exceptionally well.
On the front is a big picture of what the final dish looks like. Then it has specific details on the meal:
How long it should take to cook
How many servings it'll make
The calories per serving
Net carbs (perfect for the keto plan)
An overview of the dish
An ingredient list
What you'll need to cook (pots, pans, etc.)
Any allergens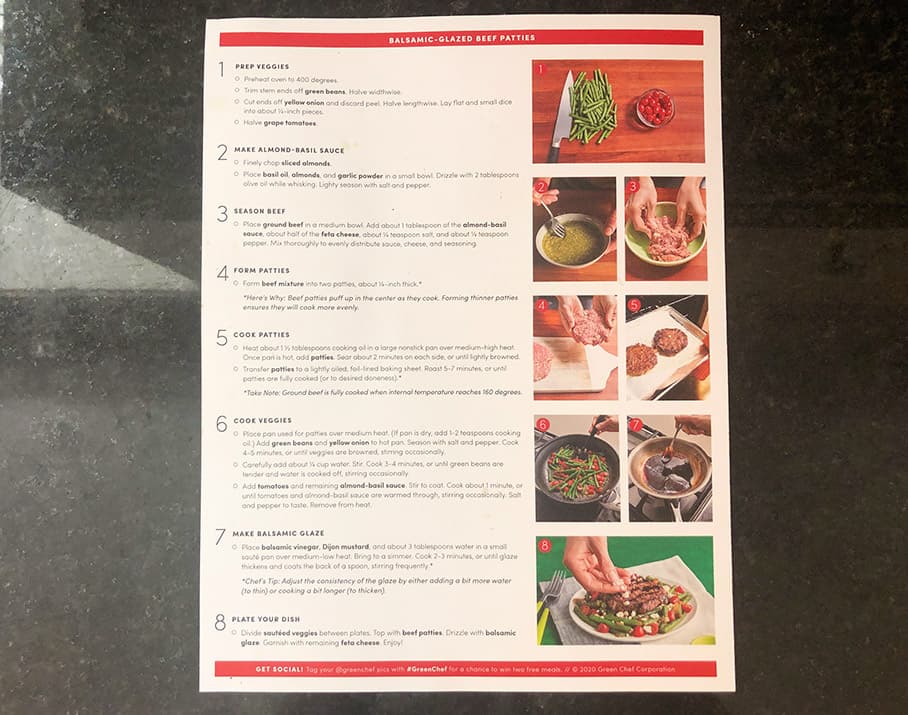 On the back it lists out the recipe steps as bullet points with pictures of each step. The pictures are key and one of my favorite things to see in a meal kit recipe. They make the entire cooking process 100x easier. Think about it… You're jumping from cutting ingredients, putting food on the stove, and reading the recipe. You want to be able to quickly see what everything should look like at each step.
Lastly, the recipe card is made from a high quality, somewhat water proof, paper.
Green Chef vs Similar Meal Kits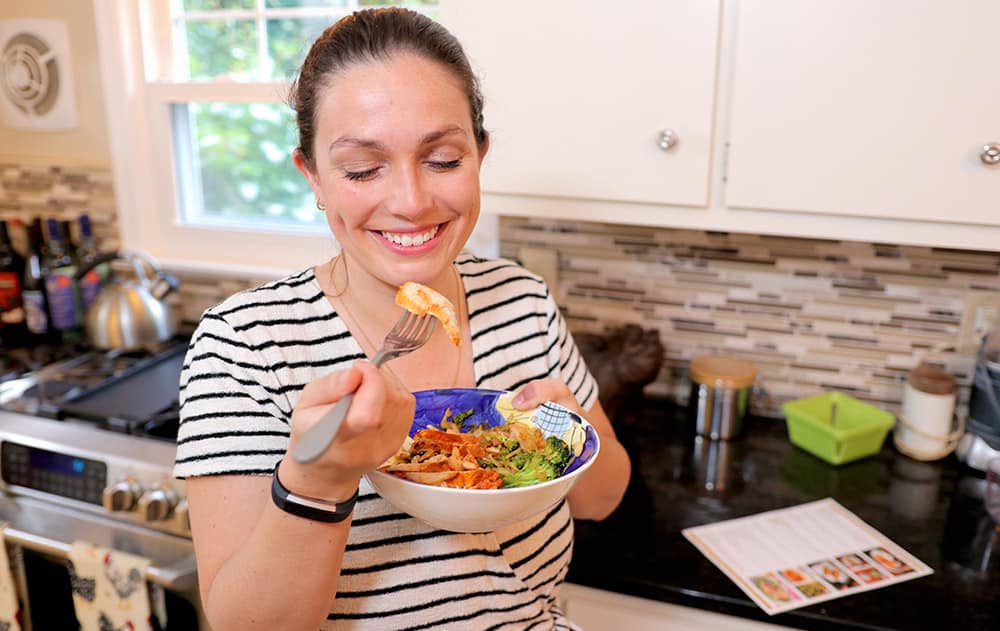 When Green Chef first launched, they were really in a league of their own. No other meal kits had as many niche meal plan options or the variety of diets that they offered. However, over the years, Green Chef actually has scaled back the plans they offer. To give you an example, they used to offer the following plans back in 2018: paleo, keto, vegan, gluten-free, vegetarian, omnivore, and carnivore. Now they only offer keto, paleo, balanced living, plant-powered, and family plan.
Out of all of the meal kits that we've tried, I would say that Sun Basket is most likely the closest in terms of meal plan offerings. Both meal kits offer similar low-carb plans. However, Green Chef's plans fit into a keto diet a bit better. Although, on the flip side, Sun Basket offers way more variety in meals, plans, and even add-ons (which Green Chef does not offer).
Green Chef Pros and Cons
Now that we've covered all the details regarding this meal kit, including our personal experience, let's dive into the good and the bad…
Green Chef Pros
Most of the ingredients come pre-prepped. Having the ingredients come partially or even fully prepped in some cases makes the whole cooking process much easier.
They offer unique meals and flavors. Usually, when you make the switch to healthier eating, it can mean "boring" meals (i.e. chicken and broccoli). Green Chef has a good mix of healthy staples and unique "good for you" meals.
They offer a variety of plans that fit specific diets. They have keto, paleo, plant-powered, and balanced living diet meal plans. Technically they are certified gluten-free but they don't have a specific "gluten-free" plan anymore.
Their recipe cards are designed very well. My personal favorite aspect of the Green Chef meal kit is that they have really well designed recipes cards. Everything is on one laminated piece of paper.
They are USDA certified organic. Green Chef is one of the few meal kits that is fully certified organic. Most other meal kits only offer organic meals.
Green Chef Cons
You can't add meals from other plans into yours if you're not on that plan. One issue I ran into when using Green Chef is that they don't allow you to add meals from other plans without you subscribing to that specific plan. So if you're on the keto plan but you want to order one of the plant-powered meals, they don't allow you to do so unless you switch to the plant-powered plan.
They don't explicitly tell you where they source their foods. When it comes to meal kits, specifically ones that offer organic meals, I always like to know where they source their ingredients. Unfortunately, Green Chef doesn't outright tell you where their ingredients come from.
Our recent box's insulation wasn't that good. If you watch our video review, you'll notice that the insulation in the box was called "popbox". This is basically a cardboard version of bubble wrap. It doesn't really act as an insulation to keep ingredients cold and it isn't that great at protecting food while in transit. Most meal kits will use "climacell", which is better insulator and better protector to keep food padded in the box.
Does Green Chef Offer Coupons?
If you're ready to order your first Green Chef box, we're here to help save you some money! Use any of the coupon or promo codes below…
Use coupon code "kze4mp" to get $55 off your first order.
Use coupon code "NASTAZSA80" to get $80 off your first order.
We update these coupons are frequently as possible to reflect the best deals. If any of them don't work, please let us know in the comments below!
Final Thoughts: Who Is Green Chef Right For?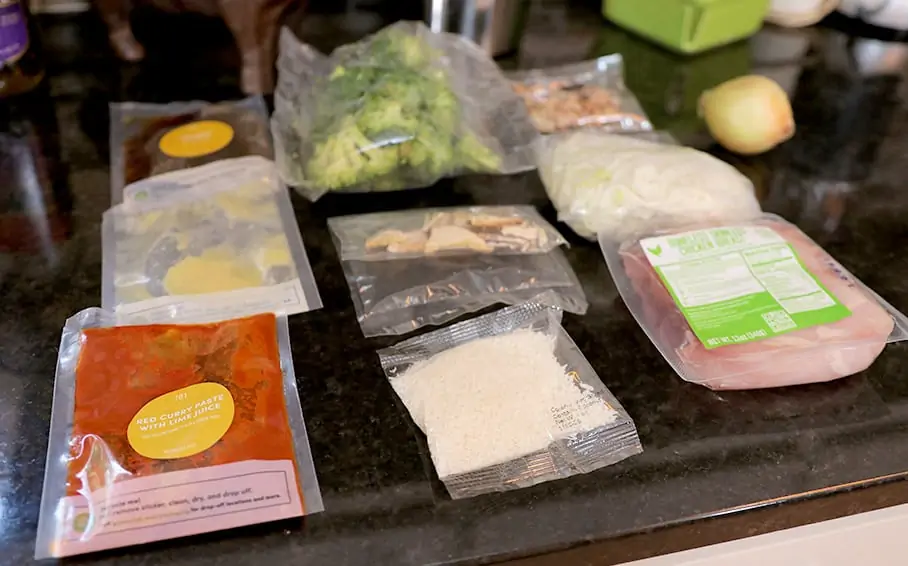 When we first tried Green Chef back in 2017 I was really blown away with all of the meal plans that they had and how they catered to so many specific diets. It was pretty revolutionary at the time. However, as the years have gone by, many meal kits have caught up to them (such as Sun Basket). That doesn't mean Green Chef is "bad" by any means but they aren't as great of a meal kit as they once were.
If you follow keto or paleo diets, I would say that Green Chef is a good (not great) option. They don't specifically tell you what nutrition restrictions they adhere to for each. However, we have ordered both plans and have noticed they do "generally" stick to each diet. The keto meals are relatively low carb and the paleo meals generally stick to 45% protein, 35% carbs, and 20% fat. They tell you the nutrition facts of each meal on their website so you can check prior to adding a meal to your next box.
Also, if you are celiac and need to eat gluten-free, Green Chef is one of the few meal kits that is certified gluten-free. So, in this case, I would recommend considering them. Just be careful as they do not have a specific gluten-free plan so you will need to look at each meal carefully prior to ordering.
Overall, I still like Green Chef but I hope that they continue to evolve their meal kit to compete with some of the others out there. Possibly by expanding their meal plan/diet options and giving customers options such as add-on meals, snacks, drinks, etc.
Past Food Box HQ Green Chef Reviews
Have you tried Green Chef before? Have a question about this meal kit we didn't answer? Leave your comment below and we'll get back to you asap!