Food Box HQ Note: Sunbasket was previously called "Sun Basket" but went through a rebranding and is now called "Sunbasket". We use both brand names since we've used them before and after their rebrand.
Going through all the research, notes, photos, and our old YouTube reviews for this updated review, I remembered that Sunbasket was one of the first meal kits we ever tried all the way back in 2017.
Since then we've literally tried hundreds of other boxes. But even though we've tried nearly every meal kit currently on the market, Sunbasket has still stayed one of our favorites.
Why? Well, in this updated review you're going to find out!
We're going to go over the entire Sunbasket meal kit service — the meals, everything that's new, our experience using their meal kit, and so much more. Let's jump into it…
How Sunbasket Works
Sunbasket is a traditional meal kit service, with a twist. They first started out similar to Home Chef or Green Chef, where you simply pick your dinner meals and they would deliver everything to you. However, over the years they've evolved their service to include a lot more.
You start by selecting which dinner meals you'd like based on your dietary preferences (more on that later). If you don't care about sticking to a specific diet, no worries, you can also find meals that are simply delicious and/or easy to make.
Once you've narrowed down your dinner meals, you now have the option of adding on a ton of additional foods. They offer breakfast, lunch, snacks, and more. We even got smoothies and ginger/turmeric "shots" in one of our recent boxes.
Types of Plans & Meals Sunbasket Offers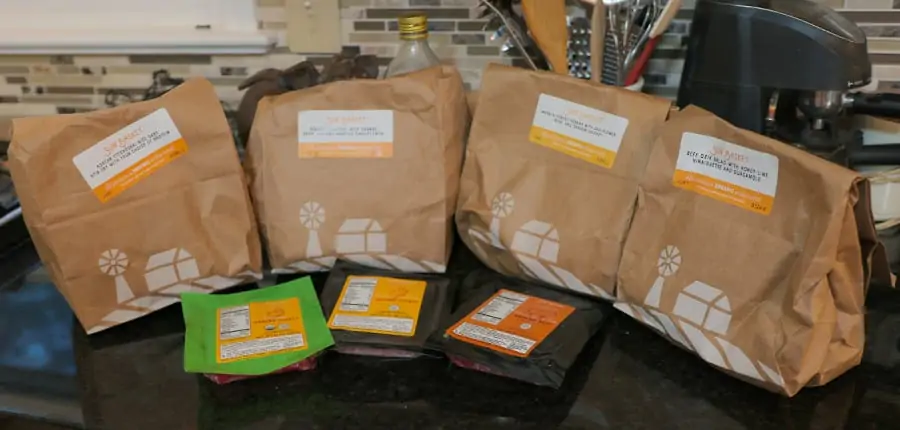 One big advantage Sunbasket has over the other meal kits is the variety of meals they offer. Not only do they have meals that fit specific diets but they also have meals for people who just want the best tasting food or just want to prep/cook quick. 
Paleo
This is the plan we usually stick with. I like that it has a mix of meals that stick within the paleo diet constrictions without being boring. All the meals are going to be around 550 to 800 calories, 20+ grams of protein, 5+ grams of fiber, and rich in omega-3's. If you go with this plan, I recommend adding masala-spiced turkey kebabs with cashew chutney to your box. It's so good and you can actually see us make it in one of our Sunbasket video reviews! 
Carb-Conscious
This is a great option if you're looking to kick carbohydrates but still want tasty meals. All of the meals are going to be around 550 to 800 calories, have less than 35 grams of carbohydrates, have 20+ grams of protein, and be rich in omega-3 fats. If you're leaning towards this plan, definitely throw their balinese chicken stir-fry with coconut-turmeric cauliflower rice meal into your box (also gluten-free). It's a personal favorite of mine and it's pretty quick to cook too!
Gluten-Free
This plan is a little tricky. The name "gluten-free" would suggest all of the meals are strictly free of all gluten. However, they aren't and they actually may contain trace amounts of gluten. I wouldn't suggest this meal plan for anyone who is Celiac or has a severe gluten-allergy (there could be cross-contamination). That being said, there are still some great meals on this plan. All of the meals are going to be between 550 and 800 calories, have 20+ grams of protein, have 5+ grams of fiber, and are rich in omega-3 fats.
Lean & Clean
This plan is great for anyone looking to eat a general "clean" diet, lower in calories, and more whole foods. All of the meals on this plan are less than 600 calories, have 10+ grams of protein, have 5+ grams of fiber, use clean ingredients, and are rich in omega-3 fats. I wouldn't classify it as a true "weight loss" meal plan but it's definitely the closest plan to it on this list. One of my personal favorite Lean & Clean meals is the steak with chimichurri and harissa-roasted sweet potatoes.
Diabetes-Friendly
Looking for meals that will stick to your diabetic diet? This plan is perfect. All of the recipes are not only approved by the American Diabetes Association but actually taste really good. All meals on this plan are going to have less than 700 calories, 15+ grams of protein, 5+ grams of fiber, less than 70 grams of carbohydrates, saturated fats take up less than 10% of total calories, and less than 700 mg of sodium. Another thing to note is that a lot of the meals on this plan are going to be plant-based. One of my favorites is their burmese salmon salad with lemongrass and bell pepper. It's the perfect summer dish — light but filling.
Chef's Choice
If you're just looking to make the tastiest meals available, this is the plan for you. These meals are going to be seasonal, using organic produce and house-made sauces and spice mixes. This is the best plan to choose if you're not sticking to a specific diet and just want the best tasting food Sunbasket offers. Even though it's super traditional, on this plan I love their steak and sweet potato frites with kale and mushrooms.
Vegetarian
With this plan, Sunbasket proves that vegetarian meals don't have to be boring. While these meals don't have meat or seafood, they're still packed with all the right nutrients your body needs — 550 to 800 calories, 20+ grams of protein, 5+ grams of fiber, and rich omega-3 fats. There's also a ton of meal variety (not just salads or pasta dishes). One of my favorite vegetarian meals is their chilaquiles verdes with soft-scrambled eggs, avocado, and queso fresco. It's a really fun Mexican-inspired dish that you wouldn't even initially categorize as "vegetarian" at first glance.
Pescatarian
Love fish? This is the plan for you. All of these meals are going to have zero meat or poultry and basically be vegetarian meals with wild-caught seafood. As with the plans above, this plan also offers a lot of variety (you're not just getting salmon or tuna). One of my favorites on this plan is their shrimp tacos diablo with cabbage slaw and queso fresco.
Mediterranean
Did you know the Mediterranean diet is ranked as one of the top diets in the world? This is because it has a balance of healthy foods and offers a ton of diverse flavors. These meals are going to made with whole grains, good fats, wild-caught seafood, and meats. I find this plan to be perfect for those who want something that's delicious and healthy. One of my favorites on this plan is their salmon with roasted new potatoes and charred broccoli.
Quick & Easy
Last on the list (but definitely not least) is Sunbasket's Quick & Easy plan. These are meals that prioritize ease of prep and cooking. All of these meals can be made in under 20 minutes, only use one pot, and involve nearly zero prep time. Many of the meals in this plan are oven ready so you can literally put everything in a pan, throw it in the oven, wait until it's done cooking, and you're ready to eat. One of my favorites on this plan is their chipotle turkey chili with cucumber-sumac salad.
Customizing Your Meals
Another big advantage Sunbasket has over other meal kits is that they allow you to customize your meals. For example, let's say you wanted to order their korean tteokbokki rice cake stir-fry with pork and shiitake mushrooms but you don't want the pork that comes with it. When viewing the meal in your Sunbasket profile, you can simply select another meat from a dropdown menu and they'll automatically adjust the recipe for you. So, using the above meal example, instead of pork they also offer tofu, shrimp, turkey, and even lamb. They also give you the option to choose organic or non-organic options.
Add-On Meals, Snacks, and More
Sunbasket doesn't just stop at dinners. They have a ton of additional meals, foods, snacks, and drinks you can add-on to any box. Here's a rundown of what you can add…
Breakfast: All of their breakfast foods are "grab and go" so there's little to no actual cooking involved. You'll find foods such sous-vide egg bites, yogurts, oatmeal, granola, breakfast bars, breads, juices, and smoothies.
Lunch: These are also going to be "grab and go" pre-made meals. You'll find foods such as soups, grain bowls, breads, and even pre-cooked proteins such as chicken breasts or salmon filets.
Pasta: Sunbasket goes all in when it comes to pasta! They have everything from fresh spinach linguine to lobster ravioli (one of my favorites). You can also add in pasta sauces to make it a full dish. Or, if you want a pre-made option, they offer ramen and noodle bowls, which make great "grab and go" lunch options.
Proteins: If you're looking for just meat, Sunbasket offers a ton of options. You can choose from prepped meats (like their delicious Applewood bacon-wrapped beef filet mignons), seafood, poultry, beef, lamb, pork, sausage, and even plant-based "meats".
Snacks: Sunbasket also has a huge variety of snacks, from healthy to savory to sweet. You can choose from veggies, nuts, crackers, snack bars, candies, and jerky. I always throw their Organic Chocolate Covered Cashews into our box — they're dangerously
Where Does Sunbasket Source Their Meats and Vegetables?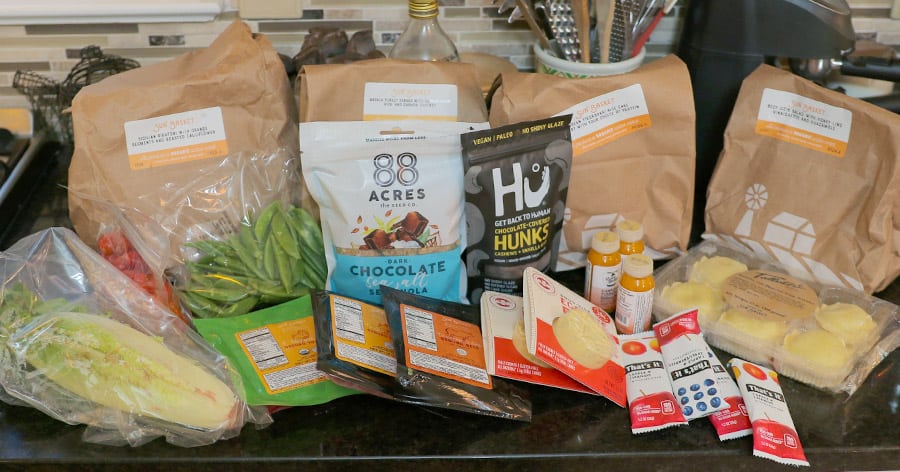 If you're going to pay a premium for a meal kit you want to guarantee quality. And quality food starts with where it comes from. Thankfully, Sunbasket works directly with local farmers to ensure high standards are met.
All produce is organic, non-GMO, and farmed sustainably.
Sunbasket recipes are all seasonal so only fresh, in-season produce is used.
All of their meats are antibiotic and hormone-free. You also have the option of choosing meat that is organic or not in your meals.
They only use wild-caught seafood that is recommended as Best Choice or Good Alternative by the Monterey Bay Aquarium Seafood Watch list.
Because of their "farm to table" mentality, the quality of their ingredients is especially high and one of the reasons that their meals taste so good.
Delivery
Before you can order, you have to find out if Sunbasket delivers to your state! Luckily, they deliver to most of the United States at this time. The only states that are out of luck are Alaska, Hawaii, and parts of Montana, New Mexico, and North Dakota.
You can also select your preferred delivery day. So, hypothetically, if you work in an office and would rather have the box delivered on Saturday or Sunday when you're home, you can request it.
The one downside is delivery isn't free. Including taxes, it will come out to a $7.99 delivery fee per box shipped.
Packaging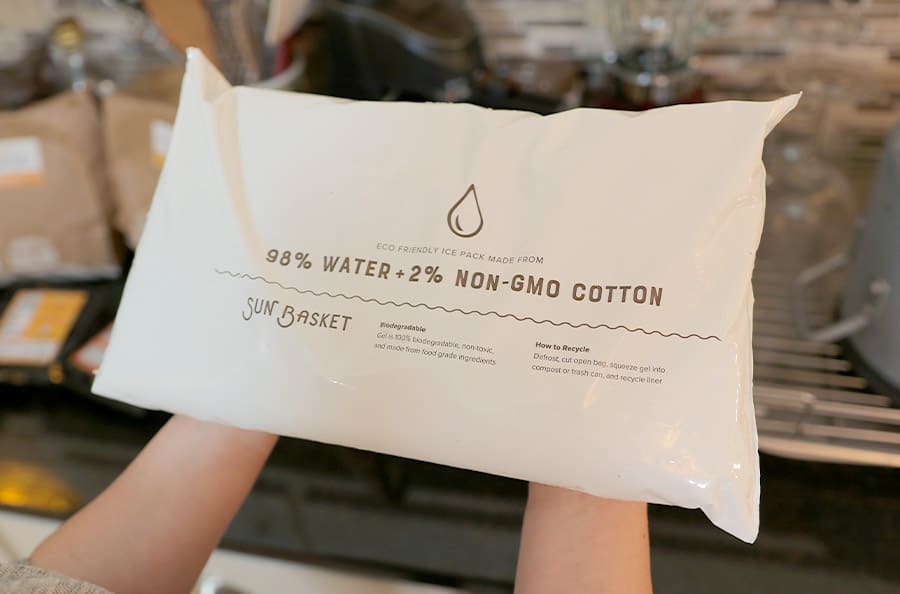 Sunbasket packages all of their meals very well in an insulated cardboard box. That insulation is made from either recycled paper or recycle denim. The insulation will change depending on the climate or season you're in. For example, if you're in a hotter climate, you're likely to receive the thicker denim insulation.
Also included in every box are ice packs that are made from a gel that's 98% water and 2% non–GMO cotton. This allows you to cut the plastic bag and drain the gel into your trash or curbside compost bin. What's great about Sunbasket's packaging is that they prioritize environmental responsibility by making all of their packaging items recyclable or compostable.
What We Got In Our Recent Box (April 2020)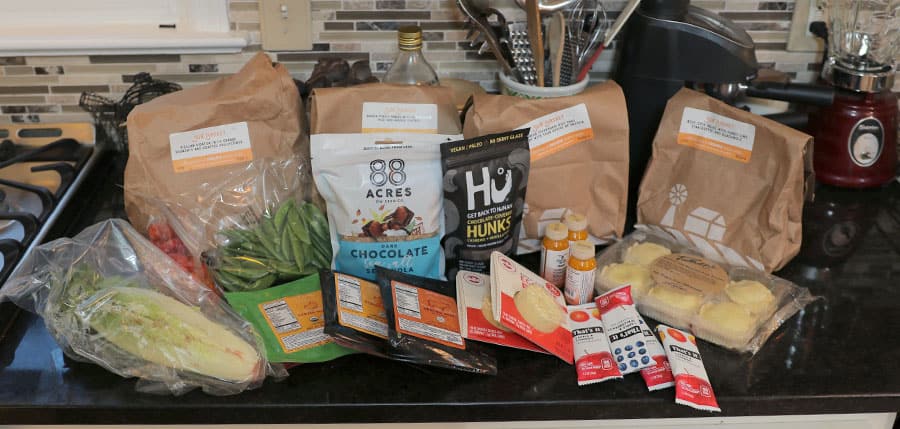 Now let's get to the main course… The meals! Here's what we received in our most recent box…
Our Dinners
Let's go in-depth on our dinners first.
Sicilian rigatoni with orange segments and roasted cauliflower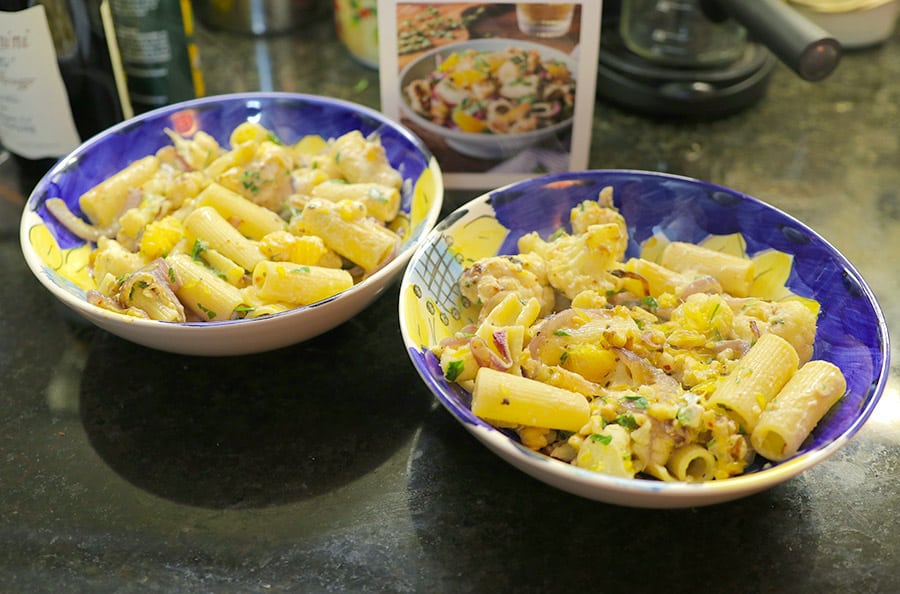 This meal was a breeze to make. The hardest part was peeling and cutting the orange, haha! What I loved most about this meal was how all of the flavors complimented each other without overpowering each other. It's a bit sweet, savory, tangy, and even spicy.
Korean tteokbokki rice cake stir-fry with organic ground turkey and shiitake mushrooms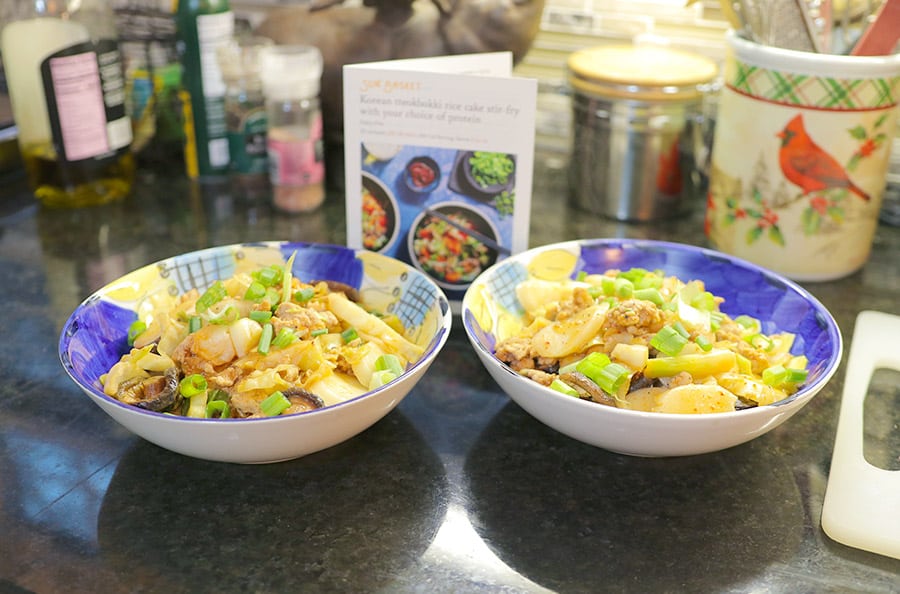 Don't worry if you can't pronounce "tteokbokki", I can't either but it still came out delicious. This is the only meal where we made a customization by swapping the pork meat for turkey (I'm not a huge fan of pork). I originally thought I wouldn't like the rice cakes, since they were kind of chewy, but they ended up bringing the whole dish together really nicely.
Masala turkey kebabs with cauliflower "rice" and cashew chutney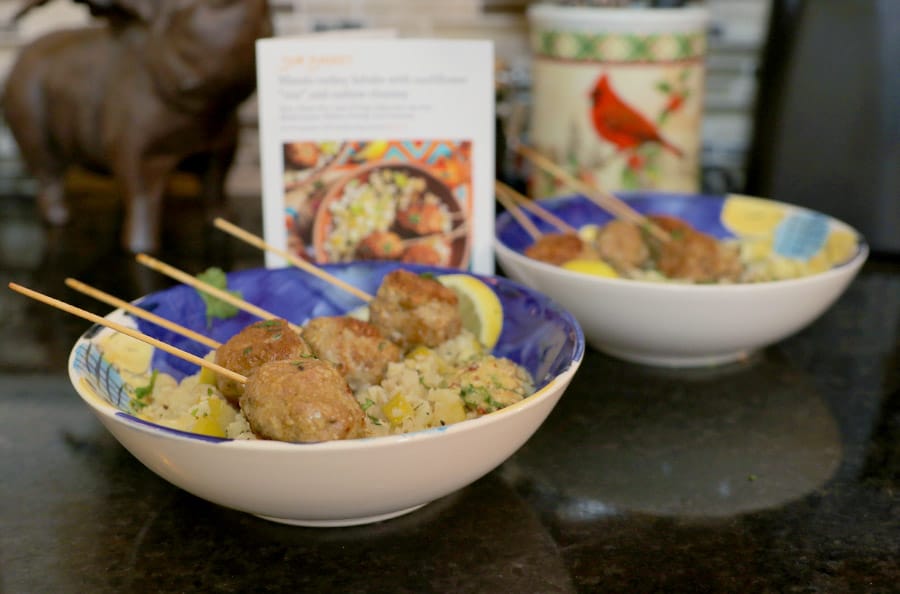 This is the meal you can see us cook up in the video review above. Not only was this one super tasty, it was actually pretty healthy too. I'm a big fan of Indian food so this Indian-inspired dish was my personal favorite out of all 4.
Beef dzik salad with honey-lime vinaigrette and guacamole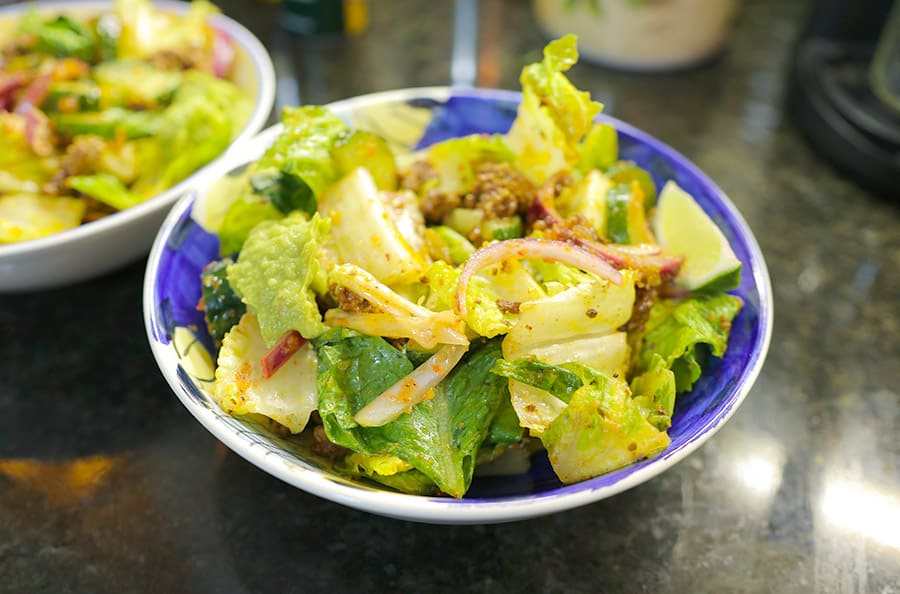 Being a salad, this one was super simple to make but was still packed with flavor. This was the only recipe where Sunbasket had to make a swap because they were out of one of the seasonings. Instead of piment d'espelette, they swapped it to aleppo chile flakes. I have no idea what either of those spices are but the meal still came out delicious. It was served over crisp vegetables dressed with a slightly sweet honey-lime vinaigrette. Again, the perfect blend of flavors — sweet, tangy, savory.
Our Add-Ons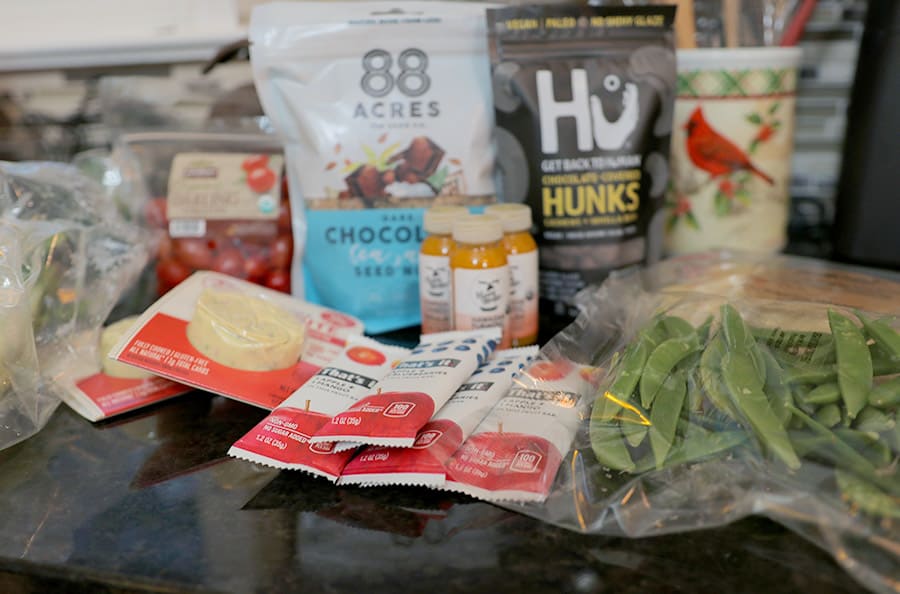 Organic grape tomatoes
Organic snap peas
Toasted coconut and cassia cinnamon oatmeal cup
Ricotta and broccoli rabe ravioli
Apple and mango whole fruit bars
Apple and blueberries whole fruit bars
Organic Turmeric Wellness Shots
Dark Chocolate Granola Clusters
Organic Chocolate Covered Cashews
Prosciutto and Gruyère Eggs Bites
Sunbasket Recipe Cards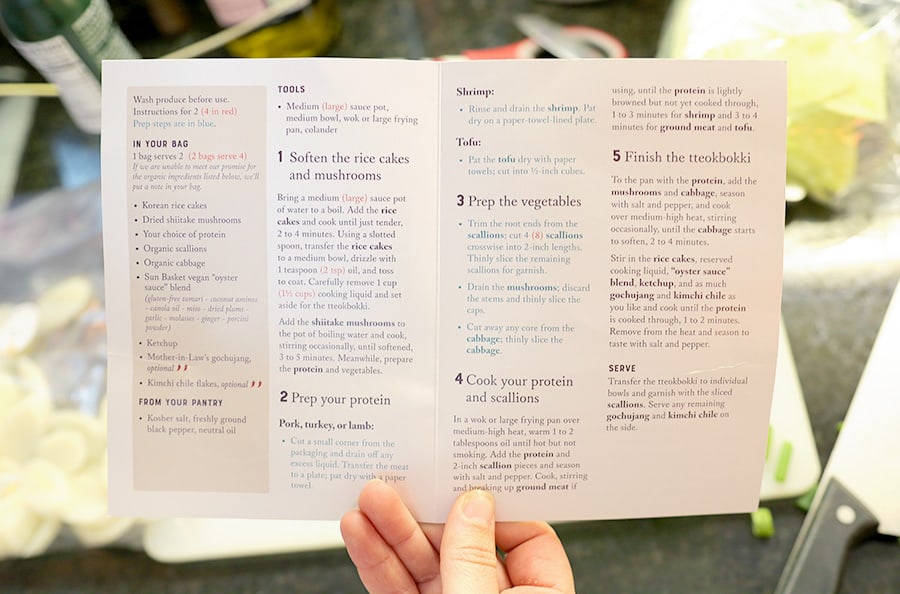 Recipe cards are an important part of the meal kit experience that often gets overlooked. A poorly designed recipe card will lead to a frustrating cooking experience. A well designed recipe card can make the cooking process so much easier.
The Sunbasket recipe cards are designed very well. They're a folded booklet with a picture of what the final cooked meal should look like and, when opened up, the inside has all of the cooking instructions. They even tell you what cooking tools you'll need from the start and if you'll need anything from your pantry (such as salt and pepper).
My only wish is that they had images at each step of the cooking process. This helps you know exactly what everything should look like at each step.
Is The Sunbasket Mobile App Worth Downloading?
Just about all of the popular meal kits on the market these days have a complimentary mobile app. Technically, there is almost no difference between the Sunbasket mobile website and mobile app (iOS and Android versions). They both have the same features and options — you can choose your meals, manage your preferences, rate past orders, etc.
I wouldn't say it's necessary to download their app but it does seem to load everything a bit quicker than their website (on wifi).
How Do You Cancel Sunbasket?
Having to jump through hoops to cancel a subscription service is a pain. Thankfully, Sunbasket makes pausing and canceling your plan super simple. When you log into your account and go into settings, you'll see the option to cancel right under "Delivery Frequency". You can also pause your subscription or skip boxes if you're going to be away for a while.
Sunbasket vs. Similar Meal Kits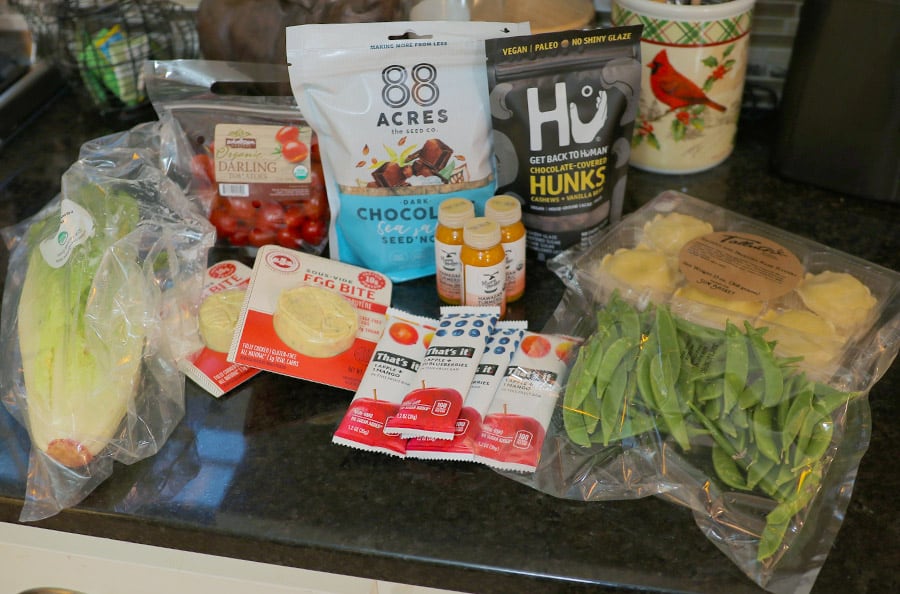 Sunbasket is in the same meal kit "realm" as other super popular meal kits like Blue Apron and HelloFresh. However, I would say that they're most similar to Home Chef. Both of these meal kits prioritize healthier meal options, ease of cooking, and the ability to change/update the meats in your meal. That being said, Home Chef doesn't have nearly as many varieties of meal plans, dietary preferences, and meal options as Sunbasket.
Also, no other meal kit that I know of has as many add-ons as Sunbasket. The only other one that comes remotely close would be Hungryroot. But Hungryroot is less of a traditional meal kit and more of a healthy marketplace with recipe options.
Pros & Cons of Sunbasket
Now that we've gone over every detail of Sunbasket, including our personal experience over the years, let's talk about what we love and what we don't…
Sunbasket Pros
Unique selection of foods. Out of all the meal kits we've tried, Sunbasket has the most unique and diverse selection available. They take meals from all nationalities — Indian, Mexican, American — and create these distinctive twists that blend the flavors together perfectly.
Fits a ton of diets. It would be very hard to find a popular diet that doesn't work with Sunbasket.
It's the most customizable meal kit we've used. I'm amazed that they give you the ability to not only add a ton of different food options into every box but also allow you to customize your meal by swapping out ingredients for others.
The ingredients and foods are very high quality. Researching their sourcing process and the farms that they work with, I can tell that they prioritize high-quality foods in each recipe.
The portions were larger than many other meal kits. If you couldn't tell by the pictures or video review, the portions in our Sunbasket meals were decently large and definitely larger than some other meal kits that we've ordered from.
Sunbasket Cons
You have to pay for shipping. The biggest negative I've found is that they charge for shipping. With many other meal kits, shipping is free.
It's more expensive than many other meal delivery services. HelloFresh and Blue Apron meals are a dollar or two cheaper (depending on the plan you go with).
No visual step-by-step recipe instructions. My one gripe with the recipe cards is that I wish they offered more visuals. In some recipe cards from other meal kits they will provide images at each step of the recipe so you know what it should look like at that step.
Not 100% gluten-free. Although they have a gluten-free plan, it isn't 100% gluten free and isn't suitable for those who are Celiac or actually have a gluten sensitivity/allergy.
Does Sunbasket Offer Any Coupons?
If you're ready to order your first Sunbasket box, I'm here to help save you some money! Use any of the coupons below for a discount on your order…
We're always on the lookout for the best working coupon codes and links so if you find that one of the above doesn't work or you find a better one, let us know in the comments below!
Final Thoughts: Who is Sunbasket Right For?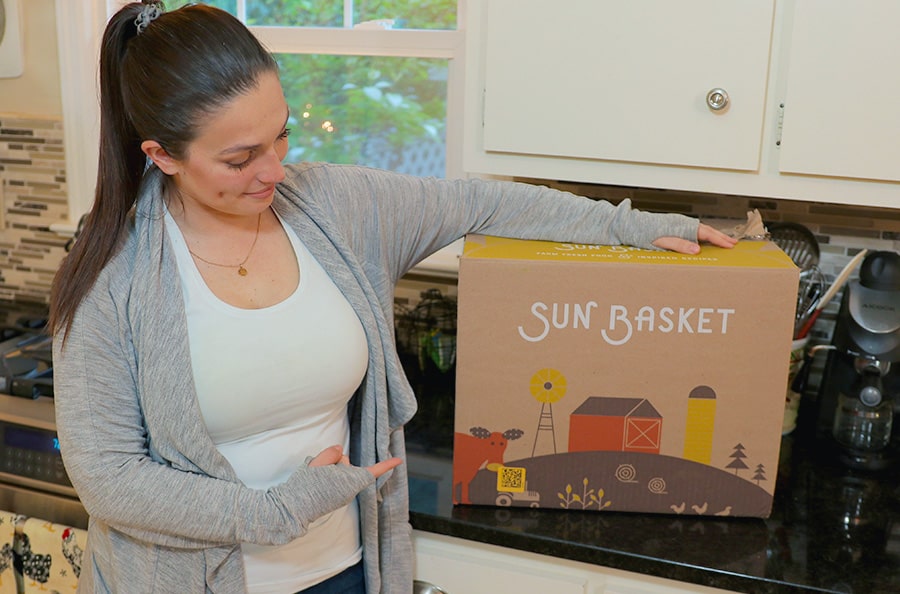 Sunbasket is, hands down, one of my personal favorite meal kits. They check all the boxes — tons of variety, delicious meals, the ability to customize the meals, and so much more.
I would recommend this meal kit to any household with 2 or more people that wants diversity in their meals (some healthy options, some easy to cook options, some fun to cook options) and needs to have all of their meals covered (breakfast, lunch, and dinner).
This would be the perfect option for a family of 3+ or even a couple who is looking for all around delicious meals (and snacks) that fit into each other's diets.
Overall, I'm extremely satisfied with Sunbasket.
Past Food Box HQ Sunbasket Reviews
Have a question about Sunbasket we didn't answer? Have you tried their meal kit before? We'd love to hear in the comments below!