If you've read any of our pre-made meal delivery service reviews, you're probably already well aware of the fact that I'm a big fan of prepared meal kits. They've evolved a ton since first hitting the scene—going from what some would call "airplane food" to truly high-quality gourmet meals (such as CookUnity).
RealEats caught my initial attention from an Instagram ad I saw about a year before posting this review. Since then we've received a bunch of comments and requests asking us to review them. Fast-forward to today and I'm very glad we have. Why? RealEats is the first of its kind in the pre-made meal delivery space.
But are they worth it? And do their meals even taste good? Keep reading to find out…
How RealEats Started
I'm a sucker for a good start-up story. Like most people, I like seeing people identify a problem they're personally having, come up with a proper solution, and use it to create a business helping others with the same problem.
RealEats was created out of necessity. Founder, Dan Wise, was a single father struggling to feed his kids quick and healthy meals. He wanted the quality of a homemade meal but the convenience of takeout. Using sous-vide technology by cooking meals and vacuum-sealing them into small pouches, he found that he could have fresh good-for-you meals any time of day with little actual cooking involved.
This little idea turned into the RealEats of today and has led to them winning a handful of business innovation awards in the process.
How RealEats Works
Getting started with RealEats is fairly straightforward. You sign-up to personalize your meal plan based on your eating preferences (ex: just dinners, dinners and breakfast). Each week you'll be able to select your meals and they'll be cooked, sealed, and sent to your doorstep. Since the meals are vacuum-sealed and sent fresh, you just throw them in a pot of boiling water to "cook" before you eat.
How Is RealEats Different From Other Pre-Made Meal Delivery Services?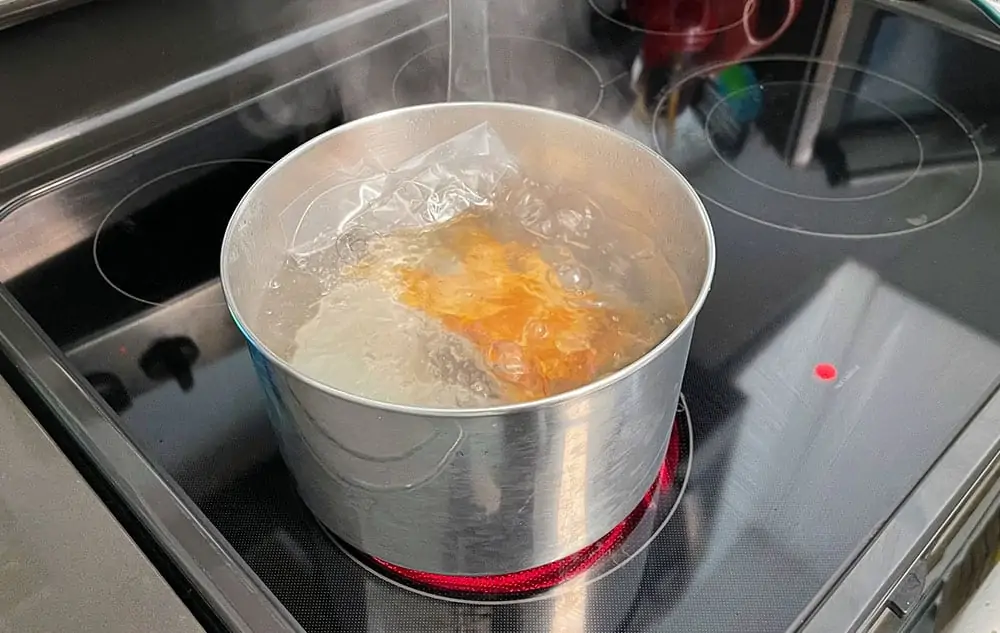 Most of the prepared meal delivery services on the market currently are either fresh meals cooked and packaged in a plastic tray (such as Freshly and Factor Meals) or frozen meals (such as Mosaic and Veestro). With these types of meals you have the option to cook them in the microwave or in the oven. When it comes to RealEats, you could technically microwave the meals but the recommended way of cooking is boiling (sous-vide style). What this does is disperse the heat more evenly and, from my experience, actually leads to a better tasting meal.
Think about it for a second… When you cook up a pre-made meal, frozen, or even just leftovers in the microwave, the food is almost always hot on the outside and cold on the inside. That's why most pre-made meal delivery services require you to heat in the microwave for a few minutes, remove the meal to mix everything together, and re-microwave until it's thoroughly heated.
Sometimes I take a meal out of the microwave thinking it's done, take a bite, and it's scolding hot on the outside and still cold on the inside. Has this happened to you?
Boiling sous-vide style you don't have to worry about that since the heat from the water "cooks" the meal rather than warming it up the way the microwave does.
Meal Plans
As of publishing this review, RealEats offers 2 different meal plans—"Just Dinner" and "Dinner + Breakfast". Within each meal plan you'll have the ability to choose from 4, 6, 8, and 12 meals.
Each meal is single-serving. This is important to note because many popular meal kits only offer meals that feed 2 people (such as HelloFresh and Blue Apron). This makes RealEats one of the few meal delivery services out there that work for one-person households.
Each meal stays fresh for about 7 days from arriving on your doorstep but you can freeze them to extend their shelf life.
Meal Variety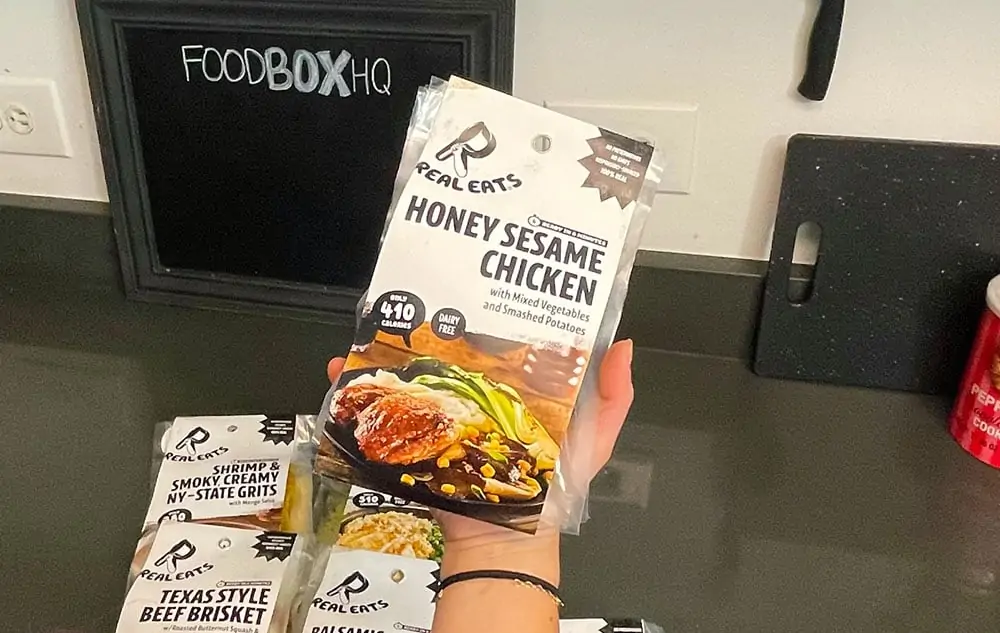 For being a relatively newer pre-made meal delivery service, RealEats has a lot of variety in the meals that they offer.
I've found that there is a good mix of styles—classic American, southern, Indian, plant-based, and more.
Each week you'll have the ability to choose from around 15 dinner meals and around 4 breakfast meals.
Here are some dinner favorites I like to give you an example of what you can expect:
Balsamic-Glazed Steak with Sautéed Green Beans, Toasted Almonds & Smashed Potatoes
Honey Sesame Chicken with Mixed Vegetables & Smashed Potatoes
Miso Salmon with Sautéed Kale & Organic Scallion Brown Rice
Local Squash & Chickpea Curry with Organic Quinoa & Toasted Pepitas
And here are some breakfast favorites:
Baked Blueberry Oatmeal with NY-State Maple Cream
Huevos Rancheros Frittata
Chia Seed Pudding
I've found that they rotate the menu enough so that you feel like you're getting new selections each week but they do keep some "fan favorites" in.
While there are no diet-specific meal plans, there are meals that fit within certain diets (low-carb, high protein, vegetarian). More on this a little later on.
Add-Ons
In addition to meals, you can also throw other foods into your box each month. I'm a huge fan of when meal delivery services do this since it truly allows you to entirely substitute the grocery store for the meal delivery service you're using.
RealEats also does not skimp out when it comes to add-ons. In fact, there are more add on options than meal options! Here's what you can expect:
Soups such as Roasted Butternut Squash Soup
Single-serve proteins such as meatballs, salmon, smoked duck breast, and grilled chicken
Sides such as organic peas, green beans, and brown rice
Snacks such as nuts and Perfect Bars (my absolute FAVORITE snack ever)
Wellness shots like turmeric and matcha greens
Mini sous-vide egg bites
Full-size drinks and smoothies
A wide variety of fresh cheese such as goat cheese and blue cheese
Cured and smoked meats (perfect for making a charcuterie board)
The above examples are really just the tip of the iceberg. As you can probably tell, RealEats definitely beats every other pre-made meal delivery service when it comes to add-ons. So if that's important to you, this is a great meal delivery service to consider.
RealEats Meal Quality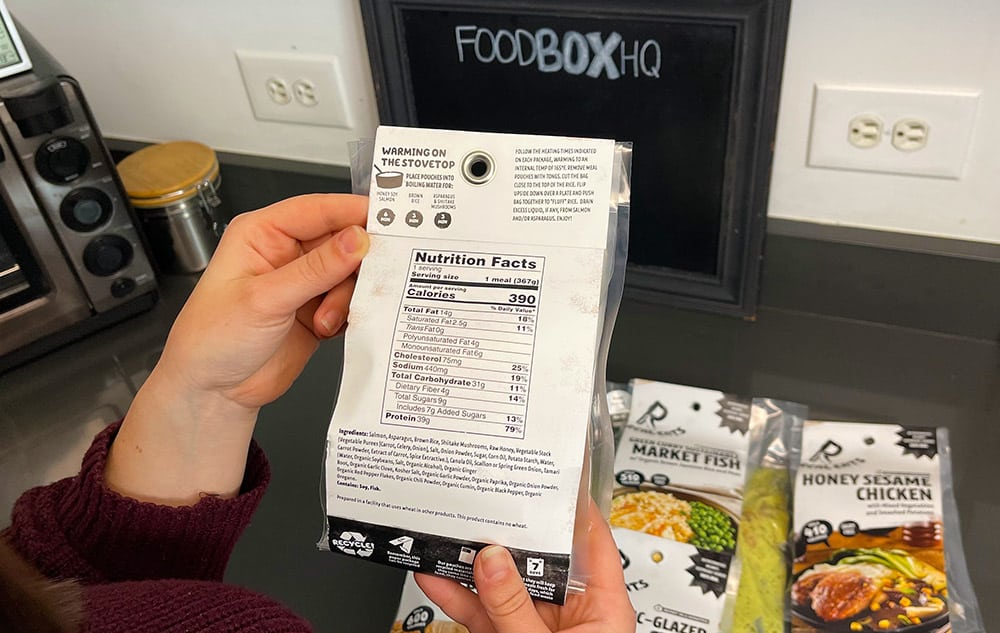 While RealEats has a lot of meal variety, are these meals actually high-quality? I've been looking over each of the meals we've been getting and there have been zero "weird" ingredients like natural flavors or preservatives. On their site they say none of their meals have artificial ingredients, binders, fillers or artificial preservatives added.
Not all of their meals are organic but I've found that they do rotate in about 6+ meals with organic ingredients each week. Speaking of ingredients, they work with local upstate New York farmers to obtain many of their ingredients. They make sure that these ingredients are non-GMO, sustainable, and seasonal for the best taste.
If you have severe food allergies, do note that many of their meals contain nuts, soy, dairy, and gluten. However, they do have specific plant-based, dairy-free, and gluten-free meal options.
Lastly, a big concern many have is boiling/cooking the meals in a plastic container. RealEats does say their pouches are free from BPA, phthalate, and plasticizer.
Delivery
RealEats ships boxes every Monday, overnight, so you'll likely receive it Tuesday or Wednesday. We've never had an issue with any shipments arriving late.
They've in the midst of expanding their meal delivery service nationwide and currently ship to the following states: Connecticut, Delaware, District of Columbia, Illinois, Indiana, Kentucky, Maine, Maryland, Massachusetts, Michigan, New Hampshire, New Jersey, New York, North Carolina, Ohio, Pennsylvania, Rhode Island, Vermont, Virginia, and West Virginia. They can also ship to most of South Carolina, Tennessee, Wisconsin and parts of Alabama, Georgia, Iowa, Minnesota, and Missouri.
Packaging
All the meals ship inside a cardboard box insulated with a type of plastic "foam" to keep all the meals nice and cold, as well as protected from any bumps while in transit.
Opening up the box and insulation, you'll find your meals surrounded by around 2-3 ice packs. We haven't had any issues with the ice packs melting or the food coming spoiled.
My one gripe with RealEats is that the packaging is not as environmentally friendly as it could be. I get that they're a relatively newer meal delivery service probably trying to save money so I can give them a pass for now. Hopefully they can at least upgrade their insulation to compostable and biodegradable Green Cell Foam in the future.
Our Recent RealEats Meals & Taste Test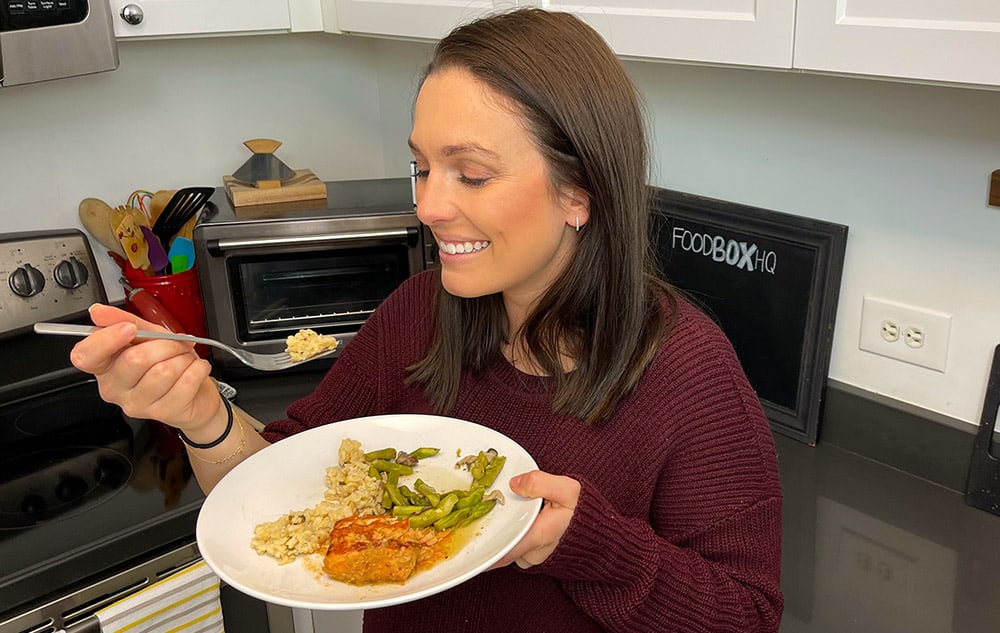 Now let's get into what we received in our most recent RealEats order! We linked to their individual meal pages so you can see the full ingredients and nutritional facts too: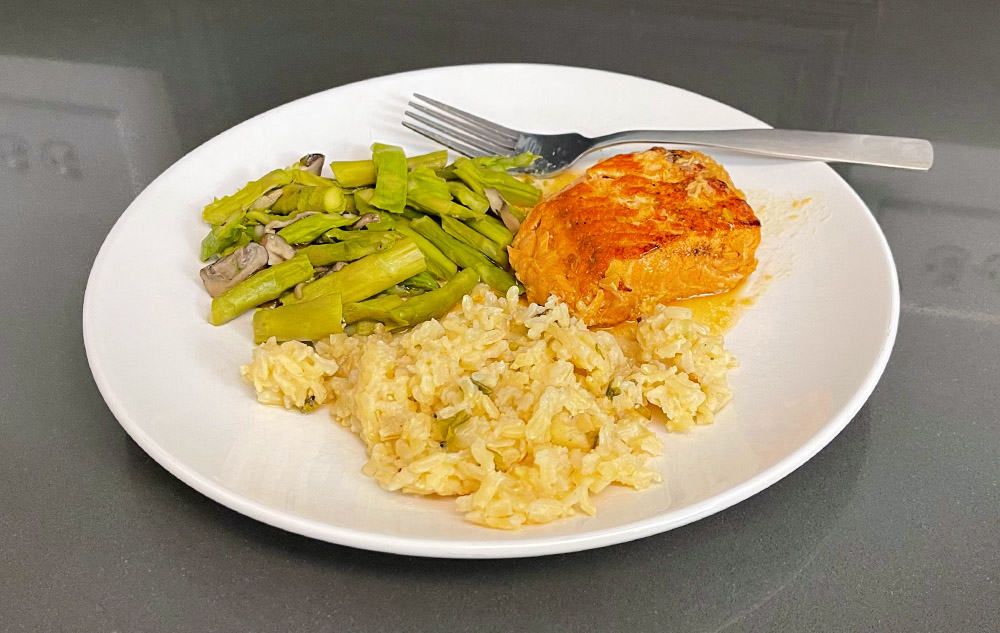 Looks can be deceiving. When I first saw RealEats, before we even tried our first box, I kind of dismissed them because of their packaging (vacuum sealed). I was so used to seeing pre-made meals come in a tray with a sleeve that you microwave. That was a mistake because these meals are really delicious. If you think about it, it makes sense. Vacuum sealing the meal means that the food doesn't come in contact with air and spends more time "marinating" in its own juices. This leads to a ton of flavor in each bite.
The Cooking Process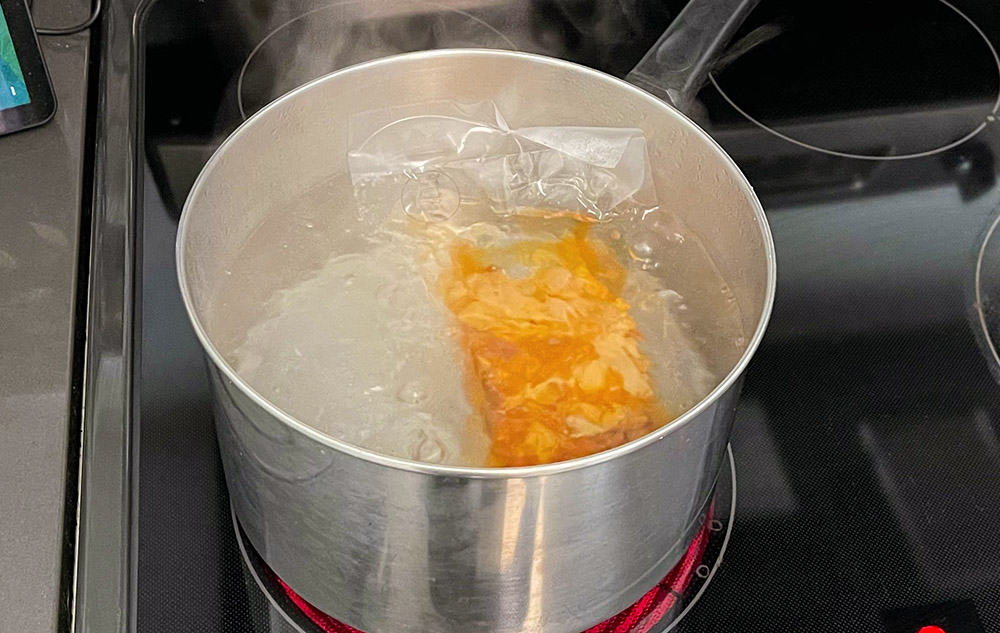 Cooking a RealEats meal is pretty straightforward but there's a few things you'll want to be aware of beforehand.
First, you're going to bring a big pot of water to a boil. You don't want it to be too full where it could spill or bubble over but you do want it to be full enough that it can contain the meal when it's dropped in.
Second, you want to put in each pouch at the recommended time it says. If your meal is only one pouch, you don't have to worry about this step. However, if your meal contains 2 pouches (like ours in the video above) you want to make sure each heats correctly. Also, don't cut or pierce your pouch before putting it in the pot!
Next, be careful pulling out the pouches from the boiling water. I'd recommend using tongs so you don't burn yourself.
Lastly, and most importantly, drain your pouch once it's all cooked. I've found this is the trickiest part because the meal is hot and it's tough to cut and drain without making a bit of a mess. Once drained, you can plate!
Overall, cooking any meal takes less than 7 minutes.
RealEats Pros & Cons
So you read this far (or you just immediately scrolled down here) and you want to know both the good and bad of RealEats. Let's go over each to help you make the right decision…
RealEats Pros
They're one of the few meal delivery services that offers breakfast options. This allows you to truly use RealEats for each meal without having to rely on going to the grocery store.
There are a ton of add on options. In fact, I've never seen another meal delivery service offer as much variety as RealEats does.
They're very customizable. For example, you don't need to go with their "Breakfast + Dinner" plan to get breakfast. You can add on as many breakfast meals as you'd like each week in the add on section.
Obviously, cooking is very simple since these are premade meals. This means there's also basically zero cleanup required besides the pot of water you boil the meals in.
Their pouches are free from BPA, phthalate, and plasticizer.
Since each meal is single-serving, RealEats is one of the few meal delivery services for one-person households.
RealEats Cons
It can get slightly messy plating the meals since you have to cut open the pouches (which can be hot) to drain any excess water inside the pouch beforehand.
They don't ship everywhere but they are looking to expand deliveries nationwide.
There aren't a ton of diet-specific meals. While they do have some plant-based, gluten-free, and even low-carb options each week, it would be hard to use RealEats full-time if you were on a specific diet such as any of those.
RealEats Coupons
So you've decided RealEats is the right meal delivery service for you and you're ready to order? You're in luck! Below you'll find the best selection of coupon codes and promotional links to help save you money on your order:
As you can probably tell from the review, we're big fans of RealEats. We reached out to them to see if we could get Food Box HQ readers a great deal on their first order and RealEats obliged! Use coupon code FOODBOX30 to get $30 off your first 2 boxes and you'll also receive free shipping.
Use coupon code GETREAL30 for 30% off your first order.
Use coupon code GETREAL25 for 25% off your first order.
If any of the coupon codes above do not work or you know of any better ones, please let us know in the comments below. We're always on the lookout for the best deal for you!
Final Thoughts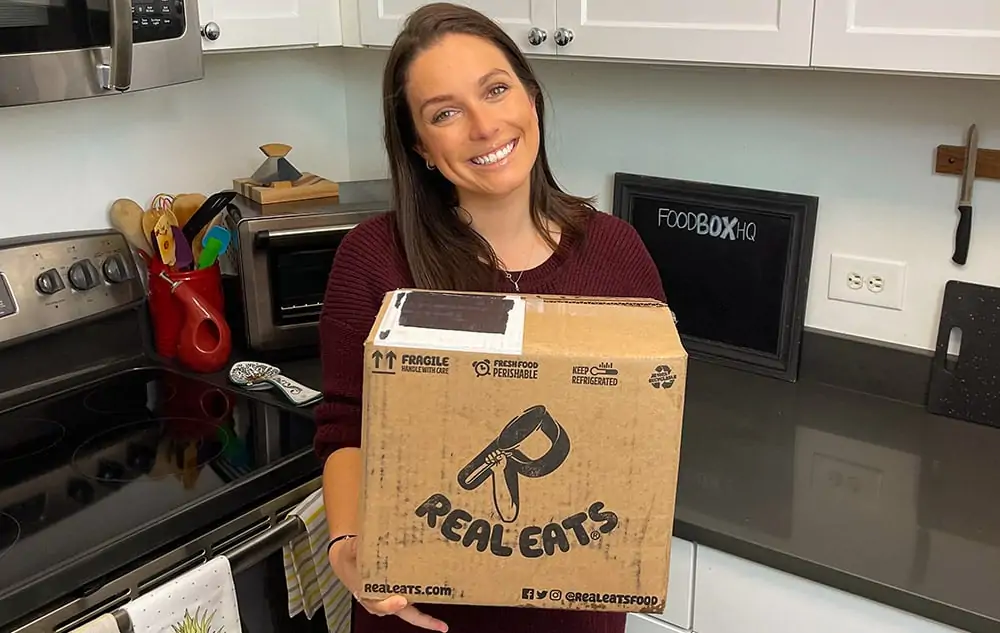 RealEats really impressed me. The world of premade meal delivery services has evolved a lot over the years and there's a lot of competition but you usually see a lot of similarities. The same types of meals, meal plans, add-ons, etc. RealEats has kind of gone in their own direction while also evolving upon where the pre-made meal delivery industry was.
If they play their cards right by expanding to nationwide delivery, improving their packaging, adding more diet-specific meals and/or meal plans, I have a strong feeling RealEats could become the #1 premade meal delivery service out there.
Have a question about RealEats we didn't cover in this review? Have you tried RealEats before and want to share your experience? Let us know in the comments below!