At first glance, Mosaic Foods looks like any other frozen meal. In fact, I originally thought Mosaic was just another company trying to capitalize on the meal delivery service trend with cheap frozen meals. However, after trying them, I found that Mosaic meals were much more than what I assumed.
Keep reading to find out what Mosaic is all about, how their service works, our personal experience, and if they're the right choice for you…
About Mosaic & How It Works
Founded by Matt Davis (former senior director of operations at Blue Apron) and Sam McIntire, Mosaic is a pre-made meal delivery service that sends you plant-based meals. They're made without preservatives or artificial ingredients, and are flash frozen to preserve freshness.
Upon signing up, you'll have the option to select either 8 or 12 meals to be sent to your doorstep every 1, 2, or 4 weeks. They have a rotating menu of 20+ meals to choose from each week.
Is Frozen Actually Better?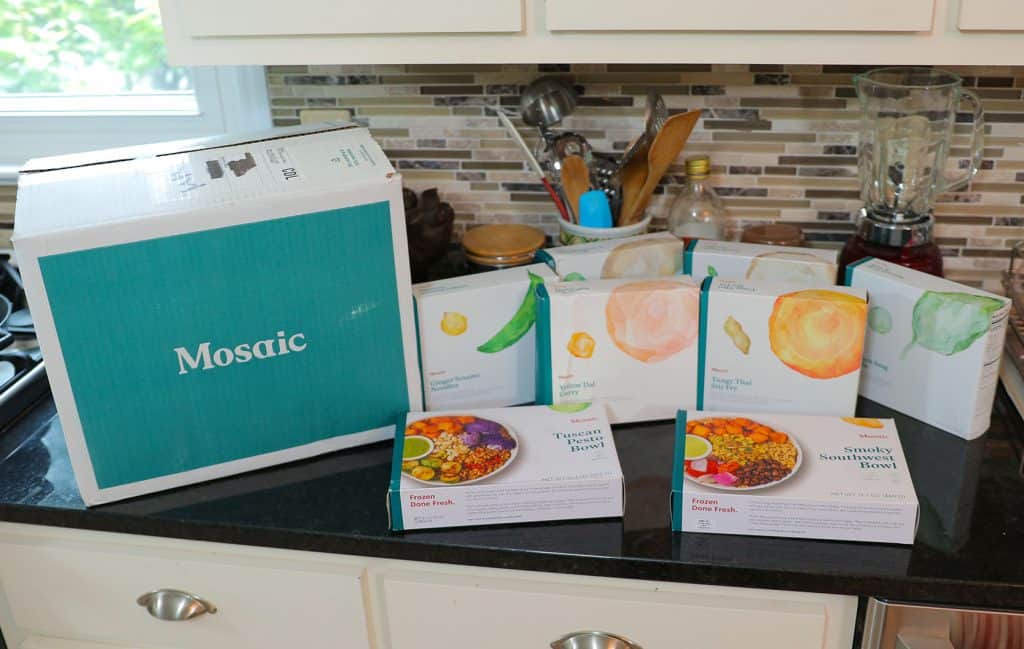 I relied heavily on frozen meals to get me through my college days. As I grew up, I eventually abandoned my frozen food habit for more "adult" meals. I always remember it being hard to find a frozen meal that tasted good, wasn't loaded with artificial ingredients or sodium, and was actually good for me. I could usually find a frozen meal that checked two of those boxes but almost never all three. So, after stumbling upon Mosaic meals, I was intrigued.
Like most people, when I read that Mosaic meals were frozen I immediately had an image in my head of those old school TV dinners. How could Mosaic's meals be any different? Well, I did some digging after purchasing our first box and found out the freezing process is a lot different these days.
It turns out that even though the meals are frozen, the actual process of sourcing ingredients, cooking, etc. is rather high-end. Mosaic works with local farms around the Hudson Valley area (close to their New York headquarters) to source in-season ingredients. They then roast, sauté, and season to bring out the natural flavors, rather than relying on artificial ingredients.
Immediately after cooking the meal, it is frozen. But why? It turns out there are some pretty compelling reasons…
Freezing food helps reduce food waste. In some instances, over 40% of food is literally thrown away due to spoilage.
Wasted food takes up nearly 20% of US landfills.
Wasted food also means wasted water. It is estimated that 24% of all water used for agriculture worldwide is used to produce food that is eventually wasted
If these stats shocked you, you're not alone. They shocked me too!
There's still a misconception that all frozen food is bad. Certainly some frozen foods aren't good for you but, when done right, frozen food can both be good for you and the environment.
What Makes A Frozen Meal Bad? Comparing Mosaic Meals Ingredients…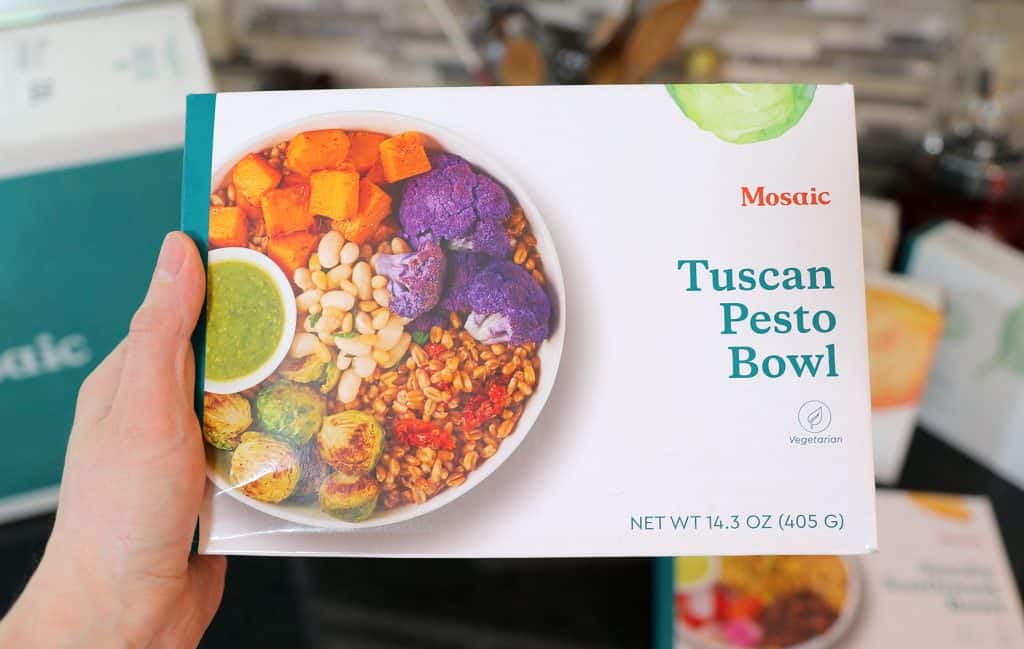 When it comes to frozen meals, we now know it's not necessarily freezing that makes the meal bad. It's the added ingredients used to preserve the life of the meal and make it taste better as cheaply as possible.
Here are some things that make up a "bad" frozen meal…
High sodium
High calories
High carbohydrates
Added sugars
Trans fat
Artificial flavors
Food Box HQ Note: "Preservatives" aren't listed because frozen foods do not require added preservatives to keep them safe enough to be consumed. This is because microbes cannot grow at temperatures below freezing.
To compare, here are all of the ingredients from Mosaic's Tuscan Pesto Bowl (one of the Mosaic meals we tried): Butternut Squash, Purple Cauliflower, Brussels Sprouts, Spelt, Great Northern Beans, Water, Basil, Avocados, Parmesan (Milk, Cheese Cultures, Salt, Enzymes), Sun-Dried Tomatoes, Pine Nuts, Olive Oil, Walnuts, Lemon Oil, Salt, Garlic, Parsley, Rosemary, Spices, and Thyme.
And here is the full nutritional info:
Calories: 530
Total Fat: 19g (24% DV)
Fat: 3.5g (18% DV)
Trans Fat: 0g
Cholesterol: 5mg (1% DV)
Sodium: 790mg (34% DV)
Total Carbohydrates: 78g (28% DV)
Fiber: 19g (67% DV)
Total Sugars: 13g  (Incl. 0g Added Sugars, 0% DV)
Protein: 24g (48% DV)
Mosaic Meals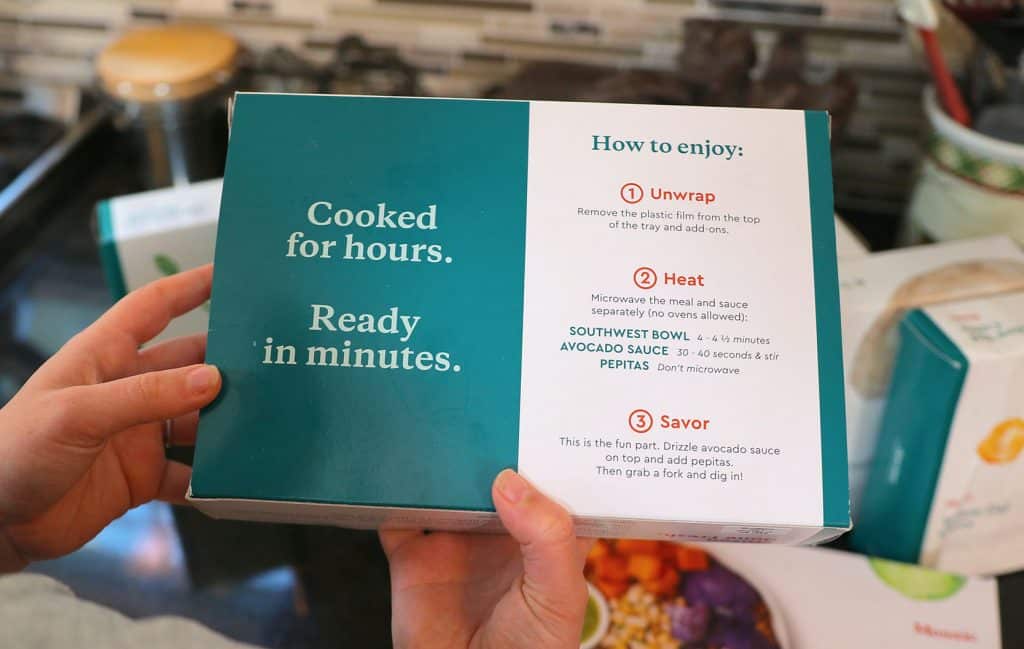 Mosaic currently only offers vegan (plant-based) meals. The meals are broken down into 3 different categories — veggie bowls, risottos, and noodle bowls. Furthermore, they label the meals with specific icons to delineate diet and allergen information. You'll be able to identify meals by the following icons: vegetarian, dairy-free, high protein, wheat-free, and spicy.
Here are some example meals you might find on your menu…
Ginger Sesame Noodles made with Snow Peas, Napa Cabbage, Corn, and Buckwheat Soba
Butternut Squash Risotto Kale made with Pecans, Cranberries, and Autumn Spice
Moroccan Vegetable Tagine made with Butternut Squash, Carrots, Peppers, Saffron, and Couscous
Delivery
Mosaic Foods is currently only able to deliver to areas that surround their headquarters in New York. That includes New York, Washington, D.C., Philadelphia, Baltimore, Boston, and the surrounding areas.
Once your box ships, it usually only takes within 48 hours to receive it. All of our deliveries have been received the next day. However, we're pretty close to NY, so that might be why.
Packaging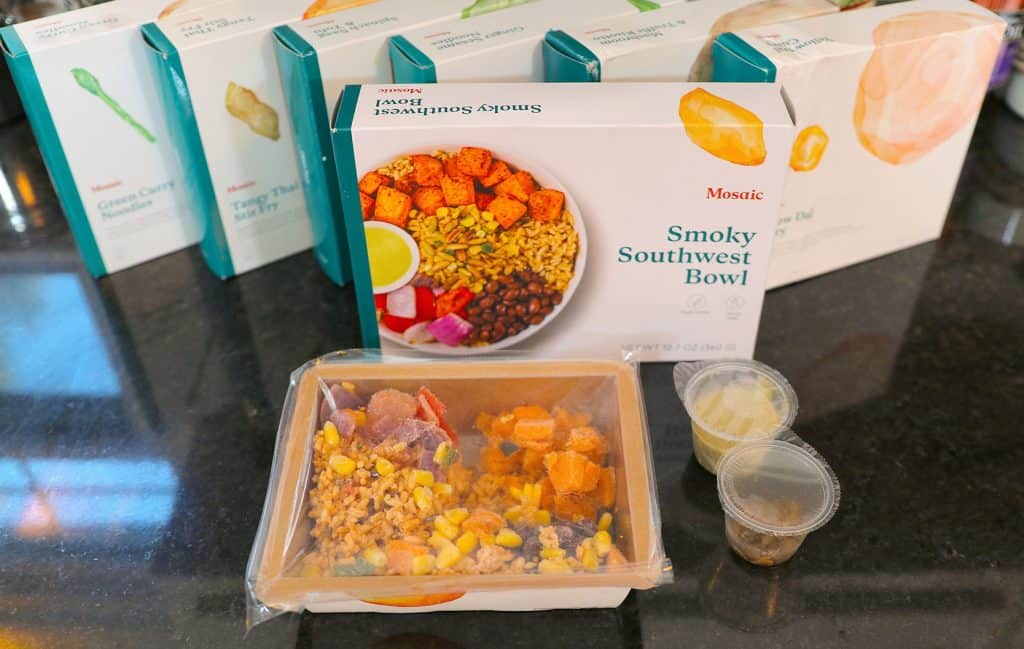 Here's a look at what the Mosaic packaging is made out of.
The cardboard box is made with a blend of recycled and virgin kraft papers. This can be easily recycled with your paper products.
The inner liner is made from shredded newspaper. This is the first time we've seen this type of insulation used in a meal delivery service. Being recycled and recyclable, it's very environmentally friendly.
They pack the box your meals come in with dry ice, which  does a great job of keeping everything frozen while in transit. No need to recycle since the ice will literally just melt away. Just be careful handling since dry ice can be harmful if touched with bare hands.
The meal packaging is also surprisingly environmentally friendly too. The outer meal box is made from chip board, which can be recycled with your paper products. The inner meal tray is a recyclable, BPA-free material paper/plastic material.
What Meals We Received In Our Recent Box
Now let's get to the fun stuff, the meals we got! Here's a rundown of each one…
Tangy Thai Stir Fry: As a fan of pad thai, I found this one to be absolutely delicious. It had the perfect tangy zest that didn't overwhelm my taste buds. Love the added peanuts. If you're not a peanut fan, they come in a side container so you don't have to put them on.
Green Curry Noodles: This one had some spice! Again, another great thai-inspired dish. The noodles were perfectly done—not too mushy or hard. I'm not a big fan of tofu so that was really the only downside to this meal.
Spicy Sichuan Soba: Another spicy meal, this one was a bit more of a Korean-inspired dish. The chili flakes and Sichuan peppercorns added a nice kick without being too much.
Mushroom Truffle Risotto: This was one of my favorites from this box. It was bursting with flavor and was perfectly balanced. I'm a fan of all the ingredients—risotto, mushrooms, beans, truffle oil—so I'm definitely ordering this one again.
Spinach Saag Tofu: This was my first time having "saag" but I have to say it was a pleasant surprise. I love spinach but when you first look at the meal, it looks like mush. Other than the tofu, it was another winner in terms of taste!
Yellow Dal Curry: Curry is one of my personal favorite Indian foods and this one didn't disappoint.
Smoky Southwest Bowl: This is the bowl we made in our video review and tasted tested here. It was a little more southern/Mexican inspired, with a bit of a kick to it. The spice was balanced well with a little sweetness from the lime sauce and sweet potatoes.
Tuscan Pesto Bowl: I would say this is one of the most balanced meals we received in our box. It had cauliflower, brussels sprouts, butternut squash, beans, pine nuts, and spelt. I really enjoyed the diversity of ingredients.
Mosaic Foods vs. The Competition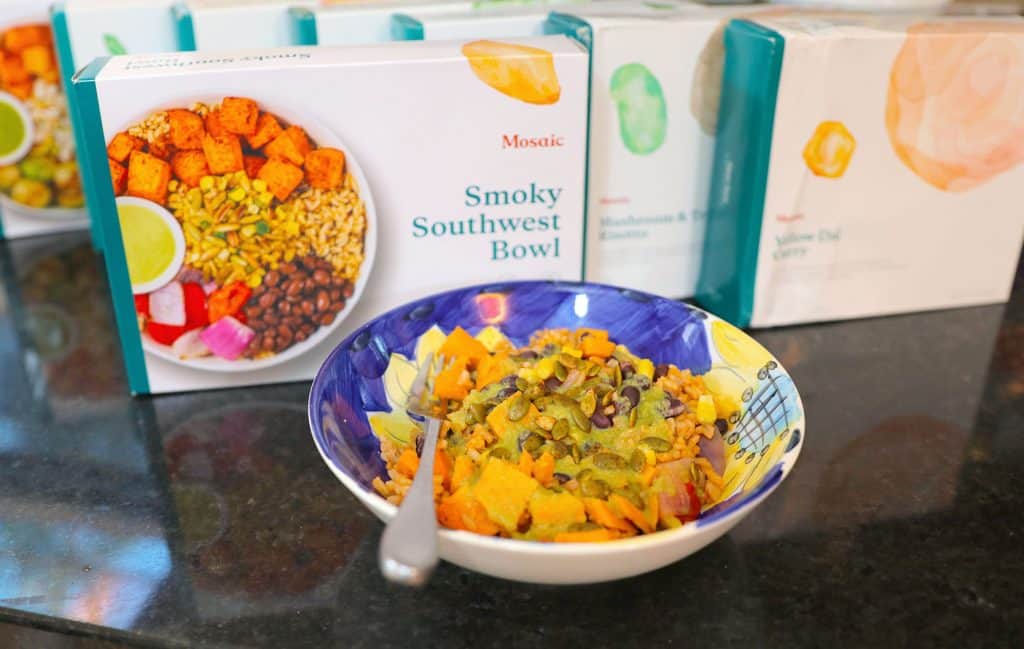 There aren't many other frozen meal delivery services currently on the market. There's even fewer plant-based frozen meal delivery services.
The closest competitor to Mosaic would be Veestro. However, there are some very big differences you should know about…
Veestro offers much more variety than Mosaic. Currently, Veestro has over 40 different meal options to choose from. This includes breakfast, lunch, and dinner. Mosaic currently only offers lunch/dinner meals.
Veestro offers meals with plant-based "meats" such as vegan chicken.
Mosaic Meals seem to have more whole foods. Veestro meals seem to have more added ingredients (such as "natural flavors").
When it comes to taste, I found Mosaic's meals to have more flavor whereas Veestro meals were slightly more bland. That being said, Veestro offers more meal variety such as pizzas and quesadillas, which Mosaic does not.
Pros & Cons of Mosaic Foods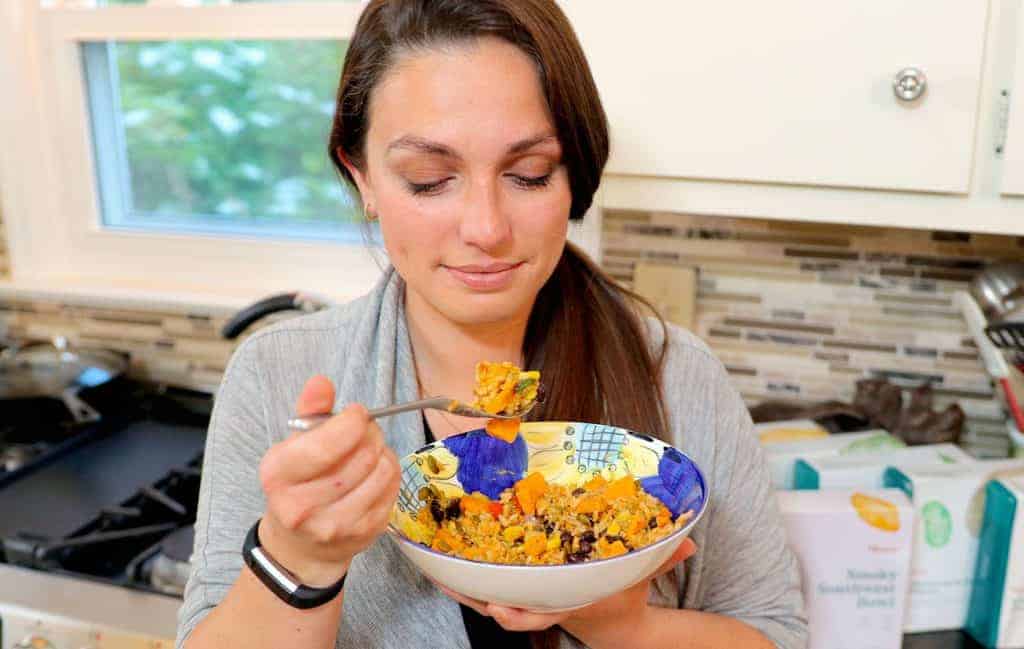 Now that we've performed a deep dive to review Mosaic foods, let's go over some of what we loved and what we didn't love to help you make the right decision…
Mosaic Foods Pros
It tastes delicious. Surprisingly, when done right, frozen food can be as delicious as a home cooked meal.
Perfect meal delivery service for one person households. Finding a meal delivery service or meal kit for singles can be tough since most only offer 2-servings or more.
Saves time. No need to cook and barely any cleanup needed.
Mosaic Foods Cons
Not a ton of variety. I hope that they eventually expand to include plant-based meats and more than just Asian and Indian cuisines.
Not good for picky eaters. Many of the meals are going to be more complex flavors and seasonings, which picky eaters may not enjoy.
Does Mosaic Foods Have Any Coupons?
Yes, they do! If you're ready to place your first order, we're here to help save you money. Click to use coupon code "FIRSTBOX" (click to add to your order) and save $15 on your first order.
If that coupon code/link does not work, please let us know in the comments below! We make sure to always update this section to reflect the most up-to-date coupons available.
Final Thoughts: Is Mosaic Foods Right For You?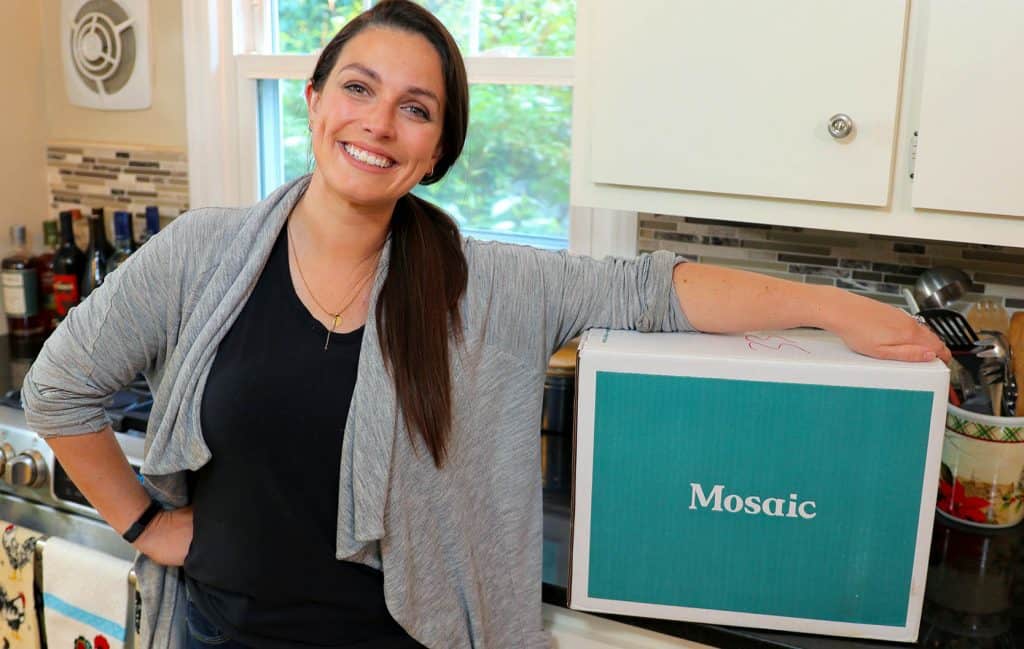 Based on my experience with Mosaic's meals, I can tell that frozen foods have come a long way since I was a kid. These aren't your stereotypical TV dinners. In fact, since they use local, farm-fresh, whole ingredients, the only real difference between Mosaic and a restaurant meal is the fact that they're frozen.
If you're vegan, I would say these meals are a no-brainer to get. You can use them as you main meal source or have them in the freezer as a backup for quick lunches or dinners.
If you're not vegan but you're looking for quick, good-for-you meals, these are also a great choice. I often found myself grabbing Mosaic meals after working late and needing something quick and healthy before bed.
One thing to remember though is that these meals are not your typical dinners. Mosaic relies on Indian and Asian cuisines due to their vegetable-focused meals being loaded with flavors. So, if you're not an adventurous eater, these might not be the best option for you.
Overall though, I'm pleasantly surprised with how much I ended up enjoy Mosaic's meals.
Have you tried Mosaic before? Have a question we didn't answer in this review? Let us know in the comments below!