I remember back when we first started this site in 2017, seeing a small new company delivering frozen smoothie kits to people, called Daily Harvest. Since then, so much has changed.
Daily Harvest has expanded to become one of the most popular and widely recognizable plant-based meal delivery services nationwide. Since starting out with just smoothies, they now have dozens of food offerings.
Though they've evolved and expanded, are they still worth it?
Having used Daily Harvest personally since they first launched, we're going to cover everything you should know before placing your first order—from what we absolutely love to what we really don't like. Plus, we're going to give you an exclusive Food Box HQ coupon you can use to save big on your first order.
What Is Daily Harvest?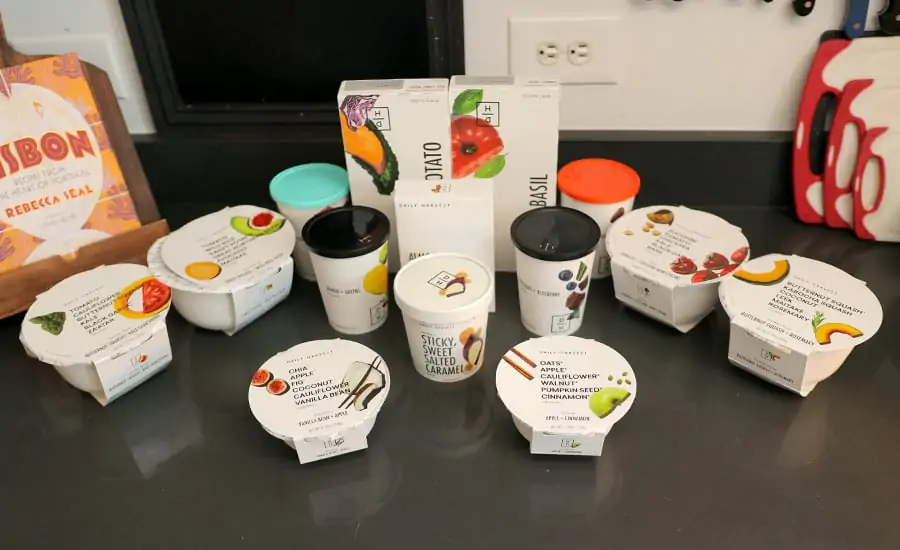 Daily Harvest was started by Rachel Drori, who was looking to solve a basic need most of us can relate to. She wanted to eat healthier but found herself too busy to prep and cook the meals needed to do so.
Starting with smoothies, she wanted to change the misconception that most people have of frozen foods being unhealthy. Yes, they can be, when using poor ingredients. However, when done correctly (for example flash-frozen non-processed ingredients and zero additives), frozen foods can be just as good as non-frozen foods.
Fast-forward to today and Daily Harvest has gone from a handful of smoothies to a wide range of frozen plant-based meals (more on those below).
How Does Daily Harvest Work?
Daily Harvest makes the process of getting started very simple. After inputting your zip code to make sure they can deliver to your area, you'll be able to select a plan according to how many items you prefer to have in your box. You're not locked into only ordering that amount though. Each plan is flexible so you can always order more and they'll just tack on a per-item fee.
Once you've got your plan selected, you can start adding food to your box. They currently have 100+ different options to choose from. Your first box ships immediately and then you'll be on a recurring weekly or monthly delivery schedule (depending on which plan you chose).
Daily Harvest Plans
There are currently 3 different plans you can select, each of which are pretty self-explanatory…
The 9 item plan is delivered weekly
The 14 item plan is delivered weekly
The 24 item plan can be delivered weekly or monthly
The best part is that each plan comes with free shipping.
We generally use the 24 item plan for our orders since it saves us the most money ($20 off). It also allows us to space out when we actually receive the box so we can eat all the food before another box arrives. I found before, when we were using the 9 item weekly plan, we would end up with another box being delivered the next week when we still had food to eat!
Daily Harvest Food Variety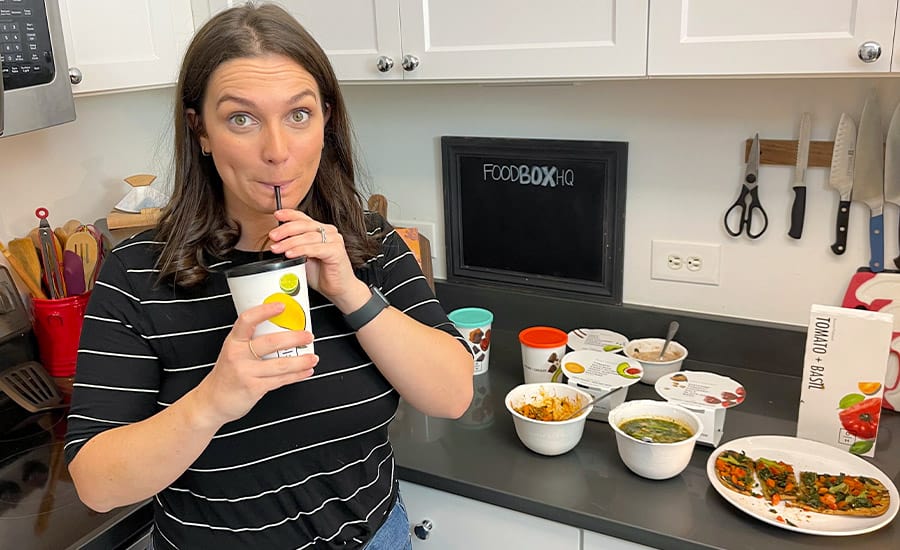 This is where Daily Harvest really knocks it out of the park. Remember when I told you that when we first tried Daily Harvest they only had smoothies? Well, today they have 10 different categories of food with 100+ different options to choose from. Here's a rundown of every option they currently have…
Smoothies: These are Daily Harvest's classic foods and what they're most well-known for. On any given week you'll have 25 smoothies to choose from, which range from traditional options like banana and greens to more adventurous options such as dragon fruit and lychee.
Mylk: These are their new plant-based milk pods, currently available in almond and almond and vanilla. In a pretty genius move, they froze them in sections like an ice cube tray so you can easily pop one out and put it in a smoothie, latte, or anything you really want.
Harvest Bowls: These bowls are a mix of vegetables with a base such as wild rice or an ancient grain like millet.
Flatbreads: These flatbreads remind me of little personal pizza packed with vegan sauces and toppings. The cool part is even the crust is made from vegetables, for example sweet potato or broccoli.
Soups: These soups are very hearty and jam packed with vegetables. They're pretty similar to the harvest bowls but a little more "sippable".
Oat Bowls: These oat bowls are perfect for making overnight oats. We just add a little almond milk to a bowl in the evening and have it for breakfast the next day. You can always just heat and eat the morning of though.
Chia Bowls: These are basically the same as the oat bowls, with some different flavors, except they swap out the oats for chia seeds.
Scoops: These are their relatively newer plant-based ice creams and they are super delicious. I usually gorge on these after dinner, feeling a little less guilty than eating regular ice cream, knowing I'm at least eating fruits and veggies like coconut, spirulina, and strawberry.
Bites: These are little sweet treats mixed with superfoods you can just pop in your mouth. Whenever we add these to our box I almost always finish them within 48 hours of throwing them in the freezer. They are dangerously addictive!
Lattes: These lattes actually come in little pods that you warm up under water before combining with your preferred liquid base such as milk, plant-based milk, or even water.
A little later on we give you our honest thoughts of each, including our look at the ingredients and a taste test.
Why Is Everything Frozen?
When we first started Food Box HQ, I was always hesitant of reviewing frozen foods. Since I grew up in the golden age of TV dinners that were jam packed with sodium, "natural" flavors, and artificial ingredients, I had this preconceived notion that all frozen foods are bad for you.
Boy, was I wrong!
Frozen foods of today have come a long way since those old school TV dinners that look like airplane food. A lot of this comes down to the freezing technology. Daily Harvest uses a method called flash freezing, which means that they freeze the fruits and vegetables within hours of them being picked. This means the foods retain the maximum amount of nutrients and lock in freshness. In fact, studies have even shown that the nutritional profile of both flash-frozen and fresh produce are pretty similar.
So not only are the ingredients that Daily Harvest uses quite similar to making it with freshly picked ingredients, but they also last much longer since they're frozen. Most frozen fruits can last anywhere from 6 to 9 months, if kept frozen properly.
Diets That Daily Harvest Foods Fall Within
A lot of the comments and questions we usually get about Daily Harvest revolve around dieting and the diets that Daily Harvest foods cover.
Obviously, since all of Daily Harvest's foods are plant-based, it is a 100% vegan meal delivery service. While they don't explicitly say it, many their foods do fall under a handful of other diets:
Dairy-free
Gluten-free* (yes, even their delicious flatbreads)
Soy-free (not all but many)
Many items could fall within the "low-carb" realm. For example, their Cauliflower + Leek Stew is only 10 grams of carbohydrates.
Many items could also fall within the "low-cal" realm. For example, their Mushroom + Miso soup is only 140 calories.
*Do note that Daily Harvest is not certified gluten free so there may be a risk of cross contact if their foods are prepared in the same facility as gluten-containing foods are.
Daily Harvest Delivery & Packaging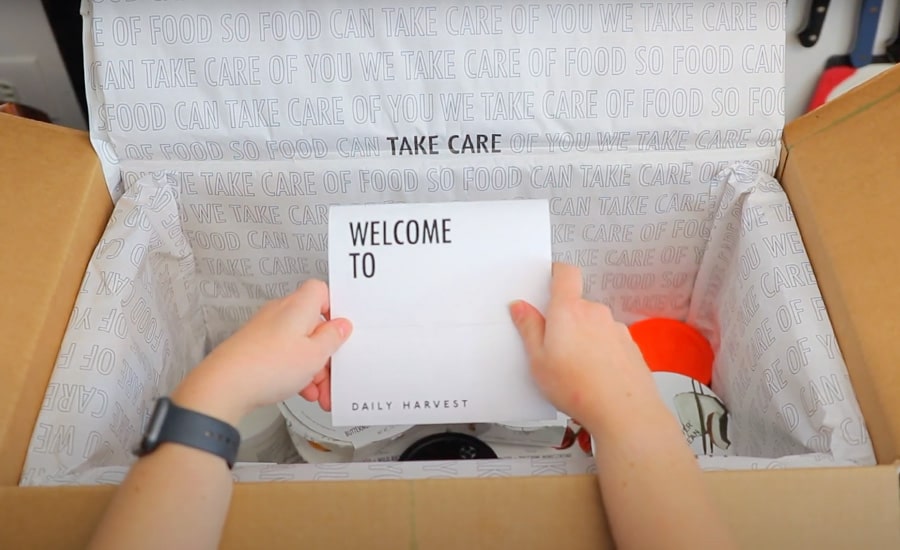 Often overlooked but just as important as the food, is how that food actually makes it to your doorstep.
Upon first signing up, you'll select the frequency you'd prefer to receive your box—weekly or monthly, depending on your specific plan. You can also select the exact day of the week you'd like to receive your box, Monday to Saturday. This is super helpful if you know you're not going to be around during specific days of the week (for example, if you have to work). We generally always get our box on a Friday so we have a little something extra to look forward to eating on the weekend.
Daily Harvest says they use OnTrac, Fedex, and UPS to ship all of their boxes but all of our boxes have been delivered using UPS. And speaking of delivery, we've never had any delays in shipping.
The boxes all of the food comes in are very well packed. Even if I left my box outside an extra day I'm almost positive the food would still stay frozen. They use a lot of dry ice. Because of that you want to be extra careful when opening your box since dry ice can burn you. We let ours just dissipate in the sink for an hour or so. I learned the hard way that if you run cold water over the dry ice, it will turn to a weird fog that basically takes over the room it's in.
Daily Harvest is also pretty good about making their packaging environmentally friendly. The vast majority of the outer and inner packaging is recyclable. They're also making strides to make more of their packaging 100% compostable. For example, their bowls are made from a moulded pulp and can be composted (or recycled).
Taste Test: Our Honest Thoughts On Every Food Daily Harvest Offers
Now let's talk about what everyone wants to know—does Daily Harvest even taste good? Over the years, we've been able to try a ton of the different foods they have to offer in every category.
Smoothies Review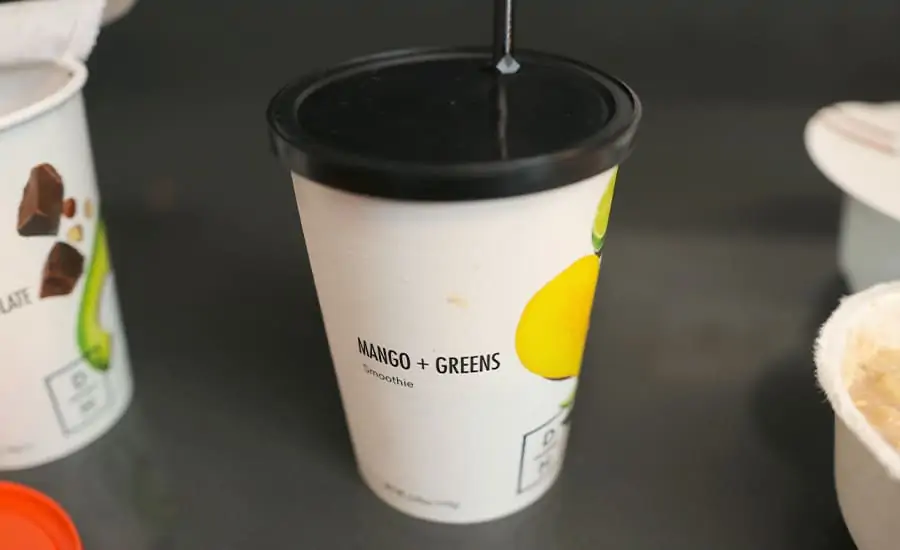 The smoothies are Daily Harvest's bread and butter. Since they started out only selling these little smoothie kits, they've had a long time evolve each of the recipes… and it shows! When we first tried Daily Harvest, it was more hit or miss with smoothie flavors. Some were delicious (for example their Mint + Cacao, which they still have available today) and others were rough to swallow.
Today, Daily Harvest has hit the nail on the head with nearly every smoothie they offer. They're packed with flavor without being overly sweet. This is because they don't add in unnecessary sweeteners, you're just getting the pure ingredients.
Another thing I love about these smoothies is they don't add in proteins. This may seem like an odd thing to call out but in a lot of smoothie delivery services, there are added protein powders in the smoothie like hemp protein or pea protein. This is fine if you like that but I would rather have the option to add my own protein rather than being stuck with whatever was added.
My personal favorite Daily Harvest smoothies are…
Mint + Cacao: This one is super refreshing and I find it to be a perfect mid-day alternative to another cup of coffee.
Mango + Greens: This is the smoothie we taste test in the video above. It's reminiscent of a tropical beach drink (sans alcohol).
Cacao + Avocado: As a huge fan of avocados, I love this smoothie (Emily, not so much). Only get this one if you're a fan of thicker smoothies, like I am, or be ready to water it down a little more than a usual Daily Harvest smoothie.
Mylk Review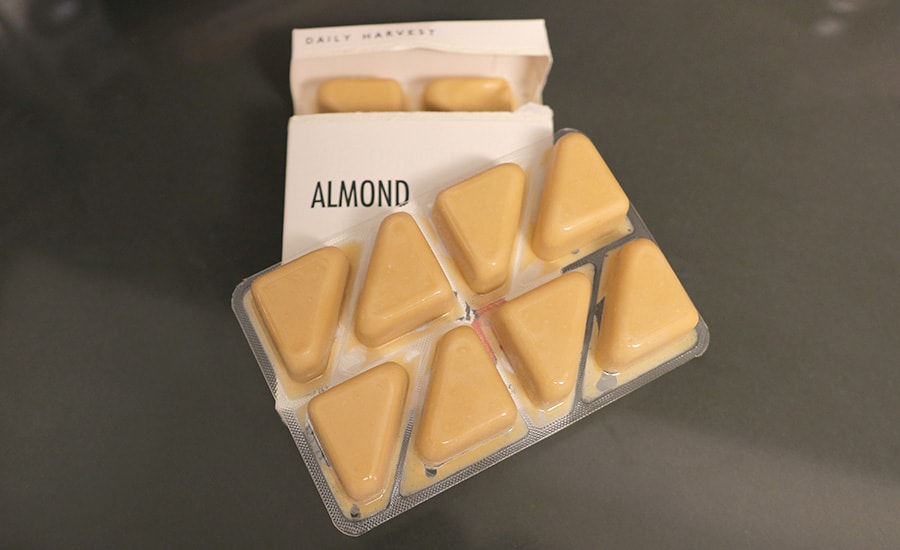 To be honest, both the almond and almond/vanilla Mylk's taste nearly identical to every other almond milk I've tried in the past.
Since we generally have almond milk on hand, we rarely add these to our box. However, I do love the fact that these are super simple to just pop into a smoothie and blend. Plus, the ingredients are literally only nuts, pink sea salt, and vanilla bean (if you get the vanilla version).
Harvest Bowls Review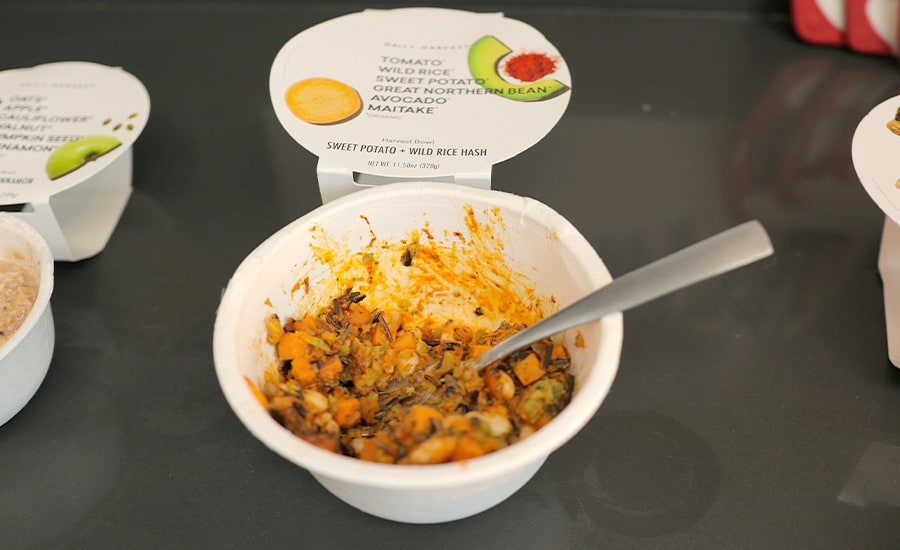 If you're looking for something that's really going to fill you up, my suggestion is Daily Harvest's Harvest Bowls. These bowls are jam packed with veggies and they always switch up the base with foods like millet and wild rice.
I've found some of the harvest bowls to be the most hit or miss in terms of flavor. Of course, that could be just my own personal preference since I'm a bit of a boring eater as it is. I wasn't a huge fan of the Brussels Sprouts + Lime Pad Thai, it just seemed to lack any flavor other than spicy. I also wasn't a fan of their Kale + Kalamata bowl, it seemed to have a very bland flavor.
Other than a few flavor "duds" I've encountered, the bowls are still one of my go-to lunches. Here are some of my favorites…
Sweet Potato + Wild Rice Hash: This one is packed with all of my favorites, tomatoes, sweet potato, beans, avocados, all over a bed of wild rice. It's just the right amount of food to eat mid-day so I don't feel "weighed down". The only problem is it's too popular these days and they keep selling out of it!
Spinach + Shiitake Grits: As a fan of ancient grains like millet, this bowl has the perfect blend of taste and texture. They even add in a little cashews for some crunch.
Cauliflower Rice + Pesto: I don't know how they did it but this one tastes very similar to actual pesto risotto. If you love pasta as much as Emily and I, do yourself a favor and add this to your box!
Flatbreads Review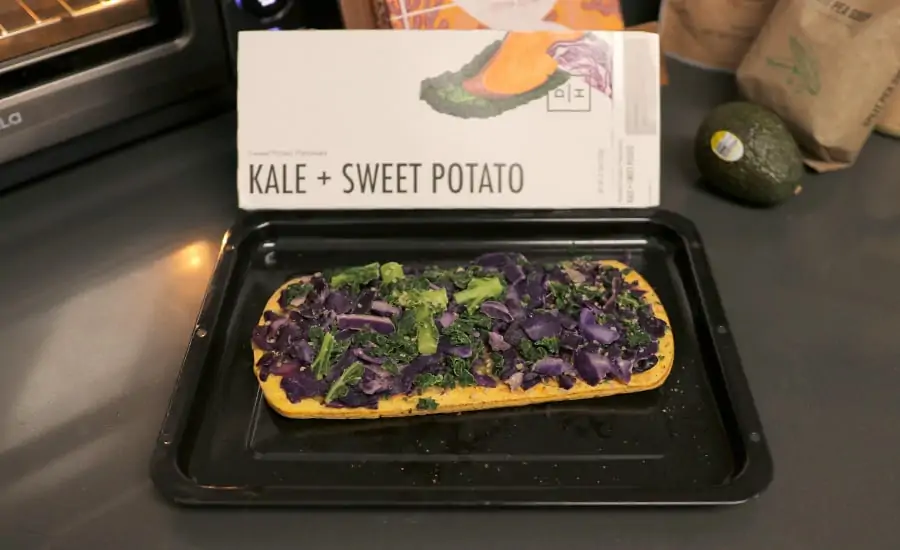 Let me preface this section by saying I'm literally eating the Kale + Sweet Potato flatbread as I write this review. Needless to say, their flatbreads are my absolute favorite meals that they offer. To me, they taste just like some fancy vegan gourmet pizza you'd pay $25 for in New York City.
I've enjoyed all of the flatbreads but I have 2 that I almost always add to my box…
Kale + Sweet Potato: The crust is somehow made from sweet potatoes and the toppings are red cabbage, kale, cauliflower, spinach, and coriander. Even if you hate kale, I dare you not to like this flatbread.
Tomato + Basil: This one is as close to a legit slice of pizza as I've had (without cheese). It's packed with broccoli, tomato, kale, onion, basil, and black garlic.
While as much as I enjoy their flatbreads, they do take the longest to make at around 20 to 25 minutes in the oven. So they're not as grab-and-go friendly as their smoothies, bowls, and soups.
Soups Review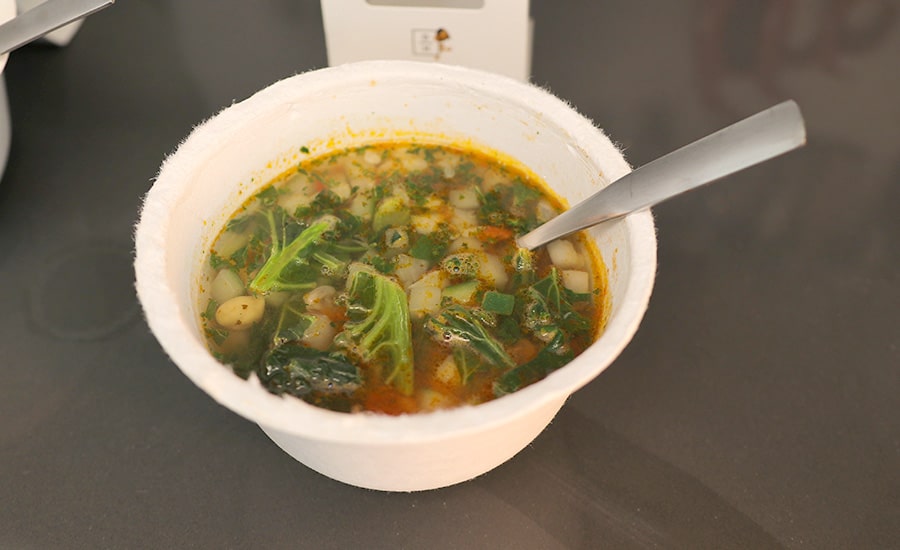 Daily Harvest's soups are generally very hearty and packed with chunks of veggies, with the exception of a handful of soups that are more like bisques. I generally tend to find myself only adding their soups during the colder months of the year as a tasty way to warm up.
Out of trying the majority of their soups, there were only 2 I didn't really enjoy, the Butternut Squash + Rosemary and the Sweet Potato + Miso.
There's one I really love, their Tomato + Zucchini Minestrone. It's super hearty and packed with zucchini, tomato, chickpea, kale, black garlic, and basil. It tastes super similar to Italian wedding soup, but obviously without the pasta.
Oat Bowls Review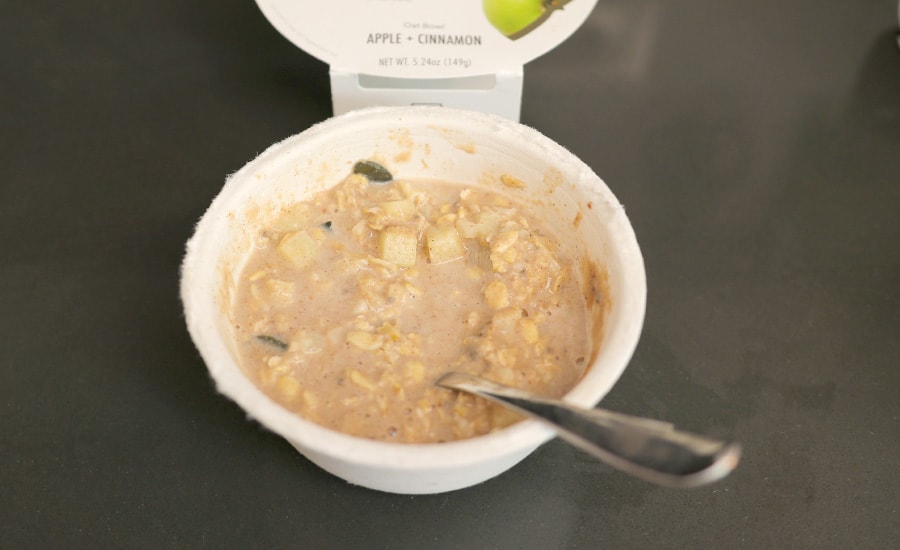 After the smoothies, Daily Harvest's oat bowls are my favorite breakfast. I only order the Apple + Cinnamon because the taste reminds me of those old school Quaker Oats apple oatmeal packets I used to eat as a kid. However, unlike those oatmeal packets, these are loaded with real fruits and vegetables—apple, cauliflower, walnuts, pumpkin seeds, and cinnamon. I'm usually too forgetful to turn these into overnight oats so I just warm them up in the morning instead.
Chia Bowls
To be honest, I was never a huge fan of these bowls. I tried the Chocolate + Almond flavor and while it tasted good, I just couldn't get over the texture of the warmed up chia so I end up never really adding these to our box.
Scoops Review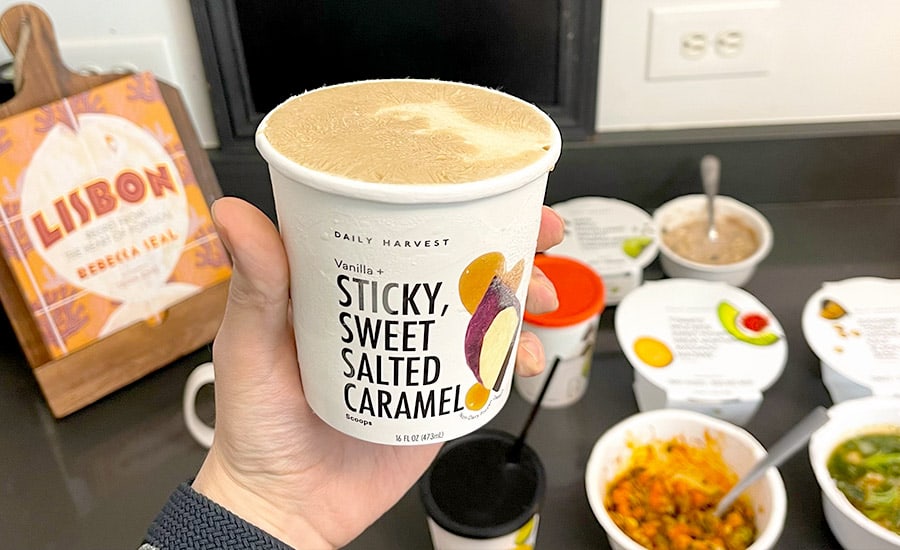 These plant-based ice creams are another win from Daily Harvest. It might be the sugar from the maple syrup but these all taste absolutely delicious. I've tried each of their 5 flavors and love them all. What's great is they're rich without being overly so and sweet without being too "in your face". This makes them the perfect after dinner snack to munch on while binging Netflix.
The 3 flavors I go back and forth on adding to our box are…
Bites Review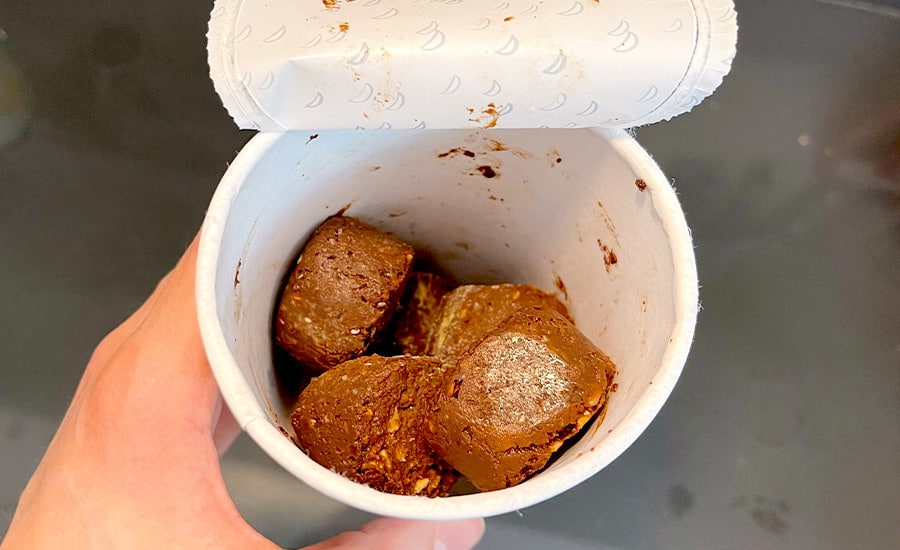 Even though I love Daily Harvest's Scoops, I think the bites are the perfect dessert or mid-day snack. I almost always scarf these down within the first day or 2 of receiving them in our box. They're dangerously good.
While I've tried and enjoyed them all, my absolute favorite is the Hazelnut + Chocolate bites. These taste almost exactly like dark chocolate hazelnut truffles but they're loaded with good ingredients like avocado, hazelnut, cacao, chia, reishi mushroom, and vanilla bean. If I find myself lagging a bit mentally during the day, I usually have a few as a little pick-me-up. It's a great energy booster.
Lattes Review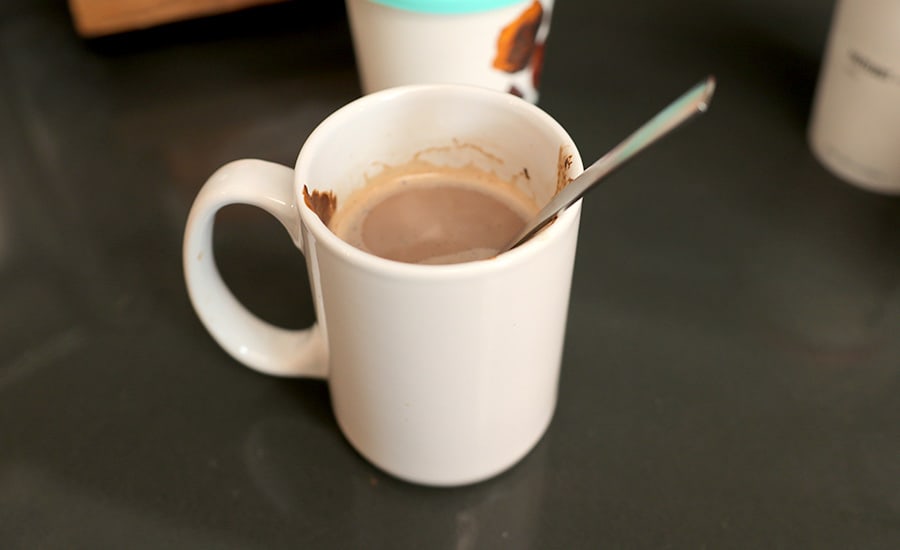 I'll be honest, I very rarely add the Daily Harvest lattes to my box since I enjoy my daily morning coffee run with Emily or my mid-day mushroom coffee. That being said, I have really enjoyed the Chaga + Chocolate latte on the occasions when I've thrown it into our box. It's rich and warm, perfect to sip on a cold day. It tastes very similar to homemade hot cocoa.
While it doesn't have any added caffeine, I still found it to be a good pick-me-up in terms of energy and mood booster. This is likely due to the mix of cacao, chaga, and reishi.
The Most Frequently Asked Questions We Get About Daily Harvest
Having reviewed Daily Harvest since they first got their start, we've received a ton of questions and comments over the years. We decided to add this section to the review in case anyone reading also has any of these common questions. If we missed any, feel free to leave your question in the comments below and we'll respond as soon as possible.
Can You Purchase Daily Harvest In Stores?
No, unfortunately Daily Harvest is only available to order online directly at Daily-Harvest.com.
Is Daily Harvest Organic?
Yes, about 95% of the ingredients are organic. Daily Harvest does a great job of noting which ingredients are versus which aren't on their packaging.
Is Daily Harvest Gluten Free?
Yes, 100% of the foods are gluten free. However, for those with celiac disease, do be aware that they are not certified gluten free.
Is Daily Harvest 100% Vegan?
Yes, since Daily Harvest is a fully plant-based meal delivery service, this means that they fall into the vegan diet.
Is Daily Harvest Healthy?
I'm no medical doctor or dietician so take what I say with a grain of salt but I personally believe that because Daily Harvest only uses whole foods, vegetable, and fruits, that they are a much healthier alternative to other "grab and go" style foods. For example, before using Daily Harvest, I used to grab a protein bar for breakfast. It was loaded with random ingredients like natural flavors and artificial sweeteners. There's nothing like that in Daily Harvest foods.
Can Daily Harvest Be Used As A Weight Loss Meal Delivery Service?
This is a question I've seen come up quite a lot. If you're looking to lose weight, Daily Harvest would not be the first meal delivery service I'd recommend. This might seem counterintuitive since I literally just said I think their meals are healthy. However, Daily Harvest is not designed to help you lose weight and, as such, people who purchase it for that reason might be disappointed if they don't see results.
Is It Easy To Cancel Your Daily Harvest Subscription?
Yes, it's very simple to both cancel and pause your subscription. We've had brief periods between moving within the past few years where we had to cancel plans since we were in between apartments. Daily Harvest does not make you call or email them to cancel your plan, which is a huge relief. Some other companies make you jump through hoops to cancel your plan. With Daily Harvest, you just log into your admin section and go to "Manage Plan". From there you'll be able to click on "Plan Status" and change it to paused or cancelled. Also, if you're going to be away for a week or 2 when your box is scheduled to be delivered, you can always skip that week.
Daily Harvest vs. The Competition
What's most interesting about Daily Harvest is there's really no other direct competitor to them. Sure, they started out as a smoothie delivery company, and there's a ton of those now. But today Daily Harvest is way more than just a smoothie delivery company, they've evolved into a full plant-based meal delivery company.
Because of this, we're going to compare Daily Harvest to both the most popular smoothie delivery companies and the most popular plant-based meal delivery service…
SmoothieBox: Similar to Daily Harvest, SmoothieBox sends their customers frozen smoothie kits. However, that's really where the similarities stop. SmoothieBox only has 4 flavors to choose from, while Daily Harvest has dozens of smoothie options. SmoothieBox also sends each smoothie in a bag that needs to be measured out into a cup before blending, whereas Daily Harvest sends cups pre-portioned with the right amount of ingredients needed to be blended.
Splendid Spoon: When compared directly to Daily Harvest, Splendid Spoon is probably its closest competitor. They both offer smoothies, soups, and bowls (Daily Harvest does have more food variety and options). However, Splendid Spoon's smoothies are all premade and do not need any blending. While I find both services similar in terms of taste, I'm not a huge fan of the fact that Splendid Spoon adds proteins to the majority of their smoothies. It adds a grittiness and texture that can sometimes be unpleasant.
Veestro: Being one of the oldest frozen plant-based meal delivery services, Veestro and Daily Harvest share some similarities. However, Veestro has way more options and variety in terms of meal options. I've also noticed that the portion sizes with Veestro are a bit bigger than Daily Harvest. Lastly, Veestro does have a "Weight Loss" plan, which Daily Harvest does not.
Daily Harvest vs Making It Yourself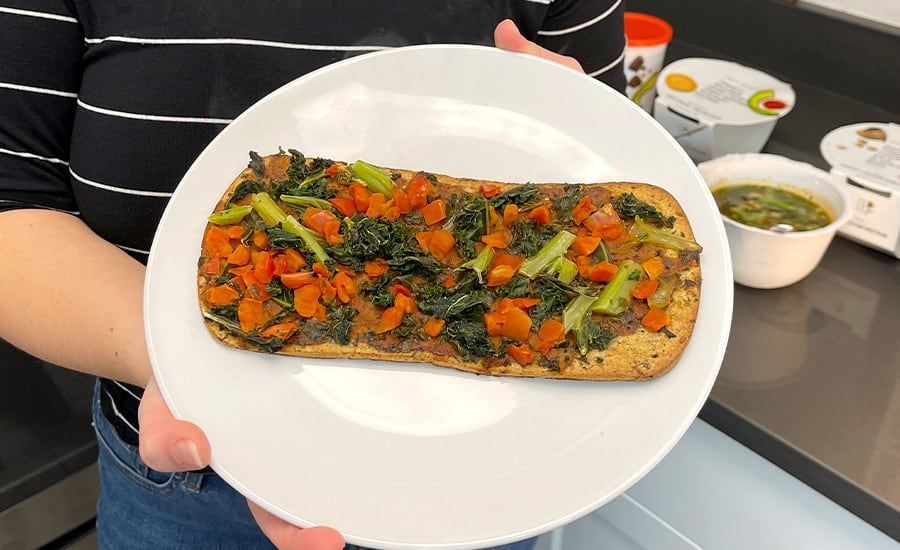 One of the main issues a lot of people have with Daily Harvest—and meal delivery services in general—is that they say that they can make it at home for way cheaper. That's 100% true.
With any of these types of food delivery services like Daily Harvest, the actual cost you would pay to purchase the ingredients at a grocery store and make it yourself is going to be cheaper than purchasing the service itself. That being said, Daily Harvest isn't just selling the plant-based meals. The point of purchasing Daily Harvest is the convenience factor of having all of the prep work done for you so you can literally just blend or heat and eat.
There are a lot of "hidden" financial and time costs that people overlook when making a direct comparison between Daily Harvest and making these smoothies or meals at home. For example, think about everything that would go into making their popular Mango + Papaya smoothie. You'd have to drive to the grocery store and purchase a bag of frozen mango, pineapple, acerola, papaya, and macadamia nuts. Then blend it all yourself. Yes, you'll save money if you enjoy the smoothie and are able to use all of the ingredients by making more smoothies in the future. But if you hate it, you just spent money on raw ingredients that will likely go to waste.
Daily Harvest is great for those who like trying new flavors and meals. It's not great for people who prefer to stick to what they like and are on a budget.
Food Box HQ Note: When researching this section, I stumbled upon this great YouTube video from "Frugal Fit Mom" where she actually makes her own Daily Harvest smoothie at home and goes into everything you need to do so. Super informative and a fun watch!
Daily Harvest Pricing
The way Daily Harvest organizes the pricing of their plans is a bit obscure. You'll notice when you get to the "choose your plan" section, there are no prices in each tier. They don't do a great job of explaining it but you actually purchase each Daily Harvest item a la carte rather than via a flat bulk rate using their plan. The plan options that they allow you to select really only define what your minimum spend has to be and if you'll receive a discount. To make this more clear, here's a breakdown of each plan option:
With the 9 item plan you have to add 9 items to your box or you'll be unable to checkout.
With the 14 item plan you have to add 14 items to your box or you won't be able to checkout. You also receive a $10 discount on each purchase.
With the 24 item plan you have to add 24 items to your box or you won't be able to checkout. You also receive a $20 discount on each purchase.
Now that you understand how each plan works, you likely want to know how much the actual food costs. Thankfully, Daily Harvest keeps costs pretty consistent across each food category…
Smoothies are $7.99 per cup
Mylk is $7.99 per ½ gallon
Harvest Bowls are $8.99 per bowl
Flatbreads are $8.99 each
Soups are $7.99 each
Oat Bowls are $5.99 each
Chia Bowls are $5.99 each
Scoops are $8.99 per pint
Bites are $7.99 for 7 bites
Lattes are $7.99 for 3 latte pods
Also, shipping is always free.
Daily Harvest Pros & Cons
Now that we've explored every nook and cranny of Daily Harvest, let's go over what we love about them and what we don't…
Daily Harvest Pros
These are the perfect grab and go foods. Even when Daily Harvest first launched their smoothie line, I was impressed with how simple they made things. That idea has followed with all of their foods. They're all very simple to make and eat on the go.
There are a ton of options to choose from. This could be a pro or a con, really depending on how you look at it. I like having the opportunity to try new foods every once and a while but it could be a little overwhelming to some.
I find it helps me eat better during the day. My days are usually super busy, to the point where I sometimes to forget to eat. Before Daily Harvest, I would grab whatever is easiest to grab from the pantry or fridge munch on—chocolates, pretzels, nuts, etc. With Daily Harvest, I can at least grab something I know is going to be better for me than something loaded with sugars or carbs.
I like that they keep things simple and stick to just the raw, whole ingredients. A lot of other similar services like to add in other ingredients to items like their smoothies. For example, protein powders or supplement powder blends. While some people may like this, I'm not a fan and would rather have the option to add these things to my foods rather than being forced to.
Daily Harvest Cons
There are a lot of odd flavors. Daily Harvest has always pushed the boundaries with their foods, trying out a lot of "adventurous" flavors. If you're more of a traditionalist or picky eater, you may actually not enjoy Daily Harvest.
Some flavors are letdowns. Every once and while I'll try something new and think, "how did this get made?" It'll either be super bland, not taste right, or sometimes just be too spicy. It doesn't happen often but when it does happen, it stinks having to throw away something you paid good money for.
It's definitely not cheap. To put their pricing in perspective, an 8 oz Daily Harvest smoothie costs $7.99 whereas a 20 oz vegan mango and kale smoothie at my local Smoothie King is only $4.79. That's double the amount of smoothie for around half the price.
Daily Harvest Coupons, Promo Codes, & Discounts
Daily Harvest is almost always running some type of promotion or discount for new purchasers. If you're ready to take the plunge and order your first box, here are some ways to save:
We reached out to Daily Harvest and asked them if they could provide our audience with a coupon code and they were able to create one just for our readers! You can use "FOODBOX" for up to $40 off your first box.
Coupon code "PureJoy" will also get you $25 off.
Coupon code "Welcome" will get you $20 off your first box.
We're always on the lookout for the best coupon codes and promos. If any of the ones above don't work or you've found better options, please let us know in the comments below!
Is Daily Harvest Worth It?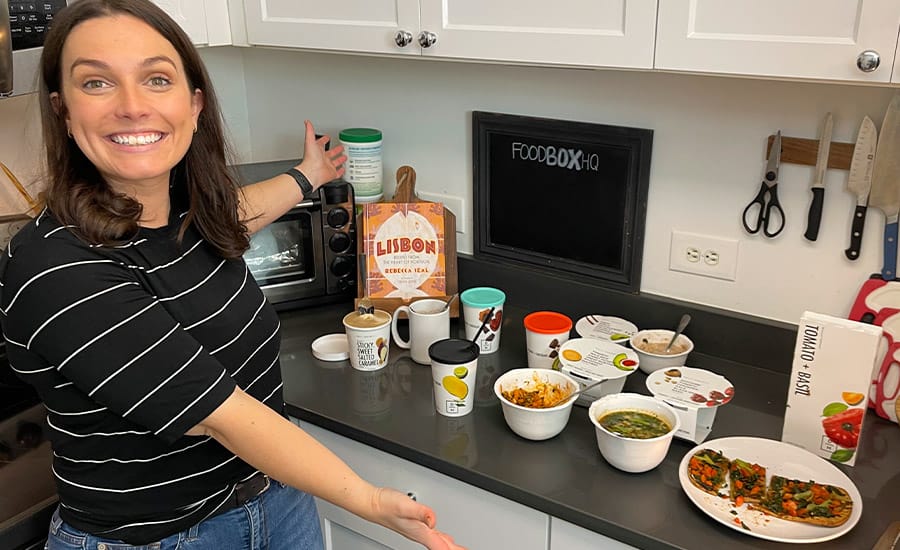 So, you've made it to the end of our Daily Harvest review (or you just scrolled all the way down here from the start for a quick answer).
The short answer is Daily Harvest is not right for everyone.
If you're living on a strict budget and/or you're a picky eater, I would not recommend Daily Harvest. You're much better off sticking to picking up ingredients at your local grocery store and making recipes you know you already love. Sure, it will take more time in the kitchen but you'll save money and know what you're making is something you'll actually enjoy eating.
On the flip side, if you are like me and live a busy life—whether that's being engrossed in work during the day or running around doing chores—Daily Harvest foods are a great way to save some time and know what you're eating is good for you. Keep in mind, many of their flavors can seem a little "out there" so it's great for more adventurous eaters who like trying new things. But they also have a few more traditional flavors peppered throughout their menu.
Overall though, having used Daily Harvest since they first got started, I think they're one of the best plant-based meal delivery services currently around and they're the clear winner when it comes to smoothie delivery services.
Have a question we didn't answer in this review? Leave your comment below and we'll get back to you as soon as possible!