Emily and I tend to live (unintentionally) busy lives. From long work days to planning our upcoming wedding together, each passing day seems to get shorter and shorter.
I often find myself sitting down at my computer in the morning and looking up only to see that the sun is starting to go down.
On the busiest of days, I almost always reach for whatever snack we have in our pantry or refrigerator that's quickest to cook and eat so I can finish up what I need to do for the day. Unfortunately for me, "quick" usually translates to "unhealthy" (high calorie, high sugar, high carb, etc).
With one of our New Year's resolutions being to incorporate more plant-based foods into our diet, I'm always on the lookout for meal kits that can help. That's when we stumbled upon Splendid Spoon, a vegan meal delivery service that focuses on the "9-to-5" meals — breakfasts and lunches.
Once I read their tagline, "Busy can be healthy", I knew we had to give them a shot and share our experience with you guys!
Can a plant-based meal delivery service like Splendid Spoon be healthy, quick, and actually taste good? I was going to put my taste buds to the test!
Let's dive into our personal experience using Splendid Spoon since 2018…
How Splendid Spoon Works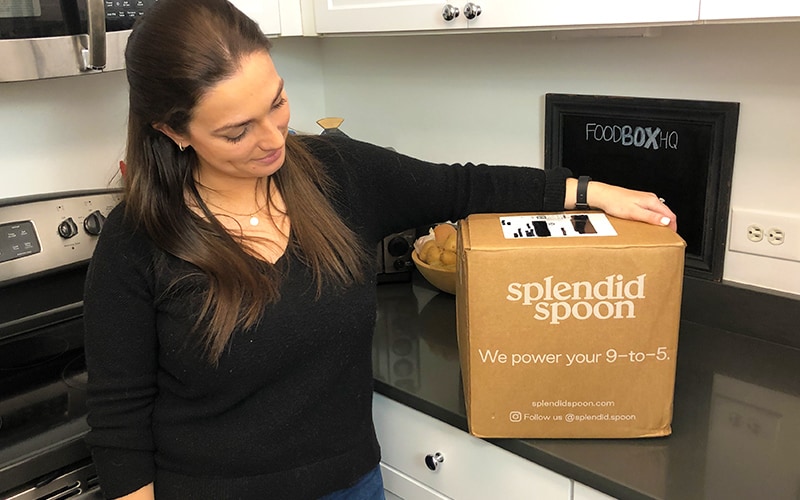 While Splendid Spoon is a vegan meal delivery service, they're a bit different than the others out there (like Purple Carrot or Veestro). Instead of sending you recipes and ingredients to make meals, everything they send in your box is pre-made.
They currently offer smoothies, soups, and grain bowls that are all "grab and go" style. This means there's basically no prep or cooking involved.
Types of Meals They Have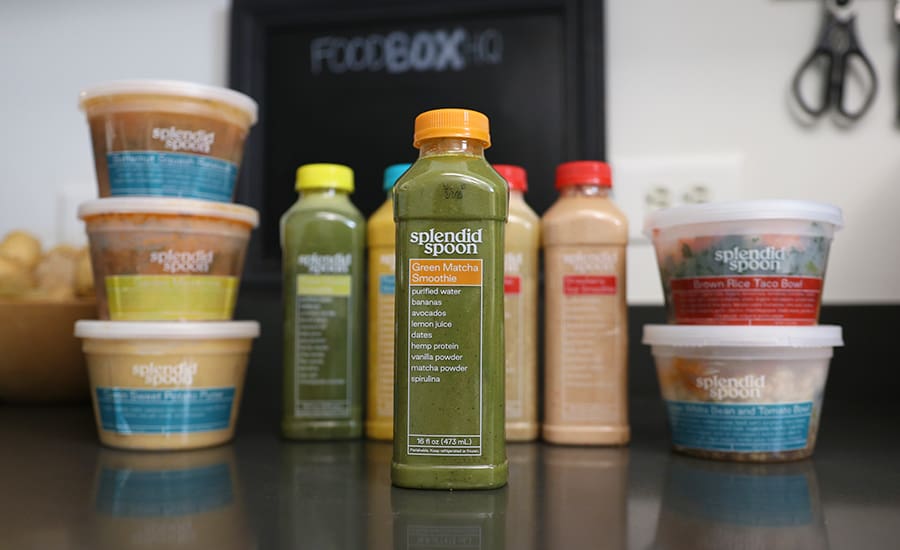 When you hear "pre-made meals", it's hard not to think of the long stretch of TV dinners in the frozen aisle at your local grocery store. The good news is Splendid Spoon meals aren't like those at all.
While the meals do come frozen (mainly to keep them fresh in transit) all of the meals are made with whole ingredients. For example, they actually use whole fruits and veggies in their smoothies, not just "juices".
Here's an example of meals you might find in your box:
Example Smoothies
Strawberry Goji Smoothie (main ingredients are cashews, strawberries, and goji berries)
Blueberry Coconut Smoothie (main ingredients are acai, cinnamon, and blueberries)
Green Matcha Smoothie (main ingredients are avocado, spirulina, and matcha)
Chocolate Cherry Smoothie (main ingredients are cacao, cherries, and banana)
Example Grain Bowls
Sweet Potato Quinoa Bowl (main ingredients are shiitake mushrooms, lemon, and quinoa)
Coconut Curry Rice Bowl (main ingredients are turmeric, kale, and chickpeas)
Brown Rice Taco Bowl (main ingredients are black beans, red peppers, and pepitas)
Tuscan White Bean & Tomato Bowl (main ingredients are fennel, sorghum, and swiss chard)
Example Soups
Green Split Pea (main ingredients are tarragon, mint, and peas)
Moroccan Lentil (main ingredients are tomatoes, apple cider vinegar, and fennel)
Garden Minestrone (main ingredients are kale, tomatoes, and zucchini)
Cauliflower Tikka (main ingredients are turmeric, cashews, and cauliflower)
You probably noticed that these meals aren't the stereotypical "vegan" meals. In fact, in all our years receiving Splendid Spoon meals, we've never eaten anything with tofu in it :).
What I really love about their meals, and what you can probably tell from the examples above, is that they have a lot of flavor variety. For example, we tried everything from their one of a kind Pumpkin Pear Bisque made with hemp seeds to their more traditional Brown Rice Taco Bowl. They're one of the few plant-based meal delivery services I've tried that's suitable for all types of eaters — from picky to adventurous.
Plans
Splendid Spoon keeps things pretty simple when it comes to their plans, basically splitting them up by how many meals you'll get in each box.
They currently offer the following three plans:
Lunch — You'll receive 5 bowls delivered weekly.
Breakfast + Lunch + Reset — You'll receive 5 smoothies, 5 bowls and 1 full-day reset (5 special light soups) delivered weekly.
Breakfast + Lunch — You'll receive 5 smoothies and 5 bowls delivered weekly.
One thing to note about the 1 full-day reset in the "Breakfast + Lunch + Reset" plan is that this day is supposed to be a metaphorical reset for your body. So, in addition to the meals, this day comes with a few recommendations: Avoid alcohol, sugars, processed foods, and get a light workout in (if possible).
Basically, they want you to be kind to your body on this day and be mindful of how you treat it. You'll notice a theme of mindfulness runs through all aspects of Splendid Spoon.
Delivery
Splendid Spoon delivers orders to all of the contiguous United States. Unfortunately, that does mean they're unable to ship to Alaska and Hawaii.
Each order is delivered via FedEx. You can expect orders to arrive either on Wednesday or Friday, as those are their only two available delivery days at this time. Luckily, you'll have the ability to choose your delivery day and you won't need to be home in order to receive it.
In all of the boxes we've received from Splendid Spoon since 2018, we've never had an issue with delivery.
Packaging
All the foods Splendid Spoon sends are frozen and sent packed with dry ice to keep them fresh while they make their way to you. This also allows them to last longer and doesn't force you to eat them within a certain amount of time, which is nice. Being packed with dry ice means you don't have to worry about getting rid of ice packs either — dry ice will just evaporate.
To keep the foods insulated and safe while making their way to you, they use ClimaCell. This is a common recyclable insulation made from renewable plant-based components. In fact, not only is the insulation recyclable, the entire box is too (including all meal bottles and bowls).
What Meals We Got In Our Box (January 2020 Update)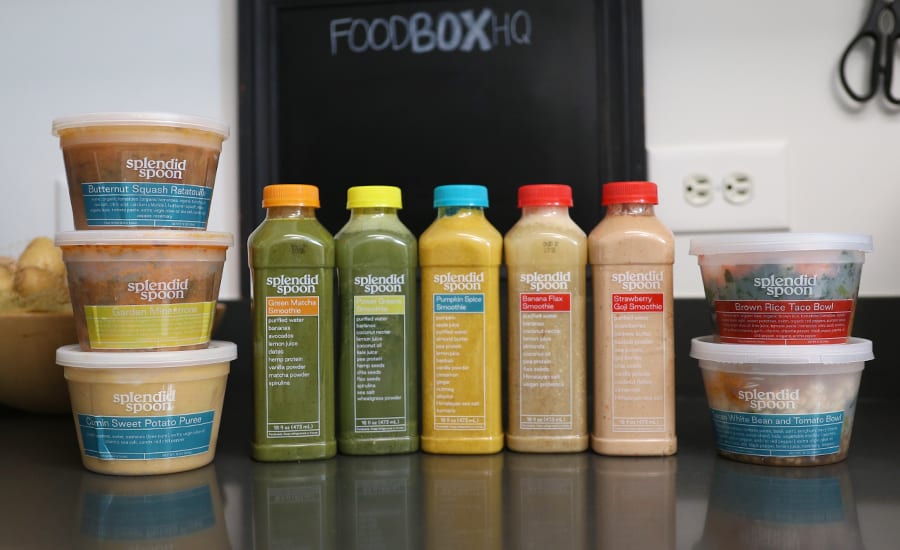 In our most recent box, we received each category of meal they offer — smoothies, soups, and grain bowls. Here's a rundown of each specific meal along with some thoughts on how each tasted:
Smoothies in our Box
Green Matcha Smoothie — I'm a huge fan of matcha so this is the smoothie I reach for in the morning or mid-day to give me a little boost of energy. The added vanilla gives this one a nice smooth flavor.
Power Green Smoothie — This one has the most "kick" to it but it's not necessarily overpowering. My guess is because of the added lemon juice and wheatgrass. Since this one has flax seeds in it, you kind of need to chew on it a bit as you drink it.
Pumpkin Spice Smoothie — One sip and this one immediately reminded me of Fall. I felt like I should be drinking it on a cold day by the fireplace. The pumpkin, apple juice, and spices (nutmeg, cinnamon, and turmeric) make this one my personal favorite.
Strawberry Goji Smoothie — This is actually the smoothie we taste tested in the video above. You can definitely taste the strawberries in this one but the goji berries give this one a nice unique flavor twist.
Banana Flax Smoothie — This is probably the most traditional smoothie we got in our box. While it has added probiotics (GanedenBC30) to promote gut health, it tastes pretty much like a regular smoothie. In terms of flavor, this is one of my favorites too!
Soups in our Box
Cumin Sweet Potato Puree — This is the soup you'll see us taste test in the video above. While you don't often think of sweet potato as a soup base, this one was delicious. Like the Pumpkin Spice Smoothie, it's perfect for Fall weather and also my favorite of the soups we received.
Butternut Squash Ratatouille — This is a delicious vegetable stew. It has a hint of basil, which is one of my favorite herbs.
Garden Minestrone — This is probably the most traditional soup they offer. It's packed full of veggies and flavor too!
Grain Bowls in our Box
Brown Rice Taco Bowl — This one ended up being my personal favorite bowl. It reminded me of what I usually order at Chipotle (minus the chicken or beef).
Tuscan White Bean and Tomato Bowl — This is the bowl you'll see us taste test in the video above. Just like the Brown Rice Taco Bowl, this one heats up perfectly in the microwave. The beans and veggies didn't get soggy, which sometimes happens when heating up vegetables that were previously frozen.
Food Box HQ Note: One thing to note about the grain bowls is that after heating, you'll want to make sure you really mix up all the ingredients. They come segmented within the bowl so if you don't mix it up well enough, you're basically just eating each individual ingredient by itself.
Commonly Asked Splendid Spoon Questions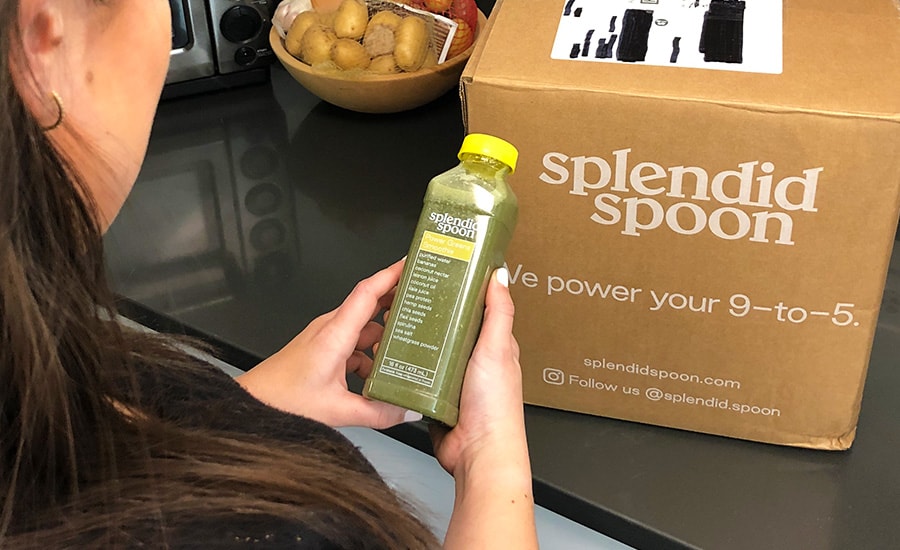 Since we first reviewed Splendid Spoon in 2018, we've received a number of the same questions over the years. In an effort to help people make a better informed decision before purchasing, we're going to go over the most common ones we receive…
Did you lose weight?
Yes, but not a ton — around 1-2 lbs over a few weeks. The meals are smaller portions than what I'm used to eating and I was eating less in general on a daily basis so it makes sense why.
Are the meals filling?
While the meals are smaller in size than the meals we usually eat, the added protein (like the almonds) and complex carbs (like the flax feeds) did fill me up.
How long do the meals last?
The smoothies last for a few weeks. Since the bowls and soups come frozen and we keep ours in the freezer, we've used them up to a month after receiving them.
Are the meals organic?
Most of the smoothies are but they're a little vague about the soups and bowls.
Is this a cleanse?
I would consider this an upgraded version of a cleanse. A cleanse implies you're only doing it for a short period of time whereas Splendid Spoon is more of a lifestyle change. The "Reset" day is the closest day I would consider to a cleanse but it's really more about mindful eating and taking a day off from anything unnatural in your diet (e.g. processed foods, sugary snacks).
Splendid Spoon vs Similar Services
As of writing this, Splendid Spoon is a one of a kind service. While they are technically a vegan meal delivery service, smoothie delivery service, and a "cleanse" program, it would be hard to compare them to any service within only one of those categories.
In terms of pre-made vegan meals offered, the only comparable service to Splendid Spoon we've reviewed in the past would be Daily Harvest.
While Splendid Spoon and Daily Harvest started out only sending smoothies, over the years they've both expanded to bowls and soups. Daily Harvest actually has a bit more variety in terms of the bowls they offer — harvest bowls, oat bowls, chia bowls. They also offer vegan bites (basically cookies) and lattes.
When it comes to the smoothies though, the main difference between the two is that Daily Harvest smoothies need to be blended whereas Splendid Spoon smoothies come pre-blended. They both offer about the same amount of variety of smoothies.
Since they're pretty similar services, I'd recommend checking out Daily Harvest only if you're really looking for more bowl options and snacks. Being that all Splendid Spoon meals and pre-blended and pre-made, it's more of a timesaver.
Splendid Spoons Pros & Cons
Now that we've gone through our personal experience using Splendid Spoon, let's go over the of the main positives and negatives of their service to help you figure out if it's right for you…
Splendid Spoon Pros
It's very convenient. My personal favorite aspect of Splendid Spoon is that these are truly grab-and-go style meals. With other meal delivery services, and even smoothie delivery services, there is usually some element of prep involved before you can actually eat the meals. With the meals Splendid Spoon sends everything can be eaten basically whenever you want. I actually find myself not even heating up the bowls or soups in most cases and eating them cold to save even more time. They still taste delicious.
Makes going vegan easy. Making the switch to plant-based meals can be intimidating. But while there's a lot to consider when making the switch, there's no denying the benefits (health and environmental). Splendid Spoon makes the transition to going vegan super easy by taking all of the guesswork out of it.
Great flavor variety. The biggest misconception about vegan meals is that they're boring or flavorless. Maybe that was the case decades ago but not today. If you've watched any of our video reviews of Splendid Spoon, you can see from our taste tests that they send some really unique meals that are actually packed to the brim with flavor.
The meals are balanced. One of the big things you have to watch for when going plant-based is making sure what you're eating is nutritionally balanced. If it isn't, you could be missing out on some key nutrients, leaving you feeling sluggish or worse. All of the meals we've had from Splendid Spoon have been pretty nutrient-dense. To give you an example, they pack their smoothies with proteins like cashews, almonds, and even hemp seeds.
Splendid Spoon Cons
There are no dinner options. This could be a deal breaker for a lot of people, especially those who are already vegan and are looking for a plant-based meal delivery service to cover every meal. If you're one of those people, check out Hungryroot (meal kit marketplace with a ton of vegan options) or Purple Carrot (one of the few all-vegan meal kits).
There are no "a la carte" plans. Right now there's no option to customize your box with the exact amount of smoothies, soups, and/or bowls you want.
Not a lot of meal variety. While they do have great flavor variety, I've noticed that they don't rotate their menu as often as some other vegan meal delivery services. So you're likely to see the same smoothies, soups, and bowls month after month, with only some new ones added each season.
They add protein powders to the smoothies. This "con" could actually be a "pro" based on the person. The majority of the smoothies they offer have added protein powders, such as pea protein. While pea protein does have its fair share of benefits, we've noticed it does add a gritty texture to the smoothies. Again, this is more of a personal drawback we've noticed using their service since some people may actually enjoy the added protein.
Do They Offer Any Coupons?
If you've already made up your mind about Splendid Spoon and you're looking to save some of your hard earned cash before buying, we've got you covered! All of the links below are the most current coupons Splendid Spoon offers. One thing to note is that they don't offer coupon "codes", only links that can be clicked to activate the promotions.
I constantly update this section of the site with the most recent coupon codes. If any don't work or are expired, feel free to let me know in the comments below :).
Final Thoughts: Who is Splendid Spoon Right For?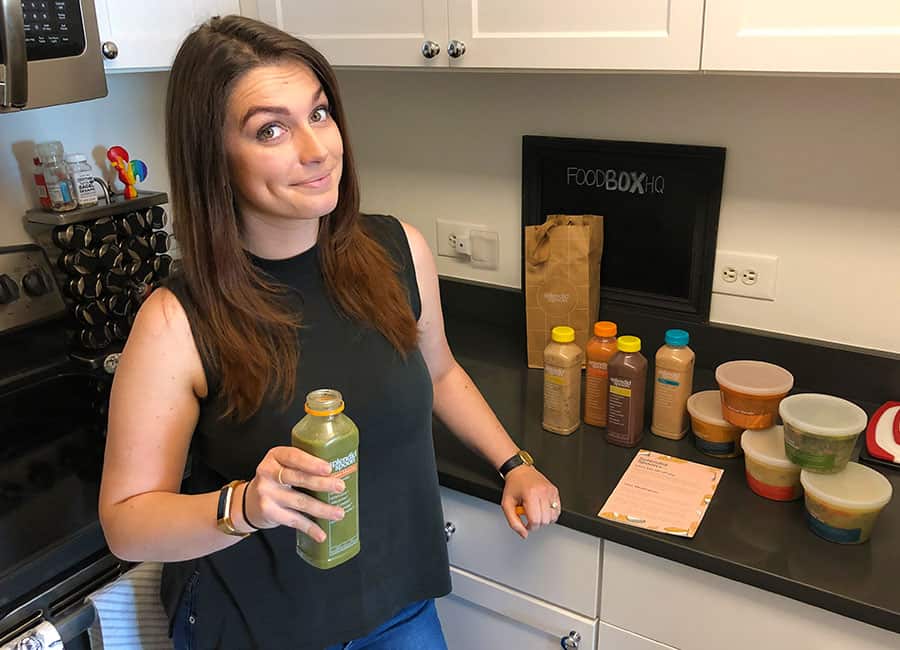 Splendid Spoon has come a long way since we first reviewed them. To give you an example of how far they've come, when we first tried them, they were mainly a smoothie delivery service with "drinkable" soups. Meaning, the soups came in the same bottles as the smoothies. While a convenient and efficient way to eat a soup, it was a little odd drinking it out of a bottle :).
That being said, they've made huge progress over the years in not only the meals they now offer but in their packaging and the entire service in general.
If you're looking for a vegan meal delivery service, either because you want to make healthier eating choices or you're looking to dip your toe into a plant-based lifestyle, Splendid Spoon is a great option. The way that their service is structured, it makes the switch seamless — the meals are balanced, flavorful, and actually fill you up.
Splendid Spoon also saves you time. There's no thinking about what you can or cannot eat, prep, or cooking involved. Being able to grab-and-go makes breakfasts and lunches a lot easier, especially on your way out the door to work.
On the flip side, if you're 100% vegan and you're looking for a meal delivery service to handle all of your meals (breakfast, lunch, dinner, snacks) this service may not be the best option for you since they really only focus on the "9-to-5" meals — breakfast and lunch.
Past Food Box HQ Splendid Spoon Reviews
Feel free to check out any of our past Splendid Spoon YouTube reviews below:
Have a question about Splendid Spoon we didn't cover? Have you tried them before? Let us know in the comments below!