In recent years Emily and I have been making a conscious effort to do things in our daily life that are more environmentally friendly. This means everything from recycling as much as we possibly can to cutting back on single-use plastics like water bottles (and switching to refillable ones).
One of the most impactful changes we've made was also actually the easiest —incorporating more plant-based meals into our diets.
The benefits of a plant-based diet are pretty hard to deny. From an environmental standpoint, cutting out meat helps reduce water use and carbon emissions. And, from a health perspective, research has shown it lowers the risk of heart disease, high blood pressure, diabetes, obesity, and more.
That being said, it's important to do a vegan diet correctly. The first reason being, since you're cutting out animal products entirely, the meals require a bit more work to give it flavor. Secondly, and more important, cutting out animal products does carry some risk of inadequate protein, vitamin, and mineral intake.
With Emily and I wanting to give the plant-based lifestyle a chance, we started looking around for the right meal kit to help us along on our journey. That's when we stumbled upon Purple Carrot.
Since they were one of the few all-vegan meal kits on the market and the only one to have all meals covered (breakfast, lunch, and dinner) we decided to give them a try.
Today we're going to share our experience using Purple Carrot — including all the positives and negatives — to help you determine if they're the best meal kit for your needs.
Let's jump into it!
How Purple Carrot Works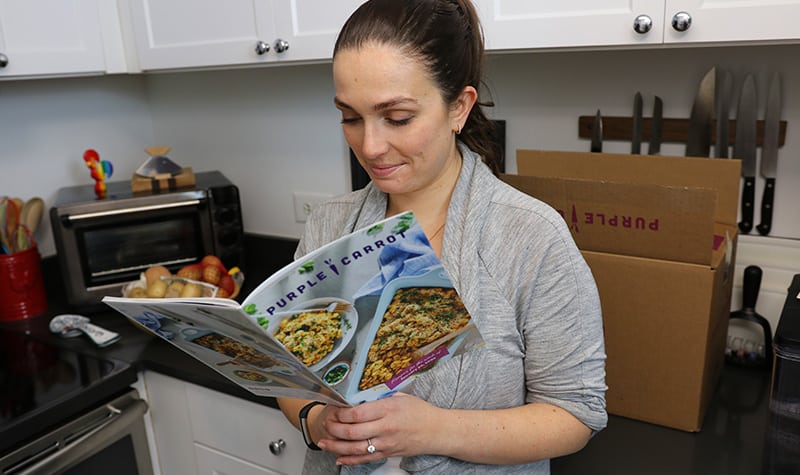 At its core, Purple Carrot is a "traditional" meal kit like Blue Apron or HelloFresh. Meaning, you pick the meals you want and they send you all the ingredients and recipes in a box on a weekly basis so you can make the meals yourself.
Where they differ from other meal kits is that all of their meals are vegan (which includes vegetarian meals by default). In fact, they're one of the only traditional meal kits out there that solely focuses on sending vegan meals.
What's more, you can add optional vegan breakfasts and lunches "a la carte" to your box whenever you want. They call these their "Extras" since they're additional to their main dinner meals. Having all three meals covered is, surprisingly, not something every meal kit offers.
Types of Vegan Meals They Send

Now let's get into the good stuff — the actual food!
As alluded to earlier, vegan meals have a reputation for being bland and flavorless. In fact, when I used to think of the vegan diet, I assumed most meals were comprised of only veggies with some sort of tofu base. This was one of the major reasons Emily and I both held off on incorporating more vegan meals into our diet.
Thankfully, Purple Carrot knows about the "boring" vegan meal stereotype. And, based on meals we've received in the past, I can see they care about changing peoples perspectives of the diet.
Take a look at some of the meals we had the option of putting in our most recent box:
Mexican Molletes with Refried Beans & Pico de Gallo (dinner)
Korean BBQ Cauliflower Wings with Kimchi Potato Salad (dinner)
Blood Orange Poke Bowls with Quinoa Speckled Rice & Sea Lettuce Dressing (dinner)
Cavatappi Carbonara with Roasted Broccolini & Coconut Bacon (dinner)
Brown Rise Pesto Bowl with Artichoke Hearts & Parmesan Cheese (lunch)
Chopped Salad with Avocado & Ranch Dressing (lunch)
Matcha Overnight Oats with Pears & Crystallized Ginger (breakfast)
Vanilla Chia Pudding with Dried Blueberries & Cashews (breakfast)
If I saw any of those meals on a restaurant menu, I wouldn't immediately associate them with being vegan. But they are!
This is where Purple Carrot shines… Nearly every meal we've had since originally trying them out in 2018 has been unique, adventurous, and fun. One of the reasons being is that they take meal inspiration from a ton of different cuisines such as American, French, Indian, Italian, Mediterranean, Mexican, Spanish, and Middle Eastern.
They very easily could have "phoned it in" and put out the basic vegan recipes like simple salads or pasta dishes. The fact that they put effort into creating exciting recipes is a big plus for vegans looking to try new meals and people (like me) just dipping their toe into a plant-based lifestyle.
With all that in mind, if you're not an adventurous eater, you may want to look for a more suitable vegan meal kit.
Plans Offered
Purple Carrot keeps things simple and straightforward with how they structure their plans. As of writing this, there are only two plans you can choose from:
The two serving plan will give you the option of 3 or 4 dinners per week and you can add up to 3 Extras (breakfasts and lunches)
The four serving plan will give you the option of two or three dinners per week and you can add only 1 Extra (breakfast or lunch)
With each of these plans, you'll be able to choose from 8 weekly recipes to have delivered.
While the plans themselves are simple and straightforward, I found that only having 8 recipes to choose from was a little limiting. Also, what confused me was that they restrict the amount of breakfasts and lunches you can add to your box. This wasn't a huge deal for us, since we only order their dinner recipes, but I can see it being a deal breaker for others. Hopefully, in the future, they expand the amount of meals offered.
Diets They Cover (Other Than Just Vegan)
Another perk of Purple Carrot is that, under the vegan diet umbrella, they also offer meals that fit into other diets.
You'll find that you can narrow down meal choices by: gluten-free, high-protein, low-carb, nut-free, and soy-free. Of course, all vegan meals are also vegetarian.
One thing to note is that Purple Carrot isn't certified gluten-free and their food is processed in a facility that also handles soy, wheat, gluten, and nuts. If you have a food allergy to those, you may want to consider another meal kit.
What I like is that they have a good variety of health-conscious and comfort meals. This means you aren't forced to only eat "healthy" vegan meals and, on the flip side, you have options to throw in some comfort foods (like their delicious vegan mac and cheese recipe).
Delivery
At this time, Purple Carrot delivers to all of the contiguous United States. Unfortunately, that means they're unable to ship orders to Alaska and Hawaii.
Orders can be expected on Monday, Tuesday, or Wednesday each week. This will depend on the delivery options available to your zip code and you won't be able to customize this when ordering.
If you're worried about not being home to receive your order, there's no need to panic! A signature is not required for your order to be delivered. Shipping carriers are instructed to leave the package, so it'll be there waiting for you when you arrive home. If you're concerned about this, you can always set "Special Delivery Instructions" for your order, like we do, to have your box put somewhere safe (on your doorstep, your garage, etc).
The best delivery perk is that shipping is free for every plan — the 2 person and 4 person plan.
Packaging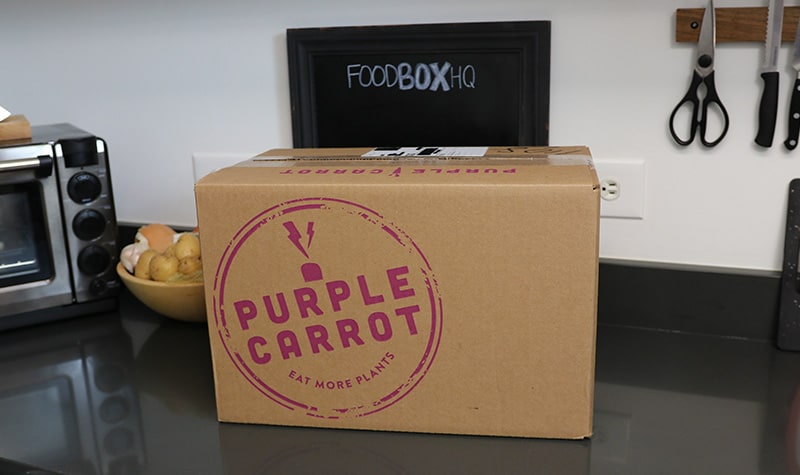 One of the biggest concerns we hear about meal kits is that they create waste. And while they definitely send more single-use plastics than I'd like, a study in 2019 actually found that meal kits have a smaller carbon footprint than grocery shopping. The reason being, according to the study, is that meal kits have less overall food waste and a more streamlined supply chain.
When it comes to Purple Carrot, specifically, their packaging is not only 100% curbside recyclable but their corrugated boxes are also made from 95% post-consumer material.
Over the years of using Purple Carrot I've noticed that the insulation within the box will change depending on the weather. In the warmer months, they'll pack in more insulation so the ice packs don't melt as easy and the food doesn't spoil. These boxes are usually packed with TemperPack Climacell, which is not only recyclable but also made from plant-based materials (fitting for a vegan meal kit).
In the colder months, they don't use much insulation since mother-nature is already keeping the contents of the box cold. In the box we reviewed in the video above, which we received in January, you'll notice the inside insulation was a thin cardboard material called Popbox, which is curbside recyclable.
The ice packs they use are non-toxic so they can be cut opened, drained, and the plastic can be recycled.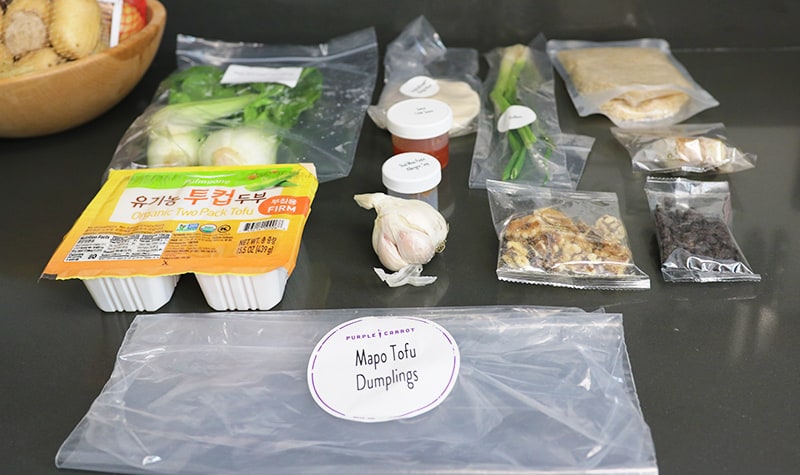 Inside the box, they do a good job of keeping each meal ingredients together. This means you don't have to fumble around looking for what ingredients you need for the meal you're making. You can just grab the big bag they're all in and start cooking.
What Meals We Got In Our Box (January 2020 Update)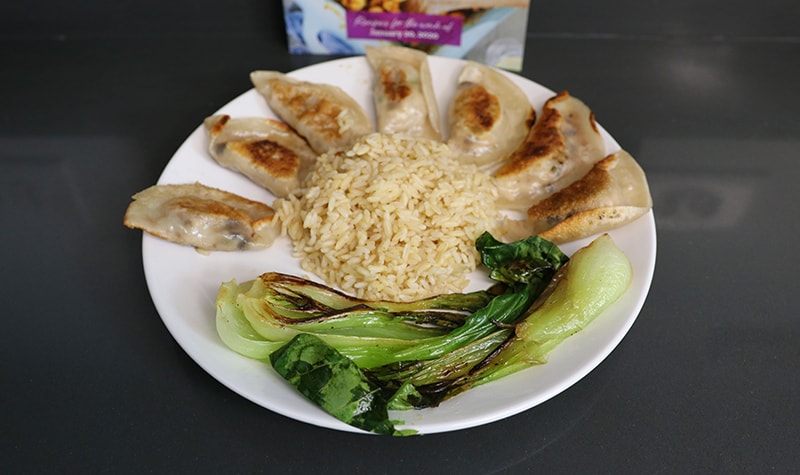 Now that we've done over all the details of Purple Carrot's service, let's dive into what meals we recently got and how they tasted!
Mapo Tofu Dumplings with Bok Choy & Sweet Chile Sauce: This is the meal we made in our most recent YouTube video unboxing and review. We chose it specifically because neither Emily or I have ever made dumplings before so we knew it would be a challenge. While there were a decent amount of steps involved to prep this meal, it was really fun to make (as shown when we steam the dumplings). In terms of taste, the sauce was out of this world and really made the whole dish come together. While tofu was one of the protein bases (in addition to pecans) I couldn't even taste it as there was a lot of additional flavor in this meal. Only downside to this dish was the bok choy — I'm not a huge bok choy fan as I find it hard to chew. That's really me just being nit-picky 😏.
Sprouting Broccoli Salads with Sunflower Seeds & Miso Power Dressing: This salad had a nice little kick to it from the lemon and miso dressing. And while I'm not a fan of nuts in salads (too much crunch for me) I did enjoy the addition of hemp seeds because of their health benefits. While not necessarily my favorite meal (the dumpling meal above set the bar high) this meal was pretty simple to make — just chop the veggies, cook, and mix everything together.
Brussels Sprouts & Black Bean Tacos with Chipotle Crema & Pickled Onions: Brussels sprouts are one of my favorite veggies so I may be a bit biased when I say how good this meal was. Like the salad, this one was also pretty easy to prep and cook, only taking around 20 minutes total. Again, like the dumpling meal, the chipotle crema sauce was delicious!
FYI, these are the meals we chose for the 2 person plan and they came with 2 servings per meal.
Purple Carrot Recipe Booklet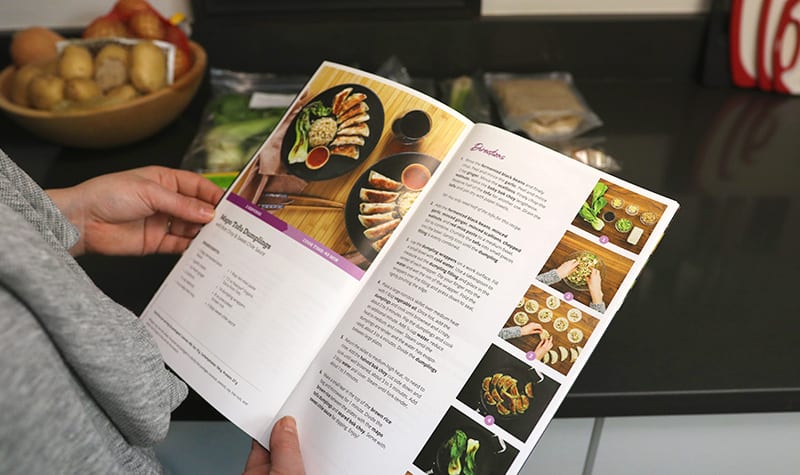 One of the most important aspects of a traditional meal kit, where you're the one doing the cooking, is the actual recipes that comes with the meal. Are they printed on cards or in a booklet? Do they stand up well to getting food on them during the cooking process? Do you have to access the recipes online? Are they easy to follow?
The Purple Carrot recipes come in a sturdy paper booklet, which lists all of the meal recipes for the week. That means you're going to see recipes for meals you may not have in your box. I actually like this since we collect recipes and can always make these other meals in the future, if we ever decide to buy the ingredients ourselves.
The recipe booklet stood up to getting dirty so you don't have to baby it while you're cooking — it won't fall apart getting a little wet.
The actual structure of the Purple Carrot recipes are pretty easy to follow. It starts with a big picture of what the finished meal looks like, then you'll see the servings, cook time, and ingredients involved. As for the directions, they're not too wordy (making them easy to follow) and each step has a picture associated with it to help ensure you're actually doing what you're supposed to.
Purple Carrot vs Similar Vegan Meal Kits
As mentioned above, there aren't really any other all vegan meal kits where you do the cooking. There are some pre-made vegan meal kits (like Veestro) that will send you frozen plant-based meals.
The only truly similar meal kit to Purple Carrot would be Green Chef's "Plant Powered" plan. Like Purple Carrot, the meals in this plan are all 100% vegan. However, I've found Green Chef's vegan meals to be a bit less adventurous than Purple Carrot's. To give you an example, here are some meals you may find on the Green Chef vegan menu:
Moroccan Carrots & Rice with Sautéed Radishes & Peas, Cashew Crema, Pistachios
Sweet Potato Enchiladas Cabbage-Carrot Slaw with Corn & Tomatoes, Cashew Crema
Roasted Sweet Potato & Beet Salad with Kale, Apple, Dried Cherries, Caramelized Fennel & Pecans
These recipes make Green Chef a good option for anyone who may enjoy a bit more traditional vegan meal options and don't want to be too daring with their meals. However, both Purple Carrot and Green Chef are pretty similar and I'd consider either a great vegan meal kit option.
Pros & Cons of Purple Carrot
If you're trying to determine whether Purple Carrot is the right meal kit for you, let's review the positives and negatives to help you make an informed decision…
Purple Carrot Pros
It makes sticking to a plant-based lifestyle easier. One of the main benefits I've found as someone who isn't 100% vegan or plant-based is the fact that Purple Carrot makes the switch relatively painless. Considering their meals are actually interesting and flavorful, it's expanded my thought of what going vegan could be.
They cover every meal. Technically, you can have Purple Carrot send your breakfast, lunch, and dinner (just not for the entire week). What's more is their breakfast is "grab and go" style so it's great for busy mornings to help save you time and get you out the door.
All their meals are organized well inside the box. Sometimes you see meal kits throw all the ingredients for all your meals into one box without any organization. This usually adds more time to the cooking process since you have to get everything organized yourself before you even start prepping.
The meals are filling. For me personally, one of the downsides of the vegan diet in general is that sometimes the meals just don't fill me up. However, Purple Carrot's meals are pretty stacked with proteins and side dishes so you feel satisfied but not overly full after eating.
Can easily filter meals when selecting for the week. One small design element on their website that I really like is that you can narrow down their menu by cuisine type, dish type, ingredients, and dietary concerns. This allows you to filter only the meals you actually want rather than having to sift through each recipe every week prior to making your selection.
Purple Carrot Cons
Some recipes can be intensive and tedious. There's a give and take when it comes meal kits in general. If you want delicious, flavorful meals, you often have to put in the work in the kitchen. This is true with Purple Carrot. I've found that their best tasting meals usually took us the longest to prepare (for example, the dumplings). However, they do now have a variety of meals, including ones that are easier (for example, the brussels sprouts tacos and salad mentioned above).
There is a bit of cleanup involved. Going off of the above point, more work in the kitchen usually means more pots, pans, knives, etc. that need to be cleaned afterward. This isn't a negative limited to Purple Carrot but rather meal kits in general.
There's a lot of single-use plastic. If you're someone who is going vegan purely to help the environment, you may want to consider the amount of plastic that comes in each box. That being said, Purple Carrot has made sure their entire box is 100% recyclable and parts of it are even compostable.
There's not a ton of meal choice. Currently, they limit their menu to only 8 dinners per week. To put this in perspective, HelloFresh offers around 20 meal options per week.
Does Purple Carrot Offer Any Coupons?
Looking to save some of your hard earned money on your Purple Carrot order? Don't worry, we've got your back! Use any of these coupons to save on your first box:
Use coupon code "CARROT30" for $30 off your first box.
Use coupon code "RB30" for $30 off your first box.
Use coupon code "PURPLE25" for $25 off your first box.
I'm constantly updating this section of the site with the most recent coupon codes. If any don't work or are expired, feel free to let me know in the comments and I'll update them ASAP!
Final Thoughts: Who Is Purple Carrot Right For?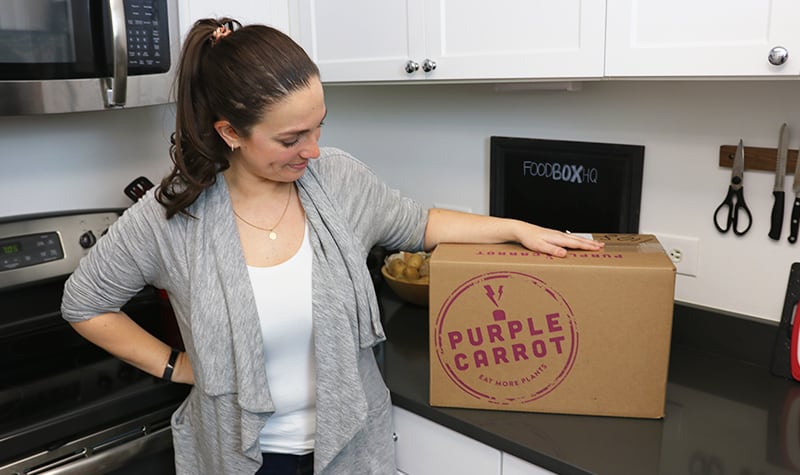 For a vegan meal kit, I consider Purple Carrot to be one of the best out there.
Having used their service since 2018, I see the progress they've made in crafting delicious plant-based recipes. Their meals are fresh and the flavors are more vibrant than they were in the past.
I would say that Purple Carrot would be a perfect option for a couple, like Emily and I, who are looking to get into a plant-based diet but want flavor and options. It makes the switch from using animal products in food to vegan pretty seamless.
The big downside is that you can't have every single meal covered for the week. The maximum amount of dinners you can order in your box is 4. Because of that, I hesitate recommending this box to people who follow a 100% plant-based diet, since they'll still need to have other meals covered.
Food Box HQ Tip: If you only follow a vegan diet and are looking for a vegan-friendly meal/food delivery service, check out our Hungryroot review. They're a unique mix between a grocery market and a meal kit.
That being said, if you do only follow a strict vegan diet, Purple Carrot is a great way to supplement your weekly meals with new recipes that are fun and adventurous. You won't have every meal covered, but you will learn how to make new recipes that are, in my opinion, very tasty.
Past Food Box HQ Purple Carrot Reviews
We've been trying out Purple Carrot's boxes since 2018. Check out some of our past reviewed below:
Have a question about Purple Carrot we didn't answer in the review above? Have you tried their meal kit before? Let us know in the comments below!