Looking for an affordable, easy-to-use meal kit delivery service that won't break the bank?
A few years back, I found myself in a similar predicament. That's when I stumbled upon EveryPlate.
As someone who enjoys to cook but struggles with the time and effort required for meal planning, EveryPlate caught my attention with its promise of affordable and delicious meals that are easy to prepare. Intrigued by their claims, I decided to give it a go and see if it could truly live up to their marketing hype.
Having used EveryPlate since 2019, I'm excited to share my personal experience with you. In this comprehensive review, I'll walk you through everything you need to know about EveryPlate based on my personal experience using their meal kit throughout the years. From the various meal plans they offer to the quality of their ingredients and the overall ease of use, I'll leave no stone unturned. I'll even compare EveryPlate to other meal kit services I've tried, in order to give you the most well-rounded perspective to help you make an informed decision.
Food Box HQ Disclaimer: Before we dive into my review of EveryPlate, it is crucial to note that the information provided in this article is for educational purposes only and should not be interpreted as medical advice. If you have a medical condition or are taking any medication, please consult with a qualified healthcare professional before making any changes to your diet or nutrition.
Why Trust This Review?
Here at Food Box HQ, we've dedicated over half a decade to testing and reviewing numerous meal delivery services, including EveryPlate. We've ordered, researched, and tested EveryPlate extensively to provide you with an honest and comprehensive review.
As with all of our meal kit reviews, EveryPlate underwent our rigorous evaluation process (which you can learn more about here).
To ensure that our review is fair and unbiased, we purchased all of our EveryPlate boxes ourselves and received no complimentary items.
We take great pride in ensuring that all of our content is impartial and uninfluenced by sponsorships or brand affiliations. This is to guarantee that our reviews stay objective and are based solely on our experiences with the service.
To be as transparent as possible with our readers, we use affiliate links to help support our website and offset the costs of purchasing and testing meal delivery services. This means that we may earn a commission if you click on a link and make a purchase through that link.
Please note that our use of affiliate links does not influence our reviews in any way. We remain committed to providing unbiased and transparent reviews of EveryPlate and other meal delivery services.
We value the trust of our readers, which is why we are committed to being open and transparent about our use of affiliate links. If you have any questions or concerns, please feel free to reach out to us or leave a comment below.
How We Tested & Evaluated EveryPlate For This Review
When reviewing EveryPlate, like any meal kit delivery service we review, I believe it's important to be as objective and thorough as possible. In this review, I based my review on several key factors that I believe are essential to understanding the quality and value of EveryPlate. At the end of the review I'll rate the performance of EveryPlate in each category from 1 to 5 (1 being the worst and 5 being the best) to get my final review score.
Taste: As a paying customer, the taste of the meals is paramount to almost every other factor. Therefore, taste was one of the most important factors I considered when reviewing EveryPlate.
Variety: A diverse and interesting menu is crucial to prevent boredom. I looked at EveryPlate's meal options and the variety of cuisines they offer, as well as how frequently they change up their menu.
Flexibility & Customizability: EveryPlate should work around your needs and dietary preferences. I examined how flexible EveryPlate is to use and how easy it is to customize your meals.
Quality: I evaluated the quality of EveryPlate's ingredients, their freshness, and their sourcing practices, including whether they offer organic or non-GMO options.
Delivery & Packaging: The convenience of any meal kit delivery service depends on timely and trustworthy deliveries and packaging that keeps everything safe and organized. I examined EveryPlate's delivery options, reliability, and packaging, including whether it's recyclable and effective at protecting and organizing the meals.
Ease of Use: A meal kit should make your life easier when it comes to mealtime. I evaluated how easy it is to use EveryPlate, from signing up and selecting meals to cooking and cleaning up.
Value: The cost of a meal delivery service is a significant factor for most people. I compared the cost of EveryPlate with that of the competition to determine whether it offers good value for the money.
It's important to keep in mind that while my review is as thorough and in-depth as I could possibly make it, reading other reviews and experiences from other EveryPlate subscribers can provide you with a more well-rounded view of what it's like to use EveryPlate.
Keep in mind that review aggregators like Trustpilot and Sitejabber can be helpful, but it's important to consider that many people only leave reviews when they are either extremely satisfied or extremely dissatisfied with their experience. As a result, the reviews on these sites often lean towards the extremes of both ends of the spectrum.
For more genuine testimonials from EveryPlate customers, I recommend checking out the /r/EveryPlate and /r/mealkits subreddits, where you may even find me (my username is FoodBoxHQ) in the comments answering questions.
About EveryPlate: How This Cheap Meal Kit Came To Be
EveryPlate's origin story sets it apart from other meal kit services in a fascinating way. Unlike most competitors who started independently, EveryPlate was incubated and developed within the already well-established meal kit, HelloFresh. This unique background gives EveryPlate a distinct advantage, benefiting from the expertise and resources of its parent company while carving out its own identity in the meal kit industry.
The idea behind EveryPlate was to create a meal kit service that was accessible to more people by offering a budget-friendly option. The founders of HelloFresh recognized that while their own service was popular, it was not always affordable for everyone.
To address this gap in the market, HelloFresh decided to create a version of its service that was stripped down to the essentials. EveryPlate was born out of this approach, which involved offering simple meals that were easy to prepare and made with fewer ingredients. This allowed EveryPlate to offer mostly the same meal kit experience as HelloFresh but at a much lower price point.
Throughout my experience with EveryPlate, one aspect that has consistently impressed me is their ability to maintain such low prices. In this review, I'll delve deeper into the strategies EveryPlate uses to keep costs low, highlighting the key differences between EveryPlate and more traditional meal kit services such as Blue Apron and Home Chef.
That said, what I find particularly intriguing is that EveryPlate is not the only player in the affordable meal kit market. Marley Spoon, a well-known name in the industry, has also recognized the demand for budget-friendly options and introduced their own offering called "Dinnerly." In the later part of this review, I will compare EveryPlate to Dinnerly so that you can have all the information needed to make a decision on which is right for you.
How EveryPlate Works (Joining & Choosing Meals)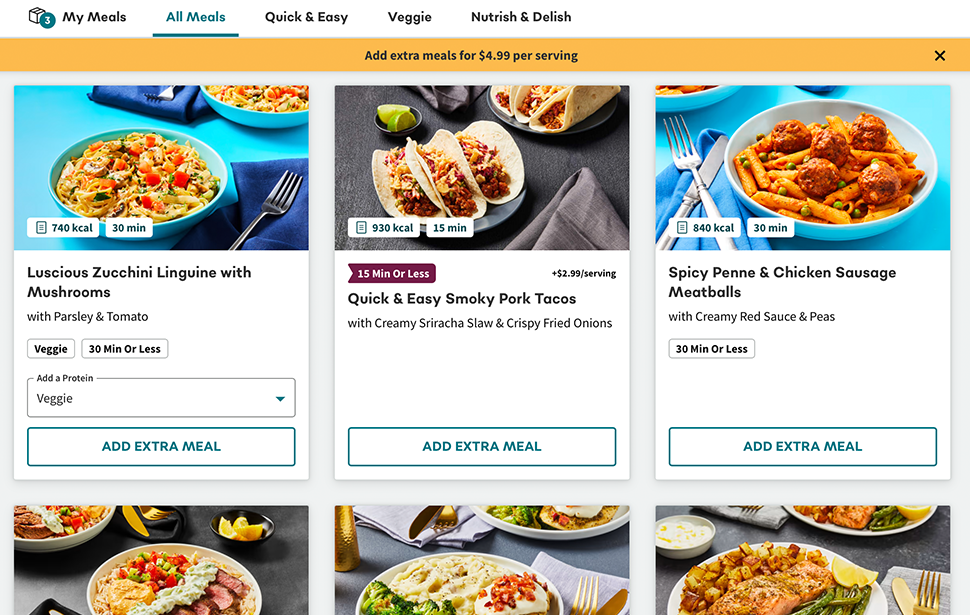 Upon first signing up for EveryPlate, I could tell that the process was very similar to many of the other popular meal kits out there. In fact, it looked so similar to HelloFresh's and Green Chef's sign-up process that I actually opened those sites up in another tab to view the similarities. It makes sense though, since they're all owned by the HelloFresh Group.
Signing up is very straightforward—you start by selecting your meal preferences from categories such as Meat & Veggie, Veggie, Family Faves, Quick & Easy, and Nutrish & Delish. During my first sign-up, I chose Meat & Veggie, but I later discovered that the preference you choose does not have a significant impact on your overall meal kit experience. This is because, regardless of the preference you choose, the menu will remain the same. The preference you select is simply a way for EveryPlate to recommend specific meal types to you first each week. You can always adjust your plan preferences later on in your account settings.
Next is deciding on the amount of meals you'd like to receive from EveryPlate. First you select the number of people you'd like to feed, either 2 or 4. From there, you can select 3, 4, 5, or 6 meals per week.
My main gripe with EveryPlate's box size options is that it significantly limits who can actually make the best use of their meal kit. Thankfully, since I only live with my wife, the 2 person plan works for me. But what about 3 person households or 5+ person households?
Once the meal preferences and plan size is selected, the next steps are just to fill out all of your delivery and billing details.
One thing you'll definitely want to keep in mind is that you can't select your meals before signing up, which is kind of a bummer. However, I would suggest looking over EveryPlate's upcoming menu prior to signing up. This way you can confirm that the meals fit your preferences before you spend any money.
There is nothing more disappointing than finishing the entire sign-up process, only to discover that none of the meal options suit your taste preferences.
EveryPlate Meal Plans: What To Be Aware Of Before Choosing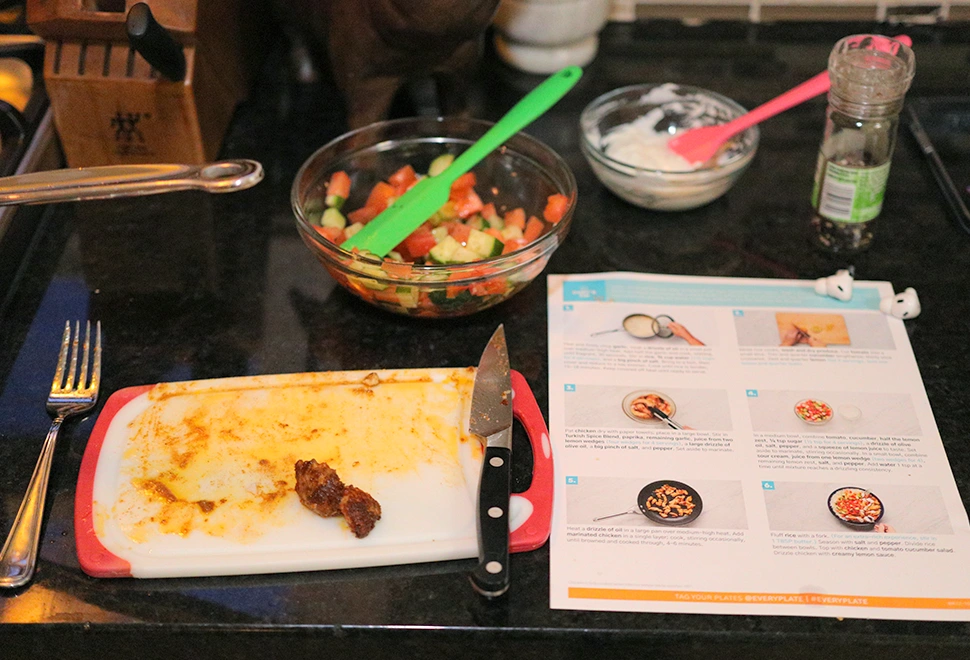 EveryPlate offers a variety of different meal plans, some better than others. As mentioned above, they offer the following 5 plan categories—Meat & Veggie, Veggie, Family Faves, Quick & Easy, and Nutrish & Delish.
This is pretty on par for what most other meal kits offer in terms of categories. For example, HelloFresh offers Meat & Veggies, Veggie, Family Friendly, Fit & Wholesome, Quick & Easy, and Pescatarian, so you can see the similarities.
What I find nice about the way that EveryPlate sets up their plans is that they allow you to choose more than one. For example, I could choose "Meat & Veggie" as well as "Quick & Easy" plans if I wanted to get recommended both types of meals.
Here are my thoughts on each of the plans EveryPlate offers as well as some example meals I've seen from each…
Meat & Veggie EveryPlate Plan
As mentioned above, this is the plan I chose upon initially signing up. From my experience, the meals tend to be the broadest since it includes meat, seafood, and veggie options.
EveryPlate's menu typically includes chicken, pork, turkey, and ground beef options with the occasional shrimp dish. While there are some steak options available, they usually fall under the "premium" category, which comes with an additional fee. Though, I have seen some Salisbury steak options in the past. It's worth noting that EveryPlate doesn't offer any exotic meats like venison or duck.
As for the vegetables on this plan, I've noticed EveryPlate sometimes skimps out and there won't be a true side of veggies. Sometimes the dish will simply have a little bit of chopped zucchini or bell peppers. On the occasion that they do include a side of vegetables, it's usually something like green beans, broccoli, or carrots.
For those new to EveryPlate who don't have any dietary preferences, I'd recommend trying this plan out first to get a better sense of what EveryPlate has to offer.
Here are some of my personal favorite meals on the Meat & Veggie plan…
Veggie EveryPlate Plan
In my opinion, the name "Veggie Plan" is slightly misleading, as it suggests that the meals would primarily focus on vegetables. However, my experience with EveryPlate's Veggie Plan showed that the meals just included more carbs and less meat, rather than a greater emphasis on vegetables.
For example, I found that a significant number of the meals on this plan consisted of flatbreads, tostadas, pastas, and wraps, which were primarily carb-based. While some of these meals did contain vegetables, they didn't necessarily provide a substantial amount of veggies.
That being said, EveryPlate's Veggie Plan does offer a handful of unique and exciting vegetarian options that can help diversify your meal options. I appreciated the occasional veggie bowl or salad, but I do wish that they included more meals that prioritized vegetables as the main focus rather than carb-heavy pasta or flatbread dishes.
It's worth noting that many of the meals on this plan were quite filling and indulgent, which may not be ideal for those who are looking for lower-carb options.
Here are some of my personal favorites on the Veggie plan…
Family Faves
The Family Faves plan from EveryPlate is designed to be a hit with both kids and adults alike. In terms of the variety of meals offered, the plan seems to be a mix of what is on offer in the Meat & Veggie plan as well as the Veggie plan. This means that you can expect to find a range of meals that feature both meat and vegetables, as well as vegetarian options.
While the plan name suggests that the meals are intended to be larger in portion size, this isn't necessarily the case. The meals on this plan are designed to be appealing to families, with an emphasis on flavor and crowd-pleasing dishes.
Here are some of my personal favorites on the Family Faves plan…
Quick & Easy EveryPlate Plan
EveryPlate's Quick & Easy plan lives up to its name, offering a variety of recipes that are quick to prepare and easy to make. Funny enough, while I started out with the Meat & Veggies plan, I found myself increasingly adding Quick & Easy plan meals to my weekly box to help me out on busy weeknights.
With a cooking time of around 20 minutes or less (depending on the recipe), the recipes on this plan are relatively speedy. They are also incredibly simple to prepare, requiring little prep work and minimal kitchen skills. In fact, I found that a good portion of the Quick & Easy recipes involve cooking in just one pot, which also helps to minimize cleanup time. Anything that helps me cut down on scrubbing pots and pans is a winner in my book.
Here are some of my personal favorites on the Quick & Easy plan…
Nutrish & Delish EveryPlate Plan
The Nutrish & Delish plan is a great option for those who are looking for more nutritionally balanced meals. As mentioned earlier, this plan is one of the newer options that EveryPlate offers, and it focuses on meals that are lower in calories and higher in vegetables. I've noticed that the meals on this plan are 650 calories or less.
One potential drawback to the Nutrish & Delish plan is the limited selection of meals available. Compared to some of the other plans, I've noticed that there are only about three to four recipes per week that fit within this plan's nutritional parameters.
Here are some of my personal favorites on the Nutrish & Delish plan…
Premium Meals
In addition to the meal plan categories EveryPlate lists upon signing up, they also offer another set of meals you'll see on the menu—their premium meals. While these meals come at an additional cost (usually around $2 to $3 extra) they feature higher-end ingredients like steak, bigger portions, or more elaborate recipes. While they are certainly more expensive than the standard meals, I think they offer a nice way to switch up your routine and try something new.
It's worth noting that not all premium meals are created equal. Some of them are definitely worth the extra cost, while others aren't. For example, these premium meatball parm burgers look good but are they worth the extra $3 charge? It all depends on your budget.
It's also worth noting that the premium meals tend to take longer to make than the regular meals. For example, one of my favorites is the Lemon Herb Risotto with Chicken but it takes around an hour to get it on the table.
One thing I appreciate about EveryPlate's premium meals is that they don't feel like a cheap add-on. The recipes are well thought out and, from my experience, tend to be tastier than their non-premium meals.
Here are some of my favorite premium meals…
EveryPlate Meal Variety
For a self-proclaimed affordable meal delivery service, EveryPlate does a decent job at keeping their menu pretty diverse. With around 25 to 30 different meals on their menu each week, I wouldn't say they offer as much cuisine variety as some of the other meal kits out there like Sunbasket or HelloFresh, but the menu isn't boring by any means.
One of the things I appreciate about EveryPlate is that they offer a mix of classic comfort foods and some adventurous cuisines. For example, I've seen everything from classic spaghetti and meatballs to Beef Banh Mi Bowls on the menu. There isn't a ton of international dishes on the menu week-to-week but of the ones I've had, I've been impressed.
But it's not just the types of dishes that vary. EveryPlate also switches up the ingredients and flavor profiles each week. One week, you might see a lot of Mexican-inspired dishes on the menu, while the next week might feature more American comfort food classics.
That being said, I have noticed a few recurring themes on the menu. There are a fair amount of dishes featuring pasta, chicken breasts, burgers, and tacos/quesadillas/fajitas. But that's not necessarily a bad thing. While it can get a little repetitive, these types of meals are simple to make and are often crowd-pleasers.
Another thing I've noticed is that EveryPlate isn't afraid to occasionally include some bold and unique flavor combinations in their dishes. I remember trying a pork chop with a chili-cherry glaze dish that sounded a bit odd but ended up being delicious.
Customizing EveryPlate Meals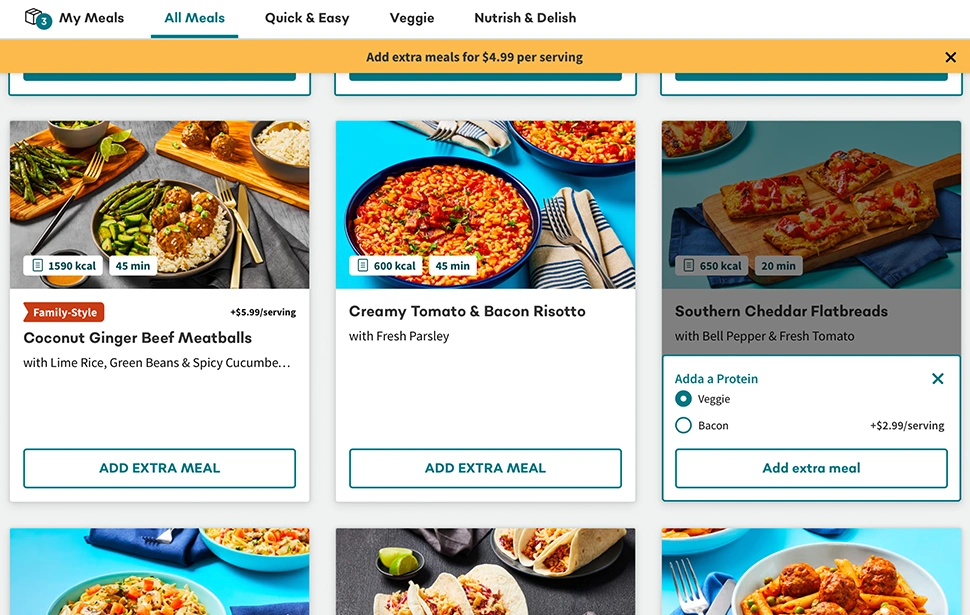 Something I've noticed becoming more and more common in the world of meal kits is being able to customize the recipes to your exact liking. Like many others out there, EveryPlate has rolled out their own ability to customize meals, which they call "CustomPlate." With this feature, customers can swap out protein options or sides for certain recipes, making it easy to adjust meals to meet their individual taste preferences and dietary needs.
I remember when I first tried EveryPlate's CustomPlate feature. I was a bit apprehensive because I thought I would be messing with the recipe they came up with and potentially ruining the end result. However, I later realized that the customizable protein and side options are curated by EveryPlate's chefs to ensure that the selected options will be the best choice for that particular dish.
What's nice is the accompanying recipe cards provide clear instructions on how to prepare the meals using the customized protein or side options so you can easily follow along without any confusion.
I've found this to be a great option for those who may have specific dietary restrictions or preferences, as it allows them to swap out ingredients that may not work for them and replace them with something that does.
For me personally, since I'm not a big fan of pork, I'll usually use the CustomPlate feature to swap pork for chicken. I don't find myself customizing the meals too often but I do think it's a great way to personalize the meals and make them more suited to my taste preferences.
EveryPlate Market For Add-Ons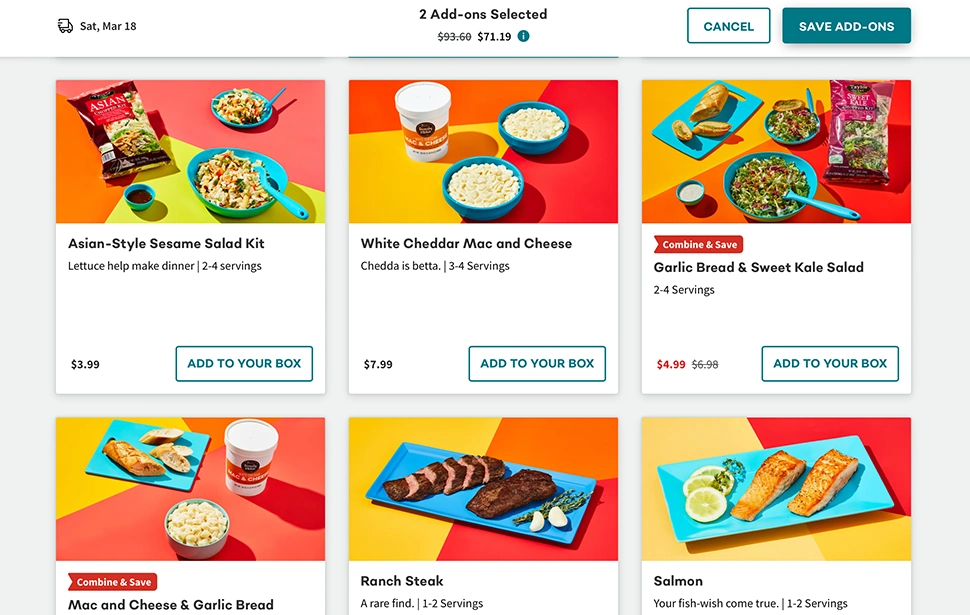 One notable improvement that EveryPlate has made to its meal kit is the addition of a market where you can easily add other foods to your weekly box. I distinctly remember when I first started using EveryPlate, their selection of add-ons was very limited. However, they have come a long way since then.
Here's a brief overview of the types of foods I've seen on my menu…
EveryPlate's market for add-on foods is a welcome addition, in my opinion. One of the biggest issues I have with meal kits in general is that they really only cover a certain amount of meals each week. While this can be convenient, it still doesn't rule out having to go to the grocery store for other meals, snacks, etc. With EveryPlate's add-on foods I now have the option to supplement their meal kit meals with additional foods to cover more meals.
I like to use the add-ons to make breakfast and lunchtime a bit easier for me. I'm a big fan of their egg bites because I can just throw them in the microwave to heat them up in 30 seconds and I'm good to go.
Does EveryPlate Cover Any Diets?
Let me start by saying that EveryPlate is not a diet meal delivery service, and it's important to set the right expectations if you are looking for a strictly regulated meal plan to support specific dietary needs.
If you're following a specific diet, such as low-carb, gluten-free, or even vegetarian, I do not think EveryPlate isn't the best option. While they offer some nutritionally balanced meals options on their menu week-to-week, there are no dedicated plans for specific diets.
There are only 2 broad diets that I could possibly see working with EveryPlate—a low calorie diet and a high protein diet.
EveryPlate's new "Nutrish & Delish" meal plan category does offer meals that are around or under 650 calories and I've personally seen meals that are even lower than that on their menu. That said, If you are following a strict low-calorie diet, it's advisable to carefully review the nutritional information provided for each recipe and make adjustments as needed to fit your specific calorie goals.
EveryPlate also offers a lot of meat based dishes (such as chicken, turkey, pork, and beef) which could be good for those who are looking to get more protein in their diet. What's more, their market for add-ons includes a variety of meats, including steak and ground beef. You could eat those on their own or add them to your meals to increase the protein content of EveryPlate's recipes.
My Experience Cooking EveryPlate Meals (The Good & The Bad)
Based on my experience using EveryPlate, it definitely has made mealtime easier. However, like most other meal kits I've used, it's not without its flaws. While there are aspects of cooking EveryPlate meals that I find enjoyable and convenient, there are also areas where I believe there is room for improvement.
One of the highlights of cooking with EveryPlate is their recipe cards. They are clear and easy to follow. In fact, the recipe cards bear a striking resemblance to HelloFresh's recipe cards, which is not surprising given their shared ownership.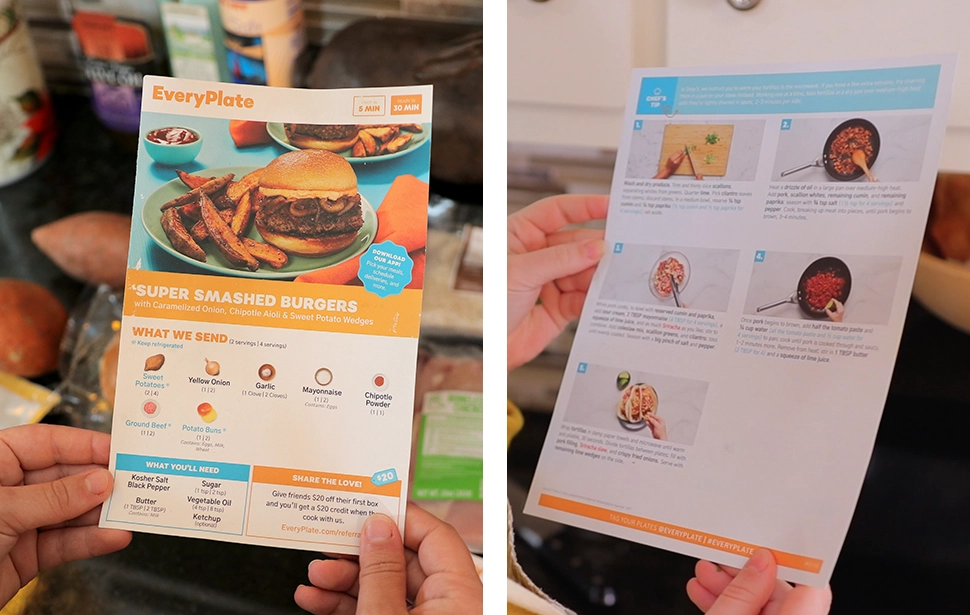 The recent update to the recipe card size from a small card to the standard size of a piece of paper has been a welcome change. Not only does this new size make it easier to read, but it also allows me to use my trusty 3-hole punch to neatly organize the recipes in my binder. As a meal kit enthusiast, I find joy in collecting and preserving the recipes I enjoy, and EveryPlate's new recipe card size has made this process much more convenient.
Now, let's delve into what each recipe card includes. First, you'll find the recipe name accompanied by a picture of what the final dish should look like. This visual representation of what the dish is supposed to look like at the end is supposed to set the stage for the culinary journey ahead.
The recipe card also provides an overview of the included ingredients. Alongside the ingredient list, you'll find helpful information such as the estimated prep time and cook time, giving you a sense of how long the recipe will take to prepare.
Additionally, the recipe cards offer an overview of the kitchen utensils and any additional ingredients you'll need to complete the meal. This ensures that you have everything you need within reach before you embark on cooking the recipe.
Lastly, the recipe cards provide a step-by-step overview of the recipe itself, typically consisting of 4-6 steps. Each step is accompanied by clear instructions and often includes visual cues through pictures, making it easy to follow along and create a delicious meal.
They'll occasionally include tips in recipes to help you along or take the recipe to the next level. For example, one tip they included on a pork tacos recipe was on how to lightly char the taco on a pan rather than heating them up in the microwave. They're usually pretty simple like that, nothing groundbreaking. While the tips may vary in their level of innovation, I do appreciate they serve as gentle reminders to explore new possibilities in the kitchen.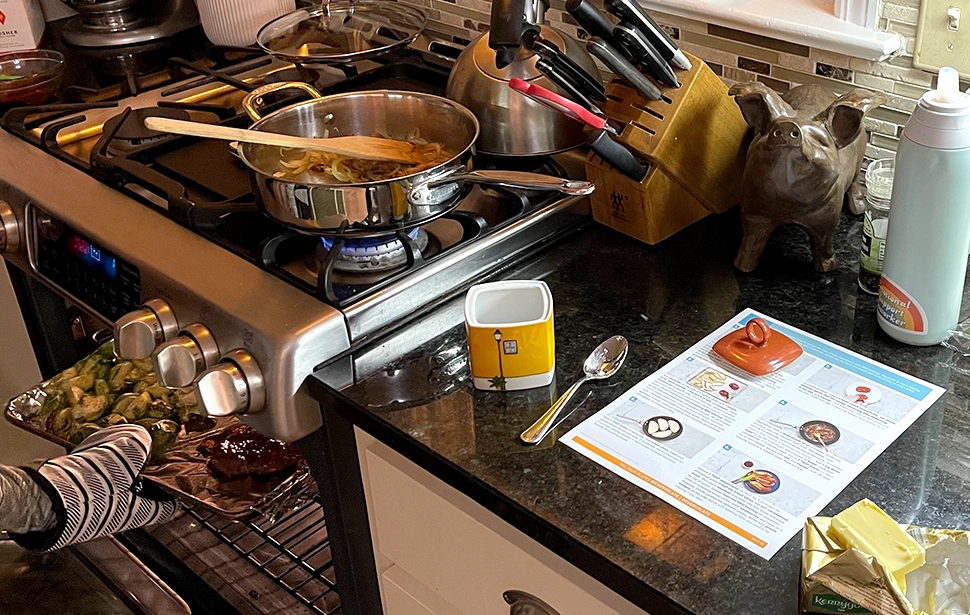 While cooking with EveryPlate offers its fair share of positives, it's important to address a few downsides that are worth highlighting.
One aspect that may require some attention is the accuracy of the estimated prep time provided on the recipe cards. In my experience, I've noticed that the suggested prep time isn't always entirely accurate. There have been instances where the preparation process took a bit longer than initially anticipated. To ensure a seamless cooking experience, I'd recommend allocating some extra time to account for any unexpected delays or additional steps that may arise.
Another limitation of the recipe cards is the absence of a complete nutrition breakdown. While EveryPlate does provide the calorie count, it would be helpful to have more detailed nutritional information, such as fat, protein, sodium, and carbohydrate content.
It's also worth mentioning that EveryPlate may not be the ideal choice for those seeking to expand their culinary skills. Unlike meal kits such as Blue Apron or HelloFresh, which often introduce more interesting recipes and unique ingredients, EveryPlate focuses on fairly accessible and straightforward recipes. While this simplicity is great for those seeking quick and convenient options, it may not provide the same level of culinary exploration and skill-building as other meal kits out there.
Lastly, one minor drawback I've encountered with EveryPlate is the lack of ingredient organization. Unlike other meal kits I've tried, EveryPlate does not separate the ingredients into individual bags or containers. This can make the initial preparation process slightly longer, as you need to locate and gather the necessary ingredients. There have been a number of instances I've fumbled around my fridge, trying to find the right ingredients. To remedy this, I eventually ended up just bagging my ingredients based on the recipe they go with after coming across this reddit post. This way I can just pull them out and start cooking without any fuss.
Despite these downsides, my overall experience cooking EveryPlate meals has been predominantly positive. While it may not provide the same level of "upscale" experience as HelloFresh or Gobble with organized and pre-prepped ingredients, it definitely delivers when it comes to simplicity and ease of use.
Taste Test Of My Most Recent EveryPlate Meals
Now let's dive into the most important part of this review—how EveryPlate's meals taste.
While I've had dozens of different meals from EveryPlate (some of which you can see here) I'll give you an overview of what the meals from my most recent box tasted like so you can have a better understanding of what to expect.
Bella Mozzarella Pesto Chicken with Bacon, Garlic Mashed Potatoes & Roasted Broccoli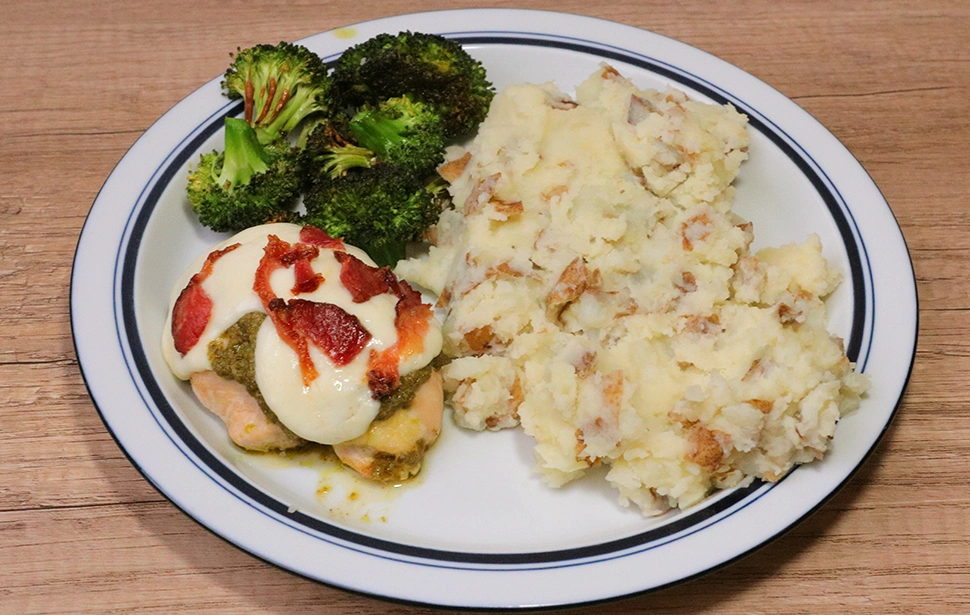 The Bella Mozzarella Pesto Chicken was definitely one of the more flavorful meals in this box. The tender chicken breast was cooked to perfection, retaining its juiciness and tenderness. The creamy mozzarella added a velvety texture, while the pesto brought a burst of fresh and herbaceous notes.
Accompanying the star of the dish were the delicious sides—garlic mashed potatoes and roasted broccoli. The garlic mashed potatoes were creamy and buttery, with just the right amount of garlic flavor. They provided a comforting and satisfying element to the meal. The roasted broccoli, with its slight crispness and charred edges, offered a hint of smokiness and a touch of earthiness.
With that said, I have to admit that I made a mistake with this recipe which caused the portion size to look larger than it should. We received two meals that used potatoes and since EveryPlate throws all of their ingredients into the box without any organization, I accidentally used all of the potatoes in this recipe and was left with none for the other recipe. This is one of the issues with EveryPlate's packaging that I really dislike because it causes issues like this.
Turkish-Spiced Chicken & Rice Bowls with Tomato Cucumber Salad & Lemon Sauce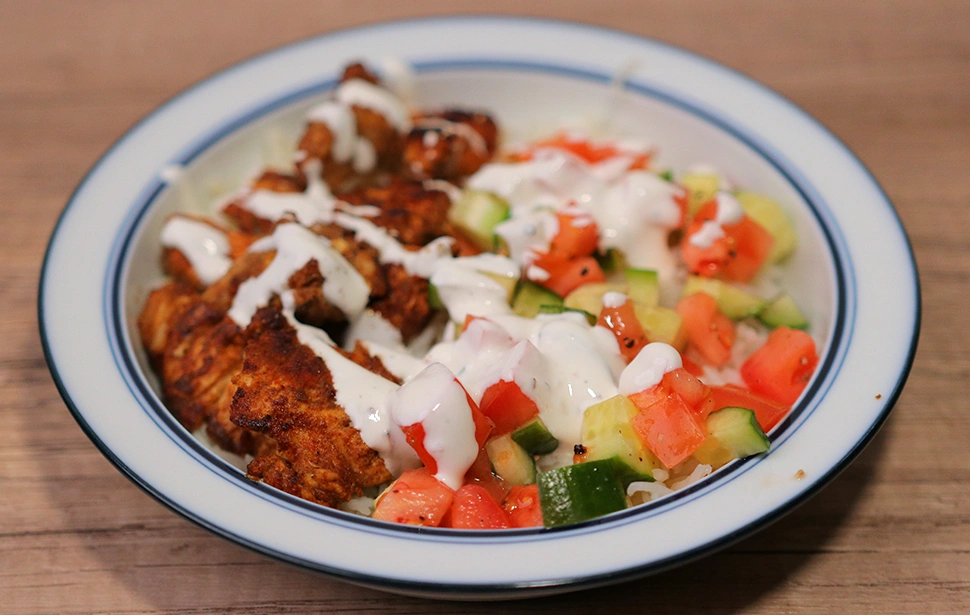 The warm and aromatic spices in the Turkish-spiced chicken infused the dish with a distinct taste. The chicken was tender and flavorful, with the spices adding a nice depth to each bite.
As a companion to the Turkish-Spiced Chicken, the Tomato Cucumber Salad stole the spotlight with its freshness. The combination of crisp cucumber and juicy tomatoes creates a delightful textural contrast that added a burst of freshness to every bite. What elevated this salad is the tangy and zesty sauce that coats the vegetables, infusing them with a refreshing and invigorating flavor.
Completing the dish was the Lemon Sauce, which added a bright and citrusy element to tie all the components together.
Though the meal was nutritionally balanced and filling, it fell short in terms of flavor. It felt like it was missing an element flavor-wise. Perhaps it needed a bolder punch of spices to truly bring out the Turkish-inspired flavors in the chicken.
BBQ Meatloaf Sandwiches with Caramelized Onion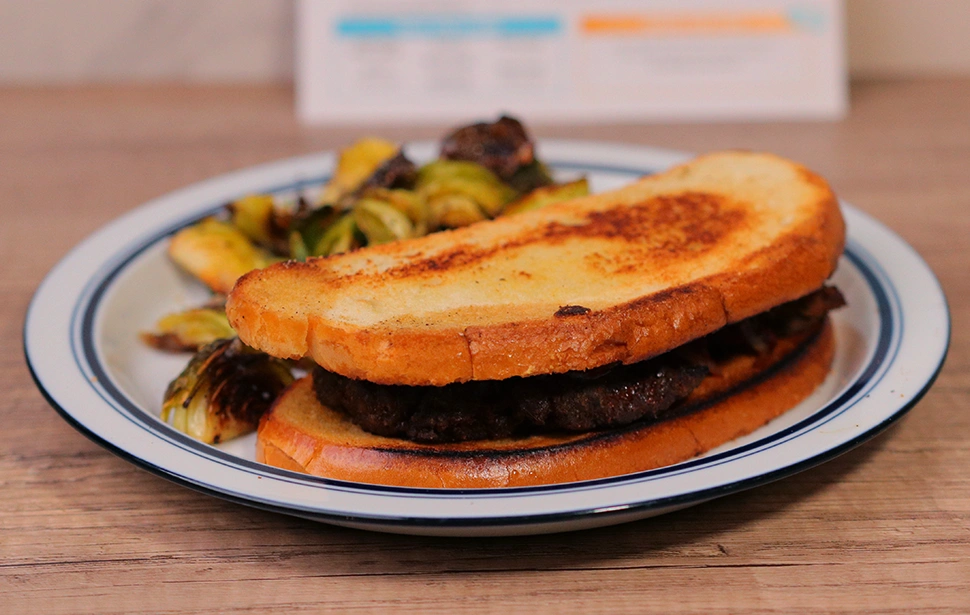 The enticing aroma of the smoky barbecue sauce, combined with the tender meatloaf, set the stage for a truly delightful sandwich. As I took my first bite, the combination of the savory meatloaf and the sweetness of the barbecue sauce made the flavor a delight. The richness of the meatloaf was complemented by the caramelized onions, which added a touch of sweetness to each bite.
As mentioned above, due to EveryPlate's lack of ingredient organization, I accidentally used all of the potatoes in the Bella Mozzarella Pesto Chicken dish. This caused me to have to use brussel sprouts as a side instead of the potatoes that the recipe called for. Disappointing and annoying but not the end of the world.
Quick & Easy Smoky Pork Tacos with Creamy Sriracha Slaw & Crispy Fried Onions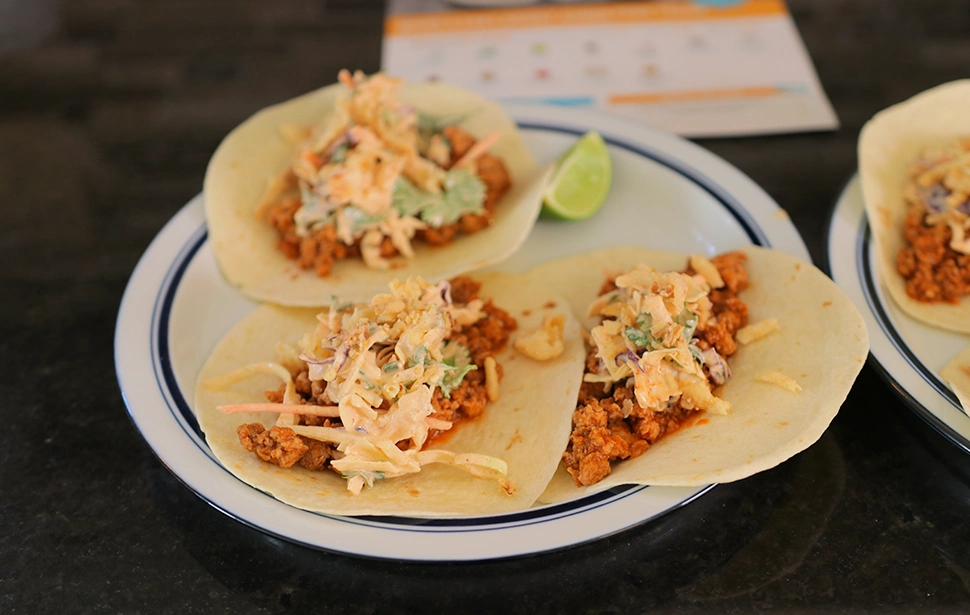 This particular dish quickly became a favorite of mine, and for good reason. The combination of the rich and savory pork, generously coated in a flavorful marinade, paired beautifully with the tangy and creamy sriracha slaw. Each bite was a delight of textures and flavors, as the crispy fried onions added a satisfying crunch that elevated the entire experience.
What truly set this dish apart was the harmony between the ingredients. The succulent pork, with its smoky undertones, found its perfect match in the cool and creamy sriracha slaw. The tangy kick of the sriracha complemented the richness of the pork, creating a flavor symphony that danced harmoniously on my palate.
Funnily enough, when I first glanced at the recipe card for the Quick & Easy Smoky Pork Tacos, I must admit that my expectations were not high. It was the quickest meal to make, and being someone who typically doesn't have a fondness for pork, I was skeptical about how much I would enjoy it. However, I've learned that in the world of cooking, sometimes the most unexpected combinations can surprise and delight your taste buds.
Bacon Cheddar Egg Bites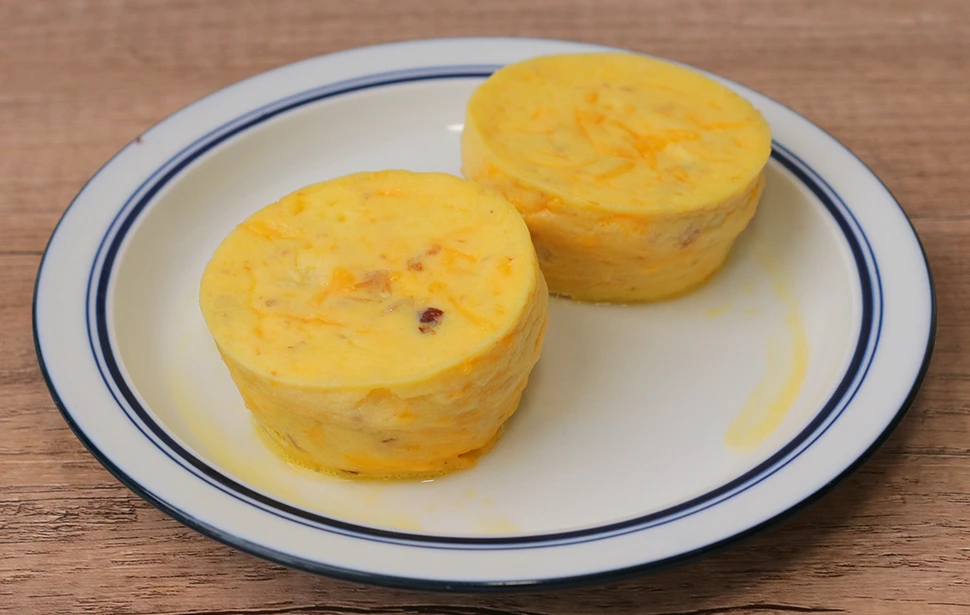 When it comes to mornings, especially when time is of the essence, I always appreciate a quick and hassle-free breakfast option. The Bacon Cheddar Egg Bites from EveryPlate have become my go-to choice for those hectic mornings when I need a satisfying meal that can be enjoyed on the go.
They have a light and fluffy consistency, with the eggs perfectly cooked to a tender and moist state. The combination of the velvety eggs, savory bacon, and melted cheddar creates a delightful contrast of textures that is both satisfying and comforting.
What I particularly love about the Bacon Cheddar Egg Bites is their versatility. They can be enjoyed on their own as a convenient grab-and-go breakfast option, or you can get creative and incorporate them into other dishes. I've found that they make a fantastic addition to a breakfast sandwich or can be paired with a side of fresh fruits for a more balanced meal.
Sweet Kale Salad Kit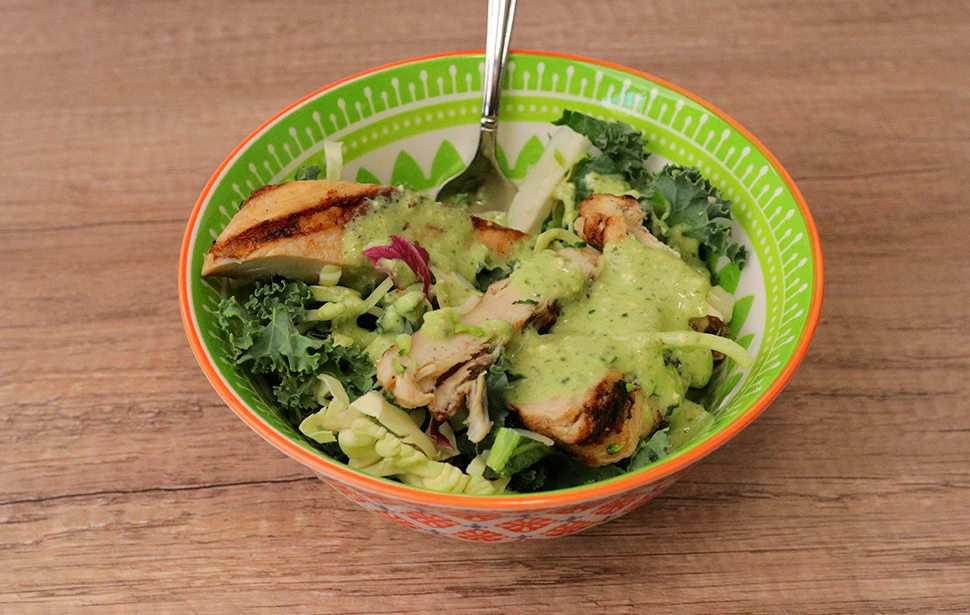 Let's talk about the Sweet Kale Salad Kit, and I have to be honest here—it didn't quite hit the mark for me. I had decided to add it to my box for the week, thinking it would be a nice and refreshing option to balance out the indulgence of the BBQ meatloaf sandwich. It turned out to be a bit of a disappointment.
The flavors didn't quite come together as harmoniously as I had hoped and the texture was just way too crisp. I tried adding chicken strips and my own dressing to liven it up but it still wasn't great. I'll definitely skip it next time.
Portion Sizes Of EveryPlate Meals
When it comes to meal kits, one crucial aspect that can make or break the dining experience is portion sizes.
As someone who appreciates a well-balanced meal and seeks to avoid both excessive leftovers and still feeling hungry, I was eager to see where EveryPlate fell.
When it comes to portion sizes, the majority of the meals I've prepared with EveryPlate have been both satisfying and well-balanced, providing enough food to leave me feeling comfortably full. In fact, a handful of the meals I've had even resulted in leftovers, which I appreciated for a quick and convenient snack the next day.
However, to be as transparent as possible, it's important for me to mention that there have been a few rare instances where I've encountered meals that left me wanting a bit more. There have been occasions where the portion sizes on my plate seemed smaller than the picture on the recipe card, leaving me slightly puzzled.
For example, while I had ample leftovers with the pork tacos I made in my most recent box, I couldn't help but feel that the BBQ meatloaf sandwiches could've been a bit bigger or at least had a bigger side of potato wedges.
If you're a big eater and you want to enhance the portion sizes, EveryPlate offers the option to customize your meals through their CustomPlate feature to add or upgrade your meal or side.
Meal & Ingredient Quality
Initially, when I first learned about EveryPlate's claim to be a budget meal kit, I couldn't help but question whether the quality of the meals and ingredients would be compromised due to their cost cutting measures. The notion of affordable pricing often raises concerns about the sourcing and freshness of the ingredients used. Because of this, I approached EveryPlate with a certain degree of skepticism.
To my surprise, my personal experience with EveryPlate has been largely positive when it comes to the quality of their meals and ingredients. I have never encountered any issues with spoiled or subpar ingredients in my deliveries. The produce may not be the pinnacle of freshness but it's never come wilted or, worse, rotten.
However, despite my overall positive experience, I must acknowledge one aspect that leaves room for improvement: EveryPlate's lack of transparency regarding ingredient sourcing. As a conscious consumer, I believe it is important to have a clear understanding of where our food comes from and how it is produced.
Unfortunately, the only information EveryPlate mentions about its sourcing practices is a single sentence on its FAQ page that says, "Our suppliers vary by week and region. When we choose our suppliers, our first priority is to get to know them and ensure the highest quality of all ingredients."
While I understand that EveryPlate aims to provide affordable meal options, I believe that more transparency regarding their sourcing practices would only improve the overall meal kit experience. By providing more information about their suppliers, farming practices, and sustainability efforts, EveryPlate would not only foster trust and loyalty among their customers but also align themselves with the values of conscious consumers (which are only growing).
Allergens In EveryPlate Meals
When it comes to allergens in meal kit services, it's crucial for individuals with food allergies to have clear and reliable information to ensure their safety.
EveryPlate provides basic allergen labeling on their recipe cards. For example, the recipes will have labels for meals that contain potential allergens such as wheat and milk. While this is a step in the right direction and helpful for those with allergies, it falls short of being a truly allergen-friendly meal kit service.
In addition, it is important to note that every meal from EveryPlate carries a disclaimer stating, "Produced in a facility that processes eggs, fish, milk, peanuts, sesame, shellfish, soy, tree nuts, and wheat." Furthermore, their terms, specifically in section 21.1, acknowledge the possibility of cross-contamination between food products. Given these factors, I would exercise caution and not recommend EveryPlate to individuals with food allergies. It is crucial for those with severe food allergies to have unwavering confidence in the safety of the ingredients used in their meals.
EveryPlate Delivery
When I first signed up for EveryPlate, I was delighted to discover that they offer flexible delivery options that cater to different schedules. Unlike some meal kit services I've tried that have limited delivery days, EveryPlate allows you to choose any day of the week for your delivery.
I usually like to have my boxes delivered on the weekend so I know that not only will I be home to get the box inside as quickly as possible but I'll also have some time to put everything away and organize the ingredients. There's something oddly therapeutic about organizing the ingredients and getting a clear picture of the cooking journey ahead.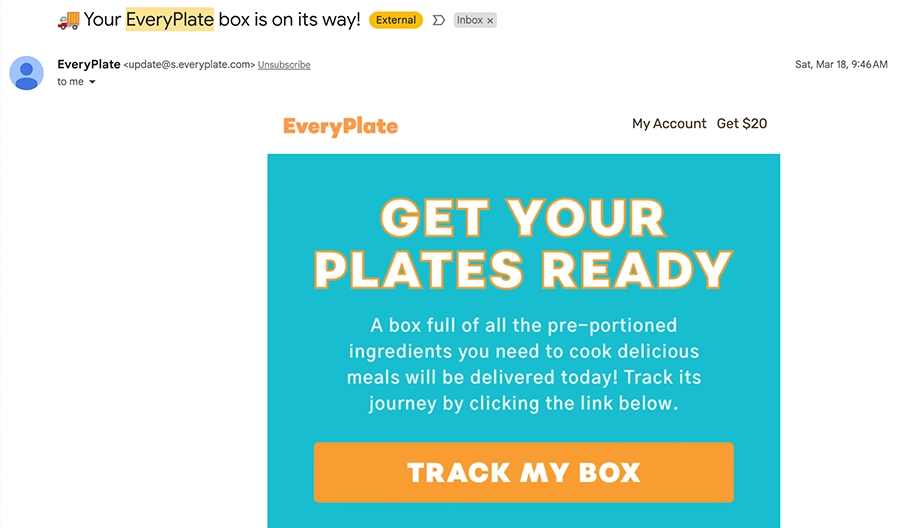 When a box does ship, I get a notification email from EveryPlate letting me know, along with tracking. Having access to tracking information is particularly valuable, as it enables me to plan and prepare for the delivery accordingly. Trust me when I tell you that there's nothing worse than forgetting about a meal kit delivery, going away for the weekend, and coming back to see a box of spoiled ingredients sitting on your doorstep.
I must admit, though, I approached the delivery process with a bit of apprehension after hearing about some less-than-ideal experiences from other EveryPlate subscribers. However, to my relief, I've been fortunate to never encounter any significant delivery issues myself.
Of course, it's worth noting that the experience may vary depending on the carrier and the specific location. If you are familiar with the delivery drivers in your neighborhood and have confidence in their care for packages, it is likely that you will enjoy a positive delivery experience with EveryPlate. However, it's important to remember that external factors such as weather conditions or unforeseen circumstances can occasionally impact the delivery process, even with a reputable carrier.
EveryPlate's Packaging

Upon receiving my first EveryPlate box, I couldn't help but notice that the packaging is not the best I've encountered when it comes to meal kits.
Inside the box there's a cardboard "basket" that holds all of the non-perishable ingredients. This design feature makes it convenient to grab the basket and easily access the necessary items for each recipe. It eliminates the need to rummage through the box to put the ingredients in your fridge one by one, saving time and effort.
However, the one major drawback of the packaging is the lack of organization within the basket. The ingredients are simply thrown in without any clear separation or labeling. This can occasionally lead to a bit of confusion when it comes time to prepare the meal. I recall a specific instance where I had to search for a particular spice among the various ingredients, thinking it wasn't sent only to find it tucked under other ingredients. Needless to say, this annoyance caused a brief moment of panic in my cooking process. I now take the time to bag all of my ingredients by the specific recipe they're for so there aren't any issues when I'm cooking.
Beneath the cardboard basket of non-perishable ingredients, I found the perishable items, such as the meat, placed close to the cold pack at the bottom of the box. This arrangement helps maintain the freshness and integrity of these temperature-sensitive ingredients during transit.
One interesting observation I made over the years of using EveryPlate is the variation in packaging during different seasons, which you can see in the comparison picture above.
During warmer months, EveryPlate takes the necessary precautions to ensure that the ingredients remain at the optimal temperature during transit. To accomplish this, they include an insulation liner in the packaging. This liner acts as a shield against the heat to keep in the colder temperature from the ice packs to help maintain the freshness and quality of the perishable items. It also provides an small added layer of protection, ensuring that the ingredients don't get bumps and bruises in transit.
On the other hand, during the colder months, I noticed that EveryPlate does not include an insulation liner. To be honest, this initially raised my concerns about the effectiveness of maintaining temperature control during transit.
It seems that their thought process is that during the colder months, the ambient outdoor temperature is at a temperature that can act as a natural refrigeration system. This means that the perishable ingredients, such as meats and dairy products, are less susceptible to temperature fluctuations and can remain adequately chilled during transit.
While this approach may work in theory, it's important to acknowledge that weather conditions can be unpredictable. As this reddit post confirms, the temperature can vary during the day and lead to spoiled ingredients.
While I know that EveryPlate is trying to cut costs in order to provide a budget meal kit, I wish they would consider making their packaging more organized and keep the insulation liner throughout the year. A well-organized and insulated package ensures that ingredients are easily identifiable, protected, and delivered in optimal condition, regardless of the season.
How Are EveryPlate's Meals So Cheap?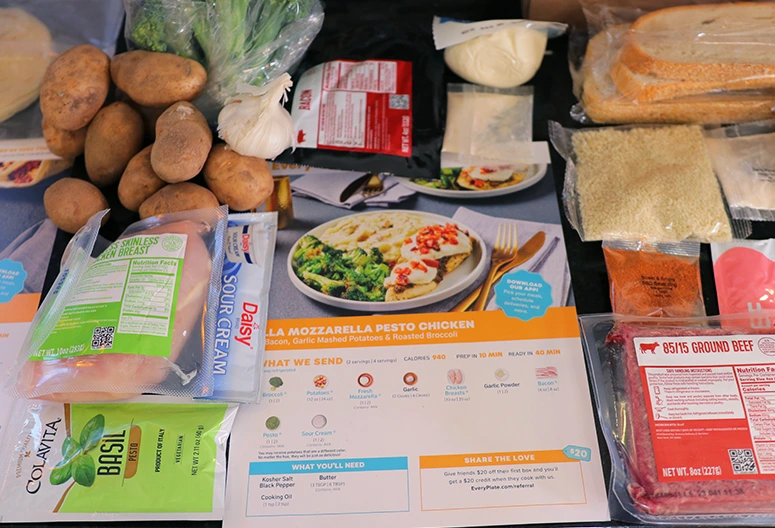 Curious about the pocket-friendly prices of EveryPlate's meals? You may be wondering how they manage to offer such budget-friendly options. In this section, we'll delve into the strategies they use to keep costs low.
A significant advantage that sets EveryPlate apart is its affiliation with HelloFresh, one of the largest meal kit companies. Thanks to this partnership, EveryPlate can tap into HelloFresh's established supplier relationships and leverage their purchasing power. By securing better deals and pricing from a wide range of ingredient sources, EveryPlate benefits from the collective strength of the HelloFresh network. Ultimately, these savings are passed on to the consumers, enabling EveryPlate to offer affordable rates.
When it comes to packaging, EveryPlate embraces a minimalist approach that prioritizes functionality and cost efficiency. Unlike some other meal kits that meticulously organize and individually package ingredients for each recipe, EveryPlate takes a different approach. In their packaging, you'll find the ingredients placed in the box without much organization. While this may require a bit more effort during meal prep to locate specific ingredients, it significantly reduces unnecessary waste and excess packaging materials. In addition to not organizing ingredients, EveryPlate also strategically uses insulation only in the warmer months (though, they do use ice packs year round). By minimizing packaging costs, EveryPlate can further keep their prices low.
Now, let's talk about the meals themselves. EveryPlate focuses on simplicity when it comes to their recipes. From burgers to tacos, pasta dishes to chicken and veggies, their menu features a variety of classic and comforting options, along with a few more adventurous choices. This streamlined approach allows EveryPlate to avoid the costs associated with sourcing unique or specialized ingredients. By sticking to simple recipes, with less ingredients than a traditional meal kit, they can pass on the savings to their customers. However, from my extensive experience testing various meal kits, I have noticed that EveryPlate's emphasis on budget-friendly options and simple recipes may result in meals that are comparatively less flavorful than other alternatives available in the market.
How Eco-Friendly Is EveryPlate?
Let's address the common misconception surrounding meal kits and their environmental impact. Contrary to popular belief, research has shown that meal kits, including EveryPlate, generally have a smaller carbon footprint compared to traditional grocery shopping. However, while EveryPlate has taken steps towards sustainability, there is still room for improvement in their eco-friendliness.
Packaging is an area where EveryPlate could enhance their sustainability efforts. Although they have made strides in streamlining packaging and reducing waste, there are opportunities for further improvement. For instance, minimizing the use of excess plastic or non-recyclable materials in their packaging components would be beneficial.
What's more, EveryPlate could increase transparency regarding their sourcing practices and commitment to sustainable agriculture. Incorporating more locally sourced, organic, and ethically produced ingredients into their meal offerings would not only resonate with environmentally conscious customers but also contribute to a more sustainable food system.
On a positive note, EveryPlate is making noteworthy progress. They have followed in the footsteps of their parent company, HelloFresh, by taking steps to offset 100% of their carbon emissions. This commitment to carbon offsetting is commendable and demonstrates their dedication to mitigating their environmental impact.
Managing Your EveryPlate Account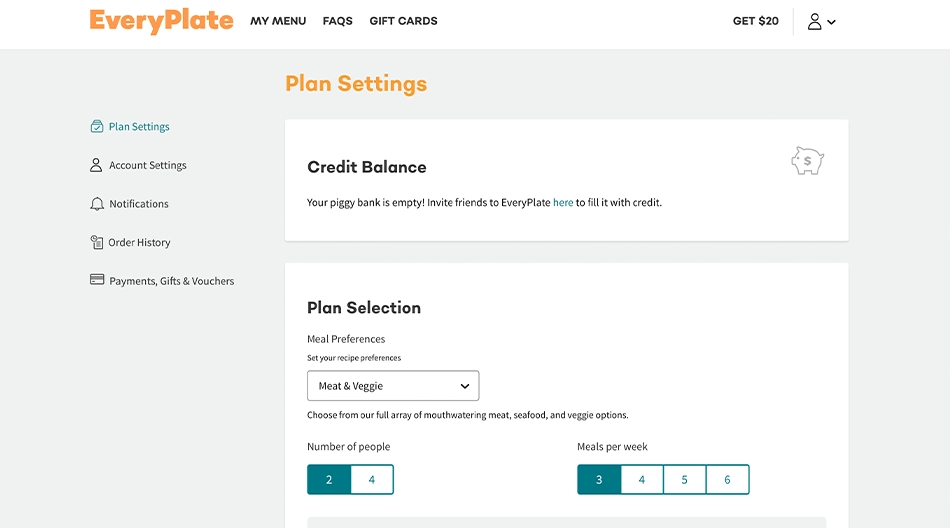 Managing my EveryPlate account felt almost like déjà vu since it closely mirrored my experience with HelloFresh, which is not surprising considering they are both part of the same parent company.
Upon logging in, my upcoming boxes and their respective meals take center stage. Typically, I have the ability to preview and making changes to the meals scheduled for the next four weeks.
EveryPlate impresses me with its ability to learn my preferences over time, ensuring that their meal recommendations align with my tastes. It's nice to have it automatically tailor the selections to my liking, saving me the hassle of constantly editing my box.
By taking the time to rate each of my meals, I've discovered that EveryPlate becomes even more attuned to my recipe preferences.
Should there be a meal in the upcoming box that doesn't pique my interest, I simply navigate to the menu section. Here, I have the freedom to remove the unwanted meal, explore the array of options available for that particular week, and customize the meals to my liking. While I don't always feel the need to customize my meals, I appreciate the flexibility to swap, add, or upgrade ingredients when desired. For instance, I usually opt to exchange pork or turkey for chicken or beef.
When life takes me away from my usual routine, EveryPlate offers the convenience of skipping a week's delivery with just a few clicks. Whether I'm traveling, have other meal plans, or simply need a break, I can easily select the "skip week" option on my menu. I won't receive a box that week and I won't be charged either. However, one quirk I noticed when I skip a week is EveryPlate's insistence on asking why I'm skipping the week. It's more weird than annoying but it seems like they're gathering feedback to understand why customers are skipping weeks.
When it comes to making changes, EveryPlate gives you a lot of flexibility to do so right in your account, without having to contact support. Within the account settings, you can easily modify your plan preferences, update your preferred delivery day, and more. I found it to be a very user-friendly interface, making changes pretty simple.
If the time comes when you decide to cancel your EveryPlate subscription, the process is relatively straightforward. However, there is one important thing to note. Canceling your account does not automatically delete your information. It simply pauses your subscription indefinitely, allowing you the option to reactivate it in the future if you wish to do so. If you want to completely terminate your account and have your information deleted, there are a few additional steps to follow. But rest assured, it is possible to fully terminate your account when needed.
Food Box HQ Note: If you find yourself in a situation where you need guidance on canceling or terminating your EveryPlate account, I've put together a detailed walkthrough in this article here.
In addition to accessing your EveryPlate account through their website, you also have the convenience of managing it on the go through their mobile app, available for both Apple and Android devices. The app provides a user-friendly interface that allows you to view and make changes to your upcoming meals, customize your menu, and update your account settings with ease. However, it's important to note that if you ever decide to cancel your EveryPlate account, you won't be able to do so directly through the mobile app.
EveryPlate Customer Support
Whether it's through email, phone, or their online chat, EveryPlate provides various ways to reach out to them for assistance.
If you prefer speaking directly to a representative, you can call their phone number at 1 (973) 210-4915. Alternatively, you can email them at hello@everyplate.com or chat with them by clicking the chat bubble on their contact page here.
In my experience using EveryPlate, I've been fortunate not to encounter any major issues that required reaching out to customer support. However, the availability of multiple channels to reach support gives me peace of mind.
EveryPlate vs. Dinnerly
When it comes to budget-friendly meal delivery services, two names often come to mind: EveryPlate and Dinnerly. As someone who values affordability without compromising on taste and quality, I have personally explored both options to see how they compare.
EveryPlate and Dinnerly both have the same objective of offering affordable meal kit options, but they each take a distinct approach to achieve this goal. EveryPlate emphasizes simplicity by providing a weekly rotating menu of straightforward recipes with fewer ingredients, enabling them to reduce costs. On the other hand, Dinnerly offers a wide selection of simple recipes and achieves cost savings by using digital recipe cards instead of printing full-color versions.
When it comes to recipe variety, EveryPlate and Dinnerly offer different options to cater to diverse tastes and preferences. EveryPlate provides a selection of 25 to 30 recipes each week, offering a decent range of choices to suit various taste preferences. On the other hand, Dinnerly takes it a step further by providing around 100 different recipes to choose from each week, giving customers an extensive array of options to explore.
I won't sugarcoat it, not only have I been more impressed with Dinnerly's recipe variety but also with the actual taste of their meals compared to EveryPlate.
Dinnerly's recipes often incorporate robust spices, aromatic herbs, and flavorful sauces, resulting in bolder and more memorable flavor profiles. From zesty marinades to complex spice blends, Dinnerly's meals consistently offer a satisfying and enjoyable taste experience.
In addition to their impressive variety and taste, Dinnerly has another advantage that steak enthusiasts will appreciate. Unlike EveryPlate, Dinnerly offers a wider selection of steak options without classifying them as "premium" meals. This means you can enjoy the indulgence of steak without the additional cost that EveryPlate often adds with such meals. One of my favorites is Dinnerly's Seared Steak & Parmesan-Truffle Fries with Garlic Aioli. It takes a while cook but it's worth the wait!
While EveryPlate certainly provides some tasty and satisfying meals, their recipe selection may lean towards simplicity and familiar flavors. The focus is on delivering comforting and approachable dishes that are easy to prepare and enjoy, without necessarily pushing the boundaries of taste exploration. This can be appealing for those who prefer classic foods and a more straightforward dining experience.
To put it simply, Dinnerly offers a wider variety of recipes and tends to deliver better flavors. However, it's important to note that taste preferences can vary, and what one person finds impressive, another may not. It ultimately comes down to personal preferences.
How Much Does EveryPlate Cost?
EveryPlate's individual meal cost, similar to other meal kits, is determined by the size of the plan you choose. This means that the more meals you order, the lower the cost per serving becomes.
To give you a better idea of the pricing details for each plan size, here is an overview:
Here's what you can expect to pay per serving on the 2-person plan…
3 meals for 2 people (6 total servings) comes out to $7.49 per serving.
4 meals for 2 people (8 total servings) comes out to $6.99 per serving.
5 meals for 2 people (10 total servings) comes out to $6.49 per serving.
6 meals for 2 people (12 total servings) comes out to $5.99 per serving.
Here's what you can expect to pay per serving on the 4-person plan…
3 meals for 4 people (12 total servings) comes out to $5.99 per serving.
4 meals for 4 people (16 total servings) comes out to $5.49 per serving.
5 meals for 4 people (20 total servings) comes out to $4.99 per serving.
6 meals for 4 people (24 total servings) comes out to $4.99 per serving.
When it comes to EveryPlate's add-on foods, pricing is a la carte. This means you can customize your selection based on your preferences and budget or opt to not select any add-ons at all.
Here are a few examples of add-on foods that I have personally ordered from EveryPlate, along with their respective prices…
Linguine & Italian Sausage Bundle (2 servings) is $4.99 total.
White Cheddar Mac & Cheese (3-4 servings) is $7.99 total.
Chicken Quesadillas & Kale Salad (2-4 servings) is $7.99 total.
Roasted Broccoli with Parmesan (4 servings) is $2.99 total.
Figgy Cheddar Grilled Cheese (4 servings) is $7.99 total.
EveryPlate also charged a $10.99 shipping charge for every plan.
EveryPlate's Pricing vs. Dinnerly's Pricing
Now let's compare EveryPlate's pricing with its closest competitor, Dinnerly, to determine if EveryPlate offers a good value. By examining the pricing and evaluating the overall affordability, we can determine whether or not EveryPlate delivers the best bang for your buck.
Here's what you can expect to pay per serving on Dinnerly's 2-person plan…
2 meals for 2 people (4 total servings) comes out to $8.04 per serving.
3 meals for 2 people (6 total servings) comes out to $7.04 per serving.
4 meals for 2 people (8 total servings) comes out to $6.54 per serving.
5 meals for 2 people (10 total servings) comes out to $6.44 per serving.
6 meals for 2 people (12 total servings) comes out to $6.24 per serving.
Here's what you can expect to pay per serving on Dinnerly's 4-person plan…
2 meals for 4 people (8 total servings) comes out to $7.14 per serving.
3 meals for 4 people (12 total servings) comes out to $6.14 per serving.
4 meals for 4 people (16 total servings) comes out to $5.89 per serving.
5 meals for 4 people (20 total servings) comes out to $5.59 per serving.
6 meals for 4 people (24 total servings) comes out to $4.99 per serving.
Dinnerly charges $11.99 for shipping on every order.
When it comes to pricing, EveryPlate has a slight edge over Dinnerly. In most cases, EveryPlate's cost per serving is lower than Dinnerly's, making it a more affordable option for those looking to stick to a tight budget.
For example, on the 2-person plan, EveryPlate offers meals ranging from $5.99 to $7.49 per serving, while Dinnerly's pricing ranges from $6.24 to $8.04 per serving. Similarly, on the 4-person plan, EveryPlate's cost per serving ranges from $4.99 to $5.99, whereas Dinnerly's pricing falls between $5.59 and $7.14 per serving. Dinnerly's shipping cost is also $1 higher than EveryPlate's.
While the price difference may not be significant, it can add up over time, especially for individuals or families on a strict budget. EveryPlate's affordability makes it an attractive option for those seeking a very cost-effective meal kit.
EveryPlate Coupons & Discount Codes
If you're looking to save even more on EveryPlate's already budget-friendly meals, you'll be pleased to know that they frequently offer coupons and discount codes. These promotional offers can help you enjoy delicious and convenient meals at an even lower cost. I rounded up the best coupons and discount codes below to help you save on your first order.
Coupon code "EPLATE149" will get you $79 off your first 3 boxes (depending on plan chosen).
Coupon code "EPLATE139" will get you up to $86 off your first 3 boxes (depending on plan chosen)
Coupon code "TRY199" will get you up to $57 off your first 3 boxes (depending on plan chosen).
To ensure Food Box HQ readers have access to the best deals possible, I like to include multiple coupon codes in my reviews. If you come across a coupon code that is no longer valid or discover a better deal, please let me know in the comments below.
Pros & Cons Of EveryPlate
As a long-time user of EveryPlate, there are many things I like about their meal kit and others that I don't. Let's dive in and explore the positives and negatives of this budget-friendly meal kit so you can see if it's the right fit for you.
EveryPlate Pros
Affordability: Out of the dozens of different meal delivery services that I've tried over the years, EveryPlate is definitely one of the cheapest options I've ever tried.
Convenience & Simplicity: EveryPlate prioritizes convenience by providing pre-portioned ingredients and easy-to-follow recipe cards. This simplicity not only saves you time in the kitchen but also reduces the need for extensive meal planning and grocery shopping.
Customizability: EveryPlate offers some degree of customization, allowing you to personalize your meals to suit your preferences. You can swap ingredients, add extras, or upgrade certain components to tailor the recipes to your liking.
Add-Ons: In addition to the regular meal kit meals, EveryPlate provides the option to include add-ons such as desserts, sides, or extra proteins.
Good For All Skill Levels: EveryPlate's recipes are designed to be accessible and suitable for home cooks of all skill levels. Whether you're a beginner or an experienced cook, the clear instructions and straightforward techniques make it easy to prepare good meals.
EveryPlate Cons
Limited Variety: Compared to EveryPlate's closest competitor (Dinnerly) EveryPlate's recipe selection may feel more limited. While they rotate their menu each week, the options may not offer as much variety as some may like.
Ingredient Organization: EveryPlate's packaging may lack the same level of organization as some other meal kits. This requires you to spend a little extra time sorting through them when it's time to cook.
Limited Flavor Variety: While EveryPlate offers a range of classic and comfort food-inspired recipes, some may find that the flavor profiles are relatively familiar. If you enjoy more diverse and adventurous flavor combinations, you may find EveryPlate's recipes somewhat lacking.
Repetition of Recipes: While EveryPlate introduces new recipes each week, I've noticed that they like to consistently bring back the same meals (or variations of those meals).
Lack of Transparency in Sourcing: EveryPlate does not provide detailed information about the sourcing of their ingredients, which may be a drawback for those who prioritize knowing the origin and quality of the food they consume.
My Final Review Score Of EveryPlate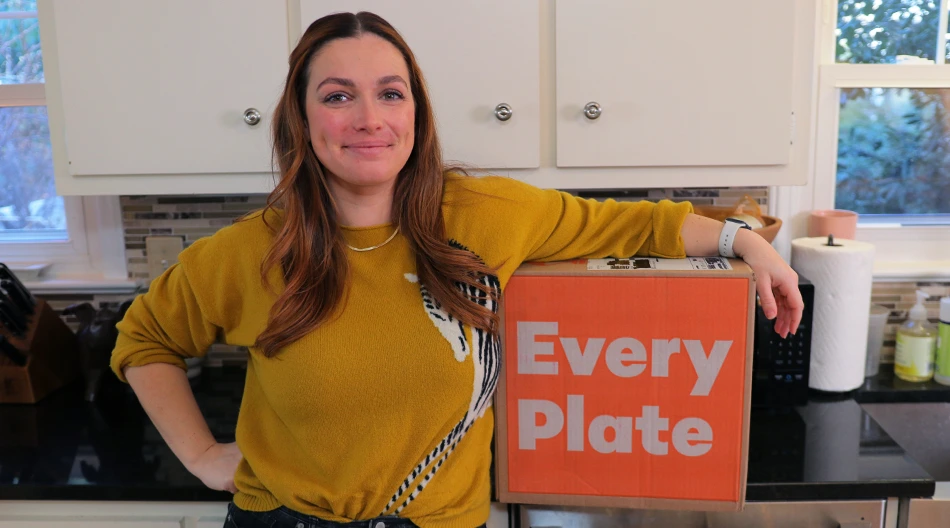 Based on all of the factors I took into consideration for this review, here are my final scores…
Taste (3.7/5): While the recipes are satisfying and filling, there were often instances where I felt they lacked that extra burst of flavor that could've elevated the dish to the next level.
Variety (4/5): Though EveryPlate offers a decent variety of recipes and their menu rotates weekly, the selection is not be as extensive as other similar meal kits that I've tried. What's more, I've noticed that the recipes tend to repeat fairly frequently.
Flexibility & Customizability (4/5): EveryPlate allows some level of customization, such as swapping ingredients or selecting from available add-ons. However, it isn't available for every meal.
Quality (3.7/5): EveryPlate is not transparent about where they source their ingredients. While this may raise questions about the quality and origin of the ingredients, I have personally not encountered any issues with receiving spoiled ingredients.
Delivery & Packaging (4.2/5): I've never had any issues with receiving an EveryPlate delivery. However, the packaging could be better. The ingredients are not organized and there could be less single-use plastic. Though, it should be noted that they do offset their carbon emissions.
Ease of Use (4.8/5): EveryPlate is as simple to use as most other meal kits I've tried. In fact, in many ways it is simpler to use due to the recipes being more straightforward in order to cut costs. This makes EveryPlate a good option for those who are new cooks or looking to save time in the kitchen.
Value (4.8/5): EveryPlate is not only affordable but it has many of the same features that other, bigger, meal kits offer. The price per serving is competitive, making it an attractive choice for budget-conscious individuals. While some compromises may be made in terms of flavor, variety, and packaging, I believe the overall value for the cost is great.
In the end, EveryPlate is not perfect. That said, I still believe it is a solid option for individuals and families seeking a budget-friendly meal kit that doesn't skimp on convenience. With its affordable pricing per serving, simple and straightforward recipes, and customizable options, EveryPlate offers a practical solution for those looking to save time and money in the kitchen.
While there may be some limitations in terms of ingredient variety and flavor complexity, EveryPlate delivers on its promise of providing decently tasty and satisfying meals without breaking the bank. The convenience, affordability, and overall value make EveryPlate a suitable choice for individuals seeking a no-frills meal kit experience.
Past YouTube Reviews Of EveryPlate