EveryPlate is one of the most popular cheap meal delivery services currently available.
Though, if you've had a change of heart and are trying to figure out how to cancel your EveryPlate subscription, there's no need to stress. In this guide I'll walk you through the step-by-step process for canceling your account.
The good news? It's not that hard.
Be sure to read to the end because I'll go over some simple remedies for common reasons for wanting to cancel as well as give you my favorite alternative cheap meal delivery service options that may better suit your needs.
Canceling Your EveryPlate Account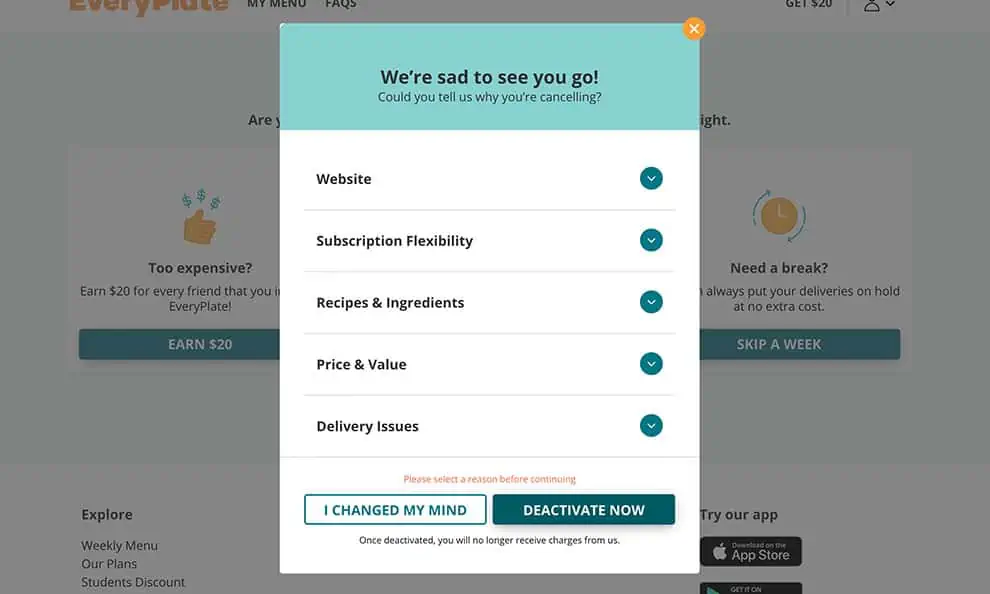 There are a few different ways to cancel your account—some easier than others. I'll cover each of them below.
Here's how to cancel your EveryPlate subscription on their website:
Login to your EveryPlate account on their website.
Click on the account icon at the top. Then navigate to "Settings".
On the left, click on "Plan Settings". It's here you'll see options for managing your subscription.
Scroll down the options to find the "Deactivate Account" button and click it to deactivate your account.
Food Box HQ Note: Be sure to fill out all of the prompts that pop up. EveryPlate will ask you why you're canceling and have you write out your answer. You will have to fill in something in order for the "Deactivate" button to be clickable.
Here's how to cancel your EveryPlate account over the phone:
Before calling, be sure to have the following information ready: the full name of the account holder, delivery address, and email address on file for the account.
Call the EveryPlate customer care line at (973) 210-4915.
When speaking with their customer service representative, ask them to cancel your account and send you a confirmation email.
Here's how to cancel your EveryPlate account using their live chat:
Before starting the chat, be sure to have the following information ready: the full name of the account holder, delivery address, and email address on file for the account.
Go to EveryPlate's contact page and on the lower corner click on the chat icon bubble.
You will initially be connected to their auto-responder chatbot. Type in "Cancel my account" and the bot will direct you to a live agent. Be sure to click on the button that says "Talk to agent" in order to move from the chatbot to a live agent.
Let the live agent know you would like to cancel your account. They will search for your account by requesting certain information from you to look it up.
Once they confirm the account is canceled, be sure to request a confirmation email.
Whenever you speak with a customer support representative, whether over the phone or via their chat, it's always important to ask for an emailed confirmation that your subscription was canceled. This way, if you are accidentally charged again, you have recourse to receive a refund.
Unfortunately, EveryPlate doesn't allow you to cancel your account using email or through their mobile app.
How To Reactivate Your Canceled EveryPlate Subscription
If at any point you've decided you'd like to continue with your EveryPlate subscription after deactivating it, resuming is very easy.
Log in to your account from their website or mobile app. From there you'll see a big notification on the first screen you see, asking you to reactivate your account (it's hard to miss).
Once you click the "reactivate" link you'll be prompted to confirm your details: number of people, meals per week, delivery address, and payment. Once all of that is confirmed, you can click the "Reactivate" button.
Reasons for Canceling Your EveryPlate Account & Possible Better Remedies
Many people immediately jump to canceling their EveryPlate account when certain issues arise, when they might be better off going with another solution.
Below I cover some of the most popular reasons people cancel their subscriptions as well as potentially better remedies than canceling.
Schedule Change
A big reason I often hear why people cancel their subscriptions is due to a schedule change. Whether that means they're going on vacation or they just simply won't be around to use their meal kit.
If that's the case for you, there is a better solution other than outright canceling. EveryPlate gives you the ability to skip up to 3 weeks at a time.
Skipping weeks is very straightforward. When you log in to your account, go to your upcoming meals. There you'll see a button next to each of the upcoming orders that says "Skip Week". Once clicked, you won't receive that box.
I find skipping weeks to be particularly helpful when I'm between boxes and want to test out another meal kit. This allows me to keep my subscription open for when I make my final decision.
Not Enough Variety
When most people think of EveryPlate, they tend to associate them as only being a meal kit. These days, though, EveryPlate offers much more than only meal kit meals. These additional offerings includes food such as garlic bread, cheesecake, salads, extra meats, and a multitude of different snacks.
If you're feeling bored with EveryPlate's meal kit meals, I highly suggest checking out what add-ons they offer before canceling. They can be found at the bottom of the usual meal kit meal selection area.
Poor Customer Experience
An issue with EveryPlate can sour the entire meal kit experience. I know firsthand what it's like to have a box get delayed by the shipper and arrive with spoiled ingredients. It's not fun.
If you've encountered any issues with EveryPlate—from missing ingredients to simply not enjoying the taste of the meals—I suggest reaching out to their customer care team here.
While I personally haven't had any issues arise with EveryPlate where I've needed to request a refund, other customers that have had negatives experiences with EveryPlate have received refunds and new boxes shipped to them.
Still Too Expensive
While EveryPlate is known as one of the least expensive meal kits available, it could still end up being outside some people's budgets.
If that's the case for you, there are a few ways you can lower the cost.
The easiest way to reduce EveryPlate's cost is to just reduce your plan size. Of course, you'll be receiving less meals this way but you'll still be able to have the convenience of some planned meal kit meals rather than none at all.
On a similar note, another option to lower your cost would be to split your EveryPlate plan with a friend or family member. Again, you'll be receiving less meals but at least you'll still be able to enjoy the ease of pre-planned and pre-prepped meals.
The last option requires a bit more effort. EveryPlate has a referral program whereby, for every person you refer that signs up, they will give you $20 in account credits. The best part is they also give $20 to the person you get to sign up. Stack enough of these referral credits and you can eat for free!
The Grass Is Greener Elsewhere (EveryPlate Alternatives)
If you've made up your mind to cancel your EveryPlate subscription, you may want to explore other options. Lucky for you, there are other similar (if not better) meal delivery services out there.
Here are some of my favorite EveryPlate alternatives that might better suit your needs…
With their meals starting at an impressive $4.99 per serving, Dinnerly is a great contender to EveryPlate in terms of affordability. They also have a robust meal selection, with more than 40 different recipe options every week including add-ons like desserts, snacks, and protein packs.
Like EveryPlate, Dinnerly keeps its recipes quick and easy with about five steps per dish. Focusing on simpler meals with fewer ingredients helps them keep costs around as low as EveryPlate. Although, Dinnerly actually takes things a step further than EveryPlate in order to reduce costs. One of the ways they do this that I particularly like is that they don't include paper recipe cards in the box with their meals. Rather, they email you digital recipes once your box gets shipped. This also helps cut down on unnecessary waste, which is very much appreciated.
If you're looking for an alternative meal kit that delivers on everything EveryPlate does (and more), Dinnerly might be the right choice for you.
While HelloFresh is EveryPlate's parent company, they cater to a much different crowd by offering more premium meals as well as greater variety in their menu selection. They may not be as affordable as EveryPlate is (coming in a few dollar per meal more expensive) but they make up for it by delivering a wide range of upscale, crowd-pleasing comfort foods to your table.
One key difference I noticed when testing out both HelloFresh and EveryPlate is that HelloFresh adds more focus on better ingredient sourcing—they make it a point to be transparent about their suppliers. Higher quality ingredients, along with more thoughtfully crafted recipes, lead to an overall better and much tastier meal kit experience.
Additionally, HelloFresh expands upon everything EveryPlate offers. They have more meal variety, plan options, and add-ons. In fact, HelloFresh has a pretty substantial marketplace where you can add things like seasonal produce and even pre-made meals to your box.
A little added benefit is that HelloFresh occasionally throws free surprise treats into their boxes. For example, in the past we've received chocolate bars and even cans of Red Bull.
If meal kits aren't your jam, Mosaic Foods offers frozen plant-based meals where all you have to do is heat them up in the microwave. While frozen meals generally have a bad reputation, Mosaic's meals are flash frozen while they're at peak freshness.
What I particularly like about Mosaic Foods is that while they are a vegan meal delivery service, they offer nutritious, veggie-packed meals that are packed with flavor. They don't skimp on portion sizes either, like I find many other pre-made meal delivery services do. This is because they're one of the only prepared meal delivery services I've come across that offers easy-to-make family meals.
Final Thoughts
If EveryPlate isn't for you, canceling your subscription is a breeze. What's more, finding an alternative meal delivery service is even easier.
Have a question about the EveryPlate cancelation process? Let me know in the comments below and I'll be happy to help answer!