The only thing you can truly count on in life is that it will continue moving forward. As you get older, your body changes and it can affect your mobility and your freedom to live independently. Though your circumstances may change, your need for quality nutrition doesn't. Following a healthy and balanced diet is the key to maintaining youthfulness and feeling healthy.
As a senior, planning and preparing meals for yourself may become more of a challenge. If you're looking for a simple and reliable way to stick to a healthy diet, consider a meal delivery service.
Meal delivery services come in many shapes and forms, which is excellent news for seniors, as they can fit nearly every type of lifestyle. With so many options to choose from, you can find the service that suits your level of mobility as well as your budget and your preferences for frequency and portions.
Here's an overview of the top meal delivery services for seniors in three categories — meal kits, pre-made meal delivery services, and grocery delivery services.
The Best Meal Kits for Seniors
Enjoying a homemade meal is easy with meal delivery kits. These services send you pre-portioned ingredients and recipes to help you prepare delicious, homemade meals as often as you like. If you like to cook but you'd like to avoid the hassle of grocery shopping, these services are perfect.
Least Expensive Meal Kit
What It Is: Enjoy fast, easy, and tasty meals each and every week starting at under $5 per serving with Dinnerly. This service gives you 16 recipes to choose from each week, all of which can be prepared with just 5 simple steps.
The Details: Dinnerly meals are the perfect balance between efficient and tasty. As a senior, if you find yourself wanting to make homemade meals but struggle with mobility or would just rather not travel to the grocery store, Dinnerly's meal kit is a great option.
You'll be able to choose from a two-person box or a family box and enjoy 3, 4, 5, or 6 meals each week starting at $4.69 per portion. Plus, you can skip or pause your subscription at any time. Being the least expensive meal kit currently available, Dinnerly is perfect for seniors on a fixed income or who prefer to stick to a strict budget.
With Dinnerly you can choose from 16 recipes each week or let the plan automatically choose meals for you. Enjoy balanced meals, including vegetarian options, with digital recipe cards and fewer ingredients per dish than the average meal delivery service. Enjoy recipes like Crispy Parmesan Chicken or BBQ Spiced Steak & Mashed Sweet Potatoes. You can even add extra protein options to your box. I've found from personal experience that they have a good mix of comfort foods and balanced meals (lean protein and veggies).
Why It Made This List:
They're currently the least expensive meal kit per-serving (under $5).
Their meals are fairly simple to make and don't require a lot of prep in the kitchen, yet still come out delicious.
Their recipe cards are digital, meaning you can view them on your phone or tablet. For seniors with eyesight problems, this means that you can easily zoom in (on your phone or tablet) to see the recipe steps better.
Best Oven Ready Options
What It Is: With over thirty meals to choose from each week, Home Chef offers excellent variety along with the flexibility to skip or cancel your plan at any time. Enjoy flavor-packed, chef-designed recipes with the ability to browse by protein or recipe style.
The Details: Home Chef has one of the best assortments of meal types among the most popular meal kits out there. You'll have the ability to choose from adventurous, quick and simple, low-cal, carb-conscious, and vegetarian meals. Having this much variety means you can customize your plan based on your lifestyle. For example, if you still enjoy cooking at home but don't necessarily have the mobility to be prepping in the kitchen, Home Chef's oven-ready meals are the perfect option. They come pre-prepped and in a pan, ready to be placed in the oven to cook. The best part is they take around 20-30 minutes to cook and there's little to no cleanup involved after.
You'll have the option to choose from more than 30 recipes each week and receive fresh ingredients shipped right to your door. Browse recipes from three different collections: Classic, Fresh and Easy, or Well-Balanced. Meals start at $6.99 per portion and you can customize your meal plan according to your needs. You can also add on additional meals and proteins such as chicken breasts, turkey, beef, and salmon.
Choose from recipes like Crispy Orange Chicken and Sunday Supper Pot Roast Steak. Most meals can be prepared and cooked in 30 minute or less. Customize your meal plan for 2, 4, or 6 people and enjoy between 2 and 6 recipes per week. Change, skip, or cancel your plan at any time.
Why It Made This List:
Their oven ready meals make for the quickest homemade meals available with almost no prep or cleanup involved.
They offer a huge selection to choose from with around 30 meals each week.
They allow you to select and filter meals by dietary preferences such as calorie-conscious, vegetarian, and carb-conscious.
Best For Cuisine Variety & Marketplace
What It Is: With Sunbasket you can mix and match their meal kit recipes with Fresh & Ready meals so you never have to worry about what's for dinner. This meal delivery service enables you to choose a meal plan or pick recipes individually with prices starting at $10.99 per serving.
The Details: With farm-fresh ingredients, simple recipes, pre-made options, and even snacks and produce, Sunbasket makes it easy to cook for yourself at home without the hassle of meal planning or grocery shopping. Each week you'll select from a wide variety of recipe options and enjoy fresh, organic produce and premium proteins sent right to your door. Plus, you can mix and match Meal Kits for when you want to cook and Fresh & Ready meals for when you don't.
Sunbasket has the widest variety of meals and foods to choose out of any other option on this list. This is because they've combined a traditional meal kit with an online grocery store. So you can receive ingredients to make their recipes as well as select from over 100 box add ons. Here's just a small sample of other items you can choose to place in your box each week: Fresh spinach linguine, lobster ravioli, Fresh sweet basil pesto, jumbo lump crab cakes, wild Alaskan salmon, lemon-pepper boneless chicken breasts, organic ground turkey, organic NY strip steaks, pre-cooked boneless baby back ribs. That doesn't even cover the dozens of snacks they also offer, ranging from nuts, crackers, and cheeses to bars and sweets.
With Sunbasket's Meal Kit, you can enjoy recipes created for many diets including Paleo, vegetarian, gluten free, Mediterranean, and even diabetes-friendly. Enjoy recipes like Hearty Beef Soup with Sweet Potato and Cabbage or Tandoori Chicken with Sugar Snap Peas and Turmeric Rice.
Why It Made This List:
They offer the most comprehensive option for seniors who are looking for the most variety with both meal kit and pre-made options, as well as add on meats, pastas, snacks, and more.
They are the most customizable option to fit nearly any senior lifestyle—sight, memory, and/or mobility issues or not.
They offer breakfast, lunch, and dinner options (as well as snacks). Many other meal delivery services only offer lunch and dinner options.
The Best Premade Meal Deliveries for Seniors
When you want to enjoy the taste of a homemade meal but you're not quite up to doing the prep yourself, a premade meal delivery service might be the best option. These services are ideal for seniors with mobility issues and for those who find it too time-consuming or dangerous to cook themselves.
Best Premade + Marketplace Option
What It Is: With RealEats, you'll enjoy individually portioned meals fully prepped and delivered right to your door. Simply warm the pouches in boiling water (sous vide style) or plate them and microwave – you'll be enjoying farm-fresh ingredients and unbelievable flavor in no time at all.
The Details: RealEats does dinner a bit differently. This meal delivery service takes all the guesswork out of meal planning and preparation, sending you healthy, chef-prepared meals on a weekly basis. All you need to do is pick and personalize your plan then you'll start receiving weekly deliveries of chef-prepared meals that you can reheat, via boiling in a pot of water, in minutes.
RealEats is the best premade option for seniors who don't want to give up cooking just yet but can't make a full meal. With boiling the water as the main prep work, there is still a bit of independence they can have in the cooking process while eating both delicious and balanced meals.
With RealEats, seniors can enjoy meals like Citrus Glazed Salmon or Southern Style Chicken & Grits. Choose your recipes each week or let the plan pick for you. Select from 4, 6, 8, or 12 dinners per week with prices starting at $6.60 per meal.
RealEats also offers a pretty extensive marketplace to add on additional items such as soups, chilis, smoked duck, meatballs, honey soy salmon, mashed potatoes, green beans, and dozens of snacks (including good for you options like granola and sweets).
Why It Made This List:
They offer a diverse selection of meals to choose from, including breakfast, lunch, and dinner.
All the meals are very simple to make, just drop in a pot of boiling water for a few minutes and your meal is ready to eat.
The meals are both affordable (starting at $6.60) and balanced. You'll generally see a lean protein, side of vegetables, and a complex carbohydrate such as sweet potatoes.
Least Expensive Premade Option
What It Is: Tiller & Hatch offers scrumptious recipes that are designed to delight. The meals are frozen and can be made within minutes.
The Details: Tiller & Hatch sends you fully prepared and frozen bagged meals that can heated up in the microwave or stovetop. Being frozen allows you to know they're not going to spoil as easily as any refrigerated meal kit or pre-made meal.
One thing to note about Tiller & Hatch is that while their meals are packed with flavor and certainly delicious comfort foods, they can be high in sodium, calories, and carbohydrates. Something to keep in mind if you're a senior sticking to a specific diet.
On their menu you can choose from a wide variety of options including artisanal pastas, rustic stews, and more. Meal plans range from 4 to 8 meals per week with prices starting at $2.85 per serving. Enjoy hearty recipes like Chili Mac with Beef, Tikka Masala with Chicken, or Santa Fe Style Pasta with Chicken Breast. Everything comes fully prepped and cooked, so all you have to do is pull it out of the freezer to reheat and eat.
Why It Made This List:
At under $3 per meal, they are easily the least expensive meal delivery option on this list. This makes it the best option for seniors on a very strict budget or fixed income.
The meals are very simple to make in either a microwave or oven, perfect for seniors who want the easiest option available.
The meals are simple and made from whole-food ingredients, flash-frozen for freshness.
Best Low-Carb Option
What It Is: Factor Meals delivers healthy eating made simple. You'll enjoy fresh, chef-prepared meals delivered right to your doorstep on a weekly basis.
The Details: With Factor Meals, you'll enjoy fully prepared recipes made from scratch using the freshest ingredients available. Everything is delivered fresh, never frozen, so you simply have to reheat and eat. Factor Meals can be heated in the microwave or oven and they offer plans ranging from 4 to 18 meals per week with prices starting at just $11.00 per meal. This plan is perfect for seniors have food allergies or follow a specific diet because they offer a wide variety of recipes each and every week. Meals can be filtered by keto, paleo, high protein, low calorie, low carb, dairy free, vegetarian, plant based, and even spicy.
Enjoy meals like Parmesan Pesto Chicken, Keto Poblano Bowl, and Breakfast Enchilada Bake. Factor Meals also offers optional add-ons like snacks, beverages, and additional proteins.
Factor Meals are perfect for seniors who are looking for the convenience of a fully pre-made meal delivery service but the taste and freshness of a home cooked meal. They are one of my personal favorite meal delivery services.
Why It Made This List:
They're one of the best fully pre-made meal delivery services out there due to convenience, fresh ingredients, and diet variety.
They offer many delicious add ons such as soups, extra proteins, and good for you snacks like hard boiled eggs and nuts.
They have a strong focus on balanced keto meals, which means most of their meals are very low in carbohydrates and sugars while being high protein.
Best For Ordering Online & Over Phone
What It Is: Enjoy homestyle meals sent right to your door that are ready to reheat and eat with Magic Kitchen. This meal delivery service offers complete meals as well as a la carte items so you can build a custom meal plan that perfectly suits your needs.
The Details: With Magic Kitchen, you'll enjoy the flavorful homemade meals you want without the inconvenience of cooking them yourself. Shop a wide variety of complete meals with mains and sides packaged together or mix and match a la carte items like mains, sides, soups, and desserts to create your own meal plan. Magic Kitchen offers one of the largest library of recipes compatible with special diets, including options uniquely designed for seniors. All meals come frozen, making them easy to store for longer periods of time.
If you're a senior who prefers not to use the internet to order, Magic Kitchen is one of the only meal delivery services available that allows you to also call their customer service line and order. They will even send you a booklet in the mail with all of their menu items.
Magic Kitchen offers a wide variety of breakfast, lunch, dinner, dessert, and snack options. Enjoy main entrees like Beef Bourguignon, Cheese Ravioli with Marinara Sauce, and Chicken Broccoli Wild Rice Casserole and finish it off with tasty desserts like Blueberry Blintz or Carrot Cake. Meal plans start with 1 meal per day and go up to 3 meals per day with pricing starting at $70 to $85 per week.
Why It Made This List:
They're one of the few meal delivery services that caters almost exclusively to seniors, even giving an exclusive senior discount.
You can order online or call their customer service line.
Their recipes to suit a variety of diets, including senior-specific options.
Best For Balanced Frozen Meals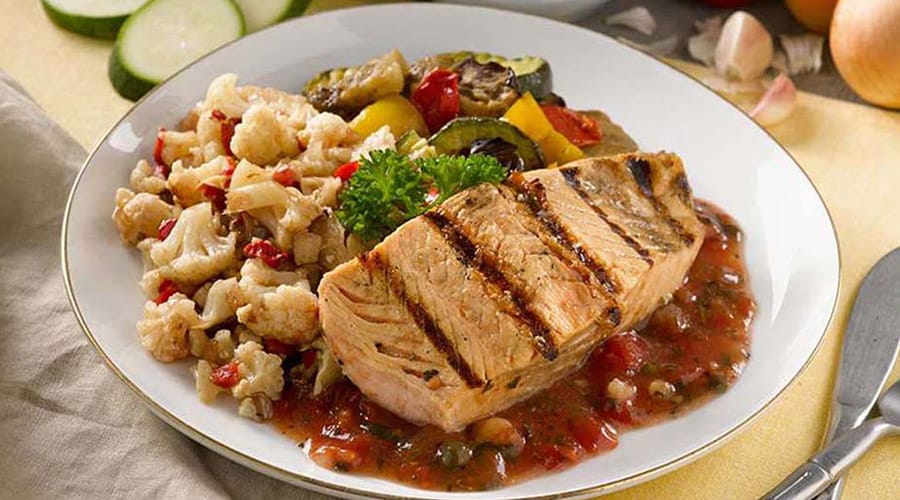 What It Is: Designed specifically with seniors in mind, Silver Cuisine delivers chef-prepared meals right to your door. Enjoy meals and snacks made with your specific diet in mind, whether it's gluten free, vegetarian, low-carb, or any other diet under the sun.
The Details: With Silver Cuisine, you can enjoy chef-prepared meals sent right to your door. Simply select the meals you want, and Silver Cuisine takes care of the rest. Their rotating menu includes over 150 alternating meal options to fit any lifestyle. Just select the meals you want and enjoy free shipping on orders over $99. When you receive your meals, simply store them in the freezer until you're ready to enjoy them.
Silver Cuisine offers recipes to accommodate all kinds of specialty diets including gluten free, dairy free, vegetarian, heart healthy, diabetic friendly, and more. Enjoy breakfast, lunch, and dinner options like Eggplant Lasagna Casserole, Chicken Cacciatore, and Hickory Smoked BBQ Beef with Yukon Gold Potatoes. Customize your meal plan to suit your needs with prices starting at $6.49 per meal.
Why It Made This List:
Chef prepared and doctor designed balanced meals sent right to your doorstep, specifically created for seniors.
They offer over 150 meals and allow you to shop by specialty diets including vegetarian, Mediterranean, dairy free, menopause, low carb, low sodium, diabetic, gluten free, and heart healthy.
Meals are shipped frozen, making it simple to reheat and eat.
The Top Grocery Delivery Services for Seniors
If you still enjoy cooking for yourself but you want to spare yourself the hassle of getting to and from the grocery store each week, a grocery delivery service might be the best option. Some services include meal planning but also give you the option to purchase drinks, snacks, and staples.
Best For Local Grocery Delivery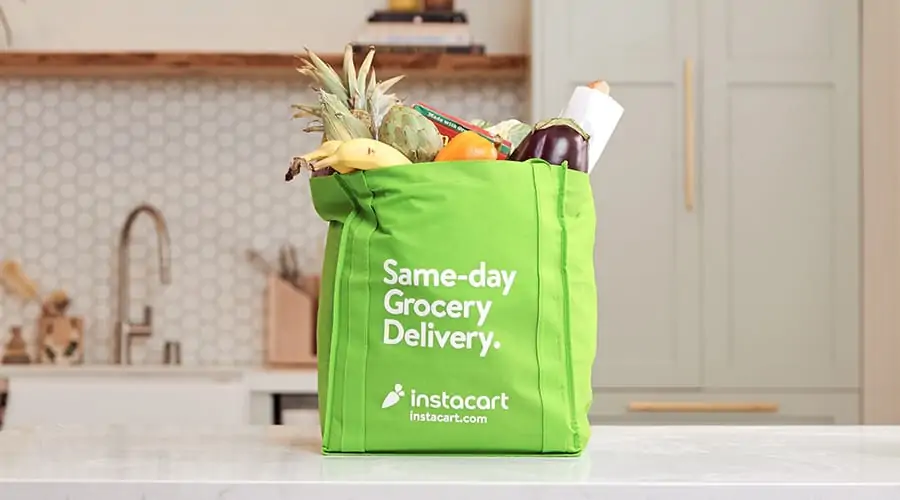 What It Is: One of the largest grocery delivery networks out there, Instacart makes grocery shopping easier than ever. Simply fill your cart online and your personal shopper will pick the items for you and deliver them to your home, often on the same day.
The Details: With Instacart, you can shop online and have your groceries delivered without ever leaving home. Instacart offers over 500 million products from 40,000 stores around the country, so you can always find what you need. Best of all, many orders quality for same-day delivery. From groceries to pet supplies, Instacart has it all right there at your fingertips.
One of the most convenient features of using Instacart is that you can chat directly with your Instacart shopper as they're shopping. They'll let you know when they begin and when they're coming to deliver your order. You can also let them know if you prefer to make any substitutions if certain items are unavailable.
Why It Made This List:
They offer same-day delivery on most grocery orders.
You can shop at nearly every local grocery store.
You can speak directly with your Instacart shopper and even request contactless delivery where they leave the bags at your door.
Best Grocery Delivery & Meal Kit Options
What It Is: Enjoy the convenience of meal planning without having to do the grocery shopping yourself with Hungryroot. You can also shop premade salads, soups, and bowls for when you don't want to cook.
The Details: Hungryroot started out as a traditional meal kit but pivoted to begin offering more of a marketplace and meal kit blend. This means you can still add in their recipes and ingredients while also shopping their hundreds of other offerings. Their main focus is on healthy whole ingredients so you'll find fresh produce, lean proteins such as chicken breasts and fish, as well as delicious snacks. My personal favorite snack that they offer is their black bean brownie batter. The main ingredients are simply black beans and almond butter but it tastes just like a real brownie.
Why It Made This List:
They give you easy access to healthy and high-quality grocery items (proteins, pastas, produce, and even pantry essentials).
They offer meal kit style recipes where they'll send you the recipe plus their ingredients to make the meal.
They offer a variety of delicious premade meals like soups, salads, and bowls.
Honorary Mention: Meals on Wheels
If none of the options reviewed above seem like the right fit, there's one more to consider. Meals on Wheels is the largest network of pre-made meal deliveries specifically made for seniors. The national Meals on Wheels organization supports over 5,000 community-based programs around the country, all of which strive to "improve the health and quality of life of the seniors they serve so that no one is left hungry or isolated."
Meals on Wheels began as a small group of Philadelphia citizens in 1954 but has grown into one of the largest and most effective social movements in the United States. Not only does Meals on Wheels provide nutrition for seniors in need, but the program helps them continue to live independently without feeling isolated.
Use your zip code to find a local Meals on Wheels provider near you.
The Benefits of a Senior Meal Delivery Service
Quality nutrition is important no matter your age, but it can be a challenge to stick to a healthy diet when your mobility is limited. Meal delivery services make it easy to enjoy healthy and satisfying meals without leaving the house to go grocery shopping. Before choosing a meal delivery service, consider the three primary options: meal kits, premade meal delivery, and grocery delivery.
Here are some of the primary benefits for each option:
Meal Kits – A meal kit is a great option for mobile seniors who enjoy cooking. You'll receive weekly deliveries of pre-portioned ingredients and recipes to prepare them. Most meal kits offer 2 to 4 servings per meal, so they are a good choice for two-person households.
Premade Meal Delivery – For seniors with mobility issues and those who don't cook, premade meal deliveries are exactly what they sound like – they send premade meals right to your door. All you have to do is reheat the meal and enjoy.
Grocery Delivery – If you enjoy cooking but you can't make it to the store yourself, grocery delivery services are a great option. Some services help you plan your weekly meals and fill your online cart automatically, but you can still add other items like drinks and snacks.
Regardless which option you choose, you'll have the ability to change, pause, or cancel your plan at any time. Most meal delivery services give you the option to select your own meals or you can keep it simple and enjoy new recipes each week. These services offer flexibility in terms of the number of meals or portions you receive each week so you can prepare some meals and snacks on your own, if you choose.
What to Look for in a Senior Meal Delivery Service
Meal delivery services are a dime a dozen these days, so it can be difficult to choose from such a wide variety of options. When shopping around for a meal delivery service, there are several factors to consider – particularly for seniors.
Here are the most important things to look for when comparing meal delivery services:
Balanced meal options. Quality nutrition is important, so you should look for a meal service that offers nutritionally balanced meals inclusive of lean proteins, veggies, and whole grains.
Fits within your budget. Many seniors live on a fixed income, so check and double check the price per serving or per meal. Some plans offer flat pricing per week to make things simple.
Options for add-ons. If you're still mobile enough to do your own cooking, you may be interested in a meal delivery service that also includes a marketplace to purchase additional grocery items like side dishes, snacks, and beverages. This way you're not forced to still go to the grocery store even though you're ordering from a meal delivery service.
Compatible with your diet. For those following a specific diet, there are many meal delivery services that offer compatibility. You can easily find meal delivery services that are diabetes-friendly, low in sodium, low in carbohydrates, and more.
Flexible plans and delivery. Meal delivery services often offer plans that range from 2 to 7 days per week with 2 to 4 servings per meal. Choose a plan that delivers the meal frequency that best suits your lifestyle and the degree of freedom you want to prepare your own meals.
Though you may not make it to the grocery store as often as you once did or you're not up to the task of preparing your own meals anymore, there's no reason you can't still enjoy healthy and nutritious meals. With a meal delivery service you can enjoy fully prepared meals sent right to your door or regular deliveries of fresh groceries or pre-portioned ingredients to make your own.