Is your weekly grocery store trip something you absolutely dread? Navigating packed aisles on the weekend to collect everything you need, then waiting ages to get through those long checkout lines? Yeah, it's not exactly the ideal way to spend your time.
But luckily, you don't have to do the grocery shopping anymore (that is, if you don't want to). There are services out there that allow you to kick back at home while someone else picks up everything on your shopping list. Sounds too good to be true, right? Well, it's not! Enter Instacart...
Instacart provides their customers with personal shoppers who pick up every item on your grocery list and then deliver them to your home the very same day, sometimes within 2 hours of ordering.
Read our full in-depth review of Instacart, along with our personal experience, to see if it's the right grocery delivery service for you...
Benefits of Grocery Delivery
The primary benefit of grocery delivery is as simple as it sounds — you won't have to bother with going to the grocery store anymore. You can get same-day delivery of everything you need without ever having to leave your house. And with less grocery store trips in your life, the more time you'll have to dedicate to other, more important, things in your life.
Grocery delivery is a fantastic way for busy people to save time. However, it's especially useful for those who are older and unable to safely drive themselves to the store and walk through the isles to pick out the right items. For seniors, it can provide a sense of independence that they're able to order groceries and have them delivered, as opposed to constantly asking friends or family for help.
Overview of Instacart's Website & App
When you visit Instacart's website, you will notice they ask you to put in your zip code. This allows them to see if their service is available in your area because it's not currently available in every zip code across the United States just yet. If Instacart is available for you, they'll walk you through the process of creating an account.
Once your account has been set up, you're ready to start creating your grocery list! You'll be able to place orders for groceries from your favorite local store. Add bread, milk, eggs, products, and anything else you might need to your list and your personal grocery shopper will collect everything for you.
Orders can be placed online through their website. However, you can also use their app as well. They have apps for your iPhone, iPad, or Android device so it's accessible no matter how you like to shop. You'll be prompted to choose your preferred grocery store, your delivery time, and more. The app will even show you discounts on products you might be interested in purchasing to help you save money with every grocery run you make.
Our Experience With Instacart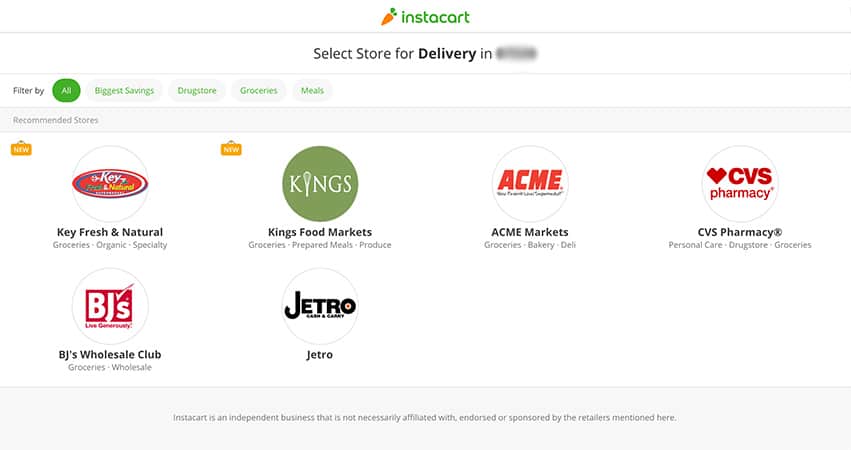 Getting started with Instacart is pretty straightforward. The first thing that we did upon landing on their homepage was input our zip code to ensure that they could pick up and deliver our groceries to us. Luckily, we're in their service area.
Once our zip code was approved, we were able to see a list of the stores where we could order from. The stores included were:
Key Fresh & Natural
Kings Food Market
Acme Markets
CVS Pharmacy
BJ's Wholesale Club
Jetro
Surprisingly, they had a lot of different places where we could place deliveries from. Unfortunately, we could not select our favorite grocery store — Trader Joe's. We decided to go with Kings Food Market since it has a lot of organic/natural products, similar to what we usually get at Trader Joe's.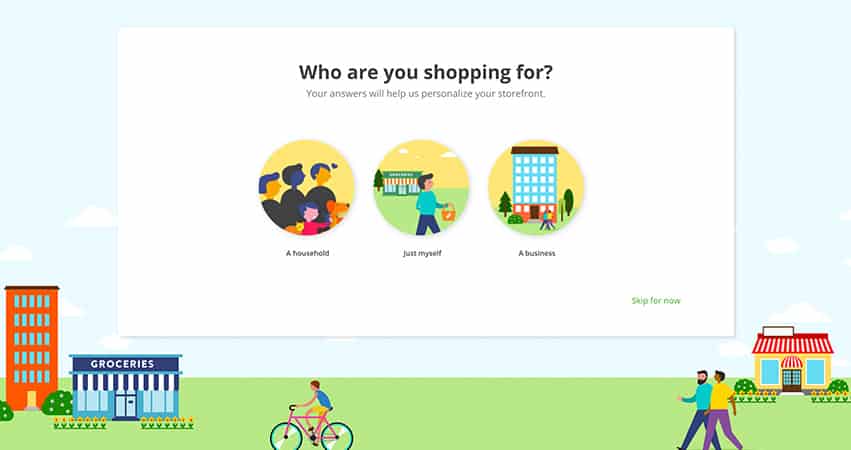 After selecting what store we were going to be shopping on, Instacart made us choose who we were shopping for: a family, ourselves, or a business. I'm not too sure why they decided to ask this question but I can only assume it helps them recommend more relevant items.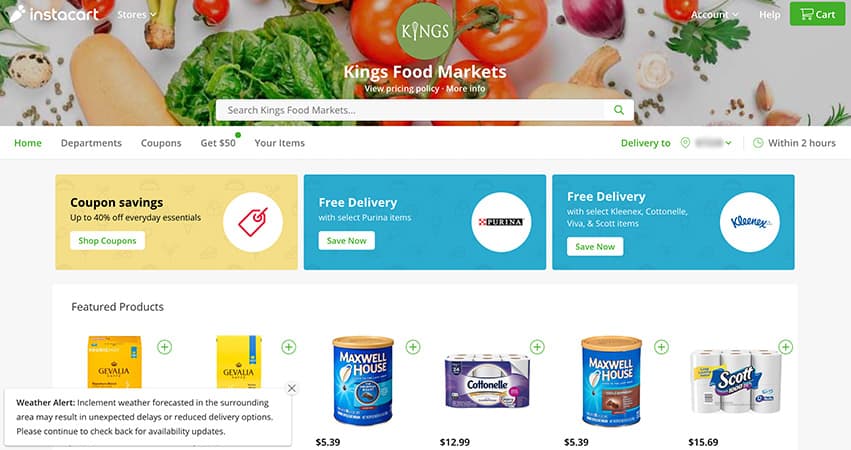 Once these initial questions were complete, I landed on the main shopping page for Kings Food Market. It's here that you can see all of the different items available, organized into different categories.
One thing I really like about the shopping interface is that they give you a coupons section. This is perfect for those who are looking to get groceries delivered but still have to stick to a specific budget or just like saving as much money as possible.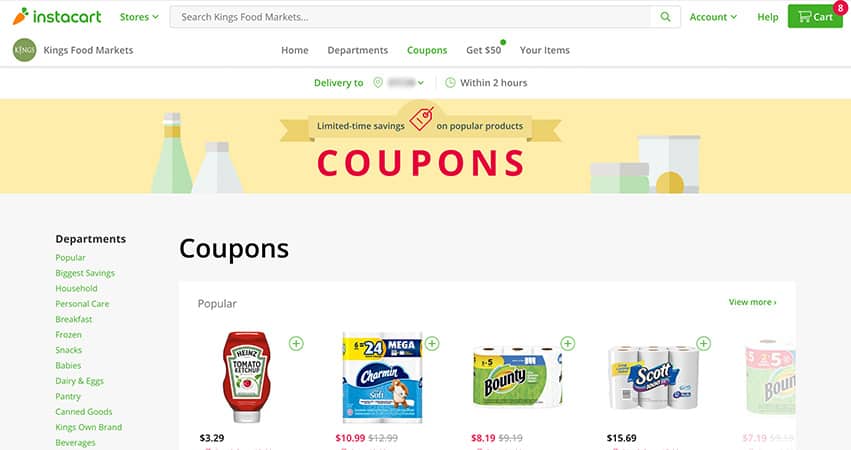 I decided to shop around a bit and put an assortment of items in my "grocery list" for the shopper to pick up and deliver.
5 Organic Bananas — $1.42
3 Navel Oranges — $2.04
1 Package of Strawberries — $4.89
Fresh Express Spinach — $4.39
1 Package of Blueberries — $5.39
Bell & Evans Organic Boneless Chicken Breast — $11.89
5 Fage 0% Fat Greek Yoghurt — $10.95
5 Perfect Foods Peanut Butter Bars — $17.45
If the prices for these items seem a bit high to you, you're right. Instacart tacks on a small fee to each item you get in order to pay the shopper. For example, I paid $4.39 for the bag of Fresh Express Spinach. However, the real price of it at Kings Food Market is $3.99. That means I only paid an extra $0.40 — not too bad.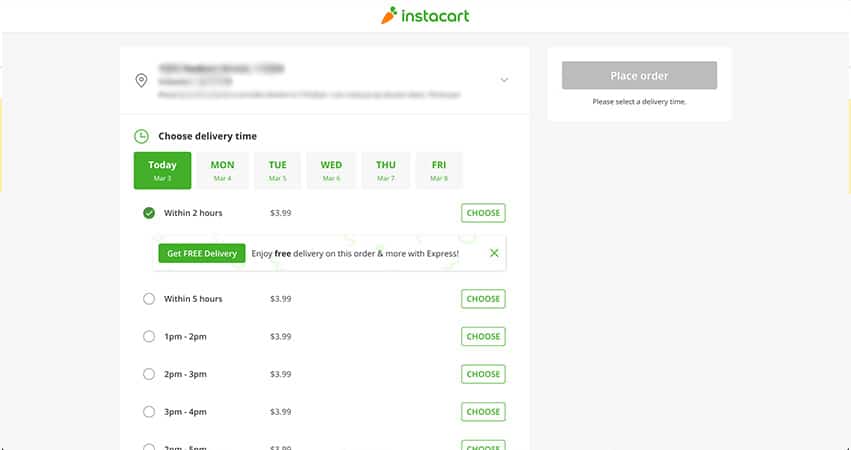 Upon checking out, they gave me a surprising amount of delivery options. I could choose any of the next 6 days to have the groceries delivered (including today). And, they also give you the ability to choose specific time windows for when you can expect to receive your groceries. The absolute quickest we could receive our groceries was within 2 hours, so I selected that option to see if it would actually work.
Right after I submitted payment, I was directed to a page where I could add optional replacements for all of the items I ordered. This is because sometimes certain items in the grocery store are sold out. I filled out all of the optional replacements, just in case the shopper ran into any issues with items on my list.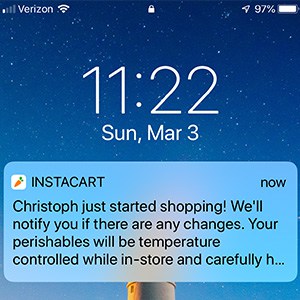 About 30 minutes submitting payment, I received a notification on my phone via the Instacart app that said: "Christoph just started shopping! We'll notify you if there are any changes. Your perishables temperature controlled while in store and carefully handled."
A few moments after that notification, another one came in letting me know that the shopper couldn't find the spinach and had to pick up the replacement instead. You don't have to worry about being charged a different amount if the shopper has to go with the replacement item you listed. Once the final total is tallied up and they checkout at the grocery store, that is the final price you pay. They do this by pre-authorizing your credit card for a slightly higher amount than you pay. Then, once you get your final groceries, they charge the actual amount.
I actually interacted with the shopper via the built-in chat through the app. He let me know that the store was out of strawberries and they only had the pre-cut kind. I asked for him to remove them from the list and he did while also refunding me the price that they cost. Here is the full conversation: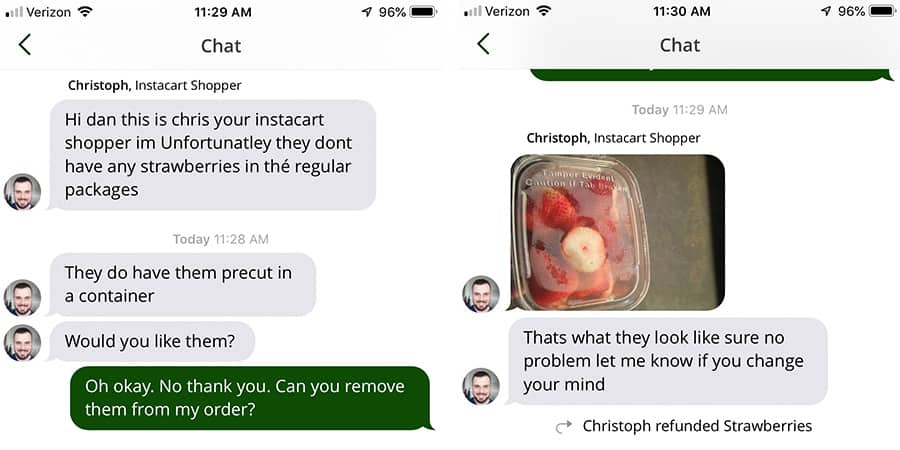 About 20 minutes later, our shopper was at our door with the groceries. In total, it took about an hour from us checking out on Instacart to receiving our groceries. One thing to note is that Kings Food Market is relatively close to our home so your times will probably vary based on how far away you live from your grocery store.
Upon inspecting the groceries, there were zero issues with the items our shopper picked out. Everything was still cold, not bruised, and packaged well.
Instacart Pros & Cons
In order to be as objective as possible in our review, let's now take a look at both the pros and cons of Instacart so you can decide if it's the right grocery delivery service for your needs.
Instacart Pros
You don't have to worry about grocery shopping. Not only does this relieve a bit of stress but it also allows you to save a decent amount of time week over week.
If the store is out of your selected groceries, Instacart will find replacement items. If you do choose to go with Instacart, I recommend that you fill out the section after checking out that allows you to pick replacement items for all of the groceries you purchased. It takes a little extra time but it will make it easier for you and the shopper if they run into any items that are sold out at the store.
There's a coupons section. This allows you to save some extra money if you're sticking to a budget.
They have a decent variety of stores you can get delivery from. While I wasn't surprised to see Kings and ACME on the list of stores I could choose from, I was surprised to see CVS Pharmacy. That means you can have over the counter drugs picked up and delivered right to your door. This would be perfect for someone who is sick and can't leave the house.
You aren't charged a monthly fee. Some other services charge a monthly fee to be a member. With Instacart, you have the option of signing up for their premium subscription, which they would waive the delivery fee.
Instacart Cons
Your Instacart experience depends heavily on your shopper. When researching, one of the biggest complaints we saw was that the Instacart shopper somehow messed up the order or tried to deliver to the wrong address. Technically, this isn't the fault of Instacart but rather the shopper they match you with.
Not every grocery store is available. It's possible that the grocery store you usually shop at isn't available on Instacart. I recommend putting in your zip code on their homepage to check.
They charge higher when there's more demand. They call this "Busy Pricing", which means if they are experiencing a surge in orders, they will increase shipping prices.
Instacart vs. Shipt
Both Instacart and Shipt are offering the same service for their customers, so there really aren't too many differences to look out for. Based on our personal experience reviewing each, both can be a great option for those looking for grocery delivery. It's just a matter of finding out what's available in your area and taking a close look at those smaller fees.
For instance, Instacart has a service fee they charge (different from their delivery fee) which goes to supporting the platform and operating costs. It's not a tip for your delivery person nor does it go into their pockets. This fee goes directly to Instacart. Your service fee will be 5% of the subtotal of the items in your order, other than alcohol. The service fee is a minimum of $2 per individual store delivery.
Both services charge a bit differently for shipping. Instacart charges $3.99 per order, which has recently dropped from $5.99. You can, however, opt to join their Express membership that gets you unlimited use of their service for order $35 and over. This costs you $99 per year. Shipt charges a flat $7 delivery fee for orders under $35. If your order is over $35, delivery is totally free.
One thing to note is that both services will slightly increase the actual cost of the grocery items you pick. This is to pay the shopper who has to find those items, check out, and deliver them to you.
Both services also allow you to tip the shopper, which is a nice addition.
Pricing
With Instacart, the price you'll pay for your groceries is what you'll see when shopping inside their app or online. However, as mentioned before, there will be a final service fee added onto your order. This fee is just a way to keep things running smoothly over at the Instacart headquarters. You can expect to pay 5% of the subtotal of the items in your cart.
Although, that fee does not apply to alcohol. There is an additional alcohol service fee to cover the cost that's associated with ensuring compliant delivery of alcohol products and ID verification. For up to $35 worth of alcohol, you'll pay a $2 fee and that price increases as the cost of your alcohol purchase goes up.
You will also have to pay a shipping fee of $3.99 per order. However, you can choose to join their Express membership for $99 per year, which gives you unlimited use for all of those small grocery store orders you may need to place.
And finally, it's also recommended to tip your shopper. By default, Instacart suggests a 5% tip at checkout with a minimum suggestion of $2 per individual store delivery. Of course, tipping is optional, but it's always nice to take care of those working for you so you'll want to factor that into the overall cost of the service.
Your Next Side Hustle
Another cool thing about Instacart is that it provides a side hustle to anyone who is looking to make some extra money each week. You can sign-up to become an Instacart shopper and begin picking up and delivering groceries for their customers. If you have time to spare and you're looking to make some extra money, it could be a great side hustle.
Final Thoughts
Overall, Instacart is a great service to try out if you're looking to eliminate grocery shopping from your weekly to-do list. After all, driving to the store, collecting everything you need, and then waiting in long checkout lines isn't exactly appealing. If you'd rather pay someone else to handle it for you while you tend to other important things, Instacart is a great choice.
What makes Instacart stand out to me is the fact that they don't make you subscribe like other services do. This makes it perfect for someone looking to get groceries delivered once just to try out the service first.
Also, their coupons section is pretty extensive when compared to other services (many of which don't allow coupons to be used).
The only drawbacks to Instacart are going to depend on where you live. For example, if you live in an area where Instacart doesn't have many grocery store options, it might not be the best option for you. I'd recommend looking at a few different grocery delivery services to see which one can deliver groceries from your preferred store.
Overall, I'm happy with how Instacart performed and will definitely be using them again in the future!
Do you have any experience using Instacart? Have a question about their service? Leave your comment below and we'll respond as soon as possible!