Home Chef was one of the very first meal kits we ever tried back in 2017 and actually the first video review we ever uploaded to the Food Box HQ YouTube channel.
In fact, Emily and I were so impressed with their meal kit back then that it inspired us to continue documenting our "food box" journey by creating this site so people just like you could find the right food box for themselves.
Fast-forward to today… A lot has changed with Home Chef — from the meals they offer to how their service works. The real question we want to answer is: Are they still as good now as they were when we first tried them?
We're going to re-explore the meal kit that helped spark this website and share our updated thoughts with you.
Let's get started!
How Home Chef Works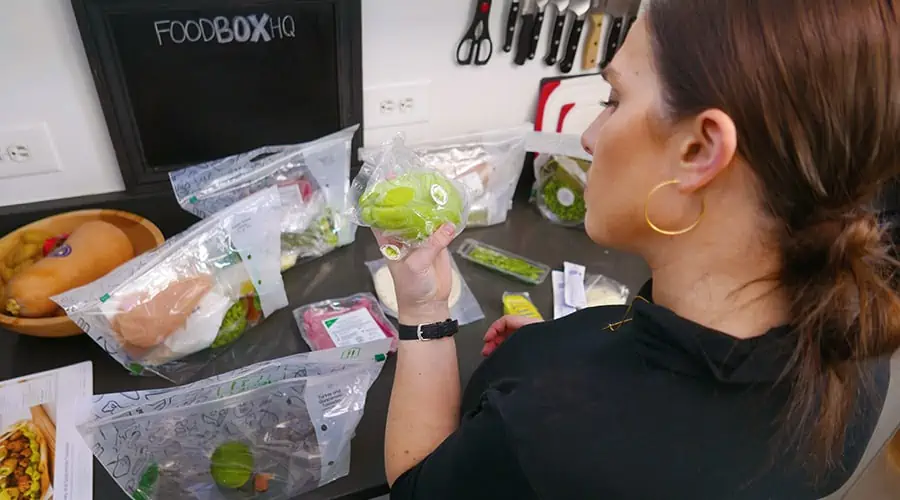 Home Chef is a traditional meal kit. This means that you pick out the recipes you'd like to make and they send you all the ingredients, along with the recipes, so you can make it in the comfort of your own home. All of the meals they currently offer are dinners, with some a la carte add-ons you can throw in your box.
Their main selling point is that the meals/recipes they send are focused on simplicity, meaning they prioritize efficiency each step of the way — from cooking to cleanup.
One of the more significant changes Home Chef has made to the core of their service since we last reviewed them is that you now have the ability to customize your meals before they arrive on your doorstep. More on that a little later on.
Types of Meals Home Chef Offers
The meals they offer can be grouped into the following categories:
Classic Meals: We've found these to be the most "traditional" meals they offer, as the name suggests. Within this category, you're likely to find meals with a meat and a side (or two). For example, their Ginger-Crusted Chicken with Tonkatsu Sauce.
Quick Meals: Their quick meals emphasize efficiency even more than their other options. We've found that preparing these meals are super quick, taking only around 10 minutes or less. And cooking usually only requires one pan so there's little cleanup too. For example, their Japanese Steak Tacos with Sriracha Slaw can be prepped and cooked in less than 15 minutes. They also offer oven-ready meals, like the BBQ Cheddar Meatballs with Bacon Potatoes, that come with a pan to throw the ingredients in and cook.
Protein Packs: These are basically just meats (chicken, beef, turkey, salmon, and mahi-mahi) that can be added to your box, not necessarily recipes that can be turned into full meals.
Add-Ons: Each week Home Chef rotates a specific add-on food you can throw in your box for an additional fee. These aren't meals but rather foods that range from smoothies to desserts. To give you an example, in our upcoming box, we have the option to add-on their Strawberry Banana Smoothie with Greek yogurt. The week after, we have the option to add-on their Banana Chocolate Hazelnut Waffles.
Meal Customization
One thing to note about Home Chef meals is that a lot of them can be customized. In the hundreds of meal kit boxes we've reviewed, I've very rarely seen any that allow you to tailor your meals the way that Home Chef does.
Here's an example using our upcoming menu: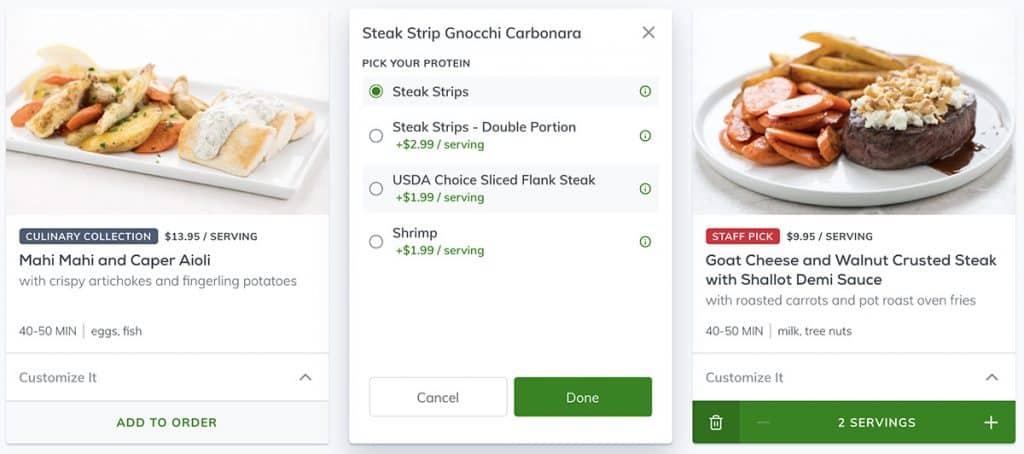 When picking out the meals, you can see we have the ability to click "Customize It". This opens a section where we can change our protein. In the above example, we can double up on the portions, change it to USDA Choice Sliced Flank Steak, or even change it to shrimp instead of beef.
While this might seem like a small perk, I've found it to be hugely beneficial. There have been a number of times using other meal kits where I wanted to add a meal from their menu to our box but found I wasn't super interested in the specific meat (for example, they used pork when I wanted it to be chicken) or wished that I could add more portions for friends coming over.
Plans Offered
Home Chef doesn't offer plans the same way that other meal kits do. Continuing their theme of "customization", all of their plans are customized to your specific needs during the sign-up process.
They'll ask you the following questions to create your personalized plan:
How many people are you cooking for? Two, four, or six?
How many times a week do you want to cook? Two, three, four, five, or six?
Which of the following best describes you? Omnivore, carnivore, pescatarian, or vegetarian?
Do you have any dietary preferences? Low-calorie and/or low-carbohydrate?
Are there any foods you want to avoid? Pork, soy, red meat, wheat, milk, mushrooms, shellfish, and/or nuts?
Based off of your answers, they'll tailor your plan and menu to best fit what you want. You can also change your answers at any time in your profile.
I've noticed that having a customizable plan like this leads to less time searching for what meals I want to throw in my box, since they're already pre-filtered based on my answers.
Are There Home Chef Meals That Fit Into Specific Diets?
With the amount of niche diets out there today, a lot of people use meal kits to help them stick to specific nutritional macros (e.g. proteins and carbohydrates).
While I wouldn't classify Home Chef as a diet meal delivery service, they do offer meals that fall into a lot of different diet-specific categories. Here are some examples:
Calorie-Conscious: These are going to be meals that are around or less than 600 calories per serving.
Carb-Conscious: These are going to be meals that are around or less than 30 grams of carbohydrates.
Vegetarian: As the name suggests, these are going to be their mainly plant-based meals with no animal proteins. Although these meals are vegetarian, they are not vegan. This means they may still use animal products such as milk.
With the addition of their Protein Packs being only meats and seafood, one could technically also use them on high-protein and low/no carbohydrate diets like Atkins, Keto, or even the Carnivore Diet (all meat).
While they're definitely more of a traditional general meal kit over a diet meal kit, I've noticed that their meals do tend to lean more on the "good-for-you" side of things. For example, I've never seen them offer meals overloaded with carbs, sugars, etc. Even their pasta dishes are usually well-balanced with veggies and a lean protein (like shrimp or chicken breast).
Delivery
Home Chef currently delivers to the vast majority of the United States via Fedex and ship boxes Monday through Friday.
Currently, they offer free shipping for nearly every box sent. The only plans that don't have shipping included are ones that are cooking for two people and receive two recipes per week (the smallest option they offer).
What I love most though is that they give you the ability to select the day of week to receive your box that's most convenient for you. So, hypothetically, if you know you work late Monday to Thursday, you could have all of your Home Chef deliveries shipped so they arrive on Fridays.
Packaging
The meals come packaged within a cardboard box lined with insulation from Renewliner. This insulation is #1 plastic recyclable and has no adhesives, PVC, papers, or other materials that would contaminate its recyclability.
Inside the box, you'll find a water-based ice pack that keeps your foods cold in transit. It can be cut open and drained so that the outer plastic can be recycled.
Each recipe comes pre-bagged with all the associated ingredients, which are also wrapped in their own plastic bag. This makes it super simple to grab all the ingredients for your meal and start cooking without having to fumble around your refrigerator looking for everything you need. The down side is all of these single-use plastic bags creates a lot of waste. Thankfully, however, they're all easily recyclable.
What Meals We Got In Our Box (February 2020 Update)
Now let's get to the good stuff — the meals! Here's what we received in our most recent box, along with my thoughts on each…
Parmesan and Thyme-Crusted Pork Chop with Roasted Apple and Brussels Sprouts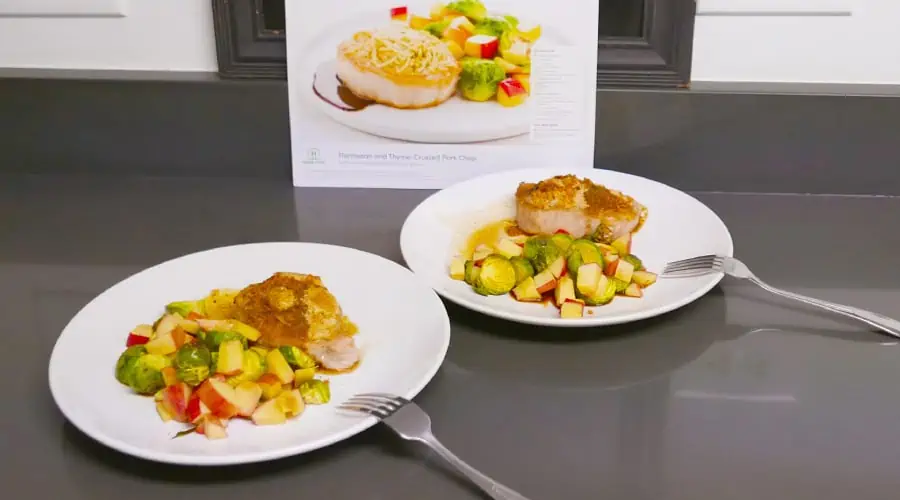 This meal wasn't tough to prep at all. The most involved part was just cutting the brussels sprouts and apples. The rest was just putting everything on a pan and letting it cook in the oven. I'm not a huge pork fan but I have to say this one came out well — partially due to the delicious sauce and it was cooked perfectly.
Turkey and Guacamole Tostadas with Pickled Shallot, Sour Cream, and Chayote
This is the meal you can see us make in the review video above. Compared to all of the other meals in our box, this one was definitely the most adventurous. Emily and I had never eaten chayote or even heard of it before. While it did take the longest to cook at about 25 minutes total, it came out delicious.
Green Curry Pork Meatballs with Crispy Vegetable Medley and Edamame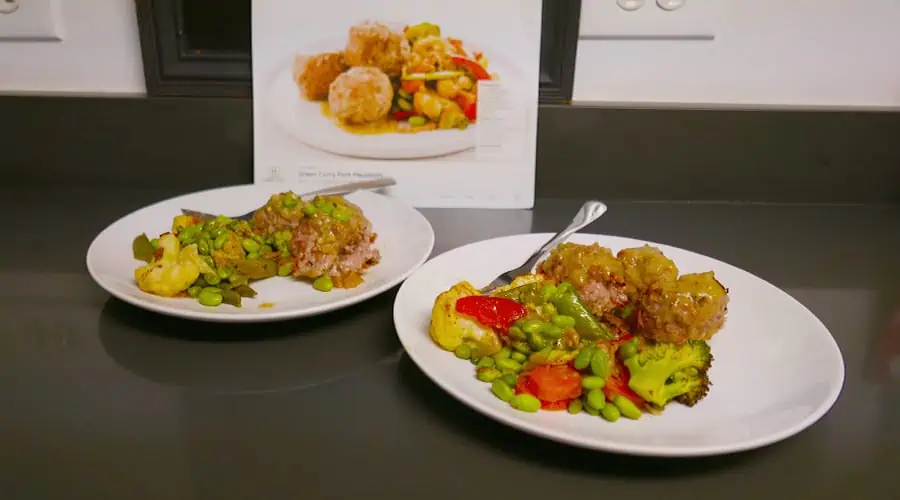 This was the only oven ready meal we received in our box. It came with a pan where we basically just threw all the ingredients in and let it cook for about 30 minutes. Very little preparation was involved in cooking this one. As I mentioned before, I'm not a huge fan of pork (Emily is though) so this one tasted okay to me, but it wasn't my favorite.
Korean Fried Chicken with Edamame Rice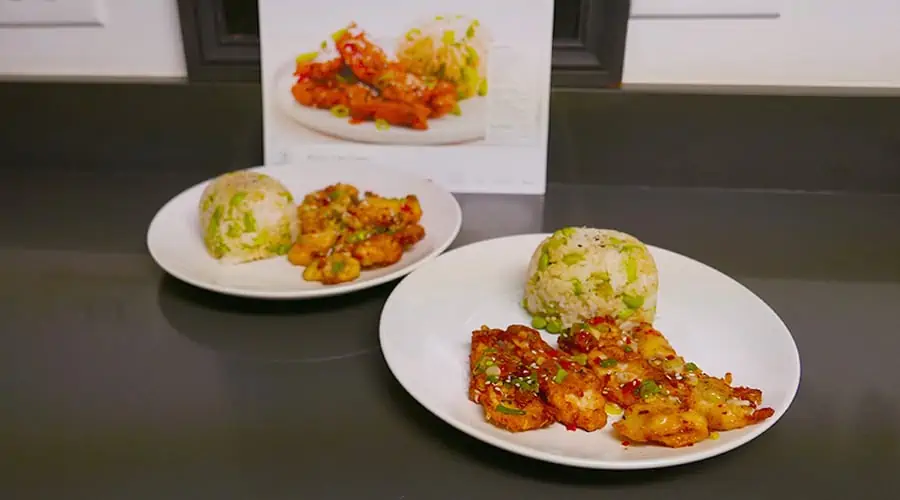 This one was my absolute favorite in terms of taste. It had everything I love — fried chicken, a bit of spice, jasmine rice. It took about 30 minutes to prep/cook, making it the most involved out of all the meals we received. Not too long but not necessarily quick either. Definitely worth the time investment as it tasted incredible.
Goat Cheese and Walnut Chicken with Green Beans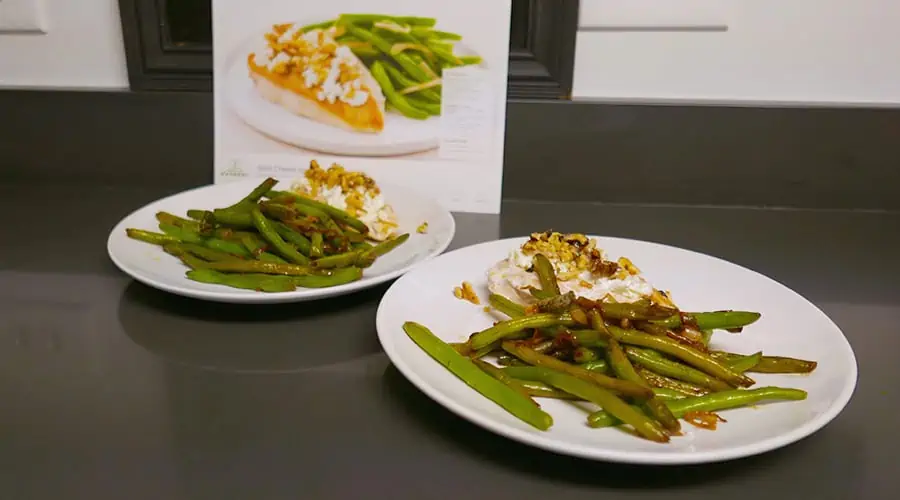 This was probably the easiest meal to make out of every one we received in our box. Total prep and cook time was around 10 to 15 minutes. This came down to the fact that the only thing that really needed to be prepped was to chop the shallots and walnuts. The rest was just cooking the meat and green beans. With the goat cheese and walnut topping the chicken, it tasted really good.
One thing I want to point out before moving on is that Home Chef is one of the few meal kits where we had leftovers after cooking many of the above meals. This isn't something you often see with most meal kits. And who doesn't love leftovers? 😃
Home Chef Recipe Cards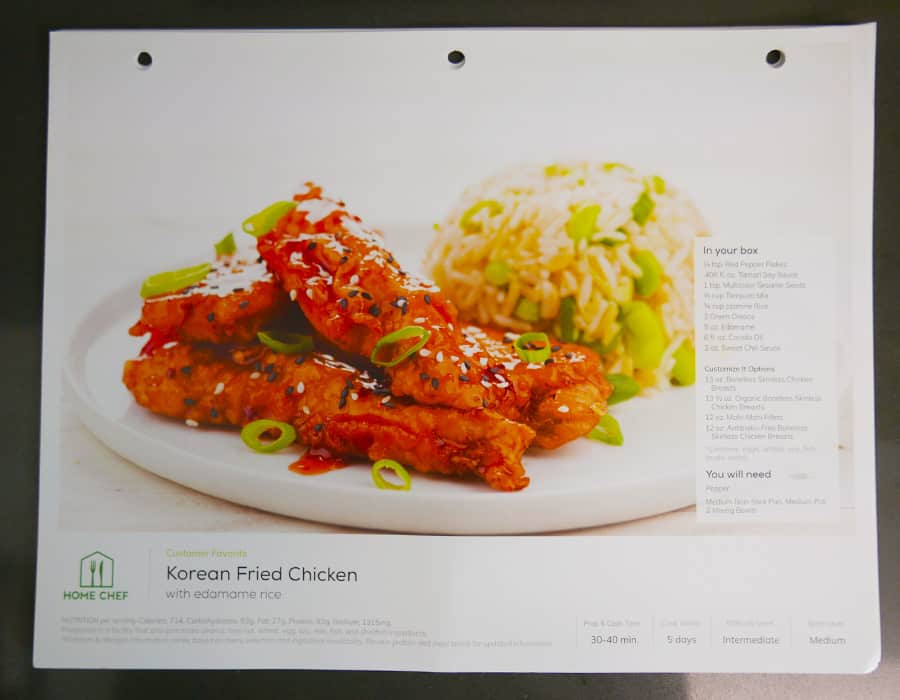 One of the most important (yet often overlooked) elements to a meal kit is the recipe card. A well designed recipe card makes the cooking process incredibly easy. On flip side, a poorly designed one will make the prep and cooking process more tedious, if not frustrating.
Based on my experience having used over 100 different meal kit boxes, Home Chef designs their recipe cards very well.
They make it super easy to follow each step by including an associated picture of what it should look like at that part of the recipe. Even the text descriptions are bulleted out, which makes jumping from line to line within each step very simple as you're cooking.
What's more is they include little details on the recipe card that I highly appreciate, such as:
All of the nutrition facts (calories, carbohydrates, fat, protein, and sodium)
Overall preparation and cooking time
The timeframe you have to cook the meal before it goes bad
How difficult it is took cook the meal
The spice level of the meal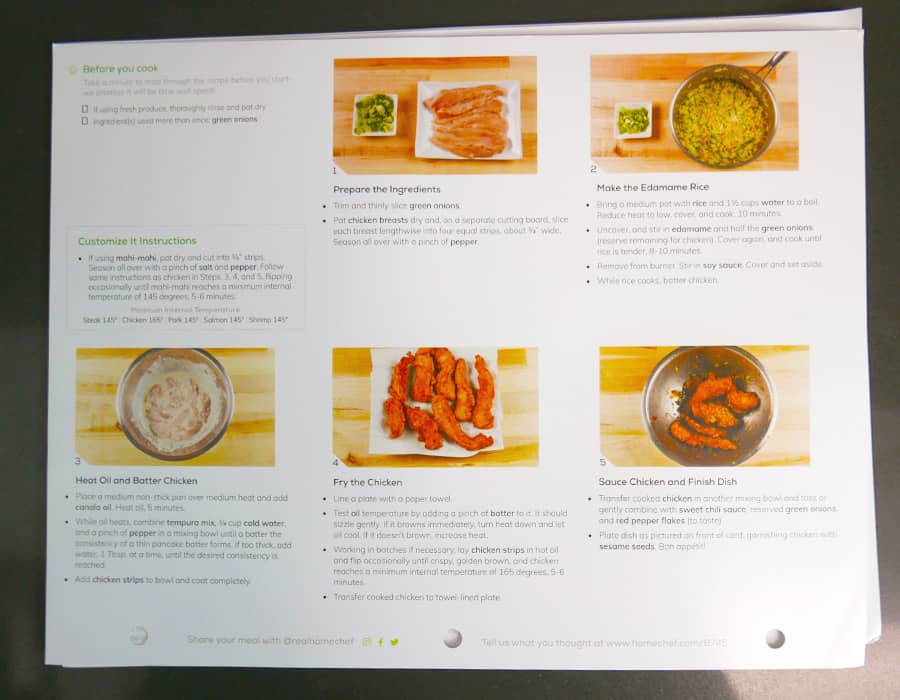 While some of these may seem like trivial details, they can make a world of difference. For example, there have been many times with other meal kits where I go to cook one of the last meals in our box but I don't see a "cook by" date. This leads me to a difficult decision whereby I either have to cook the meal and hope it's still good or possibly unnecessarily throw it away.
Is The Home Chef Mobile App Worth Downloading?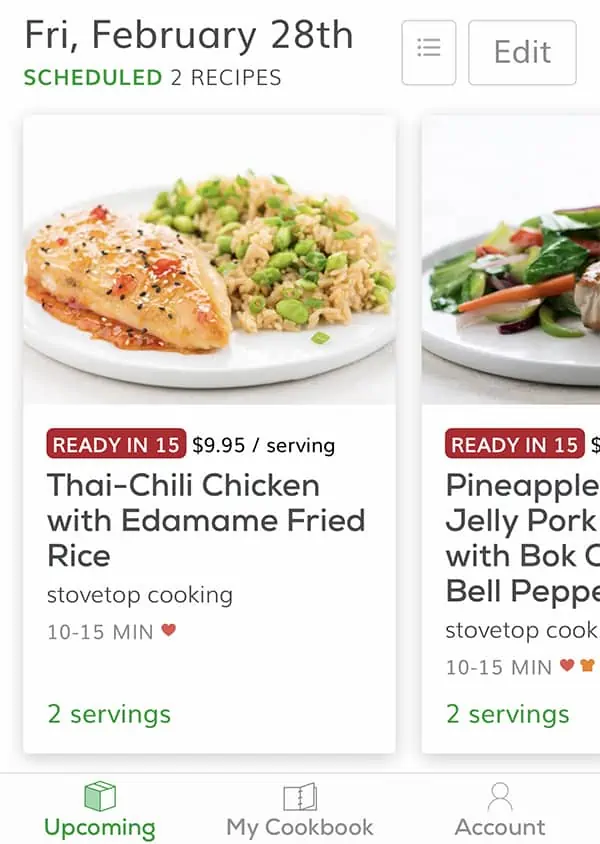 These days it's common to see meal kits also offer phone apps to make managing your meals and boxes easier. For some, they're basically just copies of what you can see on their website.
With the Home Chef app you can do all the same stuff as you would on their website, although I did find the app to be a bit quicker to use. It seems to load speedier than logging in via their website on my phone.
One of the main reasons I still have their app installed on my iPhone and iPad is that it logs all of your past recipes so you can use them in the future. After using a meal kit for a while, you're likely to really fall in love with some recipes and want to keep them to make later. Since we constantly use meal kits, there are literally hundreds of different recipe cards and booklets stuffed in our kitchen pantry. Having all of the past recipes on the Home Chef app makes going back to them super simple.
Home Chef & Kroger Partnership
In 2018 Kroger grocery stores acquired Home Chef. What this means is that you can now purchase Home Chef meal kits in select Kroger grocery stores.
This is an exciting evolution of the meal kit industry as it means that you can basically try out a single Home Chef meal before committing to a subscription. The only downside is that it's only available in certain locations, mainly in Illinois.
As of now, Home Chef is one of the few meal kits that you can find in grocery stores. Hopefully, in the future, we'll see other partnerships between grocery stores and meal kits evolve like theirs.
Home Chef vs Similar Meal Kits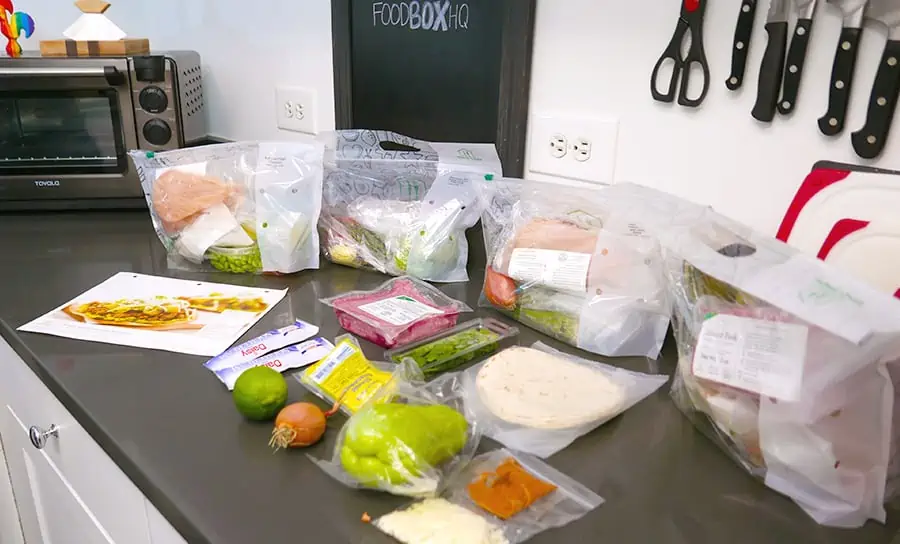 Home Chef is in the same ballpark as many of the other super well known meal kits like HelloFresh and Blue Apron.
Having tried literally almost every single meal kit on the market, the key difference between Home Chef and the rest really comes down to one thing — efficiency. Home Chef prioritizes efficient, yet tasty, meals. Many of the recipes will only use one pan for cooking all the ingredients. And, as mentioned above, they have oven ready meals, which basically have zero prep time since you throw everything in the oven.
Some other similar meal kits do have recipes that are quick and easy to make. For example, HelloFresh has a "Quick Meals" category for all of their meals that can be made under 30 minutes. However, I don't believe they prioritize it to the same level Home Chef does.
Pros & Cons of Home Chef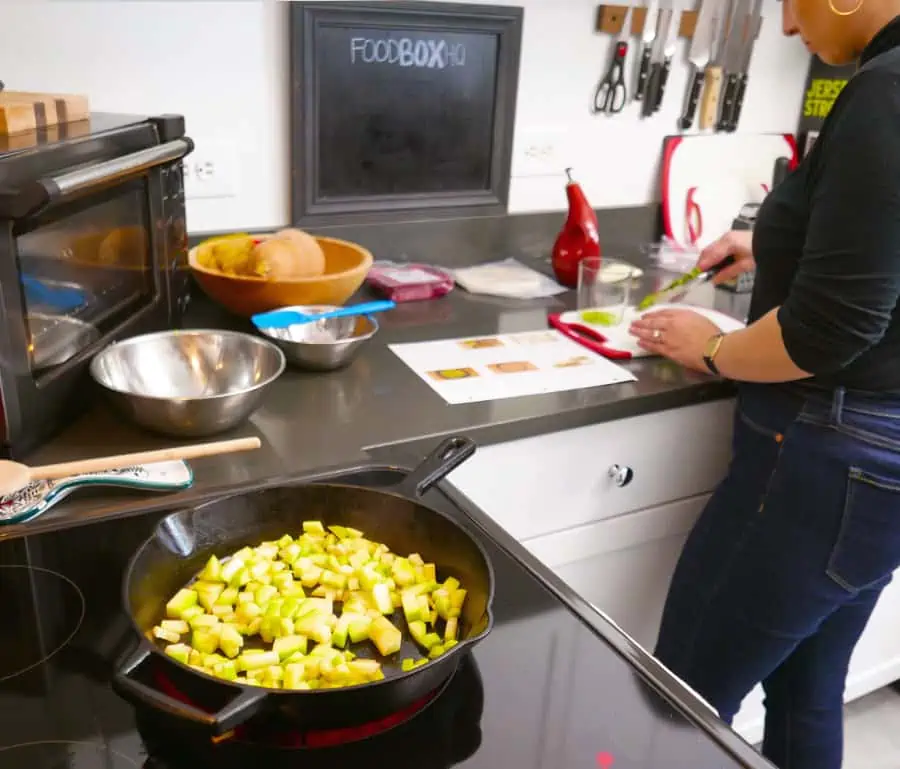 Now that we've gone into great detail about Home Chef, you may be trying to decide whether this is the right meal kit for yourself. Let's go over both what we loved and what we didn't really love to help you make your decision…
Home Chef Pros
The recipes are easy to make. The core of Home Chef is that their meals are efficient, yet tasty. It's something they market themselves as, and based on our personal experience, they live up to it. Some of the meals we've cooked in the past have taken literally less than 5 minutes to prepare before we put everything in the oven to cook.
One of the few meal kits where we got leftovers. We almost never get leftovers when using meal kits so the fact that multiple recipes gave us leftovers we could eat the next day is a pretty big deal.
The recipe ingredients are all bagged together, making it easy to grab and start cooking. This small packaging detail actually makes a world of difference in saving you time when you're ready to begin cooking.
Available in certain Kroger grocery stores. Since their acquisition, they're rolling out Home Chef meal kits as a "grab and go" style box in select Kroger grocery stores.
Home Chef Cons
There is a lot of single-use plastic. Because everything is organized for ease-of-use, it does create a lot of plastic waste. That being said, everything is recyclable.
Only meals available are dinner and occasional snack add-on. They currently only offer dinners with snacks (like smoothies and desserts) as an add-on for an extra fee.
Not many true diet-specific options. The only truly diet-specific meals they offer would be their few vegetarian options. For example, there are no certified gluten-free options.
Does Home Chef Offer Any Coupons?
If you're ready to order your first Home Chef box, we're here to help save you some money! Use any of the promo codes below. One thing to note is that they're all "clickable" coupons. So once you click the link, the coupon will be automatically applied to your order. I've included optional coupon codes too.
I always update this section of the site with the most recent promo codes I can find. If any don't work or are expired, feel free to let me know in the comments below and I'll update them as soon as possible!
Final Thoughts: Who Is Home Chef Right For?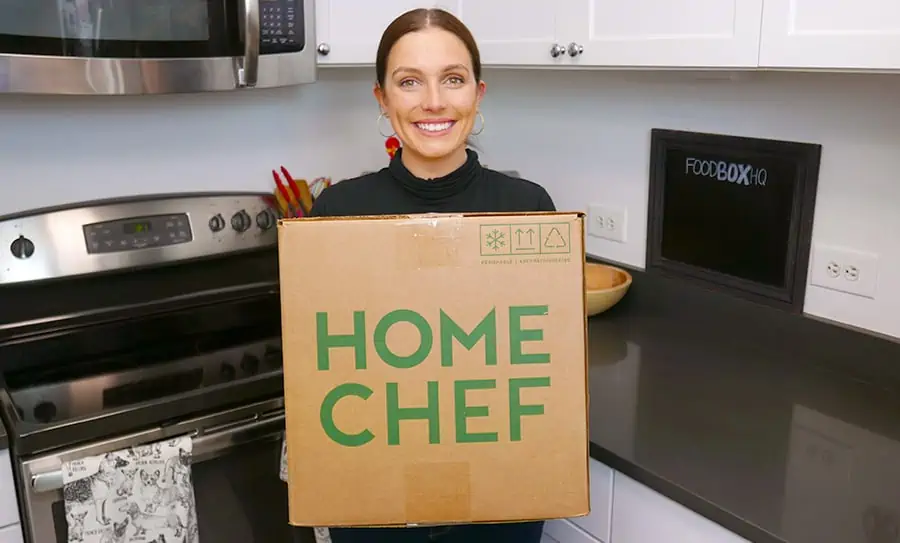 There's a good reason Home Chef is one of the most widely known meal kits in the industry… They're very good. From the ordering process to the recipe cards and especially the meals, they have impressed Emily and I with their quality and ease-of-use.
I would recommend Home Chef to any household of two or more people who value their time and are looking to make delicious dinners.
If you follow a specific diet though, you'll probably want to look elsewhere.
Overall, Emily and I both consider Home Chef to be one of our favorite traditional, make it yourself, meal kits.
Past Food Box HQ Home Chef Reviews
We've been trying Home Chef boxes since 2017. Whenever there's an update we film a new review for our YouTube channel and update this page. Check out some our past video unboxing, taste test, and review below:
Have a question about Home Chef we didn't answer? Have you tried their meal kit before? We'd love to hear in the comments below!